It's interesting that, given the proximity of Kyoto and Osaka from each other (less than half an hour by train), each city radiates a distinct vibe that distinguishes itself from the other. I noticed it as soon as I stepped off the train station: while Kyoto is all about heritage and tradition, Osaka is fast-paced and adventurous. Kyoto has its temples, shrines and UNESCO sites; Osaka has its cuisine, shopping districts, and amusement parks.
This unique relationship has existed since bygone times. Indeed, an old Japanese saying perfectly describes the two cities' dichotomy: "Wear kimonos till you drop in Kyoto, eat till you drop in Osaka".
Yet these differences only make me want to explore the two cities even more, if only to complete the experience. This yin-and-yang, complementary relationship had me convinced that the two cities are somehow designed to be enjoyed as one single destination.
For budget-minded travelers, planning for not just one, but two cities teeming with (pricey) attractions can be quite the chore. Thankfully, these cities are more accessible to tourists than ever before. Not only have the visa restrictions loosened, low-cost carriers have been more and more aggressive and competitive in promoting flights to Kansai International Airport, the gateway to Osaka and Kyoto. Cebu Pacific Air, in particular, has been offering cheap fares for Osaka five times a week, with the lowest year-round fare at P6399. That is a great deal already. But you can count on CEB to bring it even lower during seat sales, which happen more often these days. (Tip: Follow them on Facebook and turn on your notifications for their page so you get an alert when they have a new post!)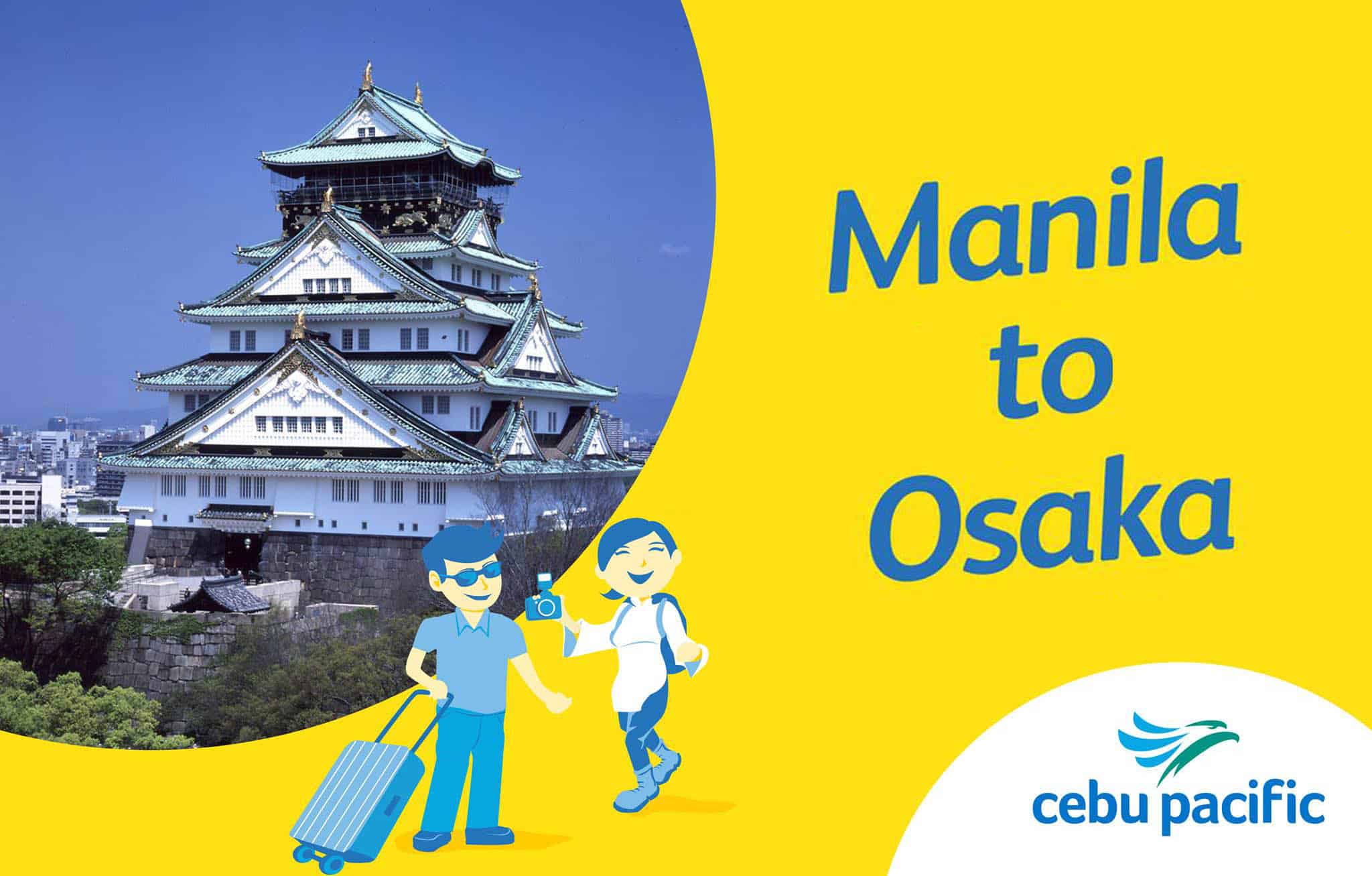 When you're already in Osaka or Kyoto, everything should be easier. Not everything fun in these destinations should break the bank. In fact, several draws here are affordable to the average traveler. Some are even FREE. Here are seven budget-friendly activities you can do in the two cities; these can easily add a day or two to your itinerary, without the hefty extras to your expenses.
---
Osaka Castle Park
Treat the history nerd in you at Osaka Castle!
Osaka Castle stands imposing over the entire castle grounds, like a full-armored feudal lord overseeing his vassals. An important monument to Japanese political history, the castle was built by Toyotomi Hideyoshi, the daimyo responsible for uniting the whole of Japan during the Azuchi-Momoyama period (1573-1603 AD).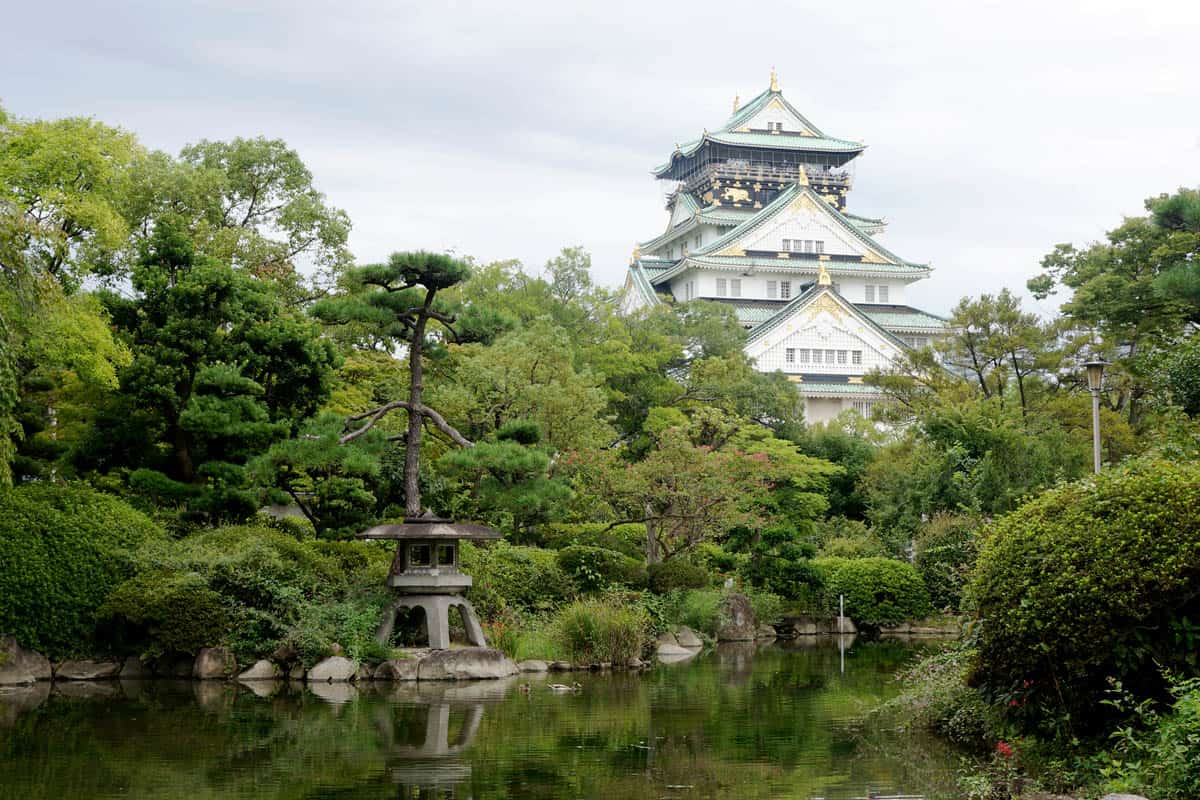 The castle is the crown jewel of the 106-hectare Osaka Castle Park, where age-old moats and fortifications exist alongside stadiums, restaurants and other contemporary buildings. Osaka Castle is itself a blend of the old and new: while the exterior has remained relatively faithful to the original design, the inside is modern in every aspect, with air-conditioned halls, an elevator, and an observation platform. A silent witness to numerous battles during less peaceful times, the castle now serves primarily as a museum.
Aside from the main tower, spread across the castle grounds are 13 structures deemed culturally significant by the Japanese government. Many of these landmarks come with bilingual inscriptions detailing their role in history.
The park itself is FREE, but entrance to the Osaka Castle museum and other structures require an entrance fee (JPY 600 for the museum). If traveling by train, the park is most accessible via Osakajokoen Station of the JR Osaka Loop Line.
---
Kiyomizu-dera
Improve your good fortune at Kiyomizu-dera!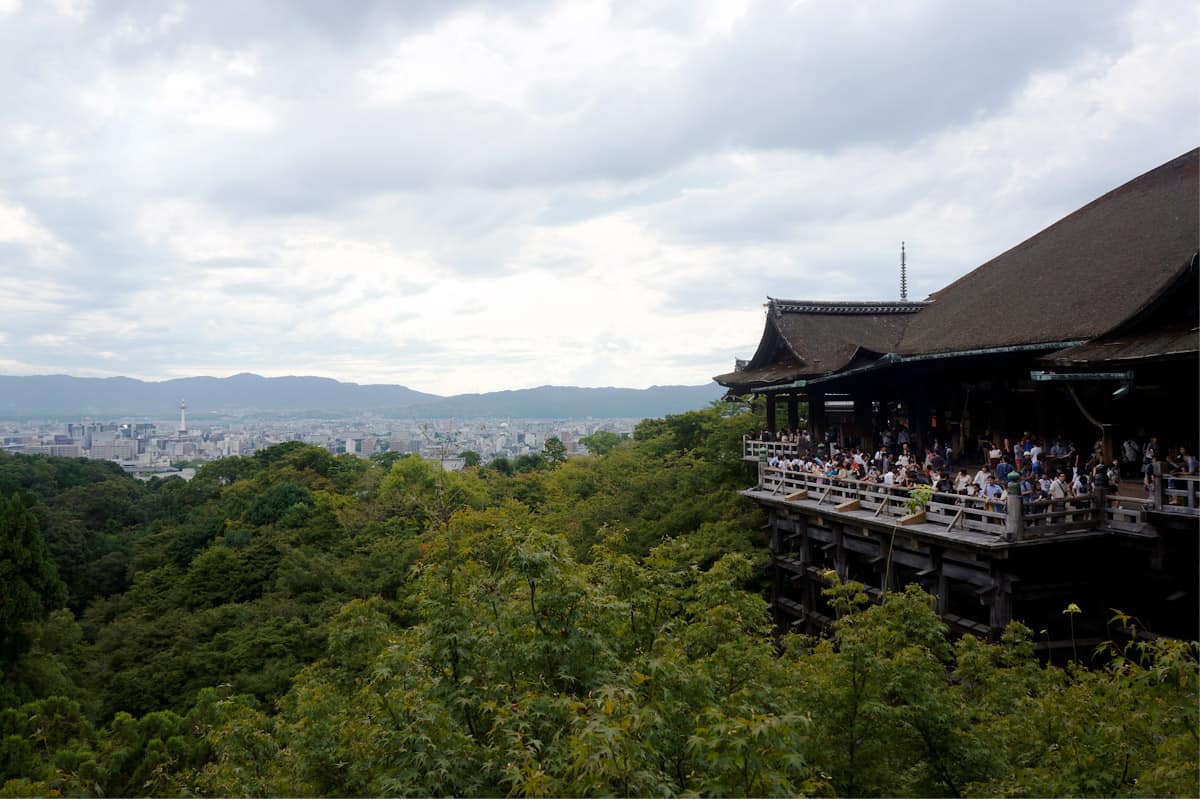 If for some reason you only have time to visit one Buddhist temple in Kyoto, Kiyumizu-dera (Pure Water Temple) in Higashiyama-ku, eastern Kyoto should be on top of your options. Founded by the Hosso Buddhist sect in the 8th Century AD, the temple got its name from the clear waterways over which the temple premises were erected.
Kiyomizu-dera's foremost attraction is its Main Hall, a favorite subject among Japanese painters, poets and photographers. Housed within is a statue of the Kannon Bodhisattva, the Buddhist goddess of mercy. Overlooking a panoramic view of Kyoto is the Main Hall's sizeable veranda, which is supported by 13-meter-high wooden pillars noted for not using a single nail during construction.
There was a time when jumping off the veranda was practiced by devotees in a desperate attempt to have their wishes granted by Kannon. It has long since been prohibited, but even today, if a Japanese friend tells you to "to jump off the stage at Kiyomizu", he means that you take the chance and throw caution to the wind.
Otowa Waterfall is another popular venue within the complex, a set of three small water channels that flow to a man-made pond. The three channels represent good health, success in studies, and a fulfilling romance, and drinking from each channel will grant the drinker its respective benefit. Drinking from all three is discouraged, though, as it is considered greedy.
Entrance to the Main Hall requires a JPY 400 entrance fee, while the rest of the complex is free.
---
---
Higashiyama District
Experience the Kyoto of yore in Higashiyama District!
Just outside Kiyomizu-dera is Higashiyama District, a quaint little village that would fit nicely in a Kurosawa period film. Many pilgrims pass by this village to get to Kiyomizu-dera, and the road leading up to the temple is lined with mom-and-pop stores, confectionery stands, and teashops. Traveling the two-kilometer, uphill stretch is never dull, not if you have a box of mochi in one hand and some matcha ice cream in the other.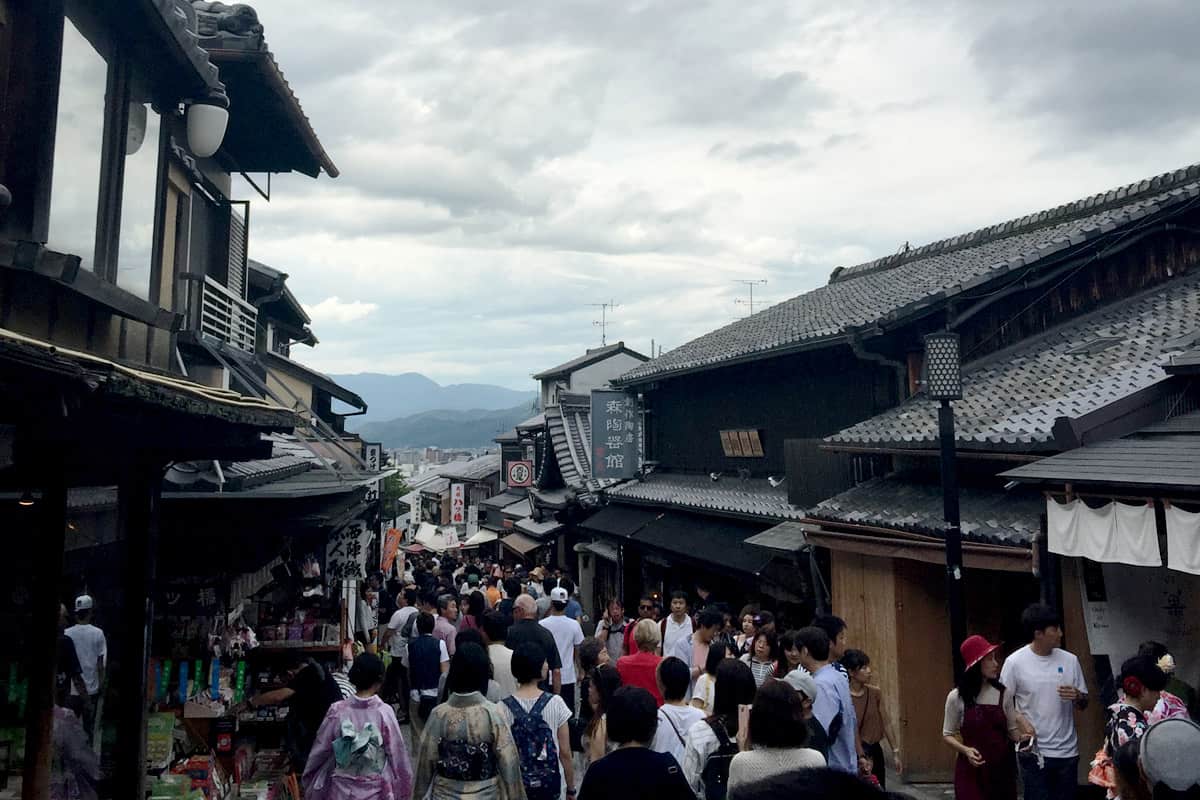 The old-fashioned houses have been serving visitors for centuries, and can be quite festive and jam-packed during holidays. This is especially true during the Hanatoro festival in March, when the shops extend their service hours and the streets are illuminated by thousands of lanterns.
Both Kiyomizu-dera and Higashiyama District are a little far-off from the railway network, and your best option to get here is a 15-minute bus ride from Kyoto Station to the Kiyomizu-michi bus stop, followed by a ten-minute walk. Bus tickets start at JPY 230.
---
Dotonbori and Shinsaibashi
Immerse in Osaka's urban culture in Dotonbori and Shinsaibashi!
Originally a theater district, people go to Dotonbori for its cheery nightlife and ample food choices. The variety of neon signboards, entertainment centers, restaurants, and street food kiosks (yatai) within the district are a feast for the senses. Landmarks include the Glico Man giant signboard, with his signature winning pose, the Dotonbori Canal, and the National Bunraku (Puppet) Theater. Delicious street food can be yours for as low as JPY 200 per serving. Have your fill of Osaka staples like okonomiyaki, takoyaki, and kushi katsu.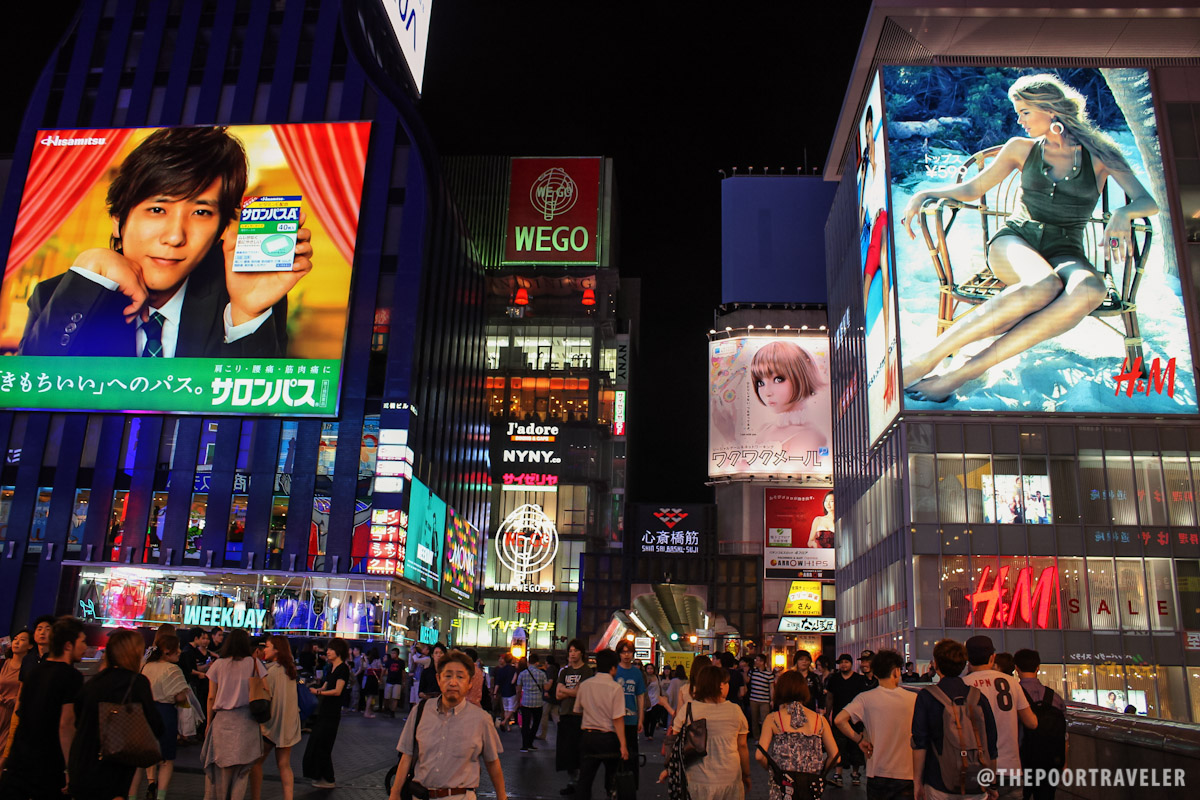 Where Dotonbori is a food lover's paradise, Shinsaibashi is a haven for shoppers. Shinsaibashi boasts a 600-meter covered stretch full of fashion boutiques, retail outlets, sporting-goods stores and electronic shops. One of the oldest shopping districts in Japan (founded by a Japanese merchant in 1622), Shinsaibashi has something for everyone, from posh designer bags to hundred-yen novelties. Most stores offer duty-free privileges if you have a passport to show.
The Dotonbori and Shinsaibashi districts are adjacent to each other, and located within the Chuo-ku ward. They can be reached via a 10-minute walk from the JR Namba Station of the Yamatoji Line.
---
Fushimi Inari Taisha
Visit the shrine of foxes at Fushimi Inari Taisha!
Among the dieties of the complex Shinto pantheon, probably the most revered is Inari, the patron of rice, tea, and merchants. One in every three shrines throughout Japan is devoted to Inari, and many business owners – even heads of large corporations – visit these shrines for blessing and guidance. Fushimi-Inari Taisha, located in Kyoto, is Inari's principal shrine.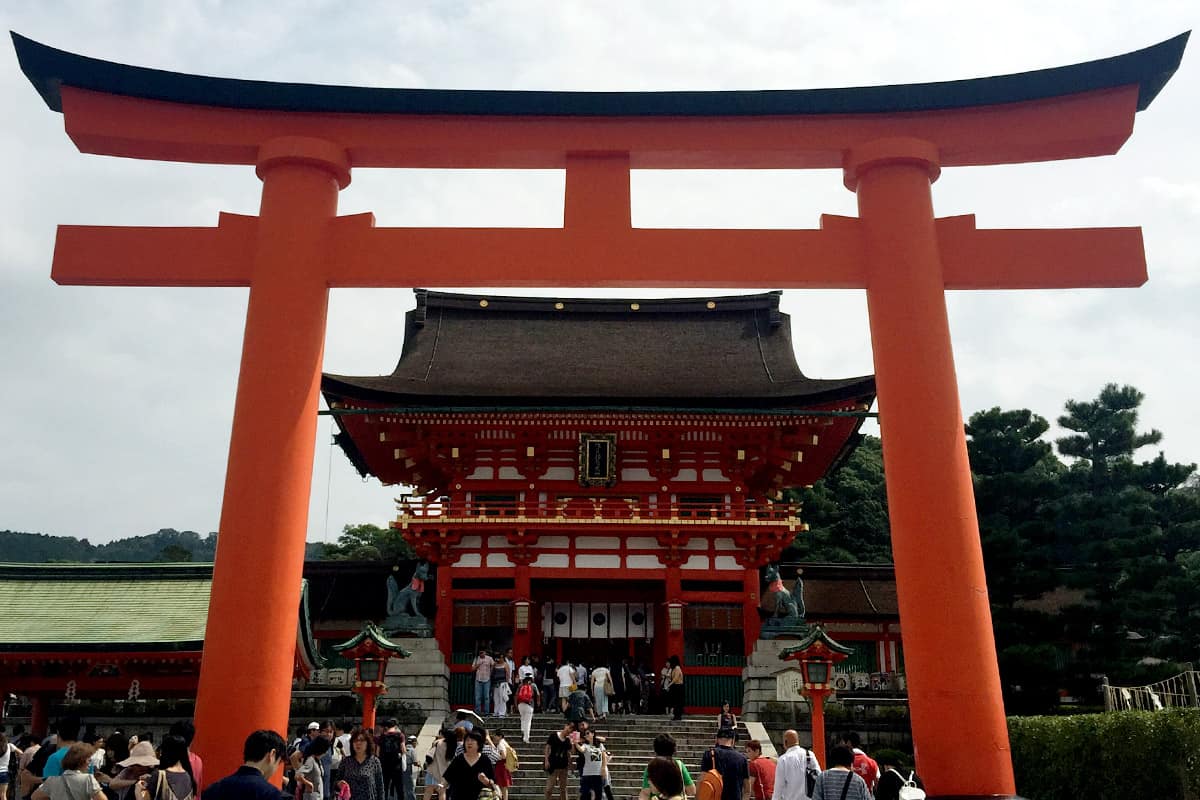 Located at the foot of a mountain also named Inari, Fushimi-Inari Taisha is well-known for two reasons: the hundreds of vivid red torii gates that cover the walkways leading up to the shrine precincts, and the dozens of stone foxes that guard these shrines. The fox statues, known as kitsune, serve as messengers of Inari, and are frequently portrayed clutching an item significant to the deity, be it a jewel, a scroll, or rice. Those seeking Inari's blessing bring offerings to kitsune in hopes of gaining their favor.
If you feel adventurous, you can hike up the mountain to access the higher precincts and catch an impressive view of the city. The walkways span about four kilometers, and can take a couple of hours to traverse. Back at the entrance, shops offer trinkets, souvenirs, and sweets to bring home.
Fushimi-Inari Taisha is free and easily accessible by train: the Inari Station of the JR Nara Line is located just outside the shrine entrance.
---
Pokemon Center Umeda
Hone your poke-training skills at Pokemen Center Umeda!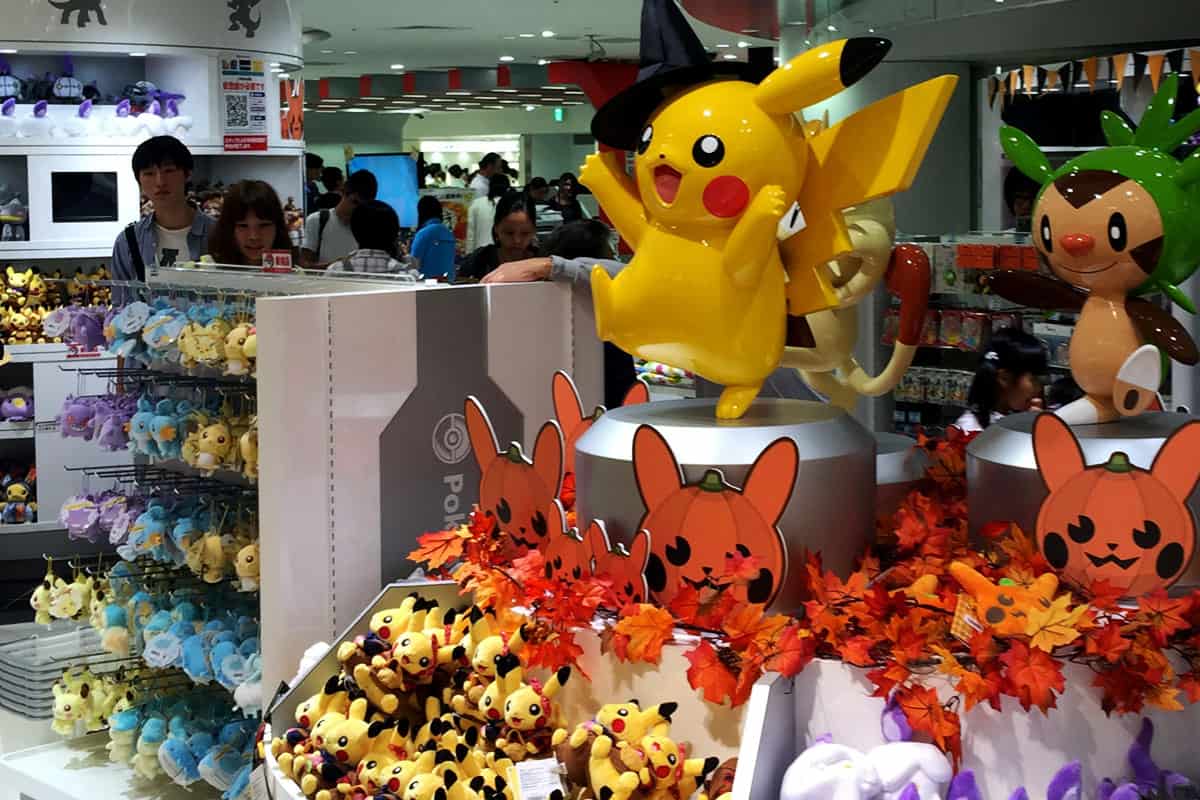 From a concept its creator Satoshi Tajiri derived from insect collecting, Pokémon has since evolved (no pun intended) to a universally-recognized media franchise and lifestyle brand. The mobile game Pokémon GO only added a fresh multitude of dedicated "trainers", all trying to be the very best, like no one ever was.
Any true-blue Pokémon fan visiting Osaka can't afford to miss the city's own Pokémon Center, located at the 13th floor of the Daimaru Umeda Department Store within Osaka Station City. Essentially a toy and hobby shop, the Pokémon Center is also a de facto gathering place for Osaka Poké-fans. You can swap Pokémon, trade cards, play arcade games, or simply hang out with fellow enthusiasts. And yes, it has its own Pokémon GO gym, in case you and your Snorlax are confident enough to take on Osaka's best trainers.
It won't cost anything to drop by Pokémon Center Umeda, but with all those Pikachu plush toys staring at you doe-eyed, the effort to not bring one (or three) back home can get real fast.
---
Shitenno-ji
Pause and meditate at Shitenno-ji!
Shitenno-ji in central Osaka is the oldest Buddhist temple in Japan, founded in 593 AD by the mythical Prince Shotoku. A devout Buddhist at a time when the religion was not prevalent in Japan, Prince Shotoku built the temple in honor of the Shitenno, the four heavenly kings of Buddhism.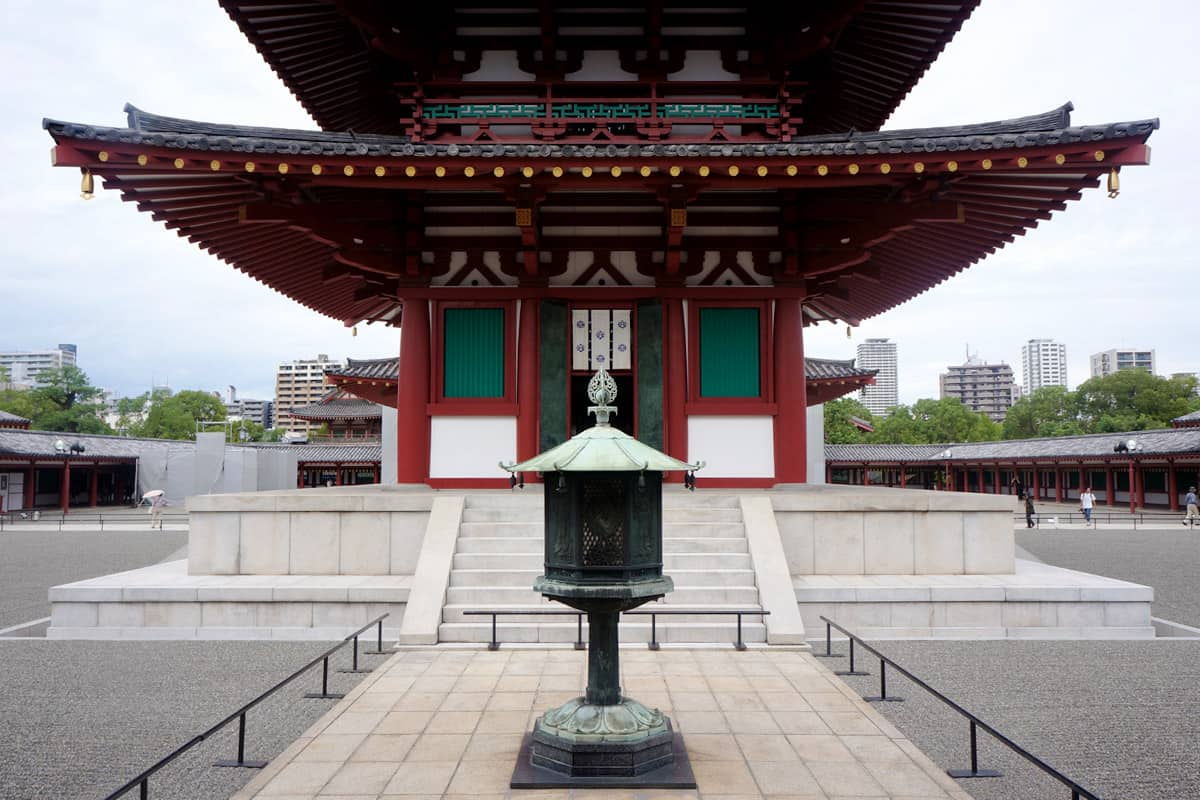 Because of its popularity with devotees, the surrounding areas are always busy with vendors selling food, herbs, and novelty items. However, the hustle and bustle is hushed once you get inside the temple premises.
The main attractions here are the Kondo or main hall (where a shrine for the Prince is located), the five-story pagoda, the treasure house, and the Gokuraku-jodo Garden. Carefully landscaped white sand and pebble formations (called karesensui) accentuate the temple and aid visitors in their meditations. Gokuraku-jodo Garden, located at a separate area nearby, was designed based on the Sukhavati, the Buddhist Western Paradise.
To get inside the Kondo, the treasure house, or the Gokuraku-jodo Garden, you need to shell out JPY 300 each. Shitenno-ji is a five-minute walk from the Shitennoji-Mae-Yuhigaoka Station via the Tanimachi (Subway) line, or a 10-minute walk from Tennoji Station of the JR Osaka Loop line.
---
Arashiyama
Go temple hopping in Arashiyama!
This iconic district just in the western fringes of the city is a nationally designated Historic Site and Place of Scenic Beauty. When you visit for the first time yet you have that strange feeling that some parts are familiar, don't freak out. You've probably seen it before in paintings or postcards, especially when the area is dressed in the fiery colors of fall. Concealed in its deciduous forests and bamboo groves are temples that are worth a visit including Horinji Temple, one of the five head Shingon Buddhist temples in Kyoto; Tenryuji Temple, the best among the Five Great Zen Temples of Kyoto and a UNESCO World Heritage Site; and Nonomiya Shrine, a Shinto shrine founded around 800 AD.
With the exception of Tenryuji Temple which collects a Y500 admission fee, acccess to Arashiyama's temples are free of charge.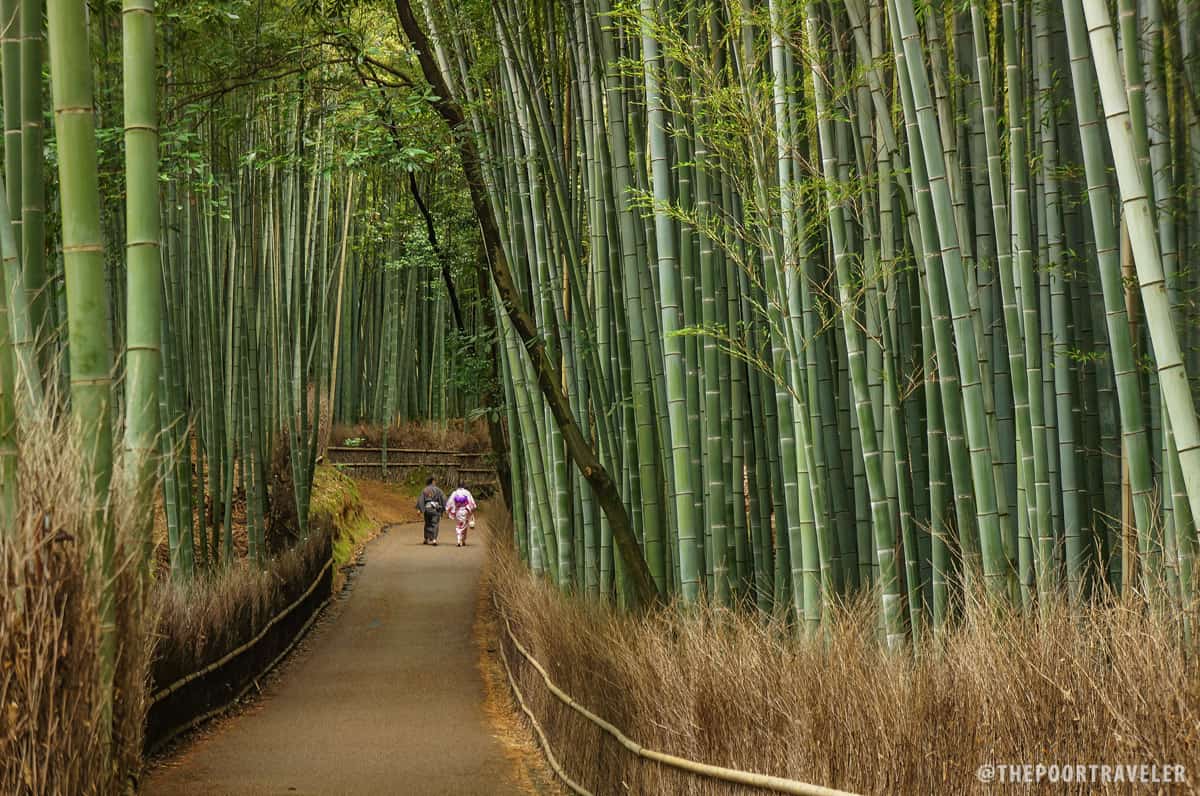 ---
Useful Tips
Be on the lookout for budget fare promos. As we all know, a huge bulk of one's travel budget go to airfare. Low-cost carriers like Cebu Pacific regularly offer great deals, allowing budget travelers to focus more on the 'traveling' and less on the 'budget'.
Prepare for some serious walking. Bring water, sunscreen, a nice pair of walking shoes, and really comfortable socks. Many of the attractions listed here require a lot of walking, sometimes stretching for kilometers on end, and you don't want your Japan trip ruined by dehydration or blisters.
Don't be afraid to ask for directions. The Japanese definitely know how to accommodate their visitors, and some even go out of their way to help you out with directions. Major train stations also have their own travel service centers of you need more detailed information about your trip.
Google Maps is your best friend. Not only is Google Maps useful for pinpointing specific locations, it also offers the most efficient ways to get there, be it by walking, car, or public transport. It even displays fare prices so you can calculate the costs on the spot. Plus, it's a great way to discover lesser-known gems tucked in between the more popular spots.
Get a digital phrasebook. The phrases "Sumimasen" and "Eigo ga hanaseru", plus tons of hand gestures, have gotten me out of tight spots more often than I would like to admit. Spare yourself the embarrassment and download some free Japanese digital phrasebooks and practice before the actual trip.
---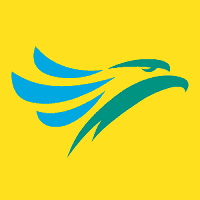 Special thanks to our friends from Cebu Pacific for making this trip possible. From Manila, Cebu Pacific flies to Osaka four to five times a week. They also offer flights to Tokyo, Fukuoka, and Nagoya.
2️⃣0️⃣1️⃣6️⃣ • 1️⃣1️⃣ • 6️⃣
---