In 2012, I traveled solo for the first time in my life.
I still remember how scared I was before the trip. With only a small backpack, a Neil Gaiman book, a thousand dollars, and a will to get out of my comfort zone, I boarded the plane to Bangkok. As I was checking in, there were no butterflies in my belly, only a great fear that I might find myself unfit for the travel lifestyle and come running back home earlier than planned.
Looking back, I can't help but laugh at the idea that I almost chickened out. I mean, it's Southeast Asia! It's not too far from my comfort zone! But not only would it be my first time traveling alone, it would also be my longest journey yet — one full month across four countries: Thailand, Cambodia, Laos, and Vietnam. I was concerned about many things: safety, scams, funds, my being socially awkward.
Thankfully, they were overpowered by the thought that it was something I had to do not for this blog but for personal growth. I wanted to do things I had never done before, to be challenged again, to be alone again. At the time, I had been in a committed relationship for over three years, and I wanted some me-time even just for a month.
That trip opened so many doors, letting in an ocean of possibilities. The friends I made within that one month were friends I kept even up to this day. (One of them I had visited in Paris twice already!) The ideas that popped up in my head became cornerstones of the career I had since built. And the learnings I collected along the way became the light that guides me during difficult times.
Of course, it won't be the same for all of us. Solo travel isn't for everyone, but it's surely something that I can recommend that you try at least once in your life. But where to start? If you're like me who is nervous about everything, you'll be glad that there are destinations that are great for first-time solo travelers — with minimal language barrier, highly organized tour options, and a thriving backpacking culture.
We asked some of my blogger friends for places that are best for a solo travel debut, and these are 12 of our suggestions.
---
Bangkok, Thailand
It's almost impossible to build this list without a mention of Bangkok, the epicenter of Southeast Asia's backpacking scene. This is where the usual backpacking trails in the region begin and end. Bangkok is so used to tourists, you can visit sites on your own easily.
"For first time international solo travelers, there's no other city I would recommend," says Aleah Taboclaon of Solitary Wanderer. "In Bangkok, everyone's free to do their own thing. Locals won't blink at same-sex couples, and if you want to wear your yoga pants while out and about, you won't get a second look. Of course, Thailand is more than just Bangkok, but for solo travelers just learning their way, I would recommend Bangkok for their first international destination."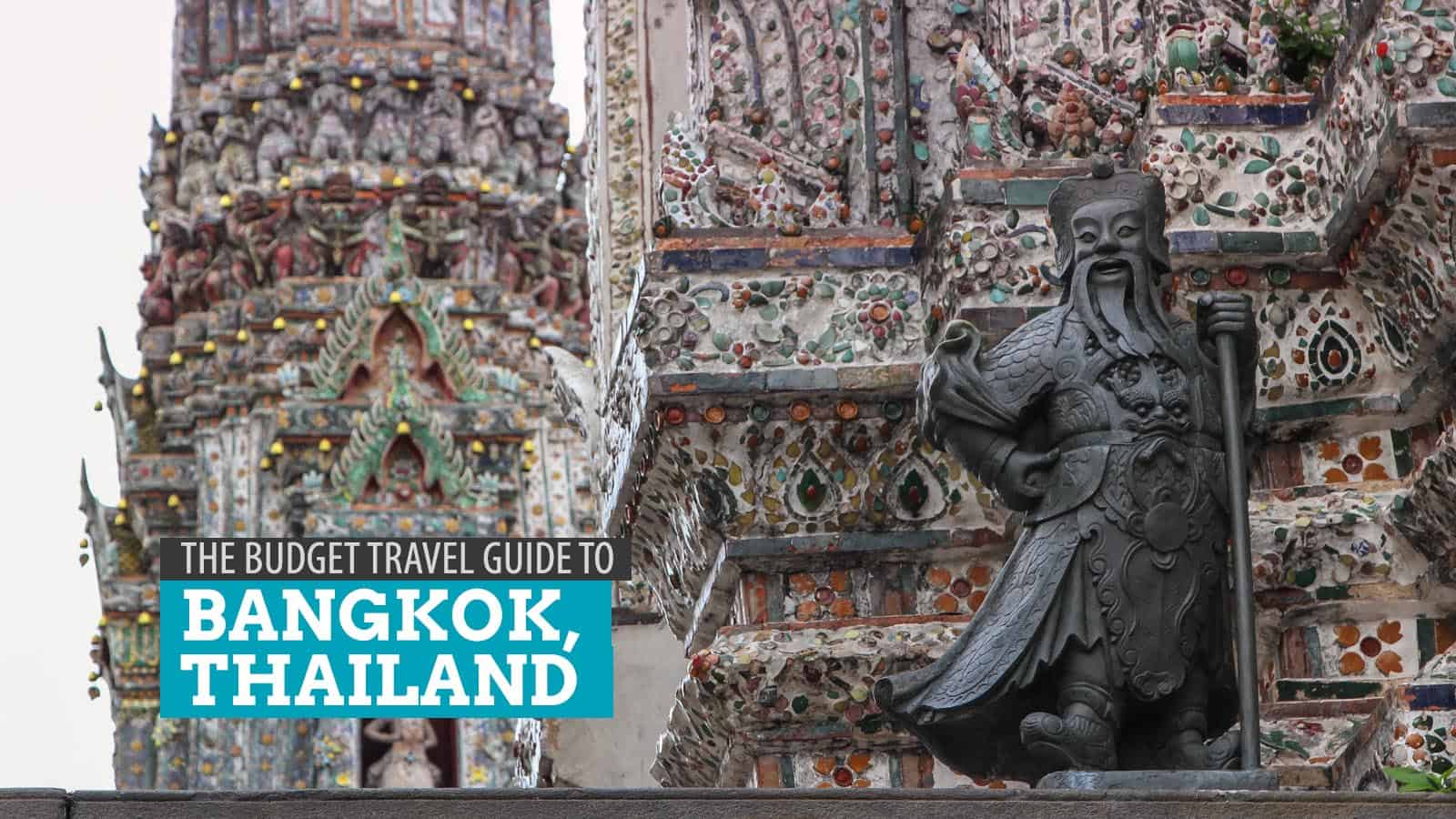 What's to love?
Affordable accommodations! Even their hotels are not as pricey as their counterparts in other parts of the world.
Cheap but irresistible cuisine. The street food alone is worthy of several dedicated blog posts.
Plenty of interesting sites to see in the city. From the basics like the Grand Palace and Wat Arun to obscure ones like the Phallus Shrine.
Vibrant nightlife!
Great jump off point for neighboring destinations like Ayutthaya and even Siem Reap in Cambodia.
What you need to know
Scams. When God showered the world with scams, Bangkok got way more than its share. But they're pretty easy to avoid. You just need to be familiar with them before you go.
If you're after non-touristy sites, this isn't for you. Bangkok gets millions and millions of visitors every year.
More info: Bangkok Solo Travel Tips
---
El Nido, Philippines
The Philippines is said to be on the wrong side of the South China Sea, disconnected from its neighbors. Getting here takes more time and effort, but those who do are rewarded with an unforgettable tropical getaway. Backpacking is still an emerging concept in the country, but not in El Nido.
El Nido has been a haven for backpackers for decades. It's the top choice for Micaela Rodriguez of Senyorita. The best thing about El Nido is that you can still have loads of fun even if you're going solo. Most tours operate on a system that puts strangers together on a boat for a day-long island adventure. And the prices are regulated, ensuring that tourists do not pay more than they should. It's something a solitary soul don't need to be worried about.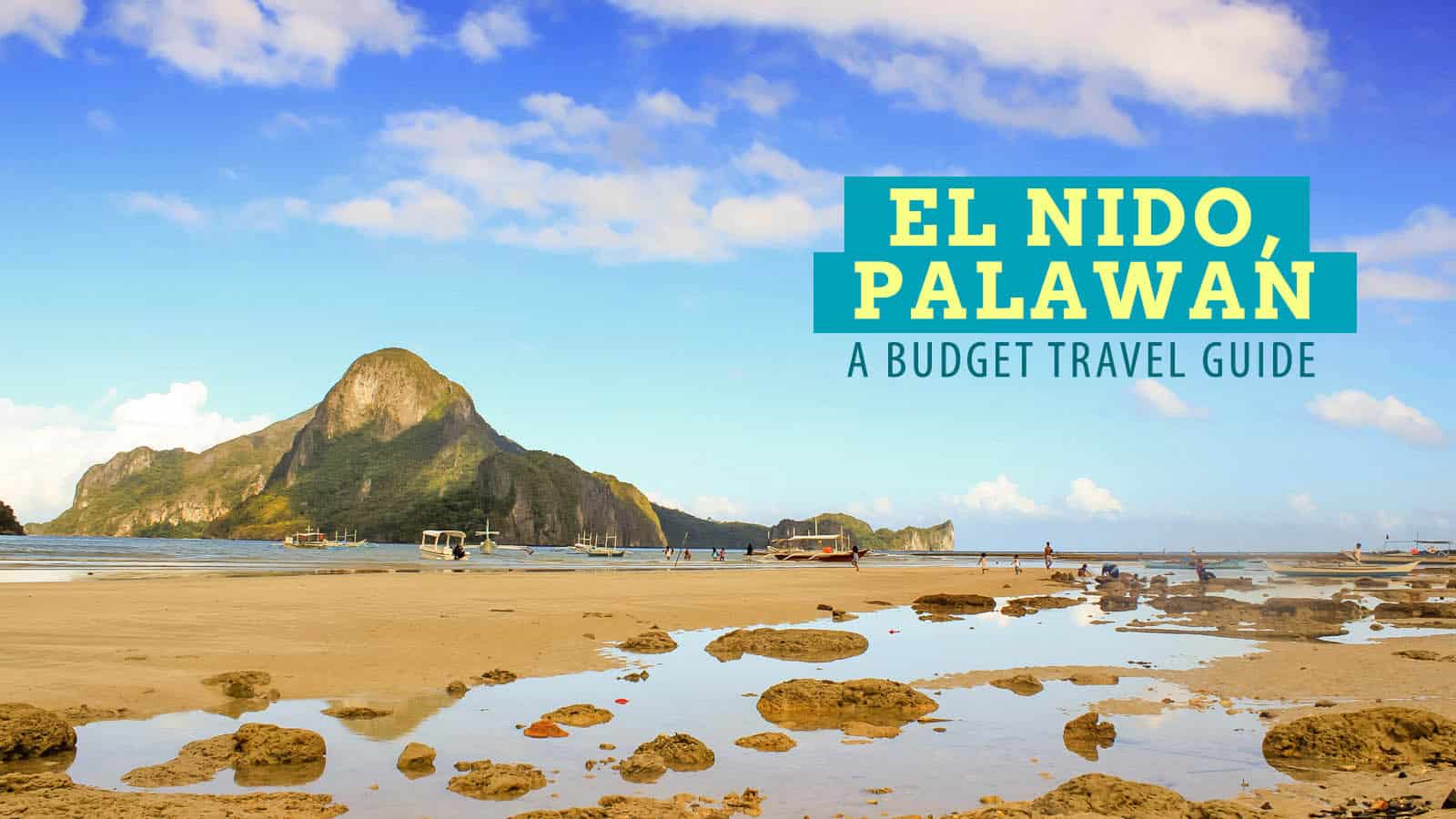 What's to love?
Incredible beaches, karst cliffs, and dive sites. There's no running short of wonder here.
Sites are "bundled" together in tour packages. Tour A for Miniloc Island attractions, Tour C for Matinloc Island, and so on. You just need to choose the island tour and they'll prepare everything for you, including lunch.
Affordable accommodations.
Locals are friendly and hospitable.
What you need to know
Because of limited direct flight options, El Nido can still feel a bit isolated. It's around 6 hours from Puerto Princesa by land and 8 hours from Coron by boat.
Been here 3 times and there are still power interruptions, so make sure you choose a hotel equipped with a generator.
Don't forget to bring some mosquito-repellent lotion.
More info: El Nido Tips
---
Siargao, Philippines
Another Philippine destination that has enjoyed an increased backpacker traffic is Siargao, recommended by Sabrina Iovino of Just One Way Ticket.
"Siargao is a fantastic place for first-time travelers in the Philippines," Sabrina declares. "It's a beautiful island with friendly locals and a relaxed surfers vibe. Even if you don't surf, check out Siargao, there is plenty to do for non surfers."
More info: Siargao Guide for Non-Surfers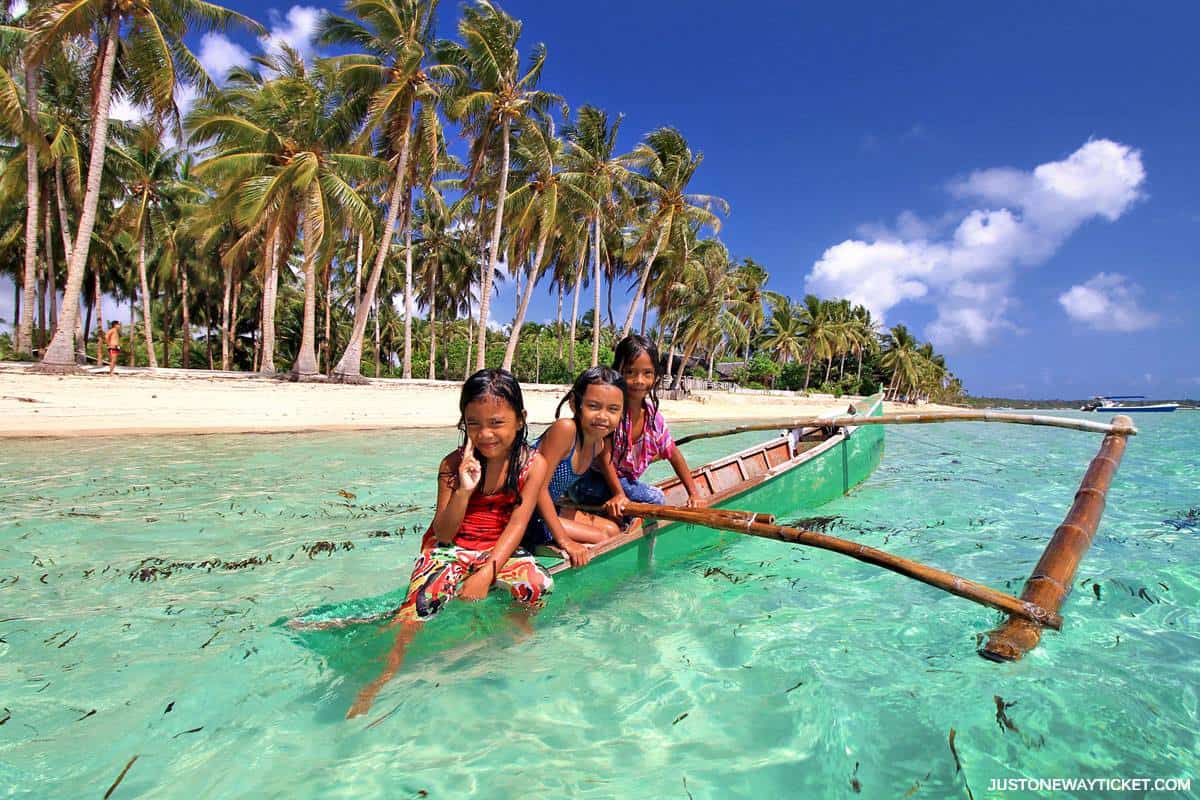 What's to love?
If you're after sun and sand, this is your paradise.
Not as touristy as other beach destinations in the Philippines. Not yet, at least.
Affordable accommodations. Sabrina adds, "If you want to meet people, stay at Kermit Resort or alternatively at Paglaom, the latter one offers dorm rooms, it's easy to connect with fellow travelers."
What you need to know
Limited flight options. It isn't as easily accessible as other islands in the Philippines.
---
Hong Kong
Whenever readers ask us for first overseas travel ideas, Hong Kong is always a top-of-mind recommendation. And it looks like we're not alone. Girl Rising ambassador and PS I'm On My Way founder Trisha Velarmino agrees. "There is only one explanation why a first-time solo traveler should go to Hong Kong," she shares. "You will have many nights you won't remember with the people you will never forget. The drama, the charm, the beauty, the breathless energy, the rude but welcoming people — I knew I always wanted to write a story set in Hong Kong."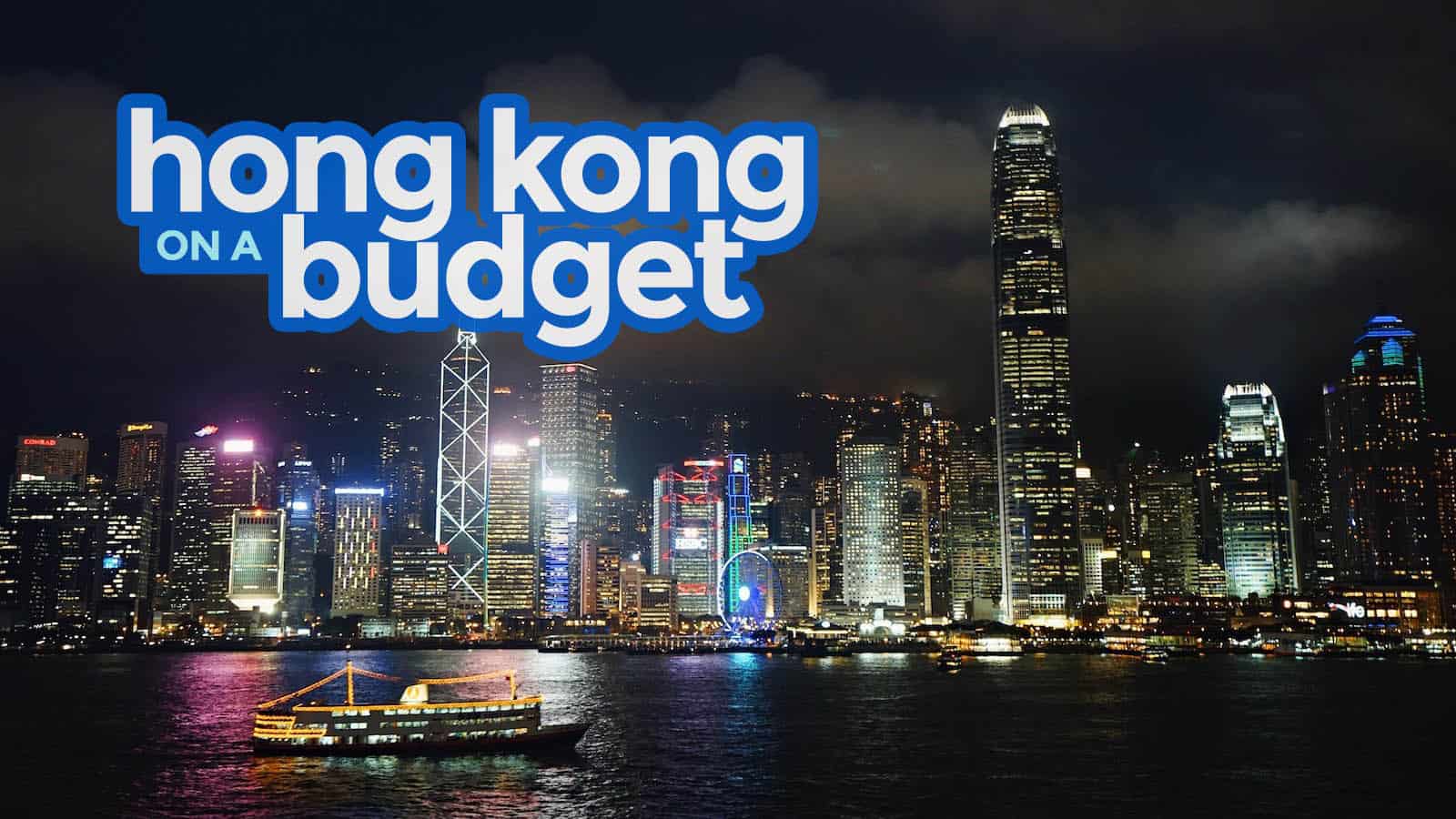 What's to love?
Expansive and reliable transportation system
Unlike other urban hubs like Tokyo and Singapore, Hong Kong enjoys a much lower cost of living.
East meets West feels!
Great food, if you know where to look.
Not much language barrier. English is widely spoken.
More info: Hong Kong and Macau Travel Guide
---
Siem Reap, Cambodia
The gateway to the Angkor Temples, Siem Reap is another crowd favorite for a reason. Before my visit, I knew what to expect, yet I was still blown away by the sheer size of the Angkor Wat, the intricate details of Bayon, and the intriguing charm of the other temples. Yet, what lingers is the feeling of being welcome.
Ron Cruz of Flip'n Travels couldn't help being poetic when describing the city. "She's neither snob nor clingy, she's both foreign and peculiarly familiar. She will embrace you regardless if you arrive donned in a crisp shirt or shabbily wrapped in a beer stained jersey. The travelers are young, the culture is old, locals are tolerant, society is ever fleeting. The history is gilded in gold and drenched in blood and recently so wounded that all emotions are not judged."
And for those with separation anxiety issues, Ron adds, "She's warm enough to be received with sincerity and cold enough to easily let go."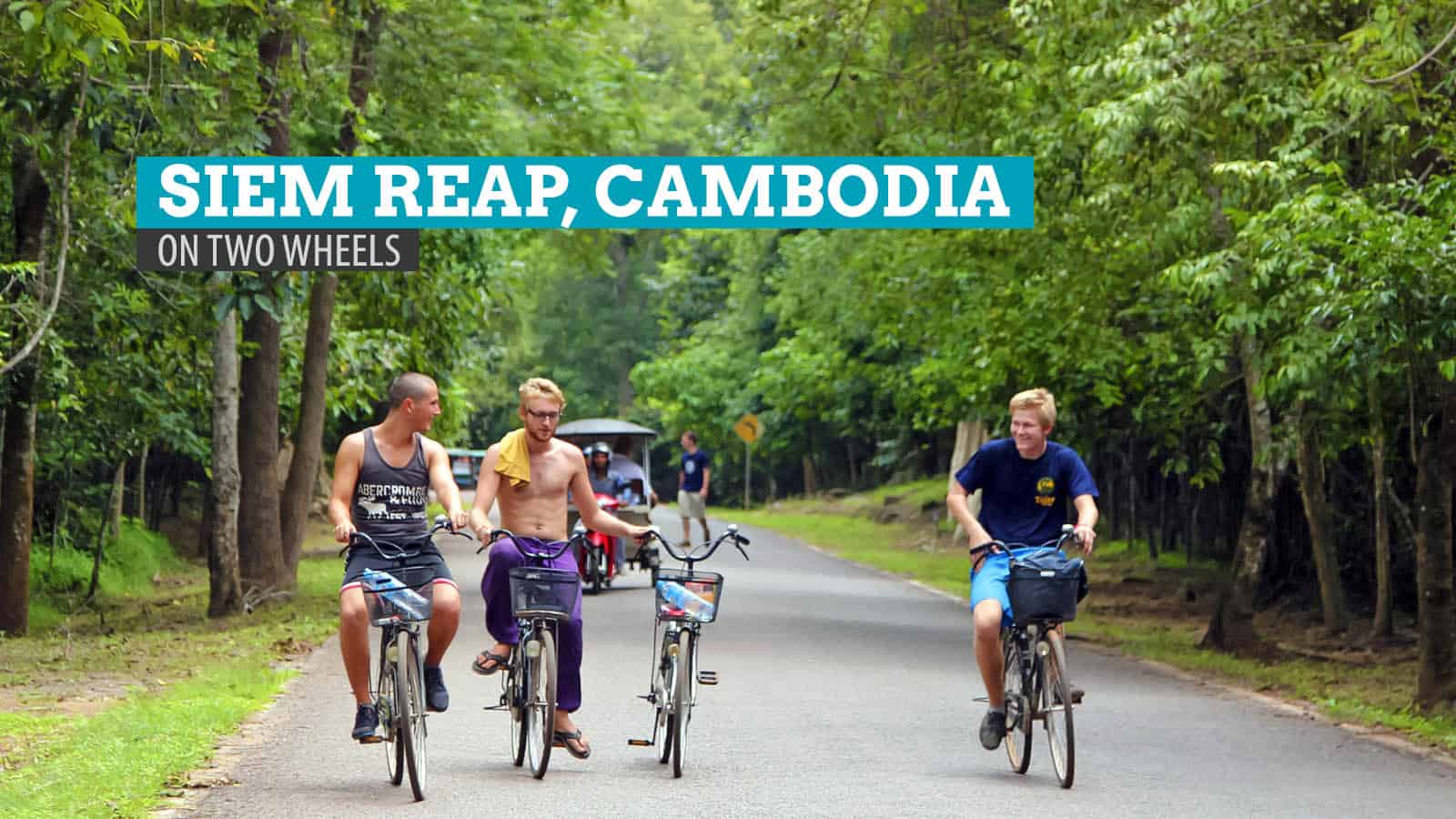 What's to love?
Angkor Temples. There are countless of them so make sure you have at least a day to see the major sites.
Friendly locals
Lots of affordable accommodations
What you need to know
Scams, especially those that use children. You might encounter these at one of the temples you're visiting. Some will offer to tour you around but will charge exorbitant fees after.
---
Penang, Malaysia
Traveling Light's Claire Madarang has high praises for Penang! "The streets of UNESCO World Heritage Site George Town, is a great place to get lost in for hours – even for days, as there is just so much to see!"
"Walk around and take in the beautiful heritage houses, the colorful street art, and the different places of worship, like churches, temples, and mosques, as Penang celebrates diverse cultures and religions. And, eat the delicious and affordable street food, as this place is known not just for its heritage but also its food. Transportation is efficient, with numbered buses going around and also to and from the airport. Affordable solo traveler-friendly accommodations are also available. And, locals are generally friendly and helpful."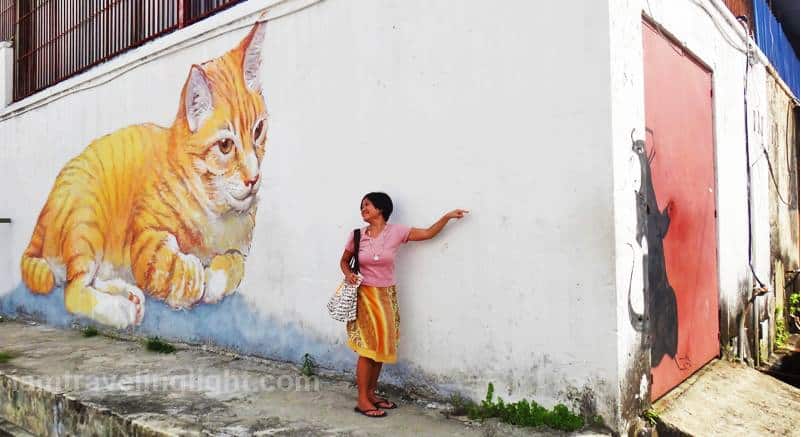 What's to love?
Good location. If you're planning on continuing your journey, you can easily go to Langkawi (by ferry), Cameron Highlands (by mini-bus), or even Thailand (by train).
Food! Penang is often regarded by many as Malaysia's culinary capital.
Affordable accommodations
Friendly locals
Read more: Cute Cats of Penang in Street Art
---
Guilin, China
My personal choice is Guilin.
China has some of the most breathtaking landscapes in the world, and Guilin is a great 101. True, the language barrier can be quite challenging at first but once you're past it, it's not difficult at all to fall in love with the city. Unlike China's major cities like Shanghai or Beijing, Guilin is still relatively laid-back and not as polluted.
In Guilin, fantastic, scenic areas are within easy reach. You can see the famed Li River and its towering limestone cliffs, the town of Yangshuo, and even the Longji Rice Terraces in Longsheng. Many of these sites can be seen on group tours that you can join if you're alone.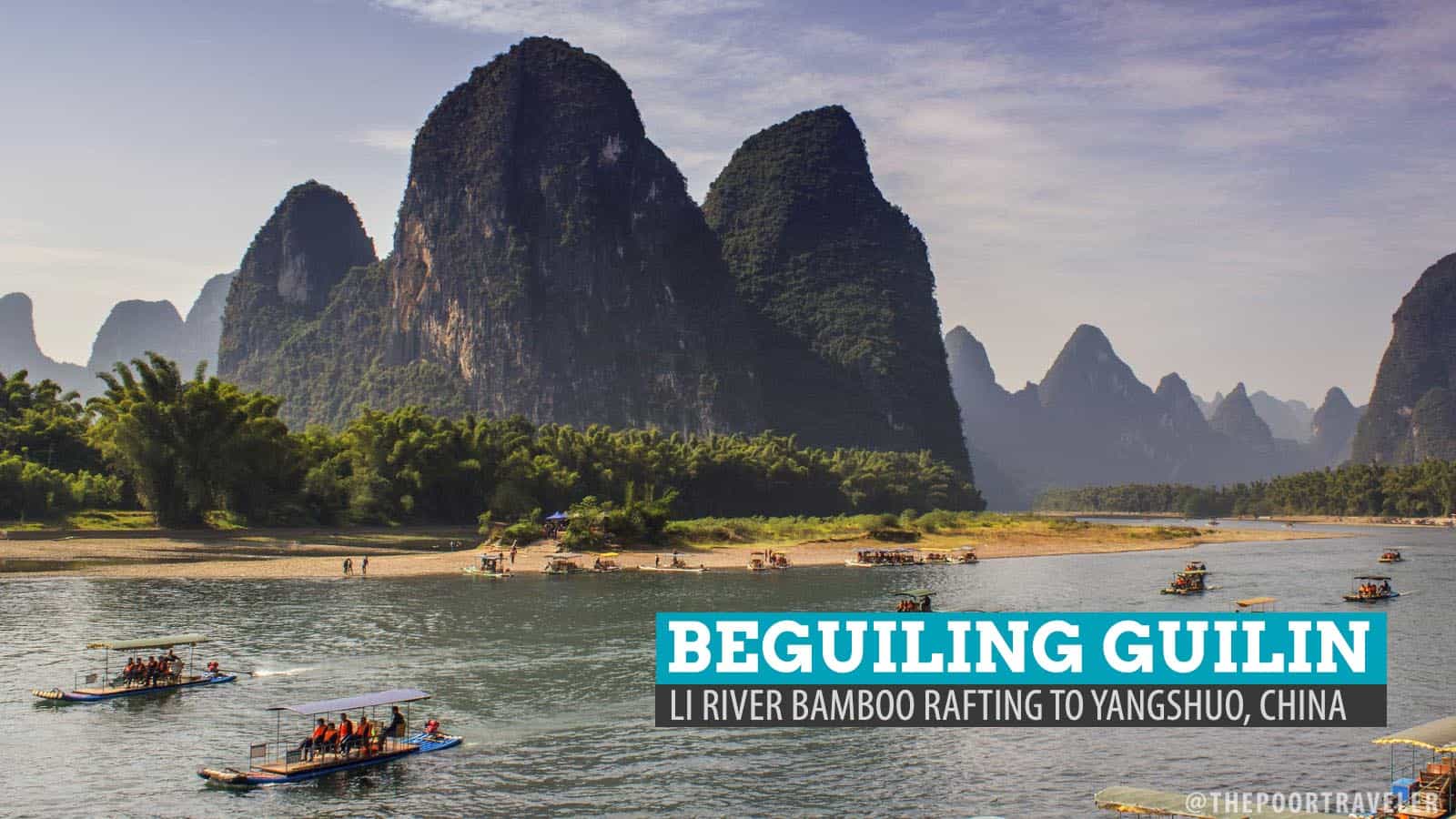 What's to love?
Natural scenery is incredible.
Cheap transportation and tours. Even taxi rates are not that bad.
Low cost of living
What you need to know
Language barrier here can be frustrating. You can help yourself by using translator apps or asking a friend who can speak English to write things down in Chinese characters for you.
While train rides to other parts of China from Guilin are cheap, they can be overcrowded. In some cars, smoking is allowed. And some restrooms can cause a bit of a culture shock.
If you're holding a Philippine passport, a visa is required.
---
Cappadocia, Turkey
Turkey has been battered by a series of attacks lately, discouraging potential tourists. It's sad because in my opinion, Turkey is one of the most beautiful countries in the world.
Take Cappadocia as an example. It has everything a first-time solo traveler can ask for. When we were there, we rode a hot air balloon for the first time, hovering above an endless sea of rock formations, from towering pillars that nature meticulously molded into massive chimneys for over 2000 years to spires that the early Christians carved through to create dwellings and churches centuries ago. It was surreal. Under the surface are dozens of underground cities, many of which are open to tourists.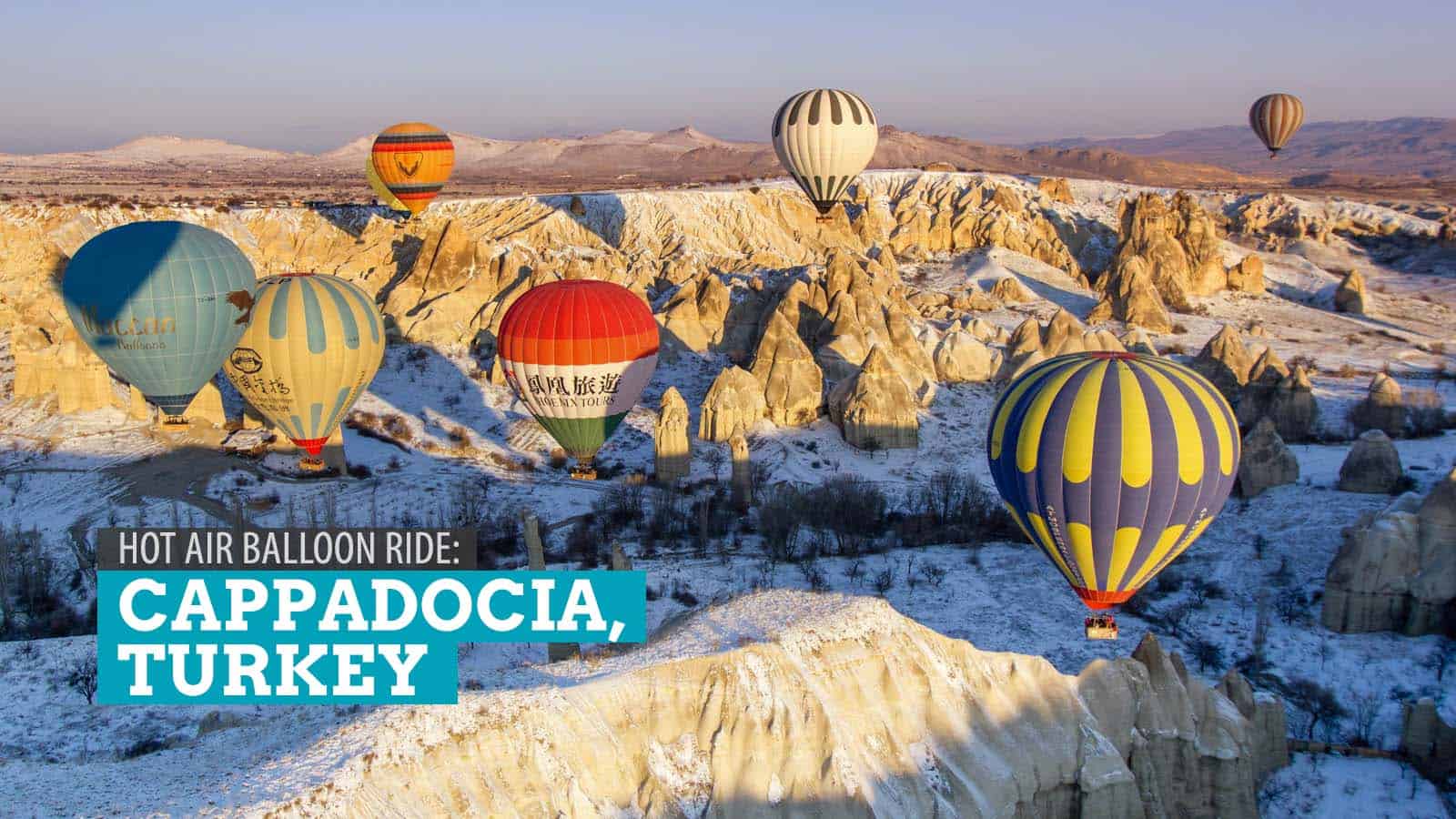 What's to love?
It is served by two airports. Domestic flights are so cheap, skipping it should be a crime.
Tours are packaged and organized by color: red for Goreme, green for Ihlara, and blue for Soganli. Solo travelers can easily join one and meet other like-minded solo backpackers.
Goreme, the main tourist town, is small and easy to explore.
Low cost of almost everything, even tours.
Warm, friendly locals
What you need to know
If you're after hot-air balloons, know that the ride is highly dependent on good weather. There's a chance it can get canceled in non-summer months.
Not many public transportation options. Hitchhiking is common but you might be in for a long wait.
If you're holding a Philippine passport, a visa or an e-visa is required.
---
Hualien, Taiwan
Taiwan is a small island bursting with unforgettable attractions. Taipei is a good base if you want to explore much of the capital and neighboring Yangmingshan National Park and Beitou.
Our personal favorite is Hualien on the East Coast of the island. A local friend told me that there is a saying that Hualien lies on "sticky" ground, which refers to its ability to make visitors NOT want to leave. It's one of those cities that feel more like a big town. It's relaxed and unhurried. It's also the gateway to Taroko Gorge National Park.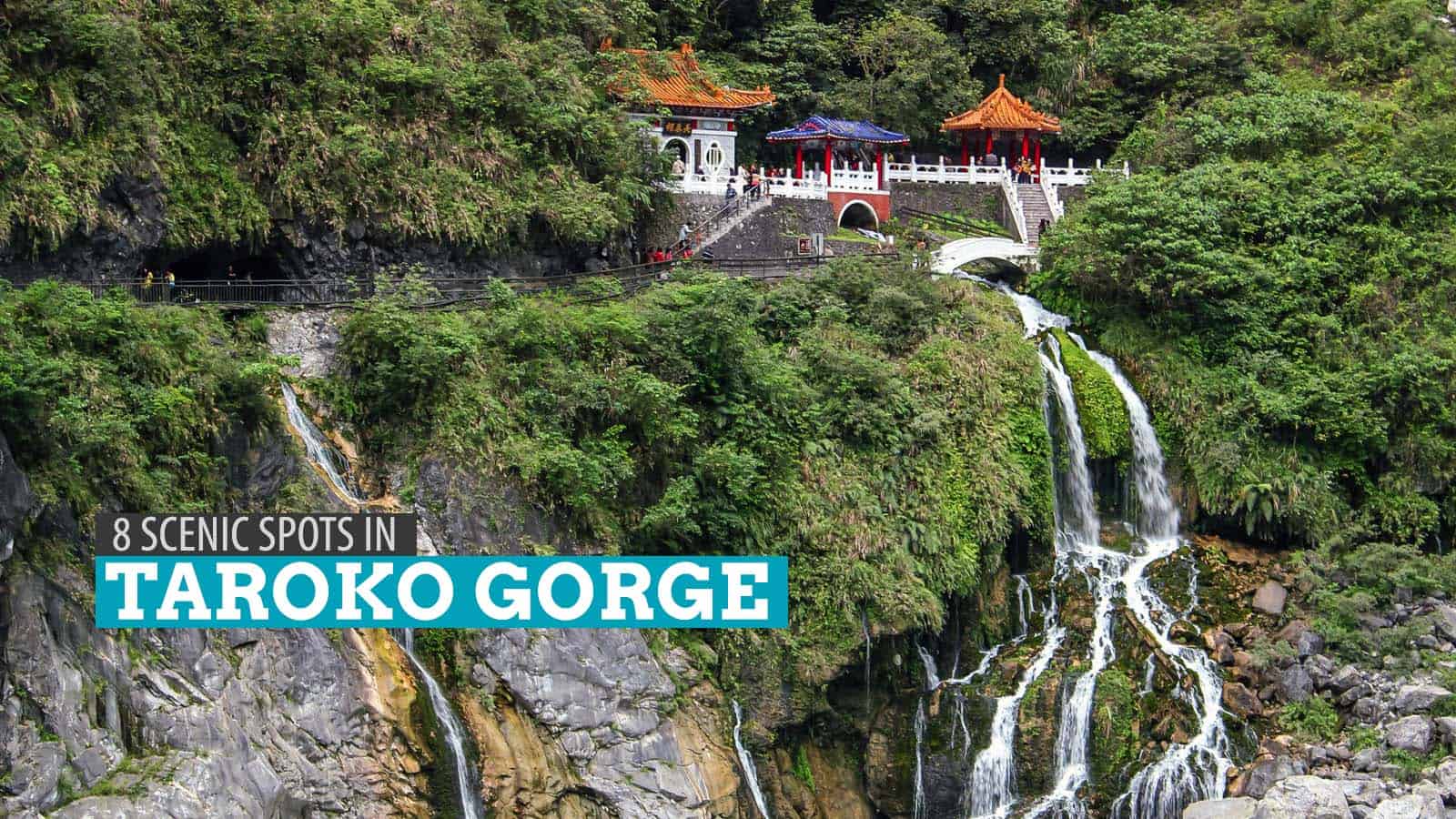 What's to love?
The Taroko Gorge is wonderful. We spent a full day just walking in between cliffs and on the banks of its streams yet it still felt like we needed more time. Absolutely magnificent.
Getting in is easy. It's just 2 hours from Taipei, and multiply trains stop here a day.
Getting around is a piece of cake too. Hualien is small so much of it can be reached on foot. Cheap taxis abound in case you get tired.
It's cheap! 100 USD go a long way if you know your way around.
Night markets!
What you need to know
If you're holding a Philippine passport, a visa or an e-visa is required.
---
Osaka and Kyoto, Japan
Osaka and Kyoto are Vins's choices. And since they sit just next to each other, let's just treat them as one destination in this list.
Osaka is considered the culinary capital of Japan, boasting several signature dishes including okonomiyaki and takoyaki. On the other hand, Kyoto has always been the cultural center of the archipelago, known as the birthplace of kabuki and the home of the geisha. Impressively maintained and restored ancient temples and shrines dot its map.
While Tokyo can be too overwhelming for the first-time visitor, Osaka and Kyoto are more forgiving. Locals, especially those belonging to the older generations, can barely speak English but their hospitality and kindness make up for it.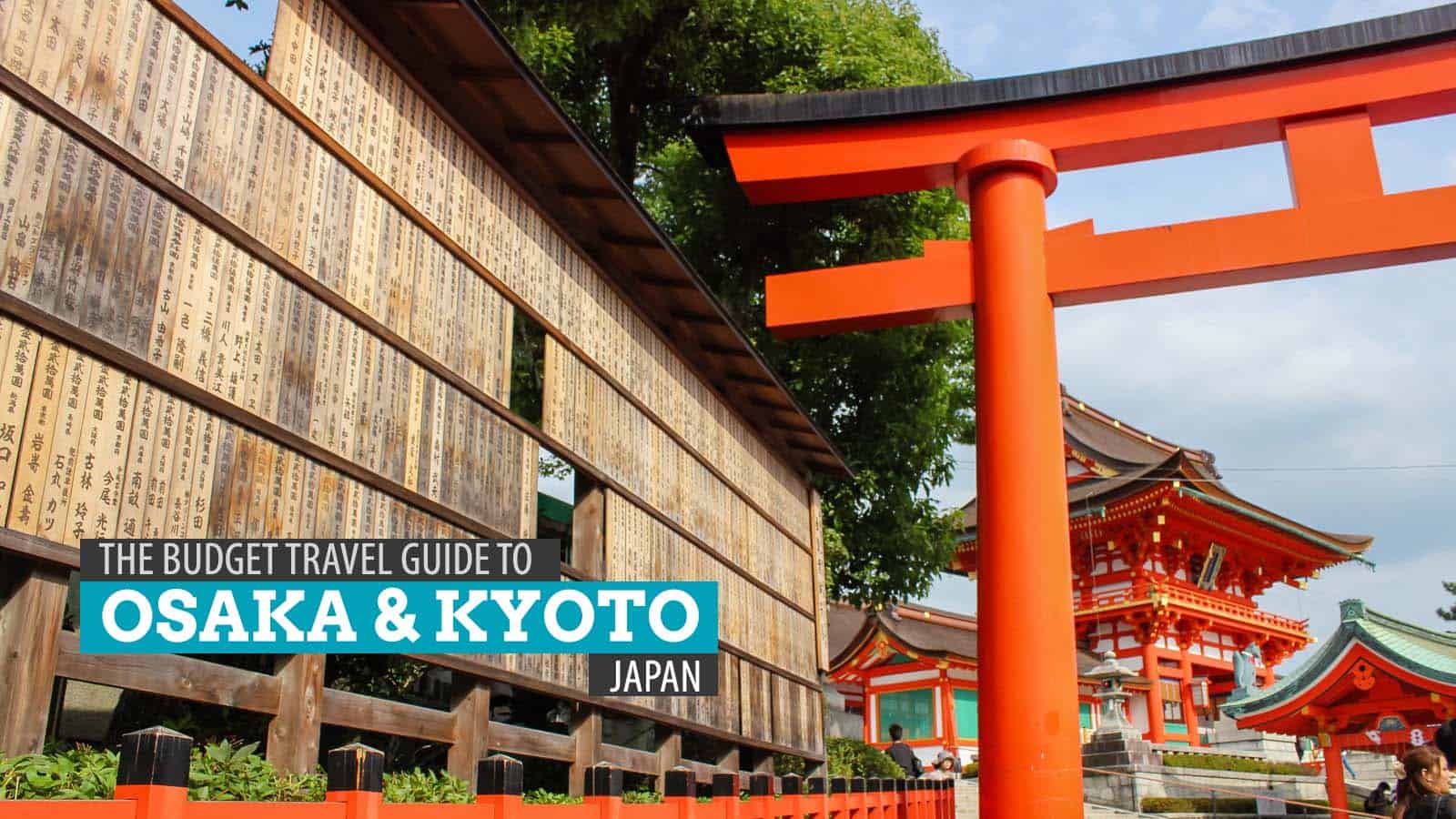 What's to love?
I've never seen a more helpful people!
Japan's efficient transport system also leaves little room for untoward surprises.
Food, food, food!
Safety isn't a concern.
What you need to know
While not as expensive as Tokyo, they are definitely costlier than other Asian cities like Seoul, Bangkok, or Hong Kong.
The train system can be confusing at first, but you can get the hang of it within your first day.
A translator app can help you navigate better because some signs have no English translations.
If you're holding a Philippine passport, a visa is required.
---
Seoul, South Korea
Before my Seoul trip, I had this fear that getting around would be difficult. That was not the case in reality. To my surprise, it's one of the very few destinations where we didn't get awfully lost. (We still got lost, but not awfully, haha.)
I barely felt the language barrier because most locals could at least understand basic English. And those who couldn't were very patient and determined to help. Signs and menus are often written in both Korean and Western characters. The subway system isn't as baffling, and the areas where most hostels are located are not too far from the city's key tourist spots.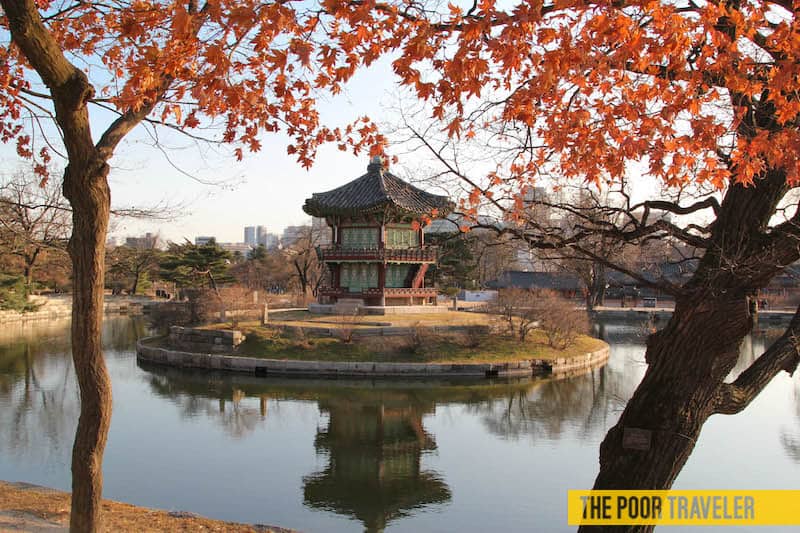 What's to love?
Not as cheap as Southeast Asian cities, but far from the soaring prices of Japan or Singapore
Safe and walkable! Lots to discover at every turn.
Great food! I never appreciated Korean food until I was already in Korea!
What you need to know
If you're holding a Philippine passport, a visa is required.
---
Bali, Indonesia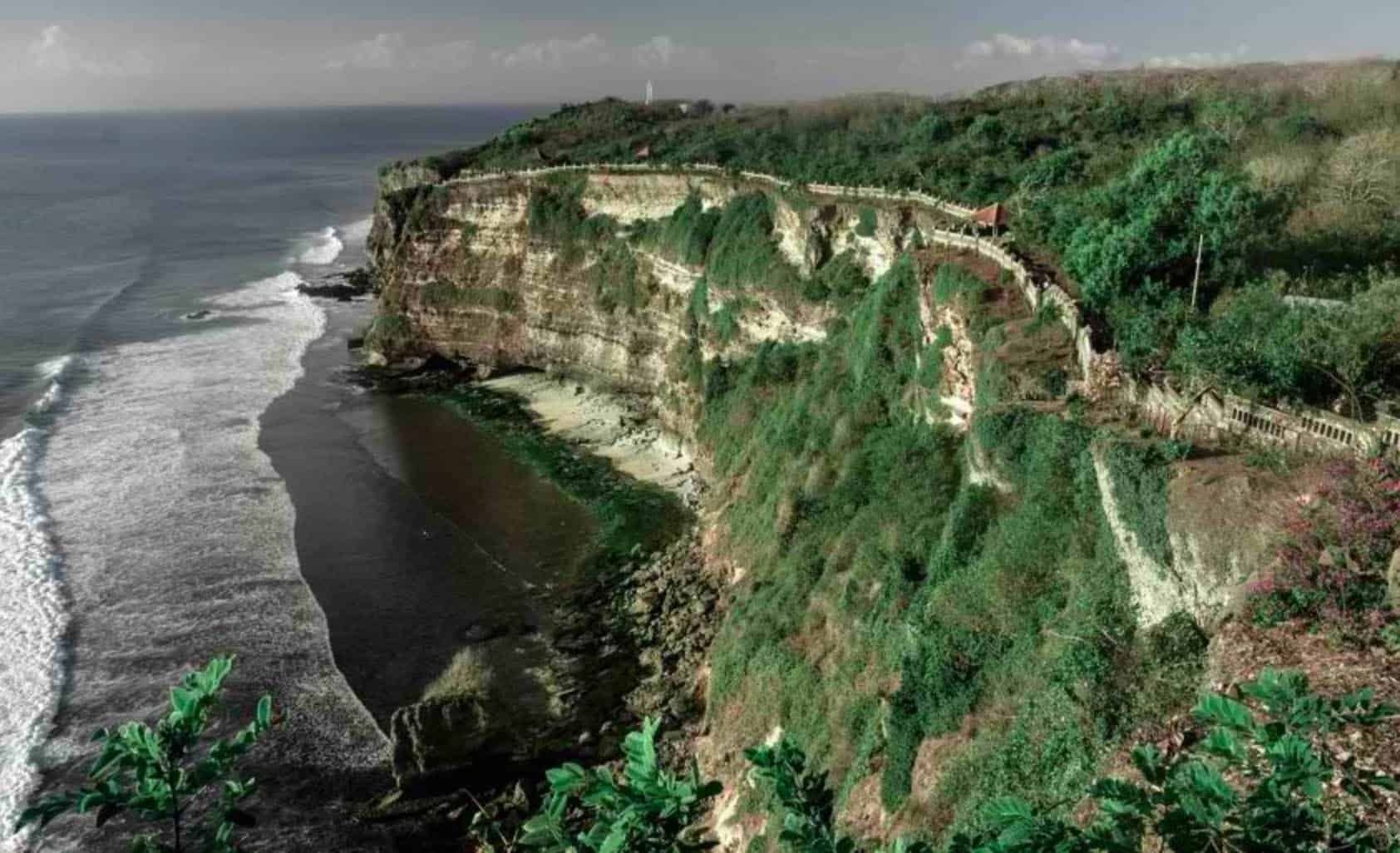 For Gael Hilotin, the Pinay Solo Backpacker herself, this list won't be complete without Bali. Images of "a serene tropical paradise clad in exotic culture and dancing maidens on evergreen rice paddies" that you conjured in your head before your trip are easily chased away by the crowded strip of souvenir shops when you arrive in downtown Denpasar. "(But) once you start exploring outside the tourist strip of Kuta," Gael comments, "you will probably agree that those picturesque images of Bali are not mere romanticization after all!"
"It's an ideal destination for solo travelers because of its rich culture, friendly locals, gastronomic fortunes, beaches and architectural medley of temples, artsy cafes, bars and resorts. You'll never run out of things to do here and overall activities and tours are fairly inexpensive. You can easily join day tours, hire a car or motorcycle to explore the nearby attractions or cross by ferry or fastcraft to Nusa Penida or the Gili Islands"
More info: Bali Travel Guide for First-Timers
Related post: Gili Islands Travel Guide
---
---
2️⃣0️⃣1️⃣7️⃣ • 1️⃣ • 2️⃣