In Tokyo's Nakano district, there was a store called "The shop that sells things people left on trains." That was the name of the shop. And it sold, well, things that people lost during commute but were never claimed.
I was dying to see what they had in store that I rushed to Nakano on the same day that I learned about it. I swept its maze-like malls in search of it. I didn't find it. Haha. But it showed me that when they say Tokyo has something for everyone, they probably mean it in every way. Nakano, best known as a place for the otaku, is just one of the many interesting shopping places in the Japanese capital.
My first Tokyo trip coincided with the New Year Sale. Coincided, believe me. I didn't know it's a thing. But I was already there so I checked it out. Boy was I blown away. It was like the entire city was on sale. There were discounts everywhere, and these are not just 10% or 20% off. You can walk away with a garment for ¥100 (USD1, PHP 44).
Many stores also offer tax-free shopping for purchases bigger than ¥5000. Bring your passport all the time because they're gonna need it.
With the exception of Ameyoko, Tokyo doesn't have those almost endless open-air street markets that many other Asian cities are known for, but it has more than its share of shopping places. Here are some of them.
WHAT'S COVERED IN THIS GUIDE?
Shinjuku
There's a big chance you're gonna find yourself in Shinjuku. It has one of the two biggest, busiest, and most connected stations in Tokyo. Whether you're here to visit the Shinjuku Gyoen or just making a train transfer, you might as well check out the shops. They're aplenty! The station itself is connected to department stores like Keio and Isetan. It's also here that you'll find Lumine, an underground retail paradise. And when I said underground, I meant it literally.
If you're looking for the usual clothing chains, you'll find their big shops marking the corners of Shinjuku along with well-known upscale brands. But two of the most interesting shops for me are Bicqlo, a merger of the electronics giant Bic Camera and casual wear brand Uniqlo; and Komehyo, a department store brimming with both brand new and pre-loved designer items like watches, bags, and garments.
Nearest station: Shinjuku
---
Shibuya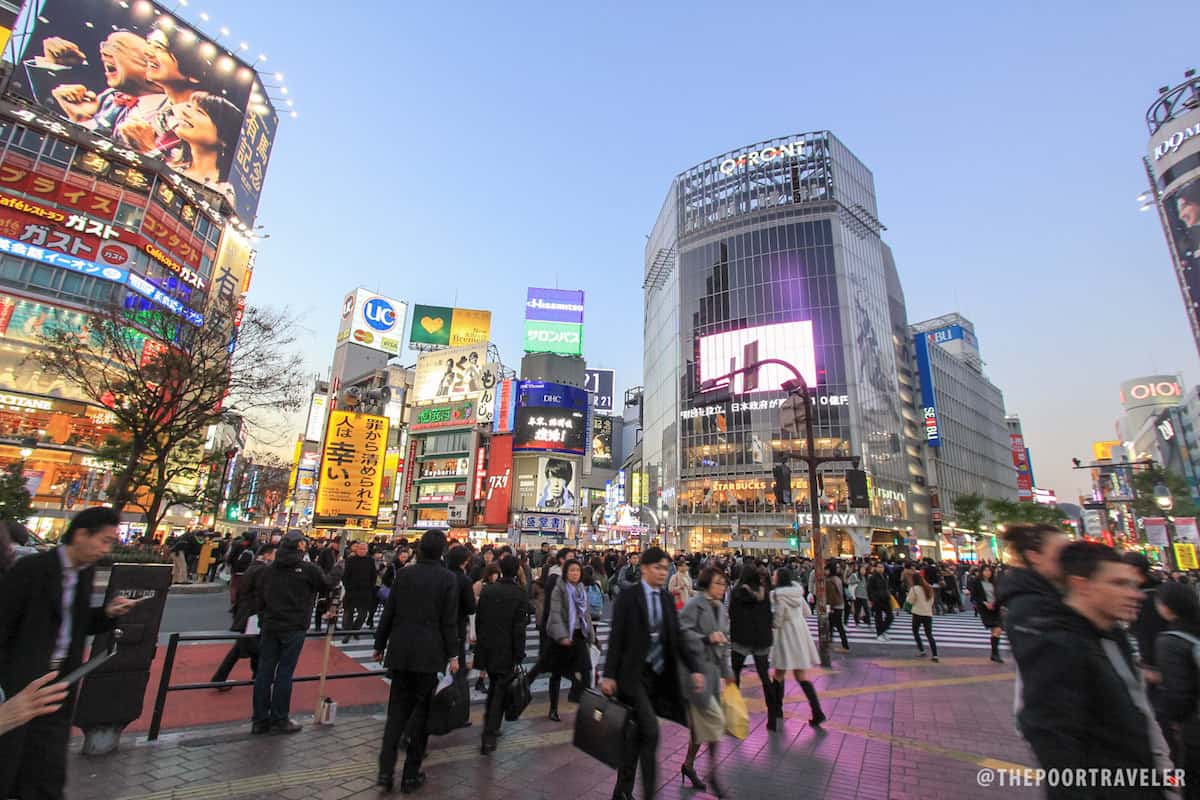 You know you're not leaving Tokyo without crossing what they say is the world's busiest intersection. While you're in Shibuya, take some time to look at their shops.
Like in Shinjuku, department stores abound in Shibuya. Shibuya Hikarie and Shibuya 109 are crowd favorites, but I personally enjoy Loft, a seven-story building housing souvenirs, stationery, and homeware among others. It is also home to three shopping alleys that are popular even among locals: Spain Zaka, Koen Dori, and Center Gai.
Nearest station: Shibuya
---
Ginza
Tokyo's ritzy side. Ginza is best-known as an upmarket shopping district, boasting designer brands like Christian Dior and Louis Vuitton, although low-cost fashion staples like Uniqlo and Zara also have presence here.
Some of the shopping complexes here include Matsuya, Mitsikoshi, Marronnier Gate, and Tokyu Plaza Ginza.
---
Ameyoko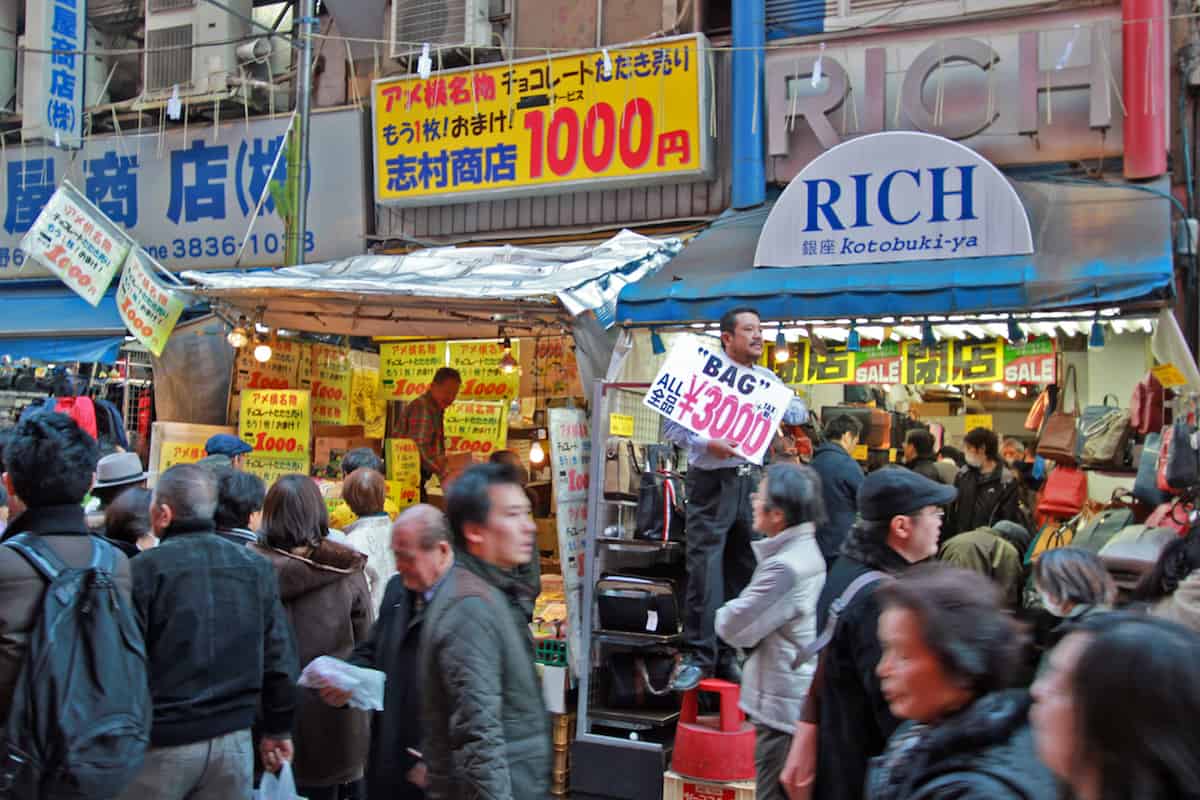 This market street that runs parallel the Yamanote Line between Ueno and Okachimachi Stations is always bursting with people. A wide variety of products are sold here: bags, clothes, accessories, spices, fish. Don't be surprised if you see barkers announcing discounts while standing on a chair amidst a sea of humanity. The craziness of it all alone is worth checking out, haha.
Nearest station: Ueno
---
Grandberry Mall
Update: This has already closed down.
This complex in Minami Machida is famous for its lane of outlet stores (Adidas, Nike, Coach, Gap, Old Navy, Franc Franc, Mont Bell, Brooks Brothers). The prices here are not really considered "bargain" by anyone's standards, but they're definitely lower than department store prices.
Just outside Grandberry Mall is a shop that sells alcoholic beverages, coffee, and tea! This is where I bought much of the pasalubong to the titas.
It's a bit far from the city center, around 40-50 minutes from Shibuya.
Nearest Station: Minami Machida
---
Odaiba VenusFort
VenusFort also houses a number of outlet stores including Puma, Levi's, and Samsonite. If you're planning on visiting Odaiba anyway, you might as well drop by and check it out.
Nearest Station: Aomi, Tokyo Teleport
---
Sugamo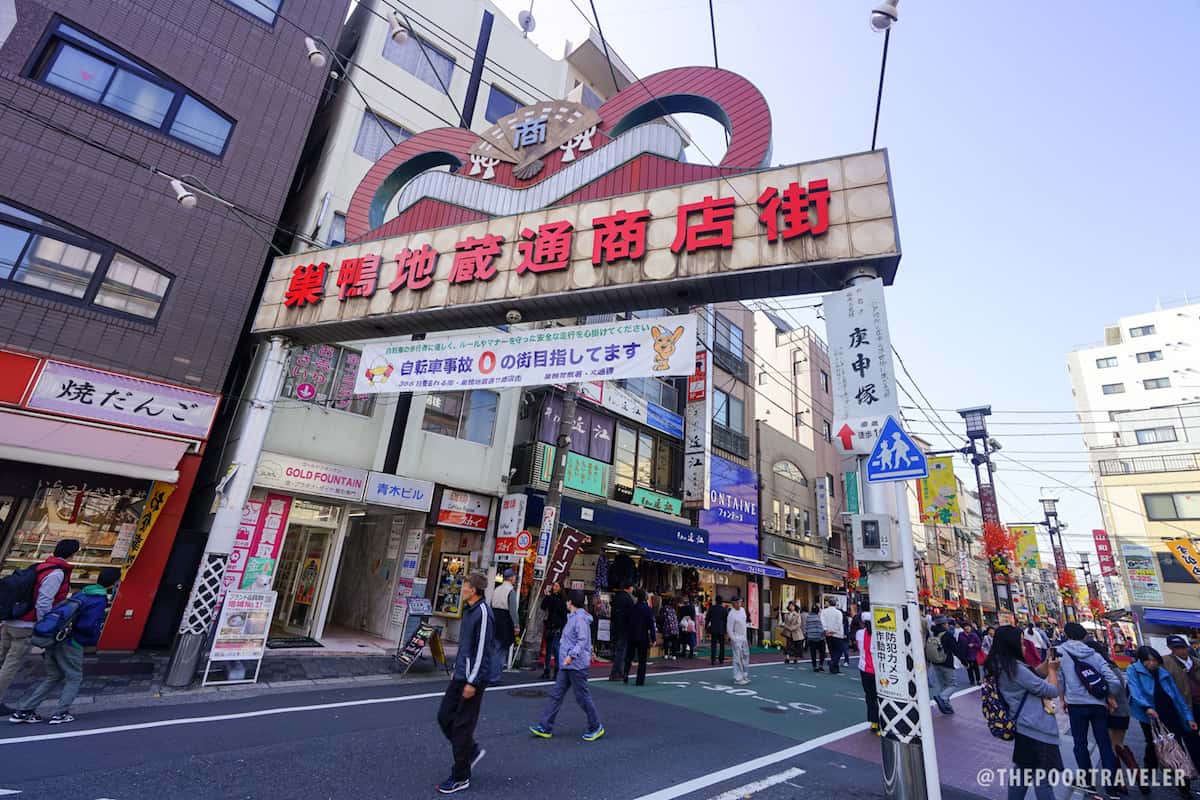 Often called Old Ladies' Harajuku, Sugamo is mostly known for its 800-m Jizo Dori, a shopping street that cater mostly to the elderly. It's popular for shio-daifuku, pounded rice cakes with sweet bean paste and the red underwear that is believed to bring good luck. (I know! Should've gotten one for myself. Haha.)
When I was here, though, I ended up buying half-dozen bottles of flavored honey and a talking cat toy for my nephew.
Nearest Station: Sugamo
---
Akihabara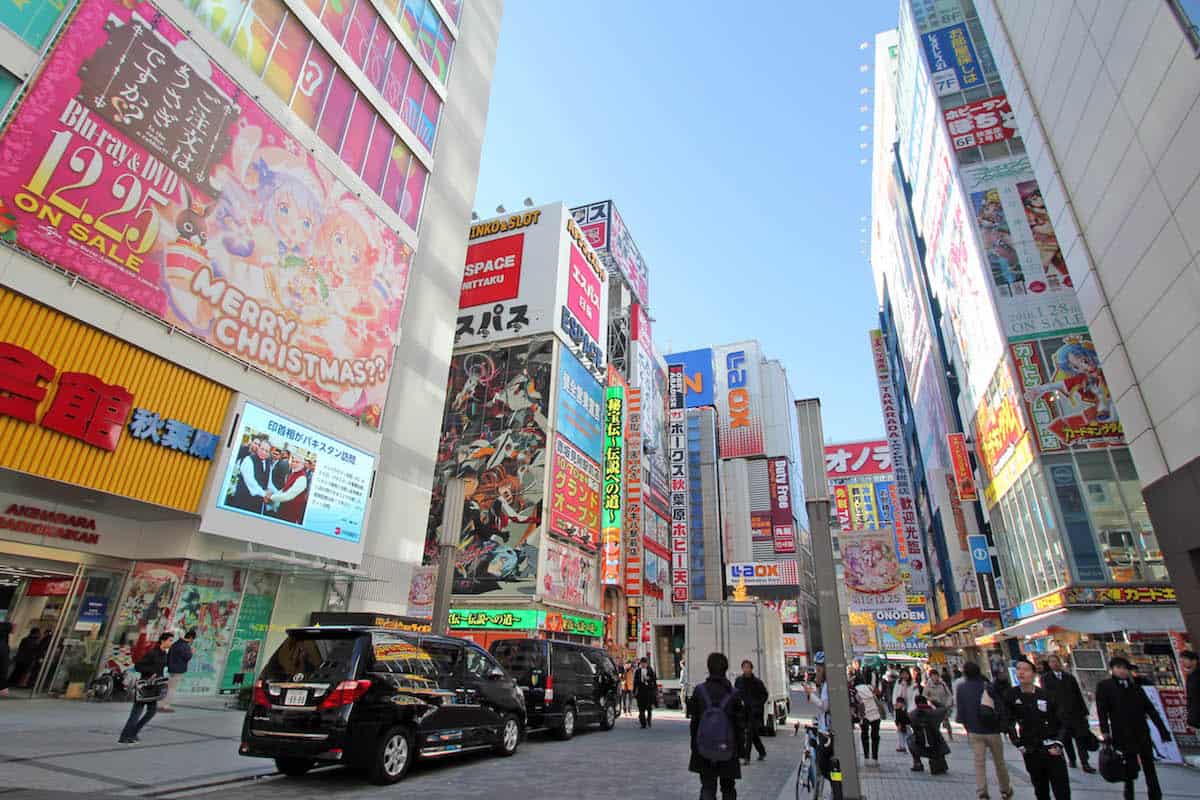 The electronics center of Tokyo. One of its biggest stores is the 9-level Yodobashi Electronics Store that is loaded with sim cards on the first floor, PC parts and laptops on the second floor, cameras on the third floor, and video games and software on the seventh.
You'll also find several second-hand shops scattered around the area.
Just a short walk from the station, you'll also find M's Pop Life Store, a 7-story department store selling all sorts of intimate items.
---
Nakano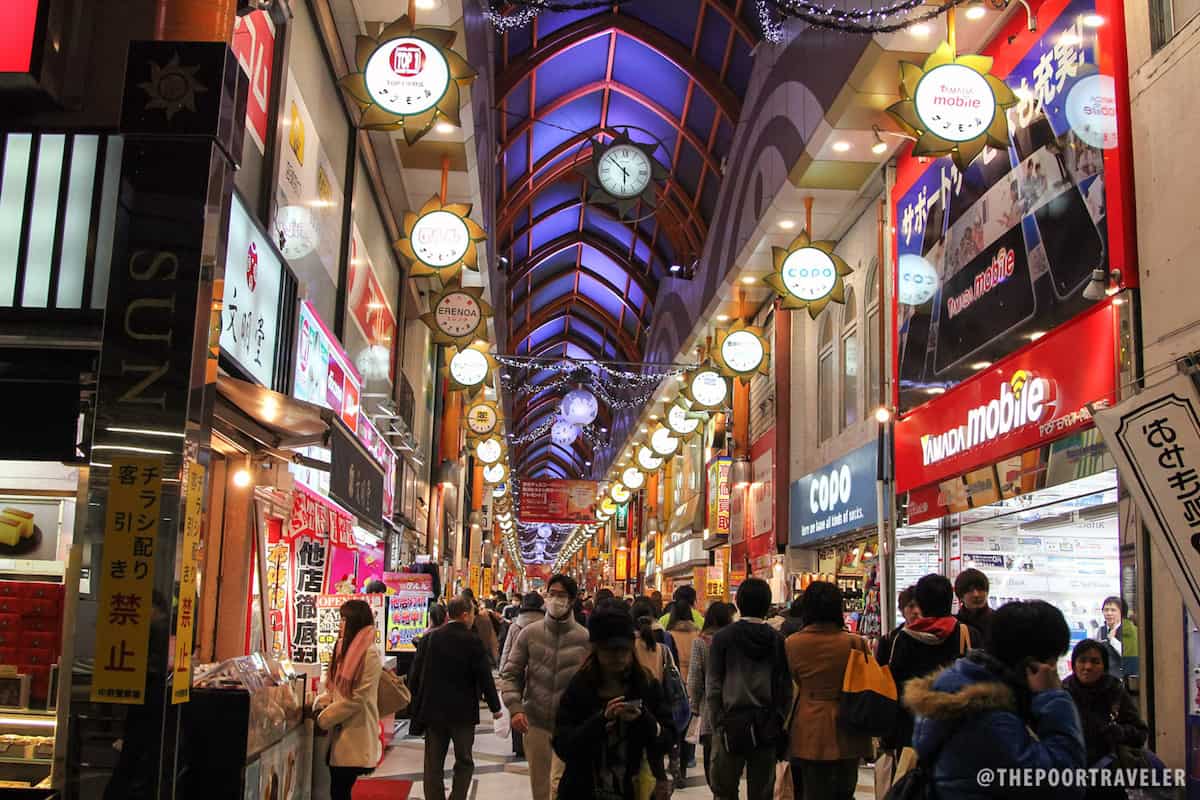 I may not have found the shop that sells things left on trains, but I got to see what Nakano has to offer to the otaku. This is where you should go if you're looking for anime and manga items. The second and third levels of Nakano Broadway mall are filled with shops that sell action figures, games, comic books, DVDs, and so on.
Nearest Station: Nakano (JR Chuo Line)
---
Don Quijote
A department store chain with several branches all over Tokyo, selling a myriad of products from electronics to personal care to household items to stuffed animals. There are loads of cheap finds here squeezed into towering shelves. You might want to devote much time just to see what they have to offer.
---
Where to Buy Certain Products
Where to buy toys for grownups, if you know what I mean. Akihabara is where you will find M's Pop Life Store, a 7-story department store selling toys and DVDs for grownups, if you know what I mean. The aisles here are pretty narrow, but its packed with whatever it is that floats your boat. Costumes for role play? They have it. Gags and whips? They have it. Basics? Of course, they have it. Don Quijote also sells these items.
Where to buy pre-loved luxury items. Shinjuku, mostly. My fashion blogger friend showed me around and I was shocked by the amount of branded items on sale. Find Komehyo for luxury watches, designer clothing, bags, and jewelry. Two known resale stores — Daikokuya and Ginzo — also have branches in Shinjuku.
Where to buy pre-loved cameras and lenses. The third level of Yodobashi in Akihabara has good choices.
Where to buy gadgets. I'm not sure if it's just me, but I noticed that Bic Camera's prices are slightly lower than Yodobashi, even for Apple products and cameras.
Where to buy Japanese KitKat. KitKat comes in exclusive flavors in Japan. You'll see them getting sold at discount stores all over the city. But if you wanna score slight savings, head to Takeya, also known as the "purple building," in Ueno. They offer duty-free shopping and has an almost complete collection of Kitkat flavors. Even Meiji chocolates are cheaper here. If you don't have time and you're using Narita Terminal 2 on your flight out, there's also a store there that sells Japanese KitKat. You'll also find Shiroi Koibito Biscuits (Hokkaido Biscuits) and Pablo's Cheesecake at the airport.
Where to buy super cheap items. 100-yen shops (Hyaku En Shoppu). These are pretty common throughout Tokyo. They sell all sorts of items mostly for ¥108 (¥100 without the taxes).
---
Top Budget Hotels in Tokyo
Top budget and capsule hotels based on Agoda customer reviews.
2️⃣0️⃣1️⃣7️⃣ • 1️⃣ • 3️⃣