I blame it on the weather. No, I blame my bed.
It was already past noon when I finally reached Lake Kawaguchiko Station. No thanks to the January cold; it just felt so damn good to stay in bed and forget about the outside world. But I was under the spell of a majestic beauty. She was calling.
I had quite a long list of places to visit in Kawaguchiko — including the northern shore of the lake to catch the mountain's early morning  — but I was late. Squeezing them into a half-day tour would be impossible. It's winter; the lazy sun would be retiring earlier than usual, which gives me just a few hours of daylight.
WHAT'S COVERED IN THIS GUIDE?
A World Heritage Site
Lake Kawaguchi (or Kawaguchi-ko) is the second largest, the most popular, the most developed, and the most easily accessible of the Fuji Five Lakes. Located in Yamanashi, it is one hour and 20 minutes away from Tokyo's Shinjuku Station by direct express train, and two hours by bus or local train. The town is part of the Fujisan Cultural Site, inscribed as a UNESCO World Heritage Site in 2013.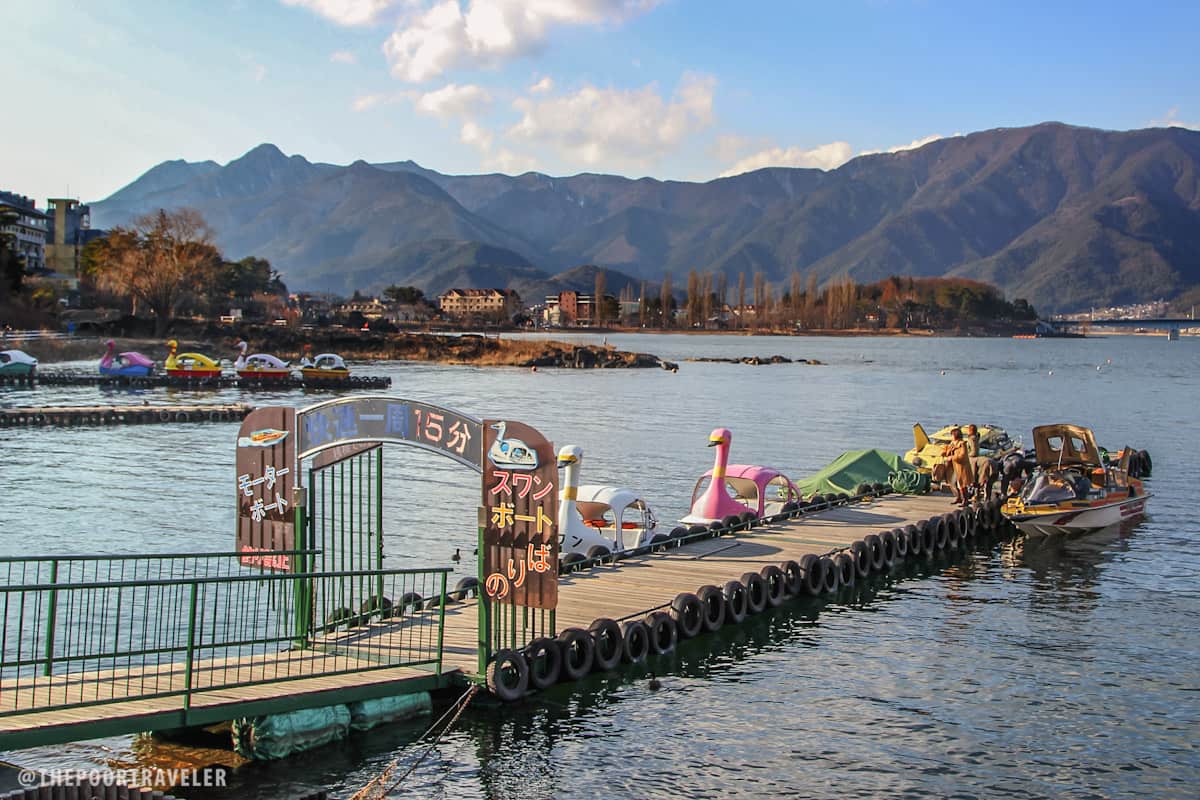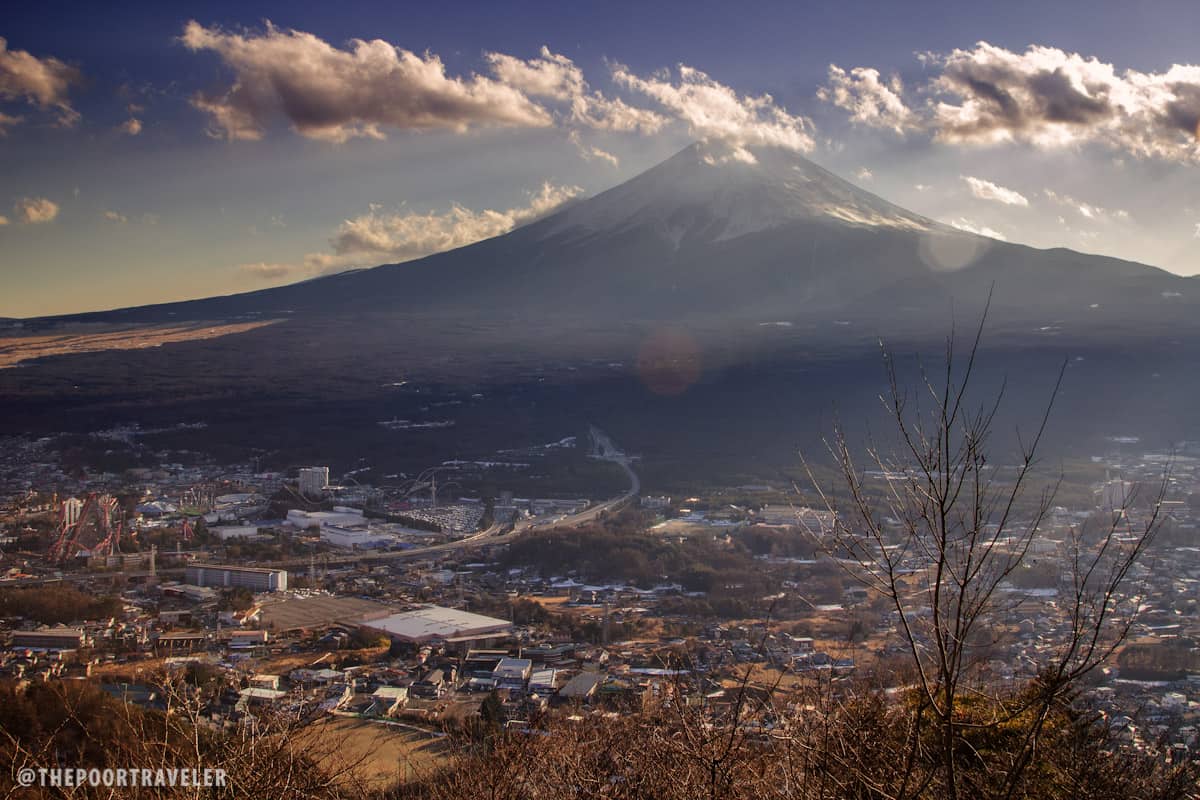 Mt. Fuji is the reason why I was in town and why I had to be there early morning. This charmer has a reputation of being a tease around noon, hiding behind puffs of clouds and bright glow of the sun. I had my first glimpse of her at a hilltop shrine in Kamakura. From that moment on, I was hers.
The Fifth Station, the highest point accessible by public transportation, was closed at this time of the year.
Kachi Kachi Ropeway
I had to make a quick decision and pick one spot to visit. Kachi-Kachi Ropeway promised to offer fantastic vistas of the peak. A short retro bus ride led me to the ropeway station at the base of Mt. Tenjo. The queue was long, extending down two stories. Images of the ride's mascots — a rabbit and a tanuki (Japanese raccoon) were everywhere. They were characters of the folk tale Kachi Kachi Yama, after which the facility was named. The story is set in Mt. Tenjo and tells how the rabbit gets revenge on the tanuki by burning and drowning. Not very comforting, but the cartoon characters made it much lighter.
Two ropeway cars take turns in ferrying tourists 400 meters up to the observation deck, perched at 1000 meters above sea level. From here, unobstructed views of Fujisan. The sun was harsher than some of the words thrown at me back in High School (and they were harsh), and it was showing off just beside Mt. Fuji, making it impossible to see the famed peak's naked majesty.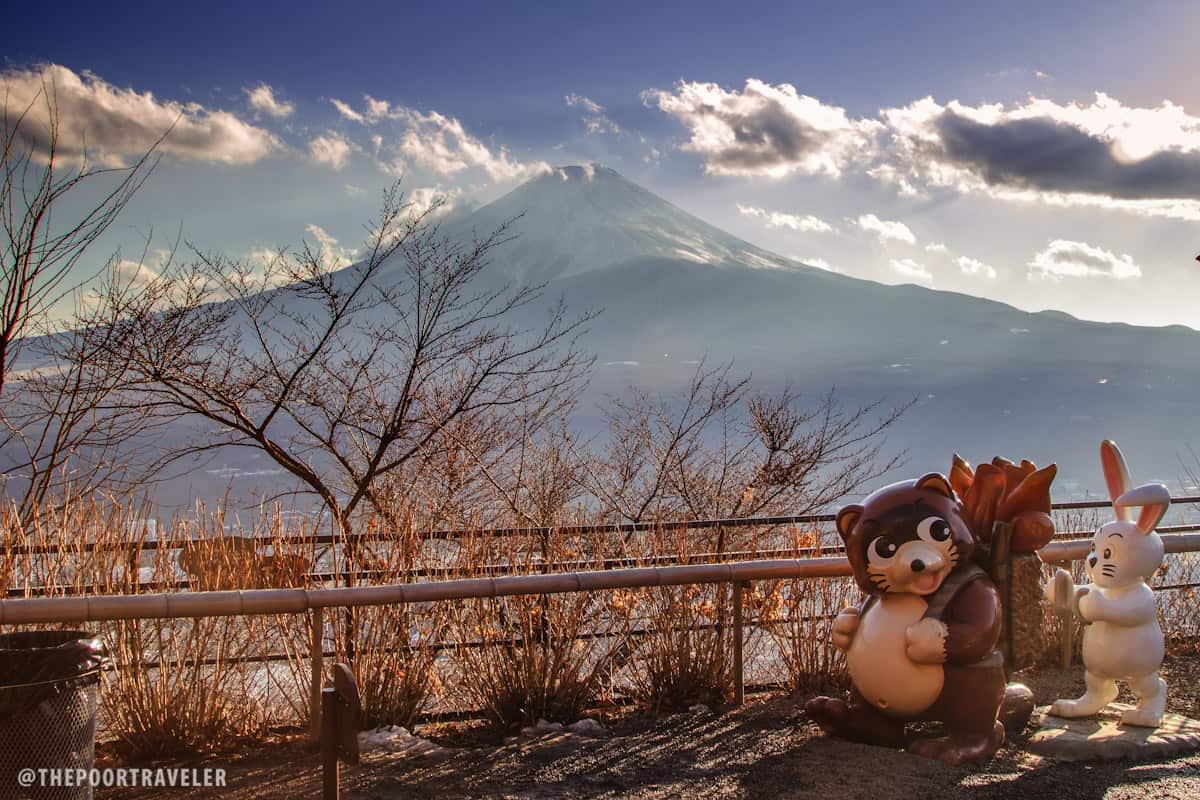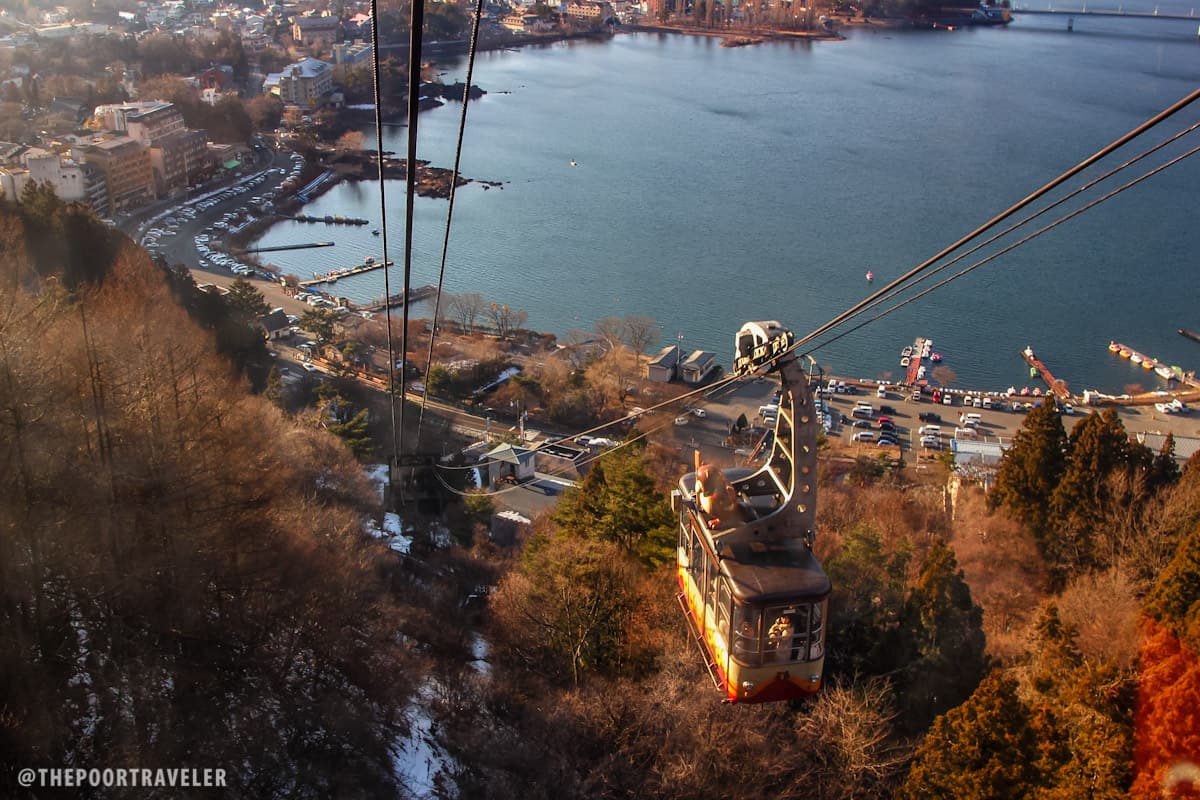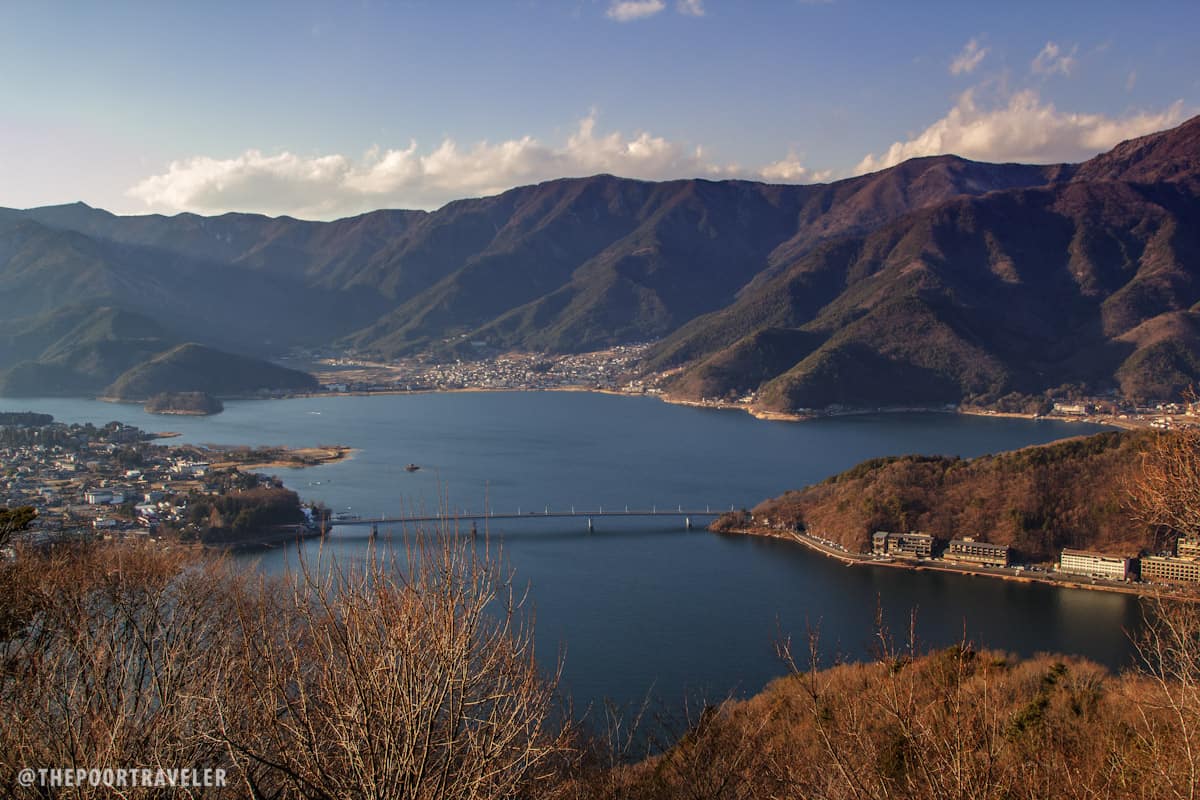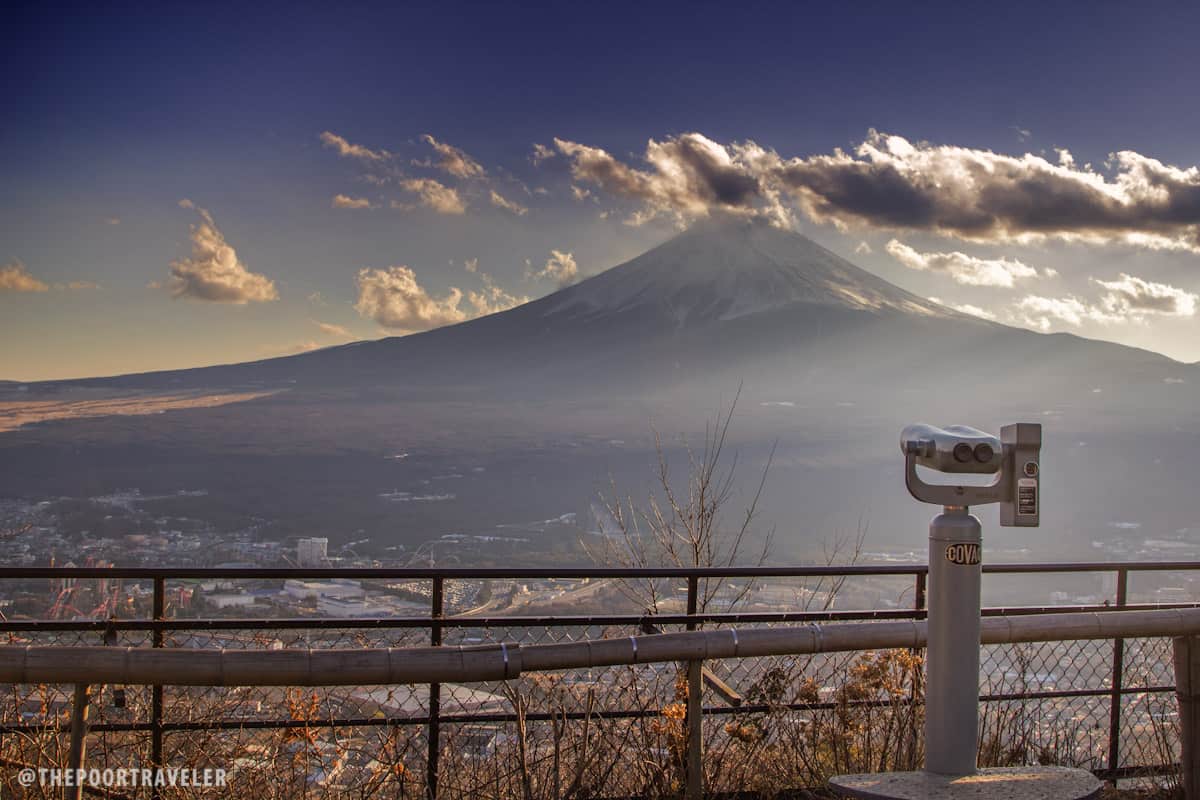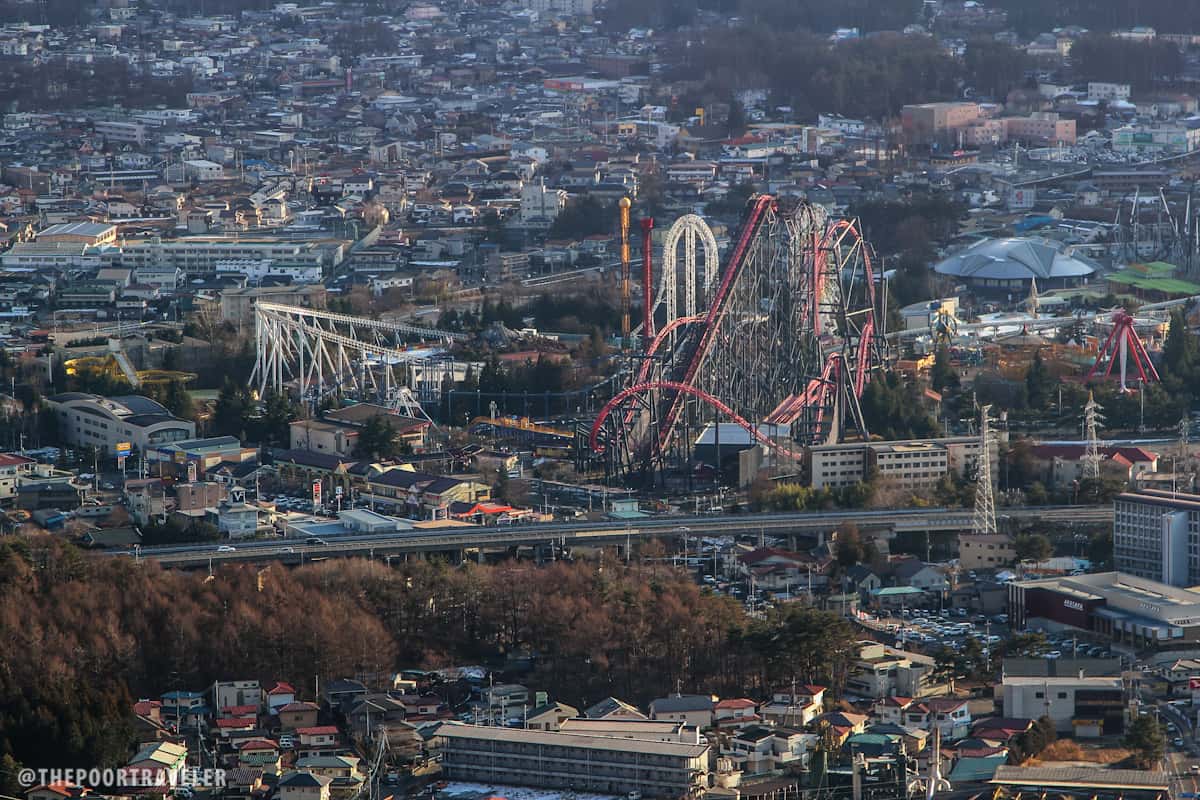 Other Attractions
Aside from Kachi Kachi, other attractions in Kawaguchiko include the Kubota Itchiku Museum, which exhibits kimono created by Kubota Itchiku; Kawaguchiko Music Forest, a theme park featuring musical instruments; the Yamanashi Gem Museum, which houses a rich collection of precious stones from all around the world; the Herb Hall, a greenhouse; and  a wide array of hot spring bath (onsen) options.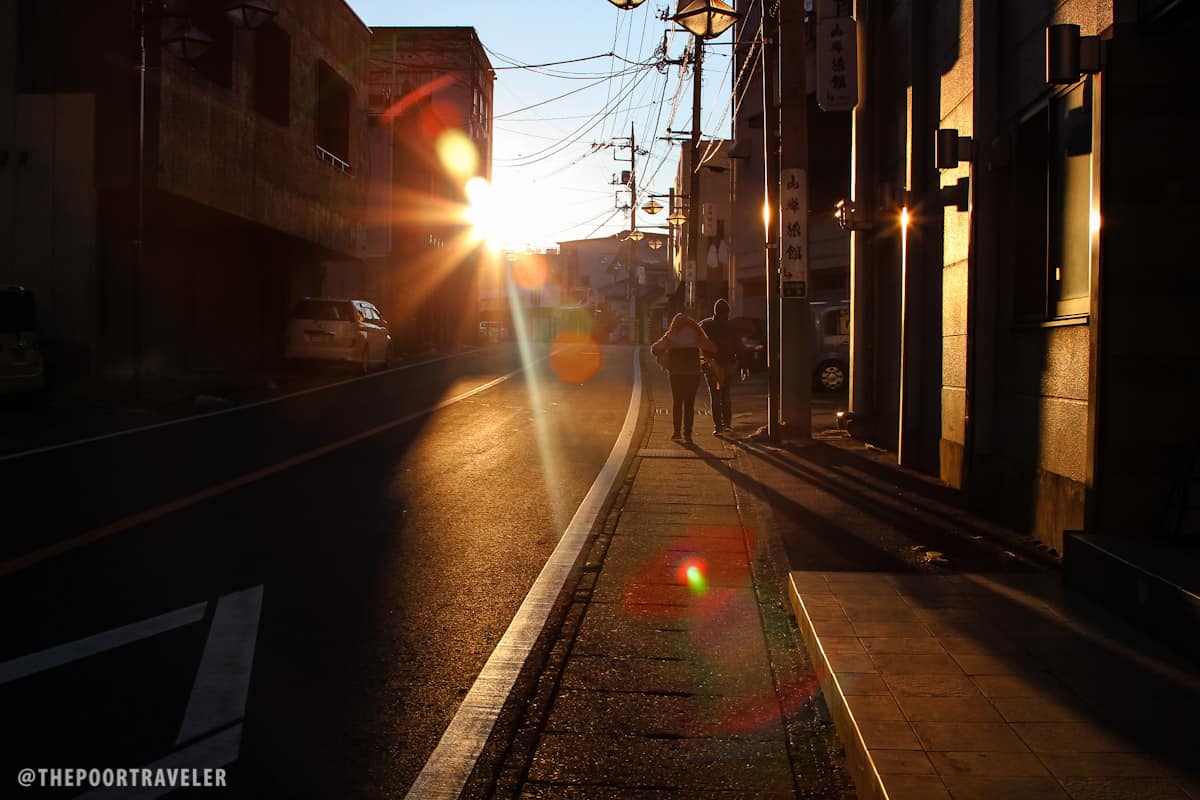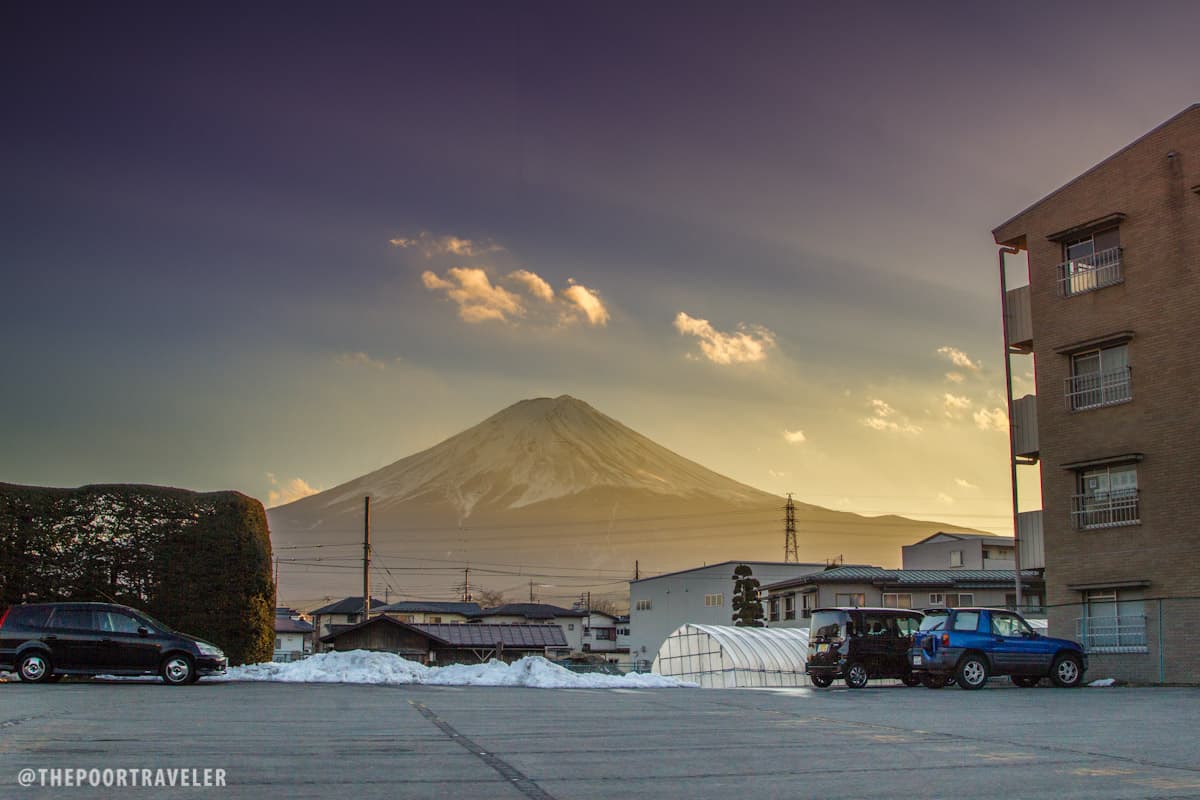 It was past four o'clock when I finally made my way out of the ropeway, leaving me with not much time to explore anything else. I was determined to try skiing that day, and reach Fujiten Snow Resort by nightfall. Fujiten is one of the only two ski resorts on Mt. Fuji, giving me an opportunity to get even closer. This time I won't be worshipping her feet but hugging her slopes.
On the way, the view of Mt. Fuji was even more glorious. The sun was already waving goodbye, throwing the orange and purple spotlight to the snow-capped stunner. Such a tease.
How to get to Lake Kawaguchiko from Tokyo: There are buses bound for Kawaguchiko at Shinjuku Station (2 hours, JPY 1700, one-way) and Tokyo Station (3 hours, JPY 1700, one-way). Visit the Fujikyu Bus official website for the schedule and other details.

Alternatively, you may travel by train from Shinjuku Station to Otsuki Station (70 minutes, JPY 2700 by direct limited express; 100 minutes, JPY 1280 by local train). From Otsuki, transfer to Fujikyu Railway Line to Kawaguchiko Station (55 minutes, JPY 1100).