Tokyo and Osaka are two of the most popular tourist destinations in Japan, so it's no surprise that those flying to one also intend to visit the other. And these days, it's not that difficult at all. Several options are available. It's just a matter of choosing what fits your budget, schedule, and travel style.
You can reach Tokyo from Osaka (or vice versa) by plane, bus, or train. This post will help you figure out which mode of transportation is best for you by comparing fares and travel times, among others.
WHAT'S COVERED IN THIS GUIDE?
Easiest: By Train (Shinkansen)
The easiest option. Traveling by Shinkansen is the most expensive among the three options, but is also the most convenient, in my opinion. I'm a big fan of train travel for many reasons.
PROS!
The bullet train is fast. Travel time: 150 minutes.
No annoying multiple security inspections and check-in processes, unlike at airports. You can simply show up, book a ticket, and hop in.
No need to show up an hour in advance.
Main stations are often located centrally, unlike airports which are often located outside the city center. In this case, if you get off at Tokyo Station, you're already at the heart of the city. If you fly, you'll still need a 30-45-minute transfer.
The ride itself can be quite an experience too.
CONS!
The only problem with the shinkansen is the price. To get to Tokyo Station from Shin-Osaka:
Fare: ¥8750
Seat Fees
Unreserved: ¥4870
Reserved: ¥5900
Green Seat: ¥10,480
Suppose you're not reserving a seat, that's still 4870, placing the total ticket fee at ¥13,620 ($123, P6150).
If you consider the distance and the speed, though, it's worth it. Still, I dunno about you, but to me, that's a lot of money for a one-way ride.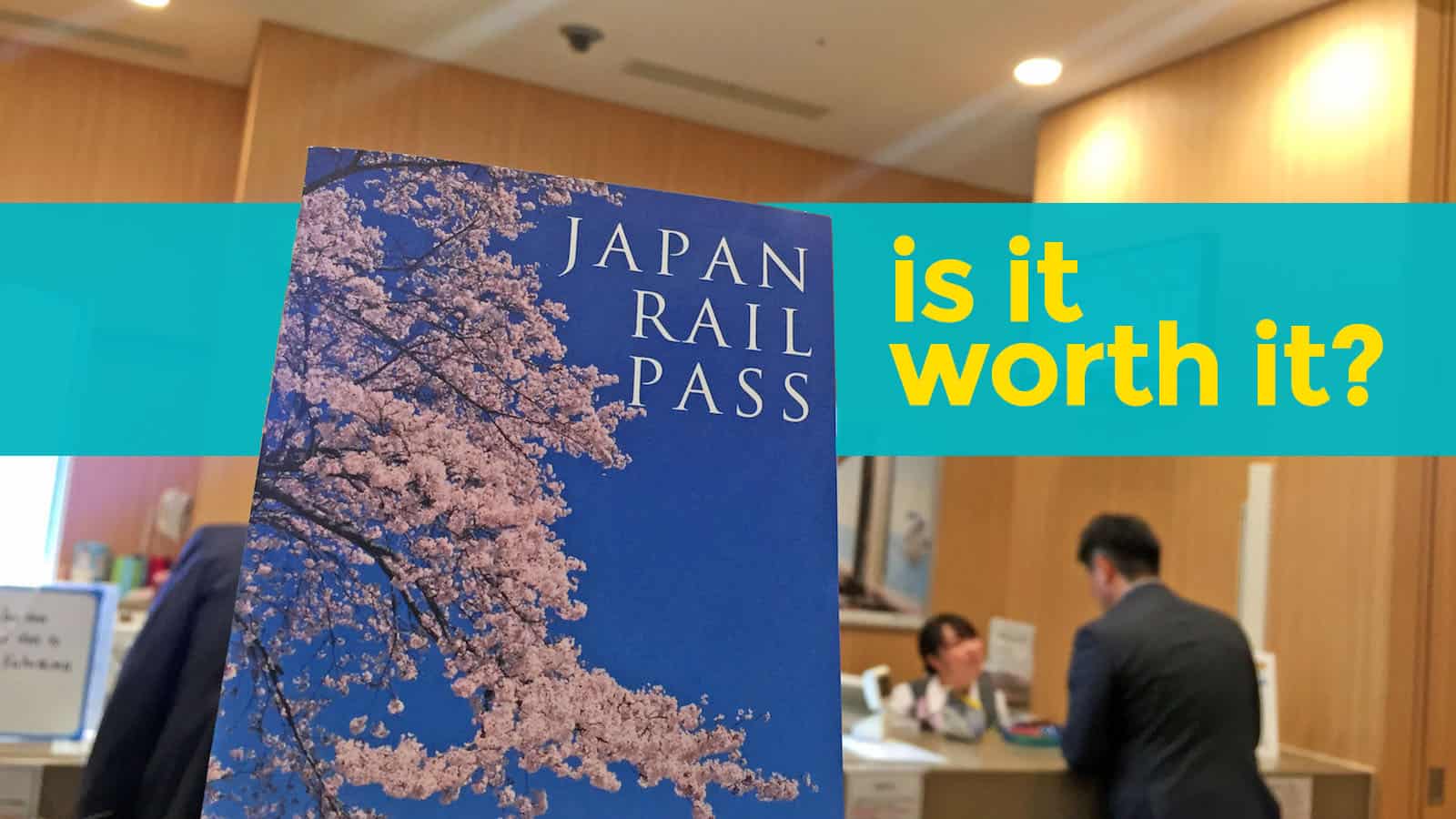 But if you're planning on purchasing a JR Pass, this is definitely the best choice because you won't need to shell out any more money. The whole journey will be covered by the pass. More info about JR PASS here.
✅ CHECK UPDATED JR PASS RATES HERE
---
Fastest: By Plane
The fastest option! To be honest, labeling this the fastest is an injustice. If we look at the actual travel time, yes, the plane is the fastest. But… there are buts. Let's start with the disadvantages.
We all know how much time it takes to get through all the rituals of air travel. Like I said before, you will need to show up around an hour before the flight and the airport is often far from the city center. Chances are, if they leave at the same time, those taking the Shinkansen will reach the destination earlier than those flying.
The whole stress that comes with having to pack your liquids properly, sorting out what is and isn't allowed in the carry-on baggage, etc.
PRO! Low fares! You can find fares at half the price of a Shinkansen ticket. A quick SkyScanner scan will reveal flights as cheap as 5099 yen.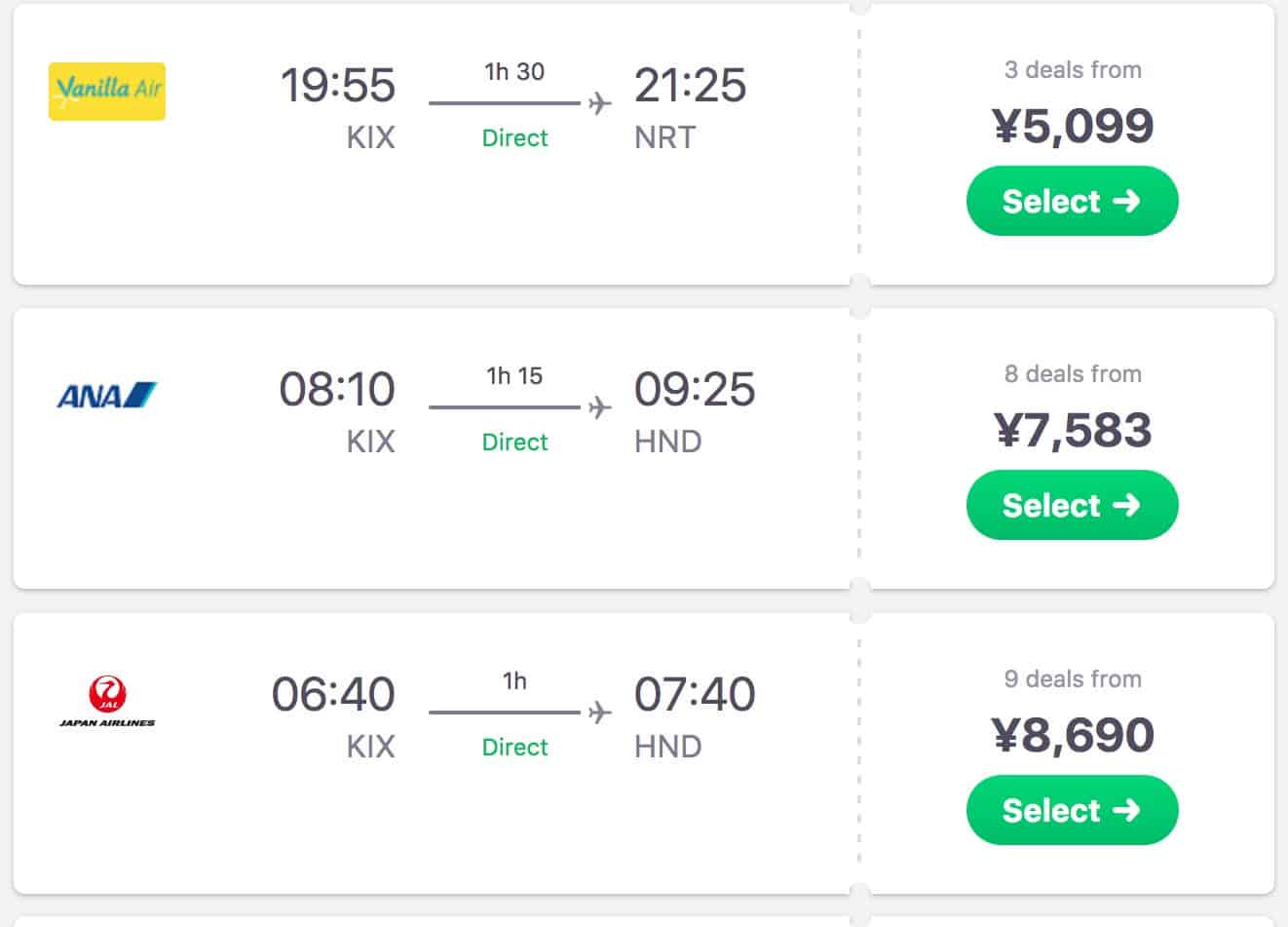 You can also search for cheap flights below:
---
Cheapest: By Bus
The cheapest way! If money is a concern, the bus is the best option.
PRO: SAVINGS! Willer Express is the most well-known interregional discount bus company in Japan, and you will find seats for as low as 4320 yen, but it looks like cheap tickets sell out quickly.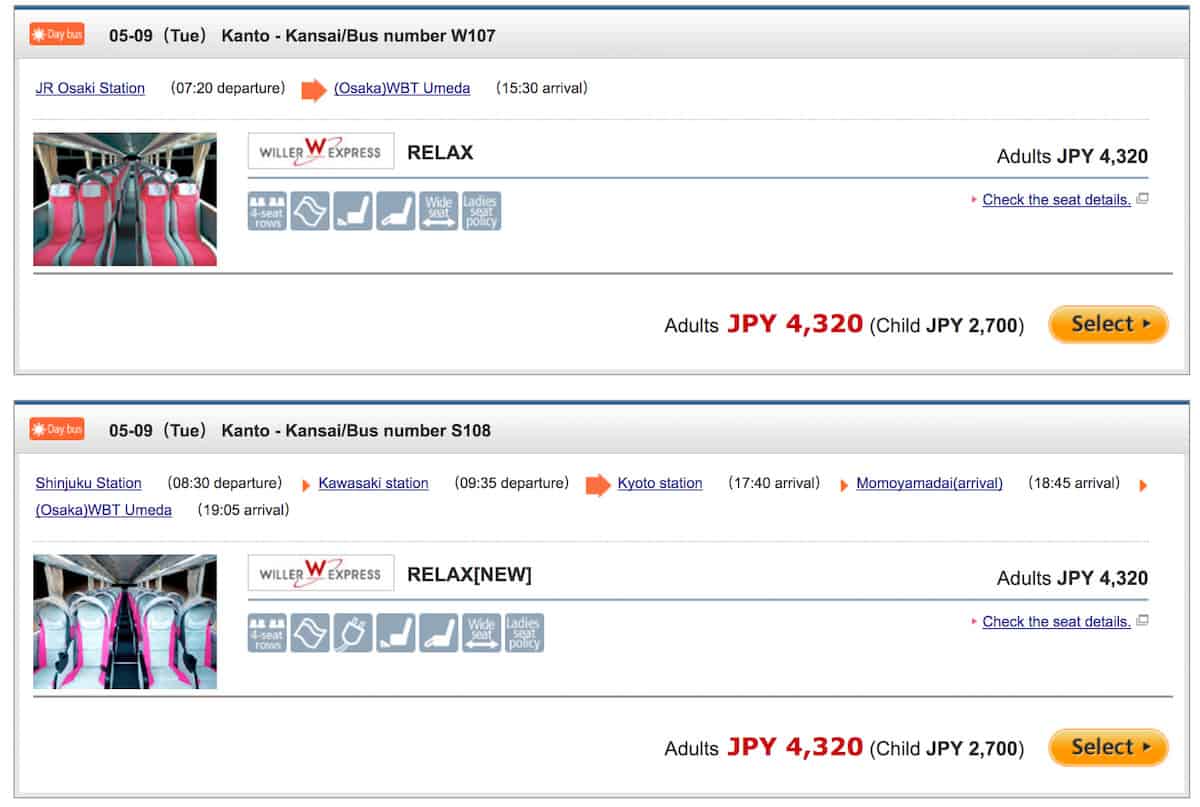 CON: TRAVEL TIME! Day buses take around 8 hours, with a few stops along the way. (The view at these stops are great, too!) If you have very limited time, then this may not be for you. You could use the time exploring instead of spending it on the road.
Which is why I prefer taking the overnight bus! The overnight bus takes a little longer, around 10 hours, but I just burn the time sleeping. This saves me a hotel night.

These buses are comfortable. You can even book a more comfy seat on a premium bus for additional fee.
I've done this twice before and I didn't have any issues. I sleep like a log, so I hardly felt the journey. I dozed off immediately at the start of the trip, woke up at Kyoto stop when the bus picked up more passengers, slept again right after, and the next time I woke up, we were already in Tokyo. Hahaha. The experience might not be the same if you're a light sleeper.
If you're more confident booking with Klook, you'll be glad they also offer overnight buses between Osaka/Kyoto and Tokyo. Here are the links:
✅ OSAKA TO TOKYO Overnight Bus
✅ TOKYO TO OSAKA / KYOTO Overnight Bus
---
Find Japan Hotel Discounts Now!
---
2️⃣0️⃣2️⃣0️⃣ • 1️⃣ • 2️⃣ – last update
2️⃣0️⃣1️⃣7️⃣ • 3️⃣ • 2️⃣7️⃣ – first up