This post was published in January 2013.
A more updated version of this article can be found here: Siem Reap Travel Guide
Siem Reap was out of the way. Cambodia was actually not part of my original backpacking route. I would be flying in through Bangkok, and from there I aimed to head northwest to Ayutthaya, Chiang Mai, crossing over to Laos and then turning east to Vietnam. But the call of Angkor was so loud and powerful, I just had to mess up my plan and take the bus for eight hours to the opposite direction.
WHAT'S COVERED IN THIS GUIDE?
Siem Reap – Gateway to Angkor
In native Khmer language, Siem Reap means "defeat of Siam," another name for Thailand. The name was said to be bestowed upon the city by King Ang Chan, after a glorious victory over its neighboring kingdom. Thailand and Cambodia have a long history of conflict.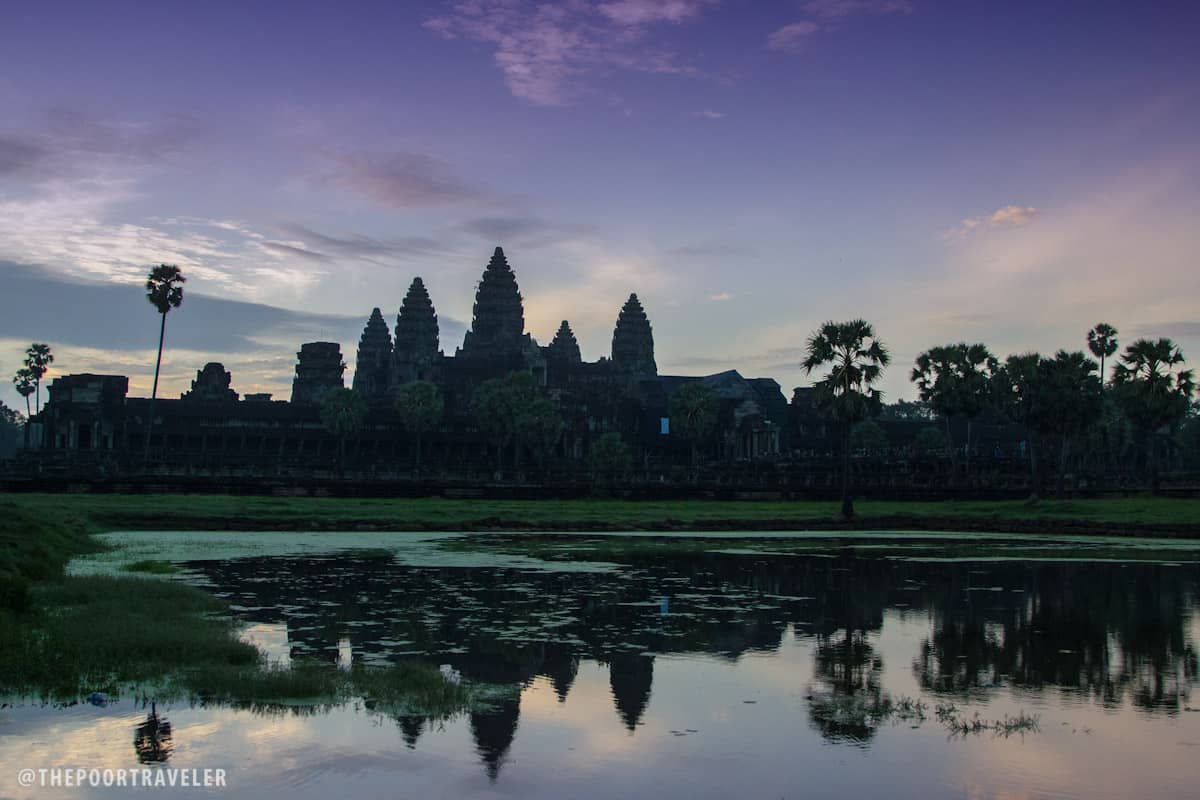 Siem Reap used to be a small village until an expedition into the surrounding forest began in 1901. It was also the year the Angkor was rediscovered, thus changing the fate of the quiet town. Siem Reap gained worldwide attention as the gateway to the archaeological heaven. Since then, the city has enjoyed rapid development. Accommodations from budget hostels to high-end hotels and restaurants from sidewalk eateries to lively dance clubs mushroomed along the streets of the city, lodging, feeding, and entertaining tourists, who are eager to lay eyes on the ancient structures.
Finding a Place to Stay in Siem Reap
Unless peak season, looking for cheap accommodations in Siem Reap is easy. There are just too many of them. My go-to site for accommodations are HostelWorld.com for hostels and AirAsiaGo.com. I have tried them and they have never failed me. However, for this trip, I had to trust Bebs, a college friend who decided to go with me to Siem Reap. (He's now based in Bangkok and we thought it would be best to catch up while traveling together at least to Siem Reap. I would be alone for the rest of the trip, though.)
It was my friend's fourth time in Siem Reap and he highly recommended Mandalay Inn, a budget hotel with rooms that are as low as USD7 for solo and USD10 for twin or double. My experience at Mandalay was quite pleasant. The place was clean, the location was excellent, and the staff was helpful and warm. Here's my full review of the hotel.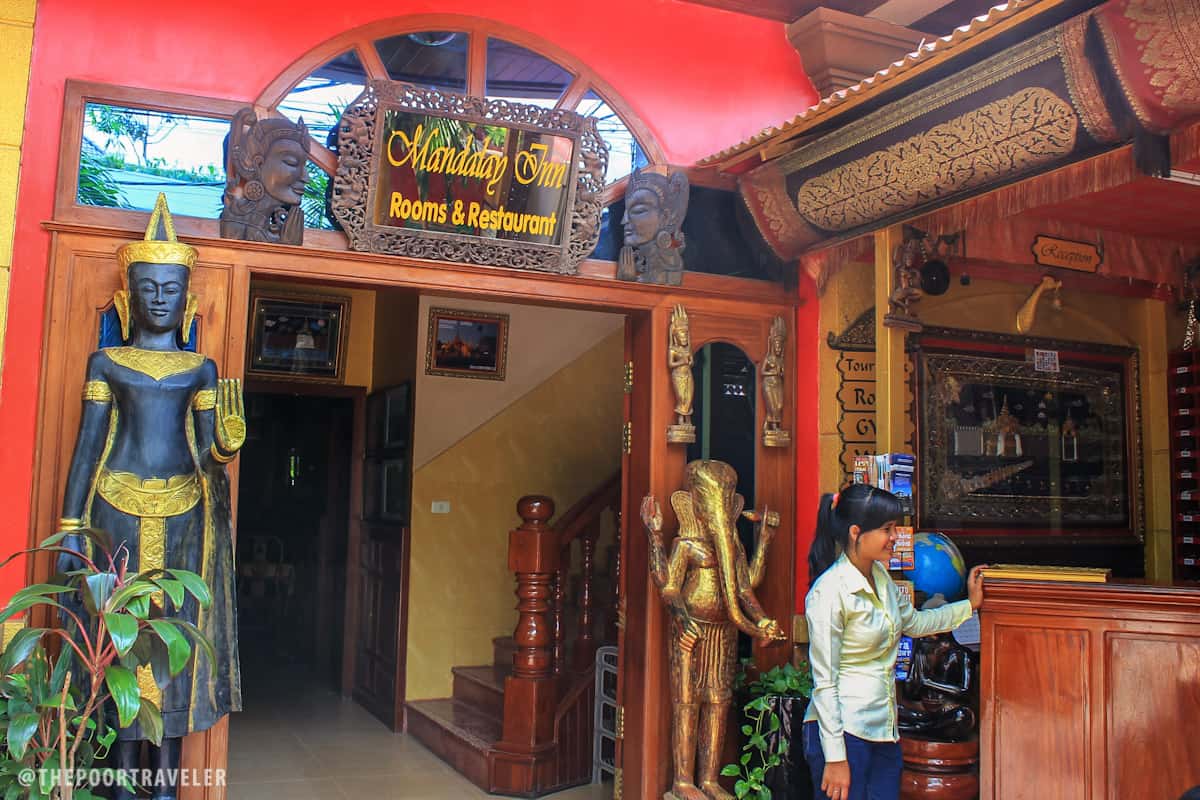 While biking around the city, I noticed that most of the high-end hotels lie along the road going to Angkor from the city proper. But the more budget-friendly ones are just around the Old Market area. Aside from the budget, another thing to consider when picking a place to stay is how you plan to spend your time in the city. If you're the type who likes getting drunk and dancing at the club at night (like me), you might want to consider choosing a hotel or hostel near Pub Street. Actually, I highly recommend this location (around the Pub Street area) because there's so much to do. The Angkor Night Market is also just around the corner.
Exchanging Currencies
The official currency in Cambodia is the Riel (KHR) although US dollars are widely accepted in Siem Reap. Most of the restaurants I dined at displayed USD instead of KHR although they accept both. Siem Reap was supposed to be a cheap destination. While it remains cheap and many of the attractions, food, and accommodations are still affordable, I ended up spending waaaaay too much because I carried Philippine pesos (PHP). Many money changers in Siem Reap accept PHP but the rates are terrible, soooo far from the real forex rates.
Bottomline, if you're visiting Siem Reap, bring US dollars. (Or just withdraw from your ATM but I'm not sure about the charges.)
Building a Siem Reap Itinerary
Like most tourists visiting Siem Reap, my guess is that the primary reason you want to go here is the Angkor Wat so let's focus on it first. Angkor Wat is such a humongous site that it will take half a day (if not the whole day supposing you're into the smallest details) to see all its galleries, libraries, corners, and towers. But that's not the whole picture. It is just the centerpiece of the vast UNESCO inscribed Angkor Archaeological Park that hosts dozens of other temples that are equally captivating and interesting. Thus, the first question you should ask yourself is: How many days do I want to spend exploring Angkor.
As for me, the answer was "just one." As much as I wanted to see all the structures at the archaeological part, I also wanted to experience the other places around the area such as the Tonle Sap Lake.
Since I did not want to cram my schedule and just have an easy, more relaxed time in Siem Reap, my initial itinerary was very simple:
Day 1: Arrival in Siem Reap
Day 2: Siem Reap City Tour (am), Pub Street and Angkor Night Market (pm)
Day 3: Angkor Tour
Day 4: Tonle Sap Lake Tour, Leave Siem Reap at midnight
Places to Visit in Siem Reap
The following photos will lead you to specific detailed posts containing more information about the place and narrating my personal experiences. Feel free to browse like you've never browsed before.
| | |
| --- | --- |
| | |
| | Thommanon and Chau Say Tevoda |
| Tonle Sap Lake | |
| | |
| Old Market | Angkor National Museum |
Additional Tips
That's a lot of temples, yes? Temple fatigue is not uncommon while exploring Siem Reap so you need to pace yourself. Here are some other tips that I highly encourage you to consider.
Budget
Update (Feb 2017): Cost of Angkor One Day Pass is now $37.
Before I break down my total expenses, here are the usual prices that I saw during my stay in Siem Reap. Note that these are just based on my personal experience (so this list depends heavily on the establishments I tried):
Angkor entrance fee: USD20/person (one day pass)
Angkor tour by tuktuk (3 temples): USD12
Usual cost of a meal (rice/noodles): USD2
Usual cost of a drink (shake/coke): USD0.75-USD1
Here's the detailed breakdown of my expenses during the 4-day trip. Since I came from Bangkok, I'm not including the bus fares into and out of Siem Reap. Also, how much I spent on booze, medicine, and pasalubong is NOT covered by this list.
USD 20 – Mandalay Inn (USD10 per night for 4 nights, divided by 2 pax)
USD 20 – Angkor one-day pass
USD 12 – Tuktuk tour of Angkor
USD 3 – Tip for tuktuk driver
USD 1 – Bike rental
USD 31 – Total meal expenses
USD 8 – Incidentals (bottled water, junk food, etc)
USD 95 – TOTAL
That's how much I spent in US dollars. But I lost a lot of money in the conversion. The PHP-USD and PHP-KHR rates at most money changers were so far from their real value.
Nevertheless, my visit to Siem Reap was a rewarding experience, a realization of a life-long dream to see Angkor Wat and the other ancient structures in the area!
---
---