2012 • 11 • 26
I feared that when I walked through the doorway, I would be taken into another world. To my astonishment, that's exactly what happened.
I had been to many temples before, but this was something else. Prasat Ta Prohm (Ta Prohm Temple) is one of the dozens of ancient structures scattered throughout Angkor Archaeological Park in Siem Reap Province, Cambodia. While the temple itself is truly stellar, what sets it apart is its losing battle with the surrounding jungle. Trees have started to take over the site again, their monstrous roots creeping around the walls like mutant tentacles giving a deadly embrace.
WHAT'S COVERED IN THIS GUIDE?
History of Ta Prohm
Built in 1186 AD, Ta Prohm was originally known as Rajavihara, which means Monastery of the King. King Jayavarman VII had it constructed originally as a Buddhist monastery and university as part of a bigger infrastructure plan for the empire. Eighty thousand workers are said to have built the temple, including 2700 officials, 18 high priests, and 615 dancers. He dedicated the site to his family, naming many of its features to the people close to him. The image of Prajnaparamita, the most sacred figure in the temple, was carved in the likeness of the king's mother. Its satellite temples were dedicated to his elder brother and his guru. Ta Prohm is said to be the counterpart of Preah Khan, another temple built in 1191, the sacred image of which was modelled on Jayavarman's father.
Prasat Ta Prohm lies around one kilometer east of Angkor Thom, far away from the other temples. To get here from Bayon, you will need to pass the Victory Gate, the Elephants Terrace, and the Thommanon. Although looters had done their way with many of the artifacts inside in recent years, the temple's isolation left its condition unchanged for the longest time. Of course, without counting the trees reclaiming the site. In 1992, UNESCO added this site to the World Heritage List.
Exploring Ta Prohm
The tuktuk dropped me off at the mouth of a dirt trail that ran into the dense jungle. From the main road I could not see what was at the end of the trail. I had read about this temple before but I did not realize it was at this stop. The first thing that grabbed my attention was a skewed stone doorway next to a giant tree whose roots have started devouring a part of the wall. The deformed portal led to the left side of the temple. However, looking at its quirky new shape and the creepy environment, I was afraid I would be taken to another dimension. And I was not mistaken.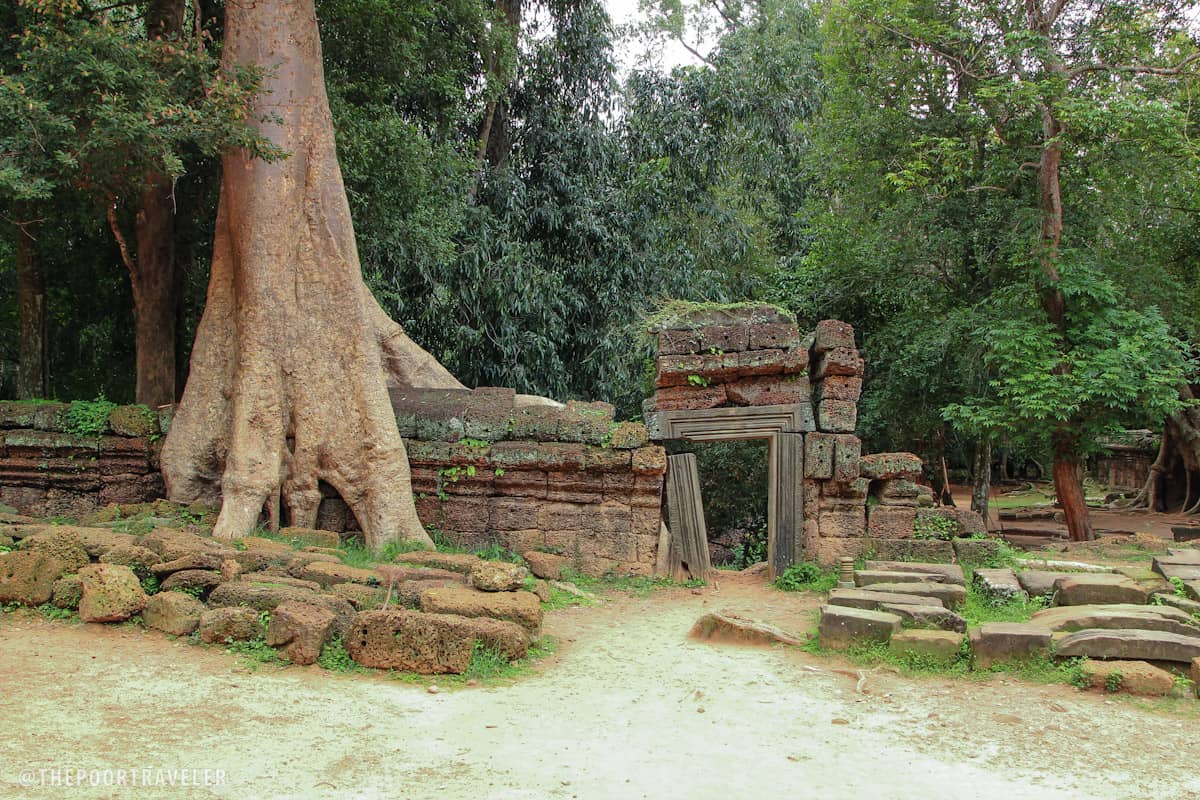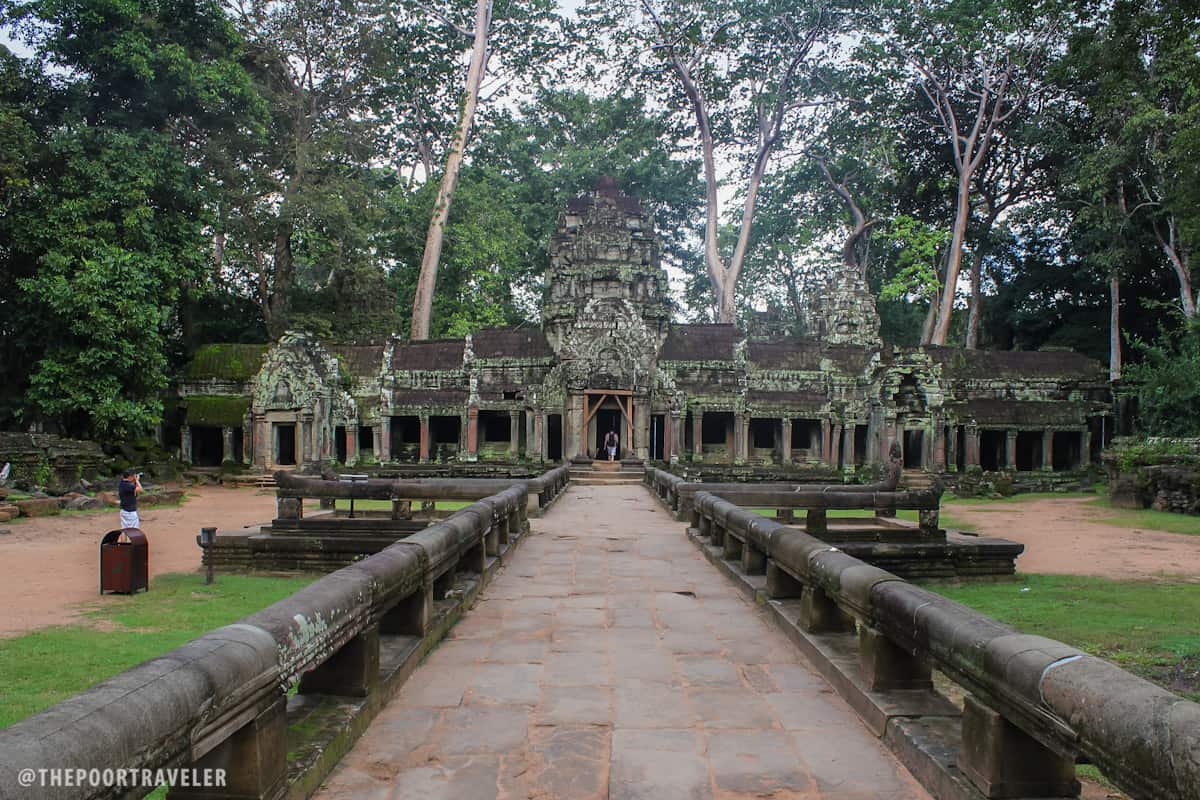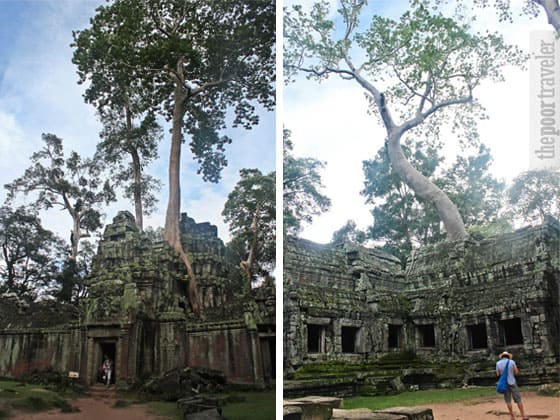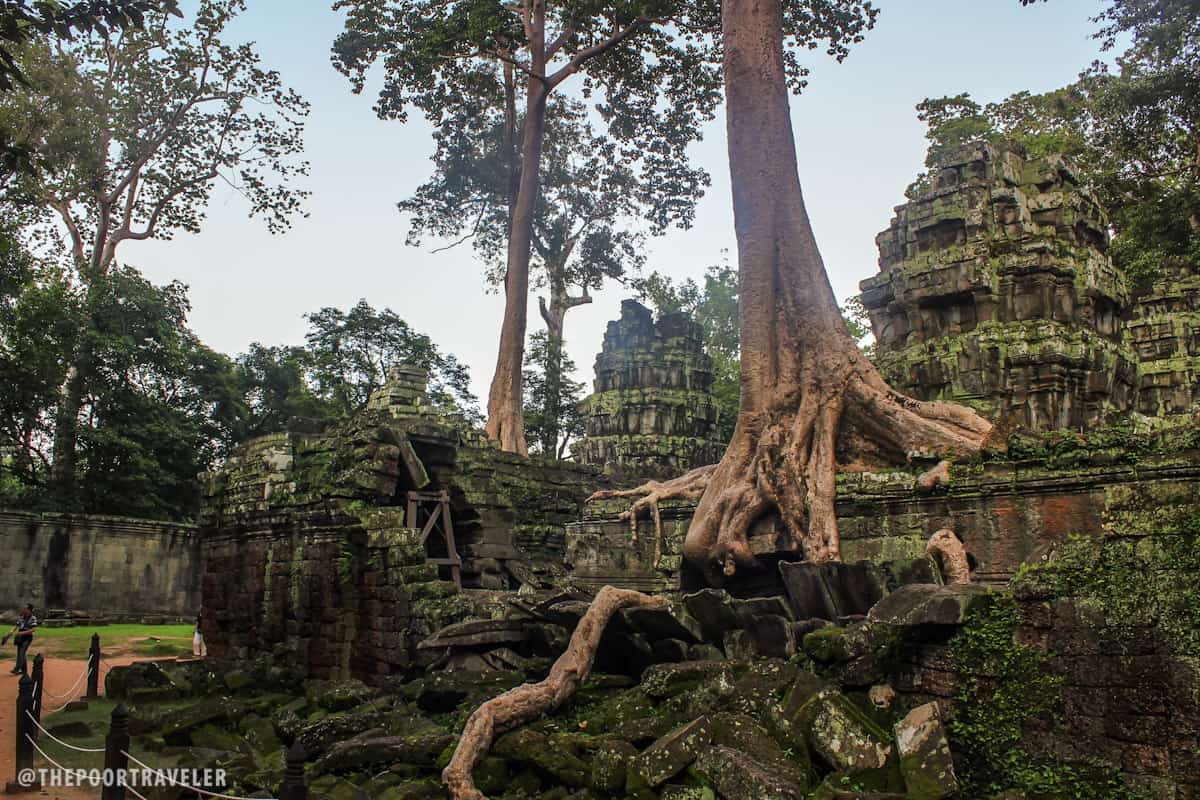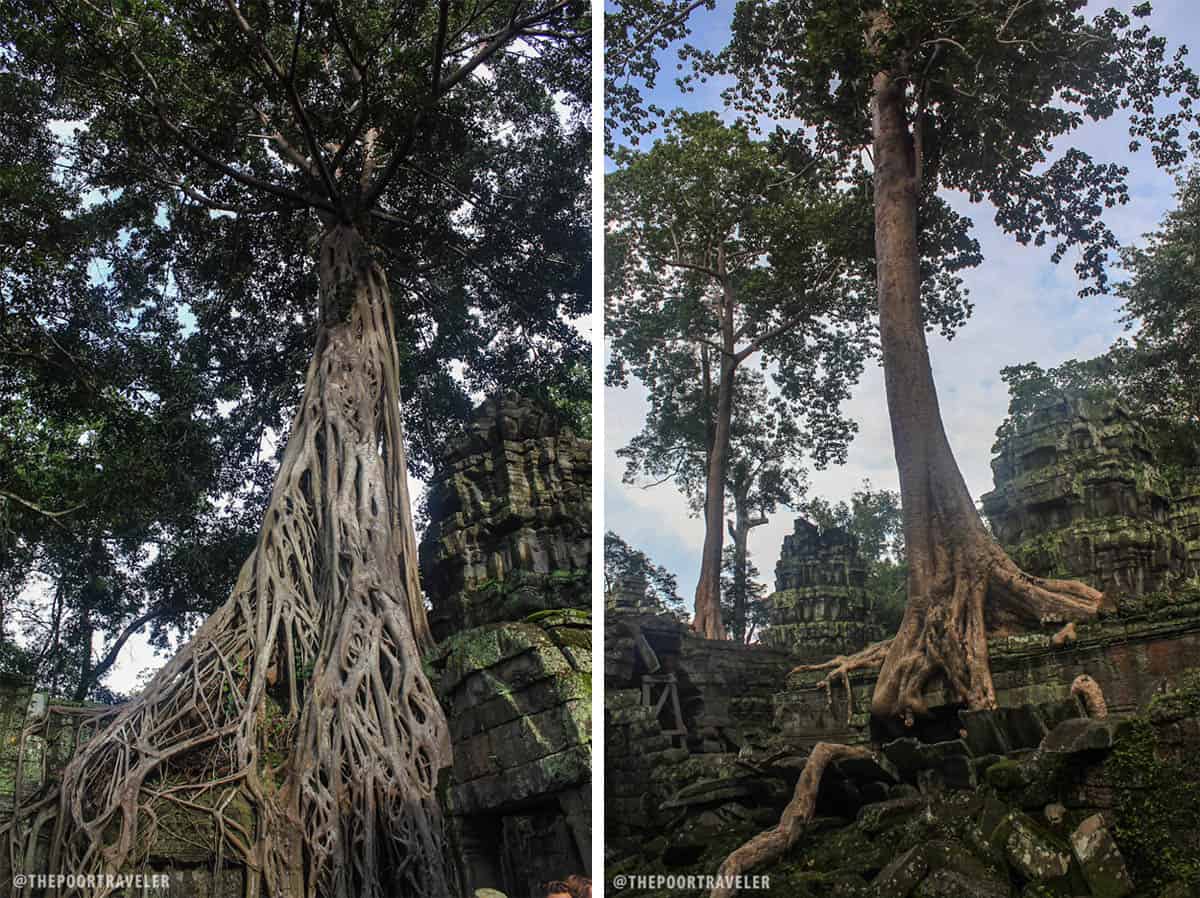 The sprawling Ta Prohm, to me, is in a totally different realm. It nurtures an atmosphere that reminded me so much of the world Hayao Miyazaki created for the animated film Spirited Away. Or perhaps, Guillermo del Toro for Pan's Labyrinth. As soon as I stepped on the temple grounds, I avoided touching anything and hesitated passing through doorways, for I feared I would be sucked into the world of the spirits. I'm just crazy paranoid like that sometimes. That's what I get for watching too many fantasy films.
Ta Prohm is not just a temple; it is a maze. It houses several doorways and windows, many of which look alike. Some of the alleyways lead to a dead end, blocked by jumbled piles of stones. What's interesting about exploring the corridors even those that are outside the usual visitor trail is that you get to see a lot of bas reliefs. Yes, like most Angkorian temples, Ta Prohm too bears ornate stone carvings showcased on its walls and pillars. Warning: when exploring, walk around but never climb onto the walls or piles for they may be unstable and may collapse.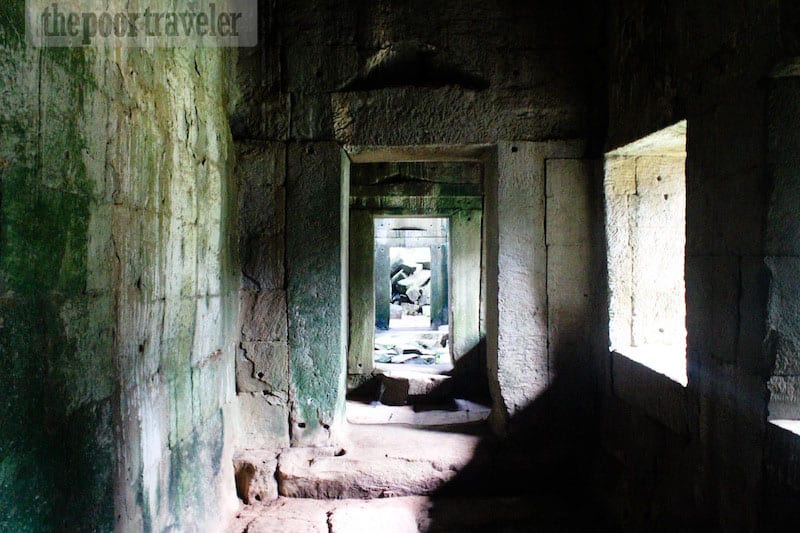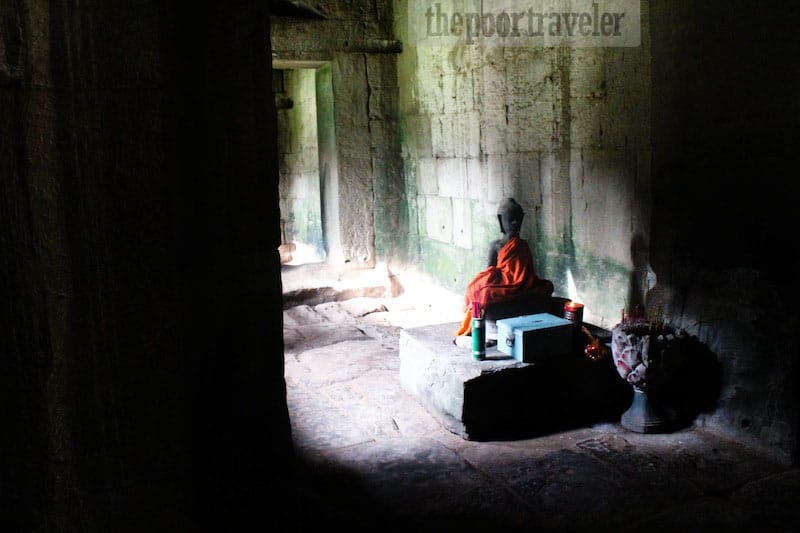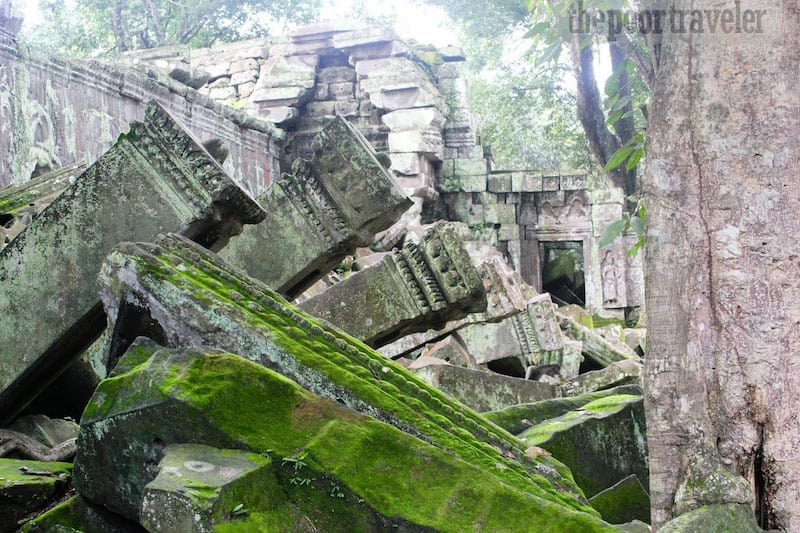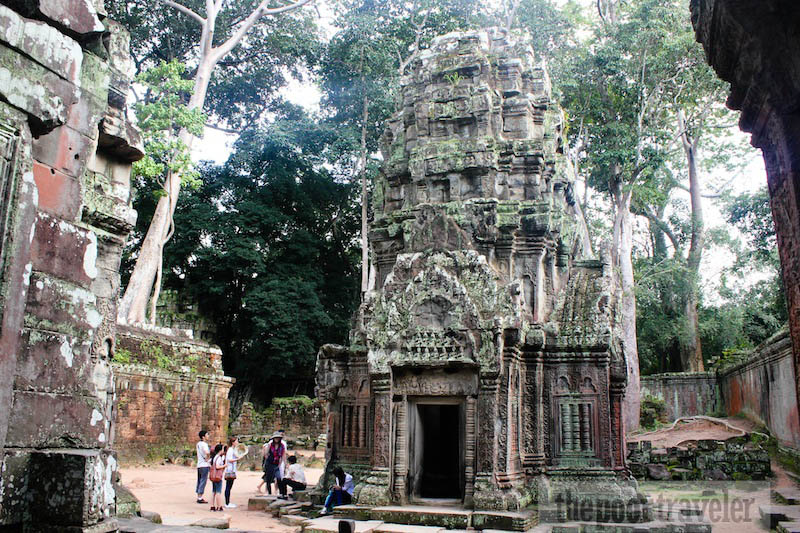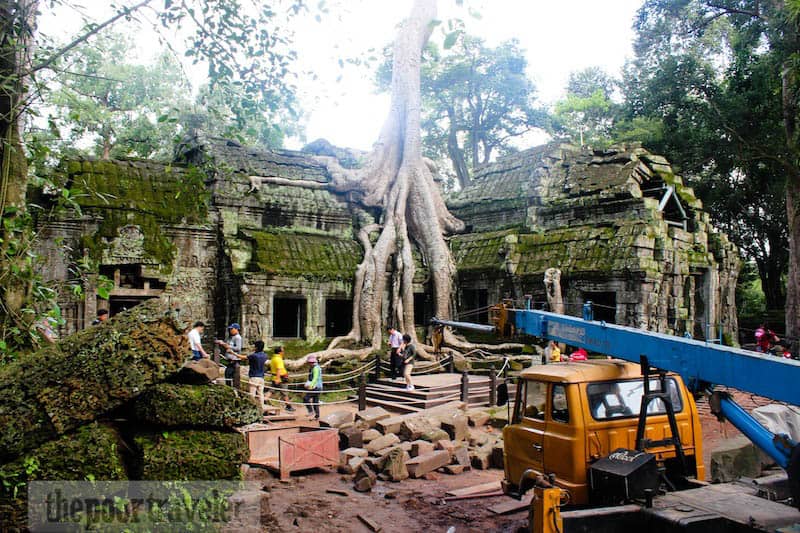 Ta Prohm has 39 towers that are linked by galleries. At the core is a central sanctuary surrounded by five rectangular walls. The outer wall is 1km long and 600m wide. (Yes, it's that big.) The place could have harbored a village in addition to the temple, but today much of it is forested. There are four gopuras (entry gates) but only two — east and west — are accessible. Aside from the galleries, there are also libraries, the satellite temples, the Hall of Dancers, and the House of Fire.
Many times, I lost my way inside the site and found myself alone in its dark corridors and corners. At one point I even thought I was really in another world. I had no idea that there were two main entry points that tourists may use. I took the West Gate coming here, and I thought I already made it full circle when I saw a trail, which looked almost exactly the same, cutting across reddish soil through a dense forest. Apparently, I emerged on the other side of the temple, at the East Gate. I really thought the temple spirits were pulling a prank on me! I turned around and traced my steps back. And guess what, I got lost inside again! Silly, silly me!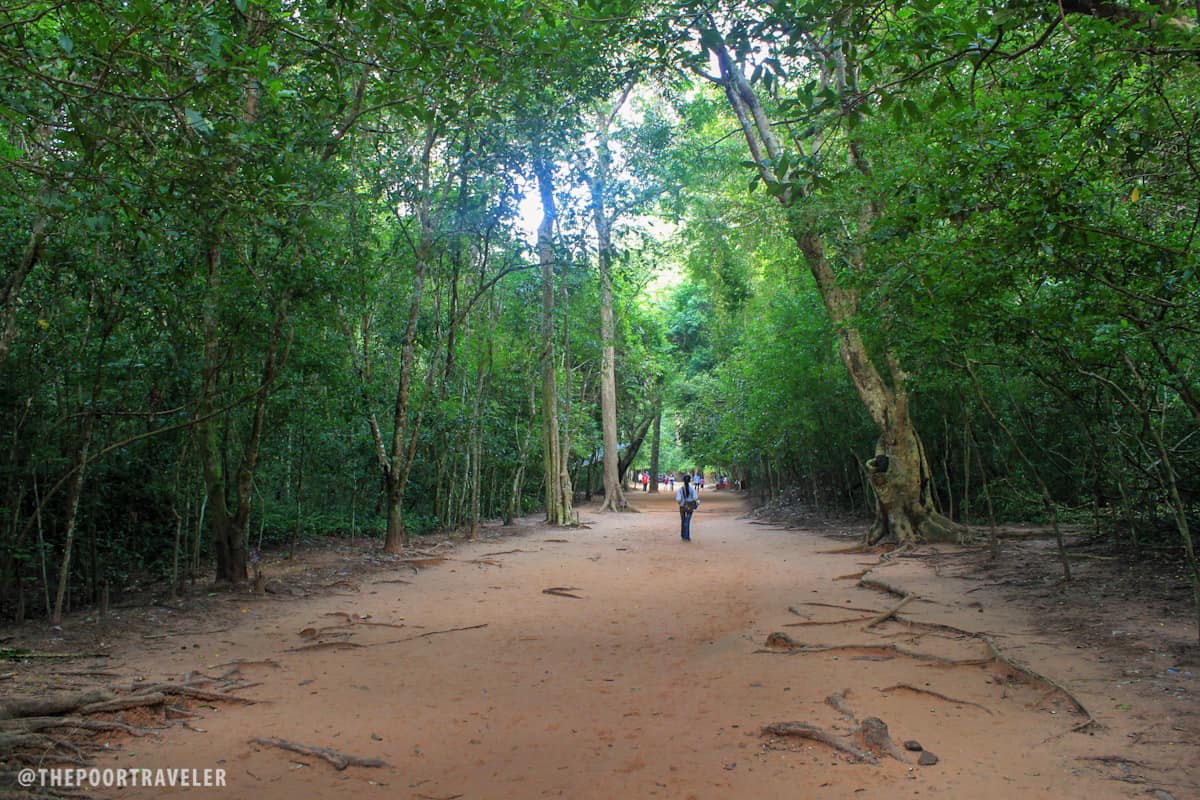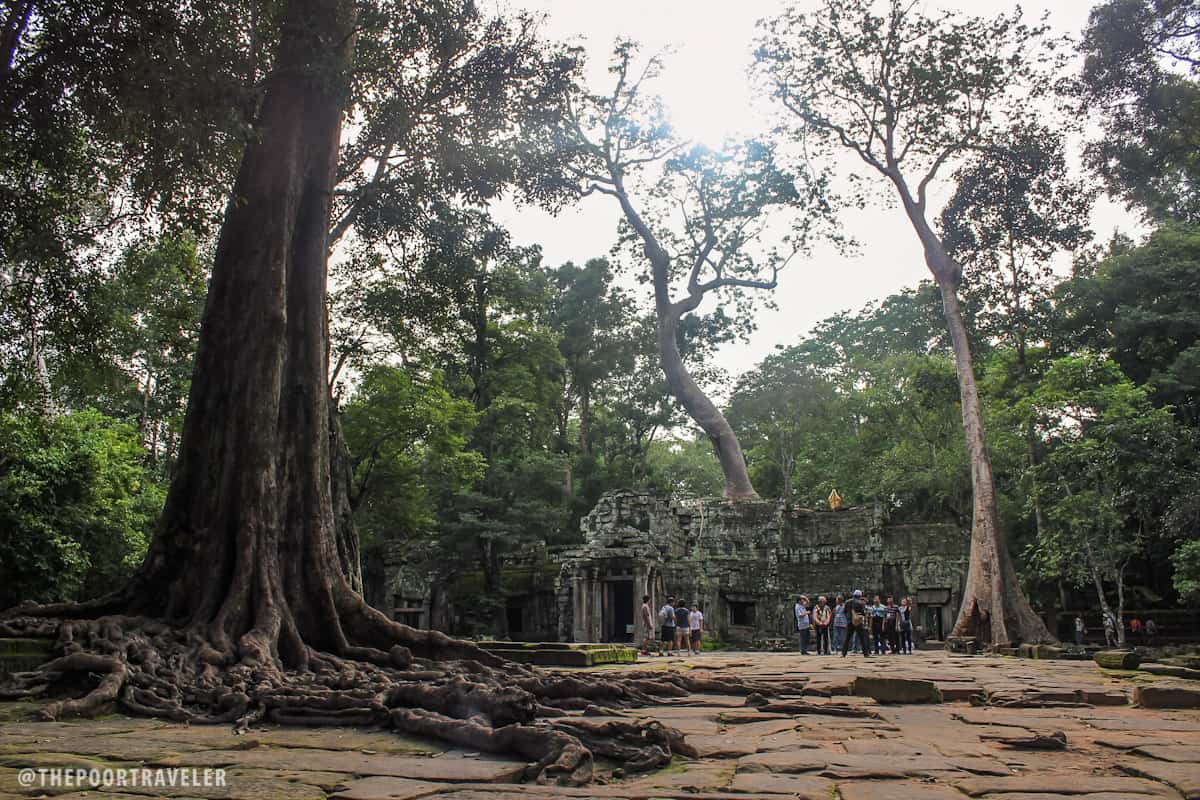 Bayon Temple remains my most-loved site in Angkor, but Prasat Ta Prohm is definitely a character. I say character because when I was exploring the park, I started looking at the structures as living things, each with its own history, appeal, and personality. Ta Prohm is the one that is out-of-this-world and, ironically, the closest to nature. So close it has began to fight a losing battle with it. Like the other Khmer temples, Ta Prohm boasts a grand architecture and pedestals the human spirit. But what makes it truly special? It is the curious way it demonstrates the power of the jungle, if not nature as a whole.
How to get here: From the city center of Siem Reap, hire a tuktuk for an Angkor Tour for only USD12. This will take you to three different temples at Angkor Archaeological Park including Angkor Wat and Ta Prohm. Just confirm with the driver that you want to go to Ta Prohm. You can also rent a bike for USD1.
---
---