A 12-year old boy was the first to greet me upon stepping on the temple grounds. He introduced himself to be a tour guide. Although I politely declined, he insisted on accompanying me as I walked around the ancient structures. I thought he would let me be, but the little boy followed me around. Having been warned by other backpackers about many scams involving children, I explained to the kid that (1) this temple was not part of my itinerary, and I was just taking quick photos of the place; (2) I was in a hurry because it was late, and I was still halfway my tour; and (3) I wouldn't have the money to pay him. All of my reasons were true, for what it's worth. Still, he continued trailing me and narrated the history of the place.
To be quite honest, I struggled understanding what he was saying. But that's not why I did not like this stop very much.
Don't get me wrong, the site, like all the other structures within Angkor Archaeological Park, was marvelous. In between the Victory Gate of Angkor Thom and Ta Prohm lie a pair of overlooked Khmer temples. Separated by a narrow road, these two temples are both small compared to the massive Angkor Wat and Bayon, but they have a charm that nurtures a more tranquil atmosphere.
WHAT'S COVERED IN THIS GUIDE?
Thommanon Temple
Constructed under the leadership of King Suryavarman II, this elegant structure is almost as old as the Angkor Wat. It is situated east of Angkor Thom's Gate of Victory, along the road to Ta Prohm. Like many Angkorian temples, the main sanctuary is crowned by a meticulously carved gopura, similar to Angkor Wat. The walls of the main hall and the surrounding buildings are covered by intricate carvings, many of which are well-preserved. Some of the doors to the temple are topped with ornate lintels that bear images of Vishnu, one of the two gods to whom the temple is dedicated. The other one is Shiva. But the most captivating features of the structure are the carved images of devatas, Vedic deities or spirits also revered by the ancient Khmers.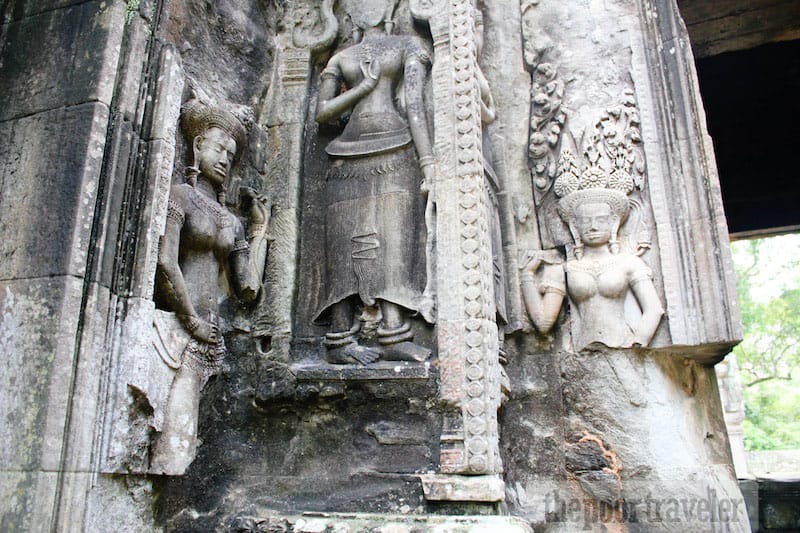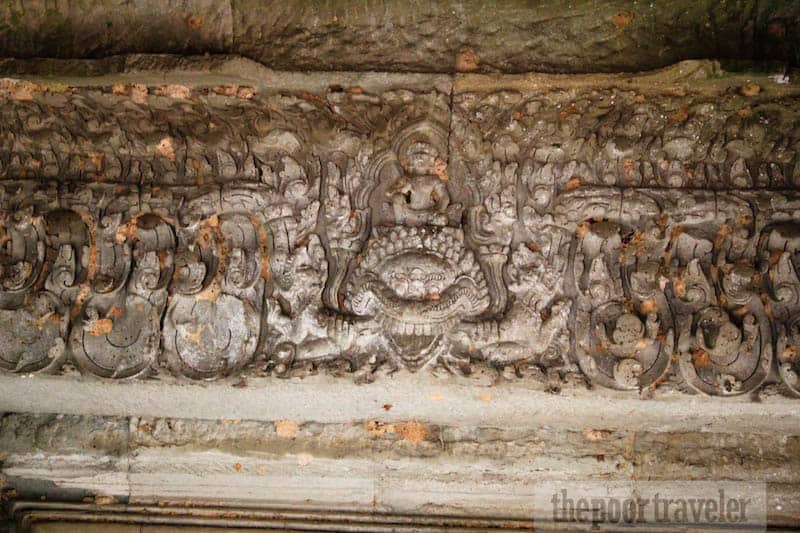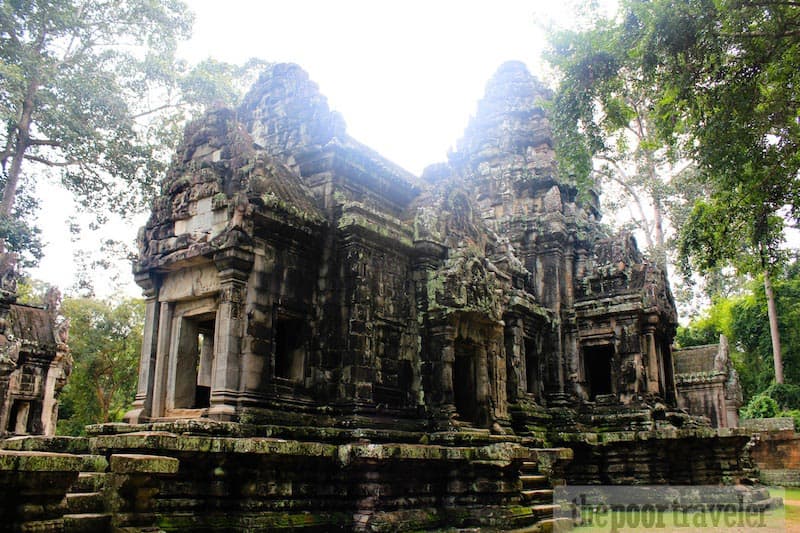 Chau Say Tevoda
Directly opposite Thommanon stands Chau Say Tevoda. Built under the same king around the same time, it had many similarities with the temple just across the street. However, it is not as excellently maintained. The good news is, during my visit it was undergoing a major restoration, a project by the governments of Cambodia and China.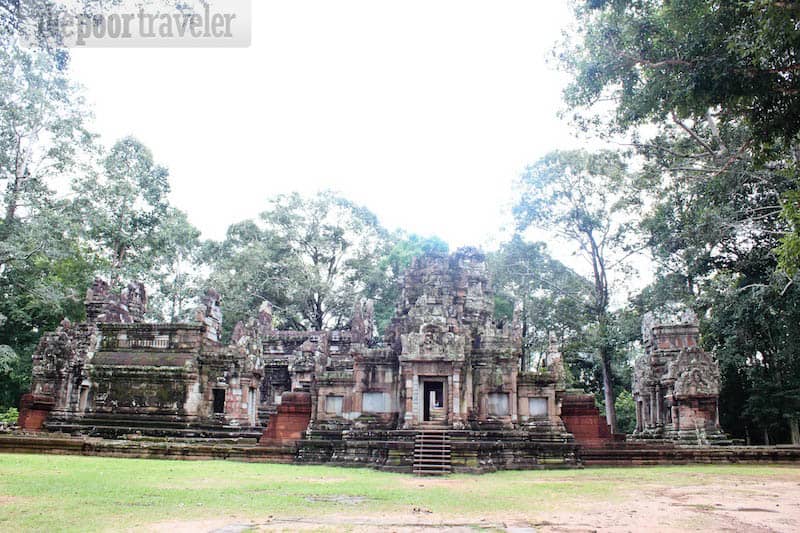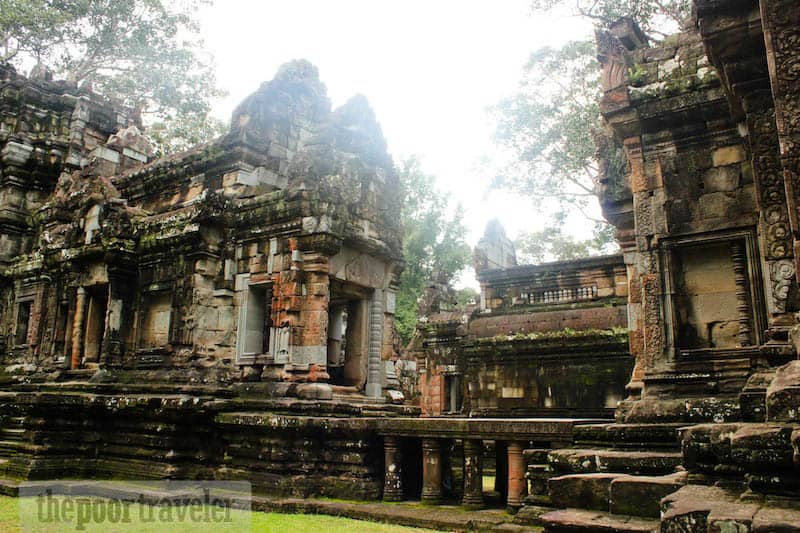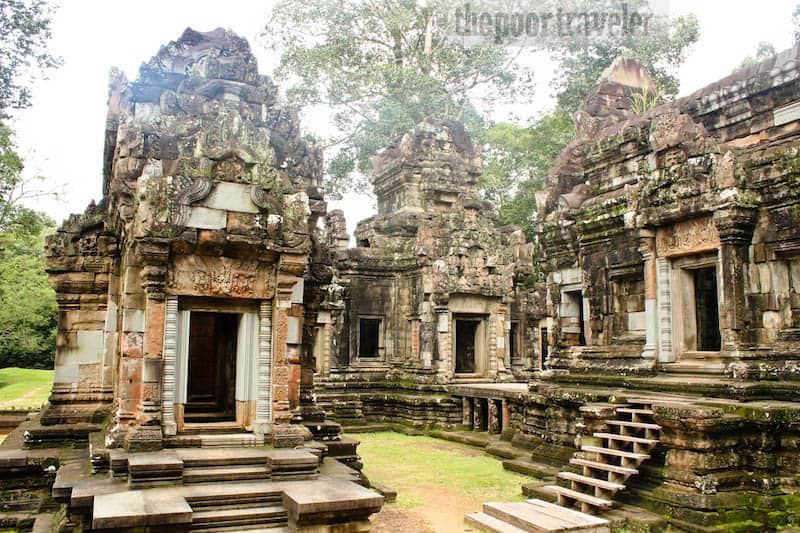 Between the two temples, it was actually Chau Say Tevoda that I visited first. I was the only visitor at the site then and I was starting to get the creeps, so I did not stay that long. I immediately crossed the street because there were two other tourists at Thommanon.
My visit to these temples were unplanned. It was just that they lie along the way to Ta Prohm, and my tuktuk driver was gracious enough to allow me to take pictures of them. We agreed that I would be back after 15 minutes. That's why I was firm in not hiring a tour guide for this part of the tour. I mean, I was just planning on breezing through.
The little boy who "toured" me despite my reluctance and refusal whipped out a small notebook as I was leaving the site.
"Donation, sir," he claimed. "It's for my school." I gave him 2 dollars, which was actually way generous for me since I only had enough to pay my driver and buy drinks.
"Too small, too small," the boy protested. He then showed me a page on his notebook that contained a list of tourists who donated and the amount they gave and I was shocked — the smallest figure I saw was USD50 and some even gave as much as USD200.
"Sir, 200 dollars. Look at what others gave," he said pointing out the numbers on his notebook.
Kindly, I explained yet again to the boy that I did not have that big an amount.
"Okay, 150 dollars!"
I looked at him and told him that if I gave him that much, I won't have enough money to go back home, or even pay for my tuktuk ride. He continued to demand more, even lowering to USD50. I explained that it was all I could give, and started walking away. I believe it wasn't legit, and even if it were, I wouldn't pay USD200 for a 5-minute tour that I did not even sign up for.
Posted: 2013 • 1 • 10
---
---