A more updated version of this article can be found here: Coron Travel Guide
2013 • 6 • 10
It was like a giant bucket of paint spilled into the water that morning. Dazzlingly, the sun showered the world with a whole lot of gold and red. Half-awake, we got up and watched  our boat made futile attempts to scratch the mirror-like surface of the sea. The sun, bursting into full glory, just snatched us out of slumber completely. The day had officially begun and if the view was any indication, it would be an unforgettable one.
We were on the way to Calauit Safari Park on an island-hopping tour around Busuanga that morning. It was the start of a long, long day as it would be filled with hours of great experiences. You see, the islands of Coron and Busuanga have so much in store for adventure-hungry tourists.
WHAT'S COVERED IN THIS GUIDE?
Understanding Coron and Busuanga
With Culion and Linapacan, the municipalities of Coron and Busuanga make up the Calamianes, a stellar group of islands that speck the waters of North Palawan. Busuanga Island is the largest and is divided into two municipalities: Busuanga and Coron. The town of Busuanga harbors the airport but Coron is the biggest and the main tourism hub of the region. Nestled in one of the nooks of the southern edge of Busuanga Island, Coron town has the most accommodations and tours, and is the usual jump off point to the surrounding destinations including Coron Island, Culion, Linapacan, and even as far as El Nido. Confusing, eh? Here's a map to help you digest it better.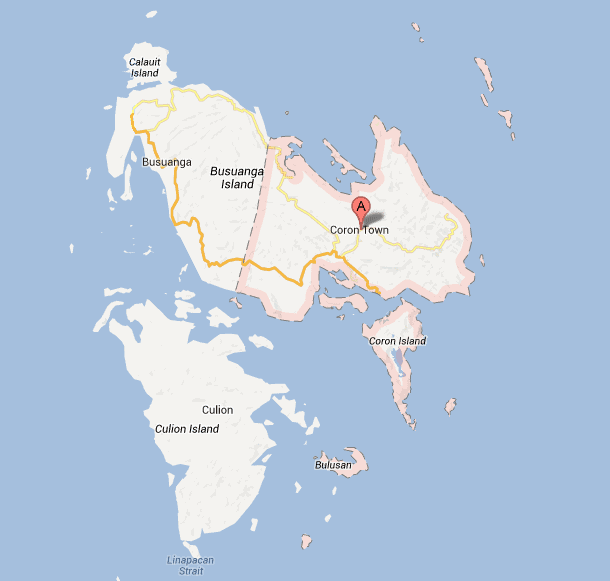 How to Get to Coron and Busuanga
Flying is the easiest and fastest way to reach Coron. The main gateway to the region, Francisco B. Reyes airport is located in Busuanga and is less than an hour away from the town of Coron.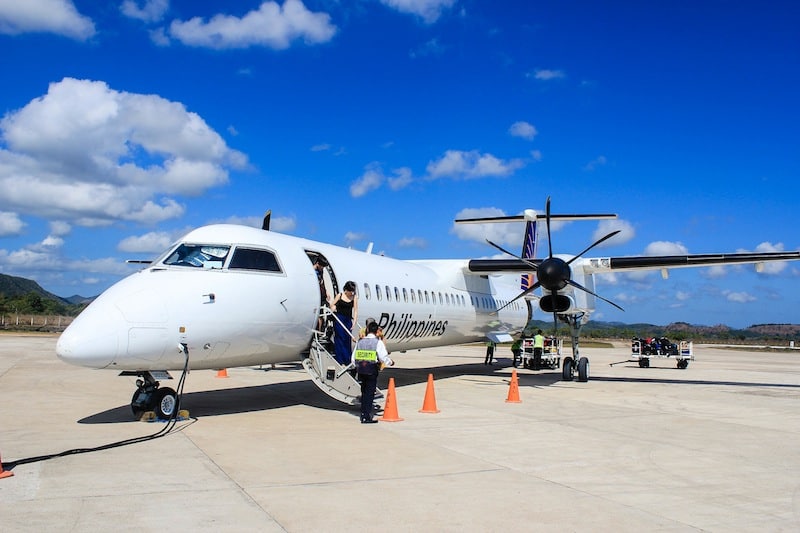 The following airlines operate Manila-Busuanga flights and back.
Cebu Pacific Air

PAL Express (Philippine Airlines)
AirAsia Zest (Zest Air)
SkyJet
Additionally, PAL Express flies to Puerto Princesa from Busuanga and vice versa.
From the airport, you may take a van to the town of Coron for P150 per person or P1500 if you want to hire the entire van.
Where to Stay in Coron
There are so many lodging options in Coron but you might still want to strongly consider booking in advance specially during summer (April-May). Here are some accommodations that my blogger friends recommend but I have tried only Tameta Pension House and Coron Village Lodge, which are both okay (not great but just okay).
| | |
| --- | --- |
| Coron Eco-Lodge | Coron Village Lodge |
| Patrik and Tezz Guesthouse | Tameta Pension House |
| Palanca Guesthouse Coron | Coron Backpacker Guesthouse |
Where to Eat in Coron
While plenty of restaurants plank the roads of Coron, you'll be surprised that most of the well-known establishments are quite expensive with meals ranging from P150-P300. (Based on experience, it's much easier to find cheap meals at a decent restaurant in El Nido than in Coron.) But if you're not too picky, you'll find many eateries that serve food at P50 per order.
If you have the budget, here are some of the more popular dining places in Coron.
| | |
| --- | --- |
| Bistro Coron | La Sirenetta Coron |
| Foodtrip Coron | Pink Salmon Coron |
| WG Diner Coron | Helldivers Bar Coron |
Places to Visit in Coron
There are so many interesting and unique destinations in Coron and in nearby towns of Busuanga and Culion. They are usually grouped together in tour packages that are offered by travel agencies and resorts. You'll find them all throughout the town. They usually require a minimum of 5 pax per trip.
You may also charter a boat for private trips, which is best if you are with a big group. To hire a boat, just visit the office of Calamian Tourist Boat Association at Lualhati Park. They have standardized the rates of boat trips depending on the size of the boat needed, the number of passengers, and your destination.
The following are some of the most popular tours in Coron with the usual destinations covered. Inclusions vary so please confirm with the tour or boat operator first before you seal the deal. I also indicated the usual rates as of March 2013 but bear in mind that these might have already been outdated, and that these prices vary from tour operator to tour operator.
Coron Island Tour
Private boat: P1500 per 4 pax, P2000 per 8 pax, P2500 per 15 pax
Group tour: P650 per pax
This tour may also include Atuayan Coral Garden and Maquinit Hot Springs
| | |
| --- | --- |
| Twin Peaks and Hidden Lagoon (NOT IN THE PIC) | Kayangan Lake |
| Barracuda Lake | Siete Picados |
Coron Town Tour
Group tour: P550 per pax
Other Destinations include Cashew Nut producers and Coron Gallery
Alternatively, you might want to do this by yourself because all these are accessible by tricycle and even walking (except Maquinit)
Calauit Safari Park Tour
Private boat: P7500 per 4 pax, P9000 per 8 pax, P15000 per 15 pax
Group tour: P2400 per pax

| | |
| --- | --- |
| | |
| | |
| South Cay (Pagbinit Island) | North Cay (Pagtenga Island) |
Culion Island Day Tour
Private boat:  P3000 per 4 pax, P3500 per 8 pax, P6000 per 15 pax
Group tour: P1150 per pax
You might also want to check out my Culion Travel Guide if you want this trip Do-It-Yourself (DIY) style.
Sangat Shipwreck Tour: Sangat Gunboat Wreck, Decalve Marine Park, Sangat Hot Sprints, Kalitang White Beach
Private boat: P3000 per 4 pax, P3500 per 8 pax, P6000 per 15 pax
Group tour: P950 per pax
Malcapuya Island Tour: Malcapuya Island, Malaroyroy Island, Banana Island
Private boat: P3000 per 4 pax, P4000 per 8 pax, P6000 per 15 pax
Group tour: P950 per pax
Sample Coron Itinerary
The best thing about Coron is that the neighboring islands — all equally mesmerizing — are just a boat ride away. Thus, a trip to Coron will never be complete without a visit to the other destinations surrounding it. Because boat rides and tours are all organized into day tours, it is very easy to build an itinerary.
Below is a sample itinerary if you will be spending 4 days and 3 nights in Coron. For this sample, I'm assuming that you will be taking PAL Express.
Day 1: ARRIVAL, CITY TOUR
07:30 am – Check-in NAIA Terminal 3
08:30 am – ETD NAIA Terminal 3 – Busuanga (via PAL Express Flight 2P 31)
09:30 am – ETA Busuanga Airport
10:30 am – Arrival in Coron by van, check in at hotel
11:10 am – Lunch
12:00 pm – Start CITY TOUR
04:00 pm – Climb to Mt. Tapyas Viewdeck
06:30 pm – Maquinit Hot Springs
08:30 pm – Dinner
Day 2: CORON ISLAND TOUR
Day 3: CALAUIT SAFARI PARK TOUR or CULION TOUR
Day 4: DEPARTURE
06:00 am – Wake up call
07:00 am – Breakfast
08:20 am – ETD Coron (travel by van)
09:20 am – ETA Busuanga Airport
09:30 am – Check in
10:45 am – ETD Busuanga Airport (via PAL Express Flight 2P 32)
11:45 am – ETA NAIA Terminal 3, Manila
As always, please make the necessary adjustments to fit your flight schedule, duration of stay, or tour preferences.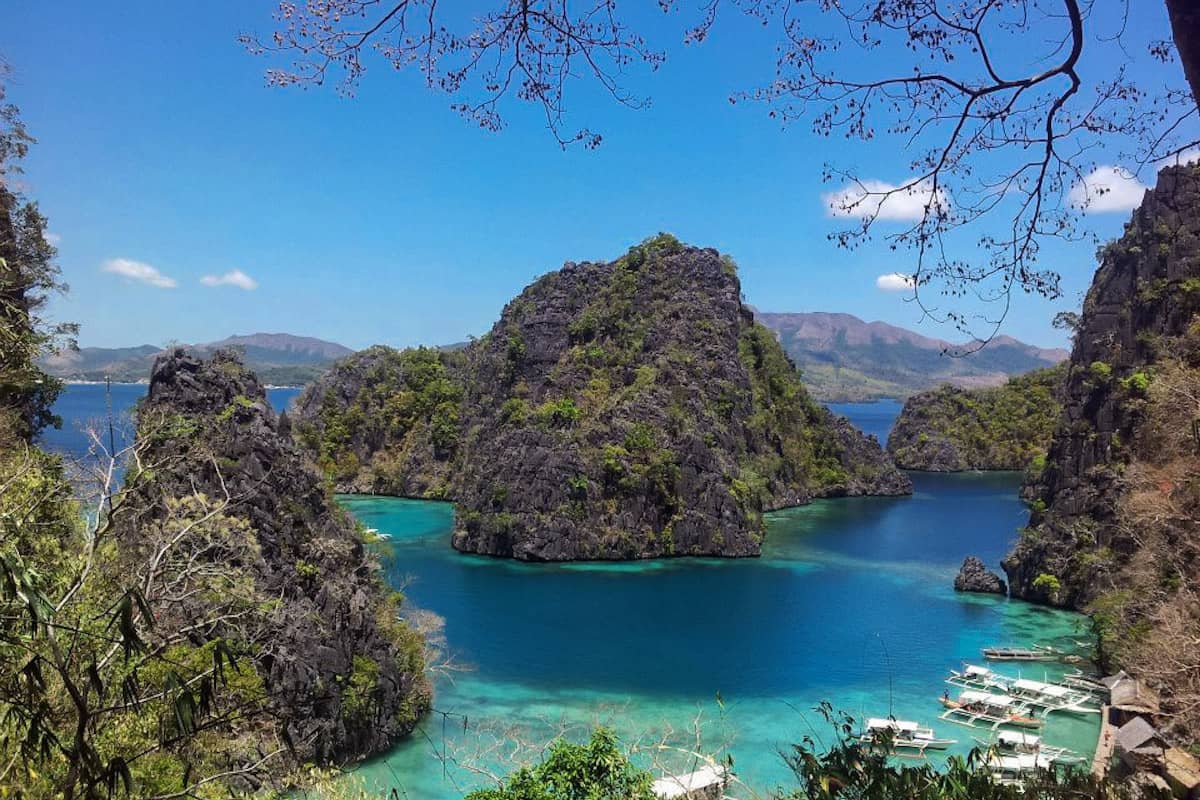 Budget Breakdown
Here's a sample budget breakdown for a 4D/3N stay in Coron. Note that this computation is based on 2 people sharing the cost of accommodations and some fares. This sample also uses a fan room for 3 nights. This does not include airfare and terminal fees.
P300 – Van fare from airport to Coron and back (P150/way)
P1050 – Tameta Guesthouse Fan Room (P700/night, 3 nights, divided by 2 pax)
P150 – Maquinit Hot Springs Entrance Fee
P150 – Trike to Maquinit Hot Springs (P300 divided by 2 pax)
P650 – Coron Island Tour
P1150 – Culion Historical Tour

P1250 – Food Budget

P4700 – TOTAL
Of course, you can reduce this cost further, specially if you are part of a bigger group and you opt with small eateries instead of mid-range restaurants.