2013 • 6 • 6
The Boiling Frog popped up in my head as soon as I took the first step into the pool. My reflexes instantly pulled my leg out of the water. It wasn't lukewarm; it was scalding. Playing within 39 and 40 degrees Celsius, scalding may be exaggerating it, but it was almost unbearable at first dip. Blame the the unusually cold wind even though it was a mid-summer night. Still, I trod on and tiptoed to the middle of the pool. The heat had turned into warmth, and I allowed it to envelop my body as it began to sweep all my troubles away.

Maquinit is one of the very few saltwater hot springs in the world. Located along the southern coast of Busuanga Island, it is one 30-minute tricycle ride away from the town proper of Coron along a rough, curvy road. It is said that the water gets heated by a volcano and springs up into the two-tiered circular pool. Its rough walls are built from stacks of rocks and its floors strewn with pebbles — not very friendly to the soles at first touch but adds a more natural feel, as if the surrounding mangrove forest and the adjacent beach are not enough.
Locals recommended that I enjoy the hot springs after an arduous trek to the summit of Mt. Tapyas, the second tallest peak in Coron. That's exactly what we did and they were right. Whatever pain and fatigue I gathered on the way up and down the mountain were all drowned and washed away by the therapeutic water that flowed from the underground. It was easy to relax here. All I did was soak, look at the starry sky, feel the stones tickle my feet, and listen to the gentle flowing of the water.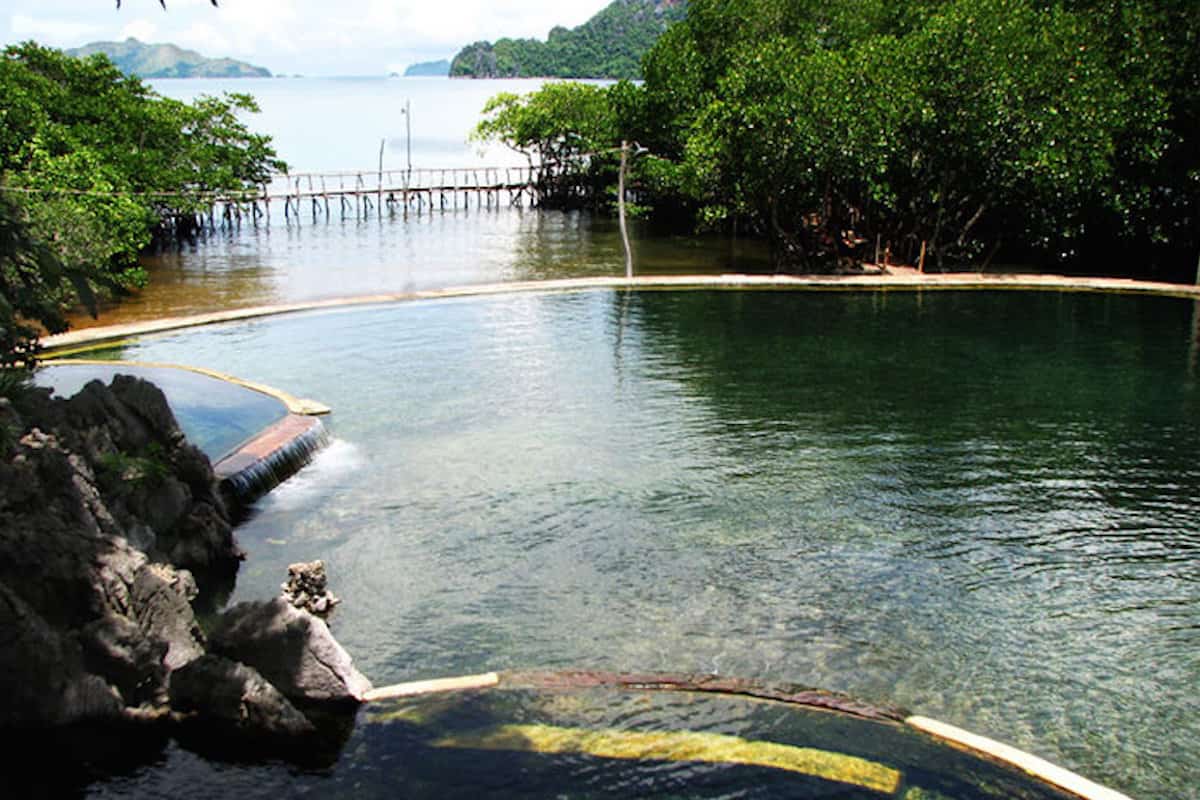 It took only a couple of minutes until the scorching became soothing. The dark had blanketed the place, making the stars twinkle much more mischievously. The moon was the king and it demanded attention. The dim lights that surrounded the pool painted faint pictures of the surrounding mangroves that stood to form a natural fence. They were great sights but after only minutes of floating in the middle of the giant tub, they went ignored. I chose to close my eyes and focus on two things: the hushing water that overpowered the wispy murmurs from the distance and the weak but playful current that was rocking me to sleep.
How to get to Maquinit Hot Springs: From the town proper of Coron, take a tricycle to the resort. Fare is P300 per tricycle, round trip. The tricycle will be waiting for you and take you back to the town center. 

Maquinit Hot Springs
Opening Hours: 6am-10pm
Entrance Fee: P150
Roundtrip Tricycle Service: P300