I can tell you a thousand reasons why I am not a diver, but they all boil down to one thing — fear. For a traveler who was born and raised in Batangas, a diving hotspot, I am unusually afraid of the dark and beautiful depths of the sea. Yes, it is the fear of deep water, of drowning, of death that has always kept me afloat, skimming only the surface of the water. For the longest time, I had been content with my snorkel and never had the thought of exchanging it for a diving gear entered my mind. Not until I got to Lusong.
The sun had already set. Only its faint afterglow illuminated the skies, but Lusong Island continued to radiate a beauty that was both thirsty and soaked. Summer had left the coastal trees bare and naked, its leaves — dried and helpless — succumbing to the selfish gravity. That time, their branches stretched into a heavy entanglement that crowned the island.
With a mask and snorkel on, we jumped out of the boat into the water to be greeted by what we expected to be a coral garden. Instead, we were welcomed by a coral forest, much like the lushness that grew above the surface. Off the white-coated shore, they flaunted a multitude of colors and a trove of life. Layers and layers of enormous table corals girdled the small peaks and valleys of the reef. Fish swam through them with much caution and precision.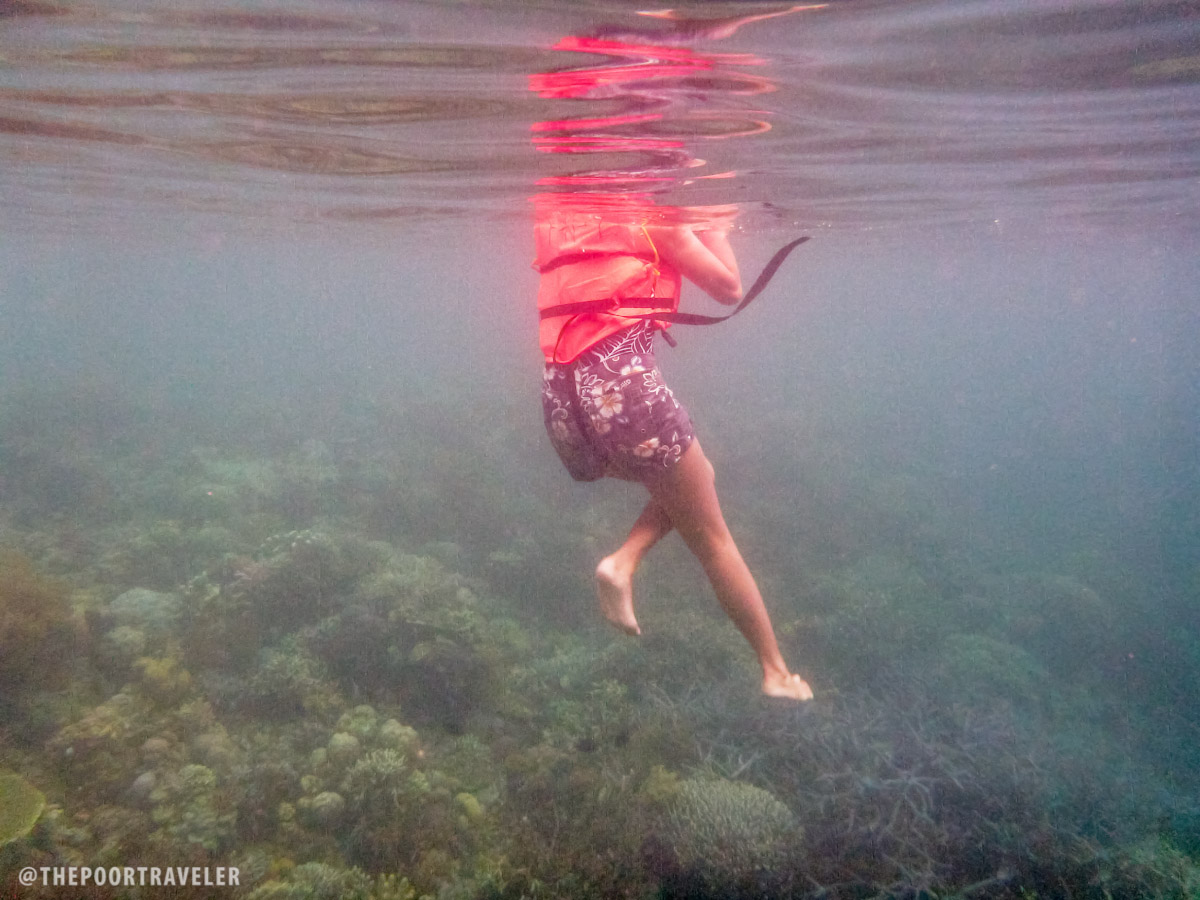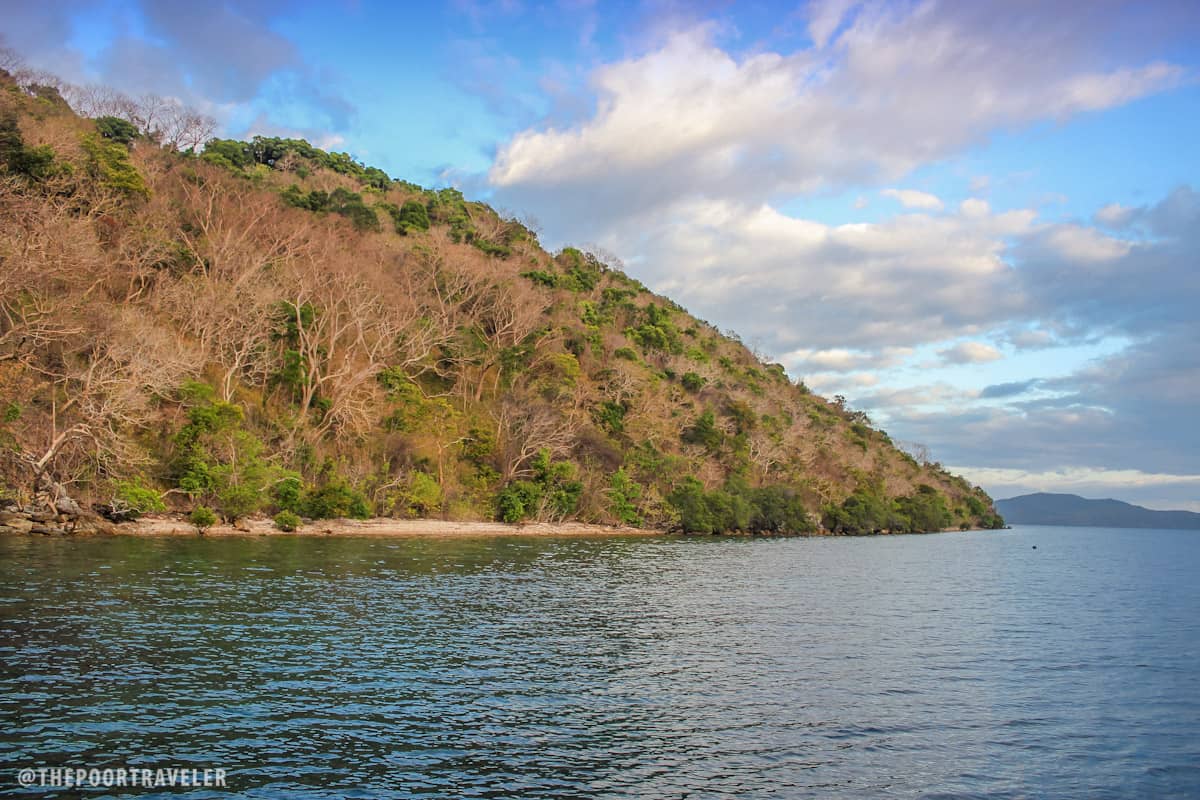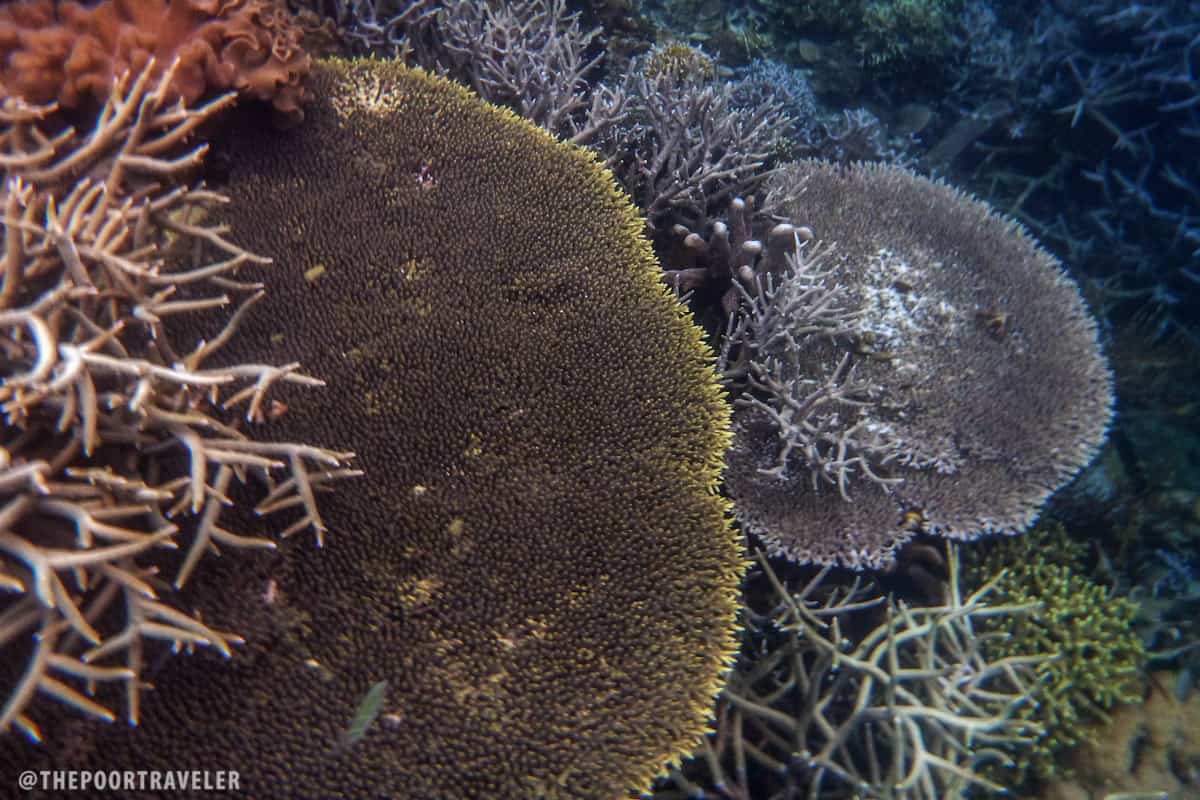 "We need to go," announced Harold, our boatman. I had only swam a few yards, and I was already bombarded by spectacular glimpses to the wet and wild world underneath. We hopped back up onto the boat and headed for a buoy nearby. Harold encouraged us to get back to the water immediately.
Just after making another splash, I spotted a curious silhouette slowly forming as I swam closer — a hull.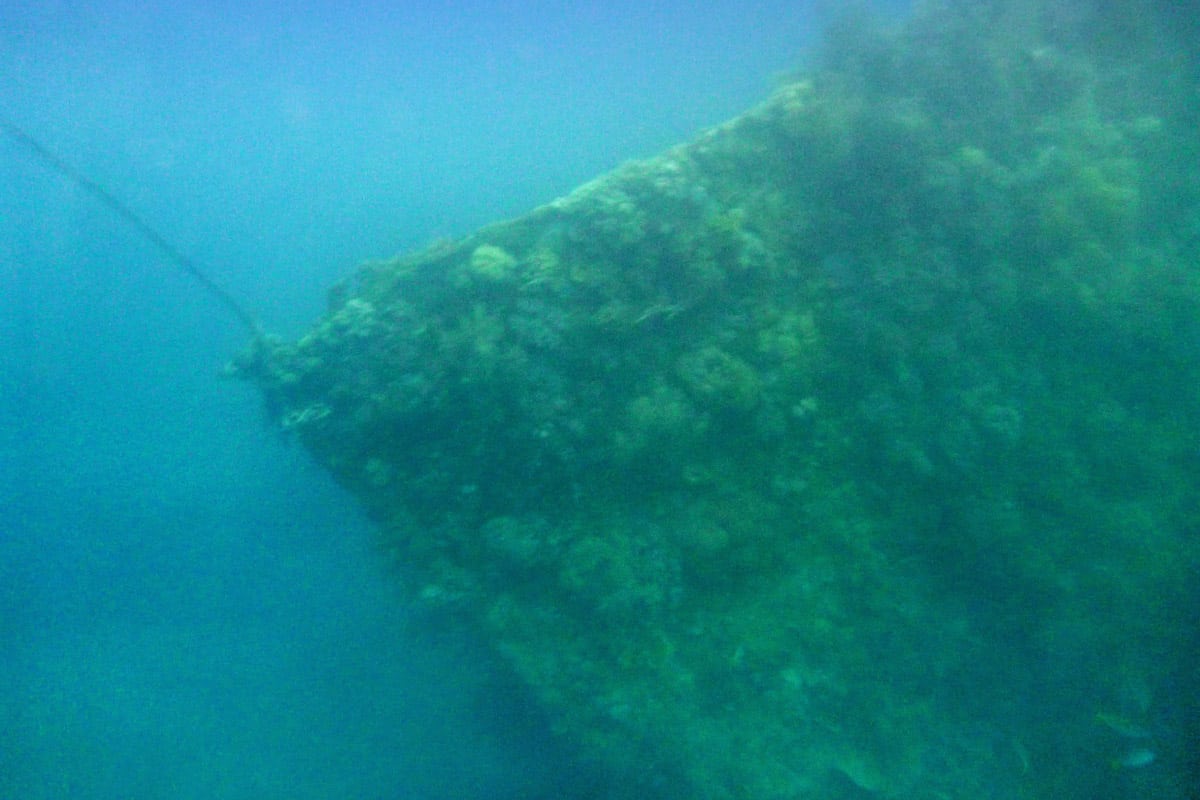 Aside from its natural beauty, Coron is famous for its several wreck diving spots; Lusong is one of them. Others may be far grander, far more wondrous, but it is the only one that sits along the trail of our island-hopping tour. And for someone who was to see a shipwreck for the first time, I was a happy snorkeler. This wreck in Lusong is of a World War II gunboat now heavily encrusted with corals.
I rippled across the water to the hull, and swam over it with my camera taking videos of what my memory could lose due to an explosion of interesting sights. Corals have grown on and covered the ship, serving as an artificial reef. It has become a home to the fish that finned around it.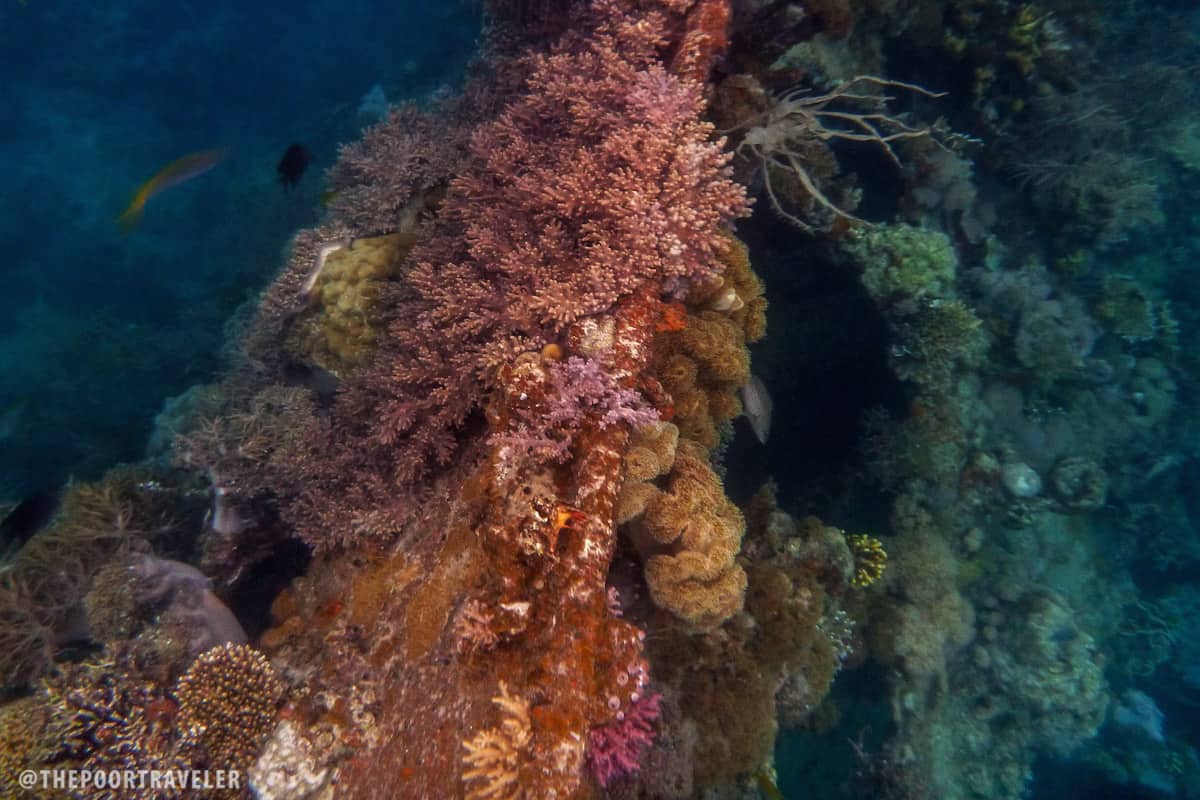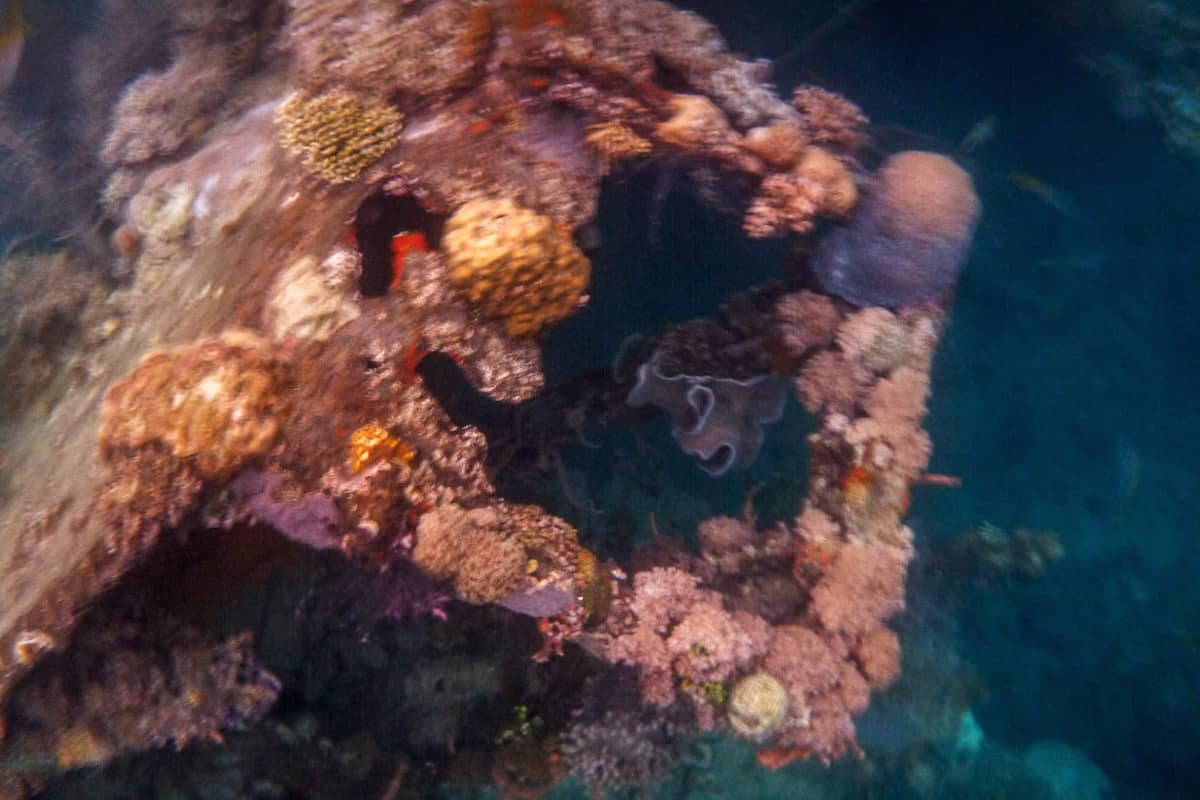 Alas, Harold's voice was heard. "We're losing the light," he said. It was time to go.
By the time we got out of the area, the dark has already enveloped the skies.  It was a shame, really, but there was nothing we could do. We spent way too much time at Calauit Safari Park and Black Island that we had to hustle as soon as we made a stop here.
It may have been a very short encounter with a shipwreck, not enough for a romance with it, but it was enough to seed a feeling — a goal — in my mind. I want to learn how to dive. Maybe I should. Maybe I will.
How to get there: From Coron town, boats are available that can take you on an island-hopping tour around Coron or Busuanga. You may also join a group tour.