2011 • 4 • 3
For a more updated guide, visit: Puerto Princesa Travel Guide.
Our original plan was to take Casa Linda's Puerto Princesa Subterranean River Tour with buffer lunch at P1600 per person. However, the tricycle driver we met (Kuya Ding, 09186620495) referred to us a travel agency that offered the same tour with buffet lunch at a lower price — P1300/pax. We grabbed it.
Kuya Ding gave us the number and we contacted them right away. The woman on the other side collected our names because they said they needed it for tourist registration, which should be completed ahead of time. We agreed that they would pick us up at 7am the next day. After our brief talk over the phone we had dinner at Ka Lui Restaurant and slept tight that night.
The next morning, Day 2, we woke up early and had a swift breakfast at Casa Linda Restaurant. When we went out, a tour van was waiting for us already and we were greeted by our tour guide. We climbed into the van and found a group of pretty women from Manila already excited about the tour. Apparently, there would be 3 groups sharing the van; 12 people total excluding the driver and the tour guide. It was OK though because the van was too big for all of us.
We drove to another hotel to pick up 2 middle-aged Korean men who would be joining us. We were seated at the far end of the van while the 5 girls occupied the front seats so the Koreans had no choice but to sit in the middle. (Somehow, this reminds me of Rebecca Black's Friday, LOL).
Going to Sabang Beach took around 2 hours. But it wasn't an excruciating ride because:
Our tour guide was very talkative, sharing experiences and information with us. We liked her.
The other groups in the van were very funny and energetic. They would share jokes and anecdotes.
There was a stop over somewhere in the middle.
At the stop over, there was a store and a small eatery. There was also a small wild boar. And a monkey. Entertaining.
When we finally reached Sabang Beach, we still had to take a boat ride to the Subterranean River. The ride takes a few minutes but the view was FANTASTIC. We could see limestone cliffs everywhere and there were also some pockets of white beaches.
We finally reached the national park a bit later.
As soon as we hopped off of our boat, we just stood there and tried to take it all in — the gorgeous view, the pretty beach, the idea that we are at a world wonder. And then, camwhoring!
There were huts where tourists could stay. The new restrooms were also impressive. Around the area, you'll find cute mischievous monkeys, who would steal anything that looks like food. And to these monkeys, plastic bags = food containers. So just a tip, DON'T put your valuables in a plastic bag because there's a big chance you'll find yourself playing tug-o-war with the monkeys. Always secure your possessions because the monkeys, fast as hell, will snatch them. But they're cute. LOL
You'll also find monitor lizards crawling around the site.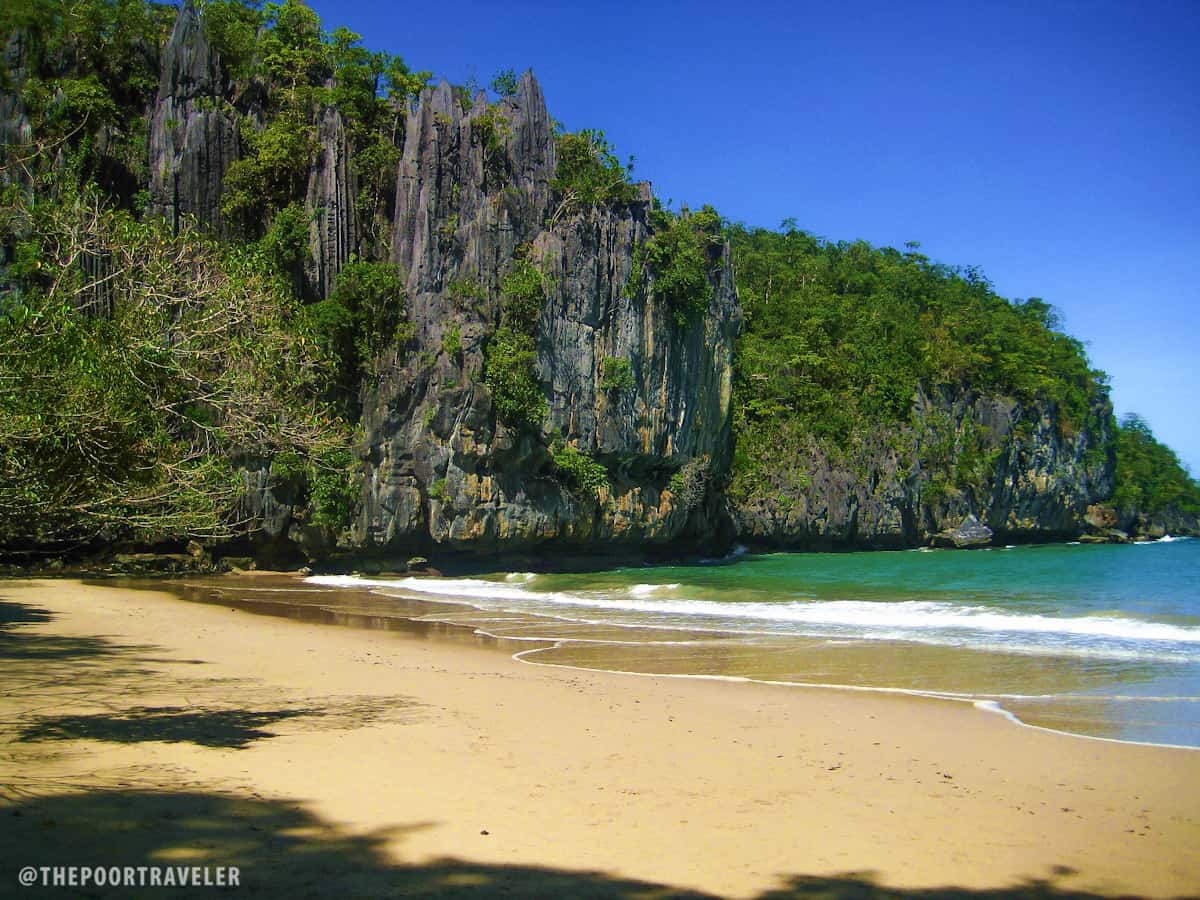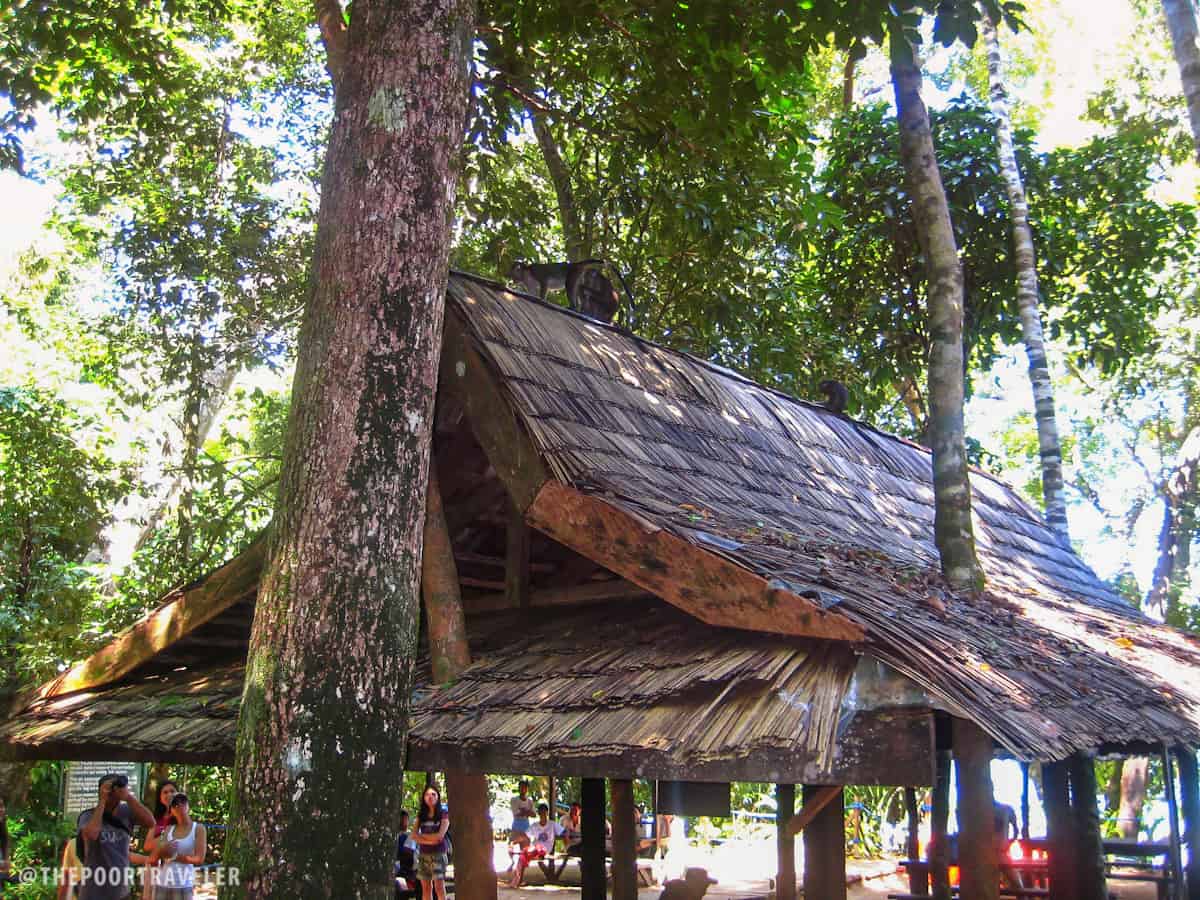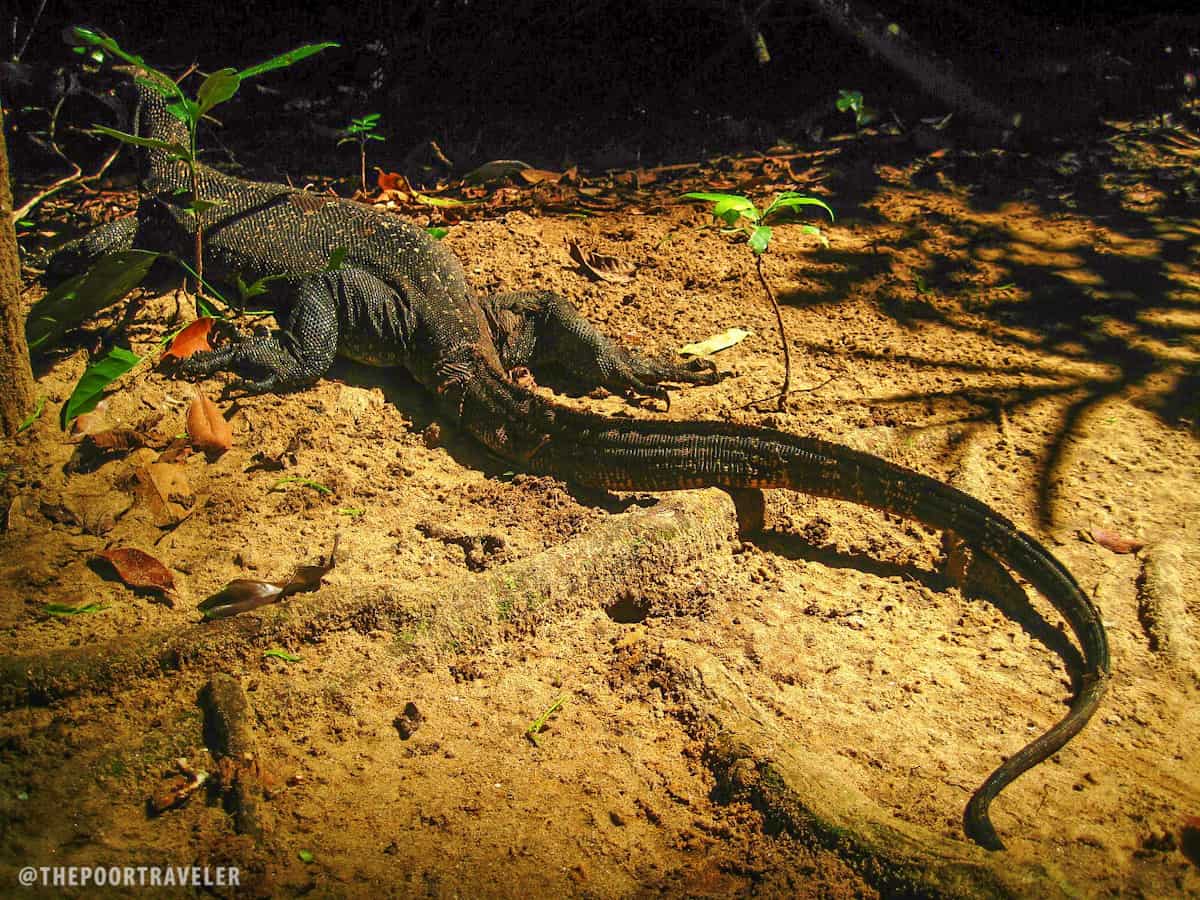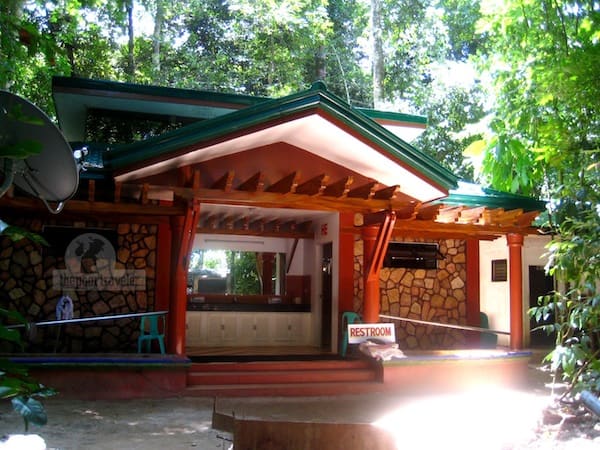 We proceeded to the river and fell in line. While waiting, we put on our live vests and helmets. These are required for all tourists.
The cave looked mysterious and we got really excited just looking at it. When they called our names, we hopped onto a boat along with other tourists and our boatman started paddling into the cave.
It was amazing that these boatmen were trained. Although hardly fluent, they can communicate in English and answer tourists' questions confidently. I think it's how they were trained. It's comforting to know that they were given reliable jobs by the government and help in the promotion of the province's natural treasures. The boatman spoke with humor. (If you have been to this place more than once, you'll notice that they follow a script. Regardless, it was still funny.)
The Puerto Princesa Subterranean River is said to be the world's longest navigable underground river. It is extremely dark inside. If you're sitting in the front seat, you will be tasked to hold the flashlight as the boatman-slash-tour guide will be busy paddline. He will show you the different rock formations inside the cave and add some interesting facts about the place. The cave also houses numerous species of bats, birds and reptiles. But no, there are no crocodiles.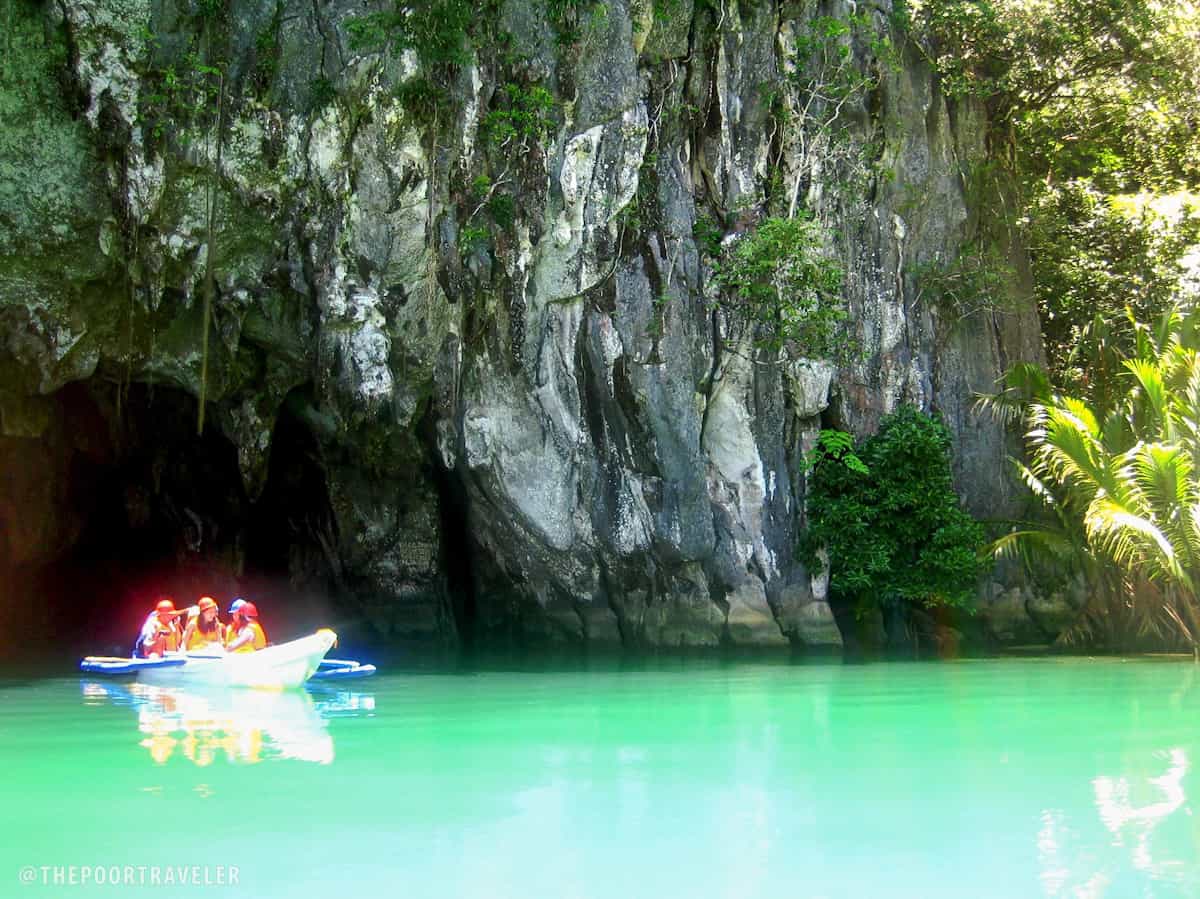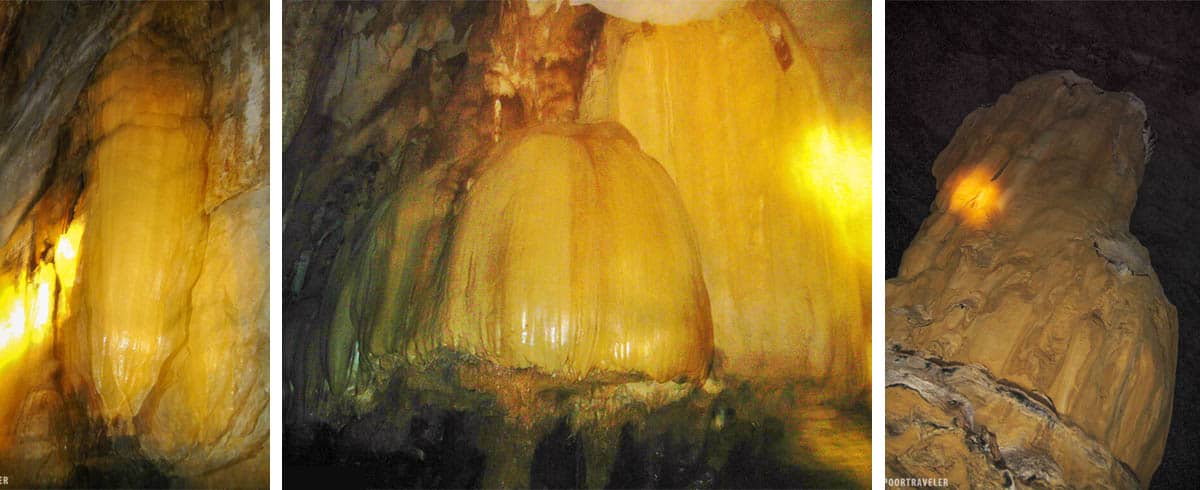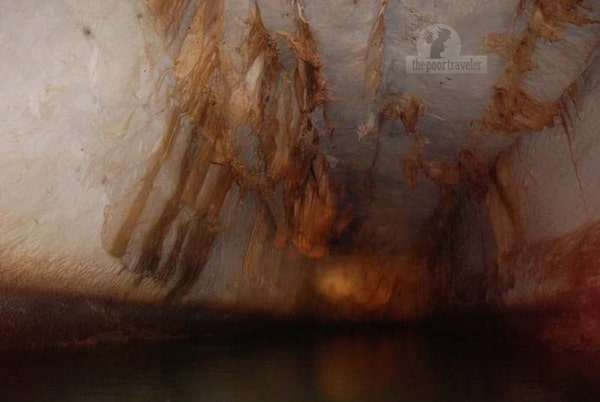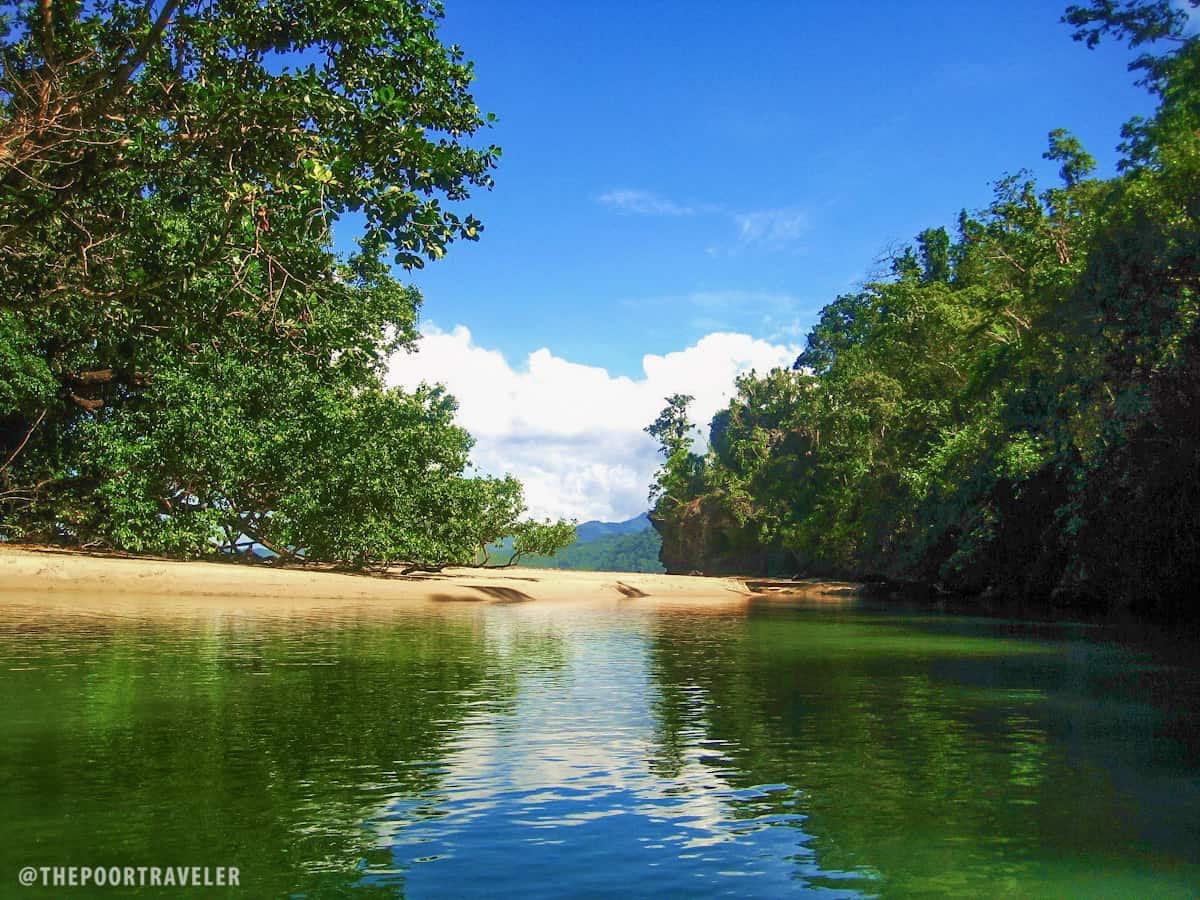 The entire trip inside the cave lasts for a bit over 30 minutes. Medyo bitin, yes, but you will need to have a special permit to go any farther.
After our trip inside, we then proceeded to a white beach surrounded by limestone cliffs on the way back. We wanted to go swimming there but it's prohibited. All we could do was take pics.
How to get there: Group tours are available at the city center of Puerto Princesa. The Underground River Tour will take you to the Subterranean River National Park and Sabang Beach. Most of these tours also include buffet lunch. The tour usually costs P1300 to as high as P2500 depending on the tour operator.