2011•5•25
Tucked in the southern edge of Quezon, the towns of Padre Burgos and Pagbilao face Tayabas Bay, a channel that separates mainland Luzon and Marinduque. This side of Quezon is only four to five hours away, even shorter than it would take to reach Pangasinan and Baguio.
The towns' waters are freckled with islets that until recently were hardly known to the travel-thirsty Manila-dwellers. Two of these small islands are Borawan and Dampalitan, both in Padre Burgos. In Pagbilao, a favorite among beach-lovers is Puting Buhangin, a short stretch of white sand that fringes a nook of the mainland.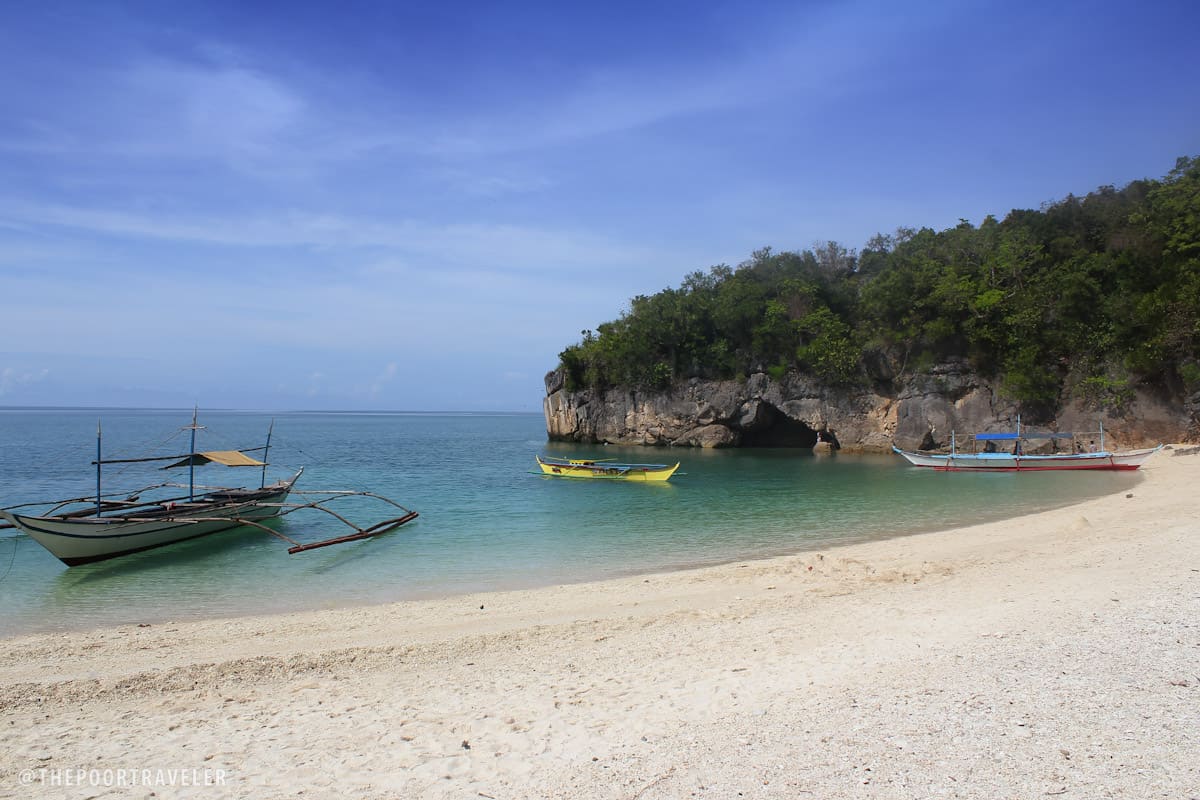 WHAT'S COVERED IN THIS GUIDE?
How to Get There by Public Transportation
Although we availed the services of a budget travel agency for this trip, let me share you how to get to this place from Manila by public transport.
Ride a bus to Lucena City. There are many terminals in Metro Manila that go to Lucena. Fare is somewhere between P250-260. Travel time: 3 hours.
Alight at Lucena Grand Terminal.
From the terminal, take another bus to Unisan. The bus is not air-conditioned and fare is around P35-40. Travel time: 1 and a half hours.
Get off at QCRB Bank (Padre Burgos) or ask the driver to drop you off here.
Take a tricycle to Aplaya. Tell the driver you intend to go to Borawan.
There are boats for rent in Aplaya. These boats can take you on an island-hopping tour with stops in Puting Buhangin (Pagbilao), Dampalitan Island and Borawan Island. P2000, good for 10 pax.
Places to Visit in Padre Burgos and Pagbilao, Quezon
Boats from Padre Burgos port will take you to the following islands. All these can be visited in one day but you might want to consider spending the night in one of the islands. The photos below will lead you to more specific posts about the destination.
A Word of Caution
Borawan was such a paradise during my visit. Crowded, as it was summer when I was there, but still a paradise. Today, however, I have heard many unsavory comments about its once pristine shore. Borawan's bed of sand is narrow; there's really not much beach to move around. I can totally see how it could have jumped from crowded to mega-uber-crowded especially during peak season (April-May). A blogger friend who recently paid a visit complained of murky water and trash.
Also, jellyfish are believed to abound in the area. During my visit in the summer of 2011, I saw too many of them around Borawan. I'm not sure whether the problem has been addressed because I had not returned in three years. Dampalitan is much safer for swimming because there's a net protecting swimmers from the jellies.
Where to Stay in Padre Burgos or Pagbilao
There are no resorts or hotels in Borawan and Dampalitan Islands but overnight camping is allowed. If you're not the type who gets too excited about camping, there are several resorts in the mainland that you may opt to stay at. Here's a short list of what that I have gathered:
Silangang Nayon Restaurant and Resort.  Located in Pagbilao, it is a common stop among Bicol-bound road-trippers who are eager to have a taste of their scrumptious Pinoy seafood dishes. They have only a small number of rooms available so if you're going in the peak season, make reservations in advance. Contact numbers: (042) 7160077, 0922 8867677
Tamarind Tree Resort. This is probably the most well-known resort in Padre Burgos. This beach resort provides accommodations that come in the form of private huts and cottages. The cheapest room they have costs P550/night while the priciest P1250/night. To inquire or book, email them at thetamarind3@gmail.com.
Villa Anita Resort. What sets it apart? Its pretty garden setting. It even boasts a butterfly garden that children might find delightful. Cheapest room is a non-airconditioned nipa hut at P800 per night and the most expensive is the 8-bed dorm for P4000. Contact numbers: (042) 716 0326, 0921 524 0110
But again, if you think you're up for a camping trip, why not? Camping not only reduces the cost, it also makes you more appreciative of the islands, thus bringing you closer to nature. All you need is a tent and some easy-to-prepare food products.
Sample Overnight Camping Itinerary
Here's a sample itinerary. This is what we followed for our trip.
Day 1:
0300 – Assembly time
0330 – ETD Manila
0700 – ETA Padre Burgos
0800 – ETA Puting Buhangin and Kwebang Lampas
1200 – Lunch
1500 – ETD Puting Buhangin
1530 – ETA Borawan Beach; pitch camp
1800 – Dinner
1900 – Socials
Day 2:
0600 – Wake up call
0700 – Breakfast
0900 – Breakup camp
1000 – ETA Dampalitan Beach
1200 – Lunch
1400 – ETA Campo, Padre Burgos
1500 – ETD Campo, Padre Burgos
2000 – ETA Manila
Tips for Weekend Overnight Camping
Since it is a camping trip, preparations must be made. Our agency would provide us with tents and meals so we didn't worry about those.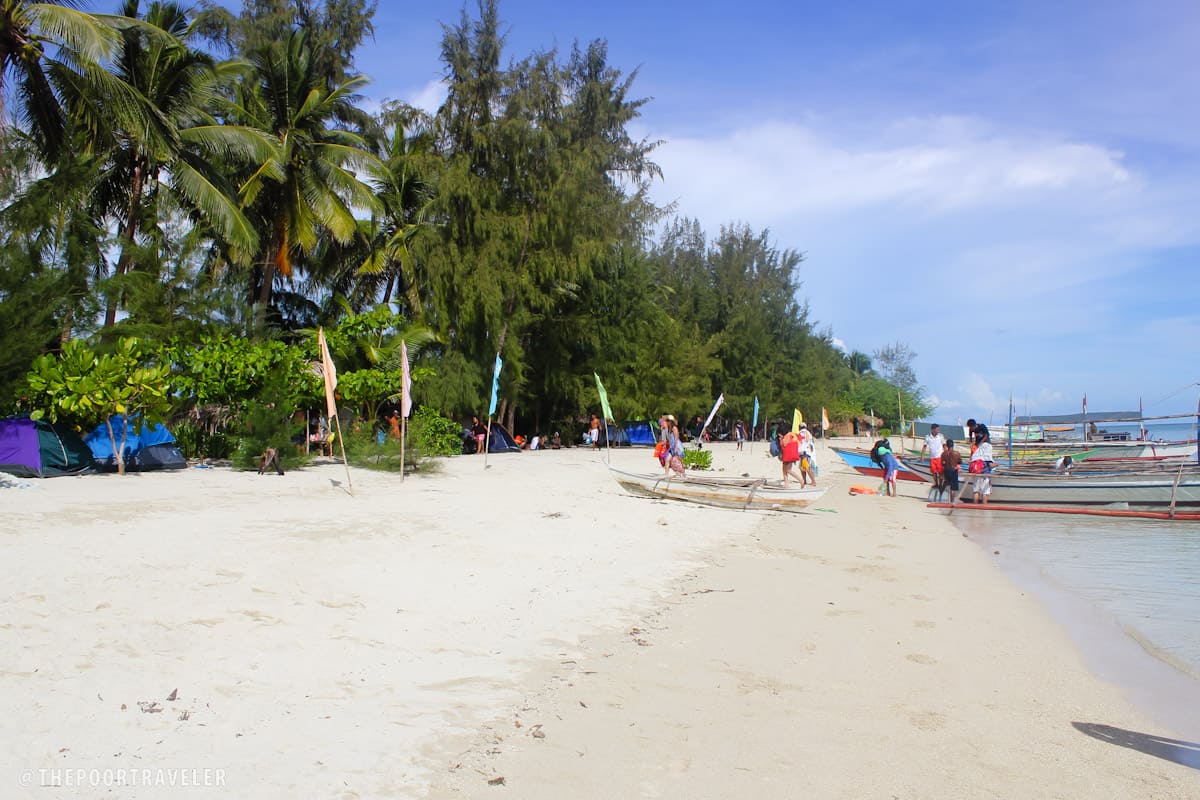 They also arranged our land transfers and boat rides. But here are some things that you need to bring for the trip and why.
Toiletries and sunblock – The usual. There are stores in the islands but expect that items are a bit overpriced so better bring shampoo, soap, toothpaste, toilet paper and wet wipes. There are public toilets on Dampalitan Island but water is a bit scarce.
Mosquito-repellant lotion – Lots of them because some of your friends will forget to bring and will ask you to share. There are mosquitoes on the islands. Better be safe than sick.
Flashlight – I swear, you'll need it. There's no electricity there.
Lighter and lots of stories – You'll be tempted to start a bonfire and you will need the lighter to start the fire and conversations to keep it burning. LOL.
First-aid Kit – You'll never know.
Snorkeling Gear – We didn't see live corals there but there were lots of fish and they were so nice to watch.
Water-proof camera – Kuwebang Lampas (in Putting Buhangin) is awesome but the water going there is deep. If you want pictures inside the cave, a waterproof camera will prove very useful.
Budget Breakdown
Here's a list of fees and other expenses that you should expect.
Boat Tour Rates (Good for 8pax):
P800 – Borawan Beach only (round trip)
P1800 – Borawan + Dampalitan + Puting Buhangin
Borawan Beach
Entrance Fee: P80
Tent Rental: P500
Cottage Rental: P700-P850
Tent Pitching Fee: P200
Shower Use Fee: P20
Restroom Fee: P10
Puting Buhangin
Entrance Fee: P80
Tent Rental: P300-400
Dampalitan Island
Entrance Fee: P60
Tent Pitching Fee: P100
Hut Rental: P850-P1000
Water: P40 per 5 gallons, P400/drum

Budget Padre Burgos-Pagbilao Travel Packages
If you want to camp but don't own a tent or don't want to bother with the logistics, there are several tour operators that organize camping trips in Borawan or Dampalitan for competitive rates. You'll find some good deals here.
One travel agency that I have tried is Legend Harry (+63917-627-4945, 7107islandstours@gmail.com). We asked for a quote for 10 people and the price was reasonable. Each of us paid P2800 for the entire trip.
The P2800/pax covered the following:
Round-trip Manila-Quezon-Manila transportation (including driver, gas, toll gate)
Padre Burgos Tour: Borawan Beach, Dampalitan Beach
Pagbilao Tour: Kwebang Lampas, Puting Buhangin
Four meals (lunch, dinner, breakfast, lunch)
Tent accommodation
Entrance and guide fees
Boat rental
The only things not included were the first breakfast and last dinner. Both would be somewhere along the way. With a travel agency, all you have to do is show up and the agency would take care of everything else. This is especially convenient for those big barkada trips and reunion trips for it would enable you to just relax and enjoy one another's company without worrying about anything else. If you're alone or a party of two, try to join another group to reduce the cost, unless you want a private boat.
There you have it. I'll be updating this travel guide when I visit this part of Quezon again.