2011 • 6 • 7
"Where the hell is Frances?"
It was 2am and everyone was ready to hit the road for Pagbilao, Quezon. Everyone, that is, except Frances, for whom we were still patiently waiting.
"She said she's on the way," said one of my friends, "which means she just woke up."
This was no ordinary trip. It was our very first trip together since college. This trip was, in many ways, a reunion. We had almost killed ourselves working for the past five years and although we had been on many trips since then, we never traveled together. Needless to say, this camping weekend was very special to everyone, and nothing should spoil it.
A few minutes later, there was a knock on the door and there was Frances. We instantly grabbed our bags, stormed out of the apartment, and went straight to the van. Surprisingly, without any urge to strangle Frances for the early morning stress.
Our group decided to rent a van for this trip. It was supposed to be a lot bigger. More than 18 people confirmed, but unfortunately, more than 8 people flaked out (FLAKERS!!! GAAAH!), leaving the group with 10 responsible, beautiful members.
(Check out this post: Planning a Camping Trip to Padre Burgos and Pagbilao, Quezon)
WHAT'S COVERED IN THIS GUIDE?
On the Road to Padre Burgos
There were 11 people (including the driver) sharing the van so it was very comfortable. Our meeting place was in Mandaluyong and we were heading south. I was asleep 99.99% of the time on the road, so I really had no idea how many stops we made or what directions we took. But at around 5:30am, we were at a bus terminal in Lucena City. I was confused at first; I immediately thought we would board the bus but then my friends told me we were just there for breakfast.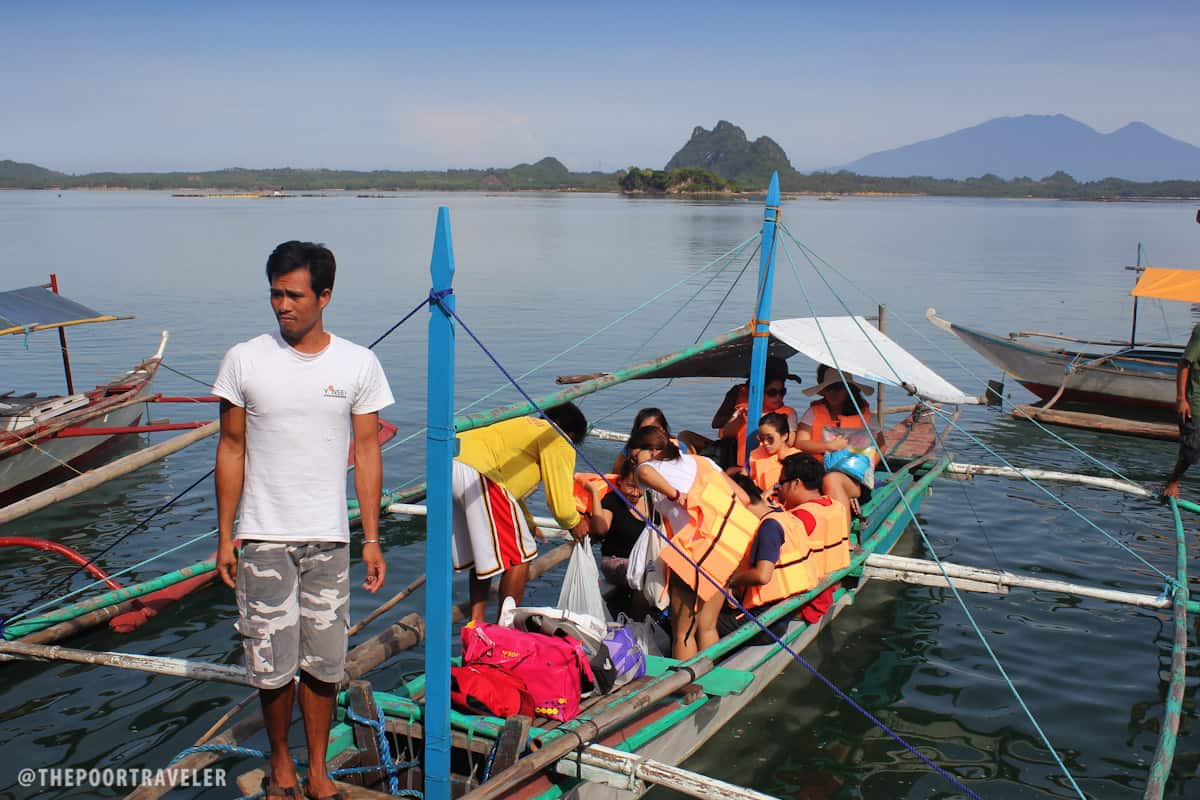 BREAKFAST! I was awake in an instant. I looked around and saw Jollibee! Woohoo, I couldn't think of anything better to wake up to than a smiling gay bee. But before I got too excited, one of my friends said that should we choose to eat there, she wouldn't go with us. At first, I was shocked. How dare you? Are we discriminating against a bee? But then I realized that she worked for McDonalds. So yeah, goodbye Jollibee. See you in Manila.
We opted to have breakfast at a nearby carinderia. I had tortang talong with rice. P50 for a full meal. Boo, you Chickenjoy!
We hit the road again and continued driving to Padre Burgos for about an hour. When we reached the port, game on!
Puting Buhangin, Pagbilao, Quezon
Our group shared a boat with another group of tourists from Manila. Although it was a big group, the ride was surprisingly quiet. No one was talking. I guess we were all mesmerized by the view. We passed by several islands with pockets of white beaches and towering limestone cliffs. It was really breathtaking.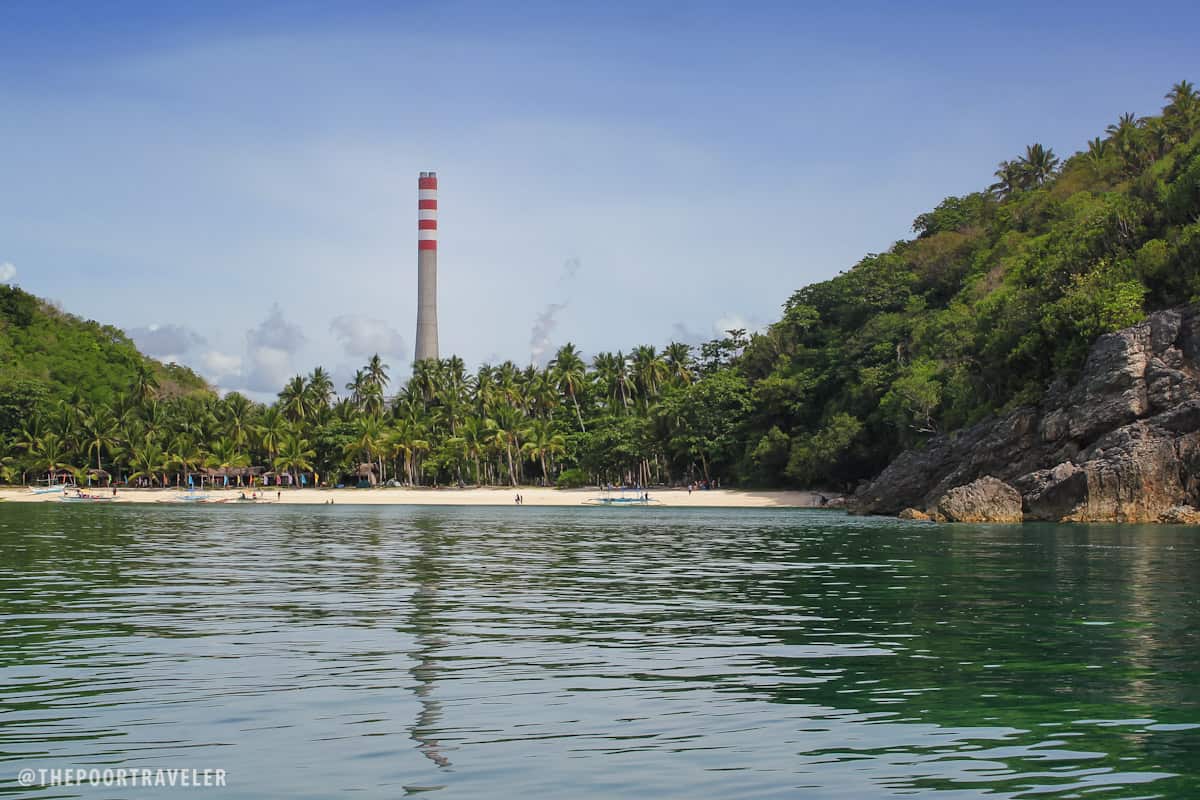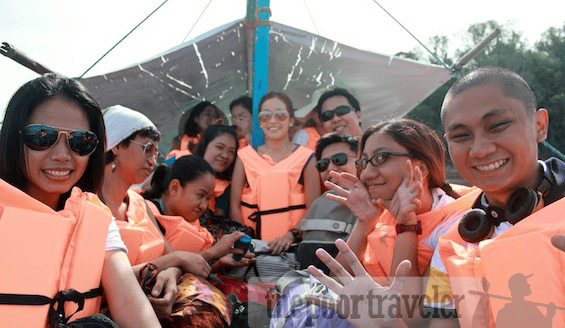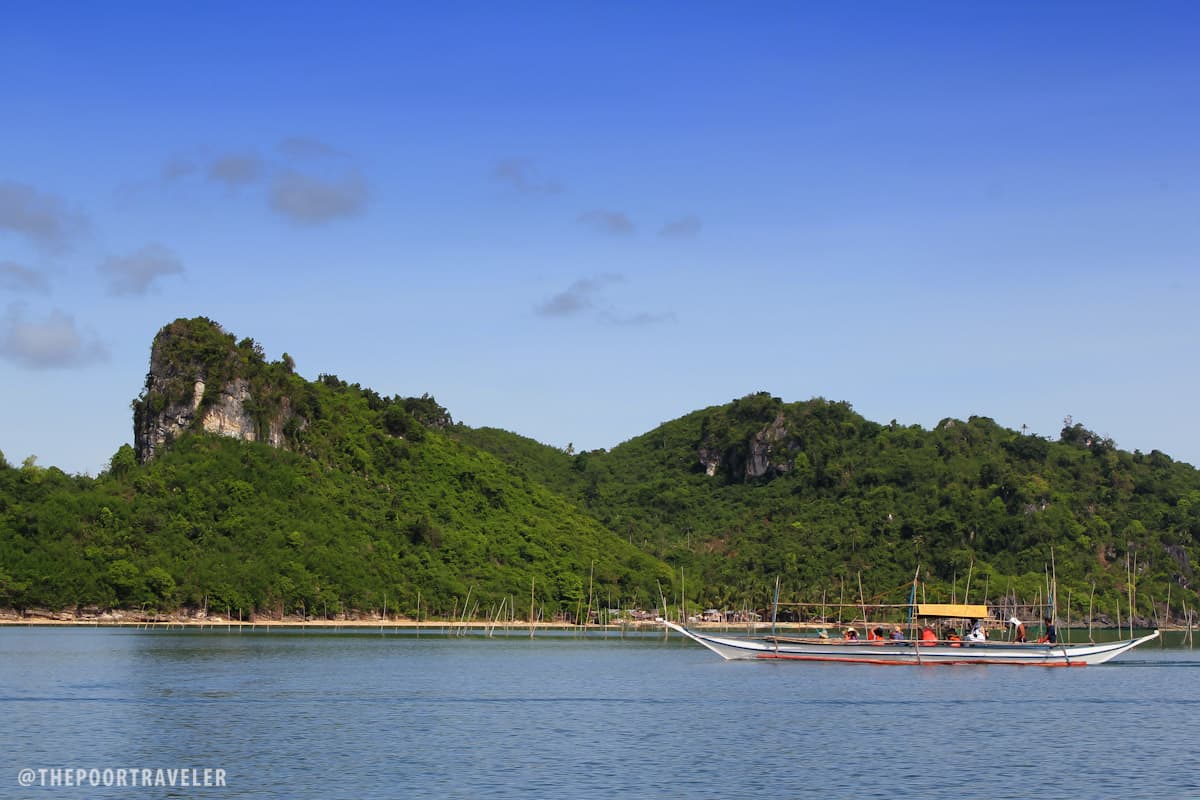 From afar we spotted a white beach with a chimney-like structure in the background. (Apparently, it's the Pagbilao Power Plant.) I knew it was our next destination when I saw a small cave and recognized it from the photos I had seen when I was researching about the place.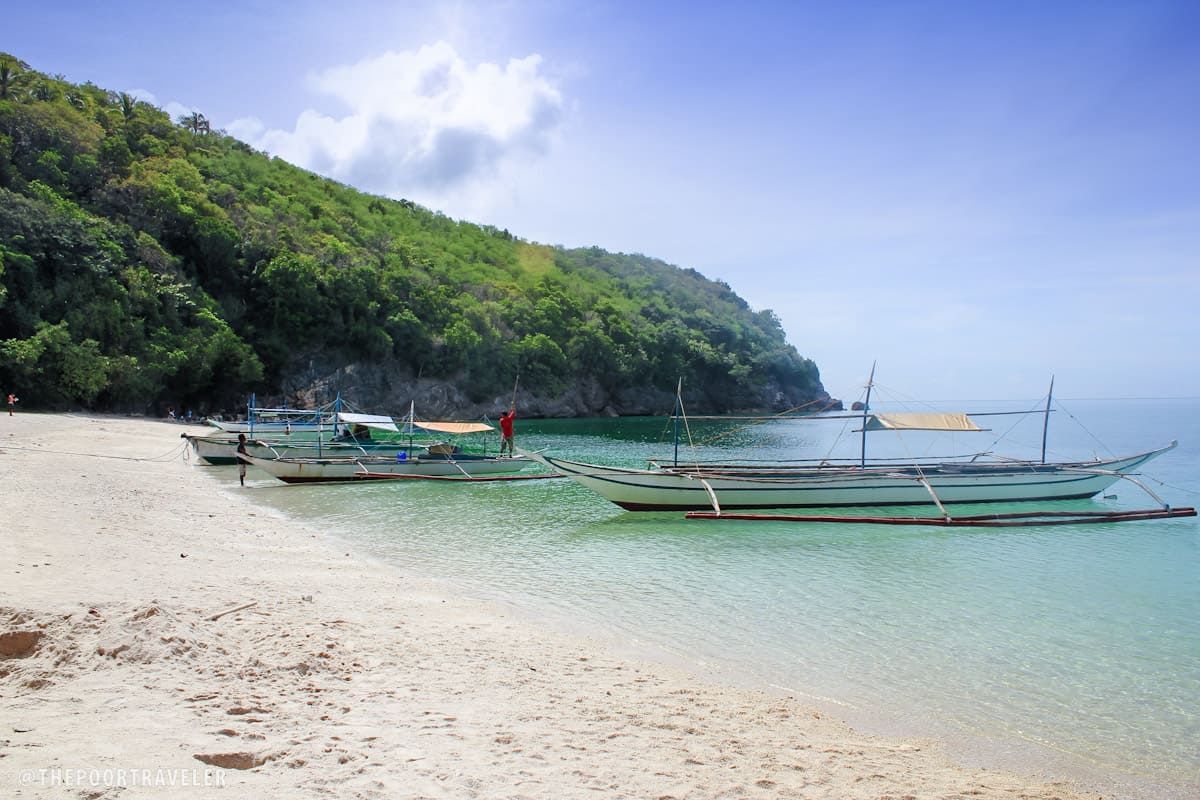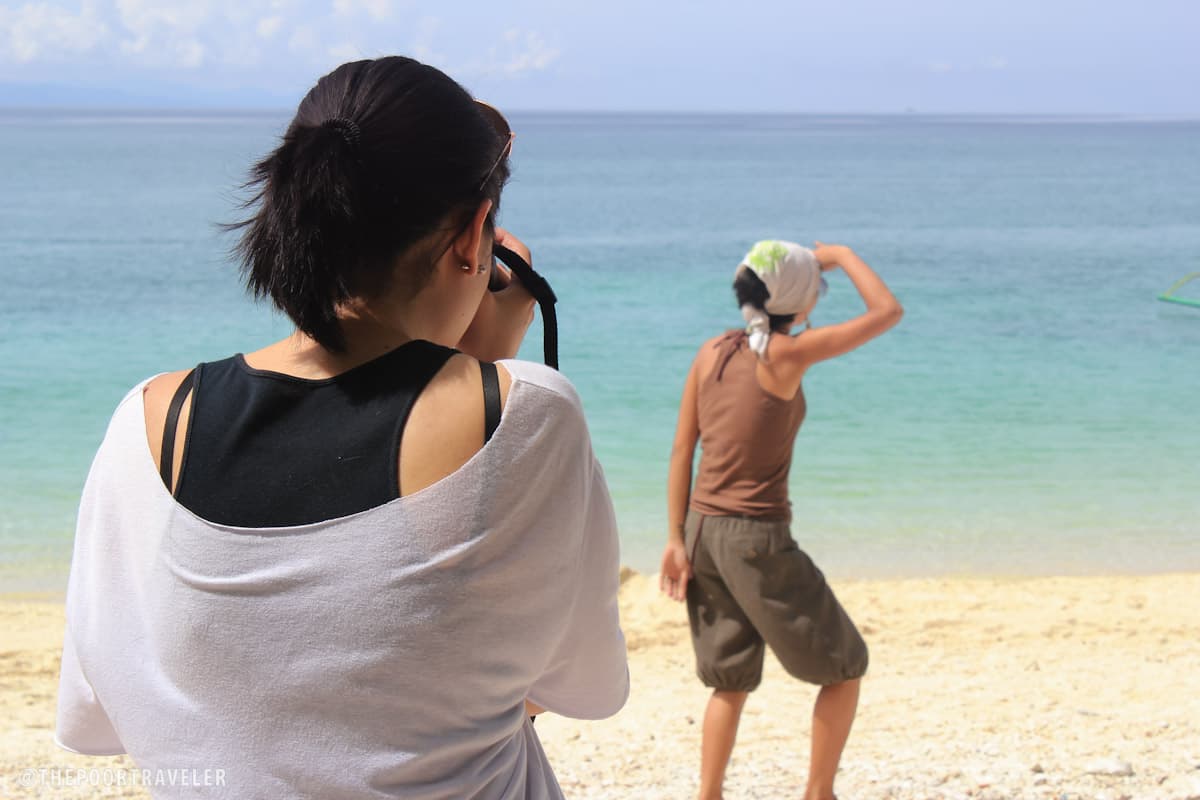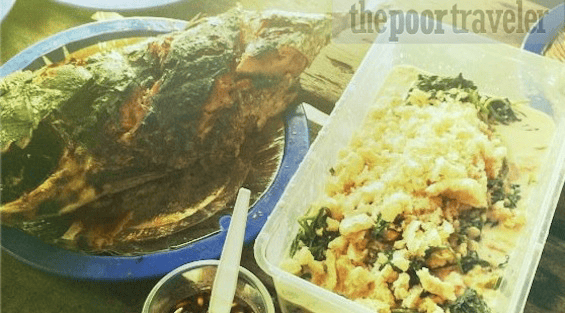 The beach is called Puting Buhangin because of, well, its stretch of white sand. It's a small cove with a small cave on one end. Although the sand was not white white, the water was clear. We were assigned a cottage big enough to accommodate all 10 of us. We saw other tourists set up their tents. As we started swimming, the others started prepping lunch. We just camwhored away the entire time and played games.
Kuwebang Lampas, Pagbilao, Quezon
After lunch, four friends and I decided to check out the cave called Kuwebang Lampas. Only five from the group went ahead coz the others wanted to catch some sleep. At first we thought we could just walk towards the cave but the rocks were too sharp. The water was also so deep, no one was confident to swim without the life vests on. So we went back to the hut, put on the vests and swam our way to the cave.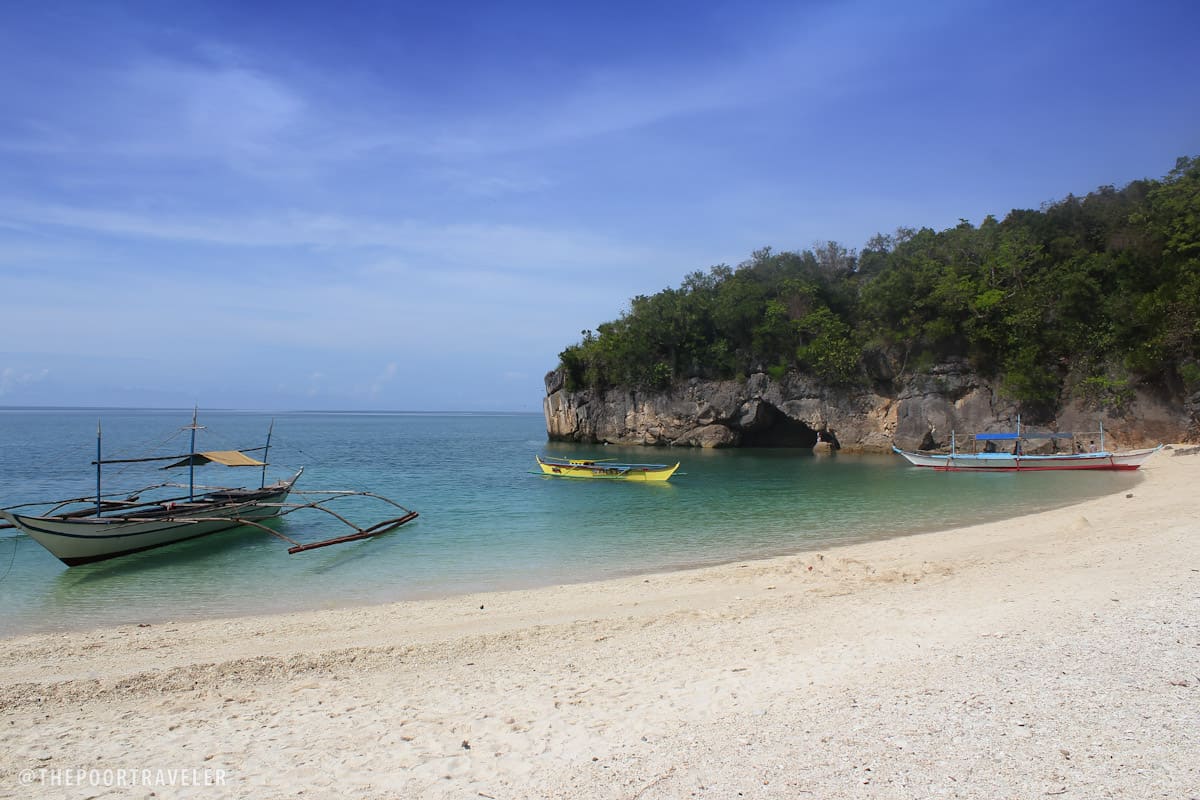 The cave was a bit small. We were wondering why it was called Kuwebang Lampas until we entered the cave. Apparently, you can swim to the other side of the cliff through the cave. What we loved most about the cave was the shade. Lol. It was high noon and the cave provided a sanctuary from the burning heat of the sun. You could also feel the cold and hot water mix underneath. It was a great feeling. There were also birds flying around inside.
We stayed in the cave for 15 minutes and swam back to the shore. We got no pics inside the cave since none of us had a water-proof cam. At around 2pm, we hopped back onto the boat and continued our island hopping.
How to Get to Puting Buhangin and Kuwebang Lampas: Here's how to get to this place from Manila by public transport.

Ride a bus to Lucena City. There are many terminals in Metro Manila that go to Lucena. Fare is somewhere between P250-260. Travel time: 3 hours.
Alight at Lucena Grand Terminal.
From the terminal, take another bus to Unisan. The bus is not air-conditioned and fare is around P35-40. Travel time: 1 and a half hours.
Get off at QCRB Bank (Padre Burgos) or ask the driver to drop you off here.
Take a tricycle to Aplaya. Tell the driver you intend to go to Borawan.
There are boats for rent in Aplaya. These boats can take you on an island-hopping tour with stops in Puting Buhangin (Pagbilao), Dampalitan Island and Borawan Island.

List of Expenses
Entrance Fee: P80
Tent Rental: P300-400

Boat Tour Rates (Good for 8pax):
P800 – Borawan Beach only (round trip)
P1800 – Borawan + Dampalitan + Puting Buhangin