Back in 2016, we were invited to speak at the World Tourism Forum in Istanbul. As soon as we got the invitation, we knew we would take advantage of the opportunity to also explore nearby destinations. We swept everything off the table, laid a map (yes, we still own one and we like things old-school sometimes), and looked for possible detours. The plan was to see Greece, Malta, and Italy after the forum.
But you know what they say, some plans are meant to be just that, plans.
I don't remember what happened, but before we knew it, we had run out of time to secure a Schengen visa. Panicking, we consulted that map again and looked for alternatives. Almost every nearby country requires a visa for Filipino citizens. Georgia and Armenia would be great, but we were saving them for another trip. We were about to lose hope when we found something shining on the Western edge of the Mediterranean — Morocco.
Morocco has always sat on top of our list of dream destinations, but we didn't realize that it's visa-free for Filipinos. In fact, nationals of over 70 countries and territories can enter Morocco without a visa. Most — like the Philippines, Malaysia, Indonesia, Canada, Australia, the United Kingdom, the United States, and all the member states of the European Union — can stay for up to 90 days. Singapore passport-holders can stay for up to 30 days.
Here's a quick snapshot of the Wikipedia list.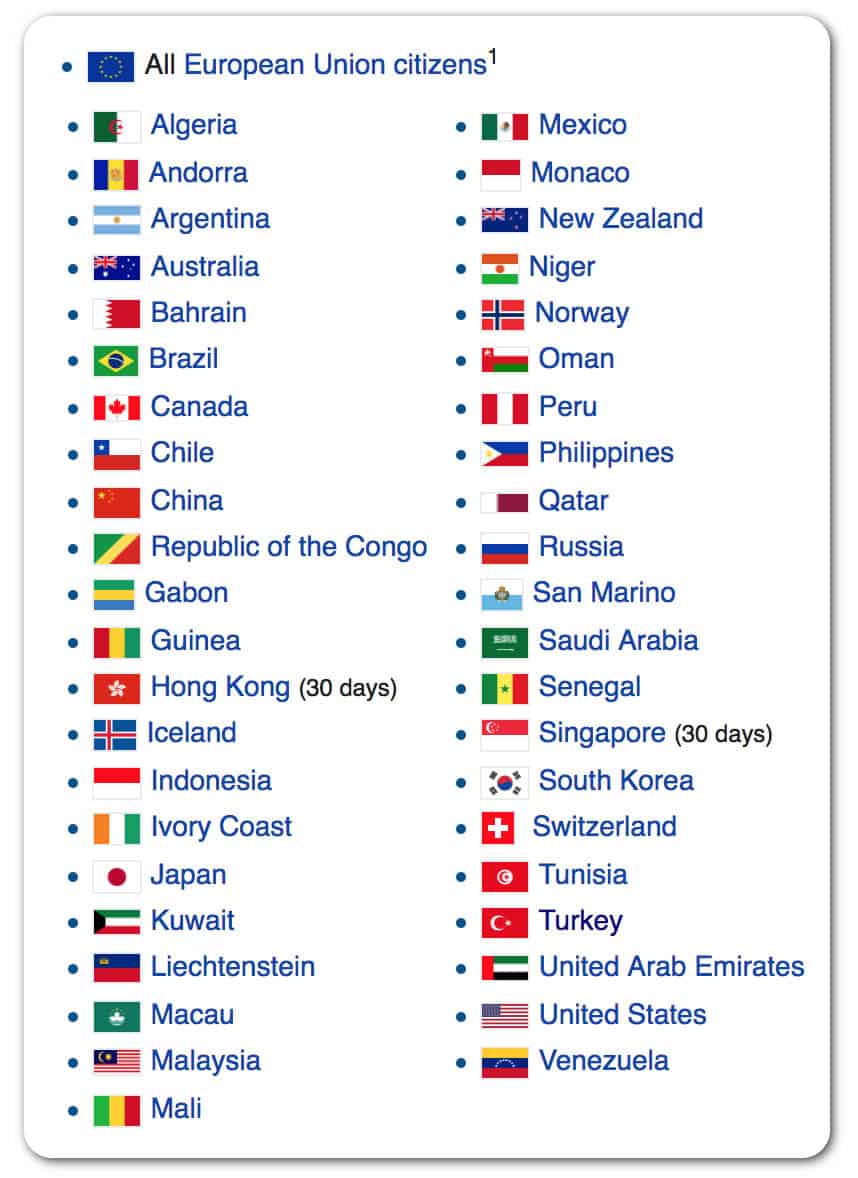 This generous visa policy makes Morocco an ideal holiday destination. But here are 10 cities and towns you should consider for your dream Moroccan getaway.
1. Marrakesh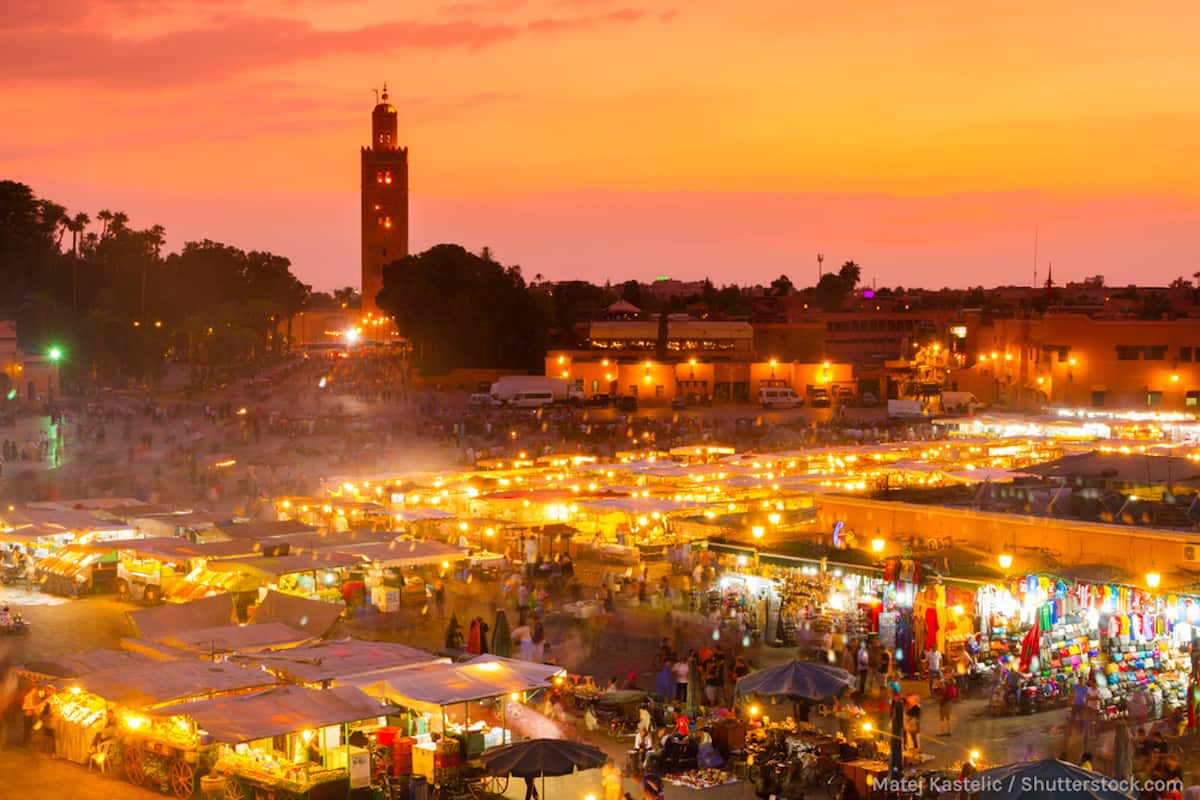 The epicenter of Morocco's tourism, Marrakesh (or Marrakech) is popular for a reason. It's wild and chaotic, but it's also unique and so in touch with its past. Stay in a "riad", the traditional Moroccan house with a courtyard, in its labyrinthine medina and check out the souks in its central plaza called Jemaa El Fna.
Marrakesh can be overwhelming (if not intimidating) at first. Its layout is confusing and there are scams here and there. But it didn't take long before our appreciation of it took root in our hearts and grew so huge that we didn't want to leave.
Situated north of the southern foothills of the Atlas Mountains, its central location makes it an ideal jumpoff point for other destinations like Medina, Casablanca, and Essaouira.
Speaking of Essaouira…
2. Essaouira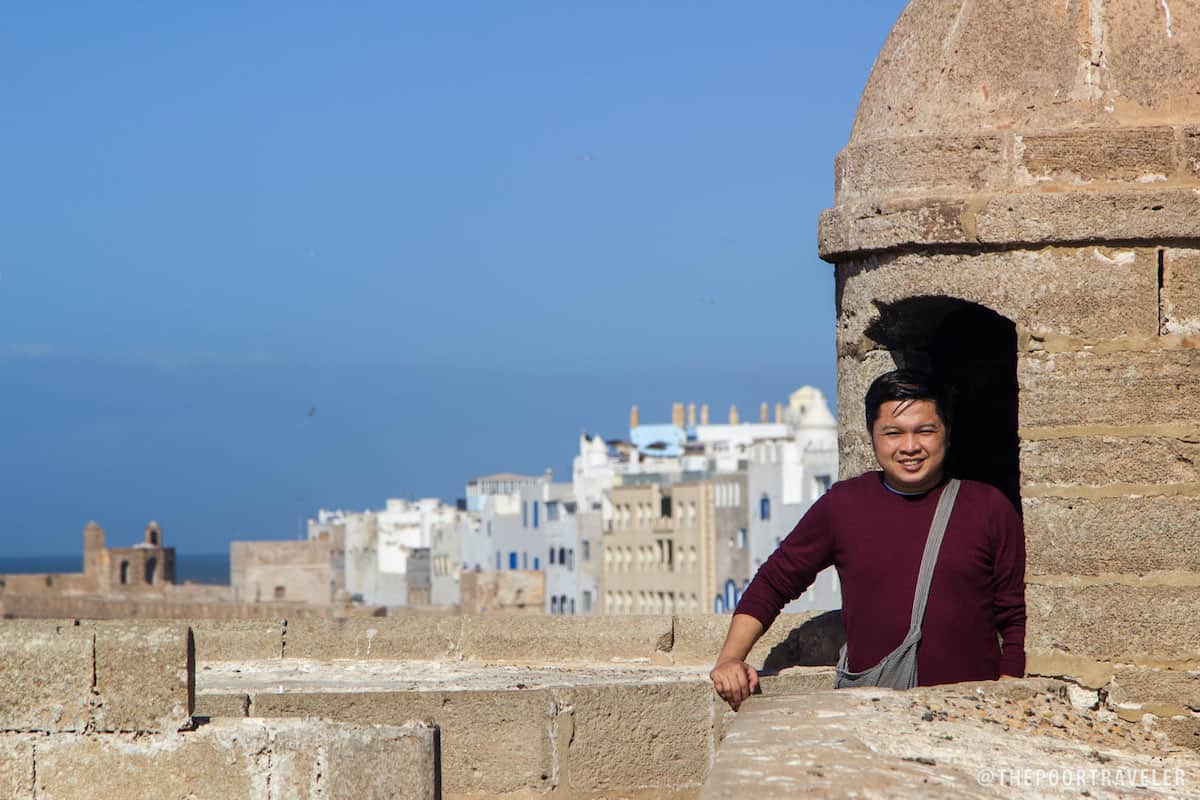 Although along Morocco's Atlantic coast, Essaouira looks more like a Mediterranean town with a North African attitude. The citadel is predominantly white, rising from a rocky shore, accented by cerulean boats. Gelato shops mark some corners, and European restaurants punctuate some streets. Yet, a walk is impossible without running into locals clad in djellabas and being treated to the aroma of cumin-mixed tagines. And while it is home to multiple ethnic groups, it is distinctly, undeniably Moroccan.
Essaouira means "little rampart," referring to the walls that surround the area. The fortress was built under the command of the Portuguese. Called by its old name Mogador at the time, Essaouira was one of the six Moroccan towns that the Portuguese seized and ruled. It is a great example of an 18th century fortified port city.
3. Chefchaouen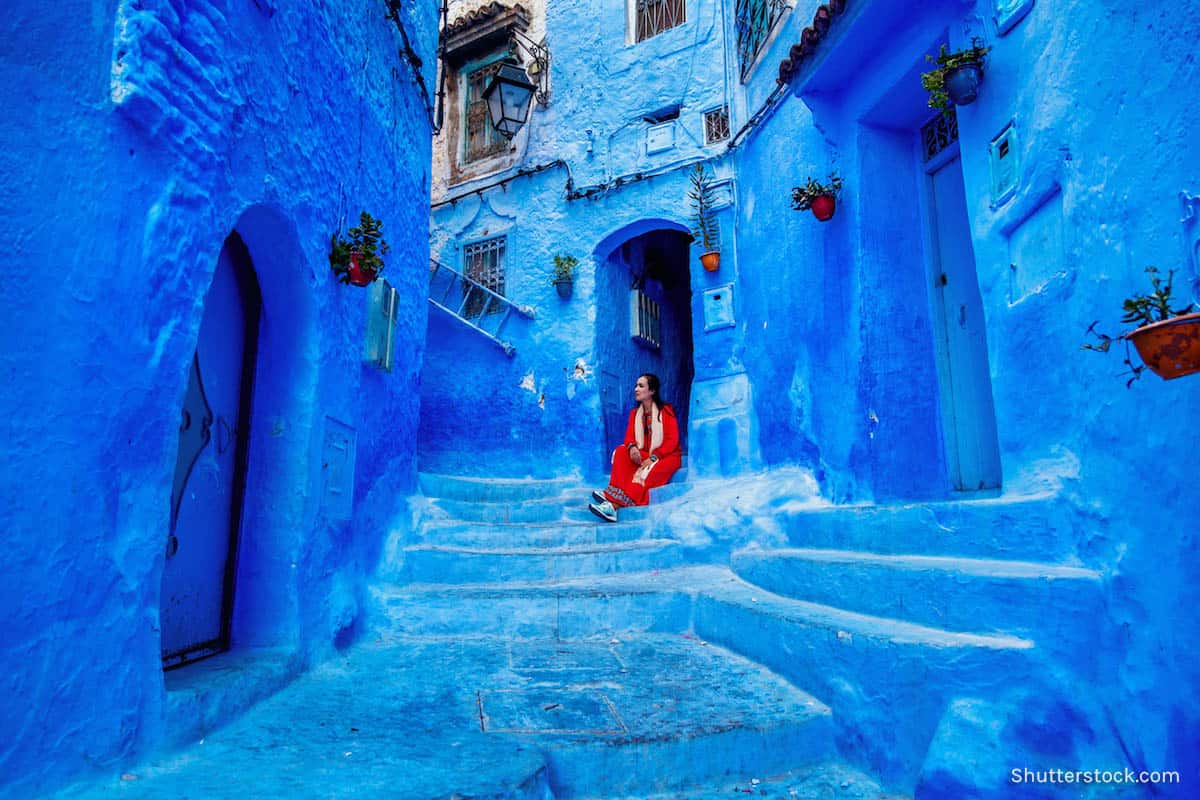 Morocco's famed blue city! Chefchaouen is best known for the blue-washed buildings that make it one of the most picturesque destinations in the country. Islamic and Andalusian architecture take centerstage here, if not overshadowed by the surrounding Rif Mountains.
4. Casablanca
For many tourists, Casablanca rings a bell for the romantic Hollywood classic named after it. But the city itself stands on its own as a compelling tourist destination. Its most iconic structure is the impressive and enormous Hassan II Mosque and its minaret, the tallest in the world. Don't leave the city without stopping at the Medina and the Corniche.
5. Tangier
Everywhere we went in Morocco, locals urge us to see Tangier on the Gibraltar Strait coast. This northern city has a very different character, having been the primary gateway to Africa for Europeans for centuries and a place where influences blend to create a distinct culture.
6. Fez
Fez is Morocco's second largest city, but it also cradles the world's largest urban pedestrian (car-free) zone, Fes el Bali. Fes el Bali is one of its two medinas and is a UNESCO World Heritage Site. Also located here is the University of al-Qarawiyyin, "the oldest existing, continually operating university in the world" as recognized by both UNESCO and Guinness World Records.
7. Ouarzazate and Aït Benhaddou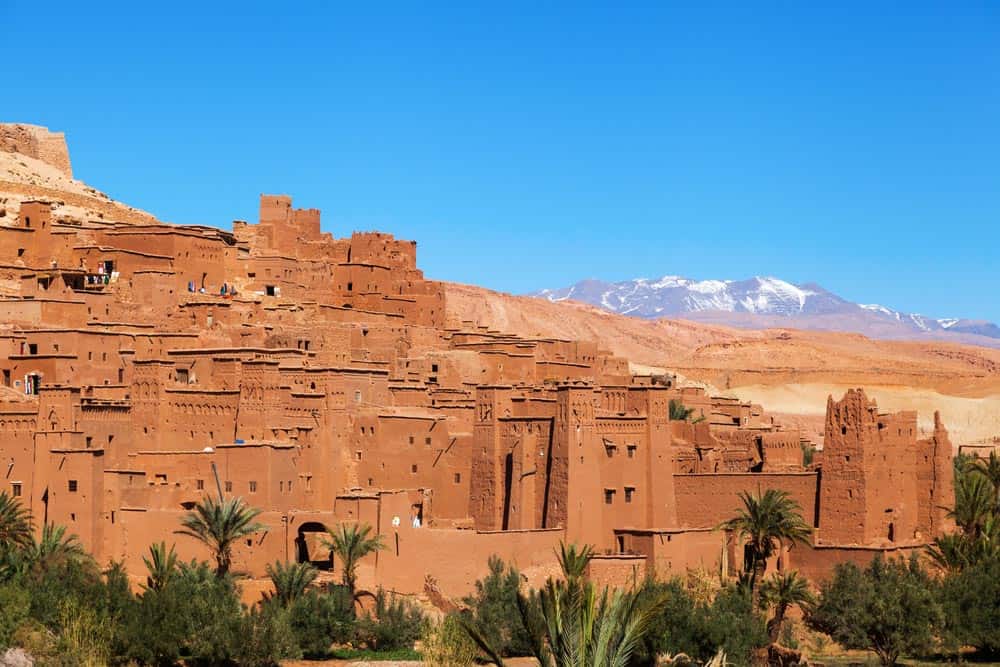 You might recognize Ouarzazate as the filming location for a lot of Hollywood movies: Lawrence of Arabia (1962), The Last Temptation of Christ (1988), The Mummy (1999), and Prince of Persia (2010) among others. But in the Game of Thrones world, a nearby kasbah, Aït-Ben-Haddou is Yunkai, aka Yellow City and one of the three great city-states in Slaver's Bay. For domestic and international tourists, it is also the jump off point for the Draa Valley and into the desert.
8. Merzouga
If you see photos of Morocco depicting endless sand dunes and camel rides, chances are their photographers once stayed in Merzouga. Situated on the edge of the Sahara, it is a tiny village best known for its proximity to Erg Chebbi, a Saharan erg.
---
2️⃣0️⃣1️⃣8️⃣ • 1️⃣ • 8️⃣