As soon as we hopped out of the van, he drove off. Our driver dropped us off where the road almost meets the sea, and just left us there with no explanation, no suggestion on where to go or what to do, no fcks at all. I looked at my equally confused co-visitors and let out a gentle laugh. We all thought we signed up for a tour. Apparently, what they meant for tour was simply a ride.
For a brief moment there, I doubted whether we were in the right city. Although along Morocco's Atlantic coast, Essaouira looks more like a Mediterranean town with a North African attitude. The citadel is predominantly white, rising from a rocky shore, accented by cerulean boats. Gelato shops mark some corners, and European restaurants punctuate some streets. Yet, a walk is impossible without running into locals clad in djellabas and being treated to the aroma of cumin-mixed tagines. And while it is home to multiple ethnic groups, it is distinctly, undeniably Moroccan.
"So where do we go?" said one of the Londoners in our group. Shrugs were our response.
It wasn't really a problem. Essaouira is quite small, and many of the key attractions are within a few minutes' walk. Some of us followed the crowd to the beach. Some followed the walls to the medina. But we followed the irresistible scent of grilled fish, which led us exactly to the place we wish to visit in this side of Morocco — the ramparts.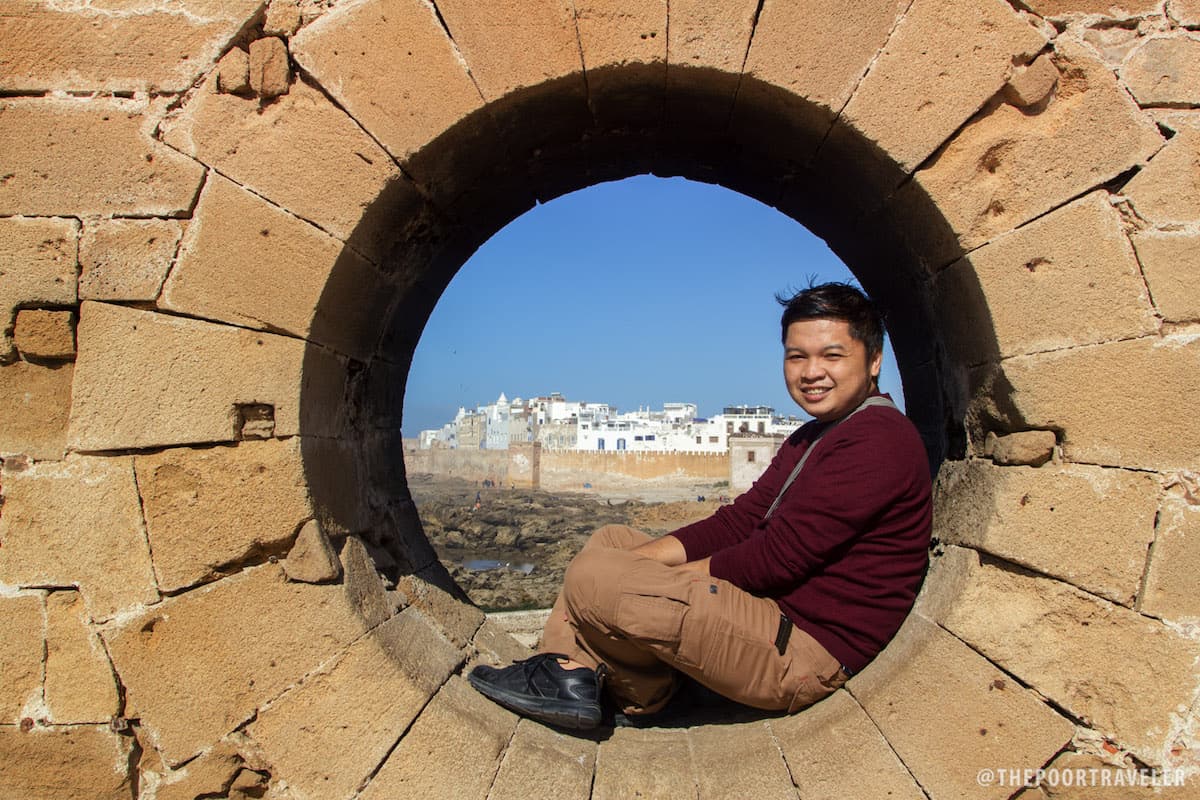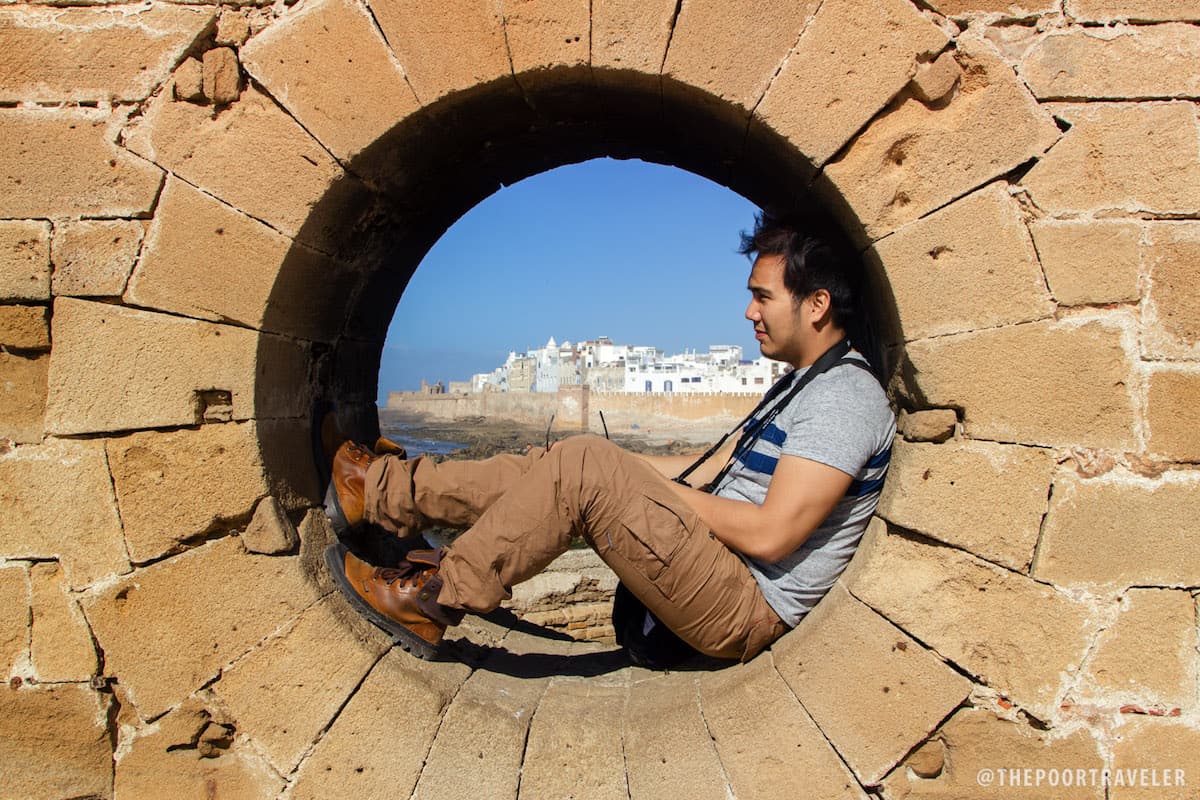 WHAT'S COVERED IN THIS GUIDE?
Essaouira Ramparts and Skala du Port
Essaouira means "little rampart," referring to the walls that surround the area. The fortress was built under the command of the Portuguese. Called by its old name Mogador at the time, Essaouira was one of the six Moroccan towns that the Portuguese seized and ruled. It is a great example of an 18th century fortified port city.
The port area appears to retain its old charms. Many of the original canons remain in place, adorning the bulwarks. Its bastions are still standing. And its signature blue boats are docked at its feet. This ancient vibe is what has allowed the city to penetrate pop culture, having been chosen as locations for Orson Welles's Othello and, more recently, HBO's Game of Thrones. Yep! Essaouira is actually where most scenes in Astapor was shot, including the unforgettable and iconic scene wherein Daenerys Targaryen bought and freed the Unsullied. Dracarys!
At the center of it all is Skala du Port, a square tower crowned with a turret in each corner and flanked by circular bastions. It is from the top of this tower that postcard-worthy views of the walled medina are best enjoyed while also dodging a flurry of seagulls that fly past and above it.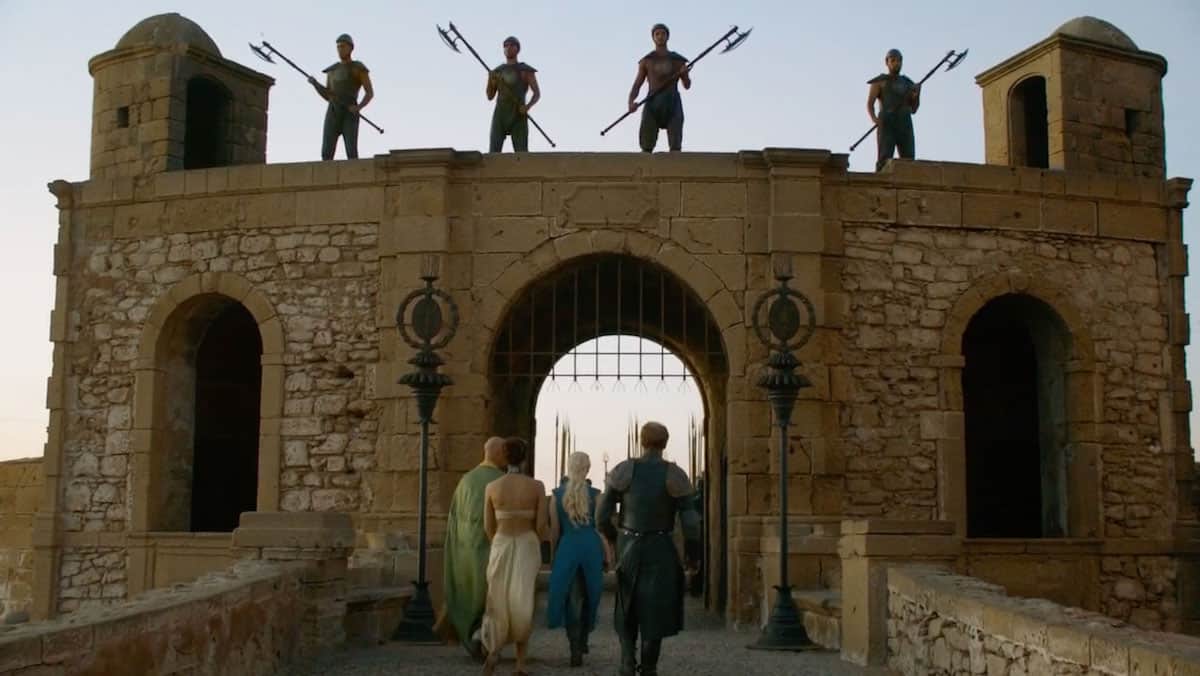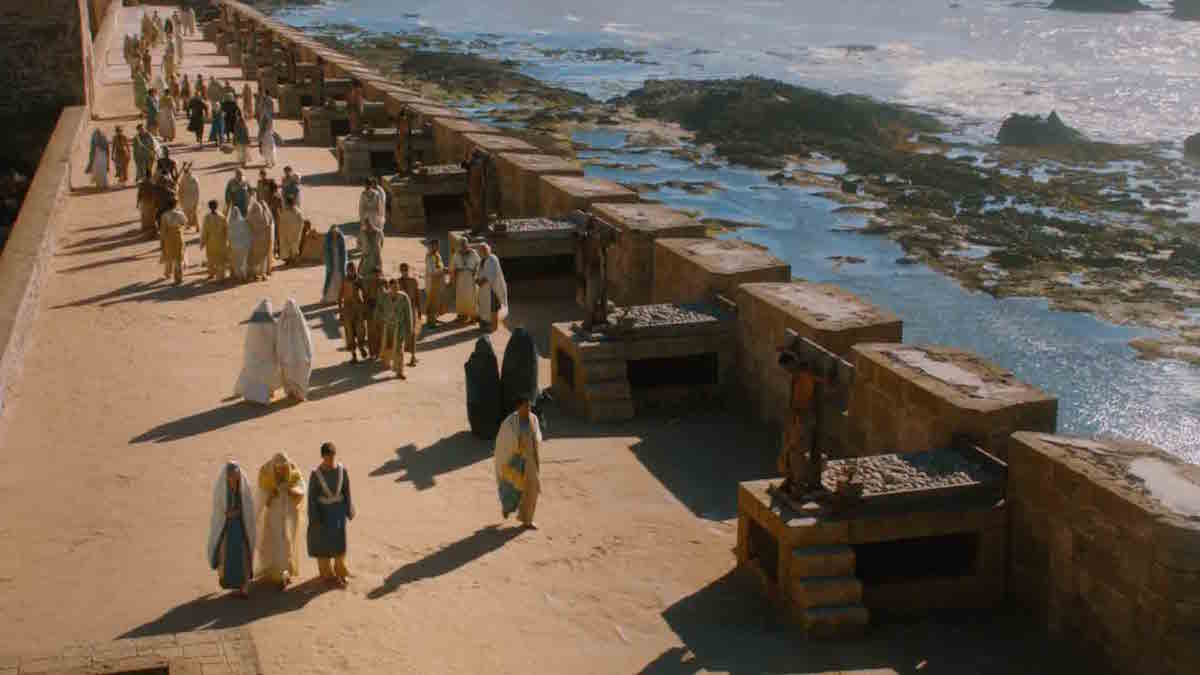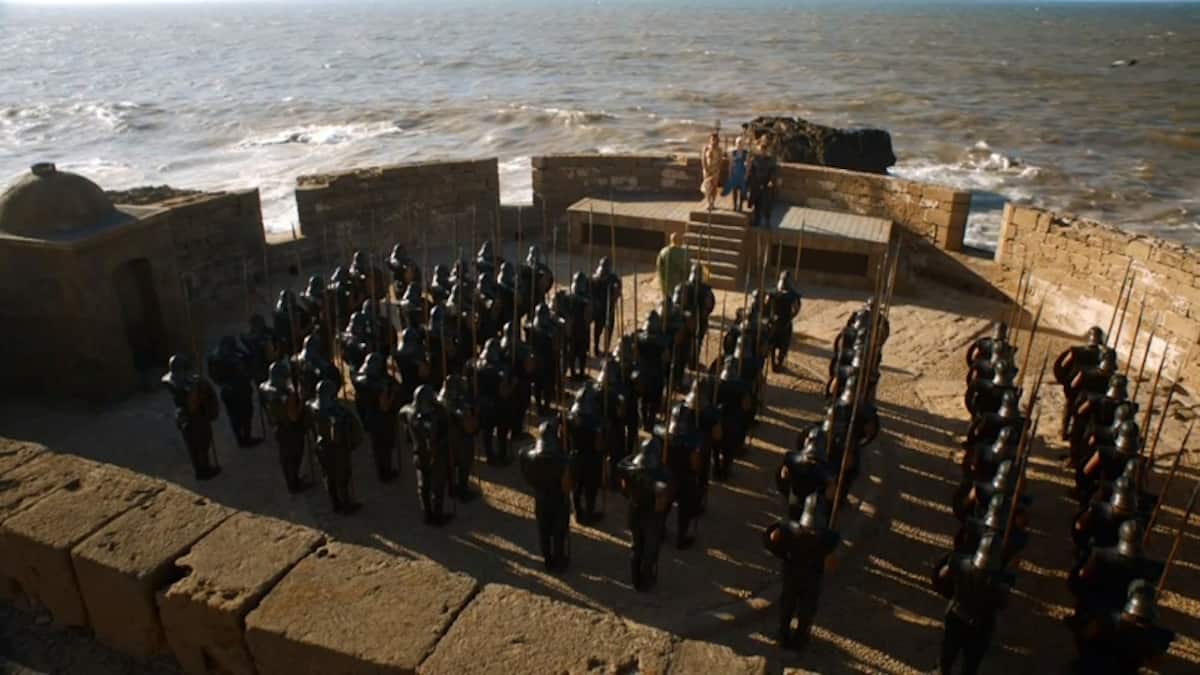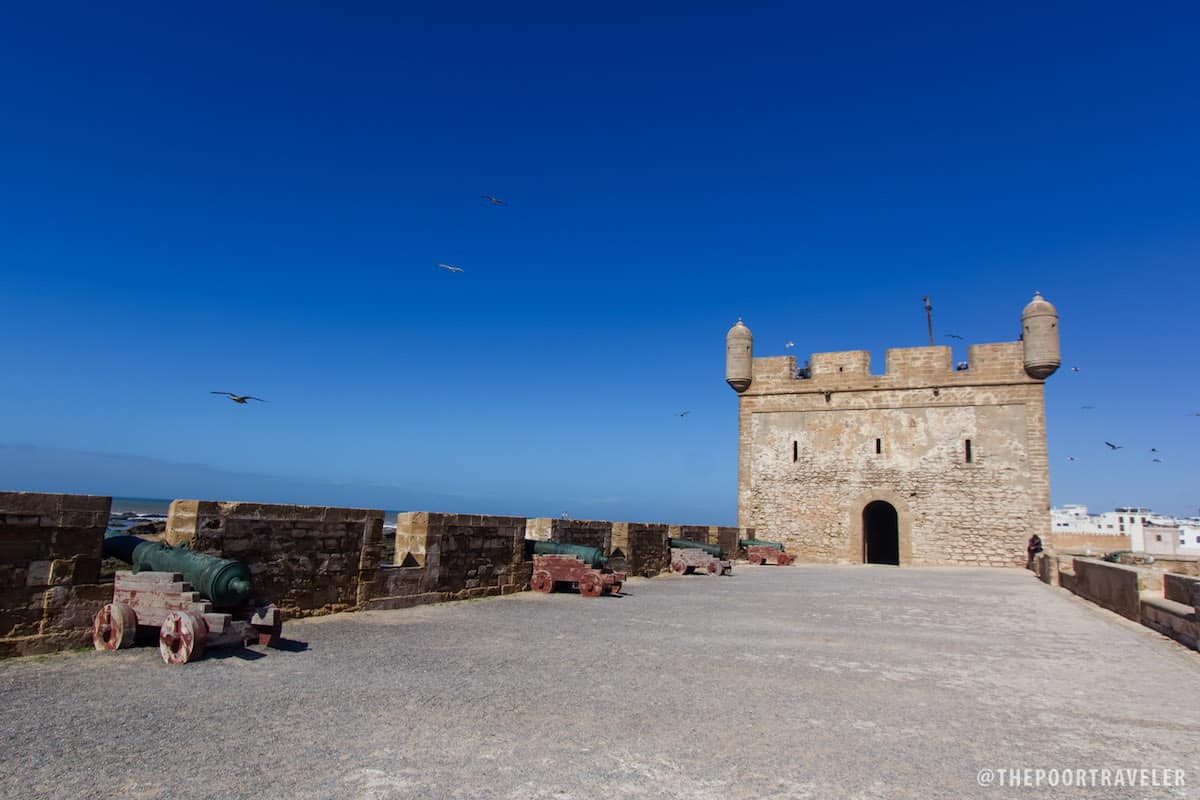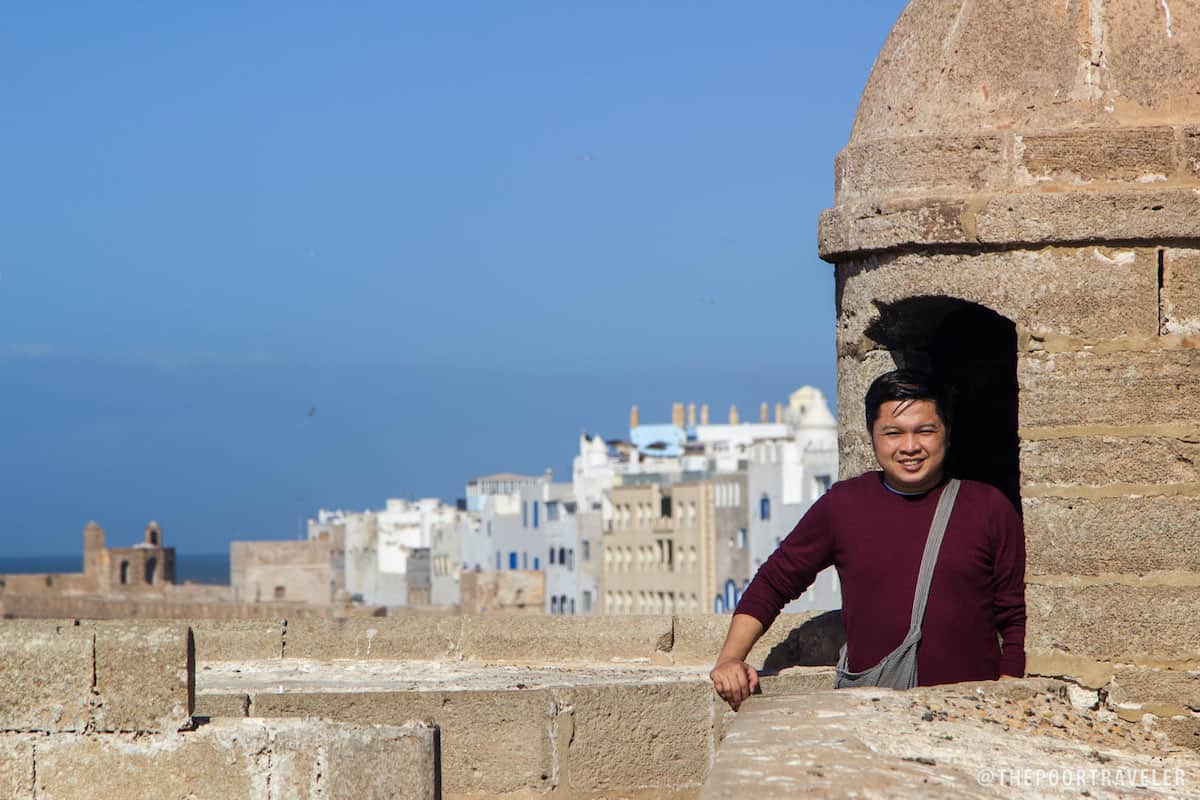 Entrance fee: MAD10
Food Trip at the Fish Market
Just down by the harbor lies a fish market that has become popular among tourists. Essaouira is a coastal city, which makes seafood a major part of the local diet and a must-try for visitors. Purchase their freshest catch at the market (per pack or kilo), have it grilled in one of the adjacent stands, and dine outside. It's not much (especially knowing that it's actually a bit more expensive here) but having lunch in the middle of blue boats can be quite a unique experience.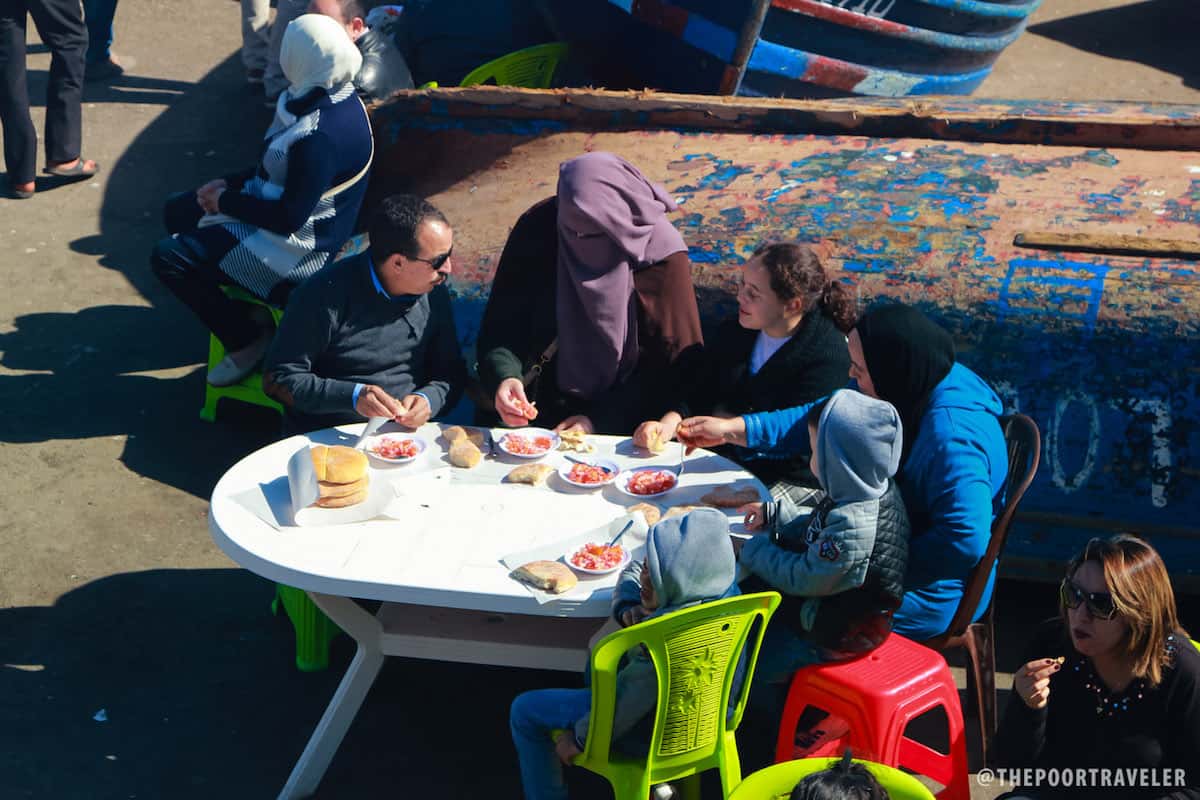 If your tastebuds aren't itching for seafood, head over to one of the many restaurants in the medina.
Shopping at Medina
Inscribed to UNESCO's World Heritage List in 2011, Essaouira's walled medina is incredibly well-preserved. A walk down any of its streets is a walk back in time.
Its inner alleys are lined with whitewashed houses bearing colorful doors. Every block has a restaurant serving its own Moroccan, French, or Italian specialties, and vibrant souks selling dresses, slippers, souvenirs, and Berber carpets. It's not as labyrinthine as the medina in Marrakech so a stroll around here is more inspiring than confusing.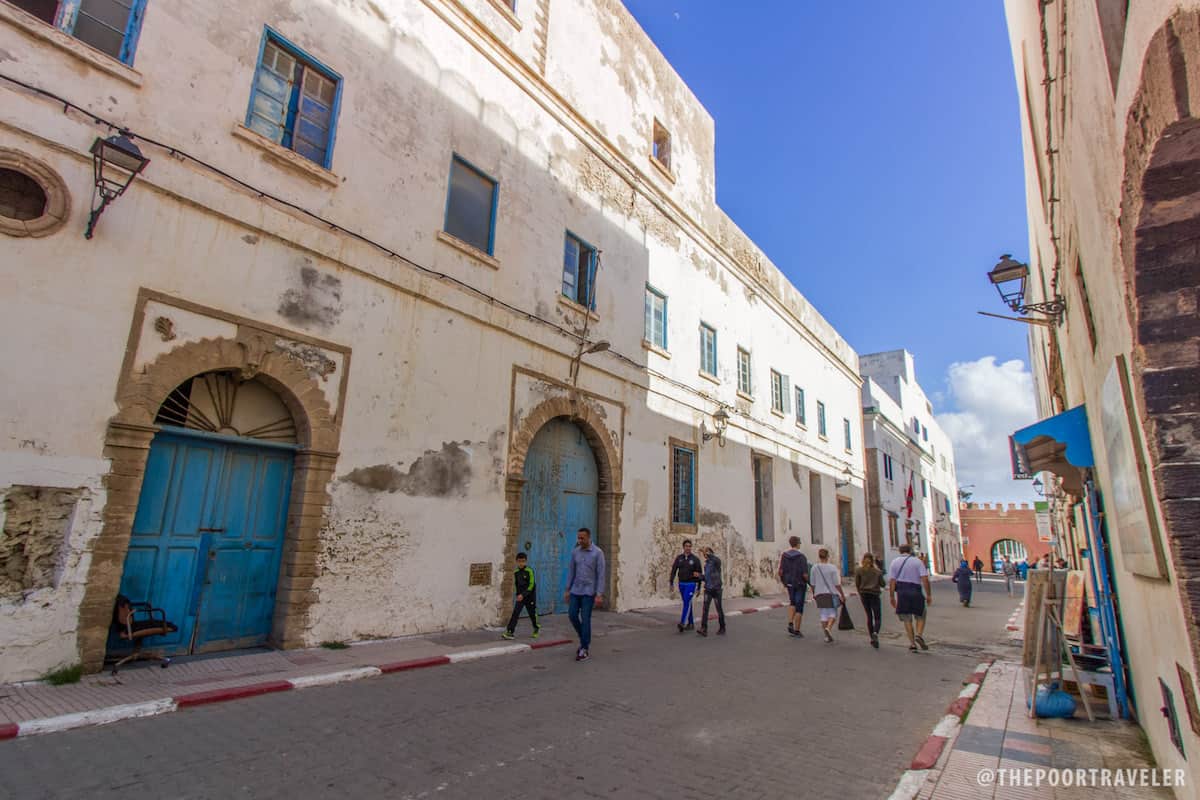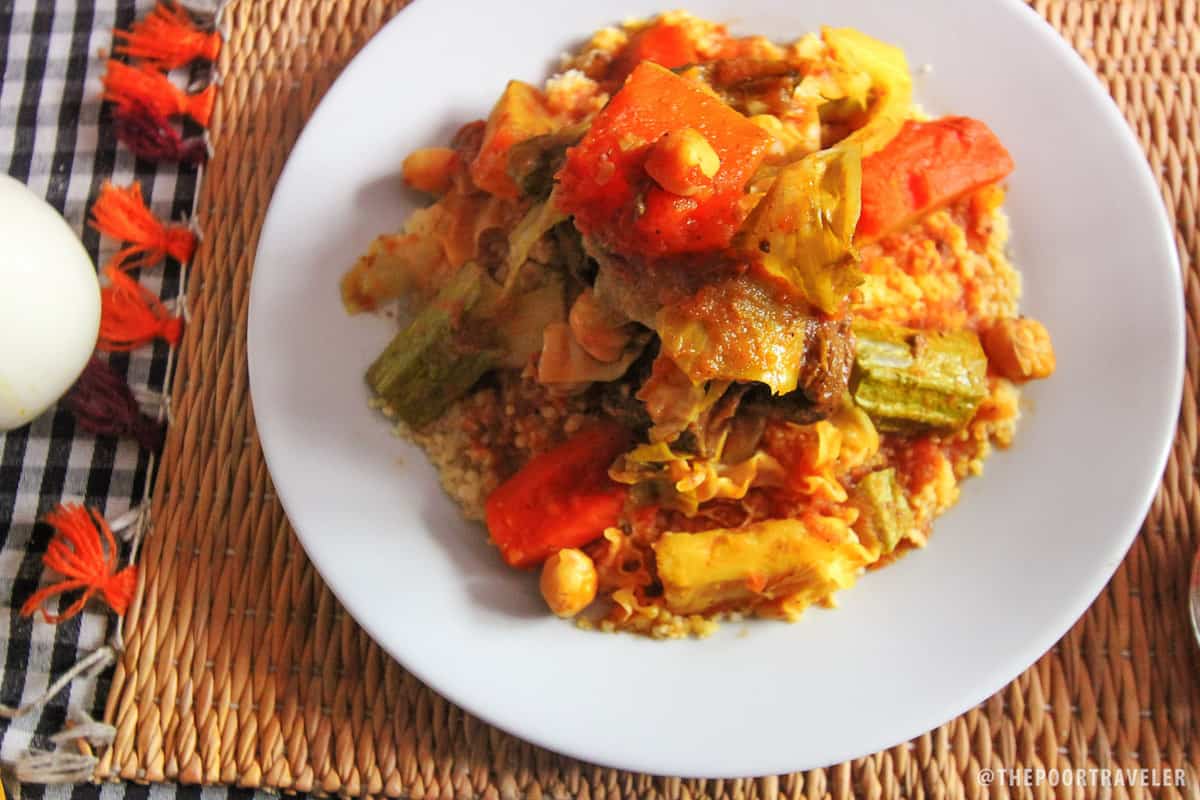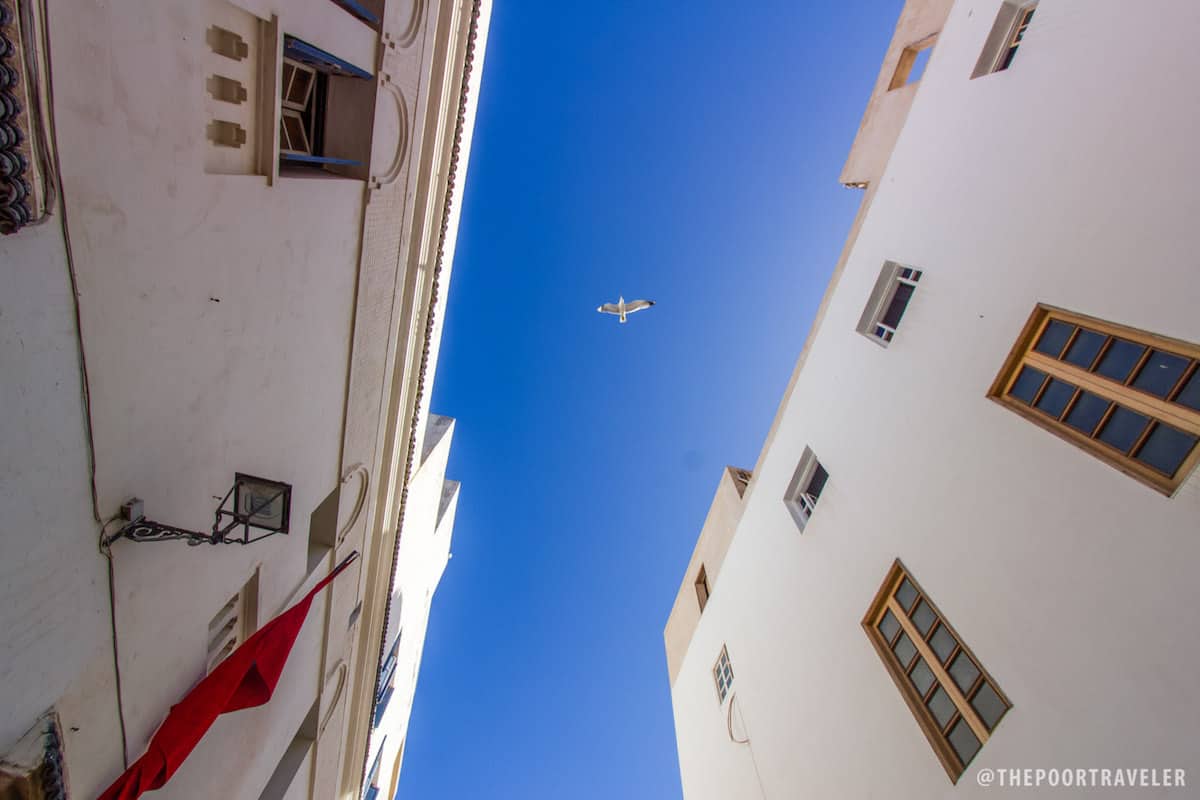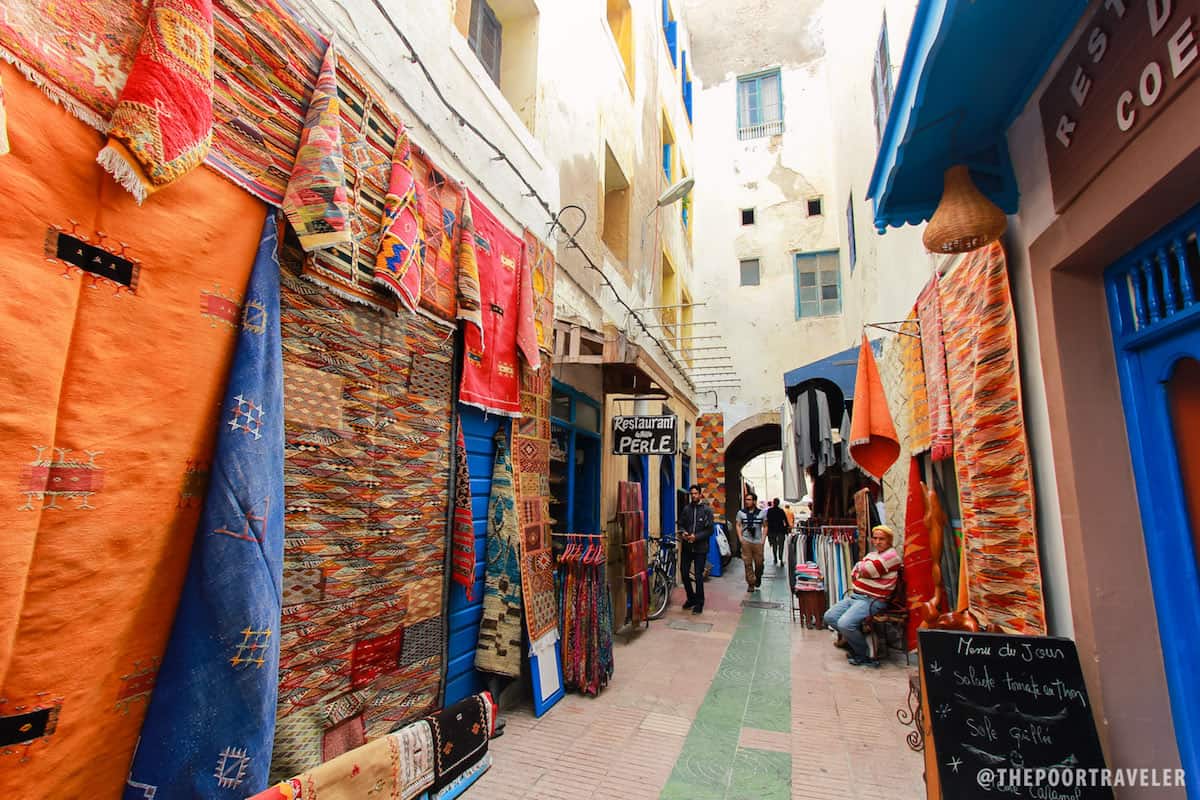 Entrance Fee: FREE.
Gnaoua World Music Festival
If you're visiting Essaouira in May, don't miss the Gnaoua World Music Festival, an annual event that showcases the music of foreign and mystical Gnaoua artists over four days. Over 500,000 people flock to the city and many performances are open to the public for free.
Sidi Mohamad Ben Abdellah Museum
Named after the founder of the modern-day Essaouira, this gorgeously refurbished museum narrates the history of the city though numerous artifacts — pottery, jewelry, carpets, weapons, costumes — all housed in a 19th century mansion.
Entrance Fee: MAD 10
Beach Walk
Adjacent to the ramparts is a long stretch of beige to golden sand that laps up the restlessness of the Atlantic. To say it's completely relaxing can be misleading as the wind can be strong and the waves turbulent. It may not be welcoming to casual swimmers, but it has become a haven for the more adventurous ones, particularly those who enjoy watersports. Kitesurfers and windsurfers add a lot of energy to what many consider the favorite hangout place for Essaouirans.
Walk farther from the town end and you'll find horse and camel rentals. Their owners will be following you around and insisting that you go on a ride, but just say no politely (and patiently) if you're not interested.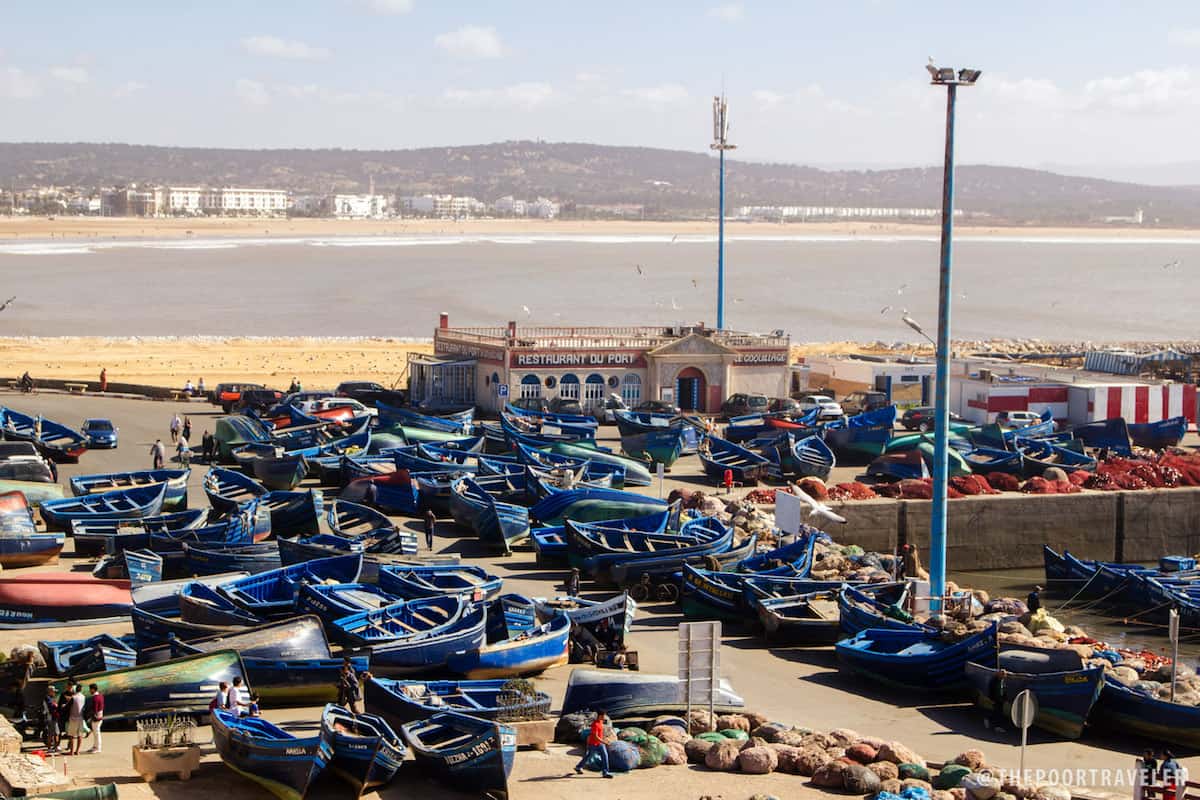 Entrance Fee: FREE.
The Village of Diabat
Keep walking and you'll find the Bordj El Berod, ruins of a watchtower half-buried in the sand. Legend has it that this was the inspiration for "Castles Made of Sand," a song written and recorded by Jimi Hendrix, an American rock icon (in case you're not familiar like some people, ahem ahem) and somewhat a local hero.
Even farther is the Berber village of Diabat, located 3-5km south of medina and is accessible by taxi or on foot (if you have the time and the stamina). Here you can enjoy horse treks or horse rides around Essaouira, an interesting way of exploring the city. Zouina-cheval, a tour operator, offers rides for old-timers and beginners alike (even children). Rates are steep though, around MAD 160 per hour.
Goats on Argan Trees
This is not actually in Essaouira but on the way there from Marrakech. Apparently, in this part of the world, goats can climb trees. I didn't know they were realize until I noticed one of them move. I was like, "You did not, you goatee!"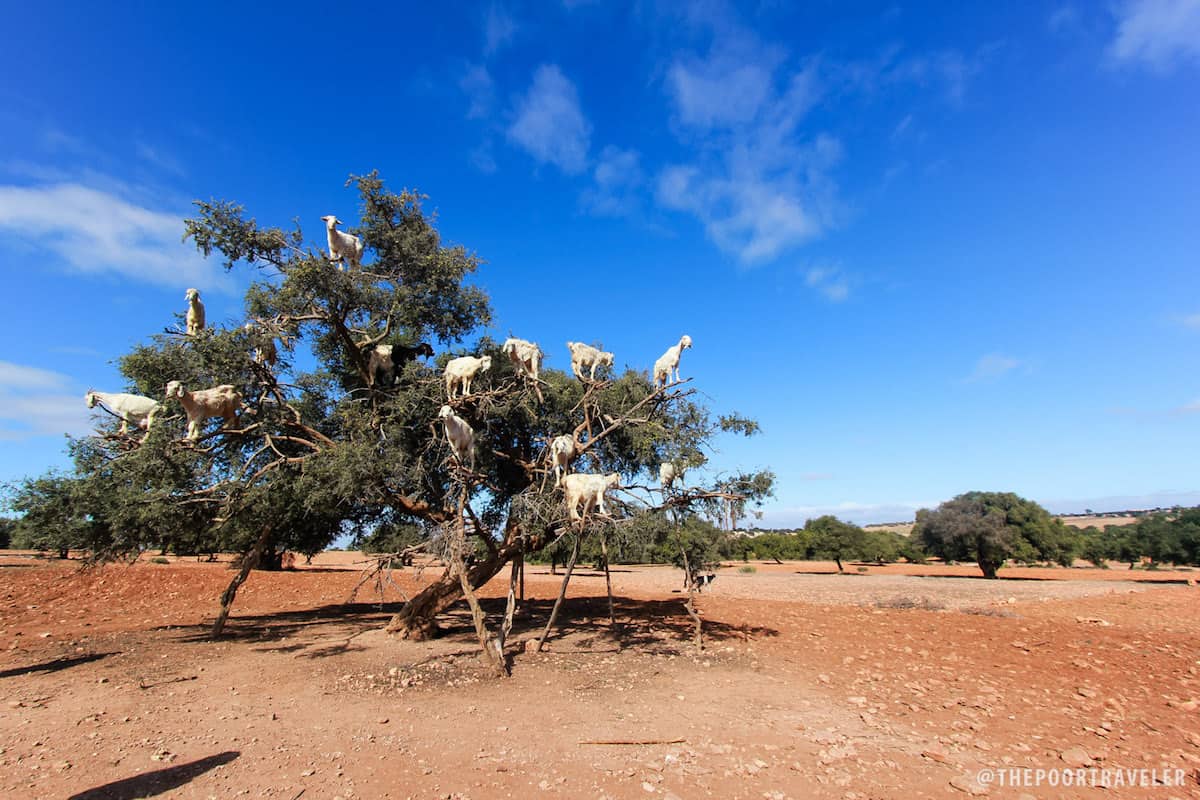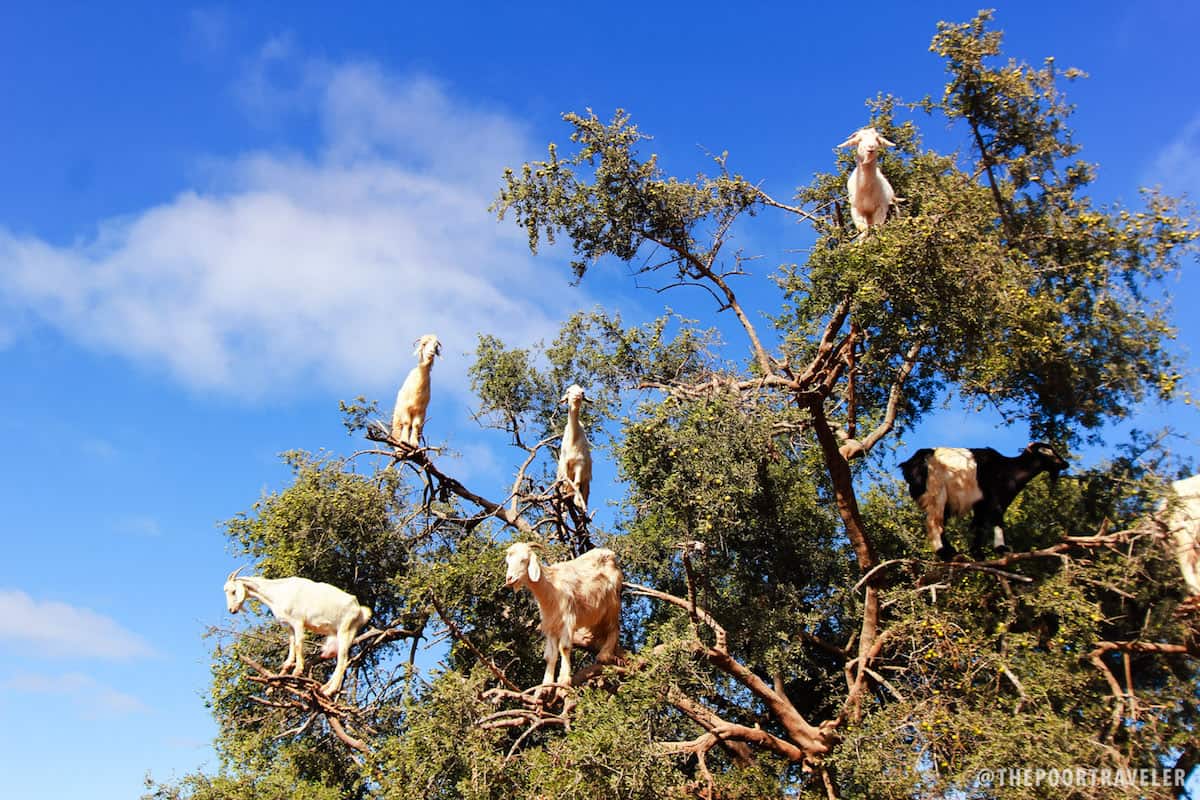 Food is so scarce that they have learned to rummage through Argan trees for their berries. And some locals have learned to turn curiosity into money. They would intentionally display the goats perched on the branches of trees just along the road. They charge for taking photos and holding one of the superstar goats.
Argan trees are useful to locals. Its berries contain seeds from which argan oil is extracted. This oil is popular in Europe and is believed to be of higher quality than olive oil. I've never tried it, really, but there are a lot of argan oil shops in Essaouira, Marrakech, and even Casablanca.
2️⃣0️⃣1️⃣6️⃣•4️⃣•1️⃣3️⃣
More Tips on YouTube ⬇️⬇️⬇️