The first thing I said to myself when I stepped in the town of Lucban was "OMG, I belong." I've always loved anything bright and vibrant. It's like if I die and I get reincarnated into a Philippine Festival, I'd probably be Pahiyas. (Not that festivals are living things. But you get the point.)
The Pahiyas Festival is celebrated every May 15 in Lucban, Quezon, in honor of the municipality's patron saint, San Isidro Labrador (St. Isidore the Farmer). It's the locals' way of giving thanks for the bountiful harvest over the past year. After an early morning mass at Lucban Church, a parade goes around town, passing by houses that are adorned with vegetables, fruits, handicrafts, and kiping, leaf-shaped paper-like decors made from rice. The grander, the better. The more colorful the house is, the more people it attracts.
If Pahiyas is your kind of festival too, make sure that you're well-prepared for a visit.
WHAT'S COVERED IN THIS GUIDE?
How to Get to Lucban, Quezon
Lucban is a second-class municipality in Quezon bordering Tayabas to the south, Sampaloc to the north, and the province of Laguna to the east. It is in close proximity to a number of cities where transportation options are plenty including Lucena and Tayabas in Quezon, and Calamba and Sta. Cruz in Laguna.
By Public Transportation.
There are a number of options to reach Lucban from Manila. There are vans, buses or jeeps in most of the nearby cities, but this is the route that I have tried: via Lucena City.
1. From Cubao, EDSA-Kamuning, or EDSA-Buendia, take a bus to Lucena City (Fare: P225, Travel time: 4-5 hours).
2. At the Lucena Grand Terminal, ride a jeepney to Lucban (Fare: P30, Travel time: 30-45 minutes).
By Private Car
1. Take the South Luzon Expressway (SLEX).
2. Take Calamba or Sto. Tomas exit. If you exit in Calamba, you'll be passing through numerous towns in Laguna (Los Banos, Bay, Pila, Sta. Cruz, Pagsanjan, Cavinti, Luisiana) until you reach Lucban. Travel time: 2.5-3 hours.
If you take Sto. Tomas, you'll be passing through Alaminos and San Pablo in Laguna, and Tiaong, Candelaria, and Sariaya in Quezon. When you reach Tayabas, follow the Tayabas-Lucban Road. Travel time: 3.5-4 hours.
You can find parking spaces outside of the parade route (and outside the town proper). You may walk or take the tricycle to go around.
Remember: you're going to a fiesta. And as with any fiesta in the Philippines, traffic is expected. Whether you're taking public or private transportation, the key is to leave as early as possible so you arrive in Lucban just in time for the 6am mass, which signals the start of the parade.
What to Do in Lucban
The government of Lucban usually has prepared several activities lined up for the occasion. It's always best to get a hold of the list of activities especially if you're planning on staying in the next days. But if you're staying for just a day (May 15), here's what you can do.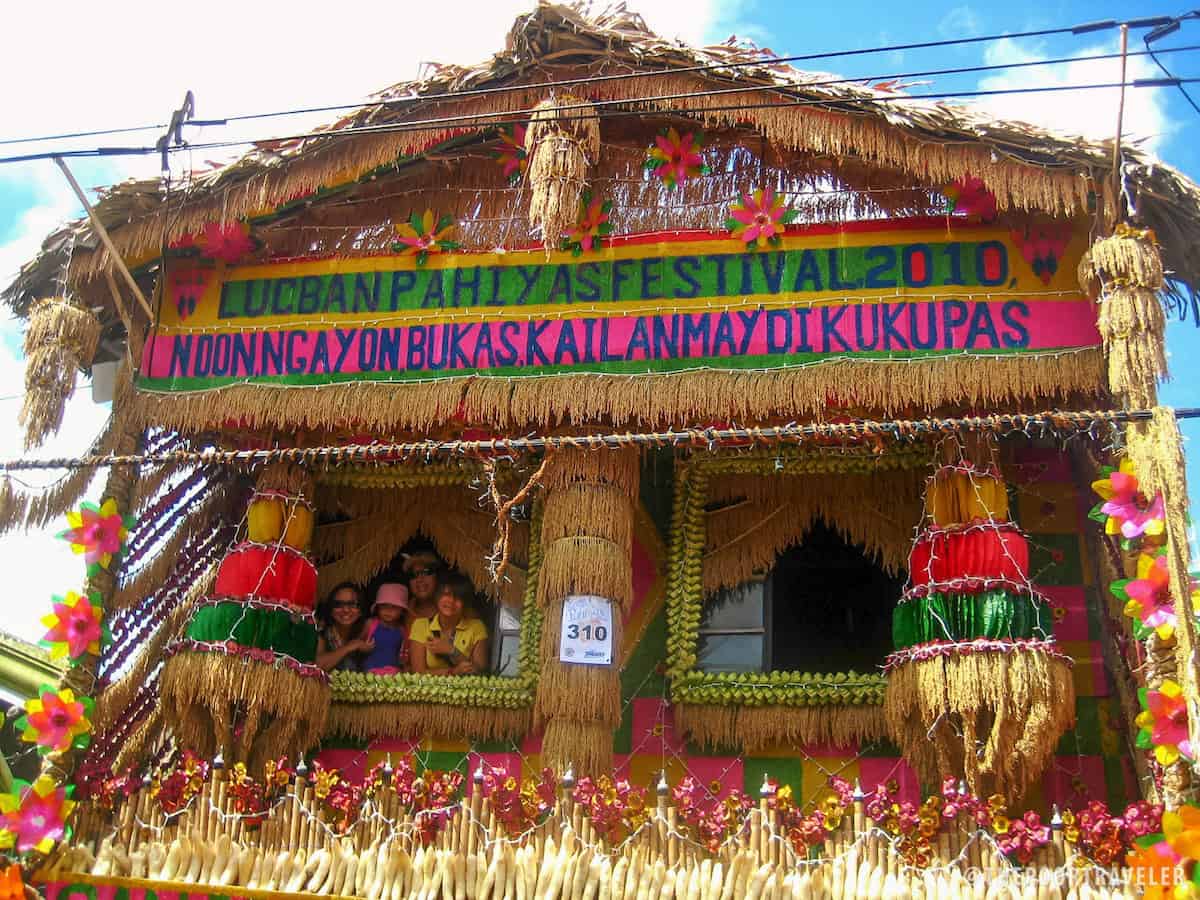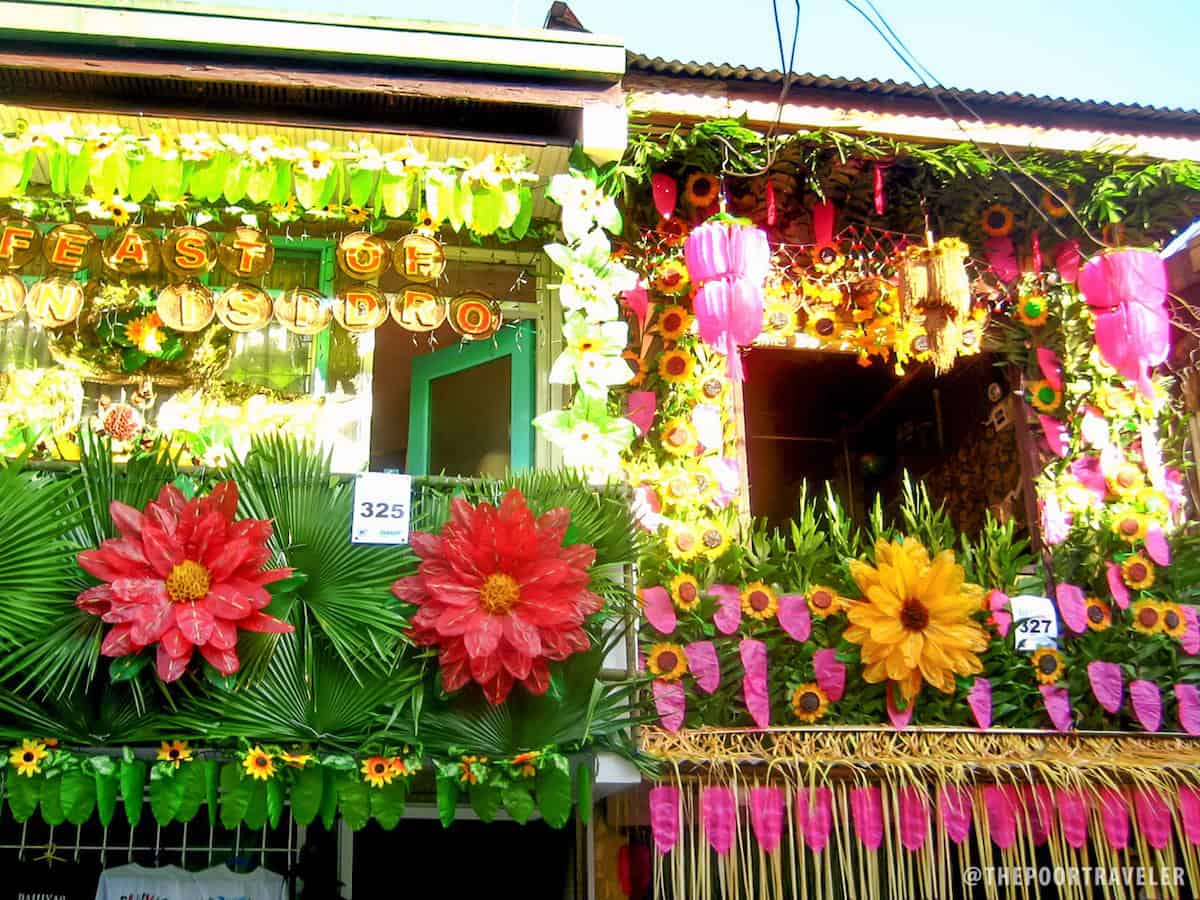 Attend the 6am Mass. This signals the start of the parade. But take the time to notice the church. Officially named San Luis Obispo de Tolosa Parish Church, this Lucban church is actually its third version. The first was built in 1595 but was ruined in 1629. The second building was constructed from 1630 to 1640 but was destroyed in a fire in 1733. The present church was completed in 1738.
Follow the parade. The parade begins after the first mass. It goes around town, passing by the decorated houses participating in the Timpalak Pahiyas. If that's too crowded for you, you can wander on your own, take photos, and converse with locals.
Visit Kamay ni Hesus Healing Church, a peaceful place, perfect for Catholic pilgrims who want a moment of tranquility. Warning though: on this day, even this spot can get overcrowded. Also, if you wanna see the entire place, prepare for an uphill battle. It's located outside the town proper so you might want to take a tricycle to get here.
Food trip! There is street food everywhere! You'll find kiosks selling pancit habhab (a noodle dish served on banana leaves or plastic bags and eaten without utensils), longganisang lucban (local sausages), and pilipit (a type of fried dough confectionery similar to donuts but twisted).
Speaking of food….
Where to Eat in Lucban
Lucban's tourist map is dotted with a few restaurants offering local dishes. Here are some of them.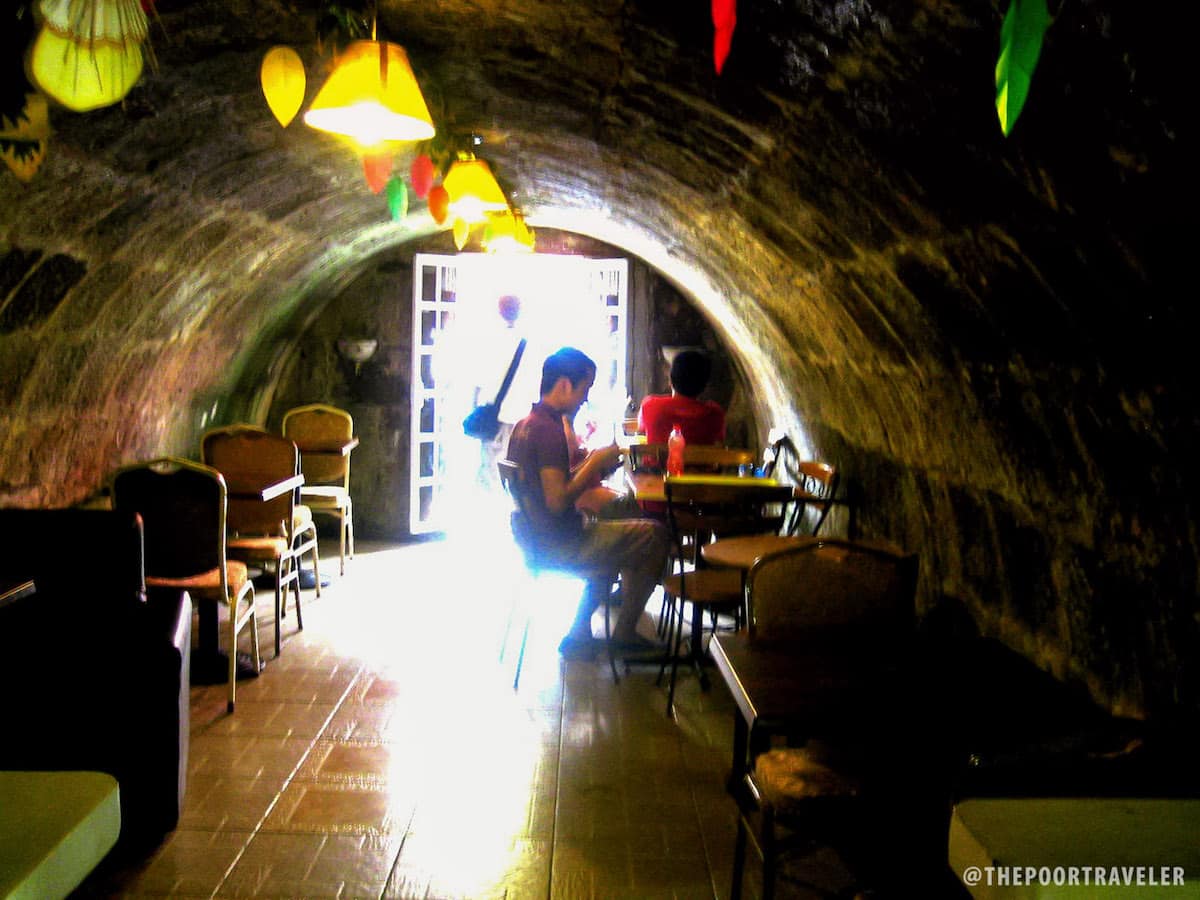 Mustiola's (San Luis Street). A turo-turo/carinderia-style restaurant set in an ancestral house. Specialty: Sinantomas (a meat stew similar to kaldereta), halo-halo.
Cafe San Luis (San Luis Street). An al-fresco-type eatery. Specialty: Inalamangan, reminiscent of binagoongan but with added turmeric.
Old Center Panciteria (San Luis Street). Specialty: Pancit Habhab.
Dealo Koffee Klatch (Quezon Avenue). Speciality: desserts.
Abcede's Resto (Quezon Avenue). Specialty: longganisa burger.
Word of caution: you might want to avoid eating during peak hours (11am-1pm) because you'll be sharing the restaurants with the rest of the tourists. If you're allergic to waiting times that feel like forever, take an early or late lunch.
Where to Stay
The town's tourism surges during Pahiyas but isn't very active for the rest of the year. Hence, accommodation options in Lucban are very limited, to say the least.
Batis Aramin Resort and Hotel. The most well-known place to stay in Lucban. Lying just opposite Kamay ni Hesus, this resort-slash-nature-park is only 5-10 minutes from the town center. Check rates here: Batis Aramin.
Other places to stay are in Lucban:
Orena's Inn Hotel and Resort
Manasa Farm and Spring Resort
Many opt with a resort outside Lucban. That's okay too. And you might be considering of going to Pagbilao-Padre Burgos to go island-hopping, visit Borawan Beach and Dampalitan Island, and maybe spend the night there. Let me tell you as early as now: DON'T. These islands are crowded even on regular summer days. Going here on the same day of Pahiyas will double the numbers. You probably won't enjoy it. Look elsewhere. Here are other options:
Liliw and Majayjay, Laguna. There are small mountain resorts by the river.
San Pablo City, Laguna. Pig out and see the Seven Lakes while you're there.
Cagbalete Island, Quezon. Beach bum!
Or just stay in nearby Tayabas City.
Nawawalang Paraiso Resort. Brgy. Camaysa, Tayabas. (042) 793-3437. P2900 per room (2-6 pax).
Kamayan sa Palaisdaan Hotel. Brgy. Dapdap, Tayabas. (042)793-3654.
Mi Casa en Tayabas. 73 M. Ponce Street. (042) 793-2660/
The good thing about staying in Tayabas is you also get to see and explore this historic city. Some places of interest:
Puente de Malagonlong (Malagonlong Bridge), a 445-ft stone arch bridge constructed during the Spanish era and is one of the oldest Spanish bridges in the country.
San Miguel de Archangel Basilica Menor (Tayabas Basilica), the center of the Catholic faith in the city, built in 1600.
Capistrano Distillery, which produces lambanog, Quezon's signature alcoholic drink.
Casa de Comunidad de Tayabas, a historic bahay na bato which now houses a museum, gallery, and library.
Sample Itinerary
Here's a simple itinerary that you may follow. Just make adjustments according to your preferences.
02:00am – ETD Manila
05:30am – ETA Lucban, Quezon
06:00am – Mass at Lucban Church
07:00am – Follow parade
08:00am – Roam around town, check out houses, sample street food
10:30am – Early Lunch
12:00nn – Visit Kamay ni Hesus
02:00pm – Roam around town again, buy pasalubong
04:00pm – ETD Lucban, Quezon
Where to go from here is up to you. In our case, we went to Majayjay, Laguna, and arrived at a mountain resort at around 6pm.
Budget Breakdown
Here's how much we spent on our visit to Lucban. (This does not include side trips and street food sampling.)
Bus to Lucena City: P225
Jeepney to Lucban: P30
Breakfast (Mustiola's): P100
Lunch (Cafe San Luis): P140
Drinks: P30
Trike Ride: P25
2️⃣0️⃣1️⃣6️⃣•4️⃣•1️⃣0️⃣