This guide is no longer current. In December 2017, the French Embassy implemented a new Schengen visa application process.

A more updated visa guide can be found here: France Visa
—-
On my last day in Paris, I wanted the moments to last longer, I moved so slowly. It took me 30 minutes to walk from the hotel to the train station to have "one last look", which became a dozen last looks. Silly, I know, but yeah yeah. I'm childish like that.
That Paris trip was a realization of a life-long dream. Growing up, I was a fan of French Cinema. At Film school, I worshipped Francois Truffaut. I adore French food. I even learned the French language in college. It was as though life had been preparing me for that week-long affair with Paris, one of the most unforgettable journeys I have ever taken.
And none of it would ever be possible if I didn't have a Schengen Visa. Of all the visa applications I have done, it is definitely one of the most demanding. Yet, it wasn't as difficult as I expected it to be because I already had most of the required documents.
This post will help guide you breeze through the visa process if you're going to France (and other Schengen countries) as a tourist (short stay). Updated 2017.
---
This post is for applications via French Embassy. If you're applying via German Embassy, read this instead: How to Apply for a Schengen Visa via German Embassy
---
WHAT'S COVERED IN THIS GUIDE?
What is a Schengen Visa?
First, a brief intro. The Schengen Visa allows the holder to visit any of the 26 countries within the Schengen area including France. It's sort of your one-for-all pass, allowing you to enter many of the countries in Europe without having to apply for a visa for each individual country. You can apply at any embassy of a member state. These are the countries who are part of the Schengen Zone:
Austria
Belgium
Czech Republic
Denmark
Estonia
Finland
France
Germany
Greece
Hungary
Iceland
Italy
Latvia
Liechtenstein
Lithuania
Luxembourg
Malta
Netherlands
Norway
Poland
Portugal
Slovakia
Slovenia
Spain
Sweden
Switzerland
Note, however, that you can't apply just anywhere. You need to apply at the right embassy, which will depend on the purpose of your trip or your overall European itinerary.
Hold on, should you be applying at the French Embassy, in the first place?
Apply at the French Embassy only if ANY of the following is true:
You're going to France only and will not visit any other country.
You will visit multiple Schengen countries but you will stay the longest in France.
You will visit multiple Schengen countries but the main purpose of your journey is in France. (Example: you will attend a conference in France but you plan on going out to other Schengen countries while you're there.)
You will stay in multiple Schengen countries for exactly the same number of days, but France is your point of entry (first in your itinerary).
There are many pros of applying at the French embassy. Obviously, not all embassies work the same way. Some are stricter than others. Some are faster. In the travel circles (or at least in my travel circle), the French Embassy (along with the Dutch and German embassies) is known to be more considerate to potential tourists, while the Italian and Spanish embassies are regarded more stringent. Many of my friends who initially wanted spending the same amount of time in two or more countries would deliberately change their travel plans to stay longer in France just so the French Embassy would accept their application.
When to apply at the French Embassy
You can apply up to 90 days (3 months) in advance. While the French Embassy works relatively fast, it is wise to give some time allowance just in case something doesn't go as planned (e.g. they ask for additional documents). I consider "a month before" too tight. Two months should give you enough time to secure a copy of all required documents and fix a problem should it arise.
How to apply for a Schengen visa via French Embassy
The French Embassy has entrusted the receiving, processing, and issuing of most visa applications to VFS Global, which has streamlined the processes. Here's how.
1. Book an appointment online.
I always recommend getting an appointment before anything else because you'll never know when the earliest schedule will be. You can always book a much later date if you're still working on some requirements (which I will discuss later).
To get a schedule, you will need to sign up first. Go to this Appointment System page and click on NEW USER.
If you already have an account, simply log in using your access details.
Once you have an appointment, print out the Appointment Confirmation Letter, which you need to bring to the VFS Global Visa Application Center.
2. Complete the requirements.
While waiting for your appointment day, gather all the required documents. You need to prepare two copies of each: one original and one photocopy.
To speed up the submission process and for your sanity, arrange them in the order specified in the checklist given to you. As of September 2016, here's the complete list in the right order.
Accomplished application form with passport-size photo (35 x 45mm, white background). You can download it here.
Valid passport. Must be valid for at least 3 months (6 months, to be safe) from the end of intended stay and must have at least 2 empty pages. Photocopy the bio page and all pages with stamps and other visas. If you have visas not on the passport (printed out visas like Australian visa), photocopy them too.
Cover Letter and Daily Itinerary. Be as specific and detailed as possible. Explain the purpose of your trip and why you're applying at the French Embassy. Here's a sample cover letter and sample day-to-day itinerary. Page 1 is the letter. Page 2 is the itinerary. (Buttons below to flip to page 2.) schengen-visa-france-letter
schengen-visa-france-itinerary


Make sure you address the letter to:

THE HONORABLE CONSUL
EMBASSY OF FRANCE
16F Pacific Star Building
Makati Avenue corner Gil Puyat Avenue
Makati City

Hotel Reservations. You DON'T need to pay for your hotel this early. You can simply reserve rooms via Agoda. Or if you want a travel agency to do it for you, you can get one here: Get Hotel Reservation
Flight reservation. Again, just reservation. DO NOT PAY for flights until your visa is approved. Find a travel agency that can reserve flights for you. You can get one online here: Get Flight Reservations Here
International travel insurance (for medical expenses and repatriation) that covers the entire duration of the trip and valid for all Schengen countries. Coverage must be AT LEAST EUR 30,000. I got mine from Blue Cross. Get Travel Insurance Here
Certificate of Employment (if employee). The monthly salary and leave of absence approval must be indicated.
Leave of absence letter (if employee). Proof that your leave has been approved by your employer. You may get this from your HR or immediate superior.
Business registration documents (if self-employed). This includes DTI permit and SEC documents.
Latest personal ITR (Income tax return)
Bank certificate. Must be issued within at most 30 days before the application.
Bank statement. Must show records of the past 3 months.
If you're a minor, you must provide: (a) proof of economic means, (b) passport, and (c) affidavit or support and consent of parents or legal guardian.
If you're a student, provide: (a) proof of enrolment, (b) leave of absence certificate if traveling during school days
If single, birth certificate.
If married, marriage certificate and birth certificate.
If minor traveling with someone other than the parents, copy of DSWD permit.
Visa fee. EUR 60 (or its equivalent in peso that day). Note that you will also be paying the VFS Service Fee, EUR 26.

Where to get flight and hotel reservations and travel insurance? You can get them online. The one we trust is Gazelle Travel and Tours, a DOT-accredited, DTI-registered travel agency. They offer Flight Reservations + Hotel Reservations + Travel Insurance at a friendly rate! SEE RATES HERE
_________
3. Submit the requirements at the VFS Visa Application Center.
The applicants themselves must show up on the day of appointment. For children below 12, either parent can submit. The exact address is:
VFS Global Office Address:
France Visa Application Centre,
Mezzanine Floor, Ecoplaza Bldg.,
Don Chino Roces Ave. Extension, Makati City
Again, make sure you bring the Visa Appointment Letter I mentioned at Step 1. You will need it to get in. You'll go through a security check, and will be waiting for your turn. Once they accept your documents, they will get your biometrics.
You will also be given a choice on how you want to receive your passport (with a visa, hopefully): pick up or by courier. If you choose the latter, expect to pay an additional PhP 330. Finally, settle the visa fee. Make sure you have the exact amount.
That's it. All you need to do now is wait.
The processing usually takes 5-7 days. However, there have been cases when they got theirs in 3 days. Some unlucky ones got theirs a lot longer. Some will be asked for an interview at the embassy. It really depends on many factors, which probably depend on how strong your case is and how much work load they have. Regardless, it's out of your hands. Just hope for the best.
According to an ABS-CBN report, starting November 1, 2017, the processing time will be shortened to only 48 hours (2 days)! So that's good development.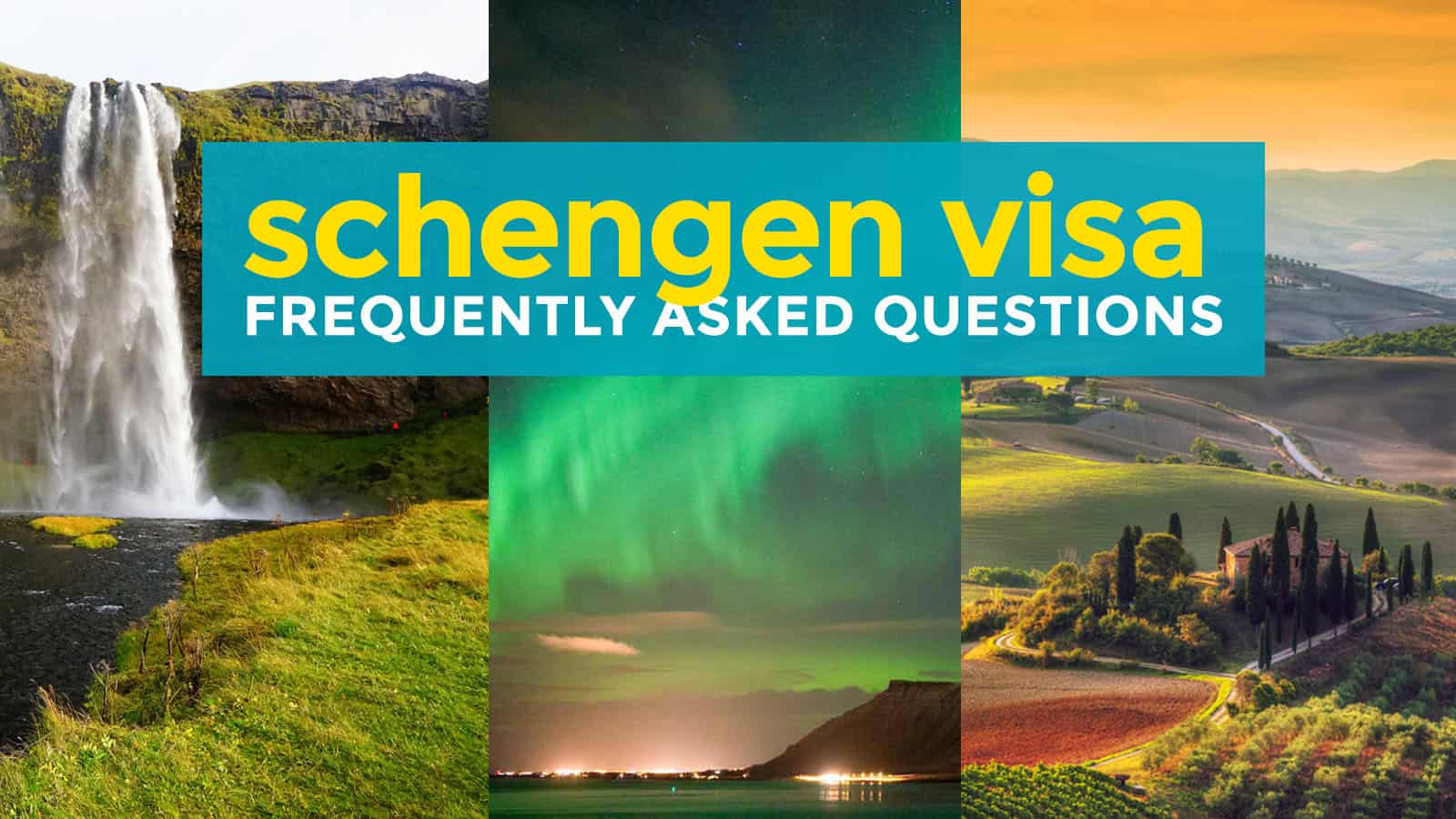 Read it Here: Schengen Visa FAQs
2️⃣0️⃣1️⃣6️⃣•9️⃣•1️⃣1️⃣