There's something about Nice that makes one joyful.
Our spirits were down before we arrived in Nice. Vins lost his phone to a group of scammers in our previous stop, so we were looking forward to a much-needed and much-deserved change of scenery. We just wanted things to be, well, nice. This trip delivered that, alright. But what we got was a lot more.
Nice is one of those cities that can instantly put a smile on your face. Even right now, as I'm typing this and remembering my time, I can't help beaming. Whether it's the sunny weather, the laidback atmosphere, the scenic shores, or the combination of all of these — Nice is definitely more than nice. It's wonderful.
Here are some of the best things to do and places to visit in this sunny corner of France.
WHAT'S COVERED IN THIS GUIDE?
NICE OLD TOWN WALKING TOUR
Locally called Vieux Nice or Vieille Ville, the Old Town is the historical center of the city, situated at the base of Castle Hill and fronted by the Promenade des Anglais. Its narrow medieval alleys wind in between old buildings and hide several cultural and gastronomic gems.
The area is pedestrian friendly, so it is entirely possible to explore on your own on foot. But if you want to appreciate the statues and corners of the town, you may join a FREE walking tour. We booked with Riviera Bar Crawl Tours. The 2-hour tour took us around the area, stopping at some interesting landmarks along the way.
Here are some of the structures and spots within the Old Town.
---
Place Masséna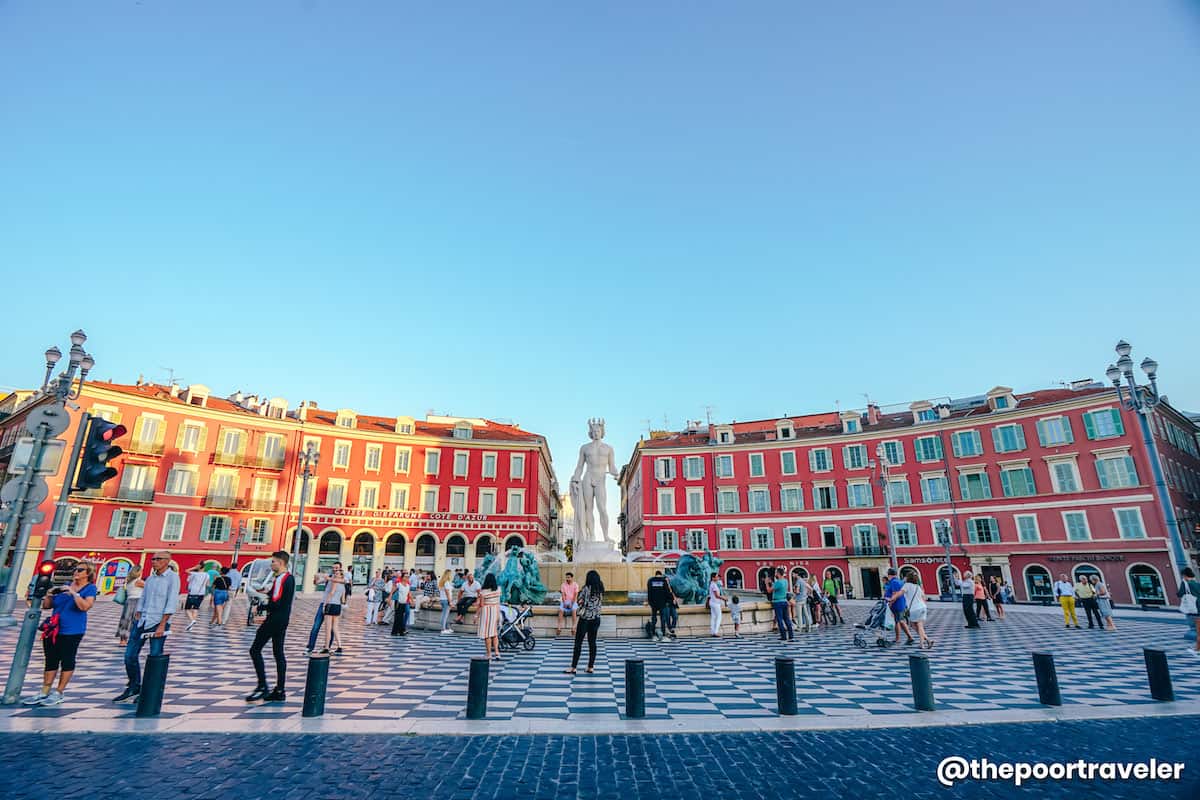 Place Masséna serves as one of the main entrance to the Old Town. It is Nice's main square, named after André Masséna, a military commander under Napoleon Bonaparte.
Designed by Joseph Vernier in 1834, it is surrounded by red ochre buildings that create a delightful view, wherever you look. The square connects Avenue Jean Medecin and the Old Town, which is guarded by a fountain overlooked by a statue of a nude Apollo, the Greek god of the sun, medicine, prophecy, music, and poetry. It is my favorite spot in the city!
---
Cours Saleya
Cours Saleya literally translates to "beating heart", which is apt because this vibrant market street is one of the busiest and most vibrant spots in the Old Town.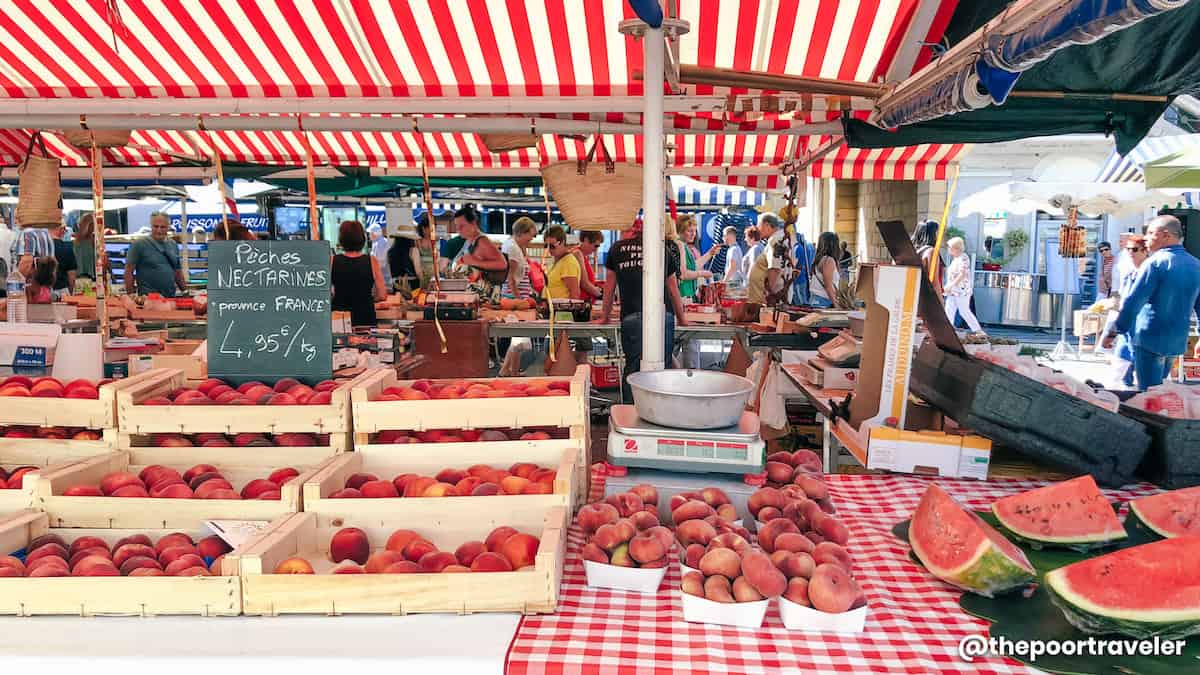 Cours Saleya is best known for Marché aux fleurs (flower market). Nice has a long-held affinity for flowers. For over a century, farmers would come down and gather in Nice to sell flowers to wholesalers who would then transport them to other parts of the country. Nice also holds the Bataille de Fleurs, a flower parade which is part of the Nice Carnaval festivities. The flower market is open from Tuesday-Sunday, 6am-5:30pm.
Side by side with the flower market is the Marché aux fruits et legumes (fruits and vegetables market), where you can sample fresh produce from the region and neighboring Provence. It's open from Tuesday-Sunday, 6am-1:30pm.
Both markets are closed on Mondays, when the street is taken over by an antiques and flea market, open from 7am-6pm. There's also a night market from June-September.
---
Chapelle de la Misericorde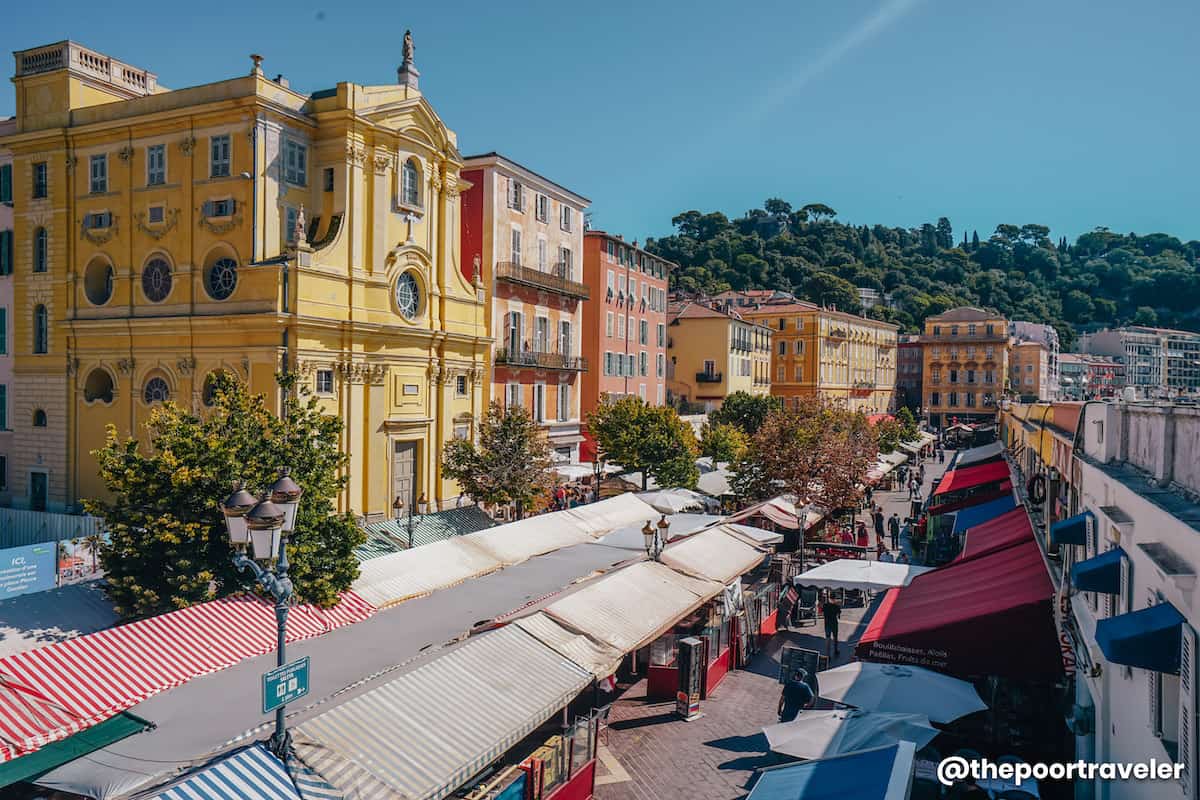 Designed by architect Bernardo Vittone, the Chapelle de la Misericorde (Chapel of Misericorde/Mercy) is a Gothic church built in 1747. It is one of the most eye-catching structures along Cours Saleya.
---
Le Palais de Justice
Opposite the market street, across the Courtyard Square, you'll find Le Palais de Justice, the city's Hall of Justice. It was completed in 1892 at the spot where a Dominican convent used to stand.
---
Place Rossetti and the Nice Cathedral
Place Rossetti (Rossetti Square) is a small square fronting the Nice Cathedral (Basilique-Cathédrale Sainte-Marie et Sainte-Réparate de Nice) and surrounded by a dozen ochre-housed restaurants and stemming into narrow alleys.
---
Galerie Le Container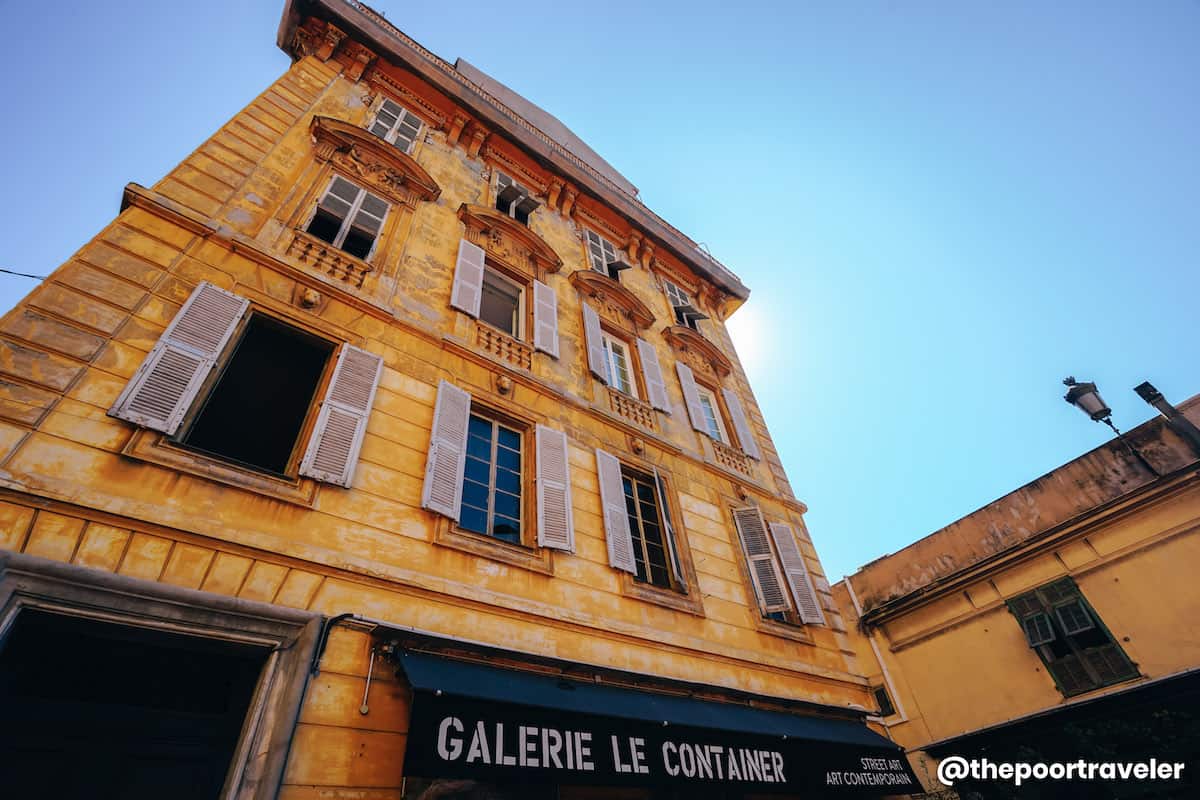 This small gallery showcases various pieces of street art. The establishment is called such because for many years, it traveled from one city to another, bringing street art closer to more curious souls. For now, they have made a historic building at the end of Cours Saleya their home.
And oh, this building was the former residence of French painter Henri Matisse, who spend much of his life in Nice.
---
Saint-François Bell Tower
A dominant structure in the Old Town, the Saint-François Bell Tower is what remains of the old Franciscan convent that once stood here. At 50 meters above sea level, the top of the tower also serves as an observation deck, offering an unobstructed, 360-degree view of the city.
---
Place Saint-François
This small square near the 16th-century Baroque-style town hall hosts the fish market, which takes shape every morning from Tuesday to Sunday. You can also see the Saint-François Bell Tower standing tall in the background.
---
Musée du Palais Lascaris
This 17th-century palace was built for the Vintimille-Lascaris family, an aristocratic clan at the time. Today it houses a museum showcasing Antoine Gautier's collection of more than 500 historic musical instruments.
---
Opéra de Nice
The building's history can be traced back to 1776 when a wooden theater was constructed at the site. It has undergone major changes since. Today, it is the main venue for the city's operas, classical concerts, and ballet performances, and serves as the home of the Nice Philharmonic Orchestra and the Ballet Nice Méditerrannée.
---
BAIE DES ANGES (ANGELS' BAY)
The Beaches of Nice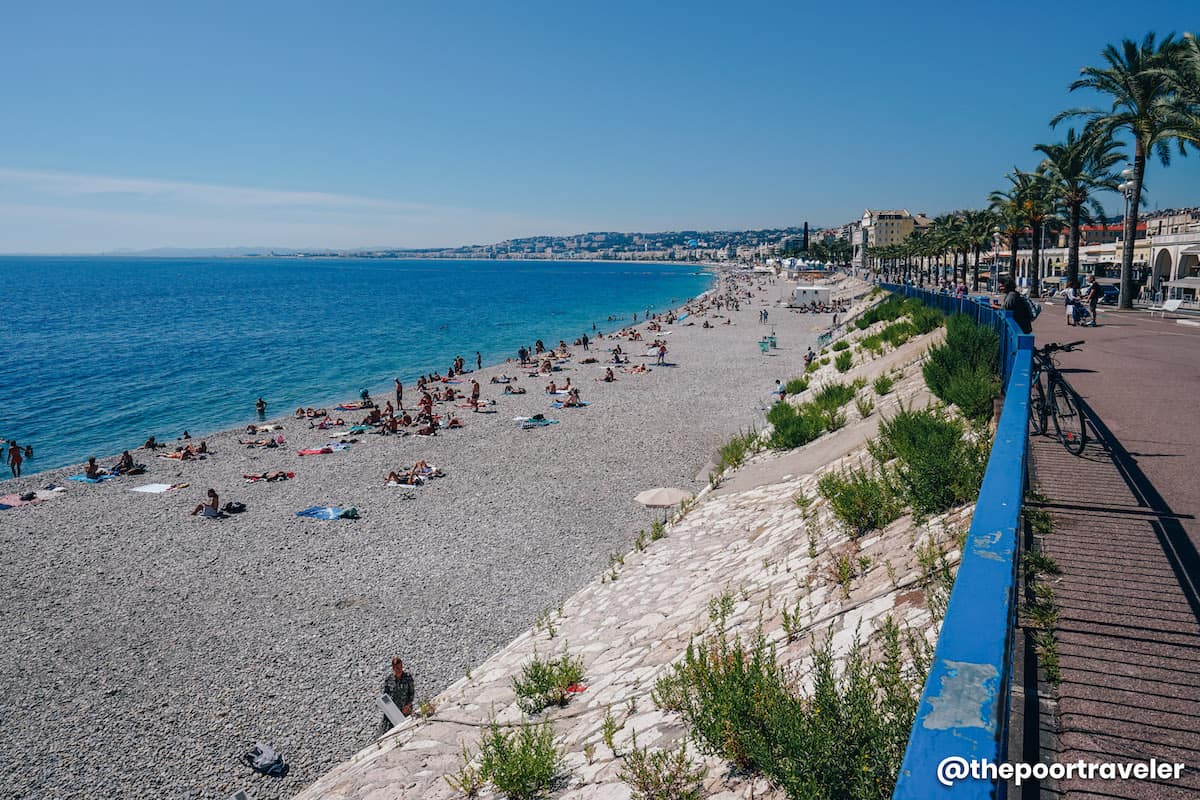 Nice is best known for its coast. Although it is not strewn with fine sand, this pebbly strip has been the favorite relaxing ground for Europeans for centuries. Even today, the beach remains as popular as ever, with tourists having a swim, sun-bathing, or simply lounging.
The stretch is divided into several beaches, some public and some private. At private beaches, you can rent a lounge chair for around 20€ per day.
For a list of beaches in Nice, check out this page by Nice Tourism.
---
Promenade des Anglais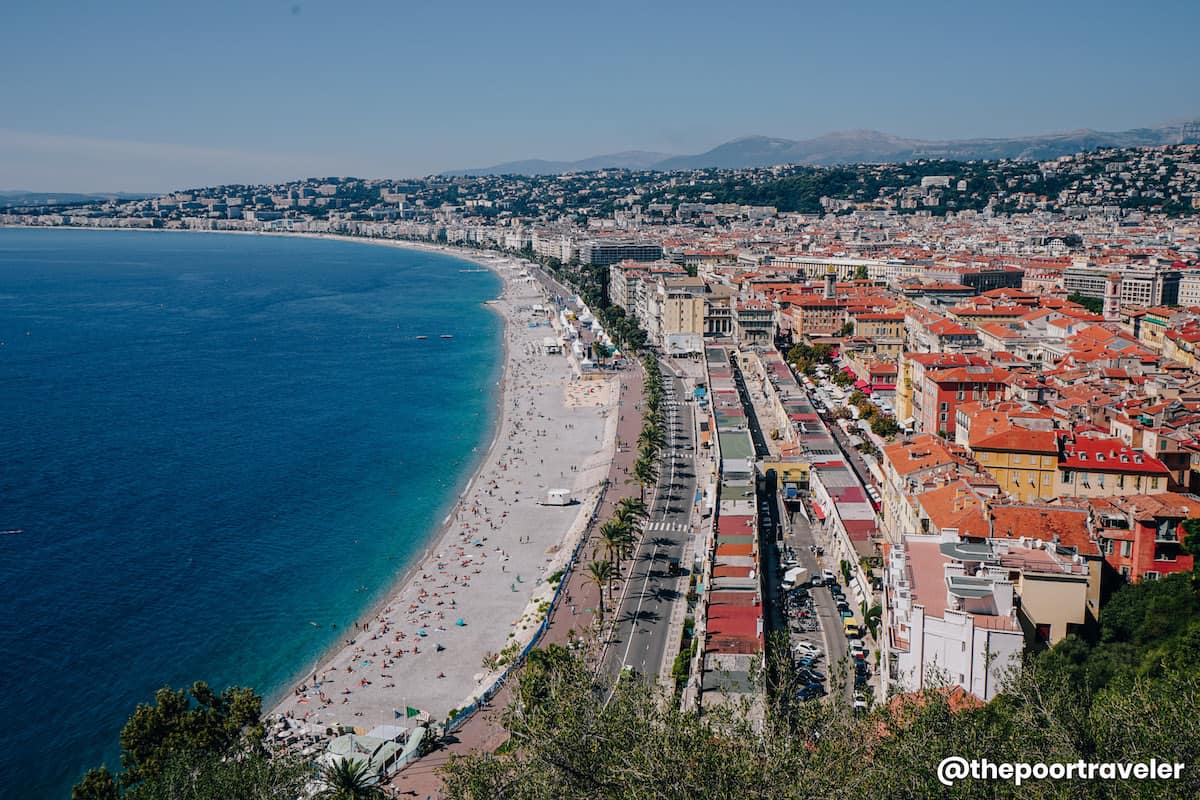 The Promenade des Anglais is a beachfront walkway hemming the coast of Nice. The name literally means the "Walkway of the English" because it was the English who funded its construction. In the 18th century, Nice was a favorite getaway among English nobles escaping the winter cold.
---
Neuf Lignes Obliques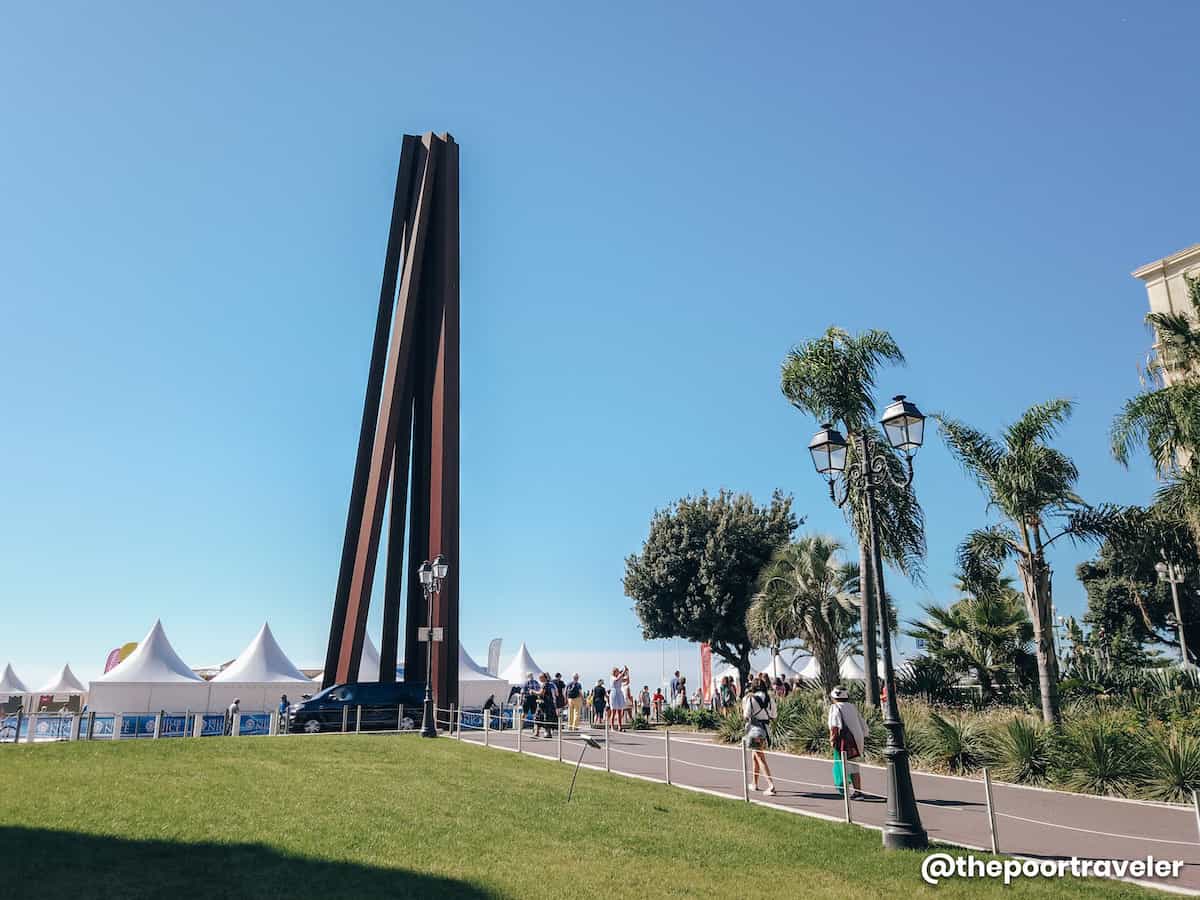 Nice has been a part of France for only 150 years! It used to belong to the Kingdom of Piedmont-Sardinia until it rejoined France in 1860. To commemorate the 150th anniverary of the annexation, the Neuf Lignes Obliques was erected in 2010. It is a massive steel monument made of nine 30-meter beams joining together at the top. Neuf Lignes translates to "nine lines".
---
Castle Hill Park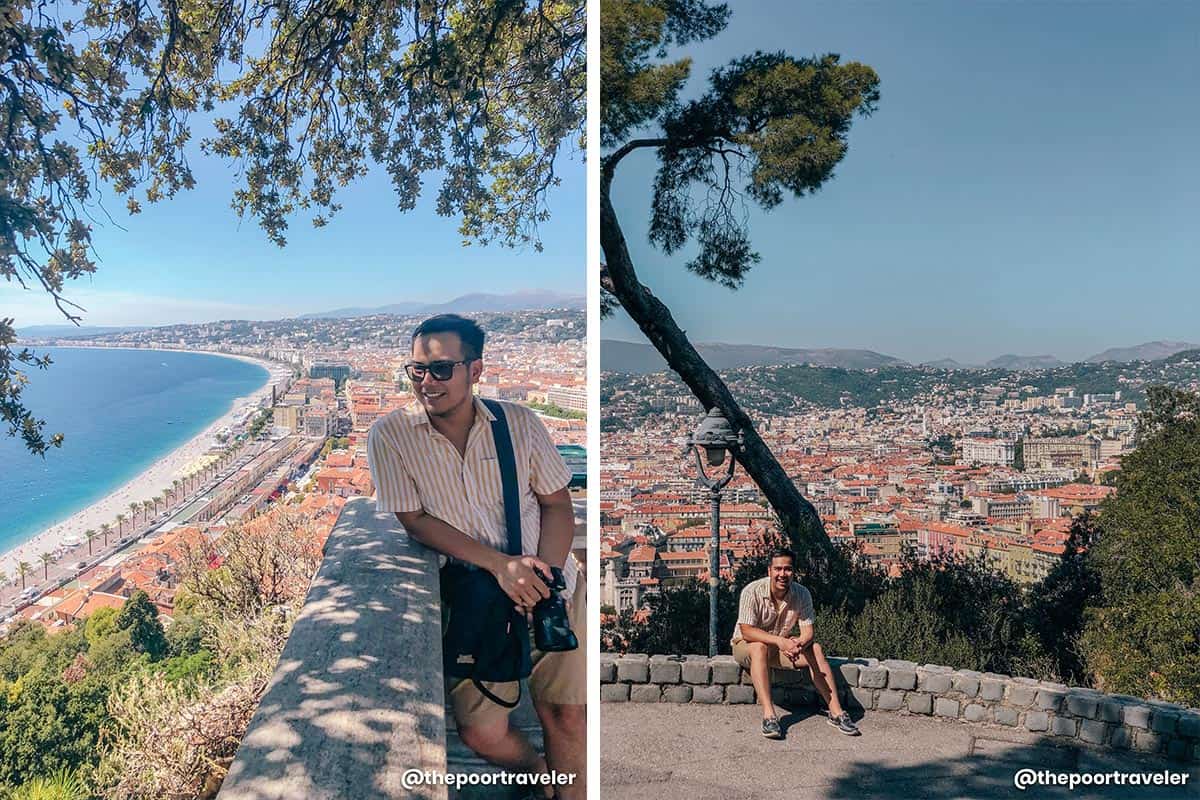 When you think of Nice, the first image to pop up in your head is probably that of the beach stretching to the horizon splitting the view into two: the cerulean waters of the Mediterranean on the left and the red-tiled roofs of the Old Town on the right. If you want to enjoy and capture that breathtaking view, climb to the top of the Castle Hill.
This used to be crowned with the Castle of Nice but it was destroyed by the forces of Louis XIV in 1706. Today, it is a public park where you can enjoy the best view of the city. You can also bring some snacks — perhaps some fruits you bought at Cours Saleya — and have an afternoon picnic.
Most tourists take the flights of stairs to the top. But if for whatever reason you can't climb on foot or you're feeling a bit lazy, there is a FREE elevator. You'll find it hidden at the end of the tunnel. The entrance is on your left-hand side if you're facing the hill with your back towards the sea.
---
Quai Rauba Capeu
Skirting the foot of the Castle Hill is Quai Rauba Capeu. Connecting the Promenade des Anglais and Quai Lunel, it juts out to the sea, offering a good view of the cerulean Mediterranean waters. Part of it faces west, so you can also enjoy watching the promenade against the golden sunset in the background. You'll also find a war memorial honoring the 4000 locals who sacrificed their lives in the world wars.
---
Port Lympia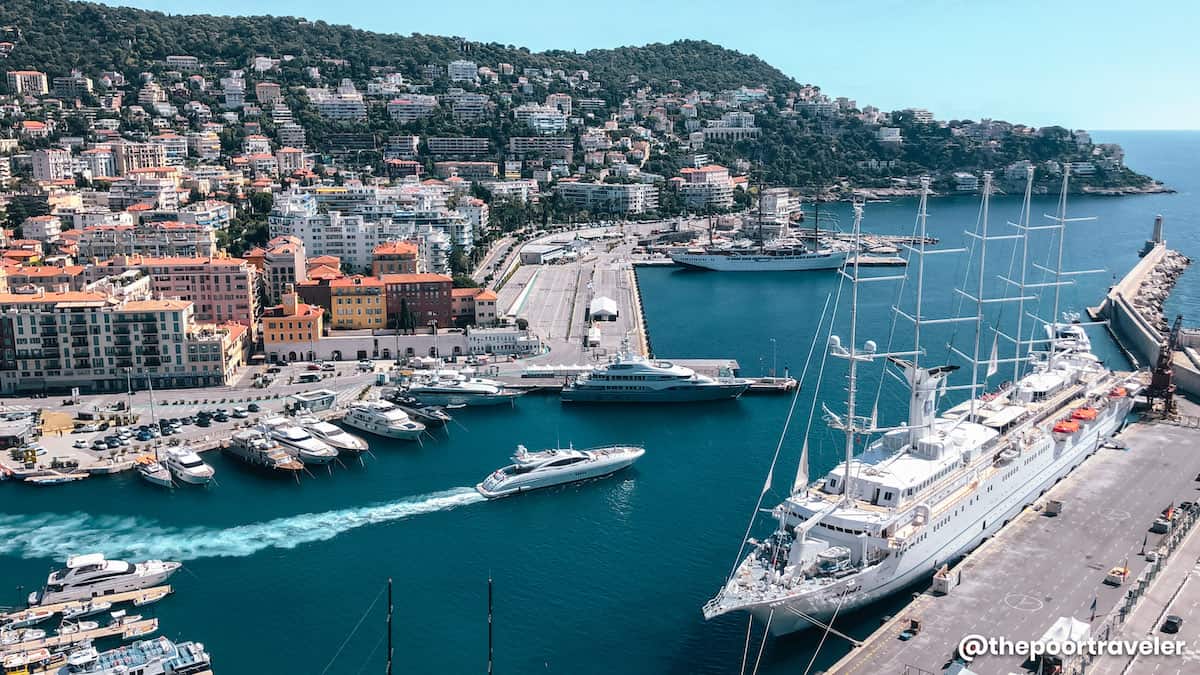 On the other side of Castle Hill lies Port Lympia, the city's main port area. While most tourists come here to catch a boat or the Bus 100 (I'll explain this bus later), it is an incredibly picturesque area too with colorful buildings lining the horseshoe-shaped port.
---
FRENCH RIVIERA TOURS
Nice is a compelling city on its own, but what makes it even more appealing is that it also serves as the jumpoff point to other destinations in the French Riviera like Monaco, Antibes, Villefranche-sur-Mer, or Cannes.
It is possible to go around by taking the public transportation. The bus and the train can take you effortlessly. If you wish to take the train, You can also join a group tour.
By Bus. The TAM (Transport Alpes-Maritimes) operates intercity buses within the region, from Cannes to Menton. The most popular bus route is the Bus 100, which can take you from Nice to Villefranche-sur-Mer to Monaco to Menton. The journey is considered one of the most scenic bus rides in the world. See schedule here!
By Train. The TER Provence-Alpes-Côte d'Azur can take you to other cities and villages in the region. The main station is the Gare de Nice-Ville. Fares are 1.90€ for Villefranche, 4.10€ for Monaco, 4.80€ for Antibes, 5.50€ for Menton, and 7.20€ for Cannes. Check schedule here!
Here are some of your other options.
---
Monaco Tour
The second smallest country in the world, the Principality of Monaco is an independent microstate on the Riviera, but it's easily accessible from Nice. It is best known for the Formula One Grand Prix, the Casino Monte Carlo, and one of the most spectacular night views in the world.
Other attractions include the Palais du Prince, Jardin Exotique, and Larvotto Beach. It's also a tax haven (no income taxes for residents).
How to get to Monaco: You can take the scenic Bus 100. Fare: 1.50€. Travel time: 45 minutes. Alternatively, you may take the train from Gare de Nice-Ville. Fare: 4.10€. Travel time: 20 minutes.
For a better appreciation of Monaco, we recommend joining a guided tour instead. The tour starts at Gare de Nice-Ville, where you'll meet the guide who will lead you by train to Monte Carlo. The guide will take you around Monaco, sharing information about each attraction along the way. You can book this tour on Klook.
✅ RESERVE A SLOT HERE!
---
Coastal Tour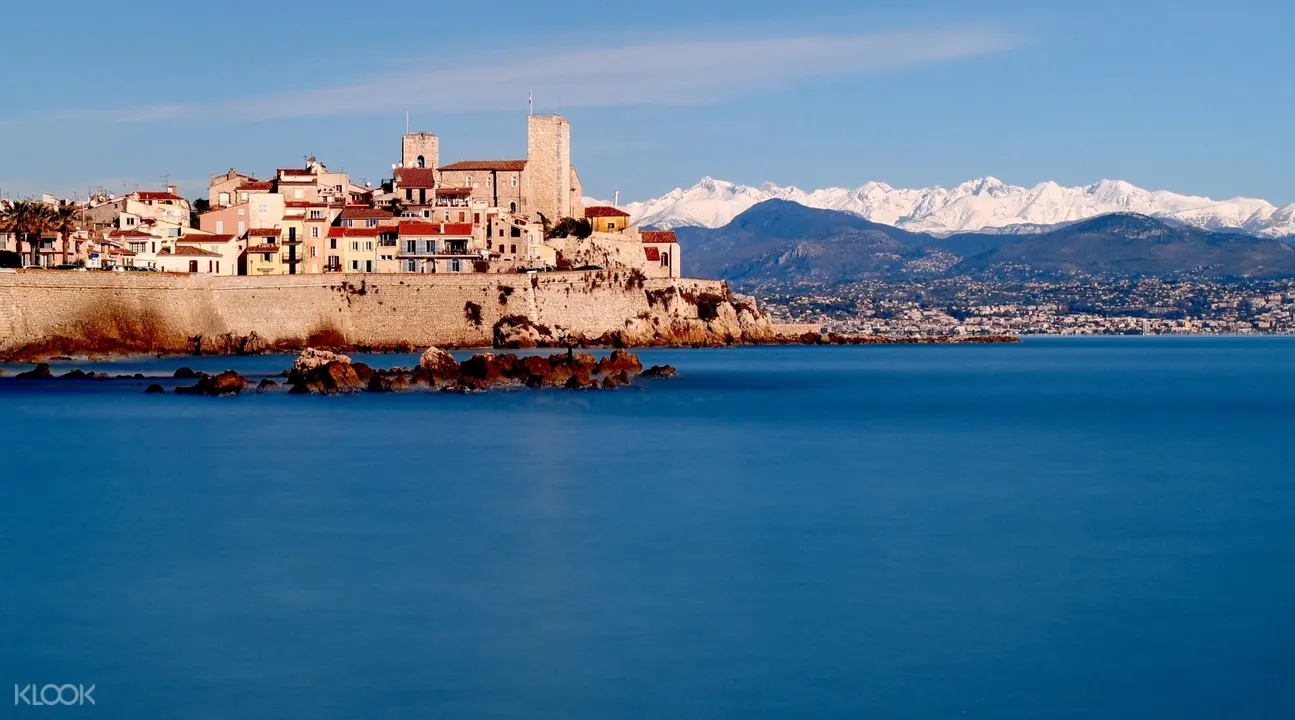 Tourists make their way to this part of France because of its white shores and turquoise waters. This trip goes to well-known destinations like Mont Boron, Villefranche, Monaco, and Cannes.
The tour also covers a stop at Eze Village where you'll learn about the perfume and cosmetics industry of the country.
✅ RESERVE A SLOT HERE!
---
Countryside Tour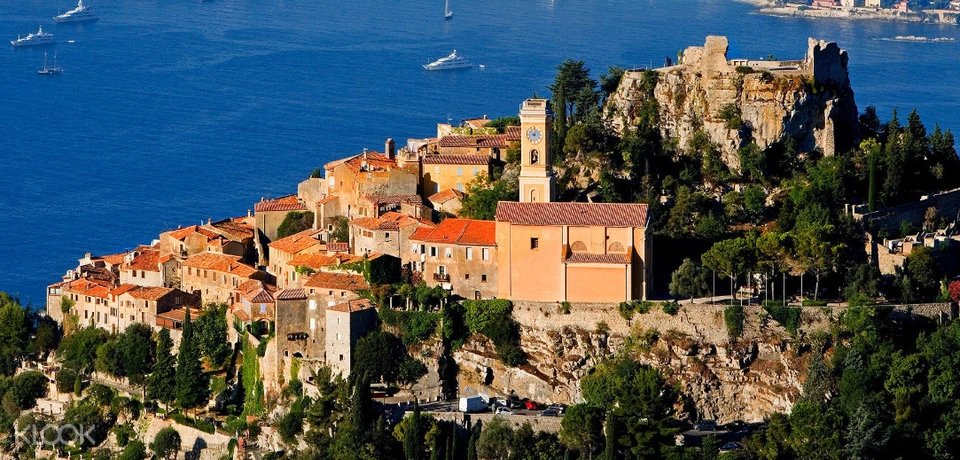 You can also go on a day tour to see the beautiful countryside of Alpes-Maritimes. This excursion allows you to see the natural and man-made beauty of this region. See Saut Du Loup, a fetching waterfall before heading to Gourdon, Mougins and Tourettes-su-Loup to see old world architecture. These villages are like time warps providing a glimpse of a bygone era.
✅ RESERVE A SLOT HERE!
---
NICE FOOD TRIP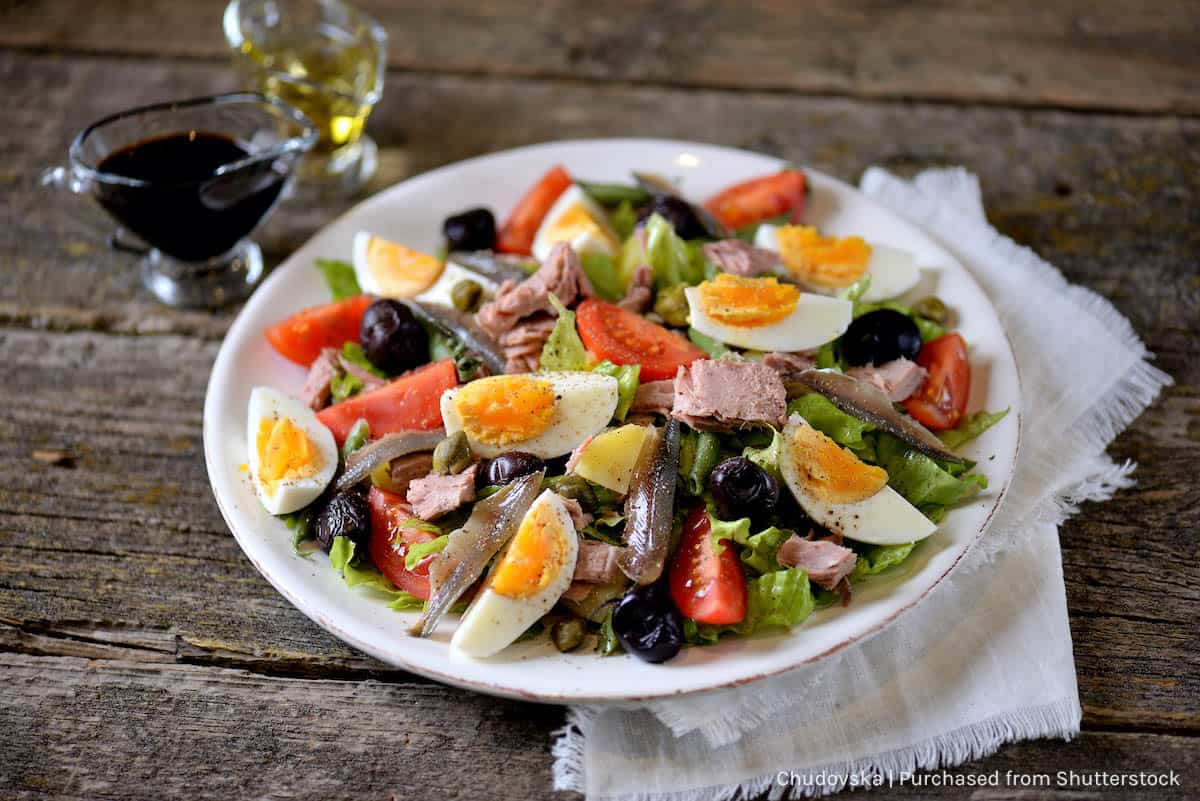 France, in general, is widely known for its gastronomy. But if you think you've seen and tasted French food in Paris, you shouldn't pass up an opportunity to pig out in Nice. It's far from the usual French food that you see in other cities.
Thanks to the complicated history of this region, Niçoise cuisine is unique and eclectic. It takes advantage of the abundance of fresh, quality ingredients with a sprinkle of Italian influence.
Local Restaurants in Nice
When choosing a place to eat, look for the "Cuisine Nissarde" sign. This label is awarded to restaurants that serve quality Niçoise specialties and provide warm service.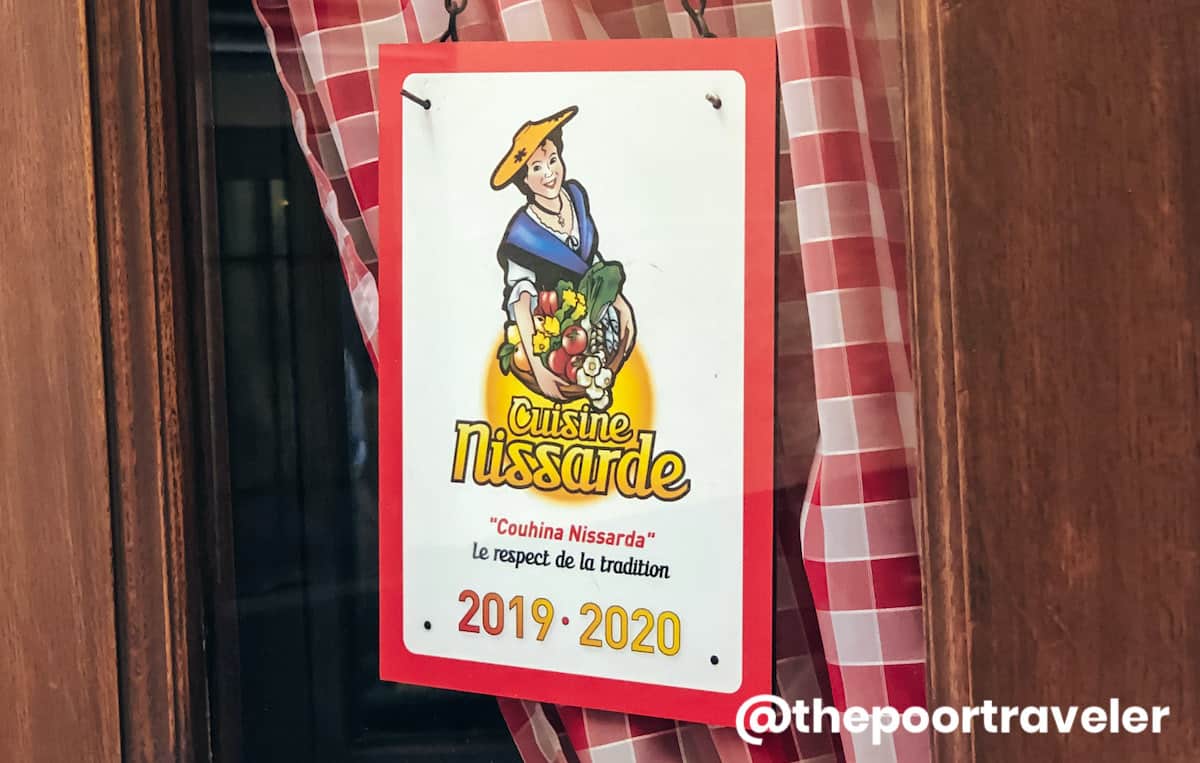 Some of the dishes you should give a try are:
Salade Niçoise, composed of mesclun (a mix of fresh, young greens like arugula lettuces and chevril), black olives, tuna, anchovies, hard-boiled eggs, and olive oil.
La Daube Niçoise, beef slowly stewed with cremini mushrooms, cayenne pepper, and brandy.
Les Petits Farcis (also called farçis Niçois), veggies stuffed with ground meat then baked.
Ratatouille, layered stew of vegetables like zucchini and eggplant, which originated in Nice!
---
Street Food in Nice
If you're in a hurry or just up for a quick bite, grab a local snack. Here are some options:
Socca, a type of thin pancake made from chickpea flour.
Pissaladière, a pizza-like treat made of bread dough topped with onions, black olives, and anchovies.
Pan bagnat, which is, in a nutshell, salade Niçoise as a sandwich.
---
Ice Cream in Nice
When touring Nice gets too hot to handle, treat yourself to a scoop of gelato! As the most visited summer destination in France, Nice has several ice cream shops. Two of the most popular are Gelateria Azzurro and Fenocchio. They offer a variety of both tried-and-tested and unusual regional flavors like lavender, black olive, tomato, and thyme!
---
Nice Guided Food Tour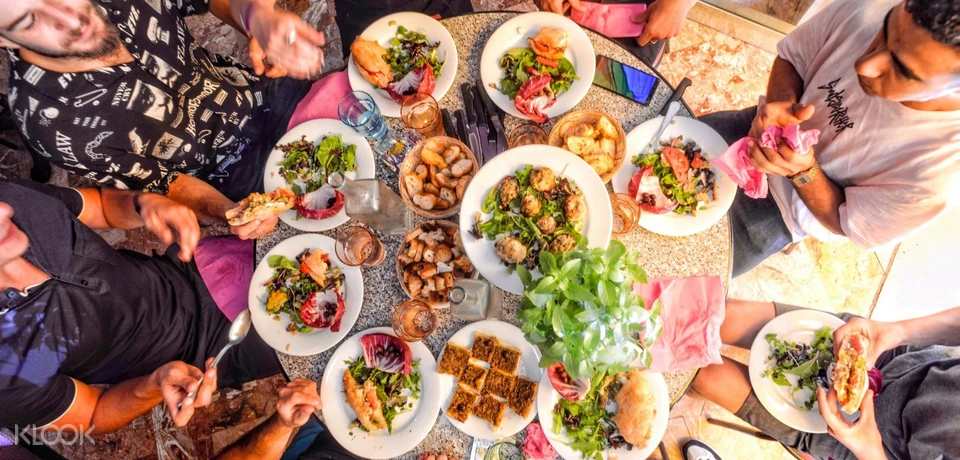 If you want to learn more about each dish — how they are prepared, where they originated, and more — join a guided food tour! The food tour on Klook features pan bagnat, socca, farçis niçois, and pissaladière. You also get to try artisanal macarons and gelato (Italian ice cream).
✅ RESERVE A SLOT HERE!
---
OTHER ATTRACTIONS
Villa Kerylos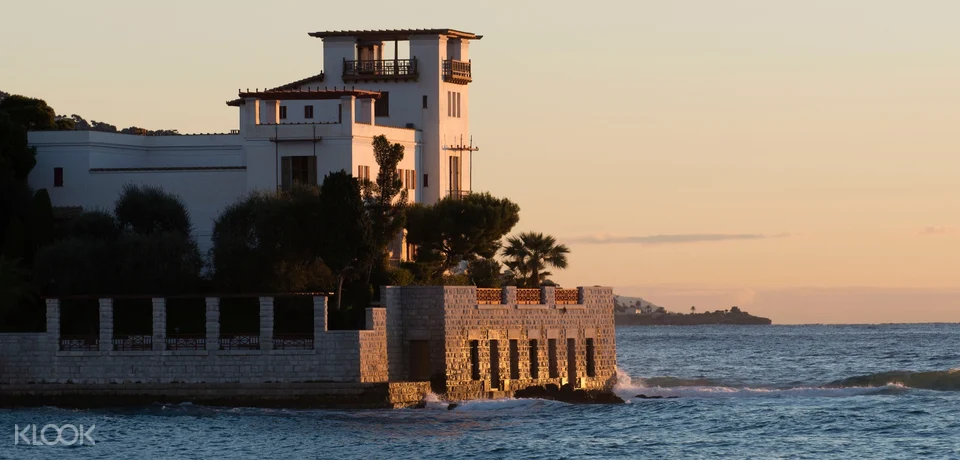 This beautiful Greek villa in Beaulieu-sur-Mer (near Villefranche) is . Theodore Reinach had this Greek-inspired destination built around a century or so ago. Explore the lavish villa to see how the rich lived before. Its location near the ocean provides videos with plenty of opportunities to take pictures of the gorgeous views. Book a tour with Klook to skip the lines.
✅ RESERVE A SKIP-THE-LINE TICKET HERE!
---
Avenue Jean Medecin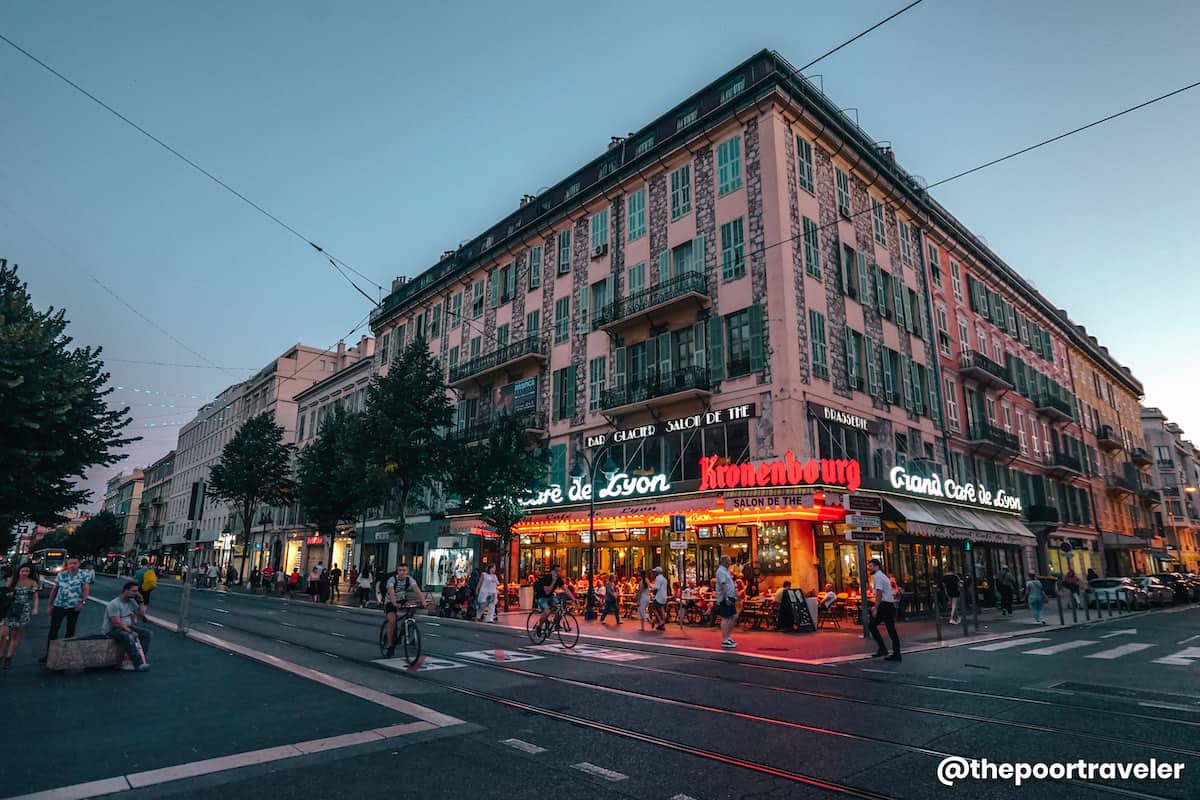 This avenue runs from the railway (a short walk from the main railway station) to Place Massena (at the entrance to the Old Town). As Nice's primary shopping street, it is flanked by dozens of restaurants, bars, and stores!
---
Basilica of Notre-Dame de Nice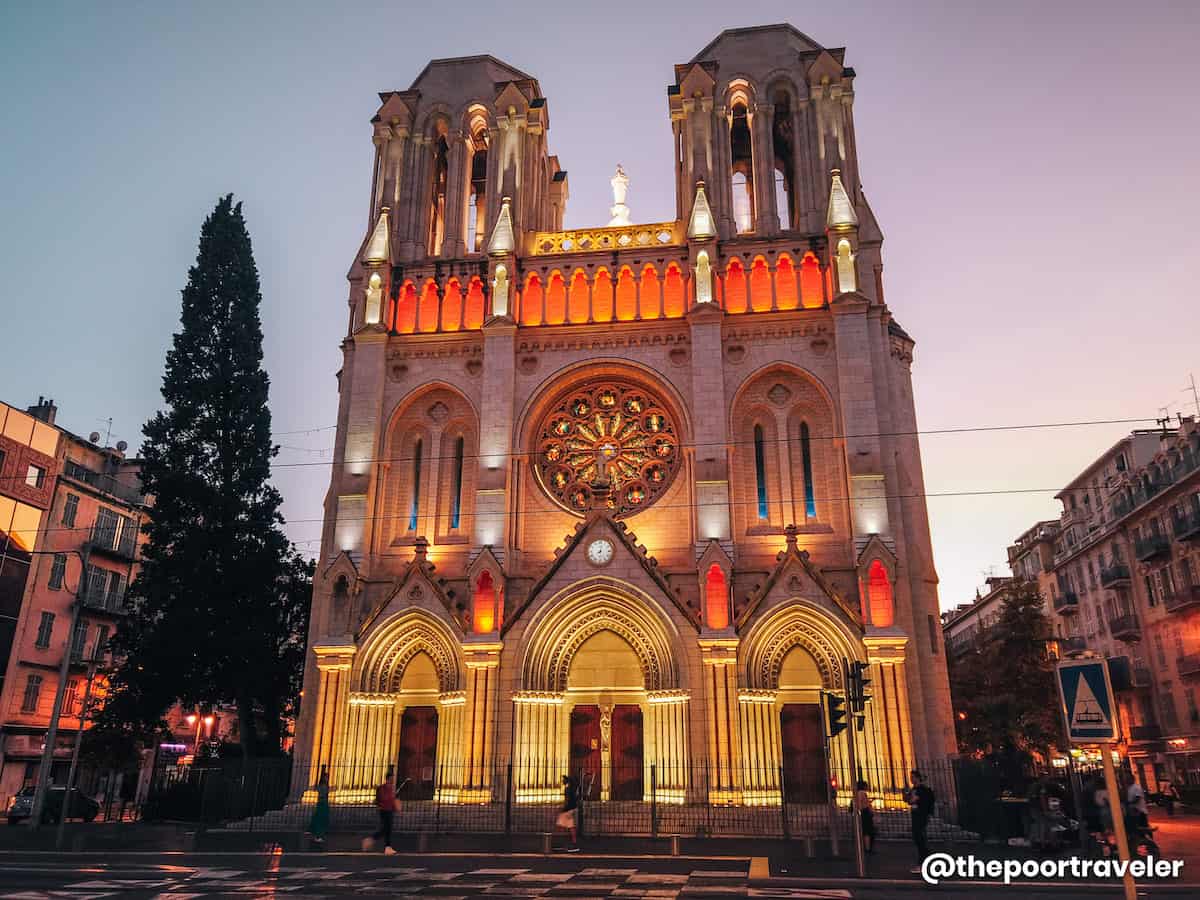 It is not the city's cathedral; that honor belongs to the Basilique-Cathédrale Sainte-Marie et Sainte-Réparate de Nice in the Old Town. But the Basilica of Notre Dame is the largest in Nice. Located along Avenue Jean Medecin, it was completed in 1868. The design is Gothic, very similar to Angers Cathedral and even the Notre Dame in Paris.
---
Parc Phoenix
Covering 7 hectares, this sprawling botanical garden lies in the l'Arenas district in the southwestern corner of the city. Its gardens and greenhouse, one of the largest in Europe, feature over 2500 species of plants. Its lake is home to a hundred swans and ducks. It's a great place for a change of scenery and a breath of fresh air.
---
Biking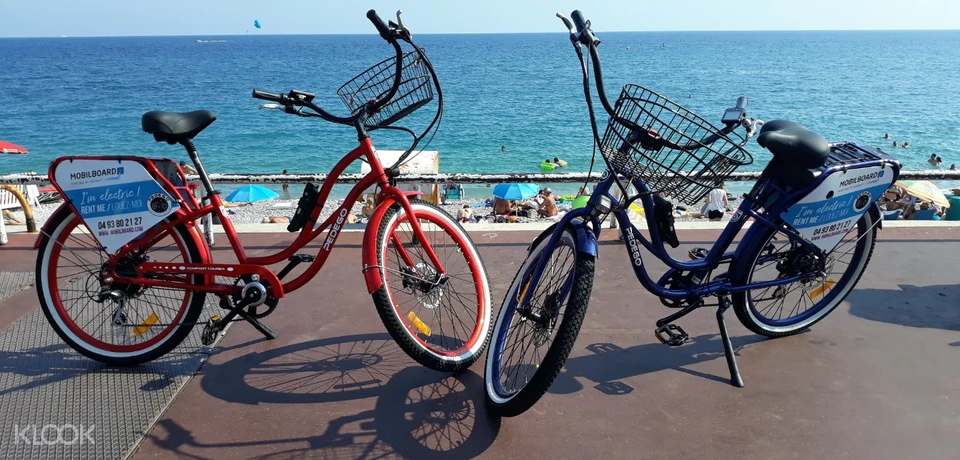 You can rent a regular bike or an e-bike. There are multiple bike lanes that allow you to weave in and out of the beautiful alleys and buildings of Nice. Experience the fetching squares and boulevards on two wheels. You can rent a bike via Klook.
✅ RESERVE A BIKE HERE!
---
SAMPLE NICE ITINERARY
Below is a sample Nice itinerary that you may use as a model in building your own. Feel free to make changes as you see fit.
DAY 1 – ARRIVAL, JEAN MEDECIN
01:35 pm – Arrival at Nice Airport/Station
02:19 pm – Tram to Jean Medecin, 1.50€
02:50 pm – Walk to hotel
03:10 pm – Hotel check-in, rest
05:00 pm – Explore Avenue Jean Medecin
07:00 pm – Dinner, 15€
09:00 pm – Back to hotel
DAY 2 – NICE TOUR
10:00 am – Quick brunch, 10€
10:30 am – Walk to Place Massena
11:00 am – Free Walking Tour
– Tip tour guide, 5-7€
– Buy snacks at market, 7€
02:00 pm – Chill at Castle Hill Park
03:30 pm – Walk along Promenade des Anglais
05:00 pm – Buy gelato from Azzurro/Fenocchio, 5€
05:30 pm – Explore other parts of Old Town
07:30 pm – Dinner, 20€
09:00 pm – Walk back to hotel
DAY 3 – FRENCH RIVIERA TOUR
08:30 am – Hotel pick-up
09:00 am – Start French Riviera Tour, 103€, Book here!

– Lunch, 15€
06:00 pm – Back to Nice
07:00 pm – Dinner, 20€
08:30 pm – Back to hotel
DAY 4 – DEPARTURE
08:30 am – Pack up
10:30 am – Early check out, leave bags
11:00 am – Early lunch, 10€
12:00 pm – Leave for airport/train station, 1.50€
---
Top Budget Hotels
Here are the top budget hotels in Nice, as ranked by Agoda customers:
---
---
2020 • 8 • 12