Is Europe expensive to visit? YES. At the very least, the greater part of it is, especially by Southeast Asian standards. But it doesn't mean that there are no ways to reduce travel costs.
When most people think of Europe travel, they picture full-service flights, pricey hotels, restaurant stops for every meal, and pre-arranged packaged tours. For the longest time, I used to think that way, too. But the truth is, the travel landscape has changed so much over the past few decades that generally expensive destinations like Europe can be enjoyed even by budget travelers.
Backpacking has been around for ages, but thanks to social media, more and more are becoming familiar with it. A shoe-string traveler can easily book a hostel dorm bed, prepare their own meals, join a free walking tour, and still have a full experience.
As of this writing, we have visited 28 countries in Europe. And whenever we're backpacking across the subcontinent, we always get countless questions from our friends and followers about how we manage maximizing our stay while keeping our expenses low. We'll try to answer all these questions. It's going to be a pretty lengthy post, so without further ado, here we go.
WHAT'S COVERED IN THIS GUIDE?
BEFORE YOUR TRIP
1. What countries in Europe are ideal for budget travelers?
Not all countries in Europe are equal. It is incredibly diverse in terms of culture, socio-politics, and most especially, cost of living. Tourists moving from one country to another can feel it right away. Some are more expensive than others.
Nordic countries like Norway, Iceland, Sweden and Denmark are generally considered expensive. Switzerland, too. Many in the central and eastern regions, including Ukraine, Bulgaria, Romania, Czechia, and Poland, are very affordable. Western and southern states like France and Italy are in the middle of the price spectrum.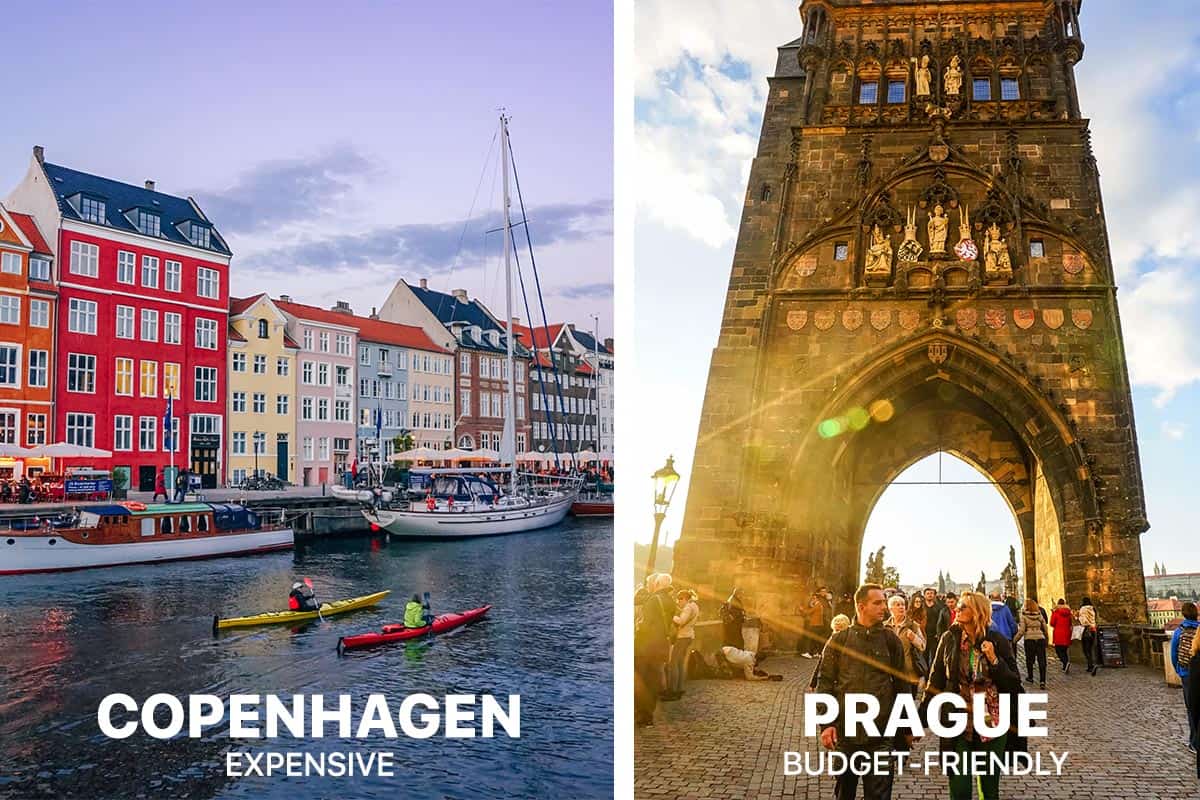 To give you a better grasp of it, let's use something that many consider a reliable tool in comparing costs — McDonald's Big Mac. The world's most expensive Big Mac can be found in Switzerland, where it costs roughly US$6.70. Compare that to the Ukraine, where you need to shell out only US$1.70 for the same burger. That's almost 4x cheaper.
If you're on a tight budget, limit your stay or try to avoid expensive countries and fill your itinerary with cheaper destinations. What I usually do when planning a long multi-country trip is to mix them all up. When I plot my route and I want to visit an expensive country, I try to balance things out by adding more pocket-friendly destinations.
---
2. When is the best time to travel to Europe?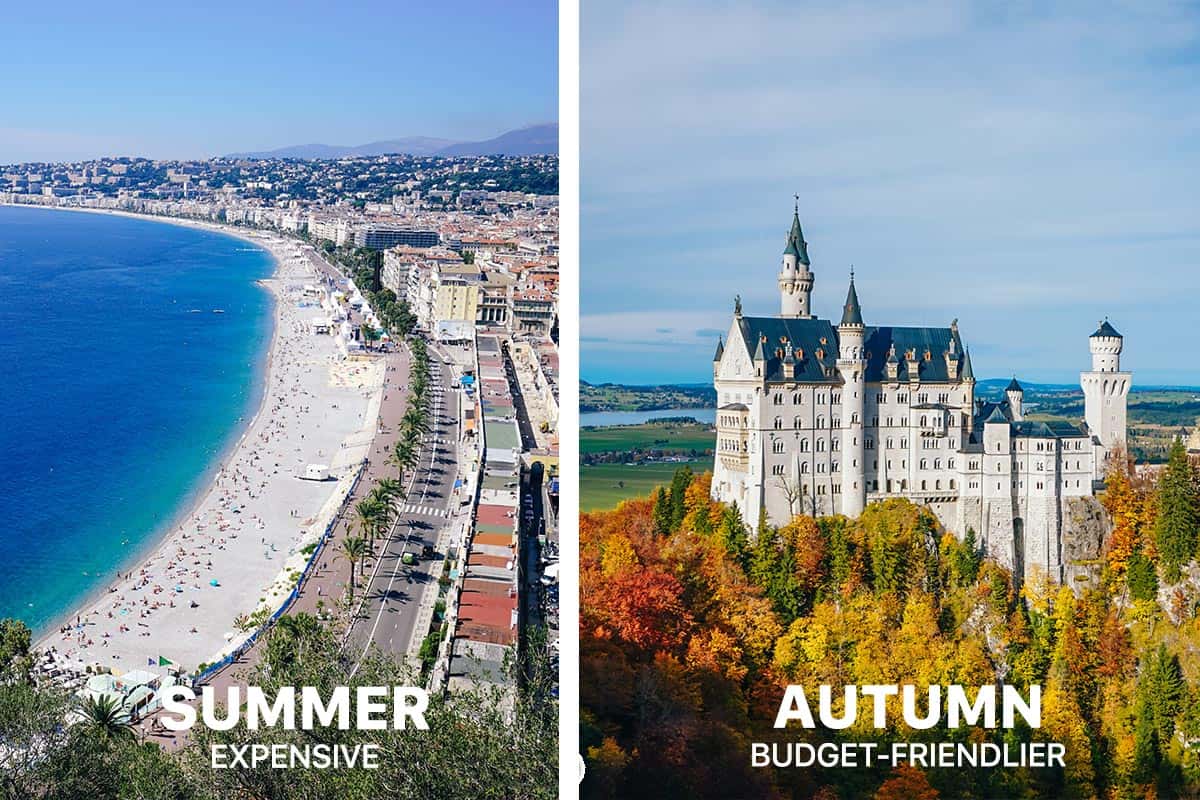 So far, we have experienced traveling around Europe in summer, winter, and autumn.
Autumn. For us, the most ideal time to travel is the shoulder months of September-November. The prices are not that high and it's not as crowded, but the weather is still relatively pleasant.
Summer. The summer months of June-August are considered high season (peak season) in most parts of Europe. Because of the sunshiny skies, it is the most touristy time of the year. Hence, prices go up!
Winter. Winter is when prices significantly drop. But it can get biting cold in the northern and mountainous parts of the continent. It is also important to note that tours and public transportation options are also limited in less populated areas like Iceland and the Greek Isles.
But the weather isn't the only thing you need to take into account. Is there any event you would like to experience but can only be enjoyed at certain times of the year? If you would like to experience Oktoberfest, go to Munich in mid-September (but expect the hotel and tour rates to skyrocket)! If you want to see the Northern Lights in the Nordic countries, visit between mid-September to mid-March.
---
3. How to apply for a visa?
The most popular countries in Europe are part of the Schengen agreement, which means you will need a Schengen Visa to get in.
The Schengen Visa is a travel document that allows the holder to enter any of the 26 states that are part of the Schengen agreement. Think of it as an almost all-access pass to many countries in Europe. Once you're within the zone, there are no hard borders between countries (except in few spots), eliminating the hassle of having to apply for a visa for each individual country. These are the countries who are part of the Schengen Zone:
Austria
Belgium
Czech Republic
Denmark
Estonia
Finland
France
Germany
Greece
Hungary
Iceland
Italy
Latvia
Liechtenstein
Lithuania
Luxembourg
Malta
Netherlands
Norway
Poland
Portugal
Slovakia
Slovenia
Spain
Sweden
Switzerland
But hold your horses. You can't apply just anywhere. You need to figure out which embassy to lodge your application, and it will depend on the purpose of your trip or your overall European itinerary. The rule is, you should apply at the embassy of the country where you will stay the longest.
But not all embassies are the same. The Spanish and Italian embassies are widely regarded as the strictest of them all, while the Dutch and Austrian Embassies the most considerate and forgiving.
We have experienced applying for a Schengen visa at the following embassies:
If you're visiting countries outside Schengen zone, make sure you have the corresponding visa. Countries that require a separate visa include (but are not limited to) the Ukraine, Russia, Belarus, Ireland, and the United Kingdom.
Some non-Schengen countries will accept your Schengen visa as long as it is still valid and allows you multiple entry. These include Croatia, Montenegro, Andorra, Serbia, Bosnia and Herzegovina, Albania, North Macedonia, Bulgaria, and Romania. Always check with the embassy of that country to be safe.
---
4. Where to book cheap flights to Europe?
Direct flights are usually expensive. Most airlines make a stop elsewhere. Qatar Airways usually have a stop in Doha, Emirates in Dubai, Turkish Airlines in Istanbul.
Some of the cheapest flights to Europe you will find are offered by Scoot, a Singapore-based budget airline. They have direct flights from Singapore to Athens and Berlin.
If you're coming from the Philippines or other parts of Southeast Asia, you can book with Value Alliance, an alliance of low-cost carriers in the region including Cebu Pacific Air, Jeju Air, Nok Air, NokScoot, and Scoot!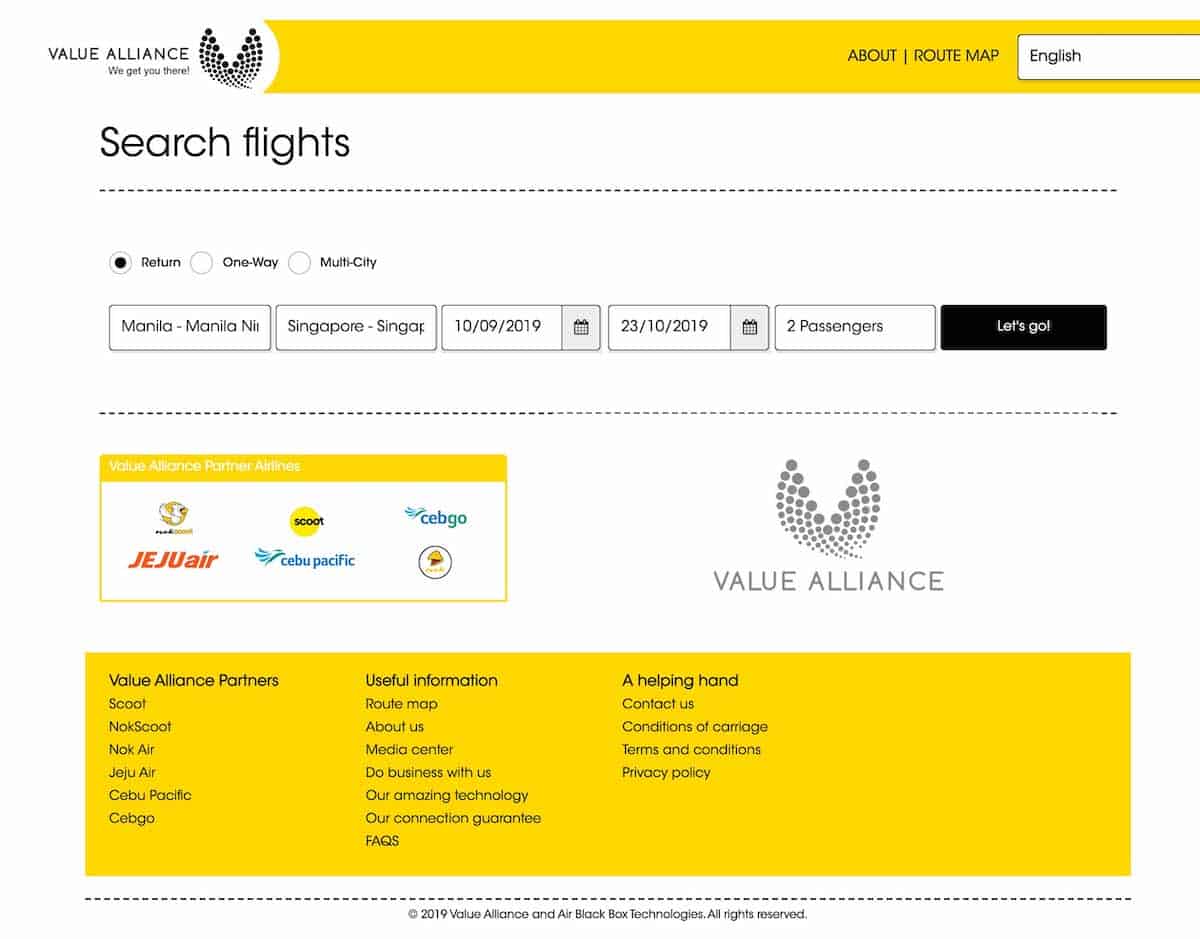 ✅ SEARCH FOR CHEAP FLIGHTS TO ATHENS HERE!
This section is brought to you by Value Alliance, but even if it weren't, they still offer the cheapest flights to Europe, so consider taking a look.
---
WHERE TO STAY
5. What are budget-friendly lodging options in Europe?
When it comes to where to stay, most tourists think of full-service hotels. But there are a lot of other types of accommodations available. There are no-frills hotels, hostels, dorms, and AirBnB options!
At this point, you should already know if you're traveling alone or part of a group. This will affect your expenses and accommodation choices significantly.
If you're traveling alone and you're concerned about the budget, consider booking dorm beds. It's waaay cheaper than booking a private room. (Even single rooms can be pricey.) It's also a great way to meet other travelers and make new friends. We used to book dorm beds a lot but we now snore scandalously (LOL) so we stay in a private room.
If you're a pair, you may consider booking two dorm beds or a private room, depends on the situation. If you're a duo wanting to meet people, the dorm is still a good choice. If you're a couple on a romantic getaway or a honeymoon, my god, please get a private room (haha!). Note, though, that in many hostels, the bedrooms may be private but the toilet and bath are sometimes shared. Check the arrangement before booking.
If you're a group of three, know that Triple Rooms are not uncommon in Europe. You may also check their policy on extra person on Double/Twin rooms. It's a great way to save!
The cost of a room or a bed also varies greatly from city to city. For example, in Prague, we stayed in a centrally-located hotel for only €37 per night. That's only around €18 per person. But in Reykjavik, even dorm beds are much more expensive.
---
6. Which is the best: hotel, hostel or apartment (AirBnB)?
What's best for you depends on your travel style and preferences.
I personally prefer hostels because we enjoy the community spirit and meeting other travelers. But at the end of the day, our primary considerations are the price, cleanliness and location more than the type of accommodation. If we find a well-reviewed, budget-friendly, and centrally located property, we will book it regardless of whether it's a hostel, hotel or apartment.
To demonstrate it, on our recent Euro trip, we stayed at a budget hotel in Nice, a hostel in Milan, an apartment in Bologna. On our previous trip, we stayed at a budget hotel in Paris, a hostel in Brussels, and an AirBnB in Iceland. The best for us is what's in a great location and what amenities they have that fills our specific needs at the time, which I will discuss in the next section.
---
7. Where do you book cheap hotels, hostels or apartments in Europe?
We book accommodations on Agoda or Booking.com.
Our reasons:
They offer all types of accommodations. They have hotels, hostels, inns, dorms and apartments. It's just easier to search and compare.
They offer discounts and freebies. Sometimes, Booking.com also gifts loyal customers FREE airport transfers. We have been awarded free taxi from the airport four times. I don't know what their criteria are, but hey, we're just happy about it. Hahaha.
If you have yet to secure a visa, Booking.com offers FREE CANCELLATION with many properties.
We're also part of their affiliate network! By booking with them through the following links, you'll help keep this website FREE for all.
---
---
8. How do you choose where to stay in Europe?
Aside from the price, our primary consideration is the location. We also take into consideration the amenities.
Great location. You'll learn that most cheap properties are situated outside the city center and they're very tempting. But for us, if we can find a place that is in the old town or city center, we would pick that even if it's a little bit pricier. Staying in the center means you have easy access to the main attractions and transportation. If we know we're going to take the train or bus a lot, we ensure our hostel is near a station. If you stay far from the center, you also have to consider the money and time it takes to get to the places you want to visit. These fares may be little but they can add up, and you might still end up paying more than if you stayed in the center.
Kitchen amenities. If you're traveling long term, eating out at restaurants for every single meal will cost you loads of money. You'll save a lot by preparing your own meal or joining forces with other travelers every now and then. We like eating out at local restaurants but not for every meal. We balance it out by hitting the kitchen sometimes. Other hostels also share other ingredients left by previous guests and offer them for free.
Microwave and refrigerator. If you can't find a place with an open kitchen, choose a room with a microwave and ref. This will allow you to buy cheap cooked meals, store the some of them for later, and reheat them in your room.
Laundry amenities. If we're traveling for weeks or months, we also make sure we stay at a hostel or apartment with a washing machine every other stop. This way, we don't need to hit the laundromat or pay for laundry services. This also allows us to travel light.
---
FOOD EXPENSES
9. How much is your food budget?
We keep daily FOOD expenses below €20 per person.
We're the type of travelers who enjoy eating out at restaurants to try local cuisine. You'll be surprised to learn that there are a lot of cheap restos in Europe, even in expensive cities. You just need to make an effort to find them.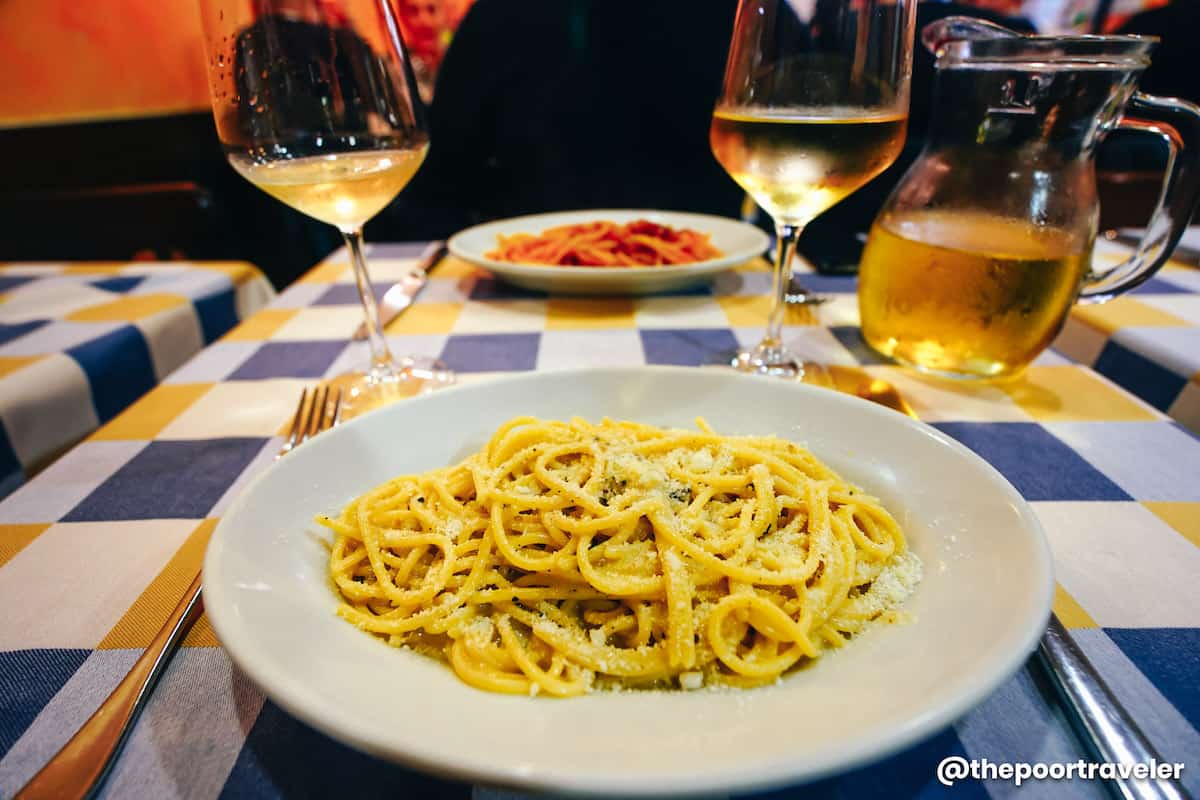 Stay away from restaurants in touristy areas. They are overpriced and cater mostly to tourists. Eat where locals eat. Sometimes all you need is walk for 2 minutes onto inner alleys and you'll find a good resto that's more pocket-friendly.
But we don't eat out at restaurants for every single meal. We give ourselves a 20-euro budget per day and we're very flexible with it. It's all about balance. For example, if I spend €13 at a restaurant for lunch, I'm left with only €7. I'll just prepare my own meal or grab a cheap takeaway for dinner. In the same way, if I decide to splurge and spend over €20 on dinner one night, I avoid restaurants altogether the next day.
---
10. How do you keep food expenses low?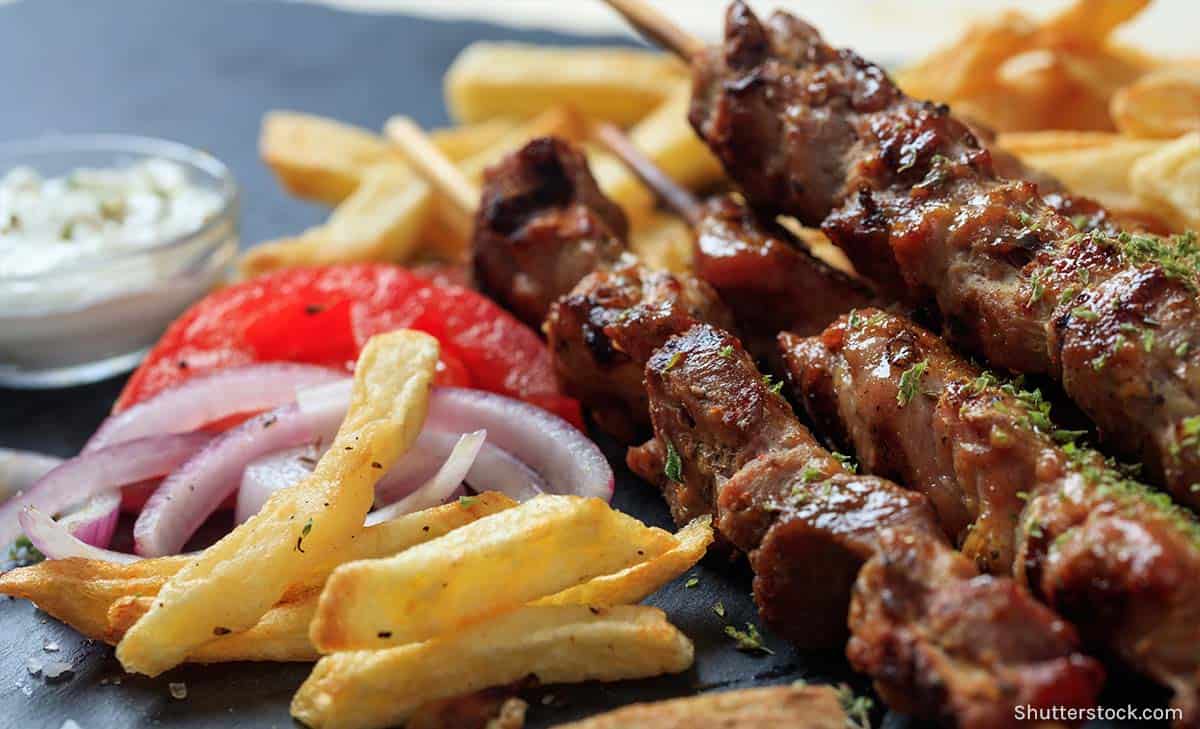 Hit the supermarket. This is the first thing we do when we arrive. A trip to the supermarket gives you a clear view of how expensive or how cheap a destination is. We immediately check the prices of drinks, fruits, and ingredients. If our hostel doesn't offer free breakfast, we also buy bread, spread, fruits from supermarkets. Your €10 here can last for days, even in expensive cities like Zurich, Copenhagen, and Reykjavik.
Be on the lookout for good street food. In Athens, a gyro costs only 2-3 euro. A gyro has bread, meat, veggies and fries. That's already a delicious, satisfying meal. In Paris, there are places where you can buy a roasted whole chicken for €5. In Krakow, you'll find cheap but filling dumplings.
Drink tap water. In many cities in Europe, tap water is potable. Check if the tap water in your destination is safe to drink, and if it is, then there's no point in buying bottled water. One time in Iceland, when we bought bottled water, the cashier told us that there was no need because tap water is potable. "I think it's just fair that you know that before you purchase this," she said. In some destinations like Zurich and Rome, you can even get safe drinking water from the many drinking fountains scattered around the city. Just bring a water bottle and refill when you see one. In most cases, it's just a matter of taste.
Don't order softdrinks or bottled beer at restaurants. Drinks are way overpriced at restaurants. If you're just going to order soda or bottled beer, buy at the supermarket or convenience store. For example, a bottle of softdrink in Dubrovnik or Split costs 25 kuna at restaurants but only 6.5 kuna at a grocery store. You can ask for tap water or order something else.
---
GETTING AROUND
11. How to travel from one European city to another on a budget?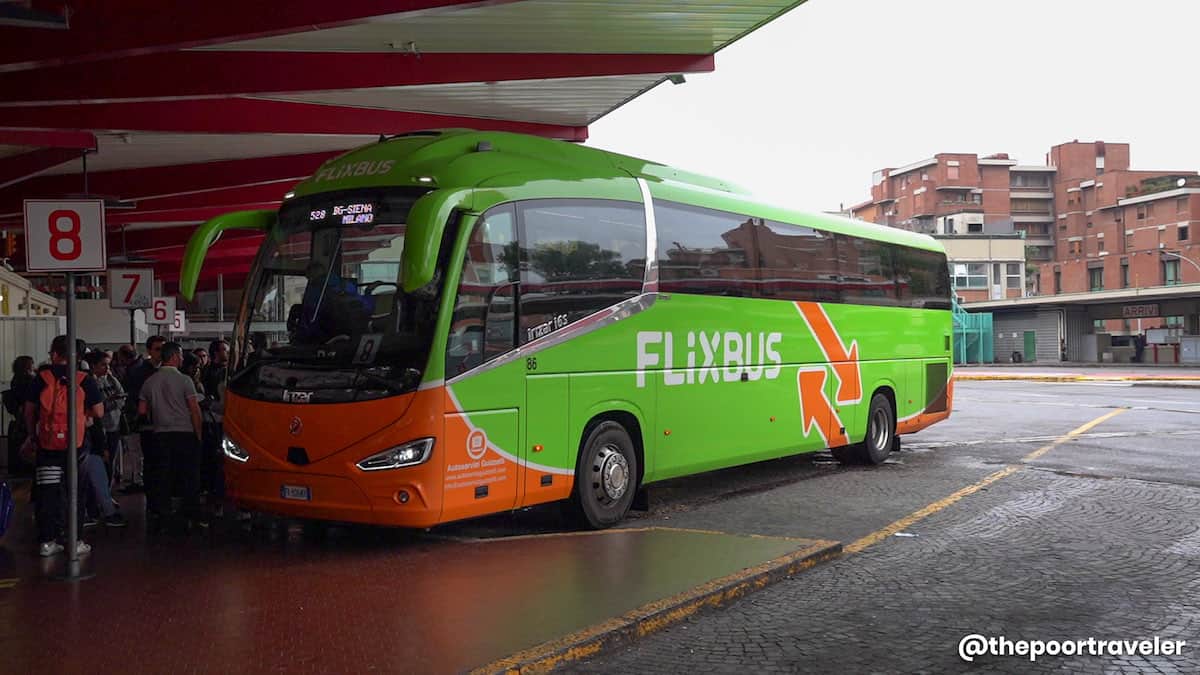 There is no blanket answer to this because it varies from destination to destination. But there are a lot of transportation options in Europe.
FlixBus. For short to medium distances, we check Flixbus first. Flixbus is a budget bus service. We have tried it in Italy, Slovenia, Croatia and Poland, and so far, it has never failed or disappointed us. The bus was always clean and on time. It operates in many countries in Europe, but not all, so you need to check first.
Train. We enjoy traveling by train around Europe. Cost of train tickets vary depending on the company operating it. In many countries like Italy or Austria, train companies employ a dynamic pricing system similar to airlines', which means that the earlier you book, the cheaper the ticket.
Cheap flights. For long distances, we choose to fly. We'll discuss this in the next section!
---
12. How to find cheap flights around Europe?
We use Skyscanner to search and compare. You'll be surprised at how cheap some flights get especially if you travel light and it's off-peak.
For example, from Athens to Santorini, you'll find a ROUNDTRIP RyanAir ticket for only €14 when it's off-season. This is without bags, so you'll need to pay more for the baggage allowance.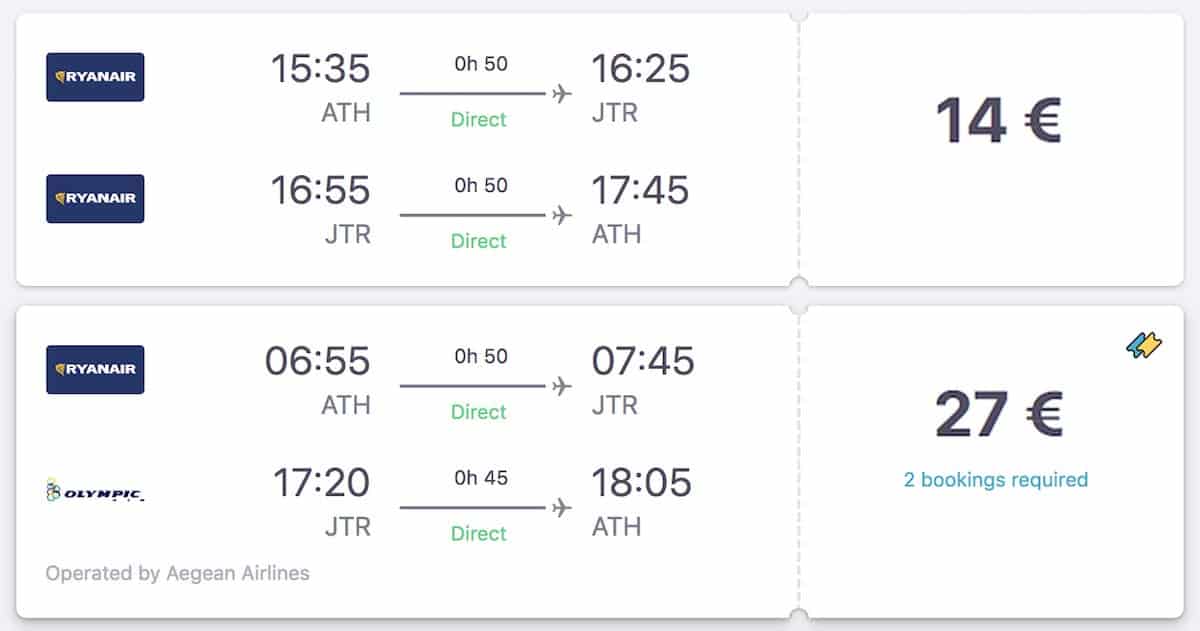 From Paris to Rome, you can find one-way basic fares for as low as €39 (P2100).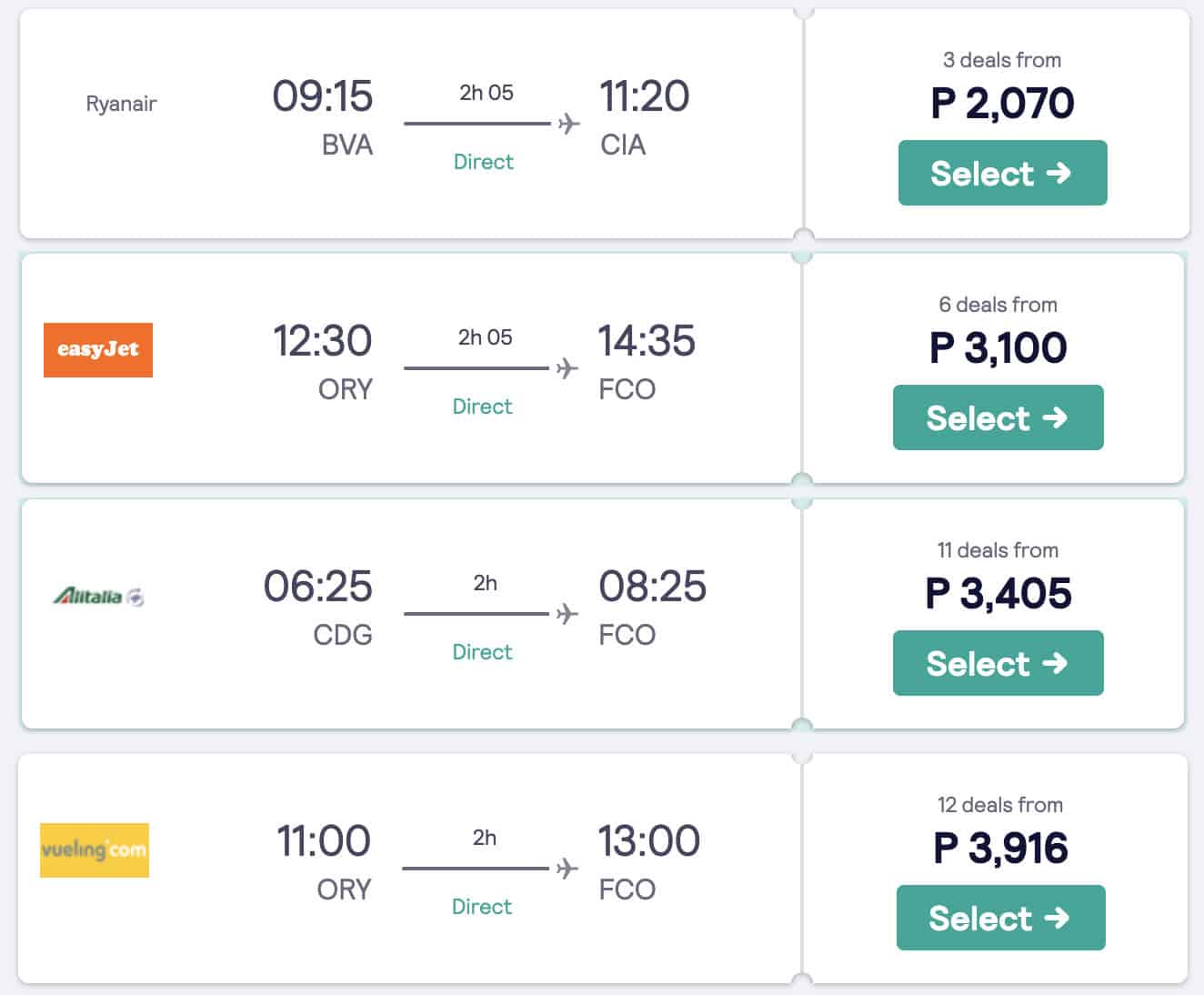 Here are some more tips:
Book in advance. When we were planning our trip, we found an Athens-Nice ticket for only P4000, but for some reason we didn't book it yet. When we finally decided to, it was already P11,000.
Travel light. Base fares are cheap. What costs more is the baggage allowance. We'll share tips on how to travel light later on in this article. (Scroll down!)
Consider other airports. Some cities are served by multiple airports. Rome has Fiumicino and Ciampino airports. Paris has 3: Charles de Gaulle, Orly and Beauvais airports. Sometimes, flights from a neighboring city are cheaper. For example, when we were trying to make our way from Krakow to Athens, we couldn't find cheap flights from Krakow airport. The cheapest was almost €200 (P11,000). But we soon found out that flights from Katowice are much cheaper. Katowice is only 2 hours from Krakow by bus. We ended up booking a Katowice-Athens flight for only €69 (P3900).
---
13. Are there activities you can enjoy for FREE?
Yes, many of the attractions in Europe can be enjoyed for FREE especially if you're only sightseeing DIY-style.
FREE ATTRACTIONS. In Paris, you can enjoy views of the Eiffel Tower for free unless you want to climb. You can also enter the Notre Dame Cathedral, Sacre Coeur Basilica, and the Pere Lachaise Cemetery for FREE. In Rome, the Pantheon, Trevi Fountain, Vittoriano and Spanish Steps are all FREE of charge. Most churches in Europe do not collect entrance fees either.
FREE ACCESS ON SELECT DATES. Some attractions can also be accessed for FREE if your timing is right. For example, in Paris, access to the Louvre is FREE on the first Sunday of every month from October to March. In Athens, the Acropolis waives admission fees on the following dates: March 6 (in memory of Melina Mercouri), April 18 (International Monuments Day), May 18 (International Museums Day), and the first Sunday of every month from November to March. Free days are usually displayed on the website of the attraction you want to visit.
FREE WALKING TOURS. In many European cities, you'll find FREE walking tours organized by various companies or organizations. You'll have a tour guide that will lead you to key spots in the city and share information about them. I'll discuss these further in the next section.
However, we still strongly recommend that you spend on some attractions. FREE attractions are quite limited, so if you can afford it, go ahead and pay for that entrance fee. Yes, you can admire the Louvre Museum from the outside for free, but it would be a damn shame to skip all the treasures inside.
---
14. Are FREE Walking Tours in Europe really free?
YES, in theory. NO, in practice. Let me explain.
In many European cities, you'll find FREE walking tours organized by various companies. In some cities like Athens and Bratislava, you can even find free tours that are arranged or endorsed by the government's tourism board.
The catch is, most free tour guides rely on gratuities to survive, so the decent thing to do is to tip them at the end of the tour. We join FREE walking tours not just because it's free but also because we find them a lot better than their paid counterparts. It's rare that we chance upon a guide who isn't entertaining or helpful. Because these guides depend on your tips, they have a stronger motivation to improve their program.
How much to tip is entirely up to you. We noticed that most guests give 5 to 10 euro. I usually tip 10 euro, more if the guide is exceptional and really helpful.
---
ALL ABOUT THE MONEY
15. How do you get Euro?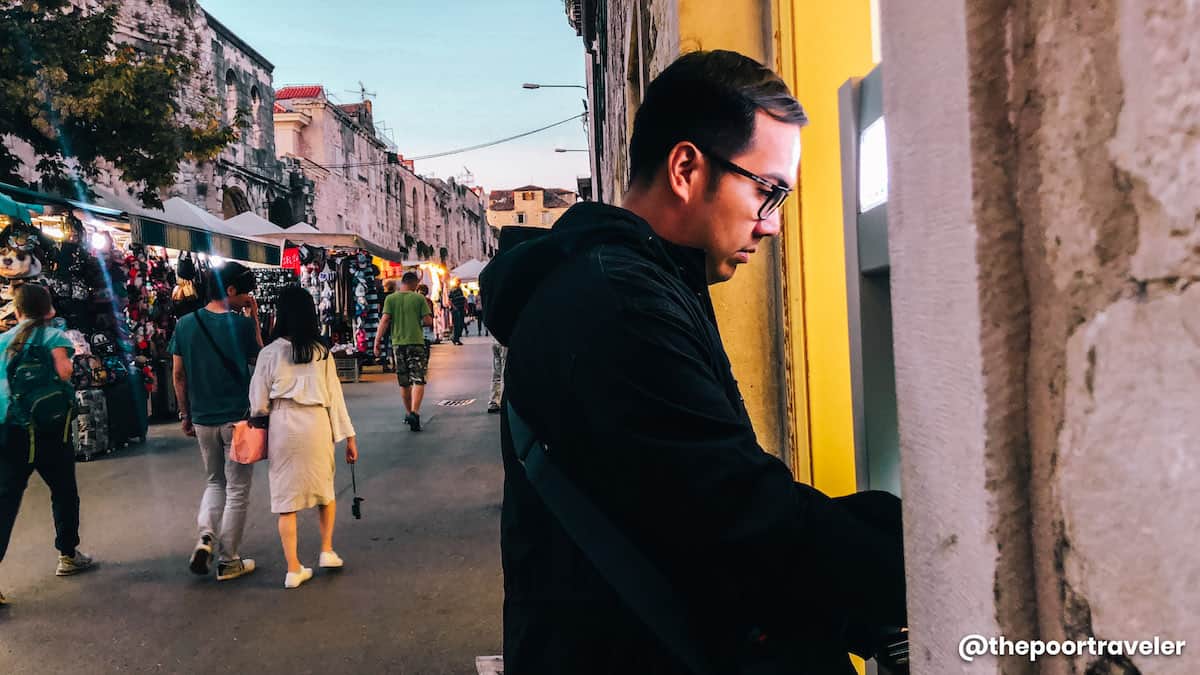 Is it better to exchange money before the trip or withdraw from ATM in Europe?
I do a combination of both. Here's why.
My preferred method of acquiring foreign cash is by withdrawing from the ATM. That said, I also want to be prepared in case I run into ATM troubles, which happened more than a few times before. A couple of times, my bank blocked my card despite advising them beforehand that I would be traveling. I also want to make sure that I have cash in case I lose my card or someone steals it. That is not unheard of. Pickpockets are a big problem in many European cities.
Hence, even though I always bring my ATM card when I travel to Europe, I also have a contingency fund in cash. But I make sure that I don't keep the cash and the card in the same place. I also bring credit cards!
We discussed this better in a separate article: ATM WITHDRAWAL vs MONEY CHANGERS ✅
---
17. Is it safe to exchange money in Europe?
As much as possible, I try to avoid using money changers abroad. I only do so if I have excess foreign money and I need to move to another country with a different currency. Otherwise, I just withdraw from an ATM.
If you really have to buy foreign currency in Europe, make sure the company is reputable and offer good rates. There are a lot of trustworthy money changers but there are also a lot of bad ones who will try to rip you off.
Some shops display your currency and the SELLING RATE, not the BUYING RATE. If you want to get local currency, you should be looking at the BUYING RATE. For example, if you're in Poland but you're carrying EURO and you want to exchange it to zloty, you're probably gonna notice money changers with displays that read, "WE SELL: EURO = 4.50."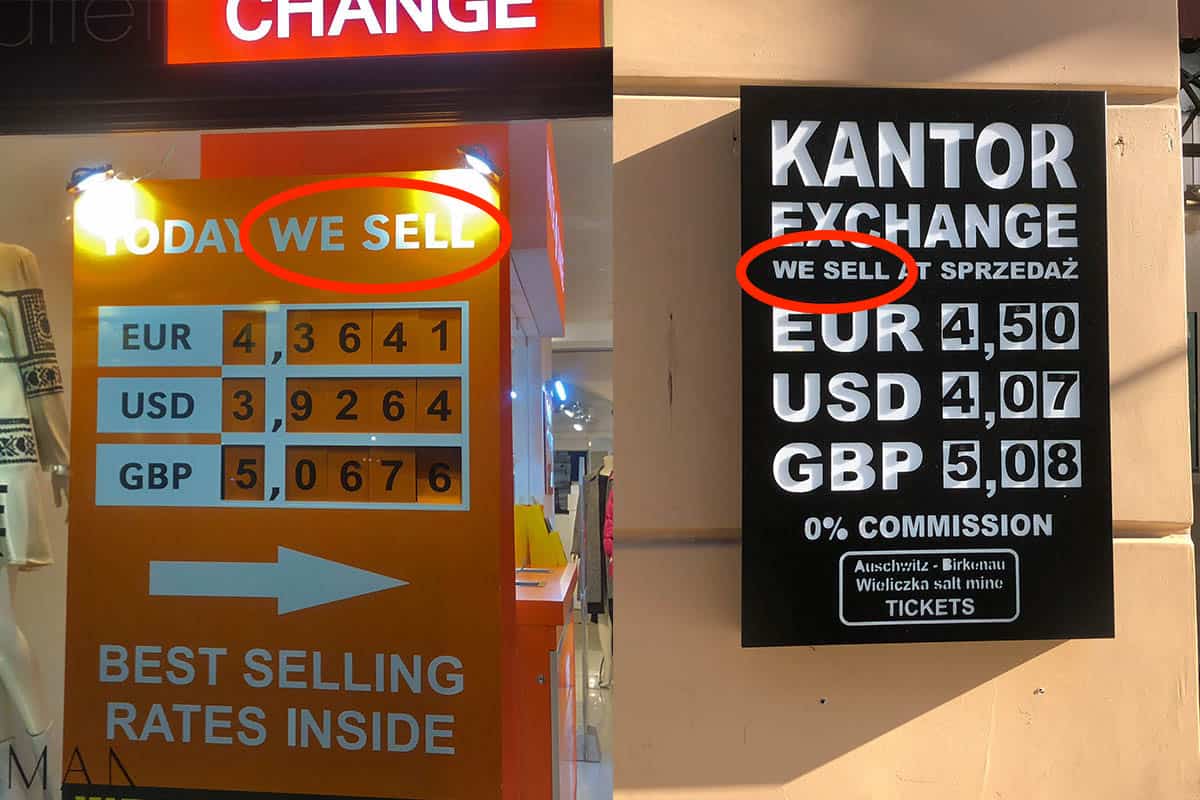 Looks like a great deal! The thing is, you're looking at the wrong rate because what it says is that they will SELL you their euro for 4.50 zloty. What you need is the BUYING RATE because they will be buying your euro.
---
16. Is it safe to withdraw cash from ATMs in Europe?
Yes, this is my preferred method of getting foreign cash. However, here are some important reminders.
Call your bank and advise them that you will be using your card abroad. This way, they won't flag your transactions abroad as suspicious and block your card. This happened to me a couple of times.
Check the ATM before you use it. Choose an ATM at a secure location and double check the card-reader to avoid skimming.
Avoid non-bank ATMs. You might be tempted to use a non-bank ATM just because it's the nearest and the most convenient to access. Non-bank ATMs are everywhere in Europe. But their exchange rates are pretty bad! Just go for a local bank.
Decline DYNAMIC CURRENCY CONVERSION. Brace yourself, it's a long explanation. Read on.
Some ATMs will try to dupe you by offering you their so-called Dynamic Currency Conversion (DCC). What is it?
In a nutshell, when you're using an international card to make a withdrawal, the machine will ask you whether or not you want to be billed in your card's original currency (for example, PHP or USD) or in the destination's local currency (say, Euro or kuna or zloty or crowns). If you agree to be billed in PHP or USD, you're basically allowing them to set their own exchange rate and you bet they will be using a BAD, BAD rate.
The right thing to do is to choose the destination's local currency. For example:
If you're in Italy or France and the machine asks, "Would you like to be billed in EURO or in your card's home currency?" Choose EURO.
In Croatia, if the machine asks, "Would you like to be billed in KUNA (HRK) or in your card's home currency?" Choose KUNA.
In Poland, if the machine asks, "Would you like to be billed in ZLOTY (PLN) or in your card's home currency?" Choose ZLOTY.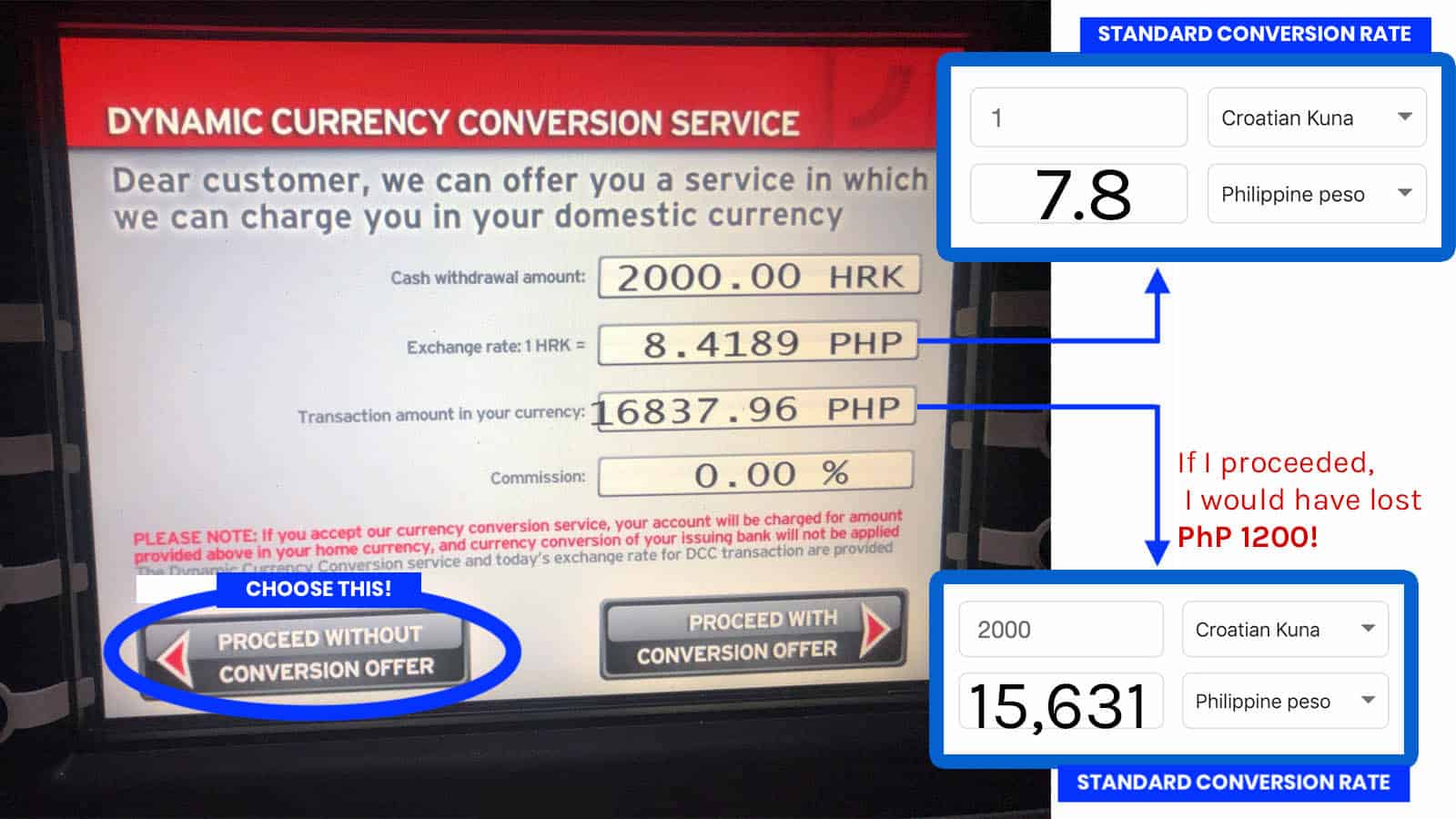 Always decline the dynamic conversion. Don't let them convert for you. Always choose to be billed in the destination's local currency.
✅ For more information about this, READ: WHY YOU SHOULD DECLINE DYNAMIC CONVERSION!
---
17. Is it better to pay cash or with a credit card?
That depends on the country or city you will visit. In some destinations in Europe (like Iceland and Sweden), credit card is the more preferred method of payment even at street stalls. In most areas, both are common. In some, cash is still king.
To be honest, our credit card's spending limit isn't that big, so we reserve the it for online transactions, especially when booking flights and hotels. More often, we pay cash.
Regardless, we always bring a credit card when we travel because some hotels would ask for it upon check in. Otherwise, you might be forced to make a cash deposit.
Once again, if you're using your card and you're asked if you want to be billed in the local currency or the home currency, make sure you choose the local currency. This is dynamic conversion at play.
---
18. Is tipping mandatory in Europe?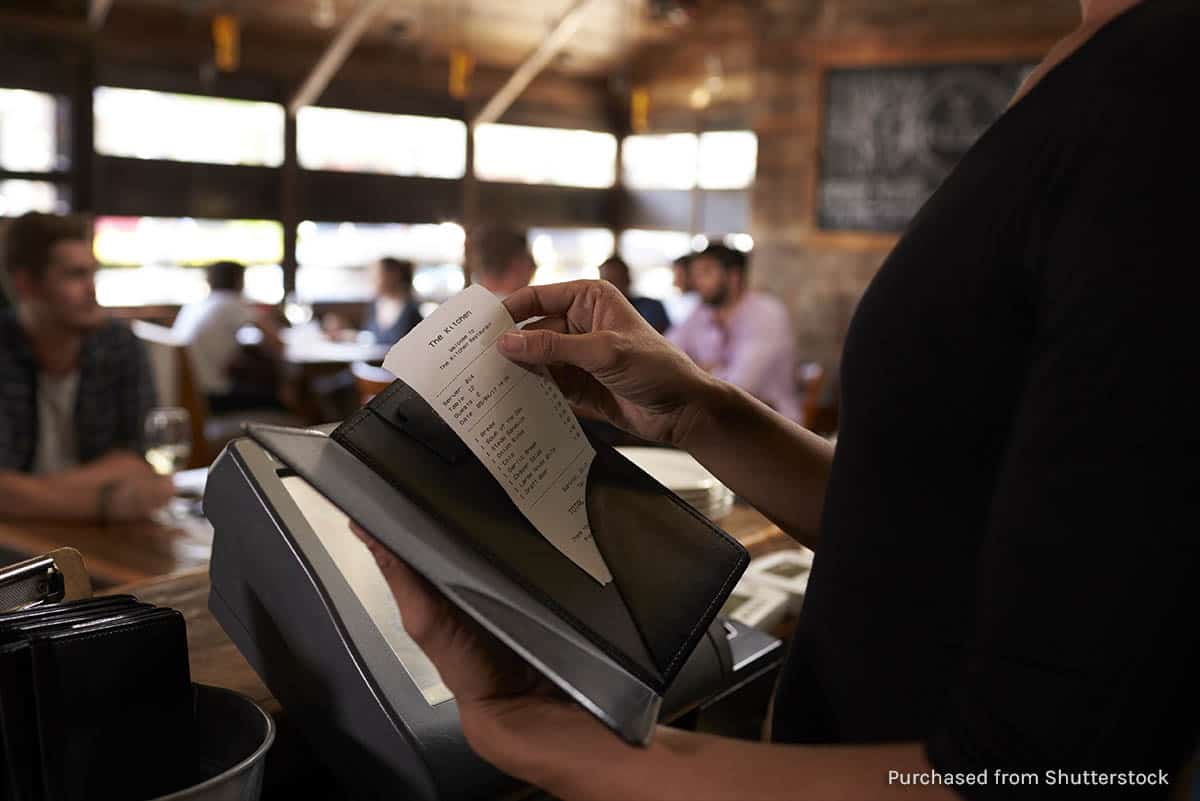 I'm not sure if this is the same EVERYWHERE IN EUROPE, but in the places we visited, tipping at restaurants is appreciated but not compulsory.
In most places, rounding off the bill is the standard practice. For example, if your bill is €28, you can pay €30 and let the waiter keep the change. Another common practice is to tip 5-10% of the bill.
As for tour guides, it depends on the destination. But 5-10% is what we usually tip if such practice is customary in the destination.
---
OTHER PRACTICAL TIPS
19. Internet Connection in Europe
A reliable internet connection is our best tool in Europe. We use it to navigate, research and update our social channels. You have a lot of options:
Local SIM. The cheapest way to stay connected in Europe is by purchasing a local data SIM. For example, in Italy, Spain or Portugal, we just seek the nearest Vodafone store and get a data SIM. You can use this SIM to access the web wherever in Europe except Kosovo. We have tried this and we're very satisfied.
International SIM. We have also tried TravelSIM PH, as recommended by a backpacker friend. They use an international SIM that will allow you to connect to the internet in most countries in Europe. You need to purchase this before your trip so you can have it delivered to your home.
Pocket Wifi Rental. We've also tried Travel Recommends (formerly Flytpack).
---
20. How much clothes do you pack when traveling to Europe?
We usually bring seven sets of clothes and one outerwear. Even if we would be traveling for 2 months, we would still bring seven sets.
We just do the laundry or have it done every week. When booking a place to stay, we often pick an apartment with a washing machine or a hostel that offers cheap laundry service. If we can't find either, we'll search the surrounding area for a laundromat or a cheap laundry place.
This way, we don't need to carry heavy luggage when moving from one city to another.
Some of you will probably say, "But I'm on vacation; I don't want to do laundry." Well, that's you. I like doing it because it's effing easy.
---
21. Beware of pickpockets!
Several major cities in Europe have serious pickpocket problems. Paris, Barcelona, Berlin, Milan, Rome, Athens — they all have lots of pickpockets targeting tourists! Many of our friends fell victim to them. We fell victim to them a couple of times. Vins's phone got stolen on the Athens metro. Someone even stole his sandwich on his way to the Vatican. He just found his bag open and his sandwich inside missing. Haha.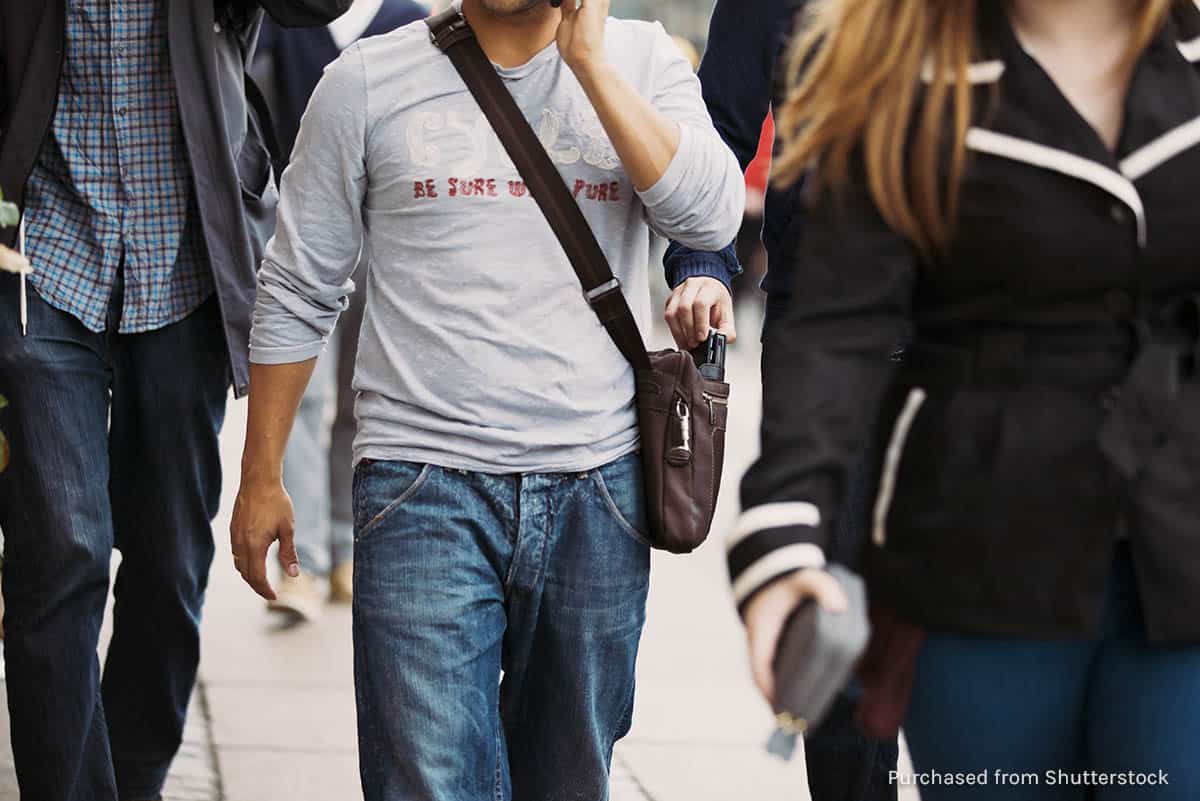 Their usual spots are the metro or bus, metro stations, and key tourist spots.
But pickpockets in Europe are remarkable for one thing — creativity. They usually operate in groups. One is the actual pickpocket, another serves as a lookout or hides the item, while the rest block your view, rattle you, or keep your attention away from your valuables.
In many cities in Europe, the metro is a favorite place of operation for these thieves. They usually target tourists who have just arrived in the city because they have a lot to keep an eye on and they are unfamiliar with the city. They also get confused easily. If you have luggage in tow, you're a moving target so be extra vigilant.
How to avoid: Don't let your belongings out of sight. Don't put your wallet or phone in your pockets, especially the back pocket. Always place your bag in front of you and put your hand on the opening. If something unusual happens, don't remove your hand on your bag and keep your bag in front of you. If possible, purchase one of those hidden money bags/belts where you can keep some of your cash/cards under your shirt.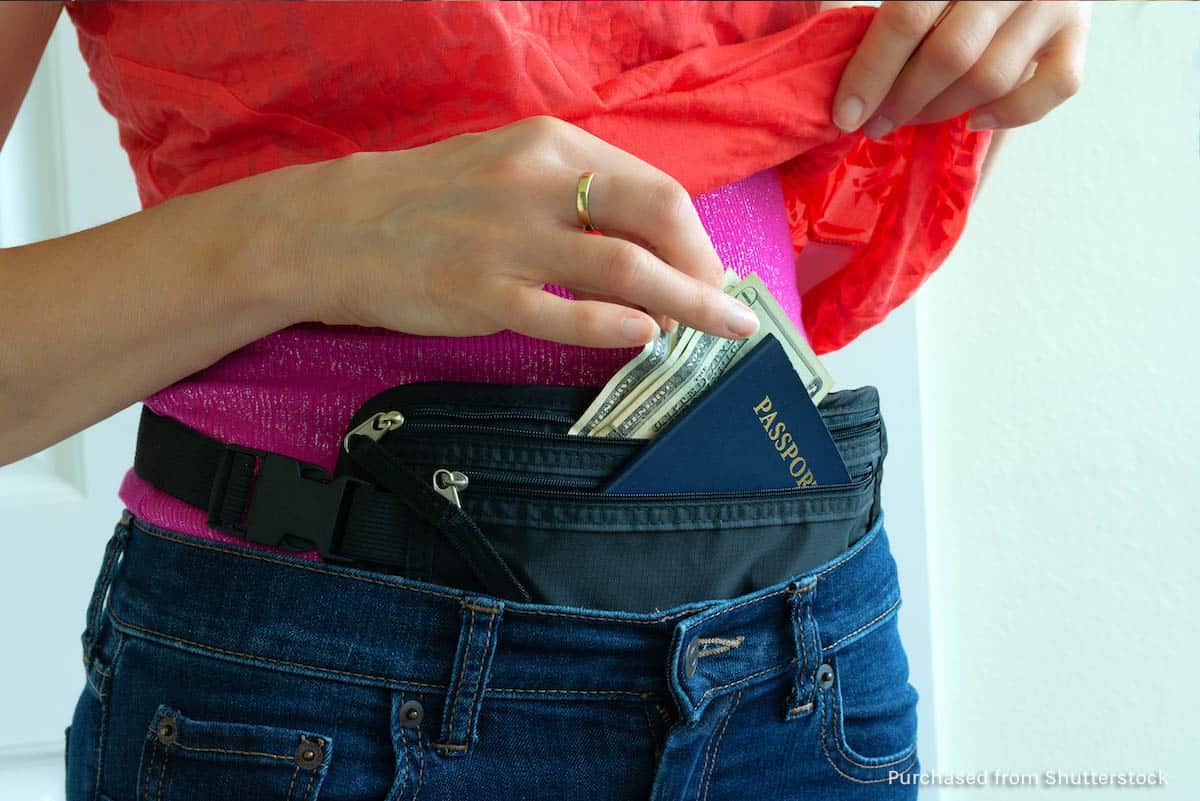 Don't put all your cash and cards in one place. Keep them in multiple, separate spots so if one gets stolen, you don't lose everything.
If you need more information about pickpockets in Europe, we created separate posts about it.
✅ COMMON TRICKS USED BY PICKPOCKETS IN EUROPE
✅ HOW TO AVOID PICKPOCKETS IN EUROPE
---
22. Beware of scams!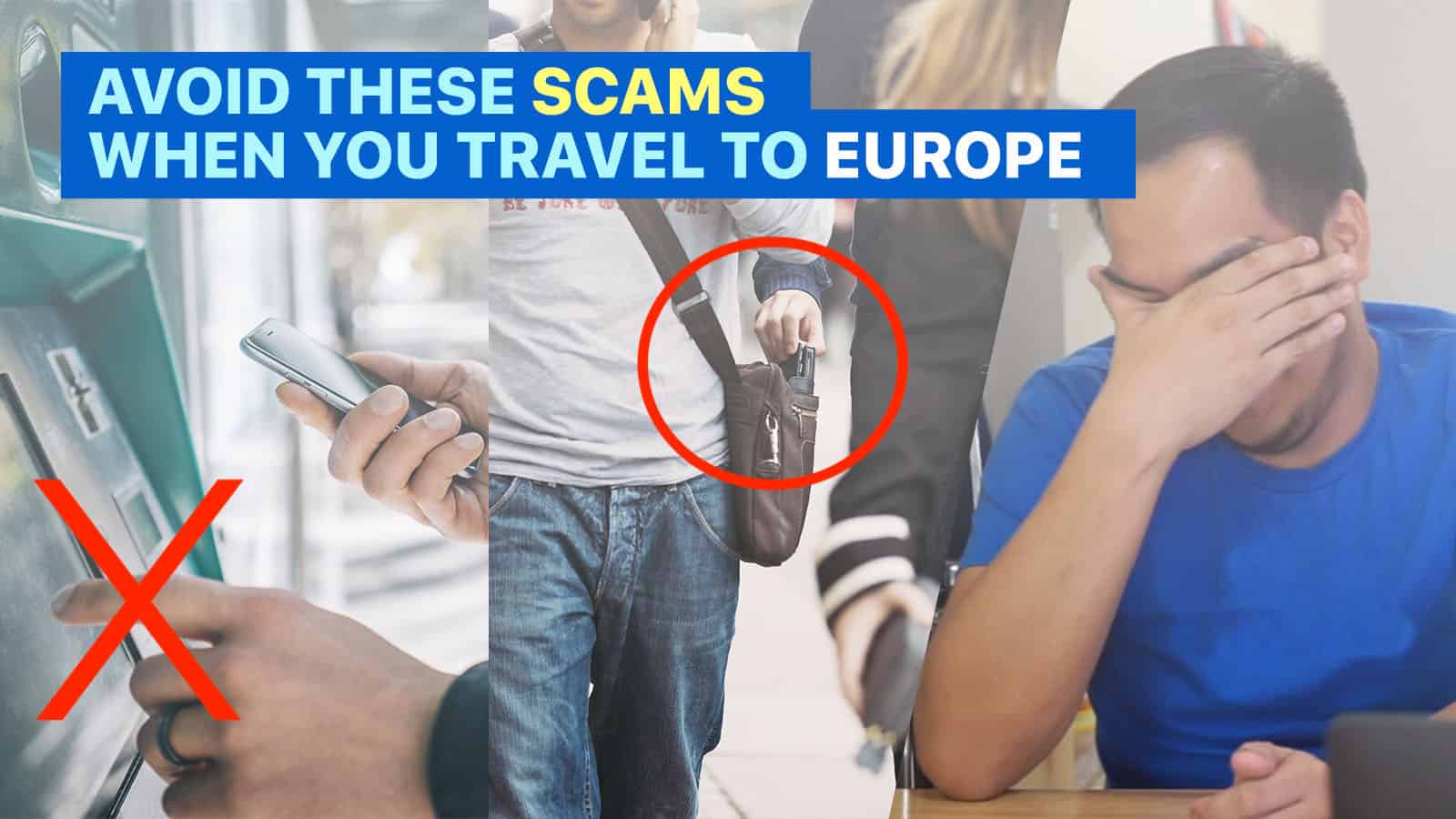 Aside from pickpockets, scams are rampant in many European cities. Falling victim to one never feels good and puts a damper on the trip.
We created a separate post for it. READ: COMMON EUROPE SCAMS!
---
23. Timing is everything.
Start your day early. Popular places are less crowded in the morning. The less time you waste queueing, the more time you can use to actually explore and enjoy the attraction.
Take note of the operating hours of restaurants. In many cities, restaurants are only open at lunch and dinner times. If you decide to eat at 4pm, your options are significantly fewer.
Double-check the check-in hours of your hostel or apartment. Not all properties have a reception that is open 24 hours. If your flight is scheduled to arrive past the usual check-in time, make sure to inform the hotel beforehand. This is especially true for apartments or AirBnB's. Often, the owner does not stay at the property so you have to arrange a meetup.
---
2️⃣0️⃣1️⃣9️⃣ • 1️⃣1️⃣ • 1️⃣8️⃣