Fukuoka City is one of the largest cities in Japan, but it is still pretty laidback and much more relaxed than, say, Tokyo and Osaka.
The city is composed of two major wards — Hakata and Tenjin. Many of the attractions in Fukuoka are found in Hakata, as well as the gateways to the city — Fukuoka Airport, Hakata Station, and Hakata Port International Passenger Terminal. Budget hotels and other types of accommodations are mostly found in Tenjin. It is also a popular shopping haven in Fukuoka, especially in fashion retail.
Fukuoka City is also the gateway to its home prefecture, with which it shares its name. The prefecture lies on the northern part of Kyushu island. The upper half part and the southwest side of the prefecture are hemmed by the sea, while the rest of it is bordered by Saga on the west, Oita on the east, and Kumamoto on the southeast. It offers diverse options for activities and experiences — tours, food, shopping, etc.
Here are just some of the things to do and places to visit in Fukuoka Prefecture.
---
WHAT'S COVERED IN THIS GUIDE?
Fukuoka Castle Ruins and Maizuru Park
If you're feeling a bit nostalgic, a trip to the Fukuoka Castle Ruins is a nice addition to your itinerary. The castle was built by the feudal lord, Nagamasa Kuroda, during the early 1600s. It is located at Maizuru Park and is also called "Maizuru Castle". As you explore the complex, you'll have to use your imagination to reconstruct the towering and imposing castle piece by piece. The ruined, ancient walls and gates are some of the remnants of its former glory. The castle ground is a popular spot for cherry blossom viewing and autumn foliage.
Nearest Station: Eight minutes on foot from either Akasaka Station or Ohorikoen Station on the subway.
---
Ohori Park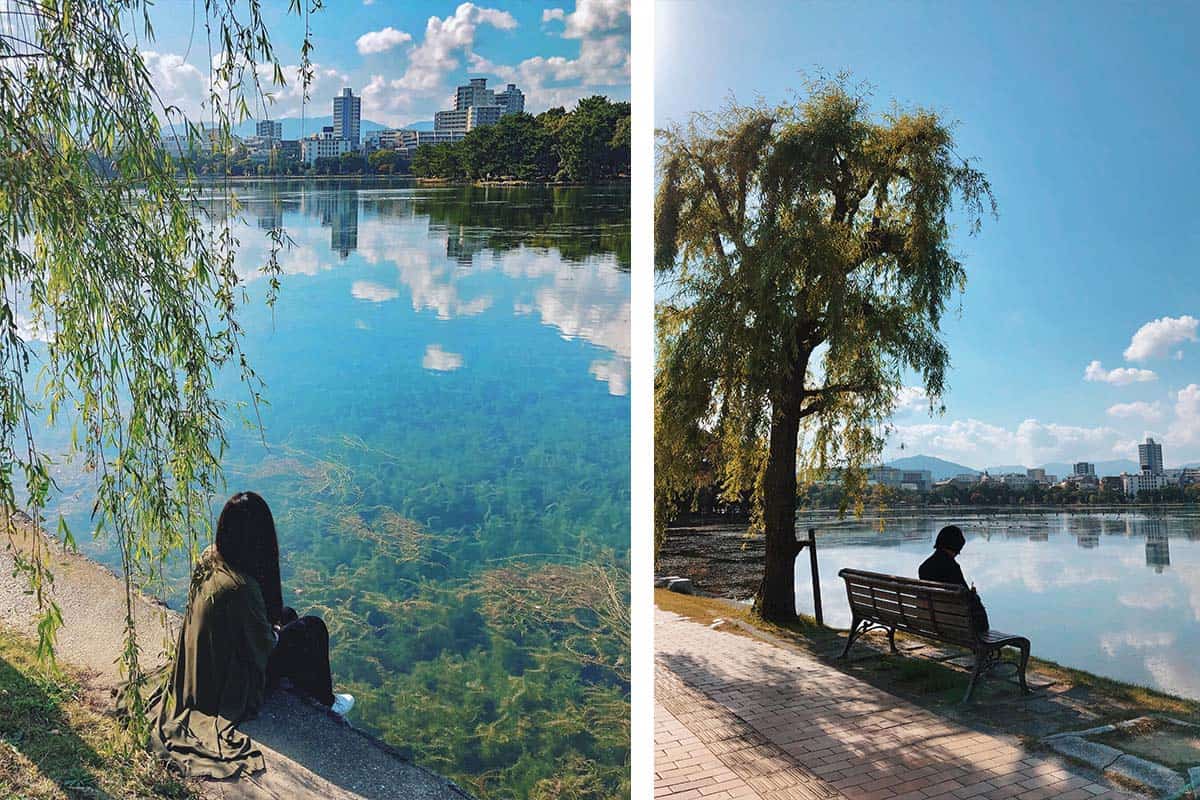 Take a break from the busy metro by taking a leisurely stroll around Ohori Park. It's adjacent to Fukuoka Castle Ruins and features a huge pond. You'll see locals jogging, playing with their kids, reading a book, walking their dogs or just letting time pass them by.
Nearest Station: Seven minutes on foot from either Ohorikoen Station or Tojinmachi Station on the subway.
---
Canal City Hakata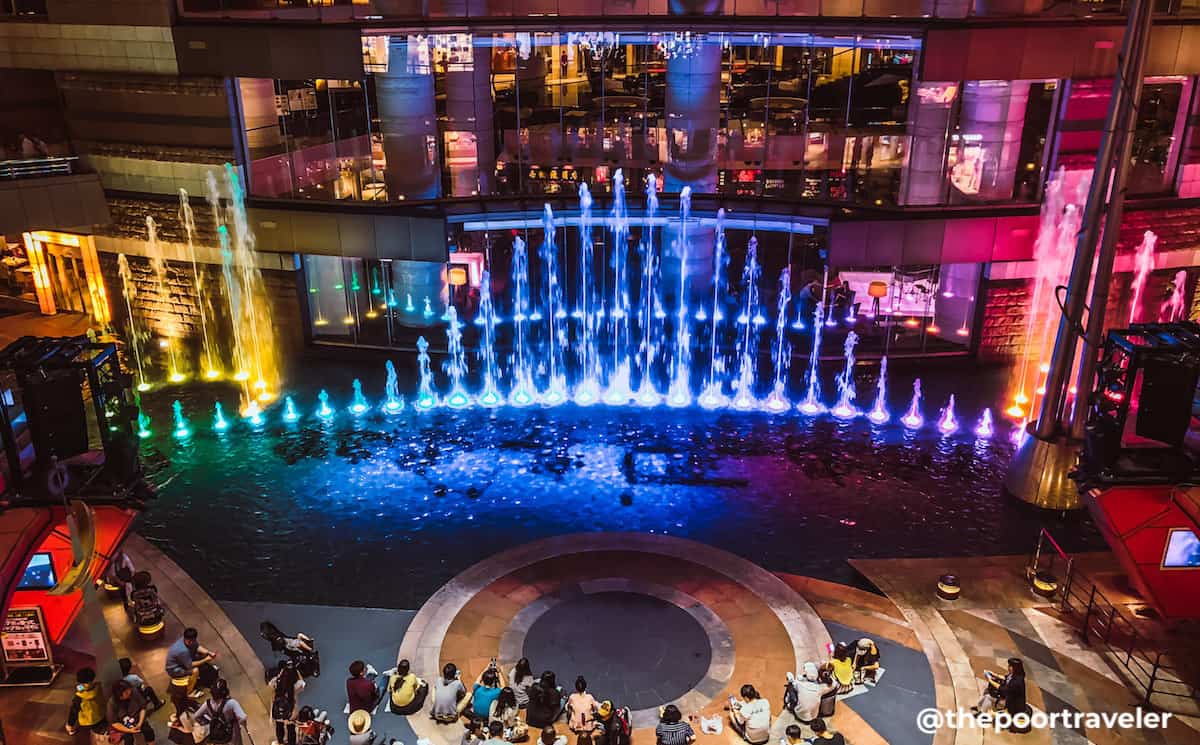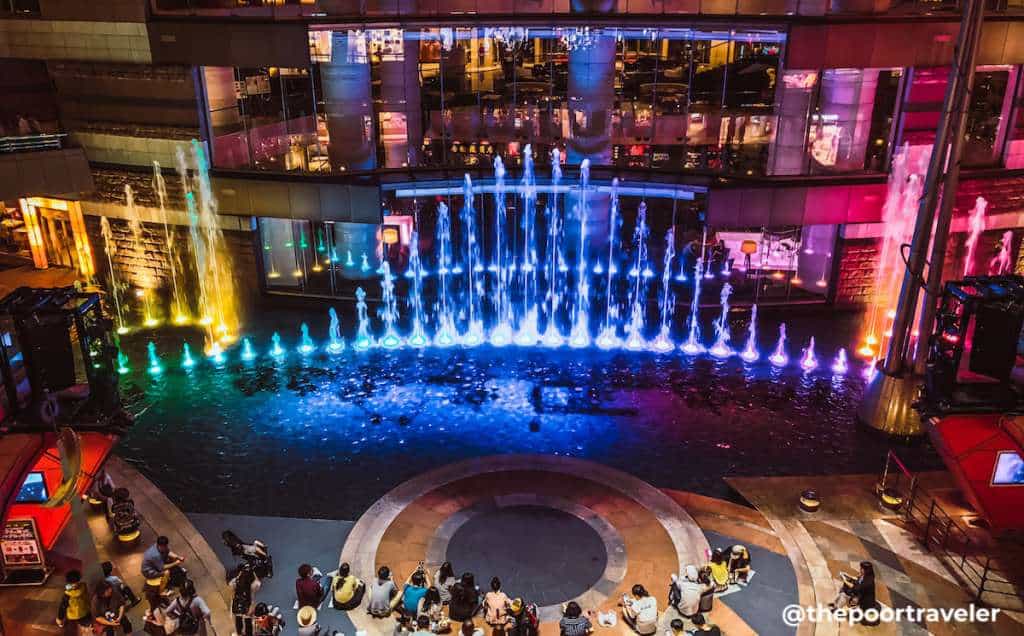 From the name itself, the major attraction here is the canal and the colorful fountain show. One show features illuminated dancing fountains called "Dancing Water" and the other one that combines lights, sound, and projected images called "Canal Aqua Panorama". Aside from these, the complex boasts more than 200 shops and restaurants. It also has cinemas and a hotel.
For ramen enthusiasts, Ramen Stadium on the fifth level showcases eight ramen restaurants, each has its own specialty.
Operation Hour: 10:00 AM – 9:00 PM (daily, retail stores) / 11:00 AM – 11:00 PM (daily, restaurants & cafes)
Nearest Station: Hakata Station. From the station, you can either take the loop bus or walk. If opt to go there on foot, the travel time from Hakata Station to the complex is about 15 minutes.
---
Kushida Shrine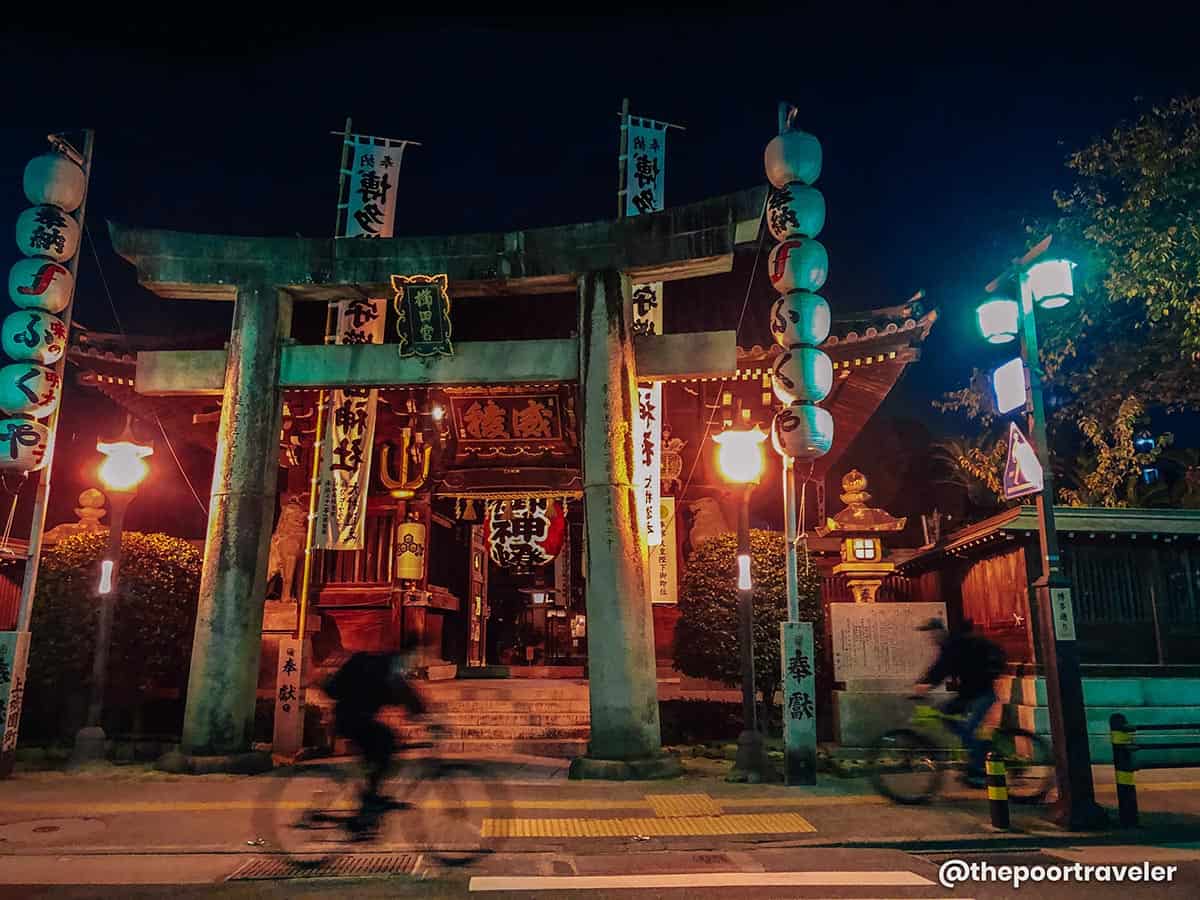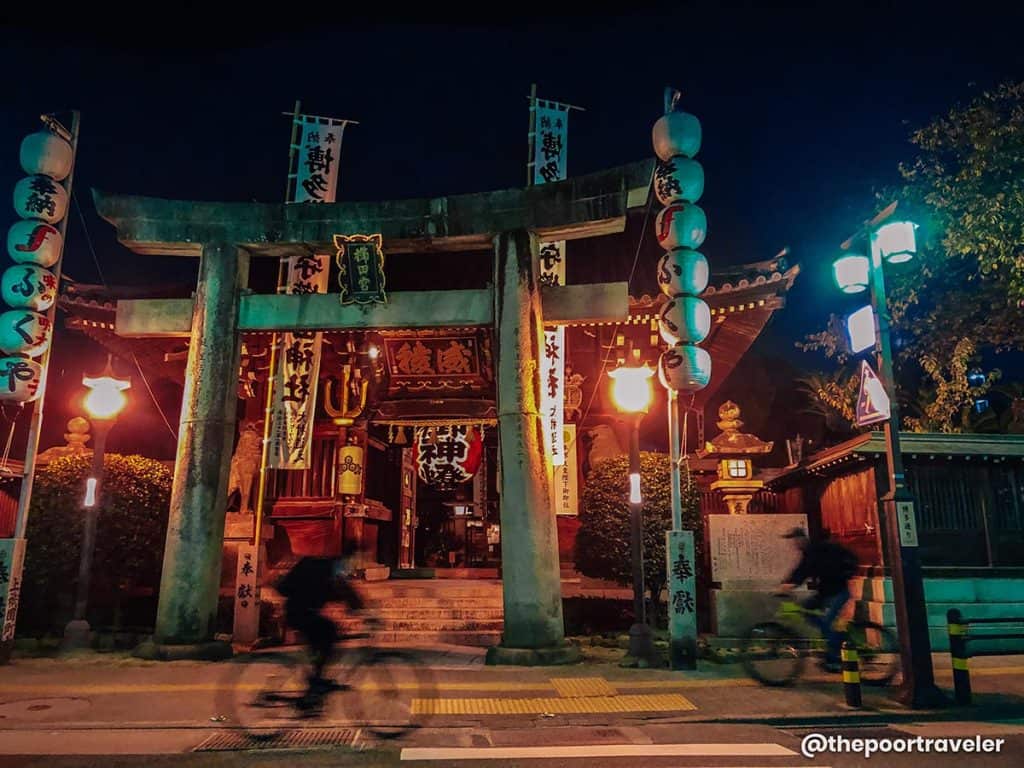 This Shinto shrine is one of the oldest shrines in Fukuoka, dating back to 757 when Hakata had its golden days as a port city, serving merchants and diplomats. Regarded as the most important shrine in Fukuoka, the locals fondly call it "okushida-san". It houses a fountain of longevity and Chikara Ishi.
The shrine is also the heart of Hakata Gion Yamakasa Festival, the biggest festival in Fukuoka which is celebrated from early to mid July.
Location: 1-41, Kamikawabata-machi, Hakata-ku, Fukuoka City
Nearest Station: Eight minutes on foot from either Nakasu-Kawabata Station or Gion Station on the subway.
---
Migita Fruit Farm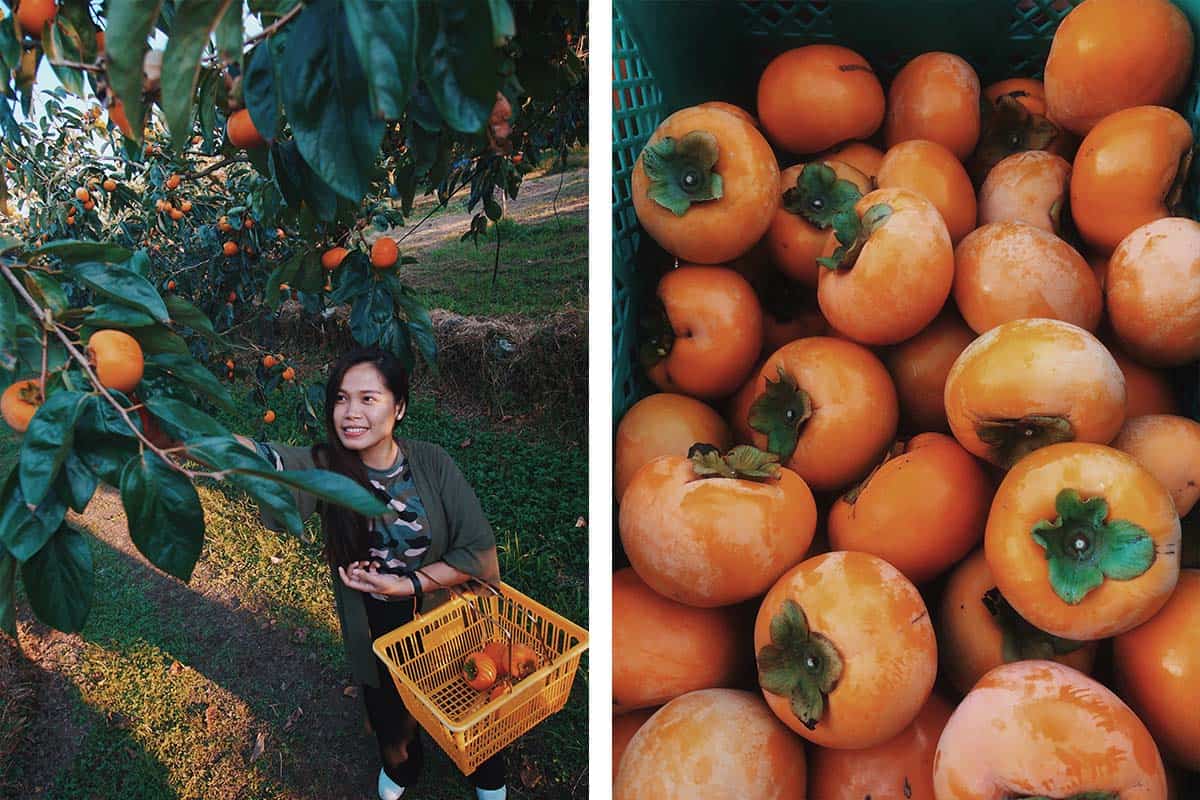 This is located in Kurume, about 20 minutes away from the city. Kurume's location along the Chikugo River makes it fertile and viable for fruit trees to thrive. Migita Fruit Farm is one of those places where visitors can enjoy nature and local produce like persimmons, strawberries, peaches, blueberries, figs, and others. You can visit all year round, but you need to check which fruit tree is in the season for your visit, especially for fruit-picking activities (persimmon or strawberry).
Admission Fee: ¥800 (or more, depending on the variety of fruit and kilogram)
Opening Hours: 8:00 AM – 5:00 PM (usually from September to December)
Location: 3024, Tanushimarumachi Chitoku, Kurume, Fukuoka
Nearest Station: JR Tanushimaru Station. The farm is just 15 minutes away by taxi from the station.
---
Dazaifu Tenmangu Shrine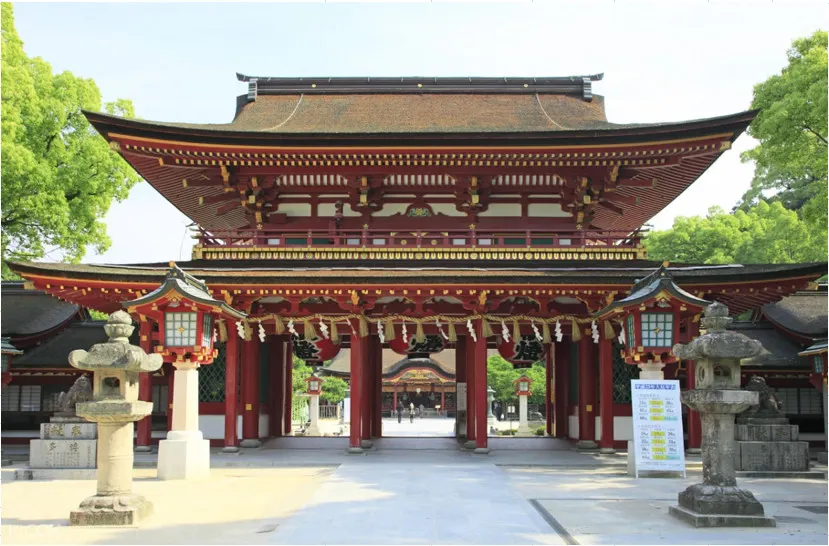 This extensive Shinto shrine stretches over 1000 hectares and said to be the burial site of Michizane (also called Tenjin), a Heian scholar and politician. The way to the entrance of the shrine complex is lined with several stalls and shops. The whole property covers the torii gate entrance, the main shrine, auxiliary shrine, two ponds, two bridges, an ox statue, museums, and other structures. The shrine grounds are also home to about 6,000 ume (plum) trees.
Location: 4 Chome-7-1 Saifu, Dazaifu, Fukuoka Prefecture
Nearest Station: Nishitetsu Dazaifu Station. From Nishitetsu Fukuoka Station, take the train to Futsukaichi Station on the Tenjin Omuta Line, then transfer to another train on the Dazaifu Line to Dazaifu Station. From there, it will take about 5 minutes on foot to reach the shrine. Travel time from the city center to the shrine is around 40 minutes. The fare is around ¥400. If you want to take the bus, there's a direct bus from Hakata Bus Center to Dazaifu Station for ¥600. The travel time is about an hour.
If you want a hassle-free transfer from Fukuoka city center to Dazaifu Tenmangu Shrine or if you are traveling with seniors and kids, you may opt to join a guided group tour. Klook offers a tour that includes roundtrip transfers. Other stops for this tour aside from Dazaifu are Misaka Hot Spring, Tenjin Underground Mall (the largest shopping district in Kyushu), and Canal City Hakata (the largest shopping mall in Fukuoka).
✅ BOOK THIS TOUR HERE
---
Nanzoin Temple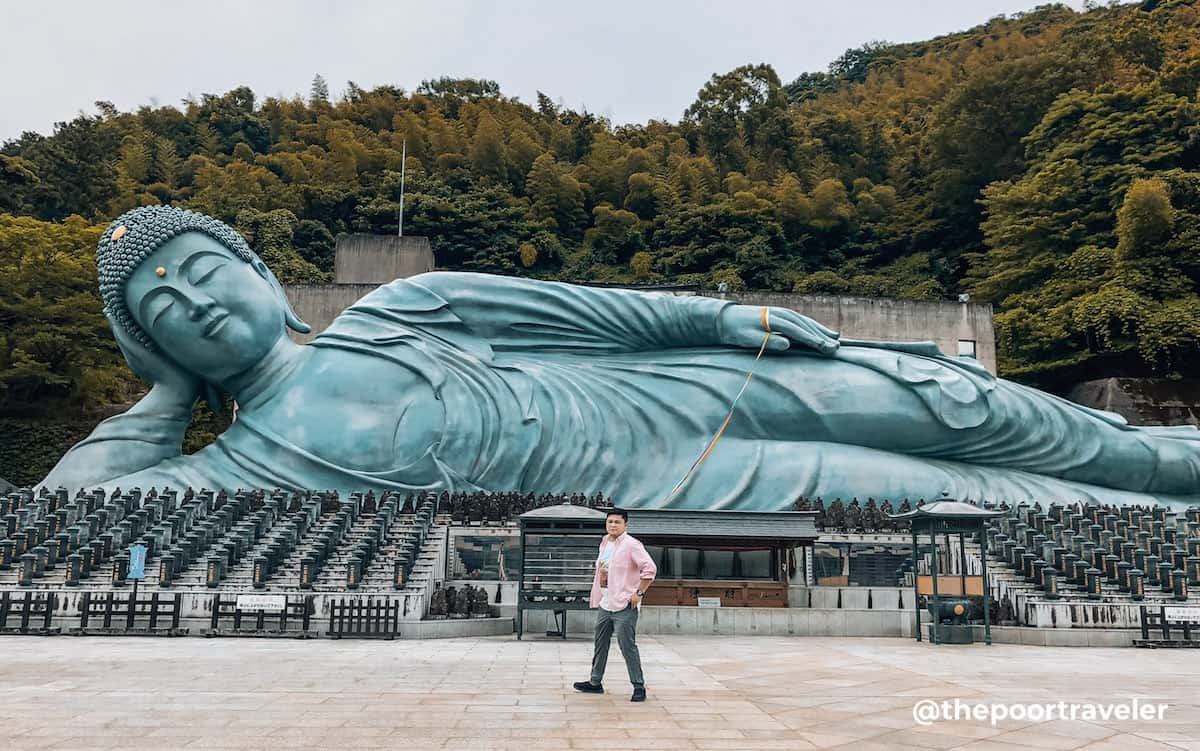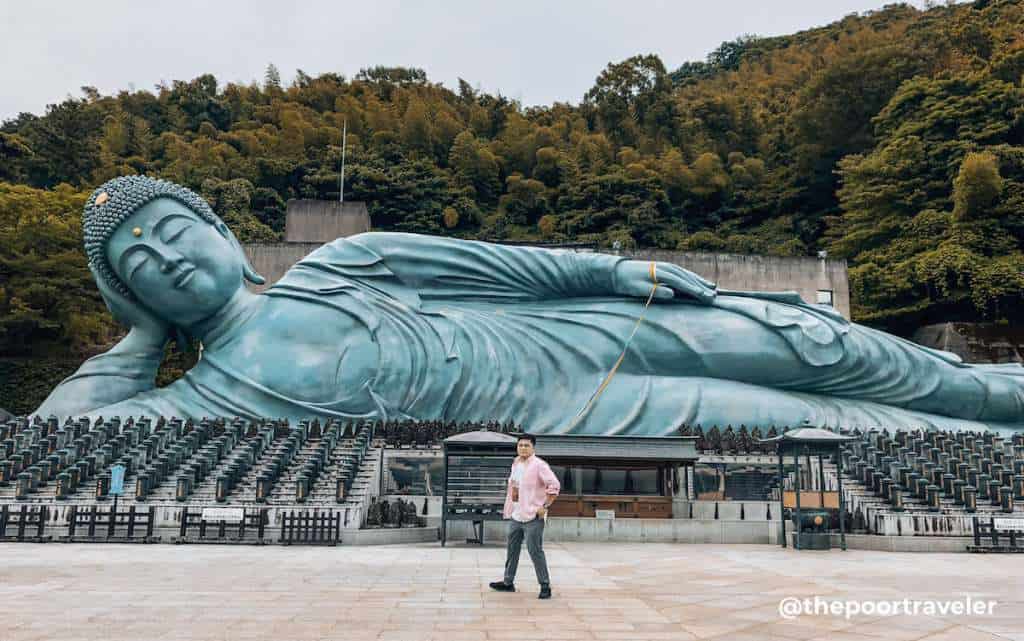 The temple is one of the popular Buddhist temples not only in Fukuoka Prefecture but also in Kyushu Region. The Reclining Buddha, which holds the title as the biggest bronze statue in the world, is the most notable feature of the temple.
Admission Fee: FREE; ¥500 (if you want to enter the prayer room)
Operation Hour: 9:00 AM – 5:00 PM
Location: 1035, Sasaguri, Sasaguri-machi, Kasuya-gun, Fukuoka (15 kilometers away from the city)
Nearest Station: Kido Nanzoin-mae Station (JR Sasaguri Line)
---
Nokonoshima Island Flower Park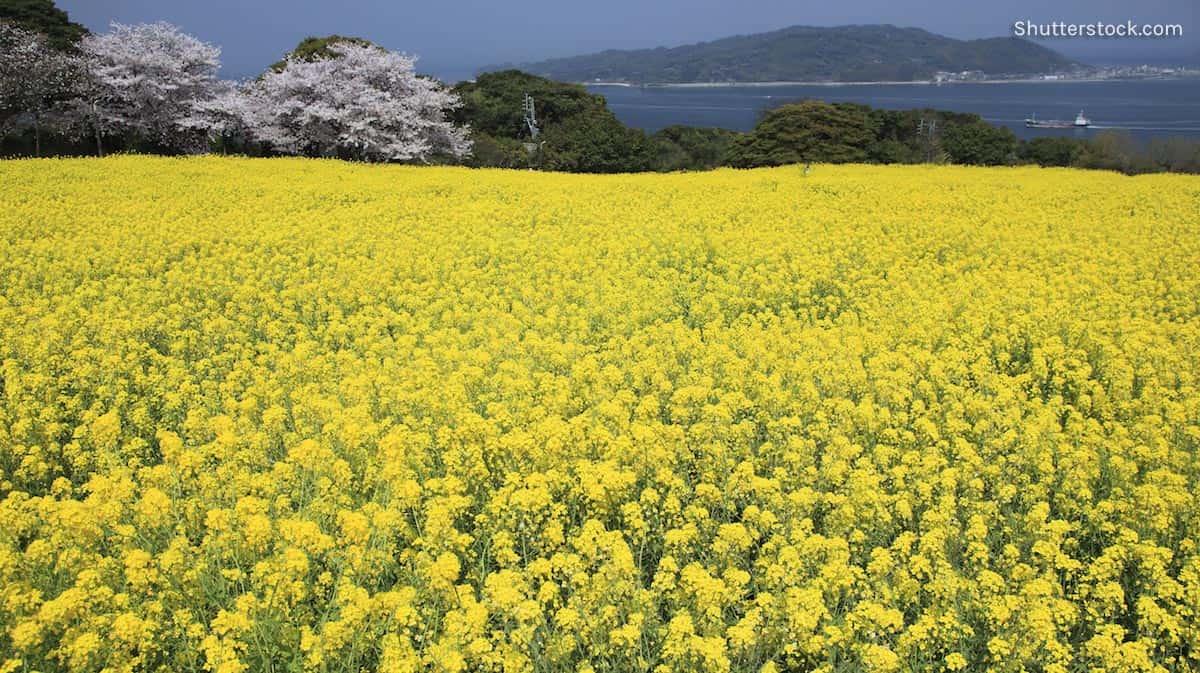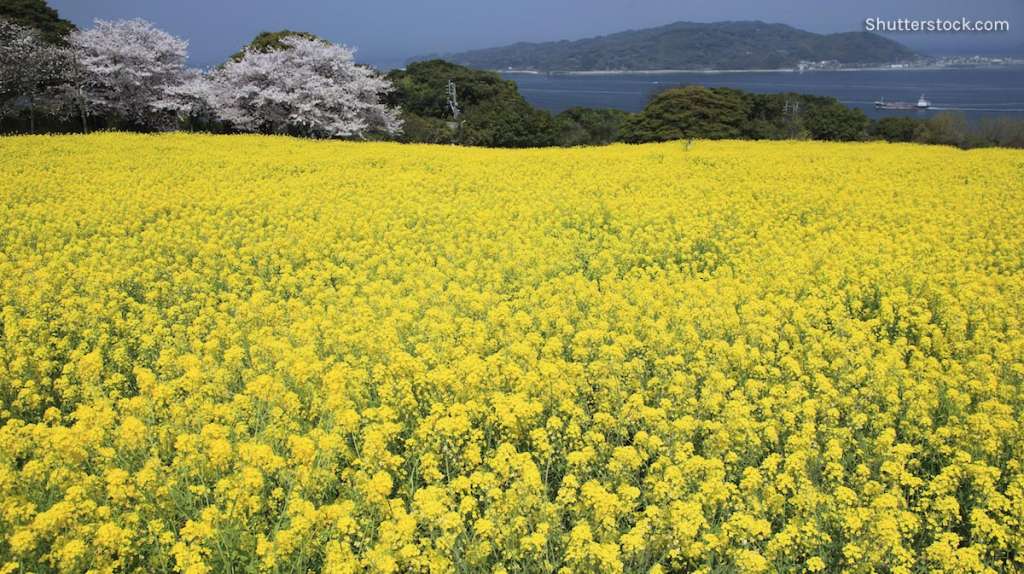 Japan is into city parks and flower parks. Nokonoshima Island, which is less than an hour away by ferry from the city, has a flower park that showcases seasonal blooms.
Admission Fee: ¥1,200 (adult); ¥400-600 (kid)
Operation Hour: 9:00 AM – 5:30 PM (Monday – Saturday); 9:00 AM – 6:30 PM (Sundays and Holidays; March-November).
Location: Nokonoshima island, Nishi-ku, Fukuoka City
GETTING THERE:
Board the Nishitetsu Bus from Hakataeki-mae A to Noko Tosenba (aka Noko Dosenba). From there, take the ferry to Nokonoshima Ferry Terminal. From the island ferry terminal, board the Nishitetsu bus bound for the island park.
Fare: ¥430 (bus to Noko Tosenba); ¥230 (ferry to Nokonoshima Island); ¥230 (bus to the flower park)
Travel Time: 42 minutes (Hakataeki-mae to ferry terminal); 10 minutes (ferry ride to Nokonoshina Island); 13 minutes (bus to the flower park)
---
Kawachi Wisteria Garden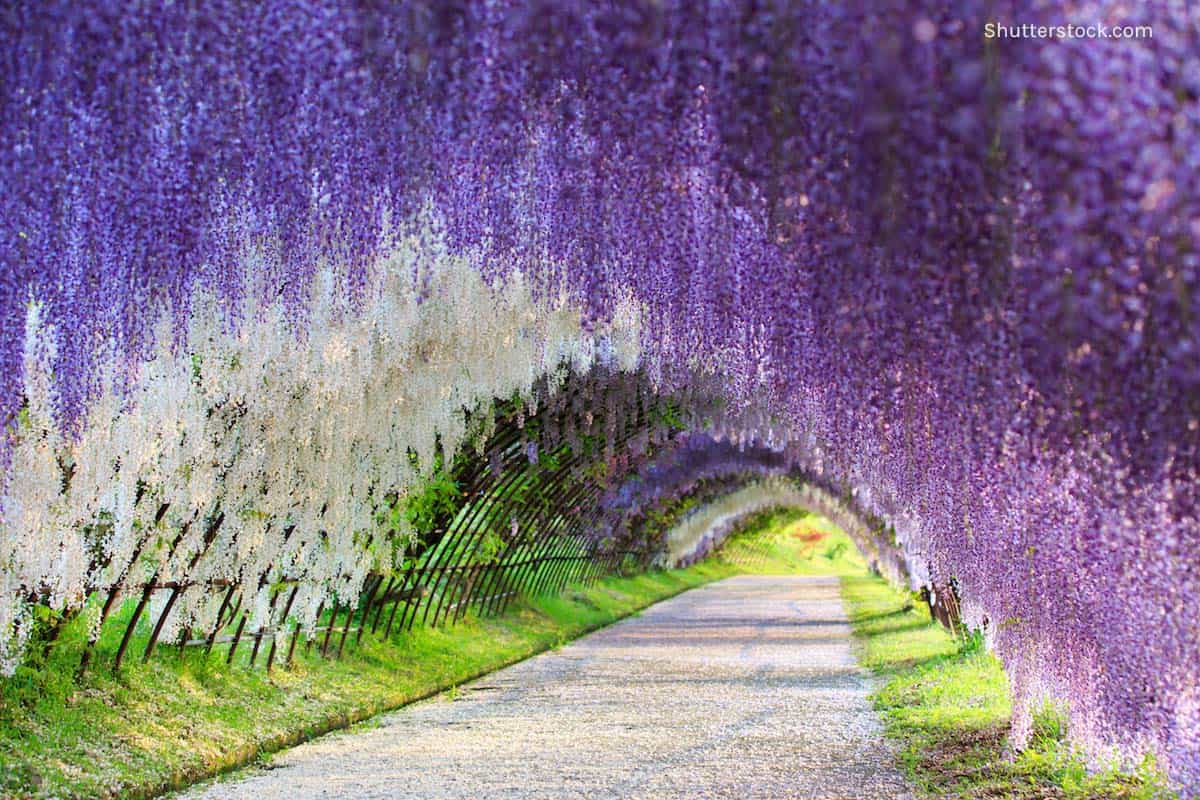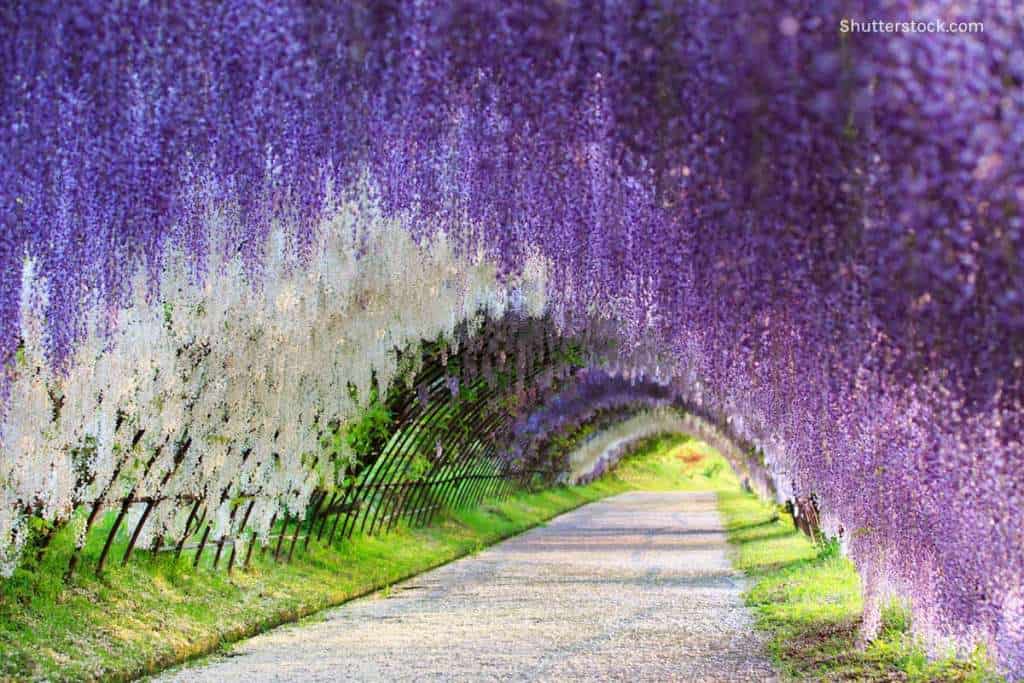 This 100-meter tunnel garden is probably one of the most "Instagrammed" places in Fukuoka Prefecture. The perfectly-lined purple and white wisterias bloom in springtime. Expect it to be crowded during this season. But hey, you can also catch the autumn colors here, plus it has fewer tourists compared to visiting in spring.
Admission Fee: ¥500 – ¥1500 (depending on the season)
Opening Hours: 8:00 AM – 6:00 PM (mid-April to mid-May and mid-November to early December)
Location: 2-2-48 Kawachi, Yahatahigashi-ku, Kitakyushu City, Fukuoka
GETTING THERE:
During peak season (usually last week of April to first week of May), you can ride the free shuttle bus that takes passengers from Yahata Station to Kawachi Wisteria Garden.
During low or shoulder season, take the Nishitetsu Bus #56 from Yahata Station to Kamishigeta. Note that this entails a long walk (almost an hour) but it's worth it.
Travel time: 20 minutes.
Fare: ¥260.
Note: There are other locations for Wisteria bloom viewing; one of them is Nakayama Kumano Shrine, which also celebrates the Wisteria Festival around mid to late April.
---
Fukuoka Food Trip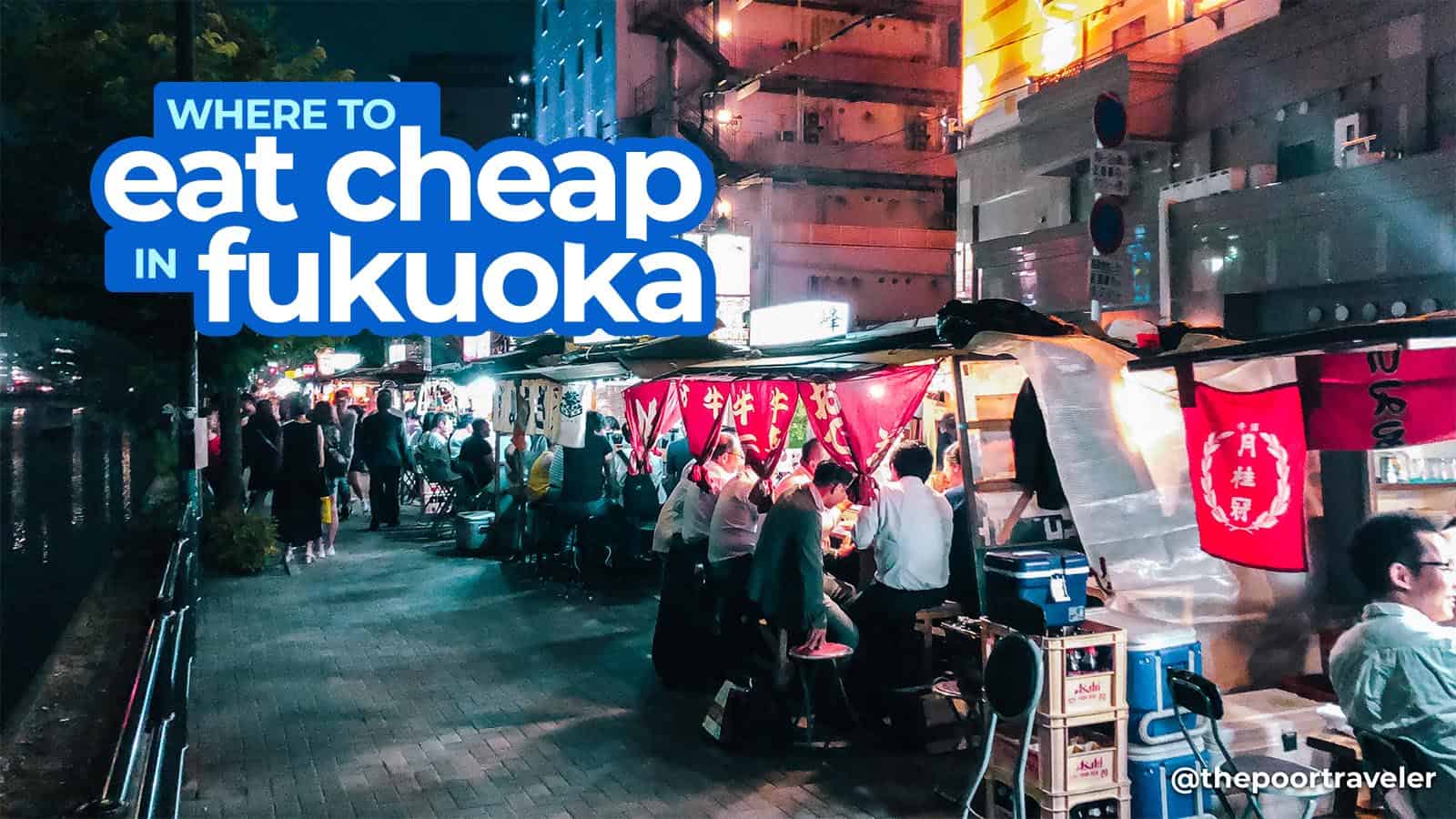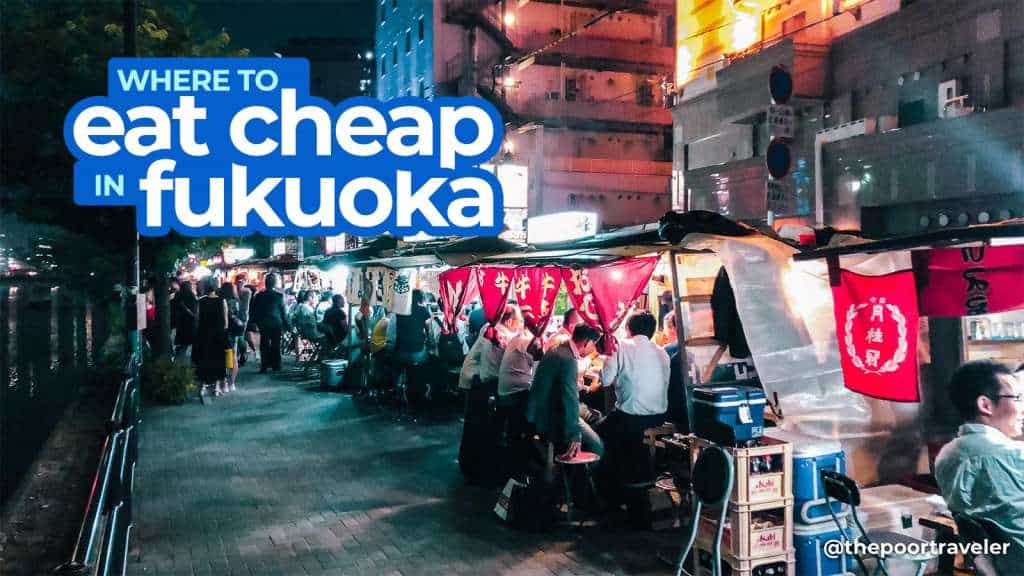 One of the best ways to learn about a place's culture is to try the local dishes and specialties. Fukuoka is the ramen capital of the world, with its signature tonkotsu (pork-based) soup/broth as the distinct characteristic of Hakata ramen. Fukuoka is also the birthplace of Ichiran ramen chain.
Other Fukuoka specialties are karashi mentaiko (pollock/cod roe), Hakata wagyu, unagi/unadon, mizutaki (chicken hotpot), and motsunabe (offal hotpot), just to name a few.
Yatai, a mobile food cart, is peculiar to Fukuoka. These yatais are set up early in the evening along the sidewalks, sometimes clustered in designated areas (Tenjin, Nakasu, and Nagahama). Various kinds of street food are sold — ramen (try the fried ramen!), hotpot, oden, tempura, and yakitori among others.
Related Article: Where to Eat Cheap in Fukuoka
---
Historical Hakata Tour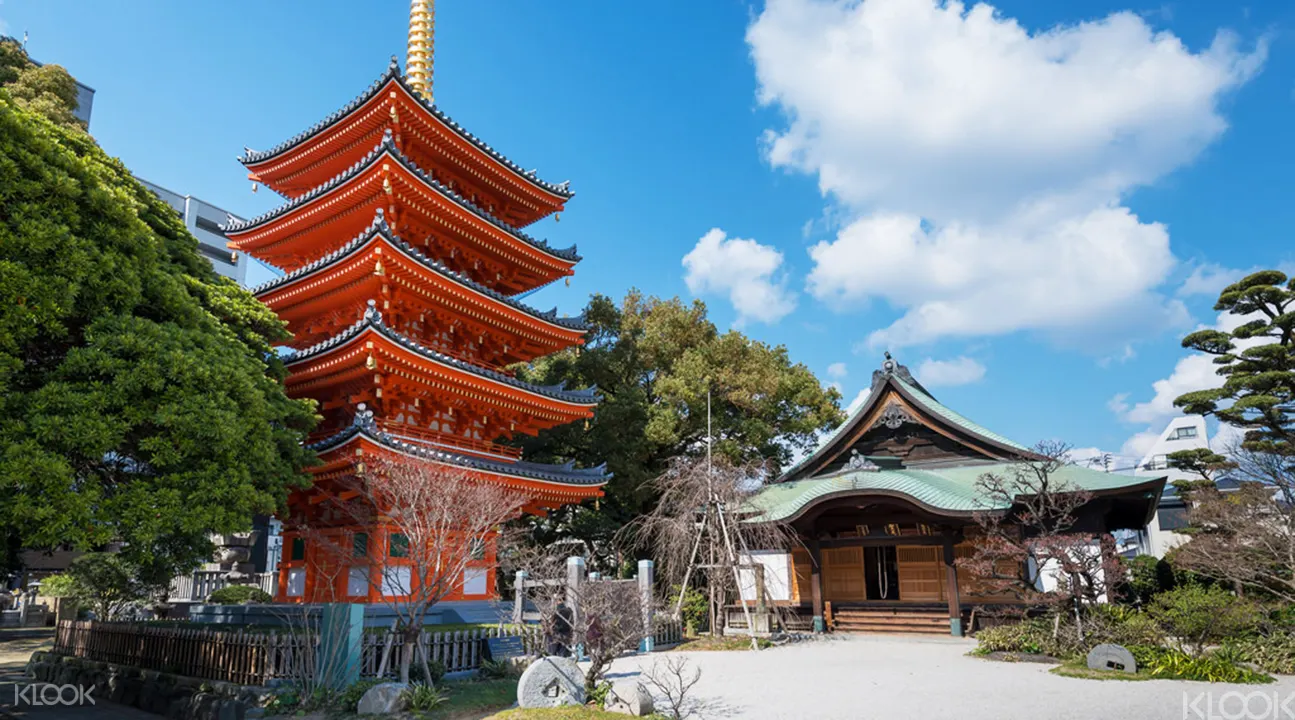 Hakata, once a major port city and trading hub, is one of the oldest cities in Japan. In the early 1800s, it used to be a separate city from Fukuoka, but the two cities eventually became one in 1889. Four old town districts in Hakata are Gokusho, Reisen, Naraya, and Ohama. You can do a D-I-Y or book a guided tour. If you choose to book a tour, some of the usual stops are Jotenji, Tochoji, and Xie Guoming's ancient tomb.
✅ RESERVE A SLOT HERE
---
Traditional Japanese Shopping Tour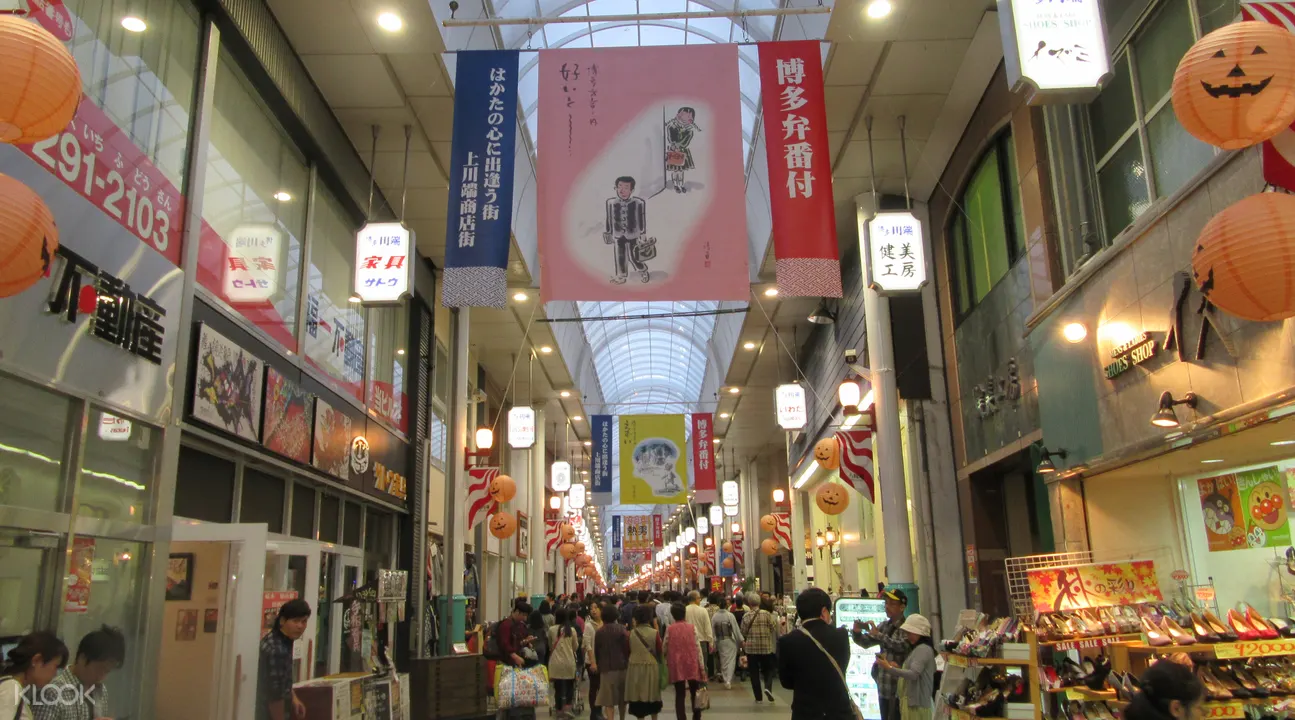 At present, Hakata is still a bustling trading city with a handful of shopping districts. Most of the establishments are managed by the descendants of the city's early merchants. If you want to bring home some of the products and handicrafts, a guided tour can give you a better understanding of the local products. Some of the tours offer itineraries that include traditional snack sampling, tea ceremony, Yanagibashi Market, Hakata Riverain Shopping Mall, Kawabata Shopping Street, and a stop at Minoshima Shopping Street.
✅ CHECK OPTION 1 HERE
✅ RESERVE A SLOT HERE
Aside from Hakata, Tenjin is another must-visit shopping and entertainment area. It has a modern and youthful vibe. You have a plethora of choices not only for shopping but also for dining.
---
Yanagawa River Cruise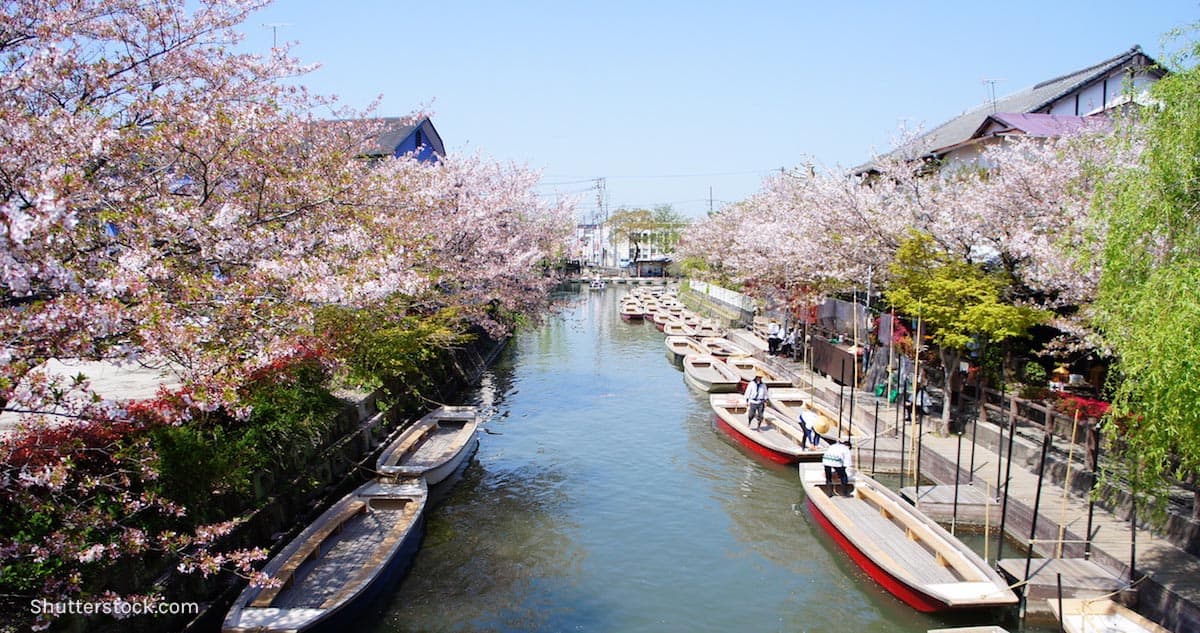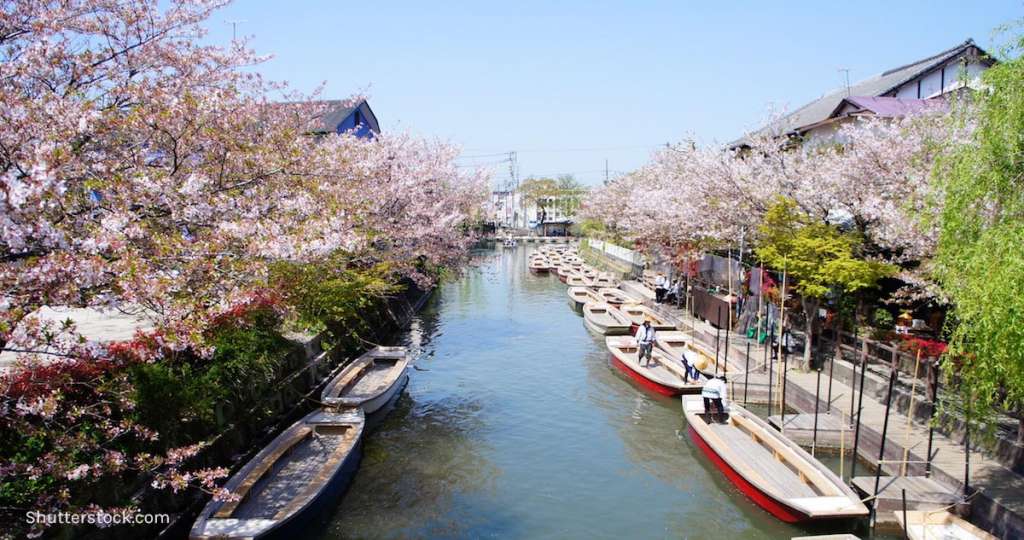 Yanagawa, also called the city of water, is an old castle town, located 50 minutes away from Hakata Station. It is surrounded by canals (moats) that became one of the main tourist attractions where visitors enjoy a scenic boat ride down the canals. Autumn and spring are the best times to visit for the autumn colors and the cherry blossoms. You can also rent and wear traditional kimono while exploring! You can book a tour with the local travel agencies or through Klook.
✅ CHECK RATES or RESERVE A KIMONO HERE
---
Fukuoka Access and Connectivity
How to Get to Fukuoka
This post is brought to you by Cebu Pacific, which offers some of the most budget-friendly flights to Fukuoka Airport, the main gateway to Fukuoka and Kyushu Region. Cebu Pacific directly connects Manila to Fukuoka daily. Travel time is about three hours.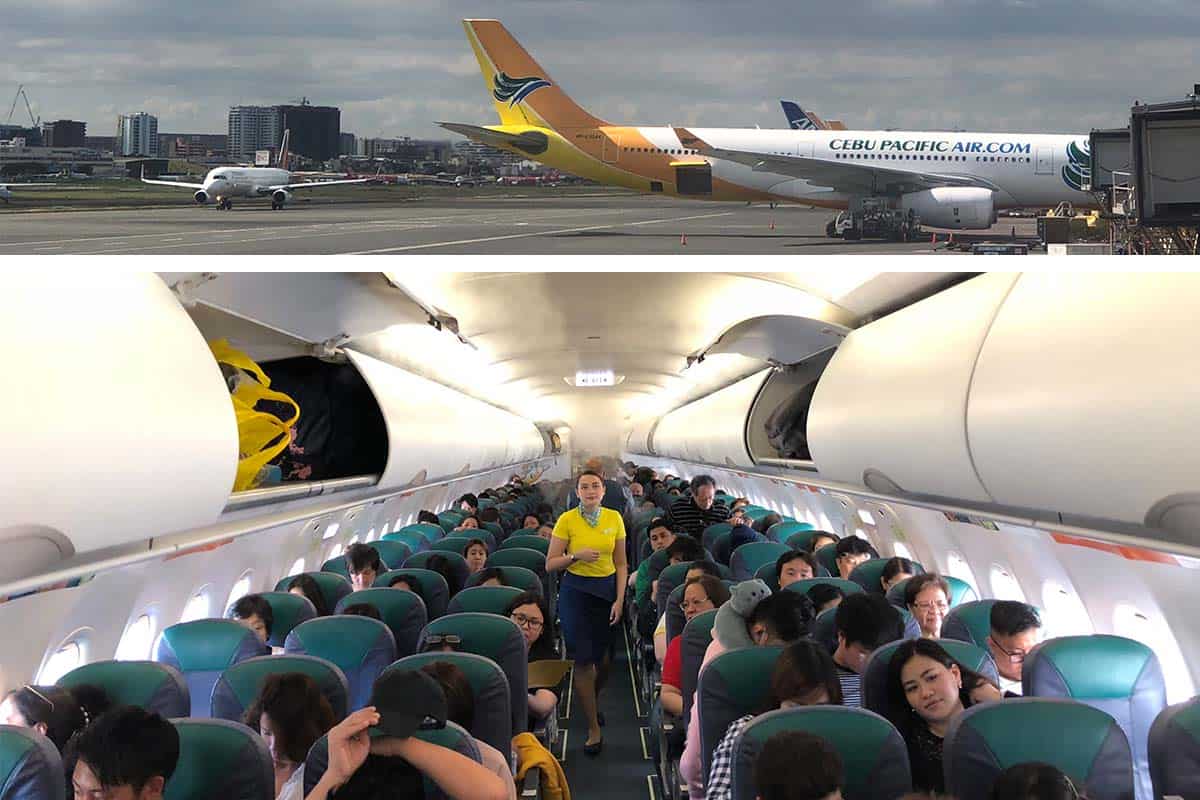 Getting to the city center (Hakata/Tenjin) from Fukuoka Airport is very easy. You can take the subway, the bus or the taxi. It will take about thirty minutes from the airport to either Hakata or Tenjin. You can read the detailed post on how to get to the city center from the airport here: FUKUOKA AIRPORT to HAKATA STATION & TENJIN: By Bus, Subway & Taxi
---
Internet Connection in Fukuoka
Buying a local SIM is a good option; however, a pocket Wi-Fi might be the better choice if you want to connect more than one device or if your phone is locked to a particular service provider. Cebu Pacific has a pocket Wi-Fi kit that you can rent. Just look for the kiosk at Terminal 3, just after the final security check. The device can connect up to 5 devices at the same time. What I like about CEB Wi-Fi kit is that it also works as a power bank!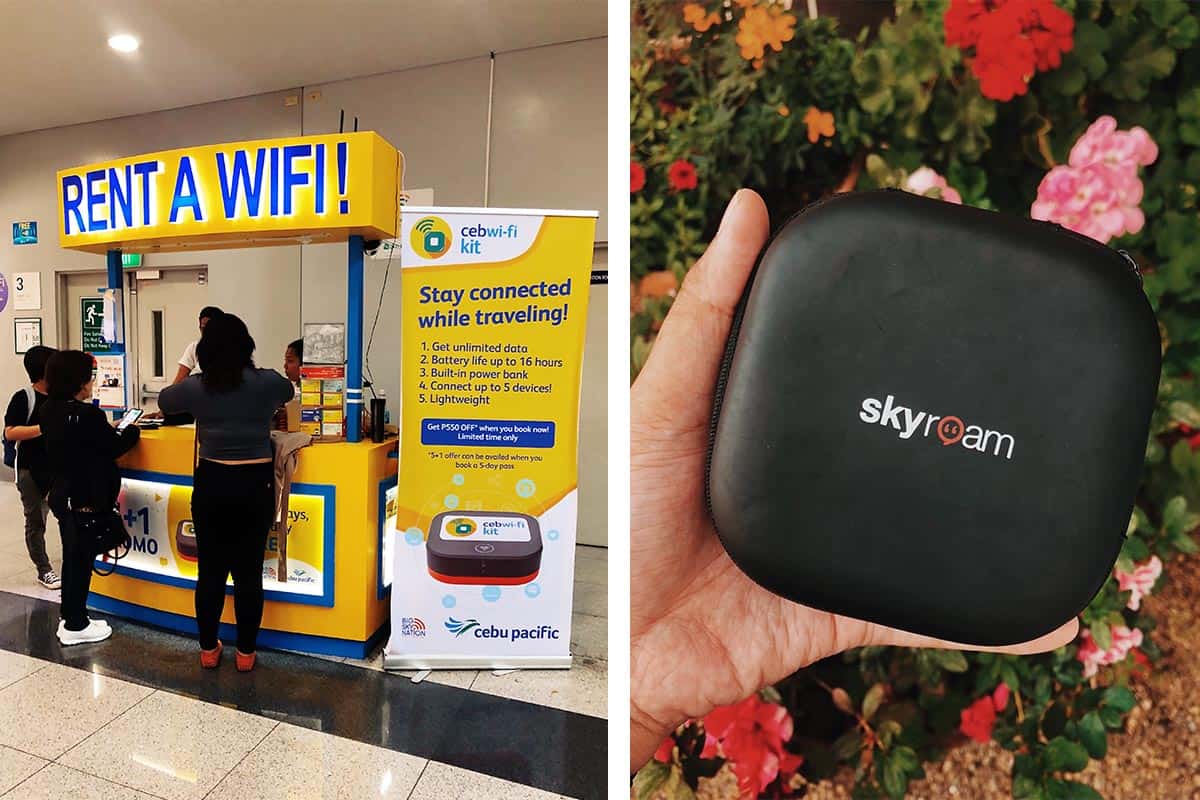 Having a reliable internet connection while traveling is beneficial. It will help you save time and money as you explore. You can access Google Maps, language translation app, currency conversion app, and Hyperdia (especially for those pulling a D-I-Y).
---
Where to Stay in Fukuoka
The city has two major wards — Hakata and Tenjin. These two are dotted with restaurants, shopping establishments, and accommodations. Most of the attractions are found on Hakata side, while a lot of budget hotels are located in Tenjin. On our recent trip, we experienced staying in both areas — Hotel Mystays Fukuoka Tenjin and Nishitetsu Hotel Croom Hakata.
Here are the top budget hotels/hostels in Fukuoka as rated by Agoda customers.
---
---
2️⃣0️⃣1️⃣9️⃣ • 1️⃣1️⃣ • 2️⃣0️⃣