In Japan, there is a saying that goes, "ikkai ichi dousa," which roughly translates to "one thing at a time."
I learned about this when I mentioned to a Japanese friend that I could count in one hand the locals I had seen eating while walking. "We take food seriously," he said. When asked if eating on the go is considered impolite, he simply said, "If you eat, just eat. Respect your food." So I guess that's a yes then.
For a country that has such an internationally revered cuisine, Japan's street food culture is very quiet. This one-thing-at-a-time principle makes it pretty tamed compared to other street food giants in Asia like Thailand or Taiwan. Japan's kerbside cuisine doesn't scream to your face or beg for attention, but it is there: takoyaki, dango, okonomiyaki and even ramen are all street delicacies. The difference is how they are consumed. The Japanese don't amble while they nibble. They stop and finish their food before going on with their lives.
Japan's street food culture is strongest and most prominent in Fukuoka, the birthplace of tonkotsu ramen, which uses pork bones simmered for a dozen hours or longer for broth. The city is also widely considered the ramen capital of the world. Here, the night is ushered in by the lights, aroma, and conversations seeping from dozens of yatai. A yatai (屋台) is a mobile food cart or stand stationed on the sidewalk. It usually opens in the early evening, serving patrons who just got off work, and closes in the early morning. More than half of all the yatai in Japan can be found in Fukuoka. Most of them serve mouthwatering bowls of Hakata ramen! But other stalls offer a variety of other dishes like hotpot, yakitori, tempura, and seafood.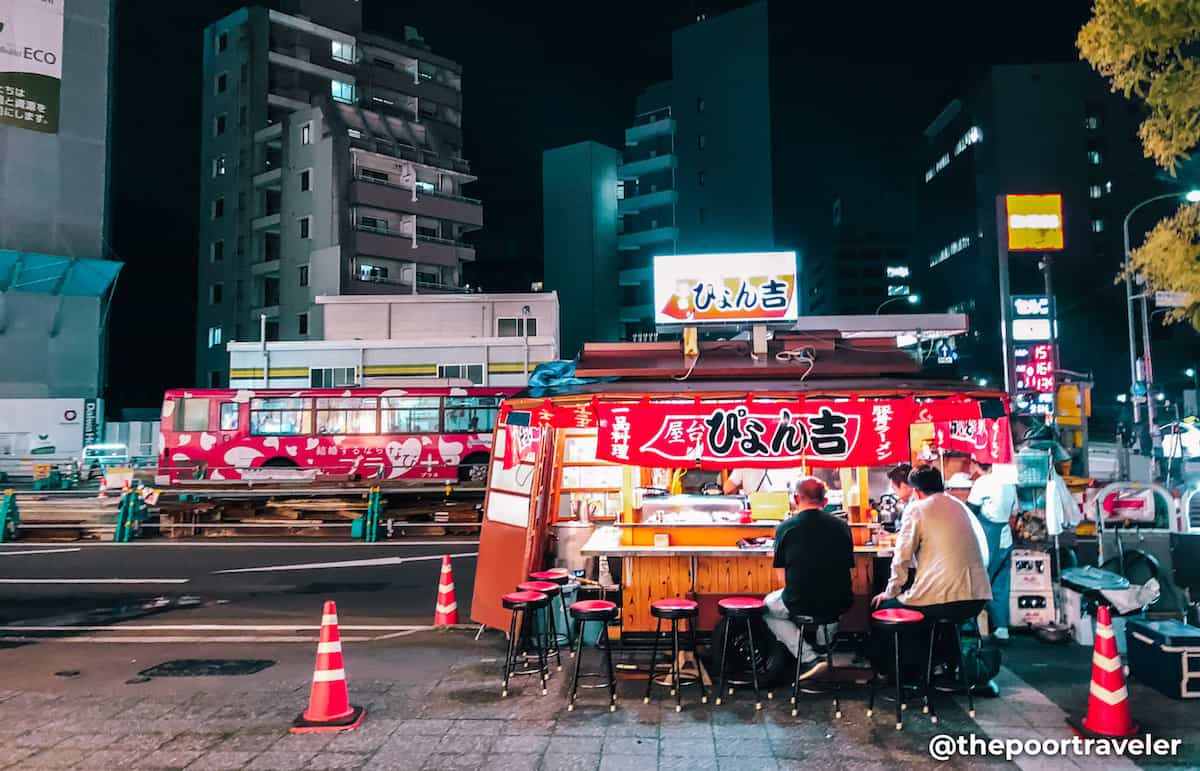 But even in Fukuoka's yatai scene, you're still expected to take a seat. It can get cramped, but that's where the beauty lies. A yatai is always intimate — you're shoulder-to-shoulder with strangers next to you — making it not just a dining experience but a social affair.
That's not to say that Fukuoka's cheap eats are limited to yatai. The city is littered with countless food spots that can give you more than your money's worth. Here are some of them.
WHAT'S COVERED IN THIS GUIDE?
Tenjin Yatai Mune (天神屋台 宗)
What to try: Hakata ramen, mentai tamagoyaki.
Price: ¥550 (ramen), ¥750 (mentai tamagoyaki).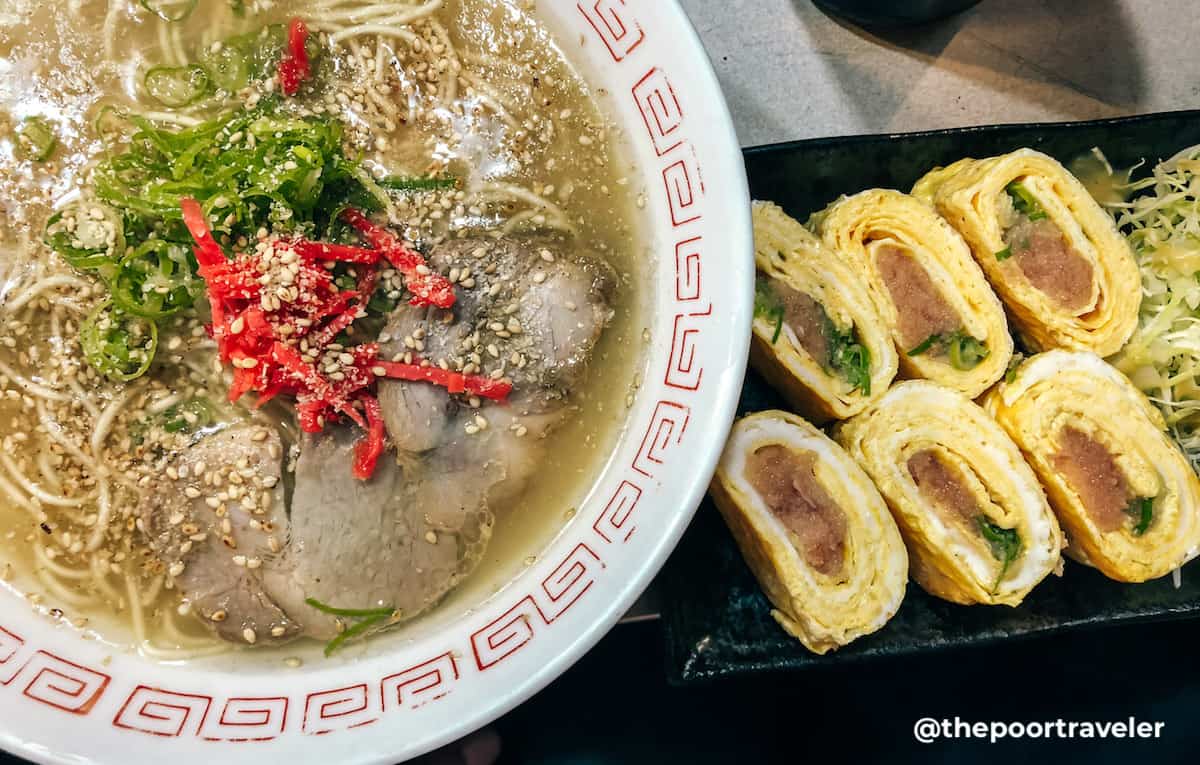 After trying out as many yatai as I could, it looks like I saved the best for last. On my last night in Fukuoka, I went yatai hopping with a friend, which led us to this humble food stall at the south end of Tenjin Station. It's located right here.
This unassuming stall gave me the best cheap ramen I had in the city. The dish was very simple. It was just a bowl of Hakata ramen topped with thin slices of pork, red pickled ginger, and sesame seeds. But it was dynamite. Many of the ones I had tried before this was a bit bland for my taste, but this broth was rich and flavorful, and the sesame seeds added a nice finish. And it was only ¥550.
Fukuoka is also popular for mentaiko (salted or spiced pollock roe), which originated in Korea and was brought to Japanese shores in 1949 by Busan-born Toshio Kawahara. So just to have a taste of it, I ordered mentai tamagoyaki (¥750), which is basically several layers of rolled omelette with pollock roe at its core, served with greens and mayonnaise. The combination looks weird at first, but they all work together to create a light, well-rounded appetizer. (This was served before the ramen.) The roe added a briny burst to every bite of the soft and creamy tamago.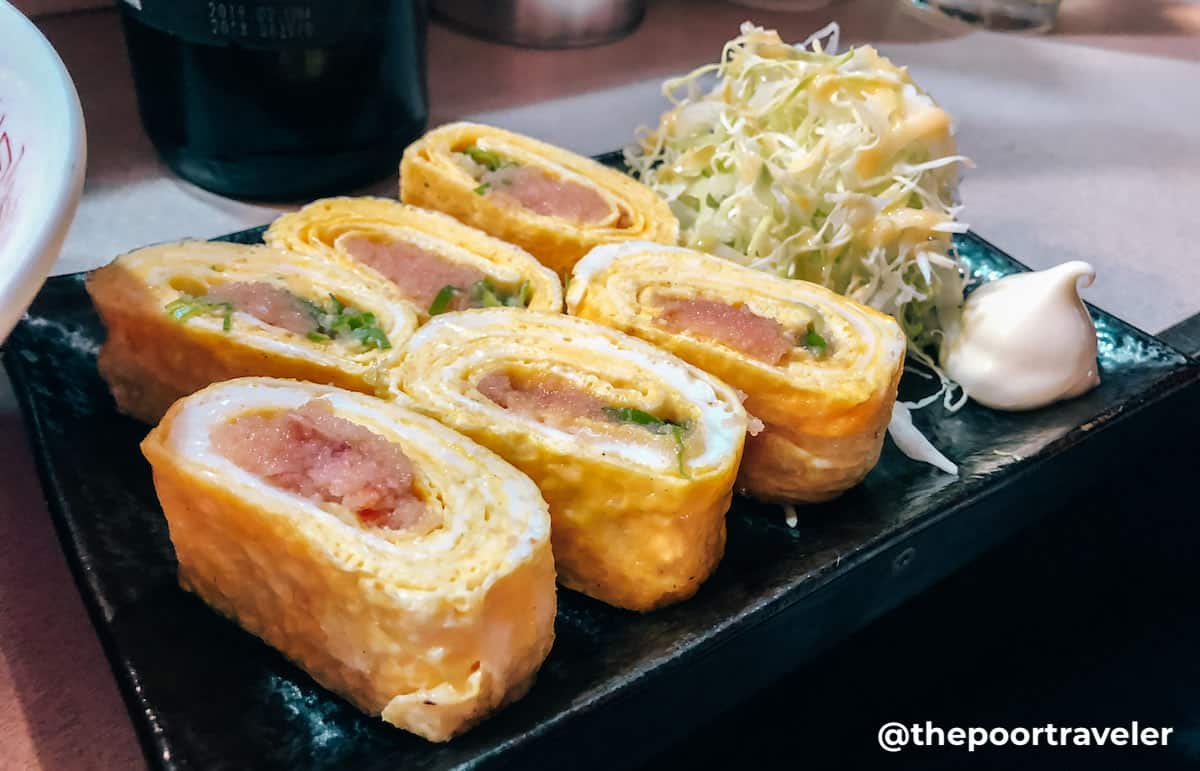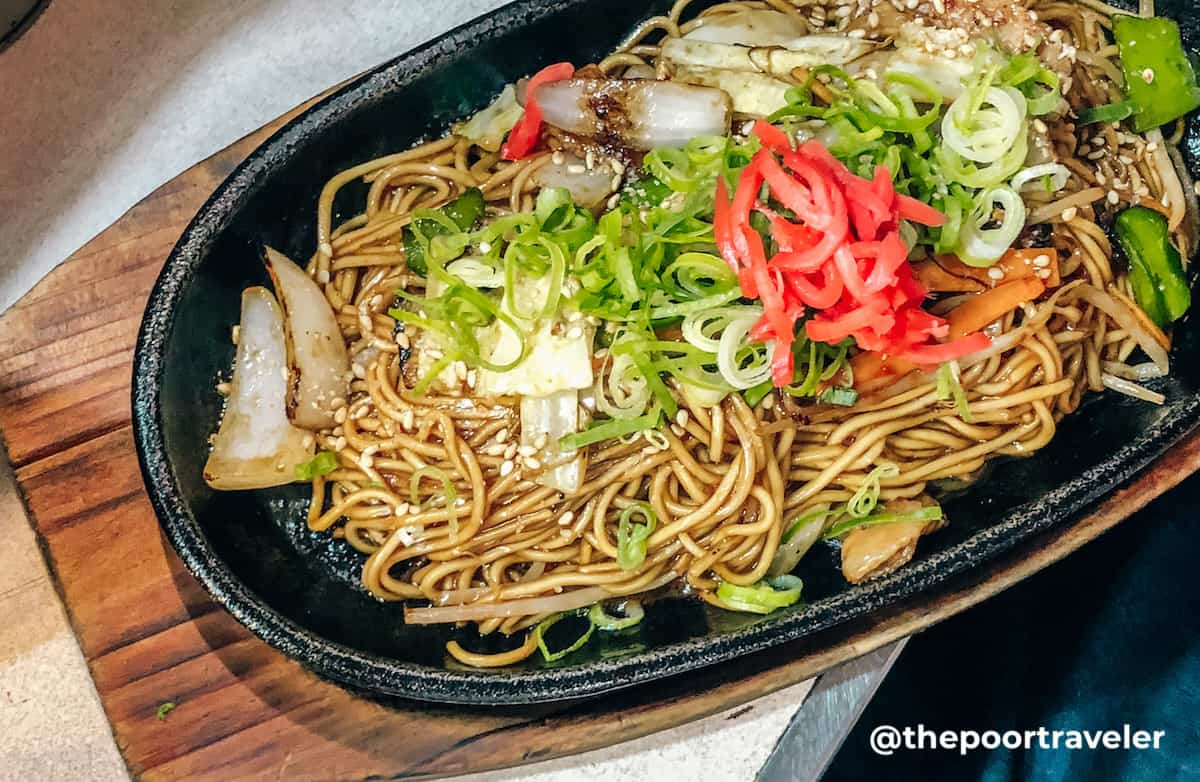 We ended the night with yaki-ramen or fried ramen (¥700), another local concoction, usually cooked with vegetables and red pickled ginger. I have a thing for stir-fried noodles in thick soy-based sauce, so this one is right up my alley. The taste is a blend of sweet, salty and tangy. My only complaint was that because it was our last stop, I could not find enough space in my tummy for it, but I still managed to finish it. Because talent. LOL.
Operating hours: Mondays-Saturdays, 7pm – 2am
Nearest Stations: Tenjin Station
---
Chez Remy (Yatai)
Yes, a yatai serving French food! Who would have thought?
It's located close to Tenjin Yatai Mune, just two stalls apart. Adding a French twist to the Japanese yatai concept, Chez Remy looks just like your ordinary food cart stationed by the side of the road, but it whips out plate after plate of French delicacies like garlic butter escargot (¥700) and mussels in wine ¥600, and French-Japanese fusion pieces like bouillabaisse ramen (¥1,000).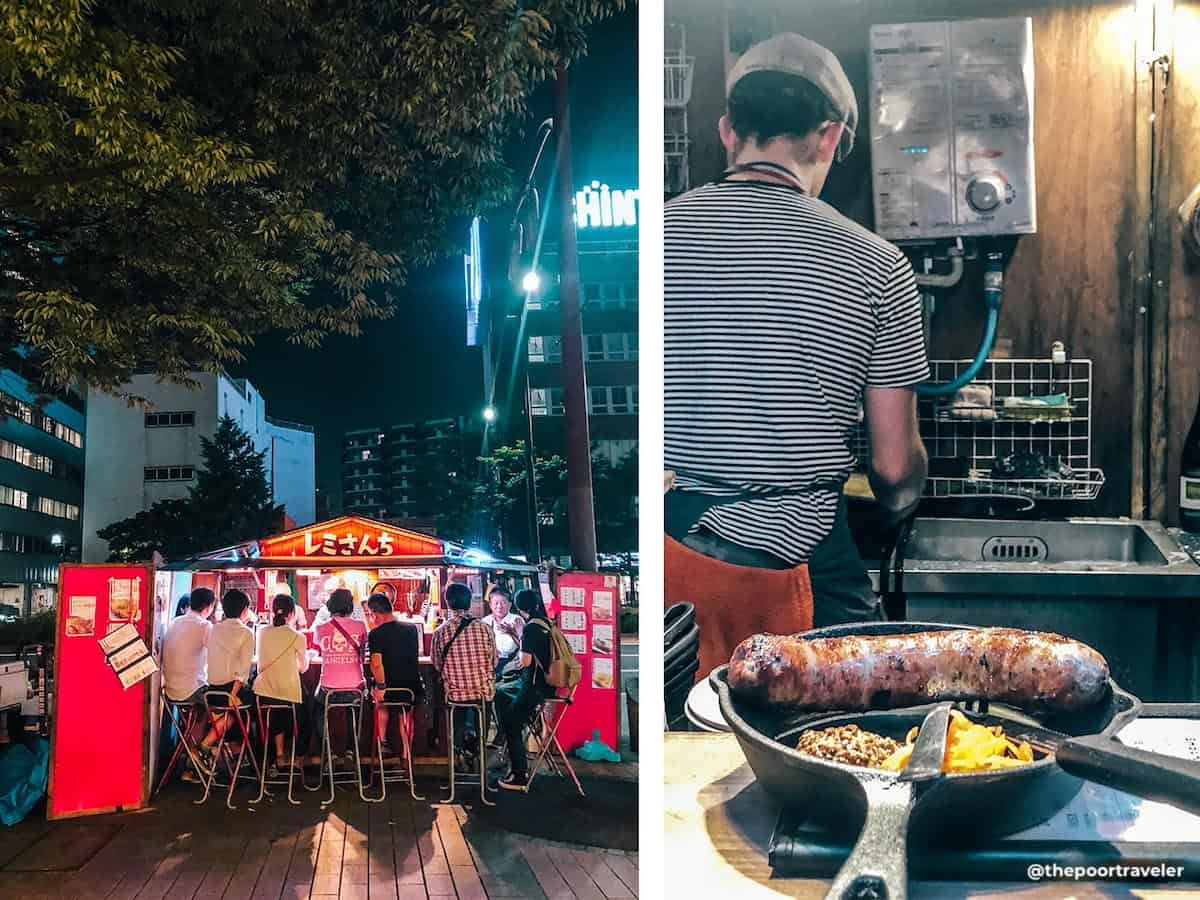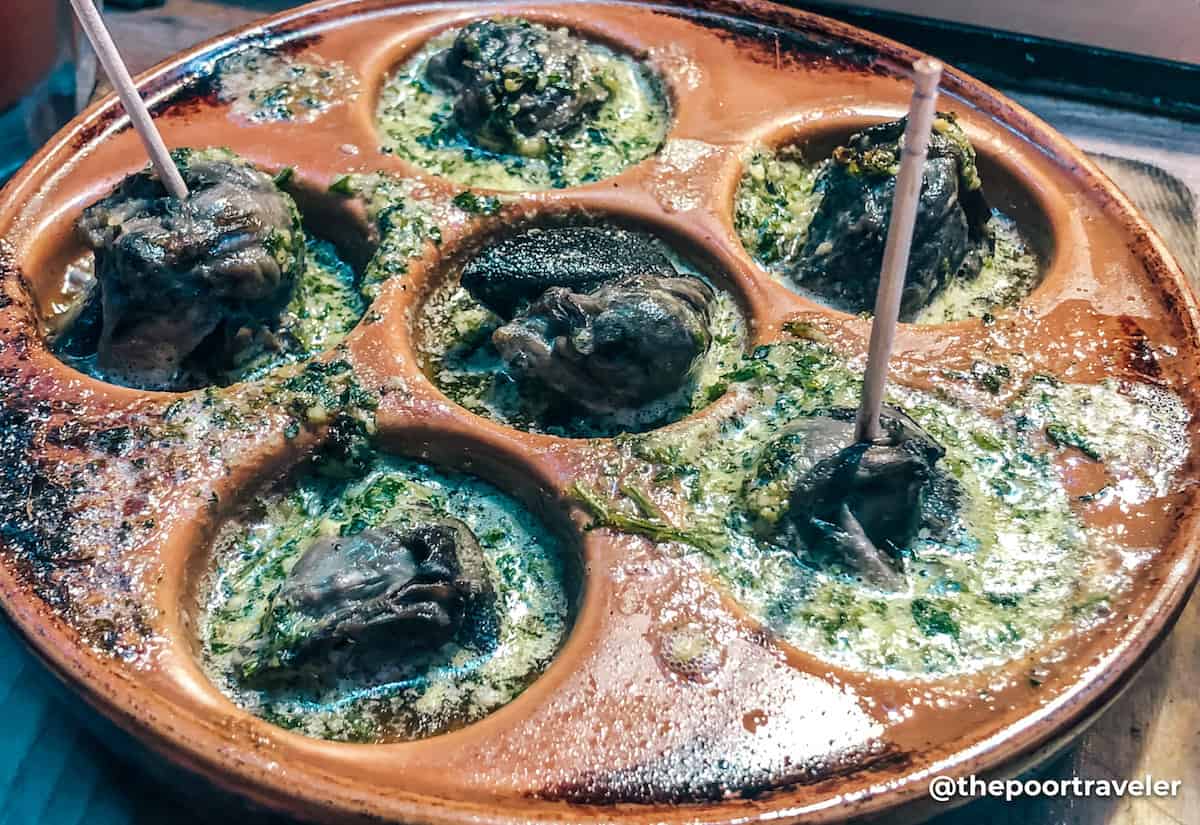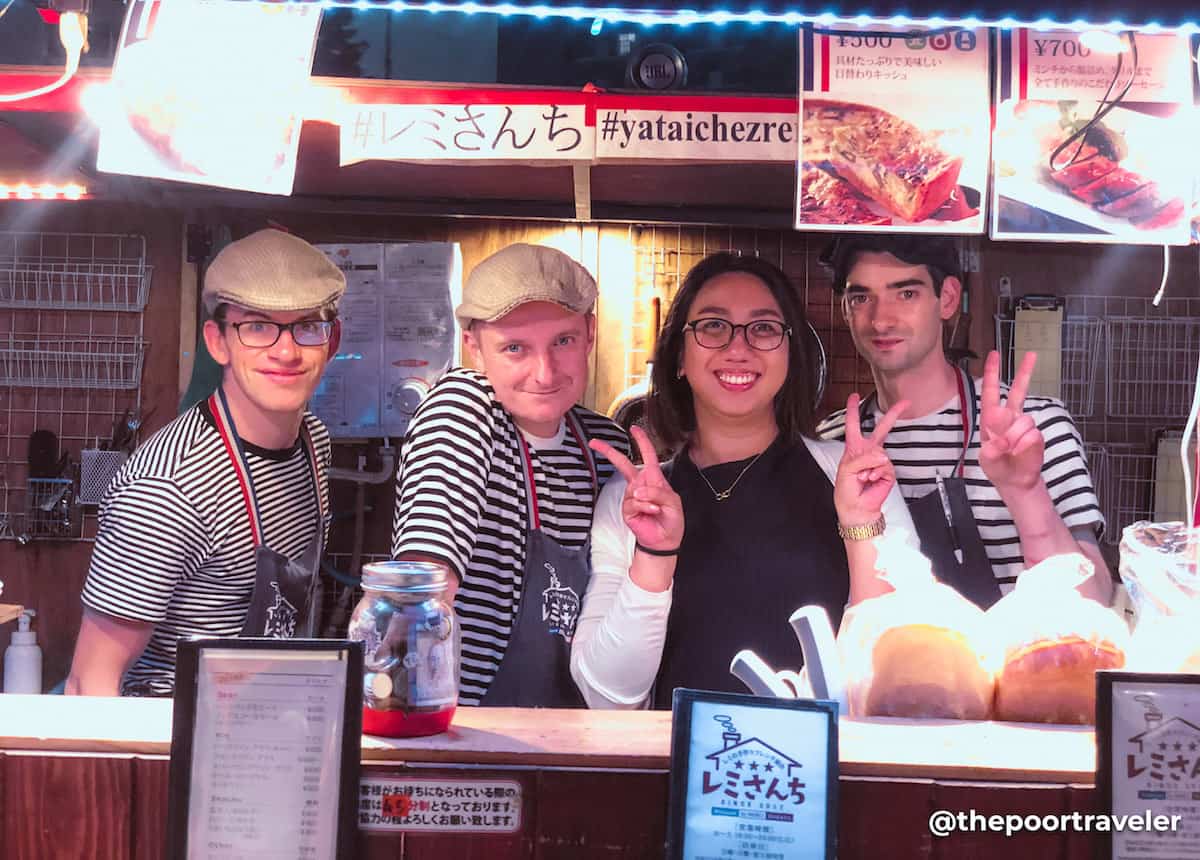 My friend Irene and I split the 6 pieces of escargot. I haven't tasted enough escargot in my life to know when it tastes good or not (honest lang), but I liked what I tasted. The butter didn't overpower the snail meat, which was tender. I also ordered pork knuckles with mustard because I told you I adore unhealthy food! Everything from the skin to the bone was so soft. They melt in your mouth, except the bones, which required a bit chewing. Yes, I did. Everything that went into my mouth from that plate went down. And oh, you can have a glass of sparkling wine too (¥600)!
Operating hours: Mondays-Saturdays, 7pm – 2am
Nearest Stations: Tenjin Station
---
Shin Shin Hakata Ramen
What to try: They say Hakata ramen. I say, miso champon.
Price: ¥650-850.
This came highly recommended by a friend living in Fukuoka so I was extremely excited to fill my face with it. Thankfully, they have a branch not too far from our hotel. I dragged my sister and brother-in-law into it and were bombarded with autographs of prominent people who have dined here. Their menu is quite rich and diverse, so it was great that they have an English version of it.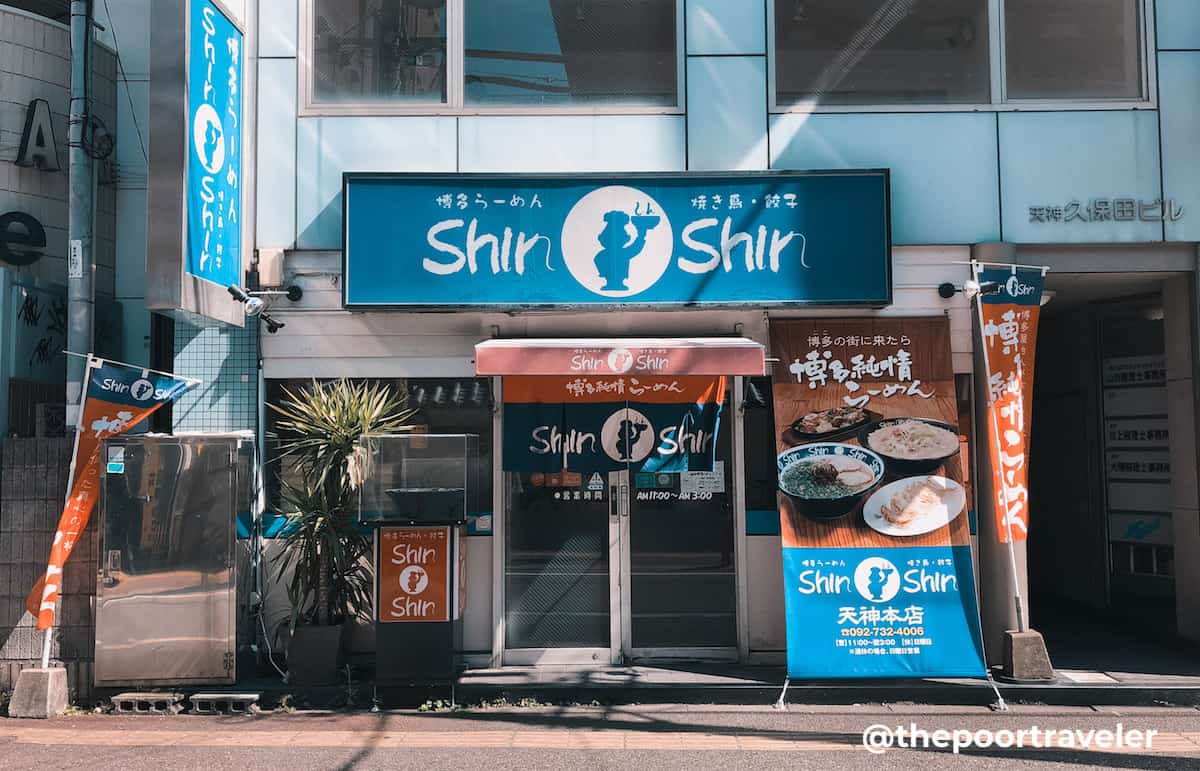 Plain Hakata ramen costs only ¥650, ramen with chashu (pork slices) ¥890, champon ¥780, miso champon ¥850, extra egg, ¥100. I ordered Hakata ramen with chashu and egg, while my companions had a champon, a Nagasaki specialty.
The pork in my ramen was so tender and perfectly seasoned, a great counterpoint to the short-cooked firm noodles. But the broth was a bit underwhelming for me. I have a palate that tends to favor the strong, intense end of the taste spectrum. It was great: the meaty and umami were there, but I just wanted more strength in flavor. But that's just me.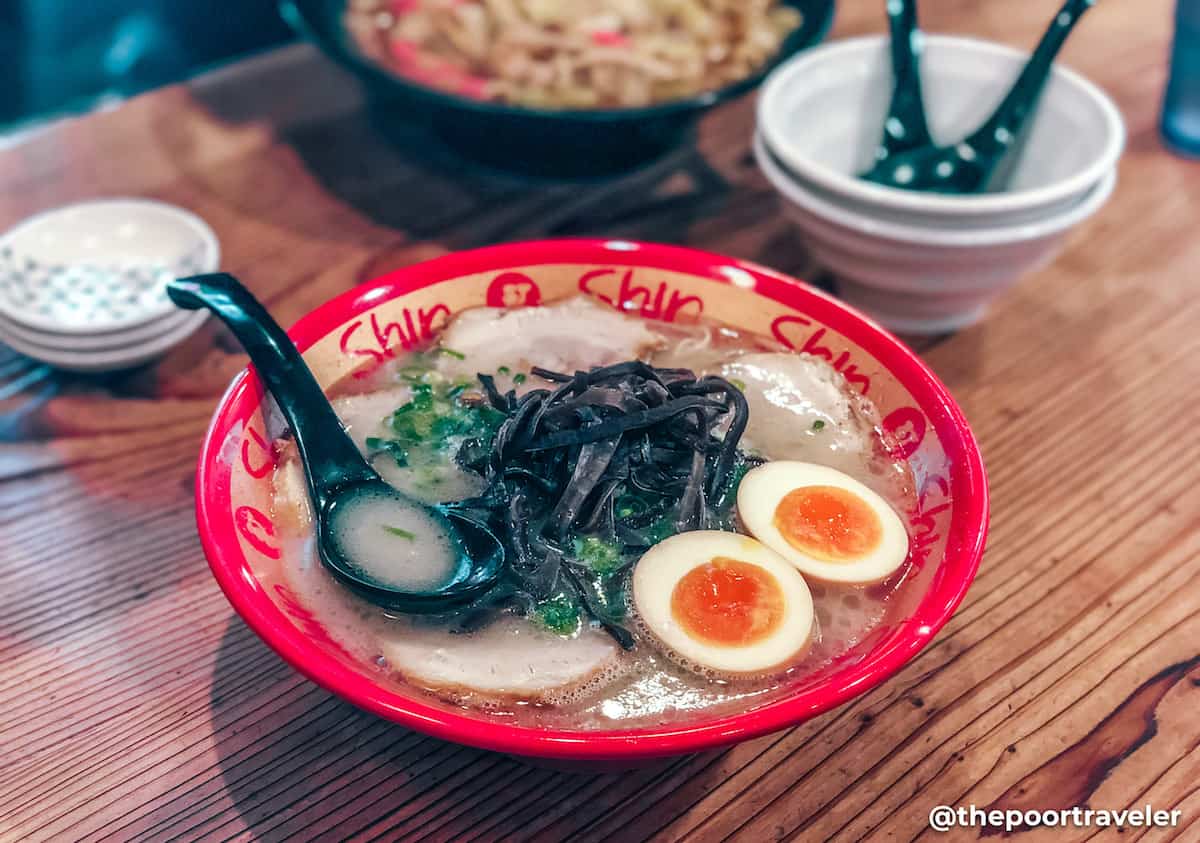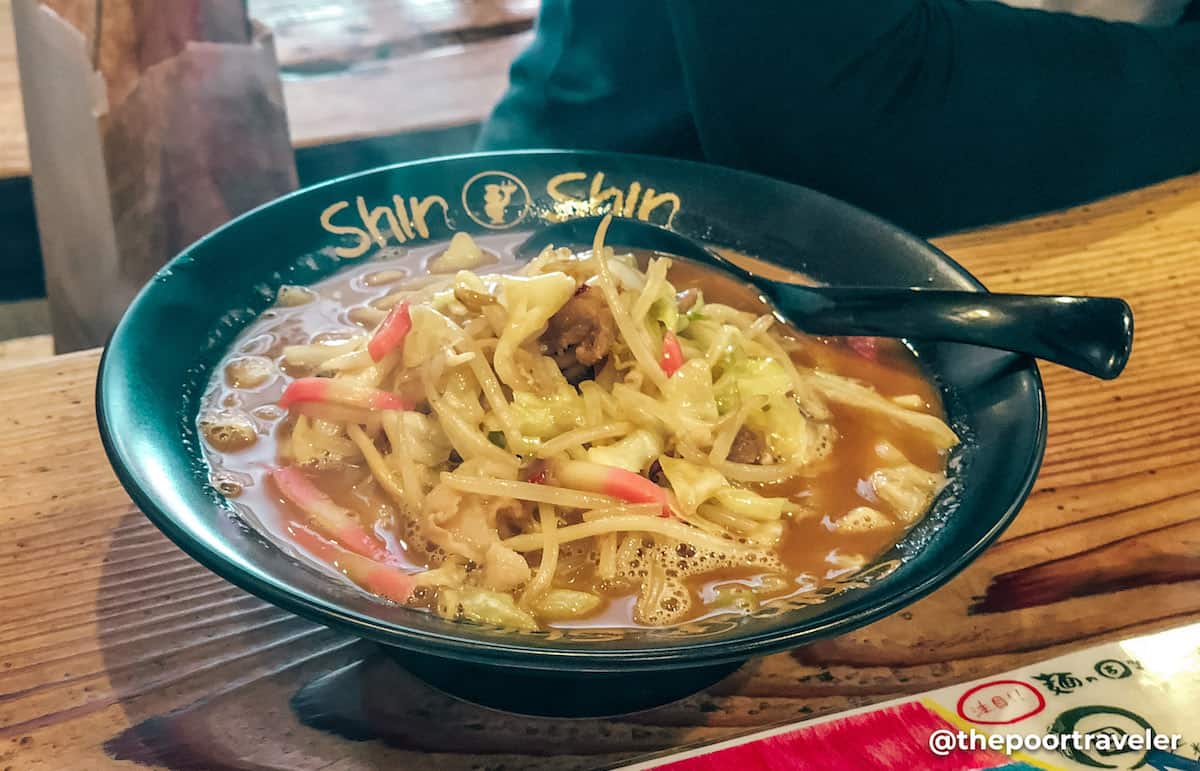 The miso champon, though, is another story. It was an unforgettable bowl, even if it wasn't mine. I had a spoonful at first and then ended up stealing from my brother-in-law. I could finish his bowl if I didn't stop myself. Haha.
Would I be back at Shin Shin? Yes, but for the champon!
Operating hours: Mondays-Saturdays, 11am – 3am
Nearest Stations: Tenjin Station
---
Hakata Issou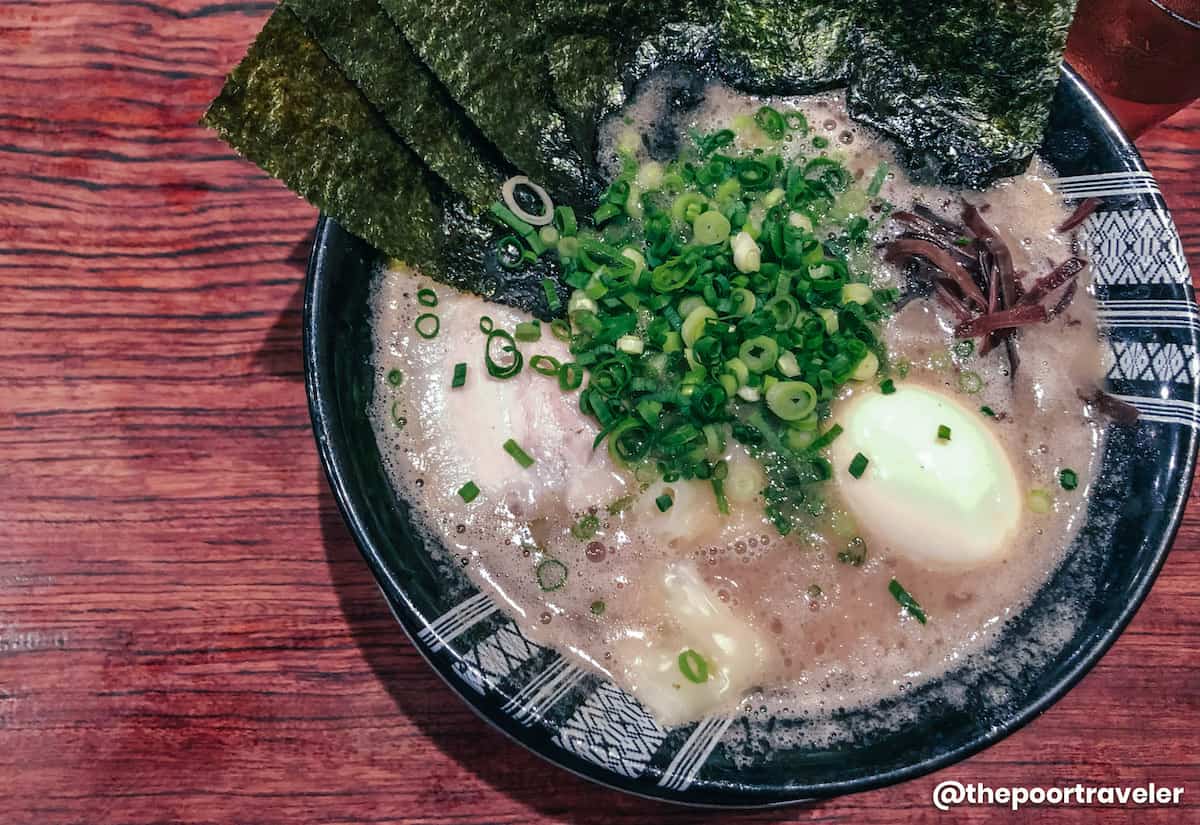 For the longest time, I had been kicking myself in the butt for not being able to try Hakata Issou even after multiple trips to Fukuoka. But on my most recent trip, I finally got the chance.
Hakata Issou is one of the most famous hakata ramen places in the city. It has two branches: one near Hakata Station and the other in Nakasu, the island in between Hakata and Tenjin. It is often included in lists of the best ramen shops by various publications. Their hakata ramen uses premium local pork and firm noodles topped with seaweed, pork belly, and green onions.
One thing I noticed immediately about their version of Hakata ramen is that it is frothy. In general, Hakata ramen's stock is the kotteri type, which is creamy, cloudy and rich. But this one has a thin layer of foam on top. It also has a very subtle bitter aftertaste, which prevents the umami taste from overpowering or lingering in the palate.
Open: Daily, 7pm-4:30am
Nearest Stations: Nakasukawabata Station, Hakata Station
---
Shodai Hide-Chan (Ramen Stadium, Canal City Hakata)
Ramen Stadium is a complex of eight ramen shops on the fifth floor of the massive Canal City mall on the Hakata side of the river. It was one of the first places I visited in the city, LOL.
The most prominent and most widely reviewed establishment here is Shodai Hide-Chan, which is the first shop to your right when you enter the complex. There's also a long line snaking in front of it, which is often a good sign.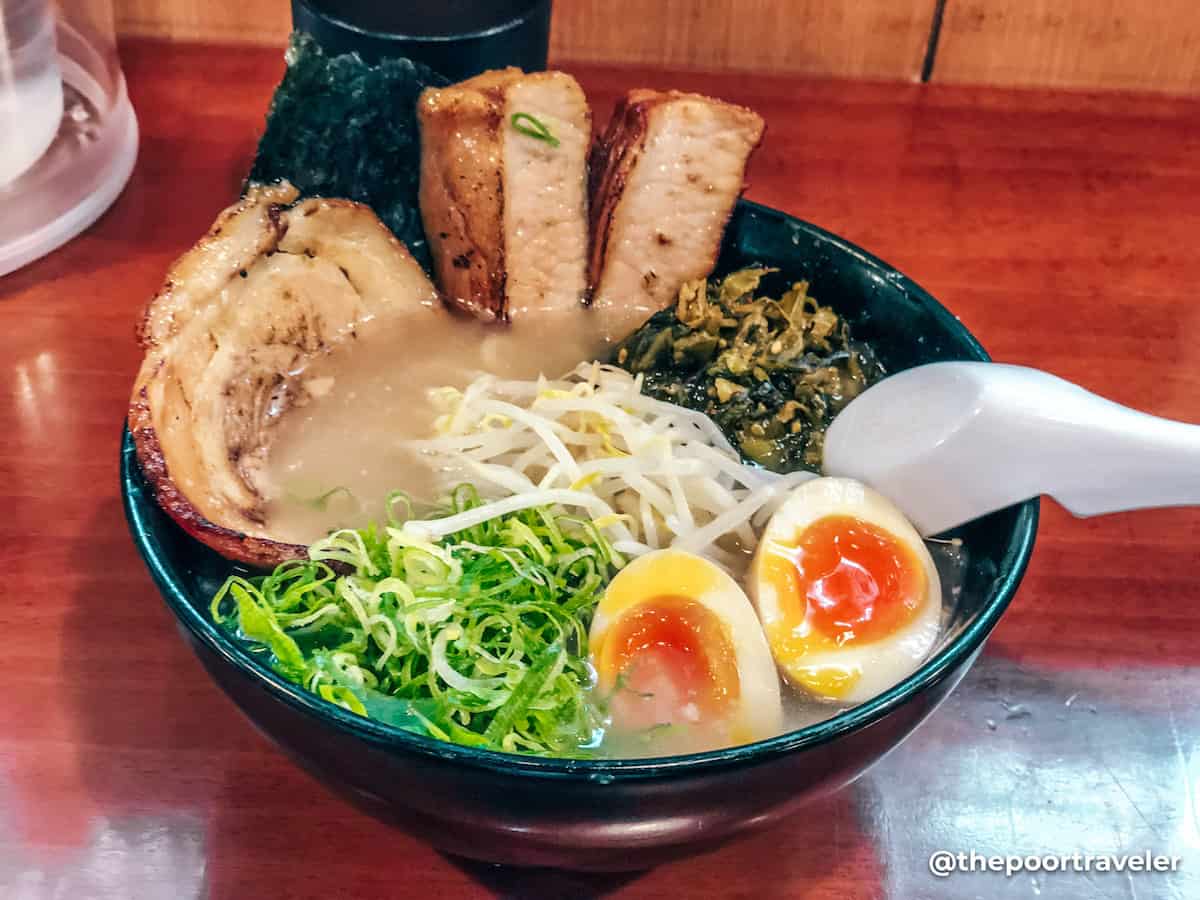 Shodai Hide-Chan specializes in pork neck broth. And here, you get to choose your toppings: a slice of pork belly, a cut from the fatty part of the neck, an egg, or all of it. Because I could not make up my mind, I decided to get all the toppings (¥1150). Both cuts of meat were divine. They were soft and had a lovely smoky taste. The neck slices were even more tender, almost gelatinous because of the fat, which is yay for me coz I love all the unhealthy pieces. But the broth let me down. It looked rich and viscous, giving the impression that it's packed with flavor. But it's missing that umami punch that I usually get from ramen broths. The green onions and sprouts did not do much, if not muddled it.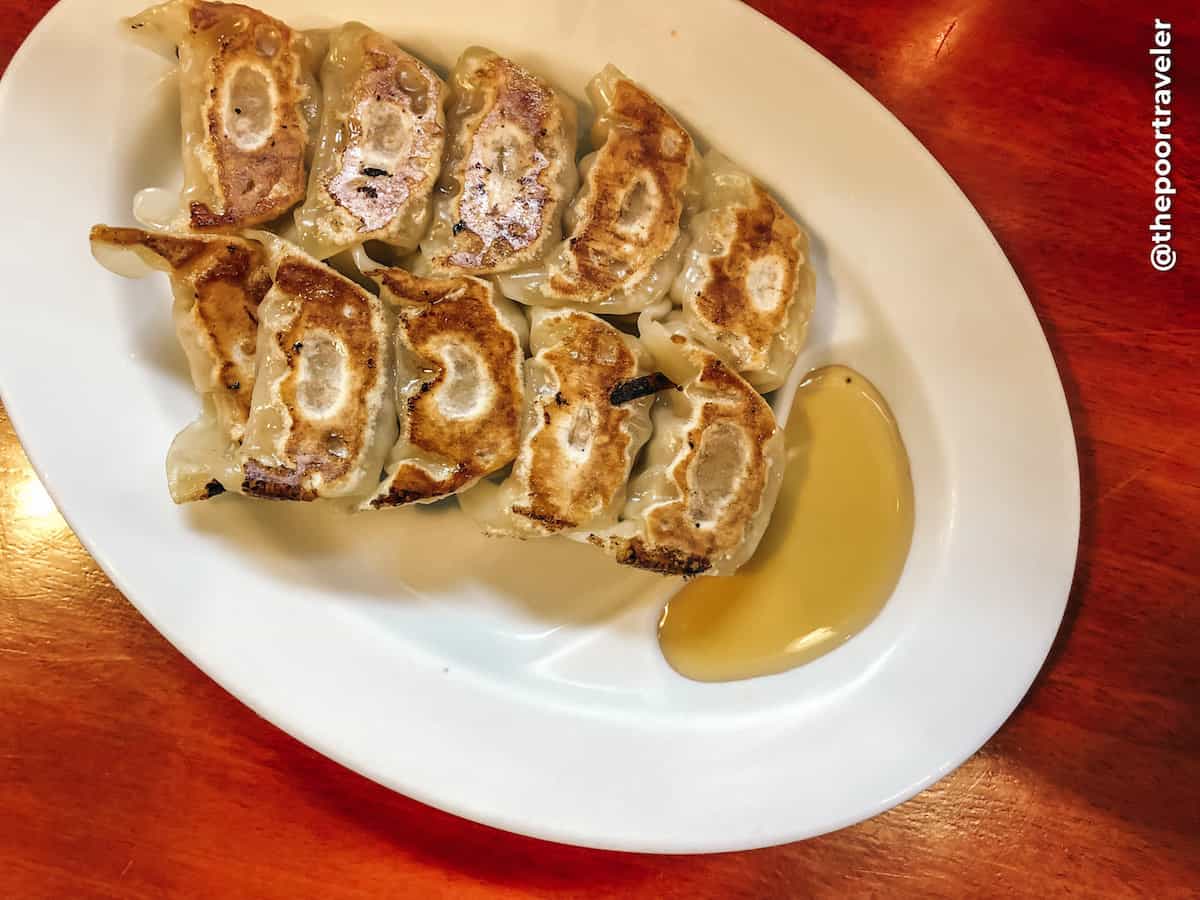 The saving grace for me was the gyoza (¥500). Fukuoka's gyoza is much smaller but tastier than usual. These pan-fried delights are crispy and juicy on the right places.
Open: Daily, 11am –11pm
Nearest Stations: Hakata Station, Nakasukawabata Station
---
Ichiran Main Shop & Ichiran Forest
I have a love-hate relationship with Ichiran. People say it's overrated. Is it the best? Of course not. I have tried many others that are way better at a much lower price. But it's good enough.
I love it because it's accessible. Ichiran is a chain, present in 65 locations, often recognizable by the long queues that snake from its doors. No matter how you feel, it has become an icon in the Japanese food scene, even branching out to other countries. I love it for its low-interaction, almost private dining set-up, which is an attraction on its own.
I hate it because the meat slices are so thin, I always joke that all it takes is a gentle blow and they will go flying all the way to the other booth. I hate it because its default "settings" are too bland for me. But I love it because I get to customize my ramen to my liking. Like I said, I love strong, bold flavors, so all I do is amp up everything — extra rich broth, extra strong flavor, a clove or two of garlic — and voila, I have a ramen that I like. So yes, I'm a bit conflicted, haha.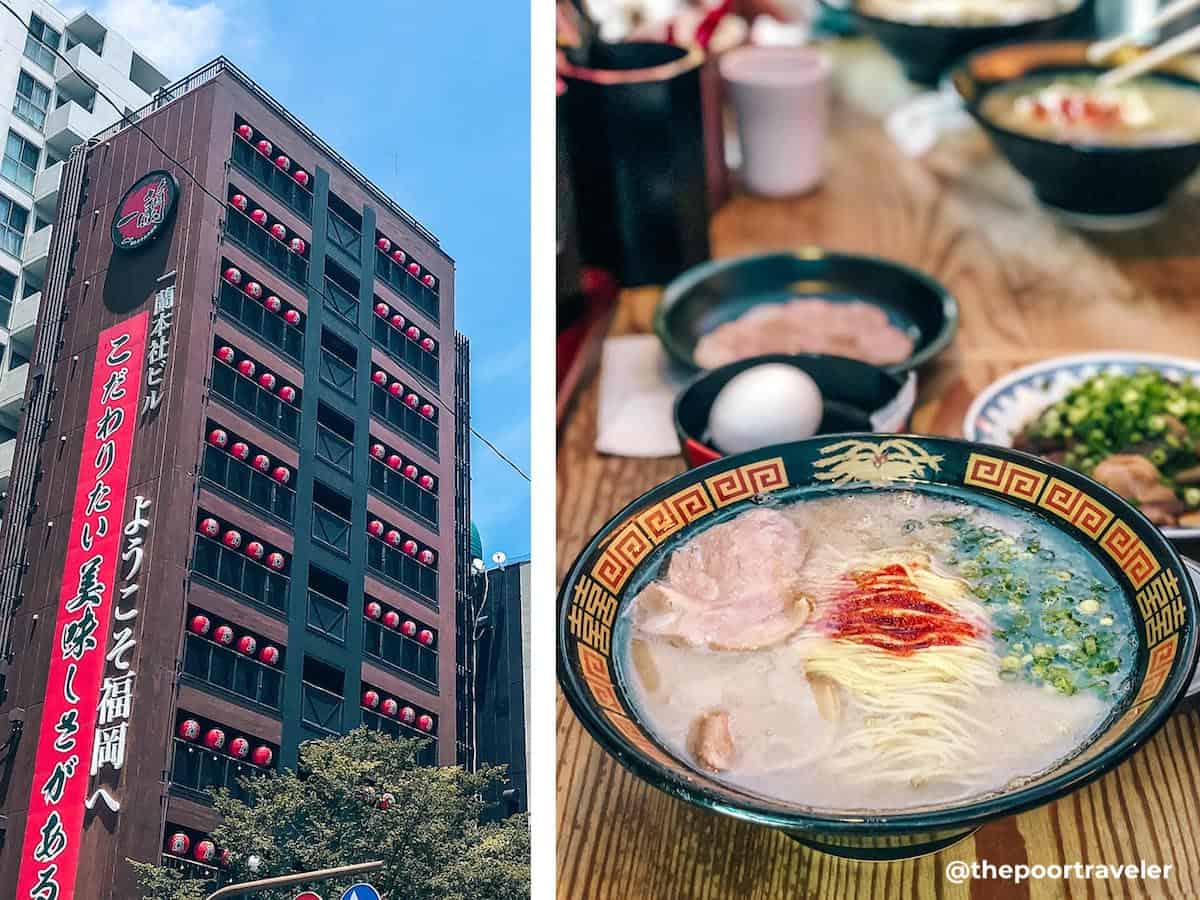 But since Ichiran originated in Fukuoka, I would not let the opportunity to visit the main shop pass by. I also heard that they serve their ramen in rectangular bowls, which thrilled me, no matter how shallow it sounds, haha. But yes, there I was, queuing up for another Ichiran helping. The ground floor of the main shop is designed like a lane of yatai, which is a nice touch. A bowl of ramen costs ¥890.
Did I enjoy it? Yes, because again, I got to customize the ramen based on what I like. Unfortunately, they used the regular bowls, so it was still pretty much the same experience.
Open: 24 hours, daily
Nearest Stations: Nakasukawabata Station
But if you want to take a deeper dive into the history of Ichiran and tonkotsu in general or simply see how it's made, you can go out of your way to ICHIRAN NO MORI or Ichiran Forest, which houses a tonkotsu ramen factory and museum. You can also empty a bowl of their signature ramen here, as you would in any of their branches.
---
The establishments above are the places I visited on my most recent visit. I'll add more from my previous visits soon.
There are also a couple of restaurants that were part of my itinerary but I failed to visit. Here they are:
---
Udon Taira
Udon Taira is just a short walk away from Hakata Station or Canal City. I was so looking forward to trying it, but the timing just did me in. It's open only from 11:30am-4pm, which is catastrophic for my itinerary as I would usually be out exploring within this period.
Anyway, from what I read, Udon Taira serves many variations including shrimp (450 JPY) and meat (500 JPY).
Open: Mondays-Saturdays, 11:30am-4pm
Nearest Stations: Hakata Station
---
Where to Stay in Fukuoka
Many key tourist spots are on the Hakata side, but most budget hotels are in Tenjin. If you can, choose a hotel that is not too far away from either Hakata Station or Tenjin Station. As long as you're close to either, it will easy for you to explore the rest of the city.
If you can't find one near a station, choose a hotel near the river where Tenjin meets Hakata. This place is rich with restaurants, shops, and other attractions.
On my last visit, because I wanted to spend most of my time food tripping, I stayed at Hotel Mystays Tenjin-Minami. It's located just a block from the river. Tenjin Station is within walking distance, too. And because I've been a fan of their branches in Tokyo, I wanted to try their hotel in Fukuoka. For Hotel Mystays Fukuoka Tenjin-Minami, check rates or reserve here.
Here are the top Fukuoka hotels below ¥6000 per night, as scored and ranked by Agoda users.
---
2️⃣0️⃣1️⃣8️⃣ • 7️⃣ • 3️⃣0️⃣