"I'm not leaving Japan without having ramen," declared my friend Kenneth.
I felt for him because like him, I also make it a point to empty at least one bowl of this famous noodle soup whenever I'm in Japan. It was our last night in Sapporo and we won't have that opportunity again. Thus, even when it meant walking across the city on slippery ice and waiting for almost an hour in -6 temperature, we still ended up queuing for a humongous serving of delicious ramen.
We were in Sapporo upon the invitation of Philippine Airlines, which had recently launched a new route: direct, nonstop flight to Sapporo from Manila. This move brings Filipinos closer to Hokkaido, Japan's most remote prefecture, and its eclectic culinary tradition.
Sapporo's gastronomic delights are oddly fascinating. According to our guide, 150 years ago, there were only seven people living in Sapporo. Hence, much of what the city has to bring to the dining table is relatively new and heavily influenced by neighboring territories. If you're visiting Sapporo soon, here are some restaurants that I was able to try that you might want to squeeze into your itinerary.
WHAT'S COVERED IN THIS GUIDE?
Ramen Shingen
Almost every major city in Japan has its own take on preparing ramen. Here in Sapporo, their signature is miso ramen, a type that uses miso paste, made by fermenting soy beans. The miso paste is blended with fish or chicken dashi. Sometimes, chili paste is added to deliver a spicy punch that is very welcome in cold winter nights.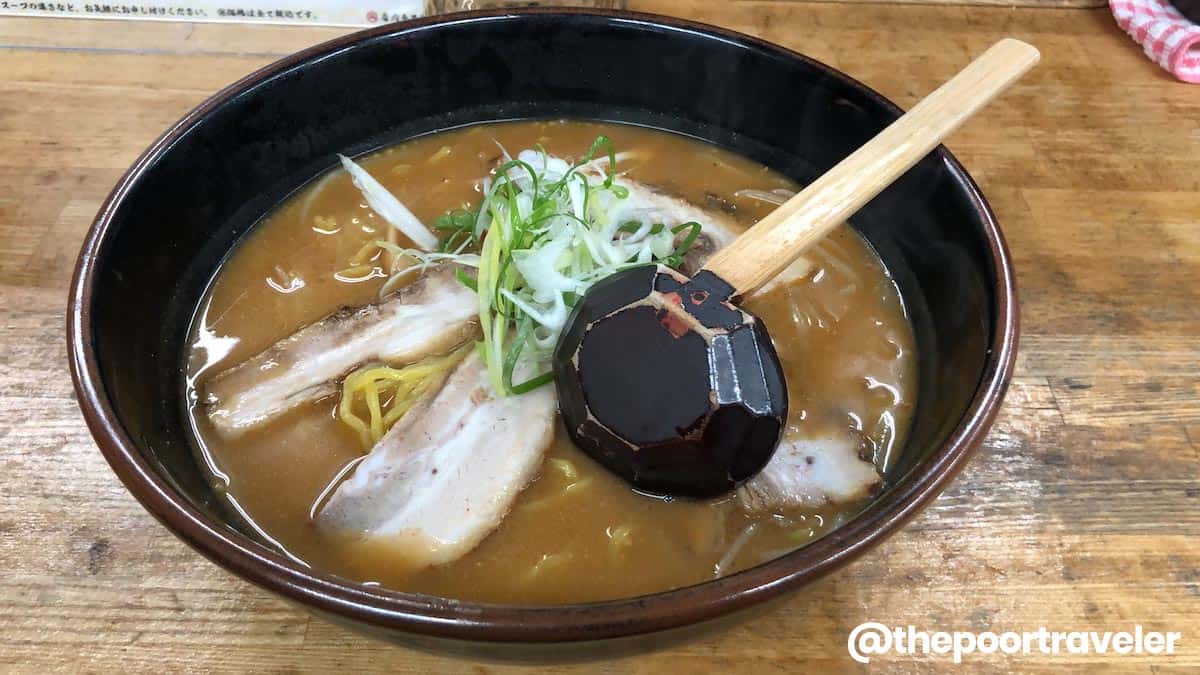 On our recent trip, I was able to try Ramen Shingen, serving the best cheap ramen in the city, if our guide was to be believed. I also asked the opinion of some of the locals we've met throughout the trip and they all recommended Shingen. And if the queue outside is any indication, it may really be one of the most popular ramen bars in Sapporo. Considering that we were there just before midnight and in freezing weather, the place was packed with locals. In fact, after falling in line outside, we stepped inside and, whoa, there was still a line. Haha. There were only 12 seats, so you should really expect to wait.
Ramen Shingen serves three types of ramen broth: shio (salt), shoyu (soy sauce), and miso (soy paste). Their specialty is miso, of course. After you choose your broth, you can choose whether you like it rich or mild. You also get to choose a size: full or half. Be aware that the full size is ginormous. The usual bowl you're probably used to is just half-size. All these types are named after old Japanese provinces.
Vins and I decided to order the spicy miso (Echigo) and rich shoyu (Mito) varieties and share, so I got to taste both. Both have chewy, curly noodles — which is just how I like 'em — and topped with chashu (roast pork) and kakuni. Their shoyu ramen came highly recommended by our guide, but it isn't their best. Their spicy miso ramen, however, is immaculate. The richness and flavor strength were perfect. Even the piquancy was undetectable at first, giving a tangy punch only when it reached my throat, which was a pleasant surprise. Despite the giant serving, we were able to slurp every last strand of the noodles and every last drop of its broth.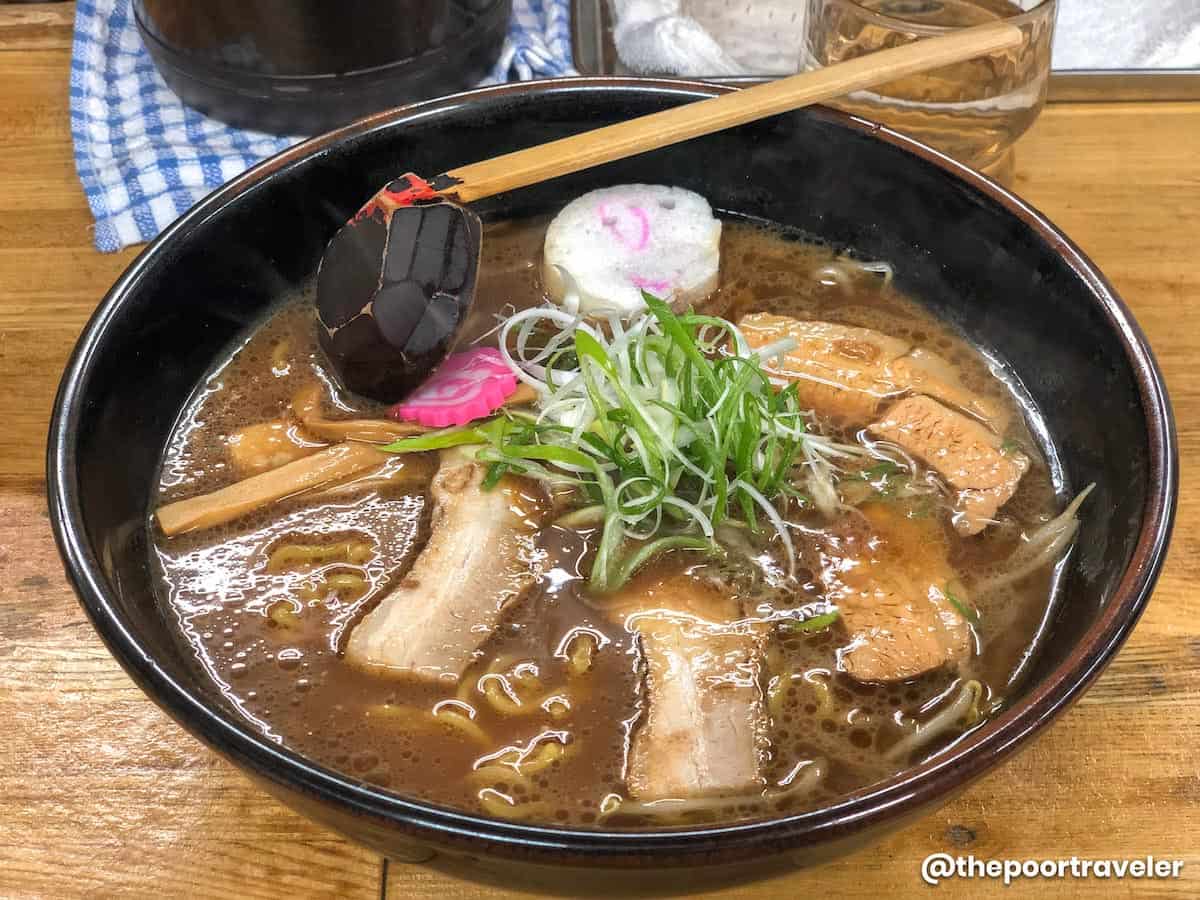 Prices regardless of type:
Full-size ramen: ¥760
Half-size ramen: ¥540
Full-size ramen with chashu: ¥950
How to get there: From Sapporo Subway Station, take the Subway Nanboku Line to Susukino. Transfer to tramway to Higashi Honganji Mae Station. It's only a short walk from there.
Hours open: 11:30am to 1am, daily
---
Sapporo Ramen Kyowakoku
Sapporo Ramen Kyowakoku (aka Ramen Republic) is not a single shop but a complex of multiple ramen bars marketed as one. It's very much like Ramen Stadium in Fukuoka, Ramen Koji in Kyoto, or Ramen Museum in Yokohama, if you're familiar with them. Like the other three, it also fosters an Old Japan atmosphere. The idea is, each bar offers a different style of ramen and you can choose one or try more in just one place.
I visited this on my first time in Sapporo, so I was much more thrilled. Normally, I would just pick whichever had the longest line, but our guide strongly recommended a bar called Shirakaba Sansou. Like Ramen Shingen, they serve miso, shoyu, and shio versions, but miso ramen is their specialty, which is available in full-size and half-size. There's also a spicy miso option if you're craving some heat.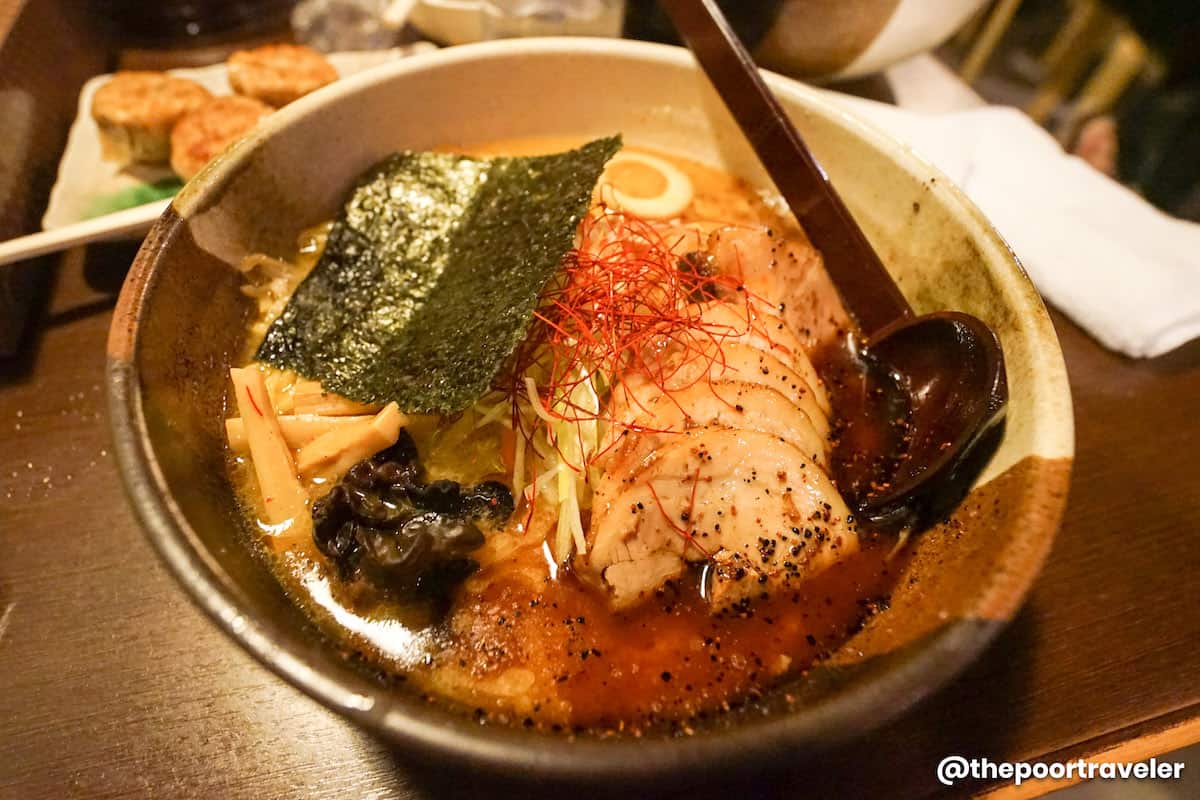 When it was served, it looked more photogenic and complicated than Shingen's. It still has similar wavy noodles, but it is adorned with nori, bamboo shoots, ajitama (egg), chashu (pork), garlic oil, and a generous sprinkling of black pepper. I have to say that I wasn't a big fan of miso ramen before coming to Sapporo, but this made me a believer. The broth is so rich that the miso is the obvious star of this bowl, and it works perfectly with the rest of the ingredients. I'm also a bit partial to anything with a strong garlic flavor, so I totally enjoyed it. For what it's worth, Shirakaba Sansou may not always be on best lists, but it remains one of the best bowls of ramen that I had in my life.
Prices:
Full-size ramen: ¥800
Half-size ramen: ¥550
Ramen with roast pork: ¥980
Ramen with roast pork, ajitama, etc: ¥1150
How to get there: Ramen Kyowakoku is housed in ESTA, a shopping mall next to JR Sapporo Station, so it is easily accessible on foot there.
Hours open: 11:00am to 10pm, daily
---
Sapporo Beer Garden
Drinkers come to this part of Sapporo for the Beer Museum, where you can learn barrels about the Japanese beer culture! But foodies visit for a different kind of battle, one with Genghis Khan.
Genghis Khan (Jingisukan) is a popular native Hokkaido dish composed of mutton and vegetables grilled on a metal dome. It was named after the medieval emperor because in Japan mutton is a meat often associated with Mongolia. Best consumed with overflowing beer!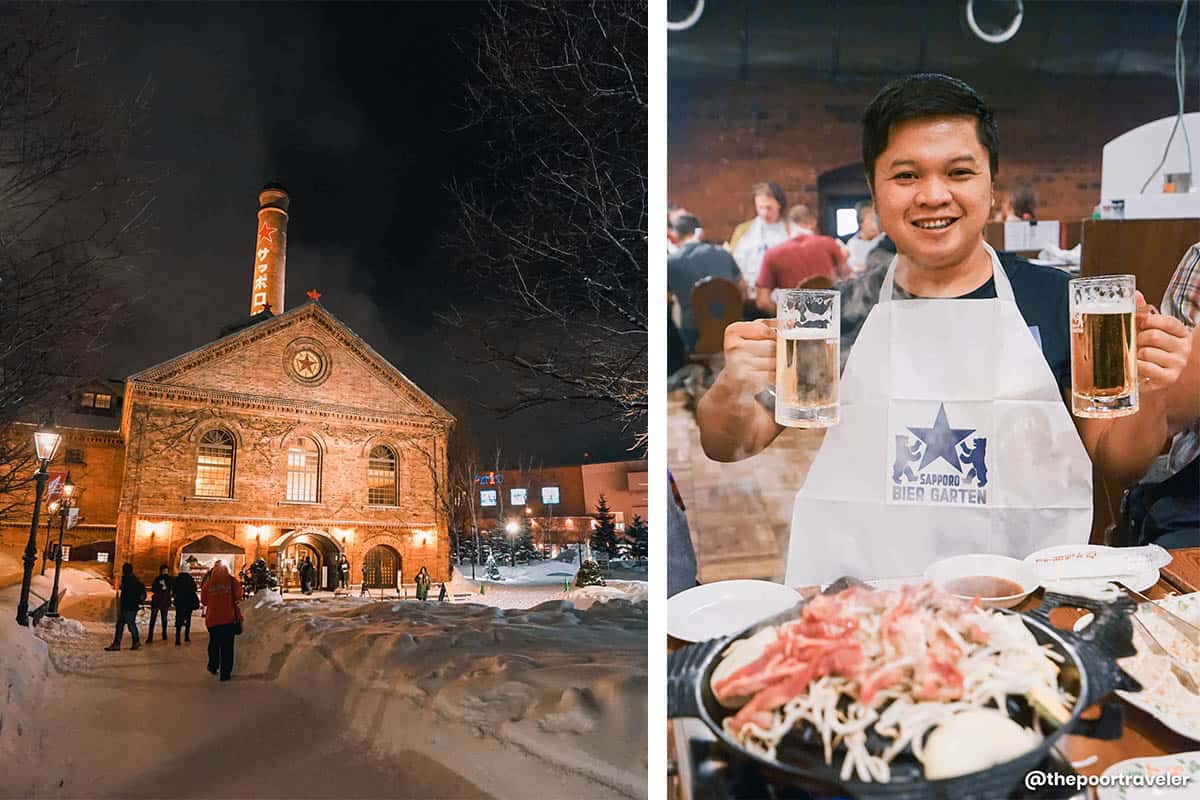 Here are the rates for Genghis Khan (lamb and fresh vegetables):
All-You-Can-Eat
Adults (13+ yo): ¥2900 (¥3132 with tax)
Students(7-12 yo): ¥1450 (¥1566 with tax)
All-You-Can-Eat + All-You-Can-Drink
Adults (13+ yo): ¥3900 (¥4212 with tax)
Students (7-12 yo): ¥1950 (¥2106 with tax)
Not really the cheapest option out there, but considering that it's unlimited, it gives great value for money!
If you've worked up an appetite after a day of sightseeing, you might want to avail of their Premium À-La-Carte Buffet. Not only will you get to try the Genghis Khan, you also get to dig into snow crabs, red king crabs, and other dishes that Hokkaido is famous for. For beer lovers, you get access to 6 types of beer too!
✅ RESERVE A TABLE HERE!
How to get there: From Sapporo subway station, take Subway Toho Line to Higashikuyakushomae Station. It's only a 15-minute walk from there.
Hours Open: 11:30am-10pm, daily.
Tip: Make this your last stop of the day. Otherwise, prepare a change of clothes because the smell of smoke will stick with you for the rest of the day.
---
Soup Curry Cocoro
Curry originated in the Indian subcontinent (Pakistan and India), but it is highly sought after in Japan. It was the British that brought curry to Japanese shores in the late 19th century. Since then, the Japanese have taken liberties with the ingredients and preparation of it. Their version of curry is made from less spices and has a more subtle taste, but the umami flavor is still there. It has become a nationwide phenomenon, a popular dish all over the country.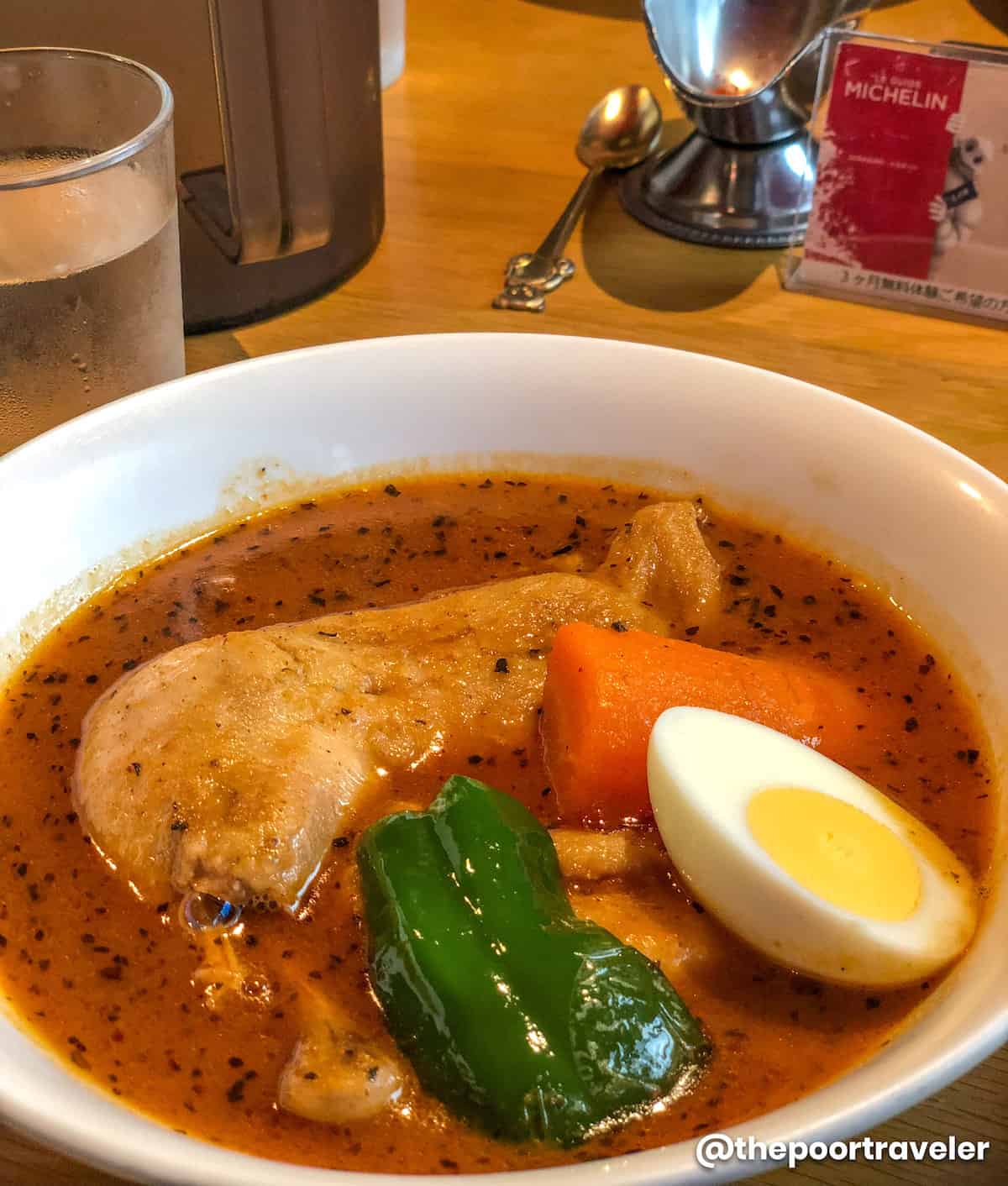 In Japan, curry is typically a saucy concoction served on top of rice. But not in Hokkaido. In this part of Japan, curry takes the form of a thick soup served in a bowl. It's thick, yes, but its flavor is on the lighter side. (Does that make any sense? Haha.) Locals traditionally take a spoonful of rice and then sort of dips it in the soup before eating, an unorthodox fashion for tourists from outside the prefecture.
One of the most successful chain of restaurants serving Hokkaido-style soup curry is Cocoro. It has half a dozen branches all over Japan, but its main restaurant is in Sapporo, which is prominently included in the 2017 Michelin Guide.
Their signature dish is chicken curry, which is composed of a big slice of tender, juicy chicken soaked in a liberal amount of soup curry, served with potatoes, carrots, bell peppers, hard-boiled egg, and of course, rice on the side. Because of the Michelin feature, I was expecting a more sophisticated take on the dish, but what I had was a more homey and more grounded bowl that is full of soul. It reminded me so much of the dishes that my mom and brother prepare at home. It's more like a comfort food for me, which isn't a bad thing.
Prices:
Chicken curry: ¥900
Vegetable curry: ¥910
Seafood curry: ¥1100
How to get there: At Sapporo Subway Station, take the Nanboku Line to Kitajuhachijo Station. From there walk four blocks to Soup Curry Cocoro.
Hours open: 11:30am – 10pm, daily.
---
Sapporo Central Wholesale Market (Jogai Ichiba)
Hokkaido is one of Japan's biggest supplier of seafood, especially crabs. Thanks to its surrounding waters: the Sea of Japan to the west, the Sea of Okhotsk to the north, and the Pacific Ocean to the east. And as the island's biggest city, Sapporo gets a good share of the catch. Much of it ends up at the Sapporo Central Wholesale Market, built in 1959. Made up of 60 individual stores, it offers a wide array of delectable seafood products, from fresh crabs to smoked fish to salmon roe. Many stores offer free taste too, so you won't make mistakes.
The adjacent road is also flanked with seafood restaurants. Sushi is the bestseller here. Like in many destinations in Japan, the best sushi bars in Sapporo are also often extremely expensive. But you'll find cheaper alternatives here outside the market.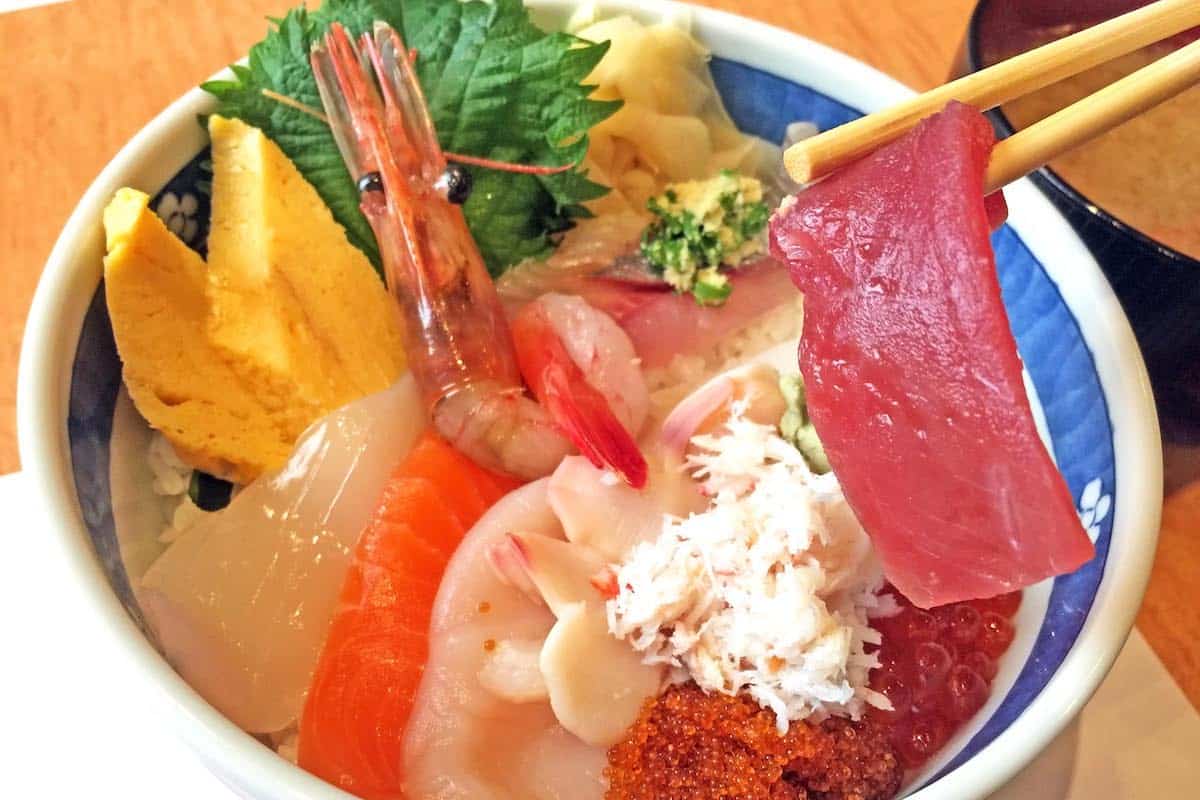 Another local favorite is kaisendon, a bowl of rice topped with assorted sashimi. There are over 10 restaurants near the market that serve kaisendon. Places like Kikusui and Kita No Gurume-tei are among the best. But the one we tried was Tairyo Sushi Wakakoma.
Here are their prices:
10-piece sushi set: ¥2808
Shellfish and scallop rice bowl: ¥3240
Kaisendon with 13 special toppings: ¥3780
How to get there: From JR Sapporo Station, take the train to JR Soen Station. Alternatively, you may take the Subway Tozai Line from Sapporo Subway Station and get off at Nijyu-yonken Station. Take Exit 5. The market is only a 10-minute walk from either Soen or Nijyu-yonken station.
---
Umie
Another popular food treat in winter is nabemono, often shortened to just nabe. The word nabe directly translates to cooking pot, referring to how this Japanese fave is prepared and consumed. It is an umbrella term covering all types of hot pot dishes including shabu-shabu, sukiyaki, chankonabe, and Hokkaido's very own Ishikari-nabe, named after the island's longest river. Ishikari-nabe has a fish-based broth, usually Hokkaido salmon (hokke), and uses miso as a base.
Hotpot, in general, isn't really a cheap option, but it can give you value for money. Nabe is not just tasty, it also offers an experience because it is best shared and enjoyed with people you love. The nabe restaurant we tried is Umie, which has 8 branches all over Sapporo. They have four main hotpot options, but the cheapest are beef sukiyaki set and seafood hotpot. Each order comes with a selection of side dishes. If you have more dough, you can stuff your face with snow crabs by ordering the all-you-can-eat crab plan.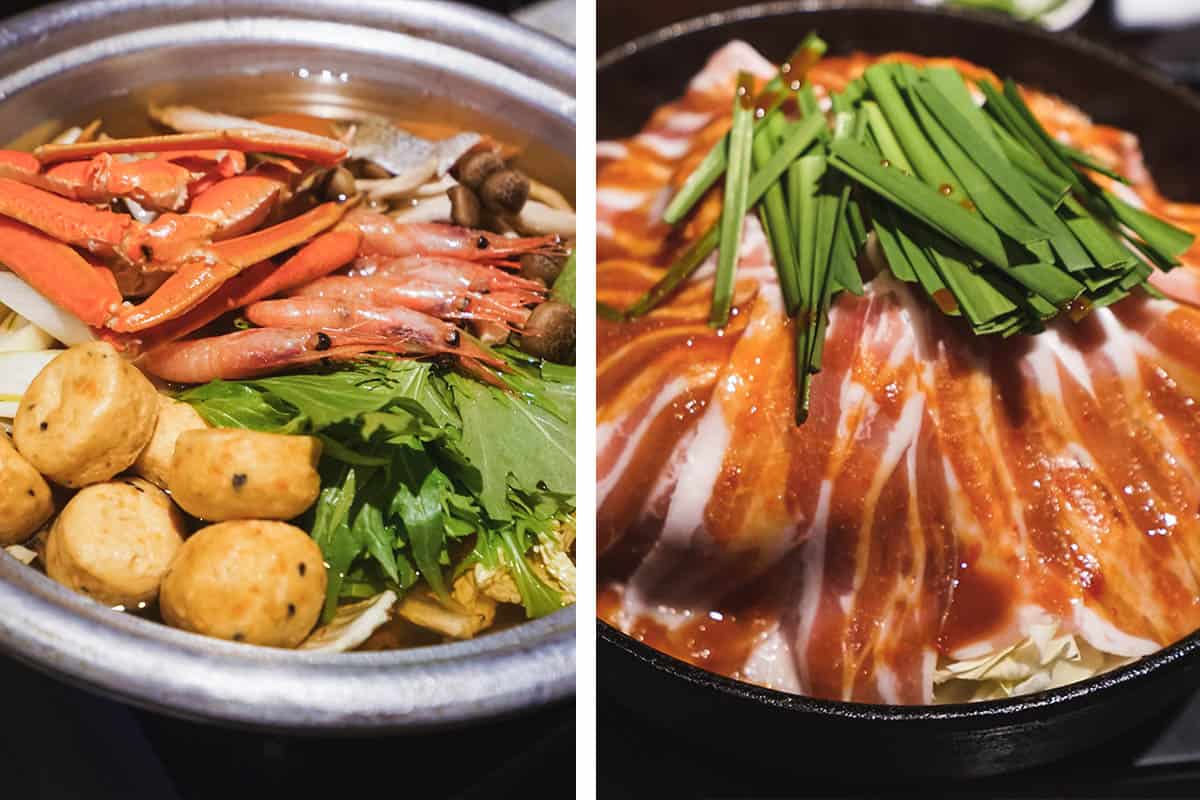 Here are the prices:
Seafood hotpot with assorted tempura, sashimi, edamame (soybeans), pickled veggies, potato salad, rice, and udon noodles: ¥1944 per person.
Beef sukiyaki set with vegetables, assorted sashimi, salted fried chicken, pickled veggies, fried potatoes, edamame, miso soup, and rice: ¥1,944 per person
---
Ishiya Chocolate Factory
If you've ever shopped for food souvenirs at any airport in Japan, you've probably come across what looks like a gift wrapped in dark teal paper (or whatever color that is). That, my friend, is Shiroi Koibito, white chocolate-filled biscuits that are famous all over the country.
Here in Sapporo, not only can you have access to loads of these decadent treats, you can also see how they're made. Shiroi Koibito is manufactured by confectionery company Ishiya, based in Sapporo. After spending an hour at the adjacent park named after these biscuits, you can come inside and join a tour of the factory or just shop at their souvenir store.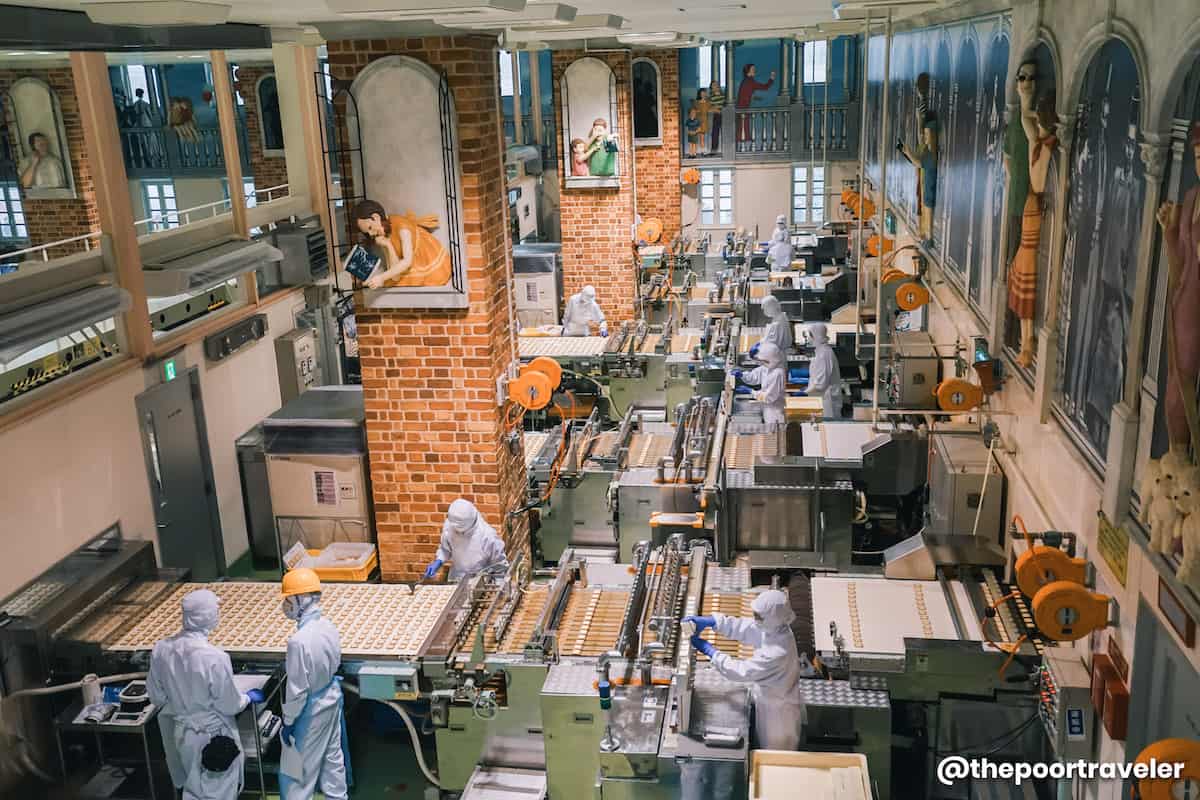 Aside from Shiroi Koibito biscuits, there are also several other cakes and chocolates to choose from. Some are not available at the airport.
---
Wakasaimo
In many areas in Japan, one of the most popular snacks is yaki-imo. Imo refers to any root crop like potatoes, yam, or taro. But yaki-imo most often refers to sweet potato (kamote in Tagalog). It's quite ubiquitous in Japan: I had it in Tokyo, Hiroshima, Osaka, and Tottori. These sweet potatoes are slow-roasted, resulting in a smooth, soft texture.
But for the longest time in Hokkaido, it was incredibly difficult to grow sweet potatoes. Back in the day, yaki-imo was so hard to come by. But necessity is the mother of invention, they say. And because the craving was strong, in 1930, someone decided to replicate the taste of sweet potato without using any sweet potato. This is when Wakasaimo was born. They created delicious cakes that look like and taste like yaki-imo using only white bean paste. They also added seaweed to mimic the fiber that sweet potatoes are known for. Then, they roasted it with egg and soy sauce.
When it comes to Hokkaido snack-makers, few are more well-known or more successful than Wakasaimo. After over 85 years, they now have stores all over the island including one in Sapporo and another at the New Chitose Airport. Here are their locations:
Sapporo Paseo
4-3-1, Kita6-jonishi, Kita-ku
Sapporo-shi, Hokkaido
New Chitose Airport
2F Domestic Terminal Building
But if Lake Toya is part of your Hokkaido itinerary, drop by their main branch called Wakasaimo Honpo Doya Lake Honten. It's not just a sweet shop. On the second level, you'll find a restaurant with a fantastic view of Lake Toya and serves a killer salmon nabe in miso-based broth with mushrooms, cabbage, and carrots.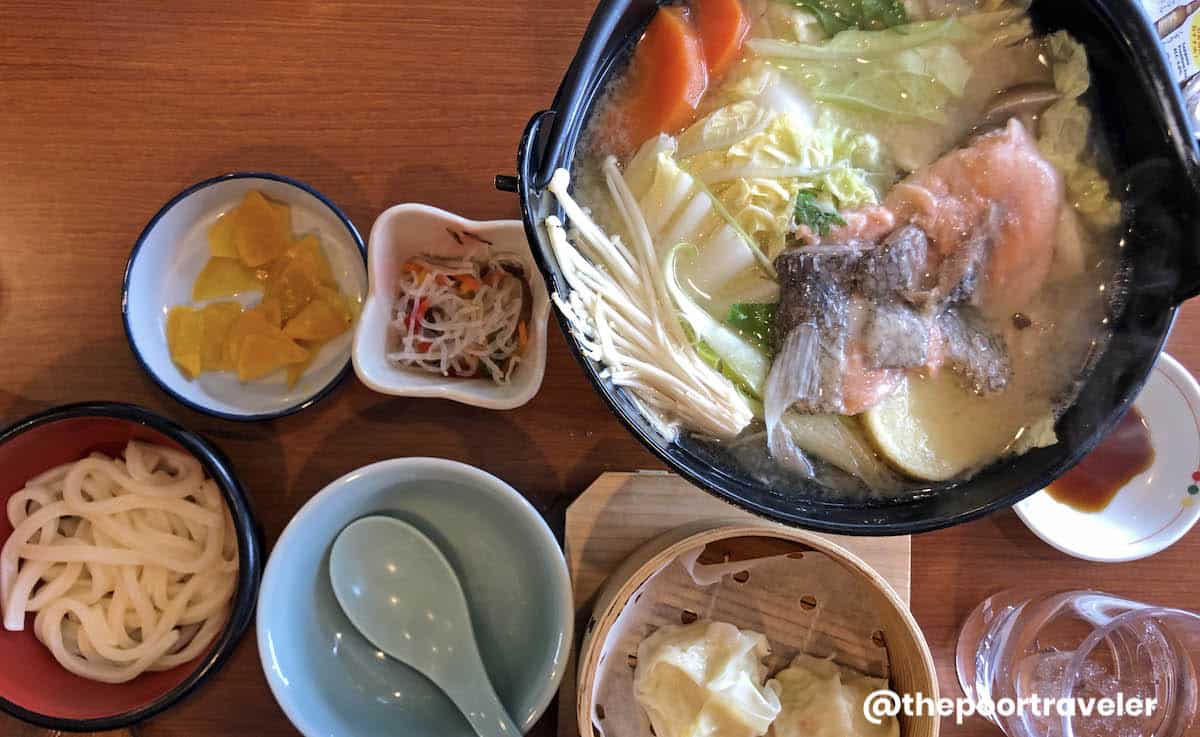 They also serve a deep-fried version of their famous wakasaimo white bean cakes. Surprisingly, they taste even better than the uncooked original!
---
How to Get to Sapporo
This post is brought to you by Philippine Airlines, which now flies nonstop from Manila to Sapporo! Their introductory price for a round-trip ticket is USD 399, inclusive of baggage allowance, meals, and other surcharges. This is great for those who also value their time. Flying directly will cut short the total travel time and skip the layover at another airport, which will give you more time to actually enjoy the destination.
Philippine Airlines also uses a brand new Airbus A321neo for their Sapporo flights. I've tried this aircraft many times now. Expect wider legroom, quieter journey, and a big screen with a great selection of movies!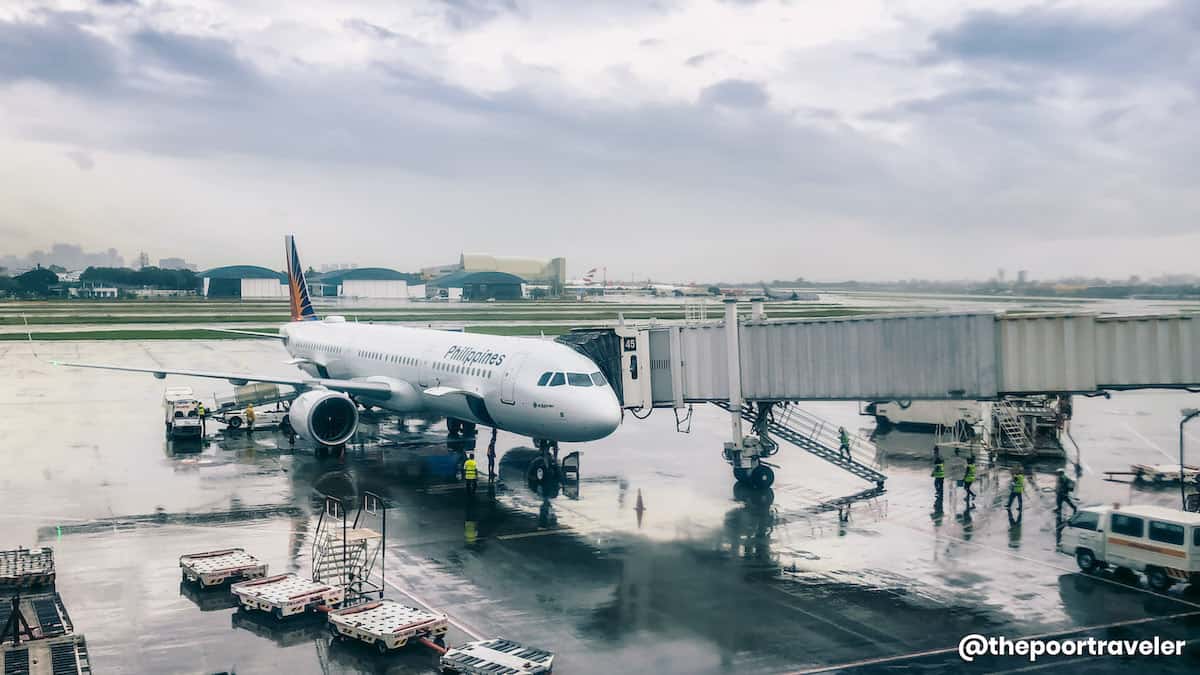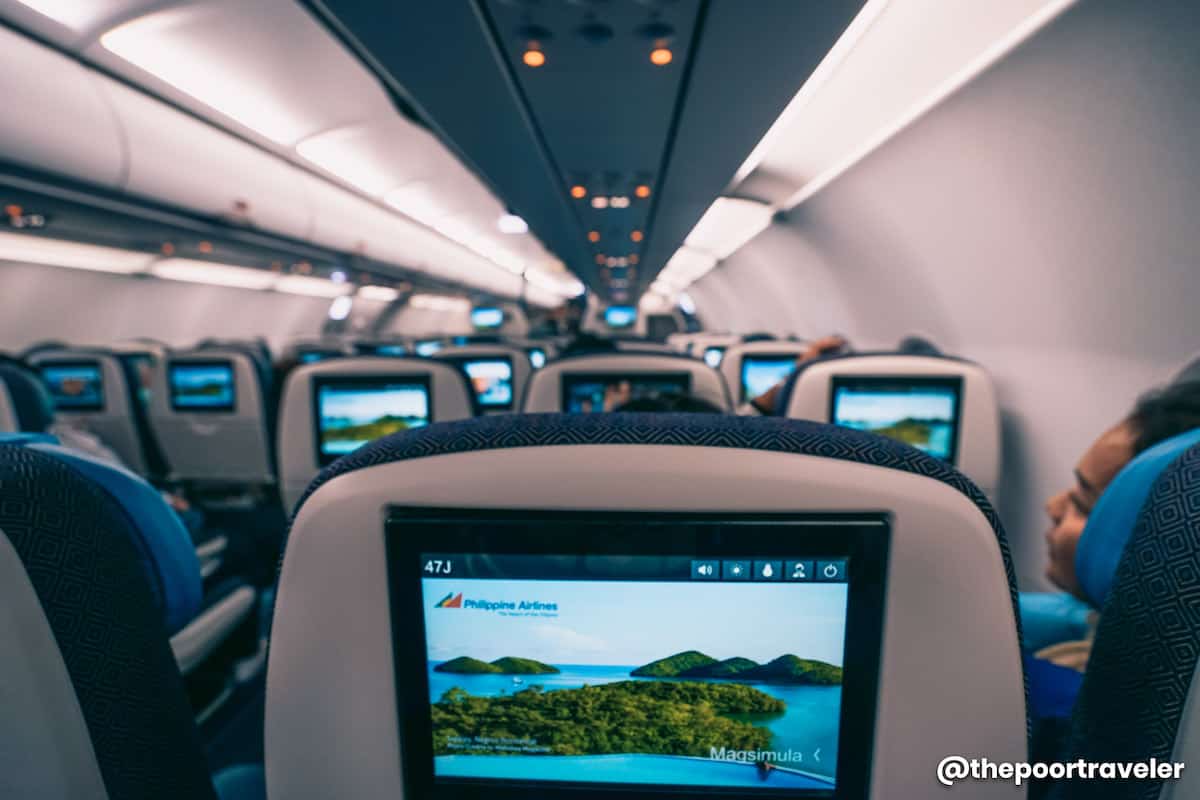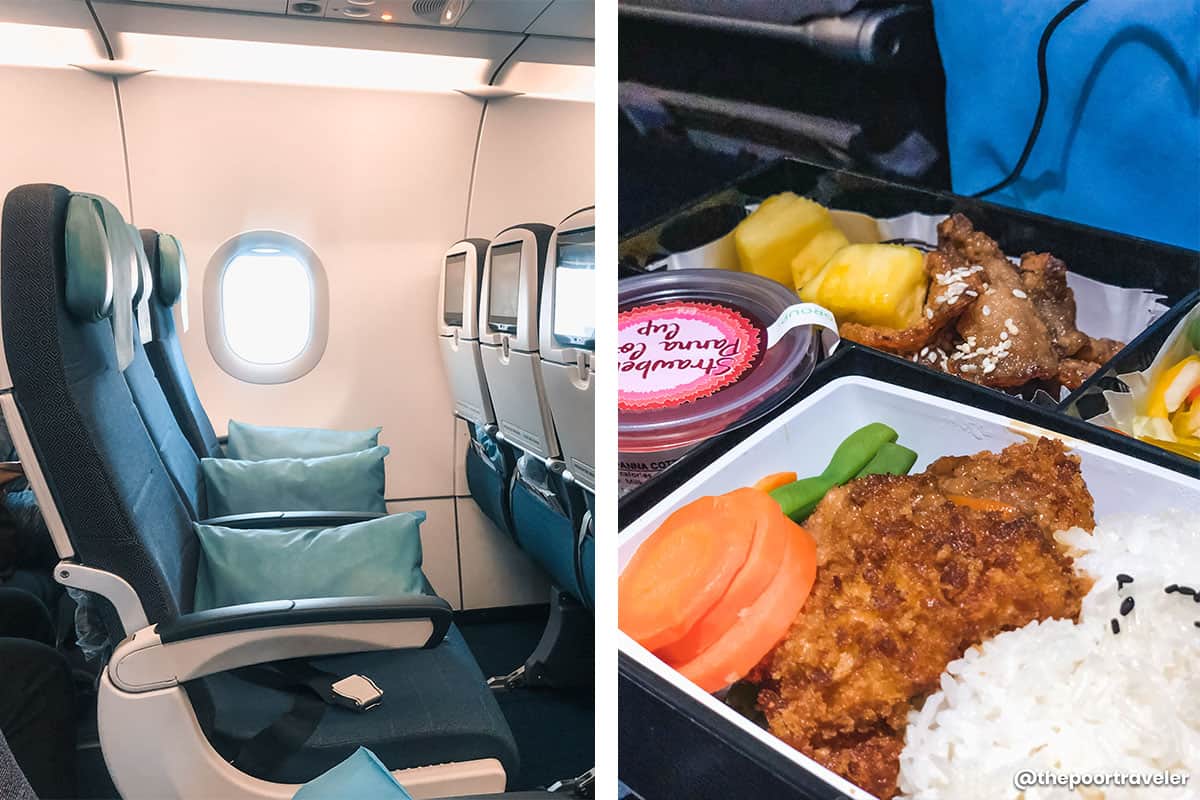 The fare is also not far from the fares of flights with stops. Given that every PAL booking also comes with meals, seat selection, and 50-lb baggage allowance (something you might need in winter), PAL offers the best value for money.
---
Cover image purchased from Shutterstock
2️⃣0️⃣1️⃣8️⃣ • 1️⃣2️⃣ • 2️⃣7️⃣
---