Hokkaido's kitchens have, for a long time, offered a warm refuge from the region's famously harsh winters, and out of those havens of heat, some of the most iconic Japanese dishes emerged. For a region that gets buried in snow for half the year, Hokkaido enjoys a reputation as one of Japan's food meccas, a major destination for local and foreign foodies.
Many of its native dishes have found popularity throughout the rest of Japan and beyond. Even for non-native dishes, Hokkaido locals have found ways to bring in something new and interesting, making each dish distinctly their own.
Aside from climate, geography also plays a huge role in Hokkaido cuisine. As an island with vast fields of fertile land, Hokkaido isn't wanting for fresh ingredients and assorted flavors.
If you're planning a trip to Hokkaido, consider this food and beverage guide for the region's top eats. Along with a brief description of each dish, we've included some affordable recommendations, as well as their price range.
Click here for our multi-city Hokkaido travel guide

Click here for our budget travel guide for Sapporo, the region's largest city
WHAT'S COVERED IN THIS GUIDE?
Ramen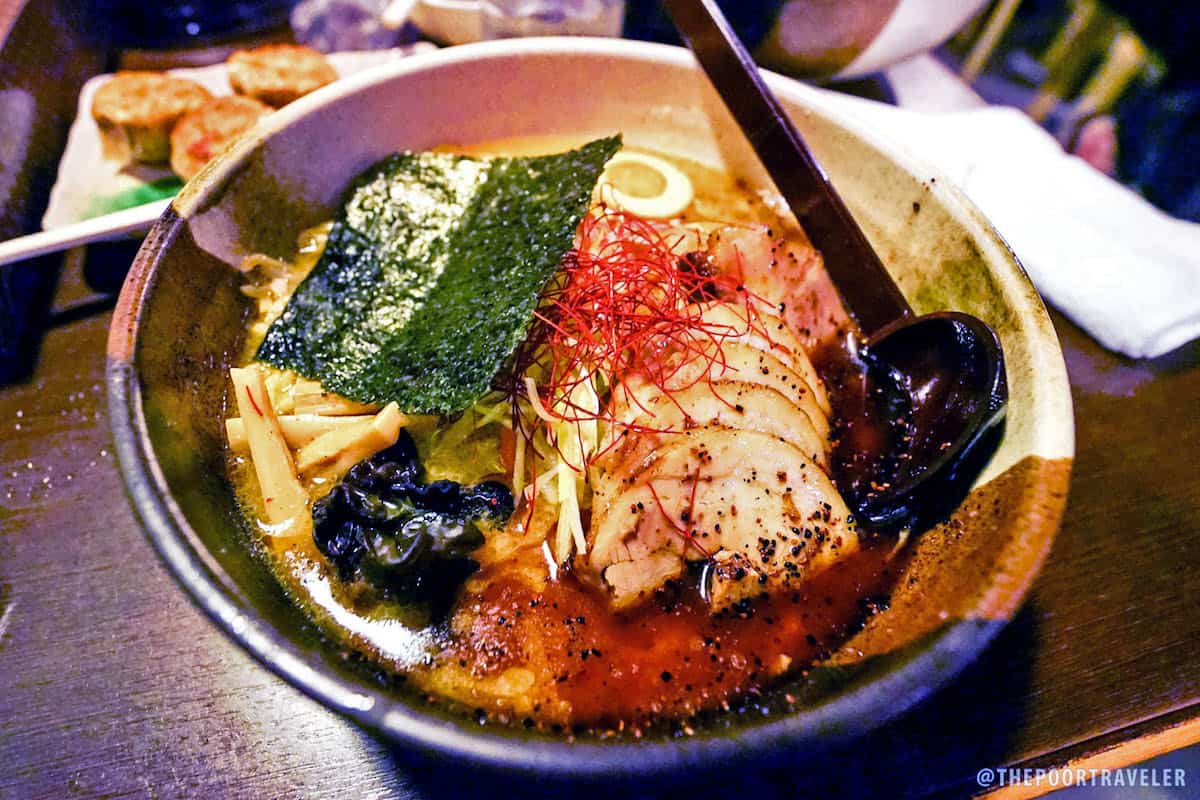 Ramen is as Japanese as noodles can get, and every region in Japan has their own take on this classic dish. For its part, Hokkaido contributed not just one but three well-received varieties: The Sapporo, Hakodate, and Asahikawa styles.
Of the three, Sapporo-style ramen is the most familiar. Sapporo ramen is defined by its soup base (made from miso, or fermented soybean paste), combined with chicken or fish broth and liberal amounts of butter. This rich soup is accompanied by thick, chewy noodles, and topped with pork (tonkotsu), corn, cabbage, and seafood.
By contrast, Hakodate-style ramen is a relatively simpler variety. It has a salt (shio) base with a clear broth and light flavor. Hakodate ramen has thin, stringy noodles, and topped with tonkotsu, spring onions, boiled eggs, and bamboo shoots.
Not to be outdone by Sapporo and Hakodate, Asahikawa ramen is characterized by its soy sauce (shoyu) base. Rich, fatty, and often spicy, with wavy noodles and a thin film of oil that traps the heat, it is food specially designed for Asahikawa, Japan's coldest city.
Where to eat: There's an unlimited number of fine ramen restaurants in Hokkaido, but for each ramen variety the following are good places to start:
Sapporo ramen: Ganso Ramen Yokocho (Original Ramen Street) in Susukino (3 min walk from Susukino Subway Station in Sapporo)
Hakodate ramen: Seiryu-ken (5 min walk from Hakodate JR Station in Hakodate)
Asahikawa ramen: Asahikawa Ramen Village (5 min walk from Minami-Nagayama JR Station in Asahikawa)
Cost for each bowl is between JPY 700 – 900.
Soba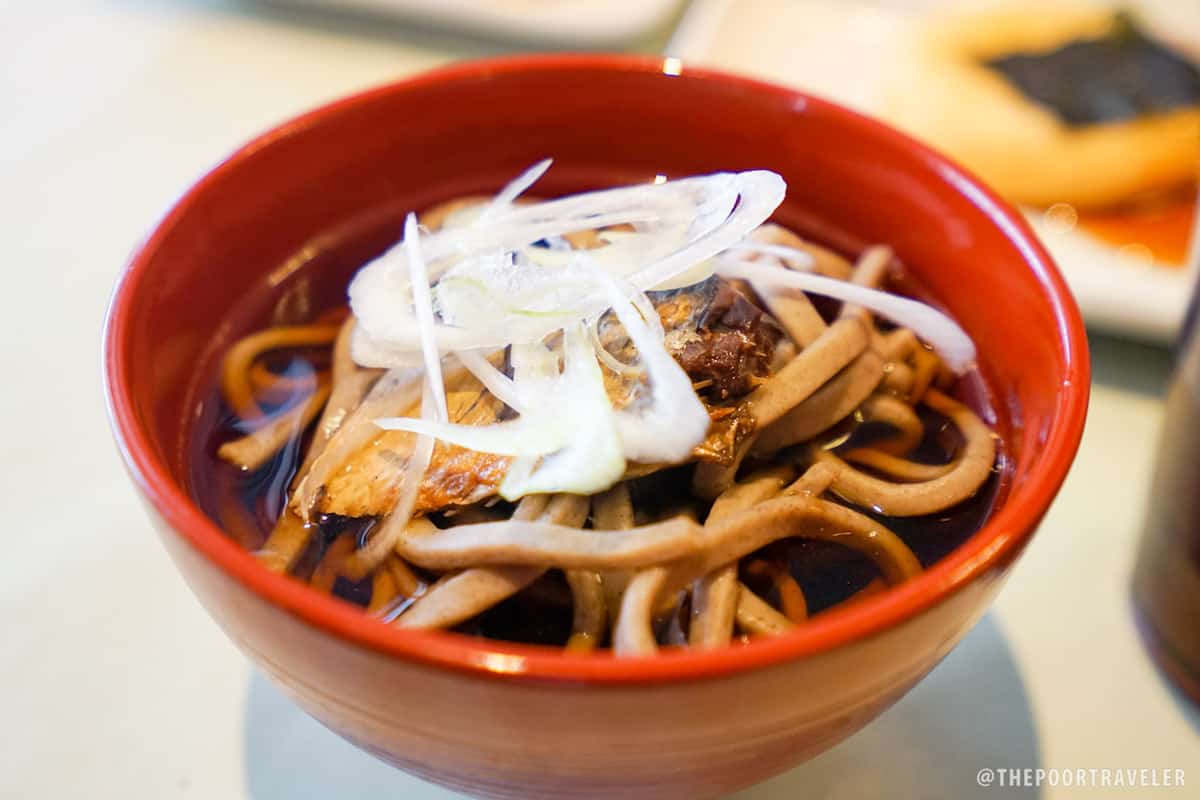 In addition to ramen, another popular noodle dish in Hokkaido is soba or buckwheat noodles. Buckwheat is a common crop in Hokkaido, and the region accounts for about a third of Japan's buckwheat production. As such, many renowned soba restaurants come from this region. Soba noodles are thick and chewy, but also soft and springy. It is a flexible dish that can be served hot or cold, depending on the season.
Cold soba is regularly served with tsuyu, a dipping sauce made from soy sauce, sake and mirin. Once you're through eating the noodles, you can mix the remaining tsuyu with hot soba water for a flavorful wash-down.
Hot soba is served primarily as a soup, capped with seafood tempura and fresh vegetables.
Where to eat: Shinoya Handmade Soba Noodle if you're in Sapporo (5 min walk from Nishi Juitchome Subway Station), price at JPY 500 – 1000 per serving.
Soup Curry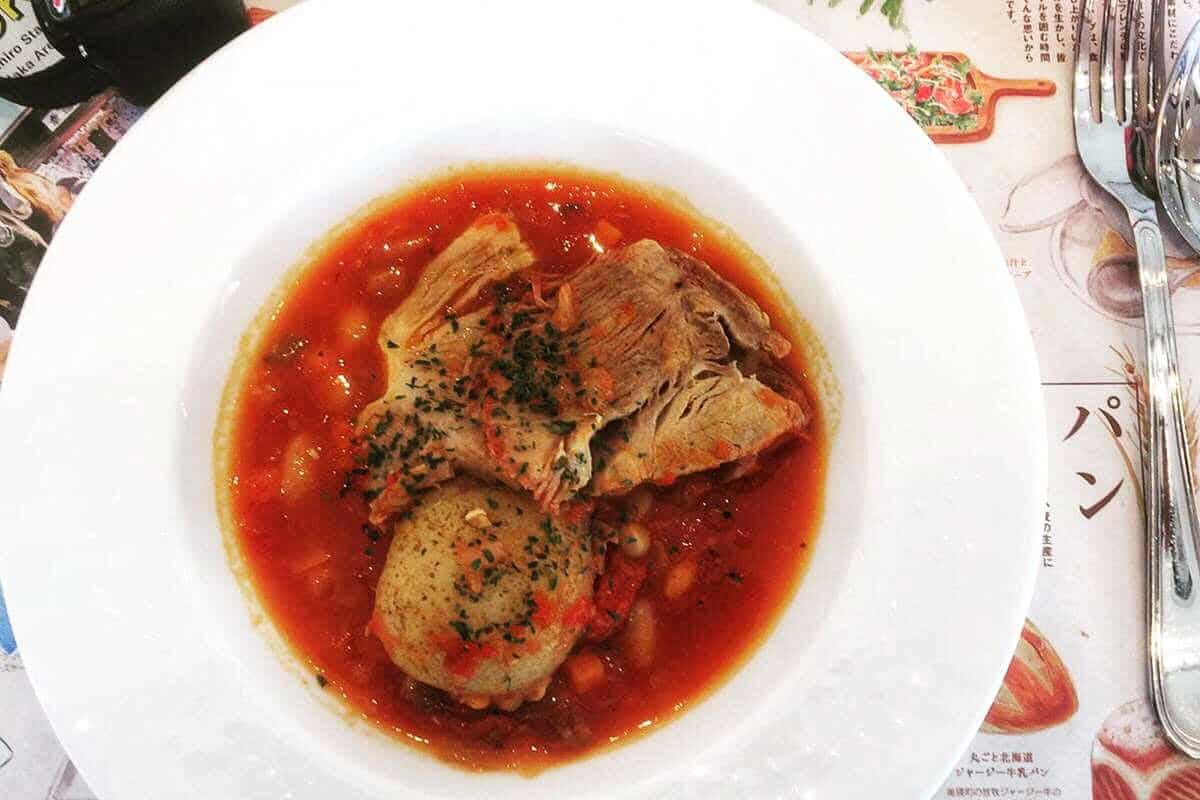 Soup Curry is a popular soup dish made from classic curry spices, but instead of being thick and oily, as is typical of curry dishes, soup curry is light and watery. The dish is often topped with chicken or pork, seafood, or vegetables. Actually, the toppings vary per restaurant, as each has their own preferences and styles.
Where to eat: RAMAI, a restaurant chain with several branches throughout Sapporo. The central branch is a 5-minute walk from Shiseikanshogakko-Mae Tram Station. Soup Curry dishes here start at JPY 1000.
Ishikari-nabe & Kani-nabe (Hot Pot)
Ishikari-nabe is a hot pot that took its name from the longest river in Hokkaido. It has a fish-based broth, usually Hokkaido salmon (hokke). Like Sapporo ramen, Ishikari-nabe uses miso as a base, which makes it distinct from other hot pots. Mixed with the stew are ingredients originating from the Ishikari region, like salmon, cabbages, mushrooms, and tofu.
Another local hot pot dish, kani nabe, uses crab as its primary ingredient, with additional toppings of seaweed (kombu), fish flakes, and winter vegetables.
Where to eat: Takara Sushi at Ishikari City, or Shabu Shabu Dining Youzen in Sapporo, where buffet prices start at JPY 2900 per person.
Seafood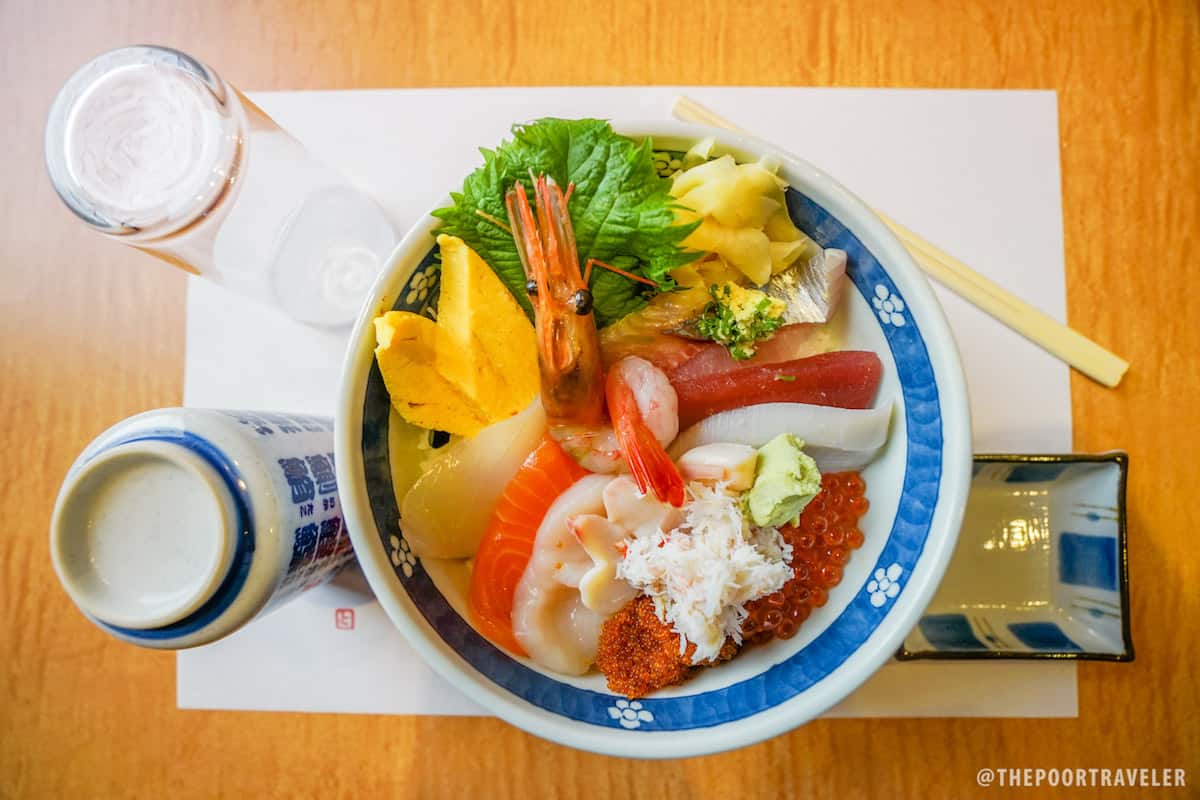 Surrounded by three major bodies of water (the Sea of Japan, the Sea of Okhotsk, and the Pacific Ocean), Hokkaido enjoys a year-round bounty of fresh seafood. Hokkaido is the leading producer of seafood products in Japan, and the local cuisine reflects its significant contribution to the industry.
Crabs (Kani)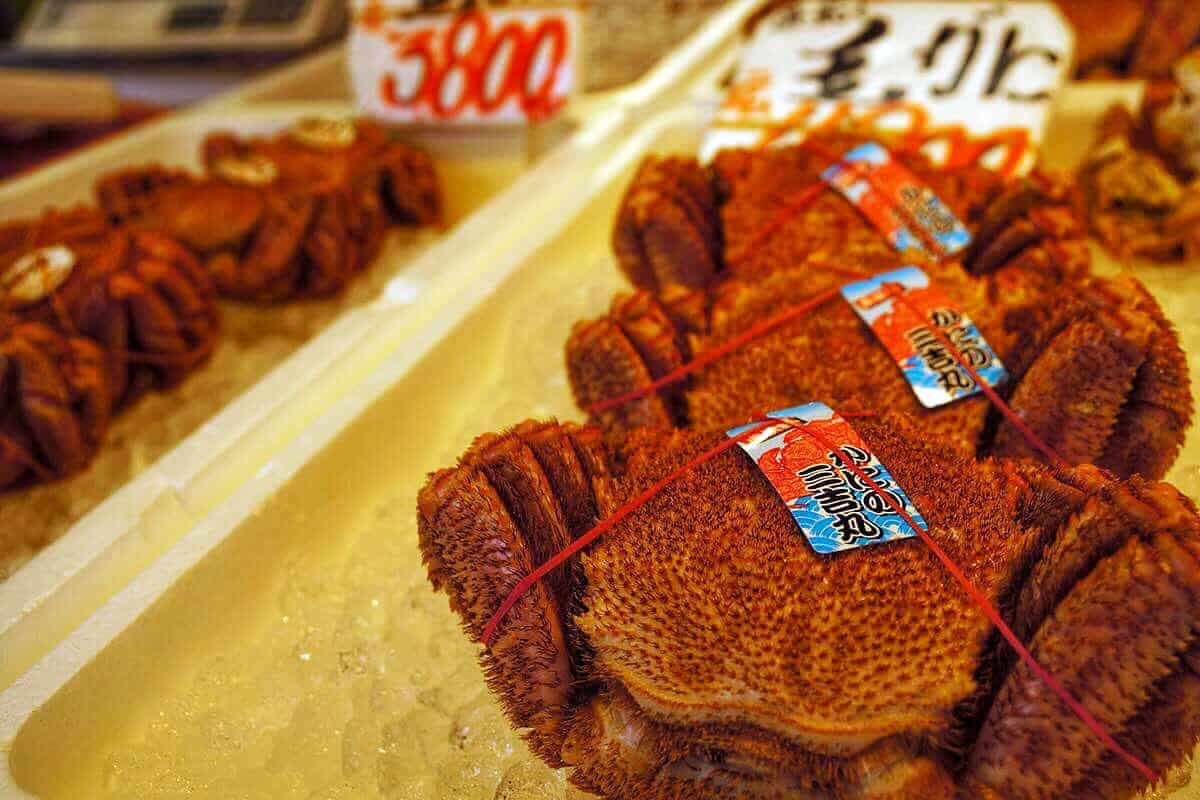 Crabs are a major delicacy in Hokkaido. Even airports have their own crab markets! You can order crabs directly at the New Chitose Airport, and have it packaged, ready for check-in. Preferred crab varieties include king crabs, snow crabs and horsehair crabs. Crabs are either eaten raw as part of a sashimi or donburi bowl, boiled in salt water, or grilled.
Where to get: The New Chitose Airport has its own crab market. The Sapporo Seafood Market and the Hakodate Morning Market are also great for buying and eating crabs. Crabs, however, aren't cheap. To satisfy your crab craving, be ready to shell out at least JPY 5000 per meal.
Sea Urchin (Uni)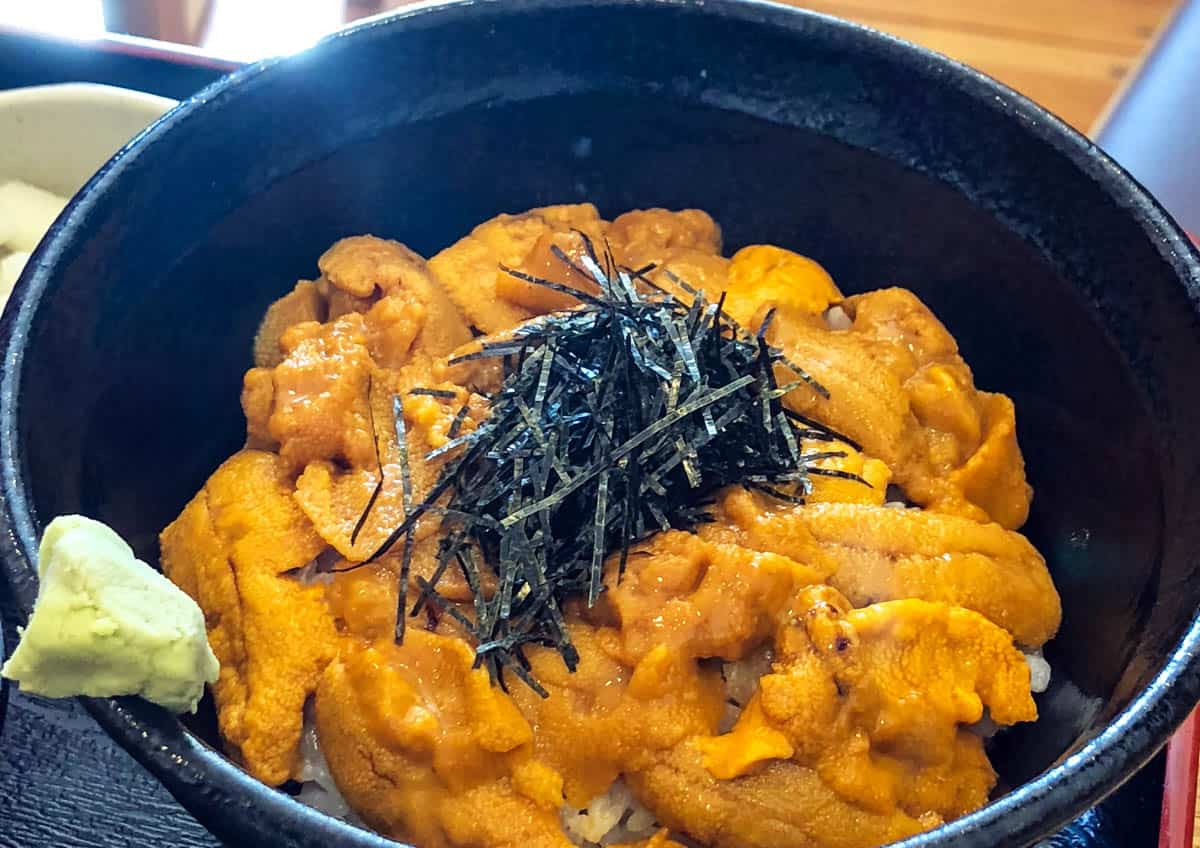 Uni or sea urchin is another esteemed seafood in Hokkaido. Hokkaido's uni tastes almost fruit-like, while still maintaining a briny sea flavor. Harvesting uni is a meticulous process, and should be eaten within the day of harvest.
Where to eat: Most supermarkets sell uni, often packed in thin plastic boxes, but the freshest uni can be found in the seafood markets, like Sapporo's Nijo Market or Hakodate's Morning Market. Fresh uni is around JPY 1000 per pack.
Hokke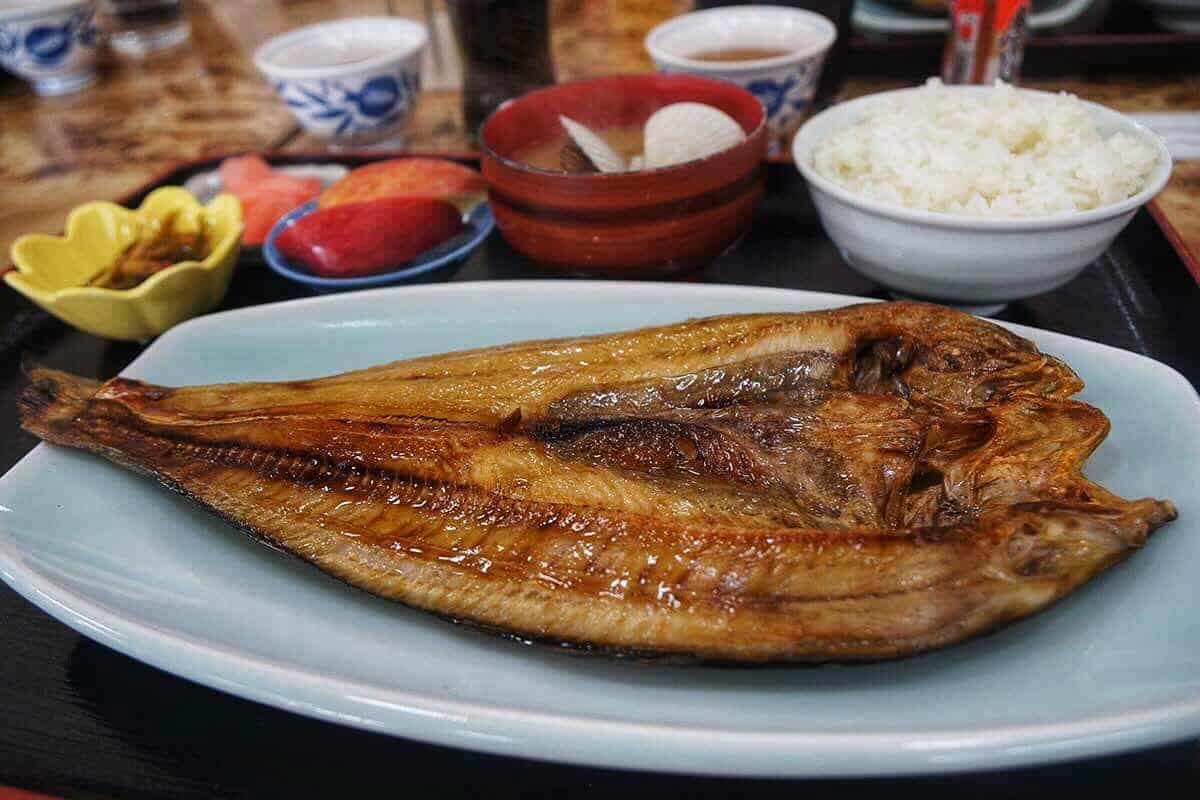 The ports of Hokkaido, specifically Hakodate and Otaru, are known as primary sources of mackerel (locally known as hokke) in the region, and smoked mackerel is a favorite dish in these areas. Smoked mackerel is a bit like our own tinapa, but not as salty or dry. The mackerel is smoked to the point that the flesh can be peeled easily from the skin.
Where to eat: Minshuku Aozukashokudo restaurant, overlooking the Otaru coast. Aside from smoked mackerel, you can also try out their grilled fish, squid, oysters, and crabs. Meals are around the JP 1000 – 1500 range.
As for mixed seafood dishes, a must-try is kaisendon, or sashimi rice bowl. It's essentially a rice bowl topped with various raw seafood. Popular at lunchtime as a light meal, kaisendon toppings vary from place to place. In Hokkaido, kaisendon usually comes with regional specialties, like crab, uni, salmon roe and shrimp, with pickled vegetable sides.
Where to eat: Kita no Ryoba in Sapporo, right next to the Chuo Wholesale Market, or, if you're in Hakodate, Ekini Ichiba at the Hakodate Morning Market. Prices range from JPY 500 – 1500.
Genghis Khan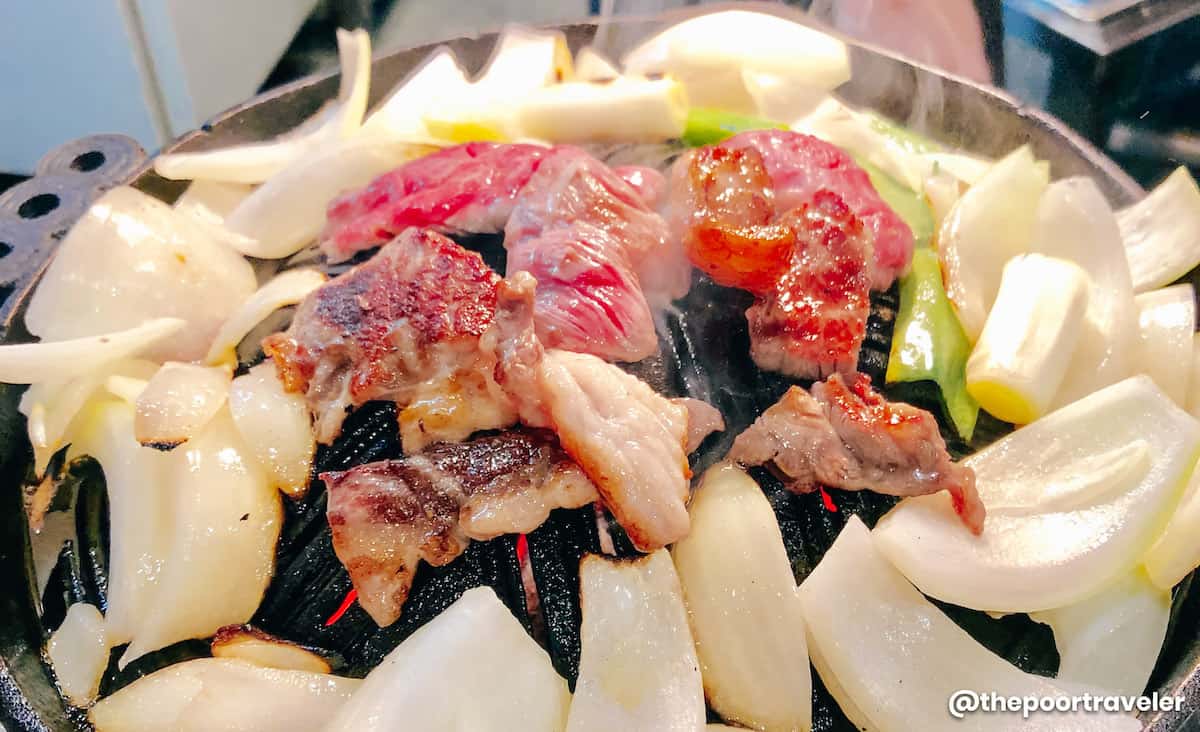 Genghis Khan (Jingisukan) is a grilled mutton dish endemic to Hokkaido. Lamb meat is grilled on its own fat, cooked on a metal dome, with vegetables on the side. Its name is derived from the fact that, for the Japanese, any mutton dish is associated with Mongolian cuisine. Also, it helps that the domed grill resembles the helmet of a medieval Mongolian warrior.
Coupled with beer, jingisukan is a favorite dish in group or family night-outs.
Where to eat: Sapporo Beer Garden in Sapporo. It's right next to the Sapporo Beer Museum and a 15-minute walk from Higashi-kuyakusho-mae Subway Station. An all-you-can-eat buffet costs JPY 2900.
Sapporo Beer and Sake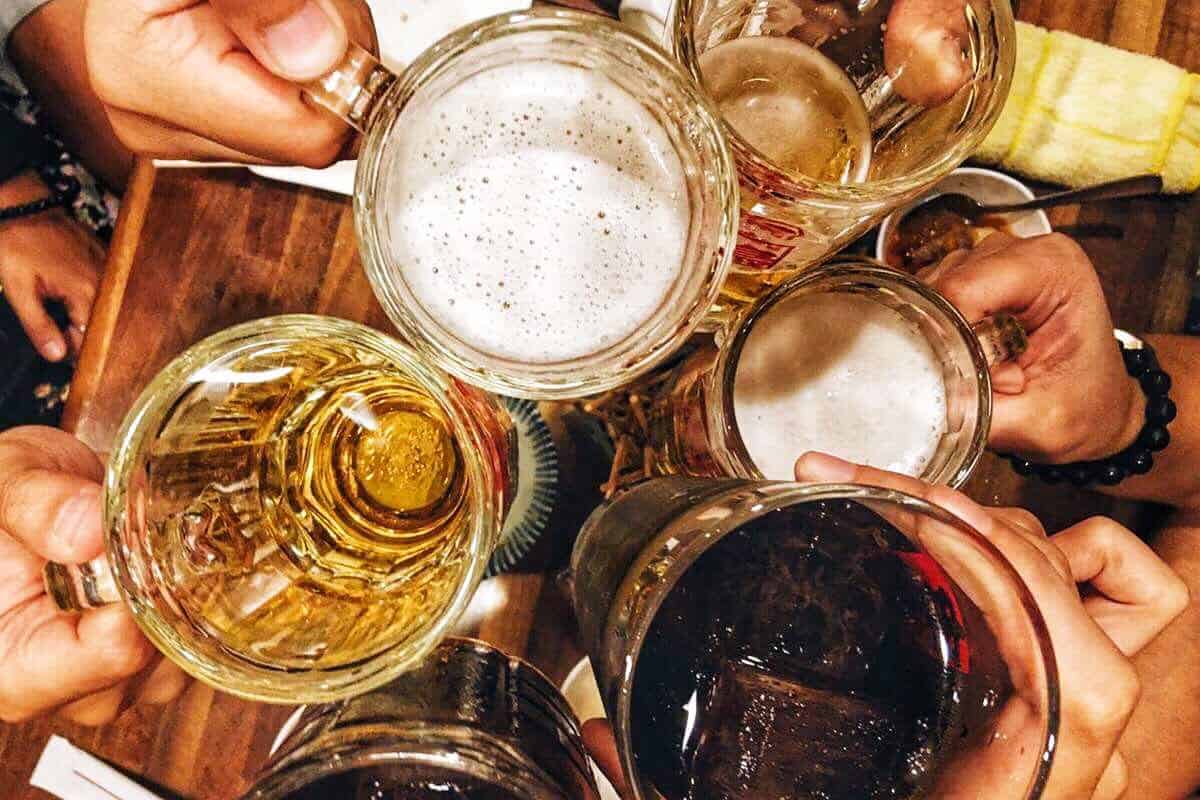 Of course, a Hokkaido food guide is incomplete if we don't mention Sapporo Beer. Sapporo is the home the oldest breweries in Japan, with continuous production since the 19th Century. If you're new to Sapporo Beer, the best version to start is their Premium and Light varieties. As for taste, Sapporo beer is sweet and crisp, with a clear hoppy aroma.
Hokkaido also prides itself with their locally-brewed sake. Chitosetsuru, the first sake brewery in Hokkaido, is located in downtown Sapporo. Sapporo is noted for its cool, pristine groundwater, perfect for sake brewing.
Nikka whisky, the famous Japanese brand, also has a brewing factory in the Hokkaido city of Yoichi.
Where to drink:
Sapporo beer: The Sapporo Beer Museum provides an in-depth look at the brewing process, its history and impact in Japanese culture. Plus, for a JPY 500, you get to sample three different brews at the end of the tour.
Sake: Chitusetsuru has its own sake museum where one can take samples of their many brews, as well as enjoy sake-flavored products like ice cream and pastries.
Hokkaido Ice Cream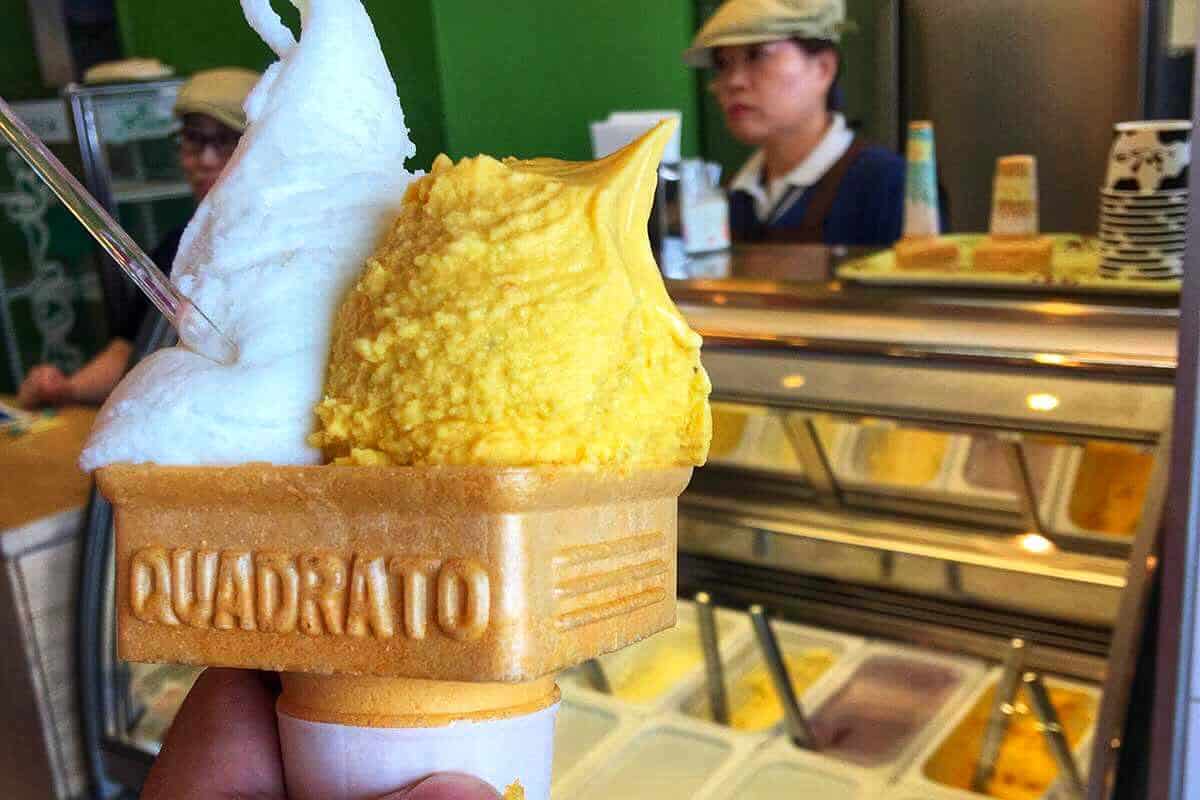 The cold is no deterrent to the local sweet tooth, and it's interesting that soft-serve ice cream is such a popular treat in a place as cold as Hokkaido. Hokkaido leads Japan in dairy production, so it's not uncommon for Hokkaido locals to include a lot of dairy in their food, especially in desserts.
The rich, smooth texture is what defines Hokkaido ice cream. While classic flavors like vanilla, chocolate and cheese remain popular, it's the local flavors you need to try. Each city or town has its own unusual flavor based on local produce, like lavender (Furano), sake (Sapporo), rose (Eniwa), as well as the world-famous Yubari melon.
Where to eat: Soft-serve ice cream: The New Chitose Airport has more than 20 varieties of soft-serve ice cream available within its vicinities. Major department stores and transport terminals also have ice cream kiosks. Price will range between JPY 200 – 400 per cone/cup.
Yubari melons
Yubari melons got its name from the resort city of Yubari east of Sapporo, where most of the esteemed fruit is cultivated. These melons are noted for their sweetness, their almost perfect roundness, and their smooth, thin rind.
While us Filipinos are used to having tropical fruits all the time, the Japanese consider them as luxury, so much that a pair of flawless Yubari King melons were once sold at an auction for a whopping JPY 3,000,000, dubbing it "the most expensive fruit in the world".
Where to eat: Yubari melons: A Yubari melon, if bought as one whole fruit, is EXPENSIVE. Typically, Vendors will just sell them per slice, at around JPY 200 – 400. Fresh melons are often sold in morning markets.
Foodie tips for Hokkaido travelers
Sapporo Autumn Festival. If you happen to travel in Autumn, Sapporo holds a food festival showcasing the best in Hokkaido cuisine. Held in Odori Park, the Sapporo Autumn Fest features food and products from almost every city and municipality in Hokkaido. It's a great way to try out most of the region's delicacies, all in one venue.
Major transport hubs frequently have adjacent food markets and restaurants. Examples include the New Chitose Airport and the Sapporo JR Station.
If you have some leeway to splurge, you can try out a few of the izakaya pubs and shabu-shabu places found in Sapporo, Otaru, and other major cities. Must-try food places include the Sapporo Beer Garden and Ramen Yokocho in Susukino District.
On the flipside, if your budget is limited, convenience stores (konbini), supermarkets, and vending machines offer delicious food at affordable prices. My personal favorites are the various onigiri (rice balls) found in Lawson and Family Mart.
Special thanks to our friends from Jetstar Japan for making our trip to Hokkaido happen. Jetstar offers the only low cost option for travel to Sapporo from Manila, via Tokyo or Osaka. Other than Sapporo, Jetstar Japan also flies to 11 domestic destinations from Tokyo (Narita), including Miyazaki, Fukuoka, and Kumamoto.
2️⃣0️⃣1️⃣8️⃣ • 4️⃣ • 5️⃣