I picked up the paper-thin slice of fish and silently hoped it wouldn't be the last thing I would do. That night, I did not plan on having fugu, Japan's deadly delicacy.  I did not plan on dying, either.
How I ended up at a fugu place was a matter of fate. Like the last time I was here, I could not choose where to have dinner. Picking a restaurant is never easy in Dotonbori. Osaka is the center of the Japanese food culture, and it can't be any more evident in Dotonbori. Dozens of food places, from small kiosks to proper restaurants, flank the main street and its inner alleys, bombarding tourists with countless options if not blinding them with giant electronic displays. I checked out one menu after another and still could not pick one, for the life of me. It was only when I felt my knees begin throwing curse words at me that I finally declared to enter whatever establishment was behind me. I looked up and found a giant pufferfish lantern dangling overhead.
Uh-oh. Not that.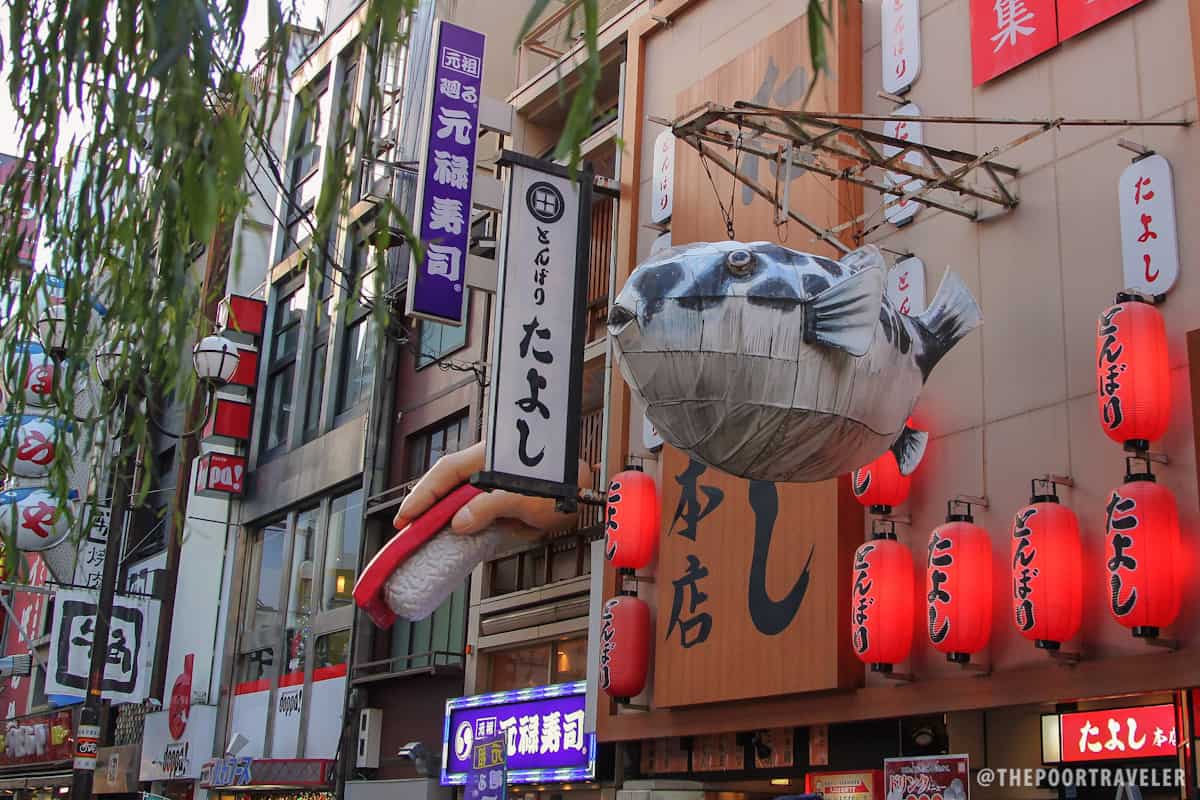 I'm NOT an adventurous eater (as I have mentioned many times before), but fate has decided for me. I quickly messaged a conservationist-friend, "Hey, is pufferfish endangered or threatened?"
"No," she replied. "But you just might be putting yourself in danger eating that."
A Deadly Delicacy
Pufferfish is known by many names: blowfish, globefish, balloonfish — referring to its ability to inflate its elastic stomach with water and make itself a lot bigger. Scientists call it Tetraodontidae. Here in Japan, they call it fugu. But no matter what you call them, one thing remains the same: it is highly toxic. Widely considered the second most poisonous vertebrate in the world (next only to the Golden Poison Frog), it carries tetrodotoxin, a substance that is 1200 times more potent than cyanide, mostly in the fish's ovaries and liver. "There is enough toxin in one pufferfish to kill 30 adult humans, and there is no known antidote," National Geographic adds.
Yet, fugu remains a popular delicacy in Japan. It was banned many times throughout its history — the Tokugawa and Meiji periods included — but the culture remains. In 1958, the government had to step in once again and required chefs preparing fugu to earn a license. It's a difficult series of exams that only around 35 percent of the applicants pass. After all, carefully removing the toxic parts of the fish without contaminating the edible flesh is no easy business.
One has to wonder, what is it about fugu, really?
Everyone is aware of its potential to kill, but is it really worth it? And as I stood underneath a swaying giant fugu lantern, I became more curious. I stepped into the restaurant and prepared for death dinner.
Digging in to Danger
There was one problem. Almost everything here in Japan is expensive, and food is no exception. (They say that the prices of fugu peak during winter when the fish has more fat. It was winter.) A small platter of fugu sashimi costs around JPY 1400. The raw fugu meat is sliced paper-thin that they are translucent and then arranged in a flower pattern. It would be such a waste of yen and skill to order a plateful of fugu sashi that would end up almost untouched. Flipping through the menu, I searched for a dish that could give me just a sample of it and found it in the form of a sushi. A pair of fugu sushi costs JPY 300! I ordered that and a few other dishes (ie. fried chicken with rice, because duh).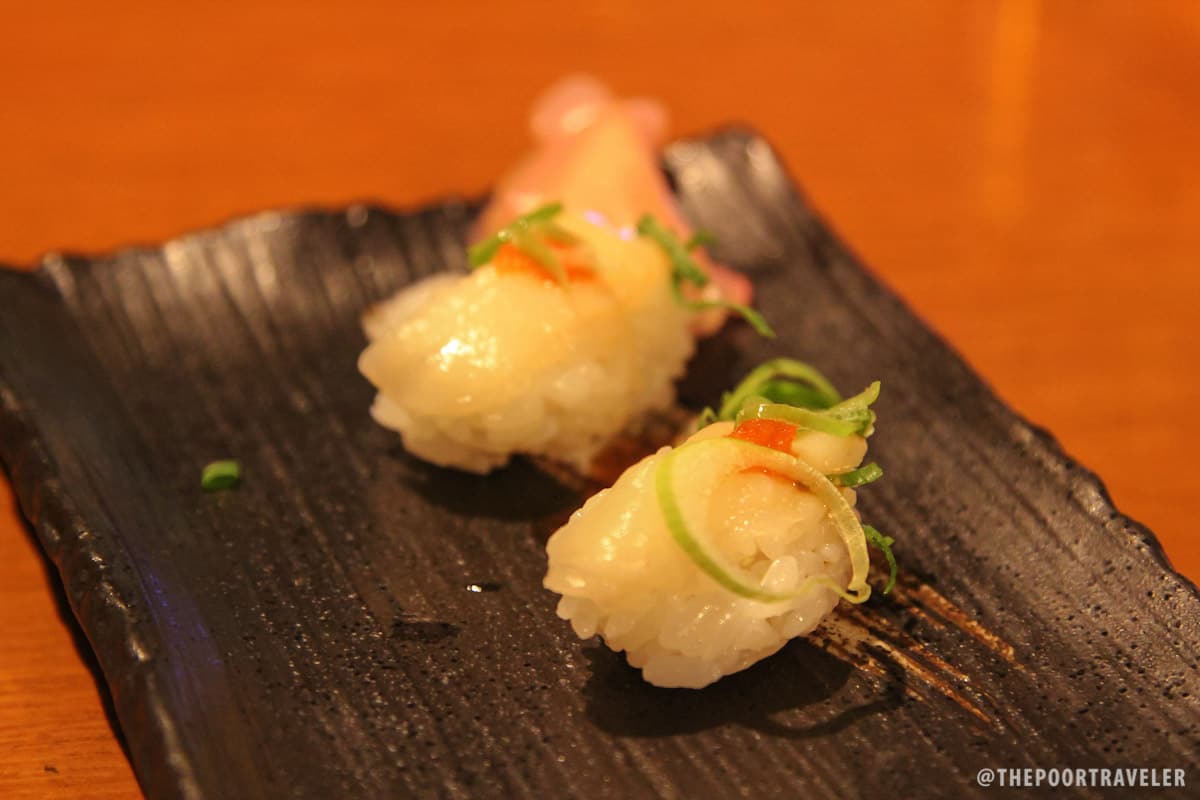 When it was served, I was greeted by a very tiny roll of rice topped with a tiny morsel of fugu. I ordered another set for good measure. Two pairs would probably be enough to give me just a taste of it, supposing I'm still alive after the first set.
Moment of truth. I raised my chopsticks and picked up the fugu meat off the rice. I wanted to experience it unadulterated. It was, well, wait, I didn't quite taste it the first time. I picked up the other sushi and confirmed what I thought was light and chewy. Another bite and it was, er, light and chewy.
And not deadly.
The consistency of the meat was a cross between squid and fish. Less rubbery than squid, but definitely tougher than fish. Its texture, smooth. But it was the taste — or the lack of it — that baffled me. Its taste was light, subtle, and almost undetectable when mixed with something else, even with plain rice. The taste just isn't as badass as its reputation. Maybe I went to the wrong resto or the serving was too little, but everything else I had that night delivered. Even the salmon sushi was really good.
Perhaps I had big expectations. Or maybe, it is the thrill, not the taste, that attracts the crowd. After all, a good dining experience feeds all the senses and not just the taste. It is the feeling after the meal that ultimately draws the line between satisfaction and disappointment. Fugu wins each time because no matter how unhappy you are about the taste, what lingers is that grateful realization that you have not dropped dead. Not this time.
How to get to Dotonbori: From any point along the JR Osaka Loop Line, take the train to Tennoji Station and transfer to a Midosuji Line. Alight at Namba Station. Dotonbori is just a 15-minute walk from here.
---
---