As I dipped and stirred a thin slice of beef in the pot, I began to realize how truly underrated Tottori's food scene is. Such awakening couldn't have come in a better setting. We sat on the floor around a hot pot at the very first shabu-shabu restaurant in Japan. In between mouthfuls, our new friend Kodani shared more information about the history of this iconic dish, how it was brought to Japan by a Tottori local, and how it spread to nearby Kansai region and eventually swept the nation.
When we think of Japanese food, Osaka is probably the first destination to pop up in our heads. Osaka is often dubbed Japan's food capital. But Tottori is poised to snatch that wig as local tourism officials start focusing the spotlight on what the prefecture can bring to the dining table.
Many of the most celebrated culinary treats in Japan have their roots in Tottori. It is where the idea of shabu-shabu was born, where the tastiest crabs and shrimps are caught, and where 20th century pears are harvested. It is also home to gyukotsu ramen, a rare type that uses cattle bone for its broth (and it's the best ramen we've ever had)! Tottori also produces top-grade melt-in-your-mouth but inexpensive wagyu beef, the Tottori beef, which is believed to be the precursor to other highly revered but insanely expensive Kobe beef, Matsusaka beef, and Omi beef.
And all I can do is agree. I have been to 21 prefectures in Japan so far, but I can't think of any destination that gave me a more delicious time than I had in Tottori. From Tottori City to Kurayoshi to Daisen to Yonago to Sakaiminato, Tottori prefecture offers an unforgettable gastronomic experience at a much budget-friendly rate. All Tottori needs is brilliant marketing and it can seriously give Osaka a serious run for the "food capital" title.
If your destination is Yonago, Daisen, or Sakaiminato, we have a separate post for it. READ: Where to Eat in West Tottori.
But if you ever find yourself in Tottori City and Kurayoshi City, here's what and where you should eat!
WHAT'S COVERED IN THIS GUIDE?
Hamashita Seafood Shop & Restaurant
Specialty: Matsuba Crab
Hours open: 8:30 AM to 04:00 PM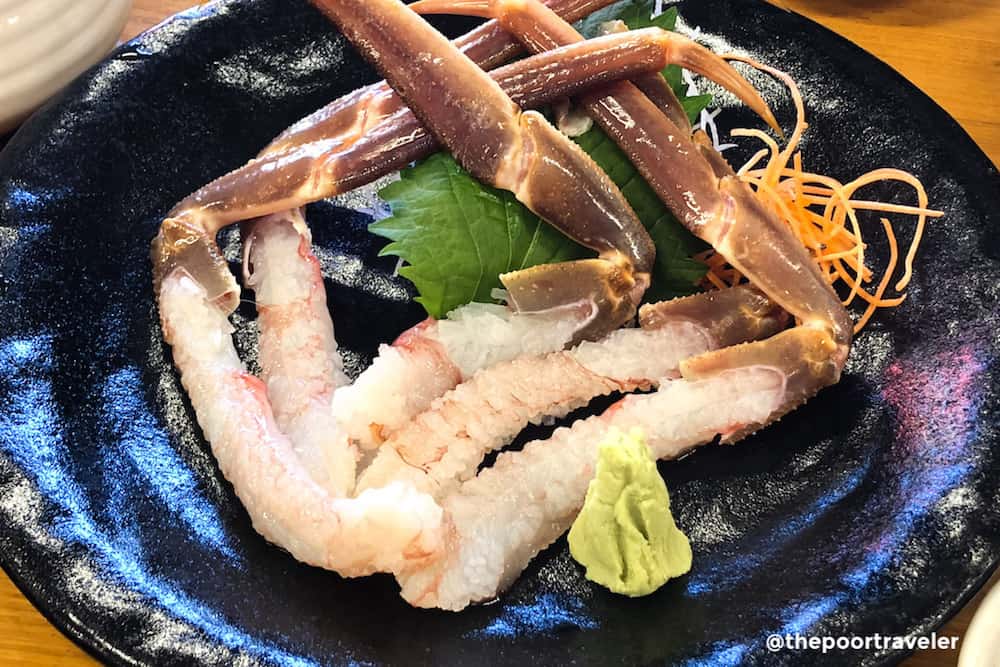 Tottori is famous for a lot of highly sought-after seafood including mosa shrimp (mosa-ebi), iwagaki oysters, white squid, and the matsuba crab. The matsuba crab (male snow crab) is Tottori's most prized winter food. It may have slender legs, but they're known to pack soft succulent meat that has a unique natural sweetness.
Tottori's location and water quality make it an ideal environment for crabs. Hence, Tottori is the top supplier of crabs in Japan, catching more than any other prefecture and even three times more than Hokkaido, which is also known for their crabs. Although Tottori ships their bounty to other prefectures, many foodies from all over Japan come over to have a taste of the freshest catch. In Tottori City, the place to go os Karo Port, the second biggest fish port and market in Tottori Prefecture. But standing next to Karo Port is Hamashita Fishery & Restaurant.
Hamashita Seafood Shop & Restaurant has a small indoor "market" where you can choose the crabs that you want and they will prepare it for you on site. They have a dining area where you can enjoy nibbling on these crabs. Most diners want their crabs boiled, but if you want to have a taste of what makes the matsuba crab one of the most sought-after in Japan, have it sashimi-style. Even without any seasoning, the matsuba crab has a delightful sweetness to it.
Crab season in Tottori is from November to March.
Prices:
Crabs: ¥2000 up, depending on what you shop
Crab bowl: ¥980
Assorted sashimi: ¥980
Uni (sea urchin) on rice: ¥1880
How to get there: At Tottori Station, take the Karo-yuki Hinomaru bus and alight at Karo Kaigan or Kanikkokan mae. It's a short walk from there.
---
Sasa Sushi
Specialty: Sushi
Address: 104, Suehiroonsen-cho, Tottori City
Hours open: 5pm-12am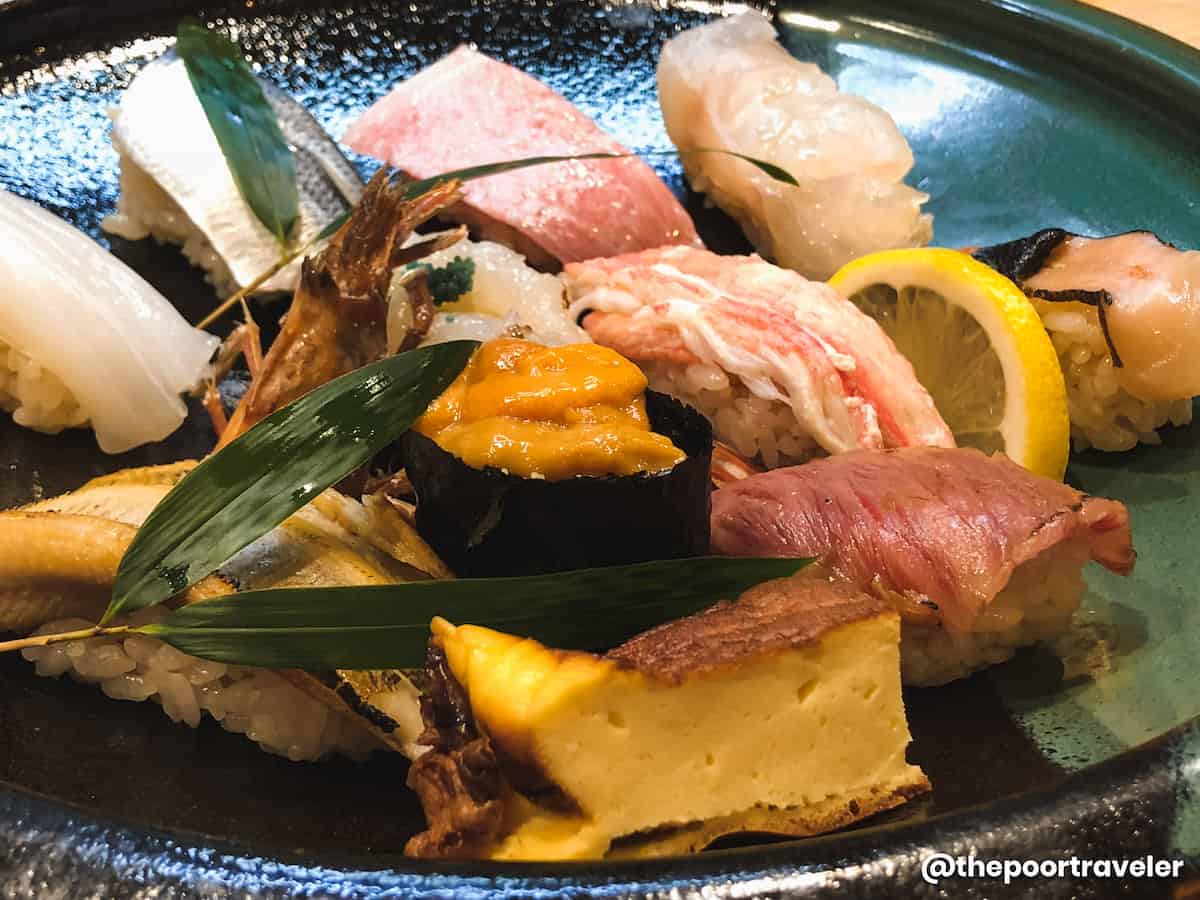 As a coastal city, Tottori has a constant supply of seafood, guaranteeing the freshness of the ingredients served at the city's sushi restaurants. One of them is Sasa Sushi.
Sasa Sushi isn't a budget option. It's on the more upscale end of the spectrum, but every piece is worth it. Each rice ball is hand-shaped, topped with ocean-fresh toppings as you order, and served on a carefully chosen Kurayoshi ware. The toppings change depending on availability of ingredients, but if your timing is right, you can expect uni (sea urchin), fatty tuna (otoro), bonito, matsuba crab, and mosa-ebi. The last two are Tottori delicacies. Don't miss the shrimp-flavored tamago, too!
This 40-year old sushi bar only has 8 seats, allowing the chef to devote enough time perfecting each piece. Reservation is required.
Prices:
10-piece sushi set: ¥4,300
Beer: ¥600
Nearest Station: Tottori Station.
How to get there: Sasa Sushi is only a 7-minute walk from Tottori Station.
---
---
Sumibi no Jujuan (Charcoal Grill Restaurant)
Specialty: Tottori Beef
Address: 751, Suehiroonsen-cho, Tottori City
Hours open: 5pm-11pm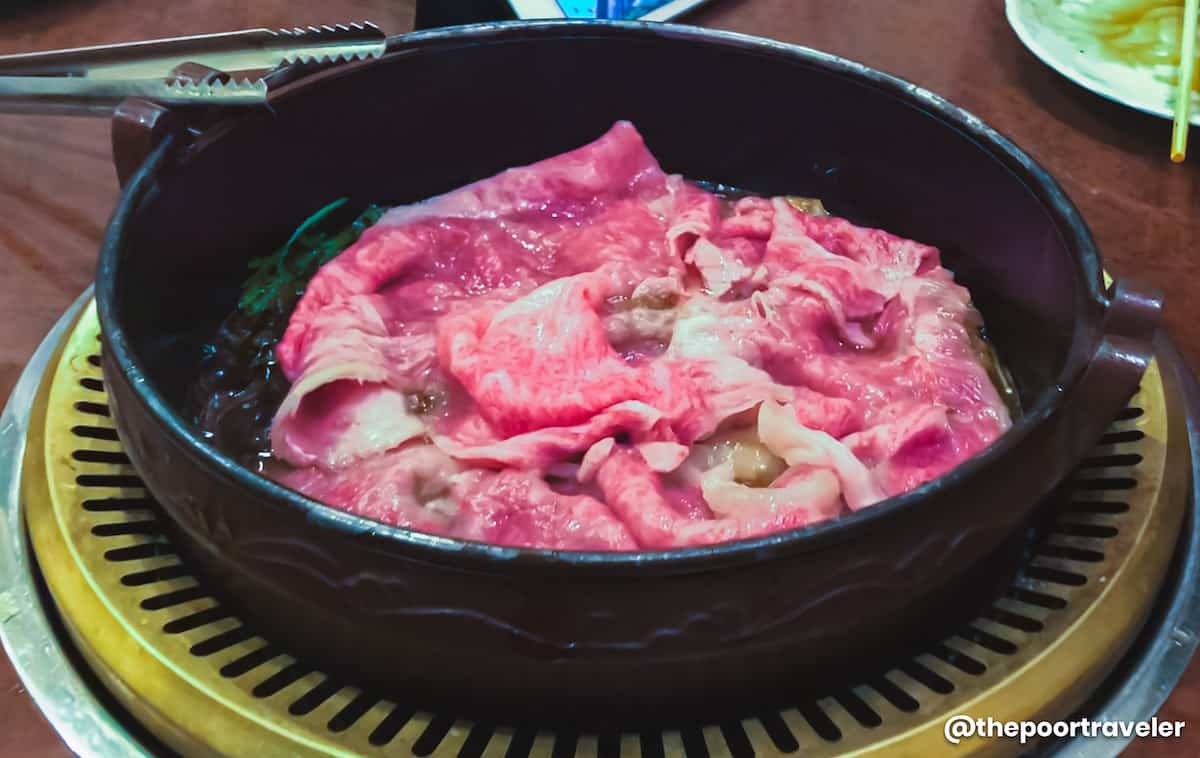 Japanese wagyu is one of the most celebrated beefs in the world. In particular, Kobe beef, Matsusaka beef, and Ohmi beef are all globally revered. A piece of any of these melt-in-your-mouth meat wonders will send you to gastronomic heaven and back. But they come with a price, a very high one. Fortunately, there are other less famous but still extremely delicious types.
There are four breeds of wagyu in Japan, the most common of which, making up almost 90%, is the Japanese black cattle (Kuroge wagyu). This wagyu has four strains, named after a place in Japan that produces it: Tajima, Shimane, Okayama, and Tottori. Kobe beef, Matsusaka beef, and Ohmi beef all come from Tajima strain. The Tottori pedigree is a different strain but just as worthy.
In Tottori, one of the places to go for Tottori beef is Sumibi no Jujuan, a yakiniku-type restaurant that features charcoal grills. It has a diverse menu that also boasts matsuba crabs, but most patrons come here for Tottori beef. Just like Kobe beef, it is characterized by its tender texture and, although not as intense, beautifully marbled appearance. It's fatty, almost buttery, and the juice burst in your mouth like an explosion of flavor. The best part, it is way, way cheaper than the Kobe variety.
Prices:
Tottori wagyu sirloin steak set meal (with appetizer, salad, rice, dessert, grilled vegetables): ¥10,000
Tottoti beef sukiyaki set meal (with appetizer, noodle, dessert): ¥4800
Jujuan set (with beef & vegetables for grilling): ¥6480/person (minimum 2 pax)
Nearest Station: Tottori Station.
How to get there: Sumibi no Jujuan is just two blocks away from Tottori Station. You can reach it on foot in only 5 minutes.
---
Turudaya Coffee (Tsuruta-ya)
Address: 21, Shokuninmachi, Tottori City
Hours open: I wasn't able to get its full operating days and hours, but it closes at 9:30pm.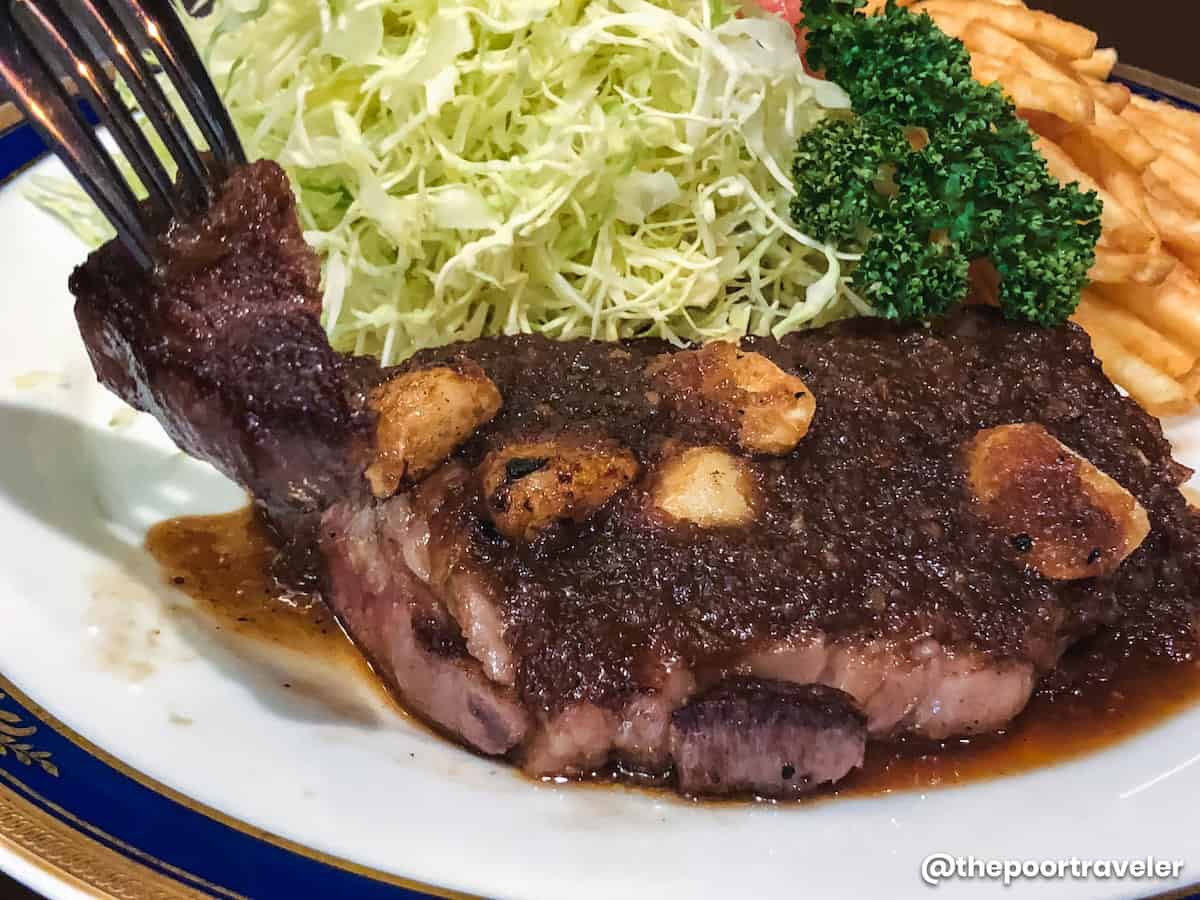 Another place to score cheap Tottori wagyu is Turudaya Coffee. This cafe used to be Marufuku Coffee Shop, which was extremely popular among locals and had loyal patrons but for some reason closed down. The Marufuku signage was still up above the bar during our visit.
It is now Turudaya Coffee, a cafe that also serves heavier dinners including a plate of Tottori beef steak for only ¥3000. If you're on a budget and you want to just have a taste of Tottori beef, this is a good place to start.
Prices:
Tottori beef steak: ¥3000
Chicken steak: ¥1000
Pork steak: ¥1300
Nearest Station: Tottori Station.
---
Takumi Kappoten Shabu-shabu
Specialty: Tottori Beef shabu-shabu
Address: 652, Sakaemachi, Tottori City
Hours open: 11:30am-2pm, 5pm-9pm
Closed: every 3rd Monday of the month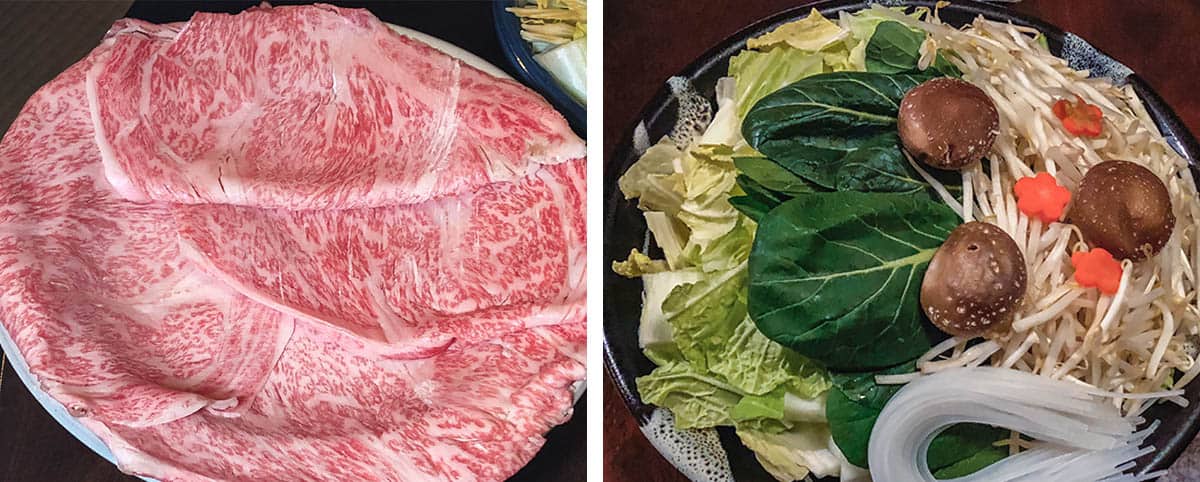 Most people think that shabu-shabu was invented in Osaka. In truth, Osaka can only take credit in giving it its name and maybe its popularity. But its origins can be traced back to Tottori, and if you dig deeper, to China. In 1938, a Tottori otolaryngologist (ENT surgeon) named Shoya Yoshida traveled to China as an army doctor. There he was able to try a dish called shuàn yángròu or instant-boiled mutton. It uses a hot pot with a chimney, where thin slices of mutton are "rinsed" in hot water before being dipped in sauce.
When he returned to Japan, he changed the main protein from mutton to beef because of availability issues. He then shared the recipe to restaurants in Kyoto and Osaka, and it was in the latter that it got its name shabu-shabu, an onomatopoeic term referring to the sound that it makes.
In 1962, Yoshida opened his own restaurant called Takumi Kappo in his hometown Tottori. It remains standing to this day. Takumi Kappoten uses local ingredients including thin slices of Tottori beef that are dipped in gyusuji soup and eaten with sesame sauce. A plateful of vegetables and mushrooms also come with an order.
Price: ¥3990 up.
Nearest Station: Tottori Station.
How to get there: Takumi Kappo is just 2 blocks away (5-minute walk) from Tottori Station.
---
Beniya Cafe
Specialty: Japanese curry rice
Address: 151 Suehironsencho, Tottori City
Hours open: Thursday-Tuesday 8am-7pm
Closed: Wednesday
It was the British that brought curry to Japan from India during the Meiji era in the late 19th century. Since then, the Japanese have taken liberties with the ingredients. Their version of curry is made from less spices and has a more subtle taste, but the umami flavor is still there. It's typically served on top of rice. Today, it is one of the most popular dishes in the country.
Tottori beats all the other prefectures when it comes to consumption of curry. It's evident in the number of curry places in the area, one of which is Beniya.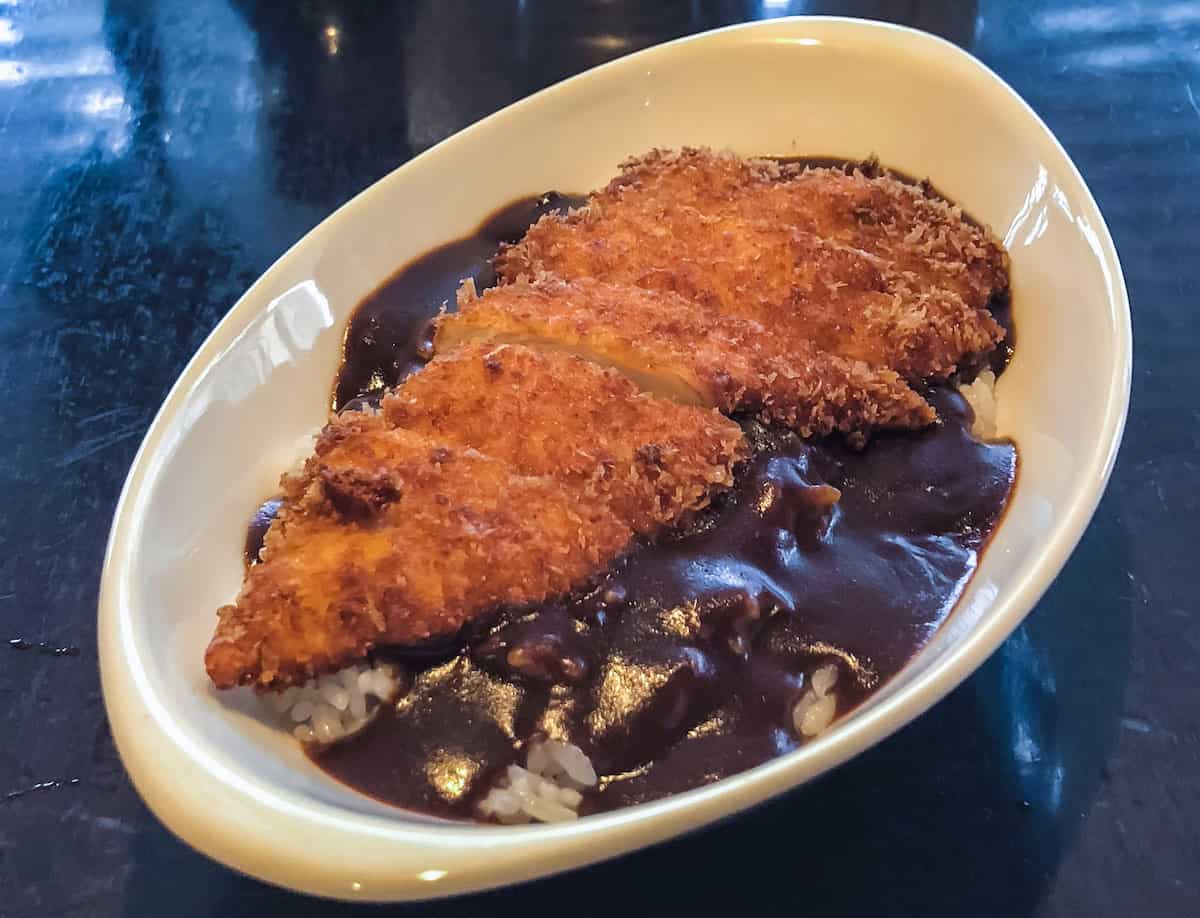 Beniya is a small cafe that is well-known for its chicken cutlet curry. I'm not a fan of curry in general so I wasn't really that excited about this lunch stop. The unusually dark roux was not helping, either. Reluctantly, I had a taste of it and it was surprisingly delightful. The curry itself is bursting with flavor but not too overpowering, and complements the crispy chicken.
Price:
Curry rice: ¥600
Chicken katsu curry: ¥800
Croquette curry: ¥700
Nearest Station: Tottori Station.
How to get there: From Tottori Station, you can just walk. It's situated just 3 blocks away.
---
Coco Garden at Oenosato Natural Farm
Specialty: Fluffy Pancakes
Address: 877 Hashimoto, Ohenosato Shizen Bokujou, Yazu-cho, Yazu-gun
Hours open: Daily 10am-6pm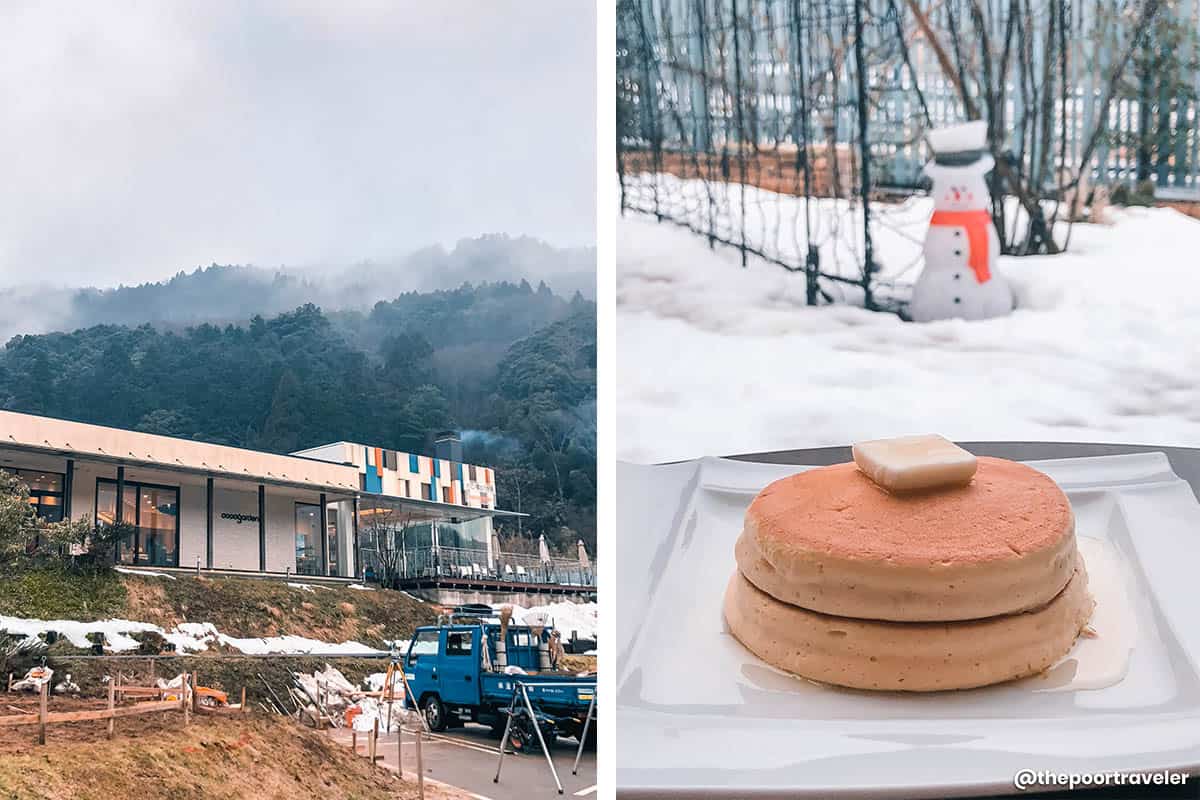 Oenosato Natural Farm is famous in Tottori for their all-natural ways of poultry farming, especially their free range chickens. Located at the foot of the mountains of Yazu, it can be reached after a 40-minute train and bus journey from Tottori Station. Yet, customers go out of their way to enjoy what they have to offer.
Here you'll find Oenosato Village, a complex of small restaurants and stores serving dishes made from natural ingredients. But we came here for breakfast at Coco Garden, a cafe next to Oenosato Village. We had a fantastic first impression of the place. Every corner was Instagram-worthy. Every pastry on display was eye-catching. But its crowd-magnet is its fluffy pancakes. Their pancakes are made from free-range eggs that the farm is proud of. It is the most unforgettable pancake I've had in my life.
Nearest Station: JR Koge Station.
How to get there: From Tottori Station, take the JR Imbi Line or Wakasa Railway to Koge Station. Fare: ¥240. Travel time: 14-18 minutes. From Koge Station, board the San-san Bus bound for Oe and alight at Oenosato Shizen Bokujo-mae. Travel time: 15 minutes.
---
Hachibee Gyukotsu Ramen
Specialty: Gyukotsu Ramen
Address: 1-101 Fukubacho, Kurayoshi City
Hours open: Mondays, Wednesdays, Thursdays 1130am-2:30pm, 6pm-08:30pm;
Friday, Saturday, Holidays, 1130am-2:30pm, 6pm-10pm
Closed: Tuesdays
Almost every prefecture puts their own twist to the quintessential Japanese comfort food, ramen. Two of the most popular are Fukuoka's tonkotsu ramen (Hakata ramen) and Hokkaido's miso ramen. Even small cities have their own version. Some of the most unforgettable for me are Onomichi's fatty shoyu ramen and Kumamoto's rich garlic-overloaded ramen. But if you ask me to rank all the types of ramens that I have slurped, I'm pretty sure that Tottori's gyukotsu ramen sits comfortably on top of the list.
While the rest of the world is in love with tonkotsu ramen, whose broth is made from pork bones, Tottori uses cattle bones in their gyukotsu ramen. I've been to 21 prefectures so far and only Tottori uses this ingredient as base for their broth. It's rare, yes, but not exactly surprising, given the prefecture's affinity with beef.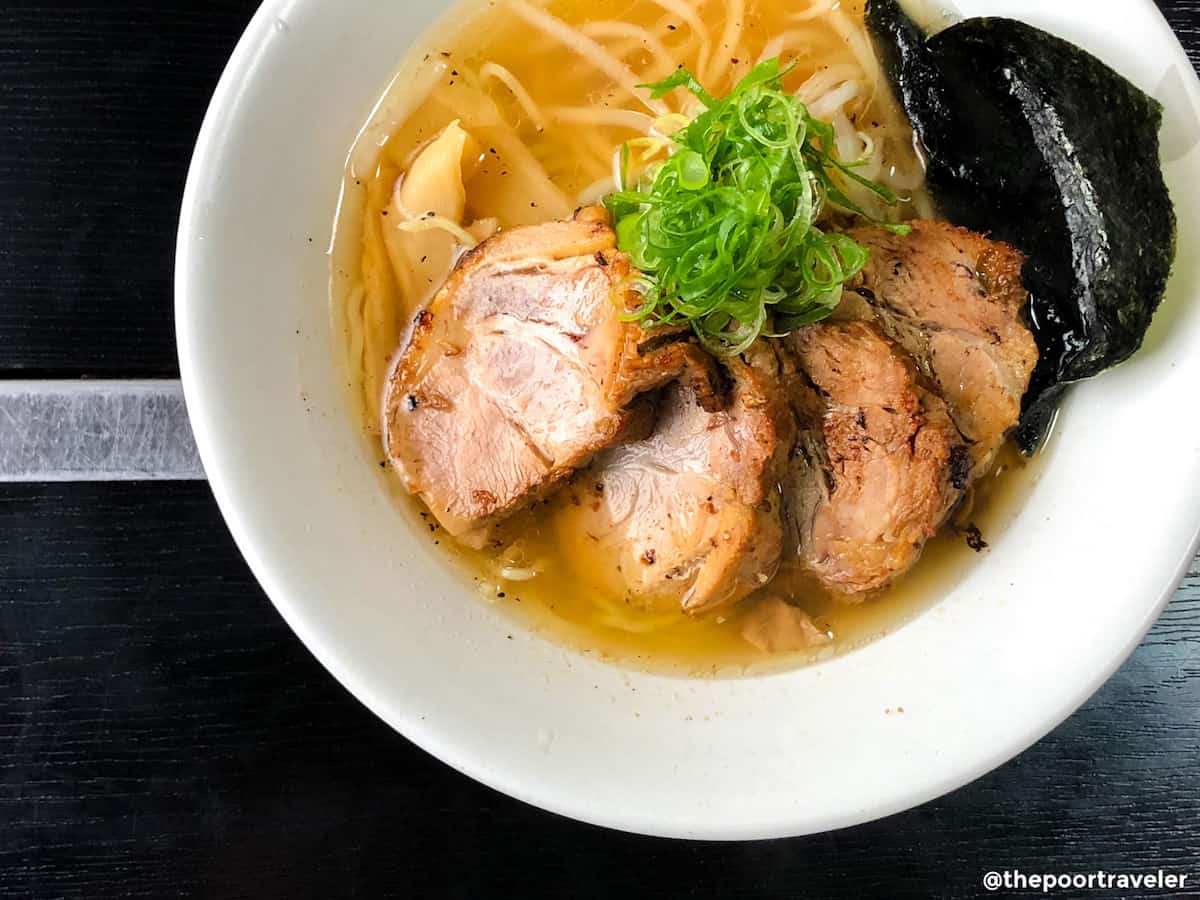 Hachibee is one of the few ramen spots in the world that serve this type of ramen. It is also our guide's favorite ramen place. He had been raving about it since our first day in Tottori. Located in Kurayoshi City, Hachibee isn't well-known among tourists but is popular among locals. It was pretty packed when we arrived, but thankfully a table became open immediately.
Hachibee's gyukotsu ramen captivates instantly. We were sold even before we could even take a look at it. The aroma coming from the hot soup filled the air. And when it was finally on our table, we just had to take photos. It looked pretty with thick cuts of pork neatly and beautifully arranged on top of the noodles and bamboo shoots. And the taste was heavenly. The beef bone flavor is undeniable but gentle, not overpowering but blending well with white shoyu. Although I still prefer Takauna's broth (another ramen shop in neighboring Kotoura), the big chunks of pork shoulder loin, barbequed to perfection, were definitely a killer. It had a distinct smokey flavor that reminded me of how my mom prepares barbeque at home. Each serving comes with nori (seaweed) and green onions. And for only ¥800, this is waaay too good for its price.
Prices:
Gyukotsu ramen: ¥600
Gyukotsu ramen with barbequed pork: ¥800
Beef bone ramen burger: ¥550
Nearest Train Station: Kurayoshi Station
How to get there: Hachibee is located almost 1km from Kurayoshi Station. It should take 15-20 minutes if you walk. If you're coming from Tottori City, take the train to Kurayoshi Station. Travel time: minutes. 46-65 minutes. Fare: ¥670.
---
Takauna Ramen
Specialty: Gyukotsu Ramen
Address: 527-6 Shimoise, Kotoura-cho, Tohaku-gun
Hours open: Tuesdays-Sundays 11am-3pm, 5:30pm-9pm
Closed: Mondays
Takauna Ramen is not in Tottori City or Kurayoshi City. It's located in Kotoura town. But if Kurayoshi and Hokuei (Conan Town) are part of your itinerary, you might as well drop by because it's easily accessible from either. And trust me, it's worth the detour.
On our first night in Tottori, we were joined by two locals at dinner. At one point, they were having a lengthy discussion about the best ramen place in the prefecture. Our guide Kodani-san was claiming that it's Hachibee in Kurayoshi (discussed above), while Tanaka-san from Tottori tourism was pushing for Takauna, a ramen bar that is well-loved by locals but severely unheard of outside the prefecture. Over the course of our stay in Tottori, we were able to try both, and we're on Team Takauna.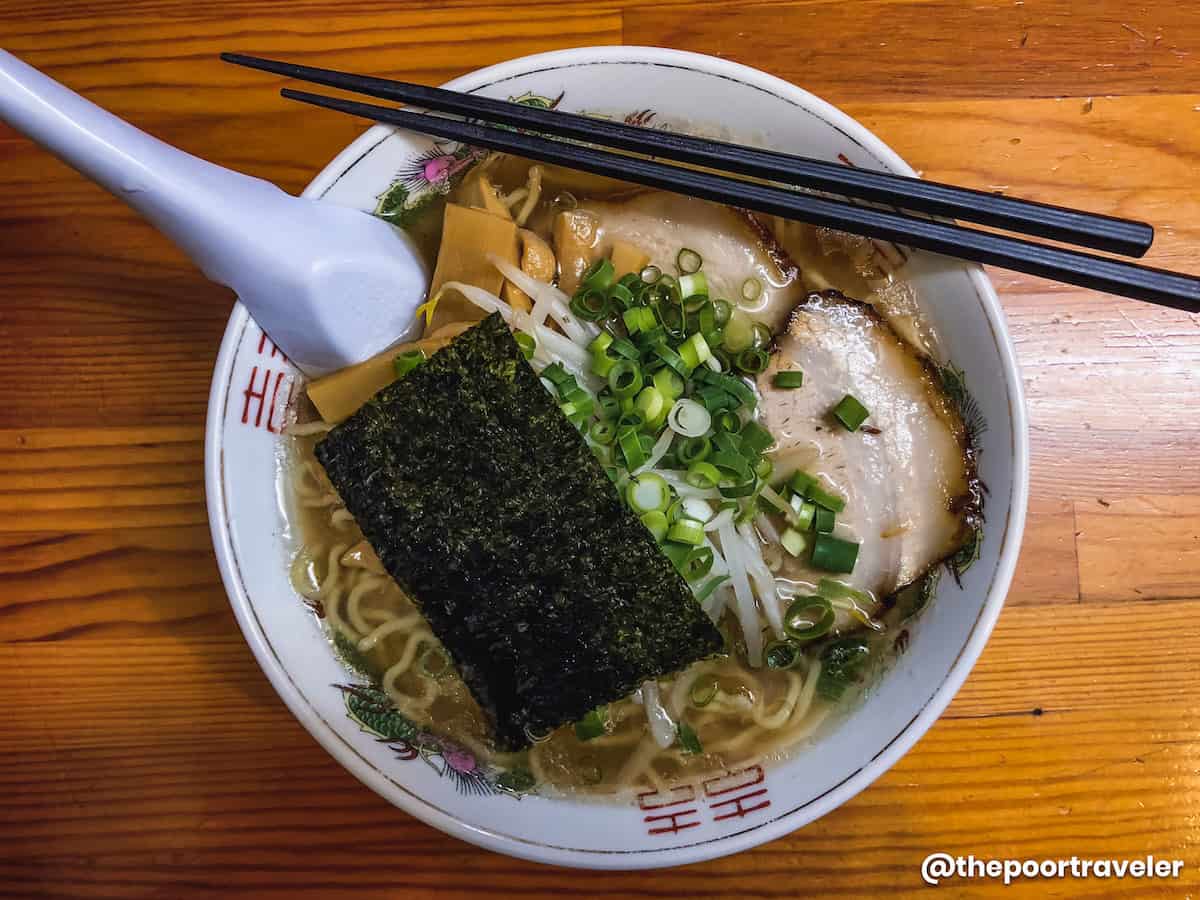 Hachibee has a lot better pork cuts hands down, but when it comes to the broth — and I'm a broth person — Takauna has it in the bag. I don't know if my palate is weird, but I prefer strong, bold flavors than mild ones, and Takauna's gyukotsu broth didn't disappoint. Takauna uses 100% cattle bone in its broth, accented by rock salt. Each spoonful delivered a punch of flavor that had me craving more. Each bowl of firm wavy noodles is crowned with slowly cooked chashu (pork belly), nori (seaweed), bamboo shoots, and green onions. Both my teammate Asta and I finished the bowl in no time. The best part, it's only ¥600.
Prices:
Gyukotsu ramen (regular): ¥600
Gyukotsu ramen (large): ¥700
Nearest Train Station: Urayasu. On Hyperdia, search for Urayasu (Tottori).
How to get there: Takauna is located 1.2km from Urayasu Station. It should take 15-20 minutes if you walk. If you're coming from Tottori City, take the train to Urayasu Station. Travel time: minutes. 90+ minutes. Fare: ¥970. If you're coming from Conan Town (Hokuei), take the train from Yura Station to Urayasu Station. Travel time: 6 minutes. Fare: ¥190.
---
Kurayoshi's Roaming Cat
Specialty: Yaki-imo (Sweet potato)
Location: Roaming around Kurayoshi City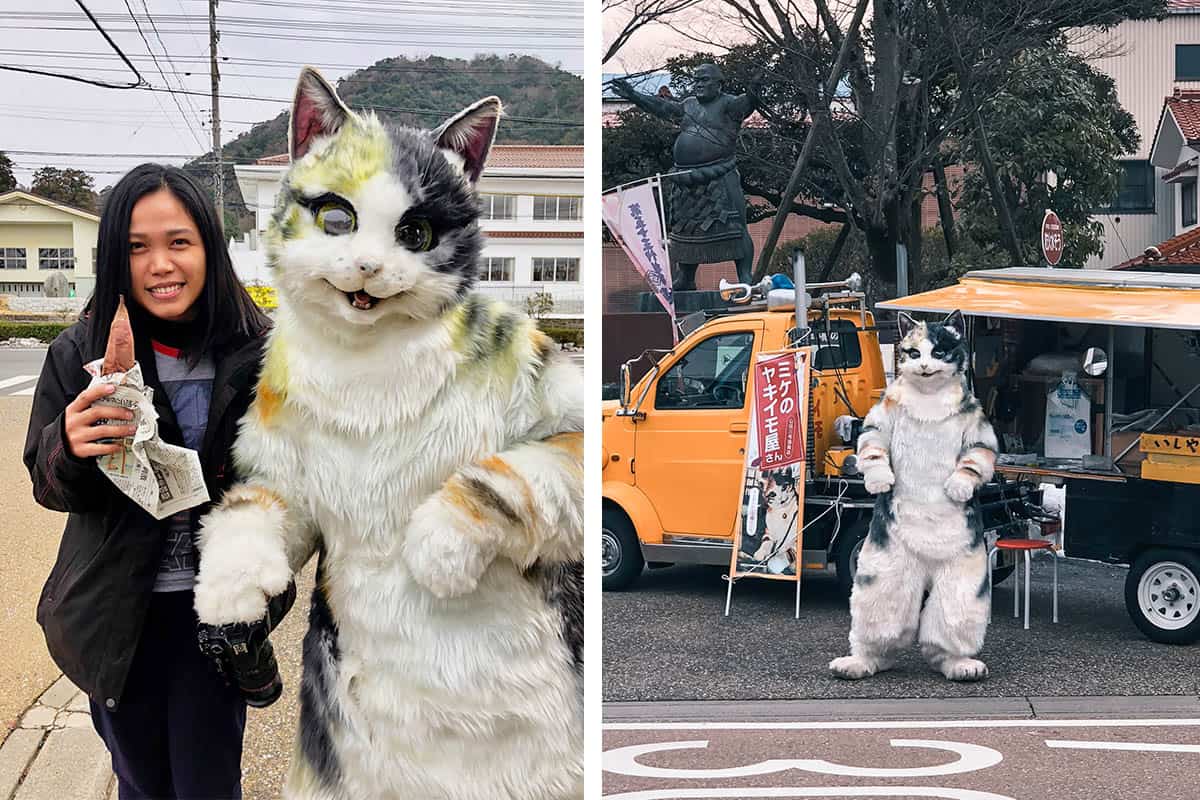 One of the highlights of our food trip in Tottori prefecture is our brief moment with Kurayoshi's Roaming Cat. Mikeneko Yamada drives his small food truck around the city and sells sweet potatoes in a cat costume. Yep, a cat mascot selling sweet potatoes. BECAUSE WHY NOT?
Sweet potatoes are called yaki-imo in Japan, and it's quite ubiquitous in the country. This is one of my favorite snacks. I had it in Tokyo, Hiroshima, Osaka, Hokkaido, and of course Tottori. (I even had something very similar in Seoul and Nami Island in Korea.) These sweet potatoes are slow-roasted, resulting in a smooth, soft texture.
To be honest, there is nothing particularly special about the roaming cat's yaki-imo. It's just your regular sweet potato. But people are drawn to it because, I mean, come on, it's a CAT MASCOT SELLING SWEET POTATOES! And he's full of character too. He waves, talks, and engages with you like you need this moment in your life. While munching on his sweet potatoes, I stopped and began to wonder, if I had never met this cat, did my life really have meaning? So yeah, if you've never dreamed of buying sweet potatoes from a humongous cat before, what have you been doing? The moment will stay with you. Hahaha.
In all seriousness though, it's cute and I had fun. If you're gonna buy sweet potatoes anyway, might as well get it from the roaming cat. It's just difficult to find him because he keeps on changing locations, so when you do spot him, grab the opportunity.
Prices: small, ¥300; medium, ¥400; large, ¥500 – 800.
---
2️⃣0️⃣1️⃣8️⃣ • 1️⃣1️⃣ • 1️⃣1️⃣