Throughout history, art has proven itself as a powerful tool to express personal thoughts and feelings. It has also become an effective platform to encourage discourse on social issues and challenge the existing norms. This is most evident in street art.
In Taichung City, there's a famous street art attraction that was conceived by a veteran soldier, Huang Yung-Fu. The Rainbow Village in Nantun District is a former settlement for veterans who served during the Chinese Civil War. To save it from being demolished and replaced with modern structures, Mr. Huang started painting the remaining structures.
After university professors and their students discovered Grandpa Huang and his artworks, the proposal to preserve the Rainbow Village as a cultural asset was finally settled, saving it from demolition. And before they knew it, it has become a mainstream tourist spot that is visited by travelers from all around the world!
For first-time visitors, here are some of the things you might want to know before you go.
---
WHAT'S COVERED IN THIS GUIDE?
What are the operating hours of Rainbow Village?
Although an open-space exhibit, the Rainbow Village's office or the Story Room area is open from 8:00 AM to 6:00 PM.
---
How much is the admission ticket?
The entrance to the Rainbow Village is FREE!
You can take photos of yourself and your companions against the colorful and eye-popping backdrop without spending a dime. Since it's a little far from the city center, make the most of your visit!
---
When is the best time to go?
The area is small, so it can get a bit crowded especially on holidays and weekends.
If you're visiting for a photo op, early morning or late afternoon is the best time because of the lighting. Noontime light is quite harsh and not really good for photos.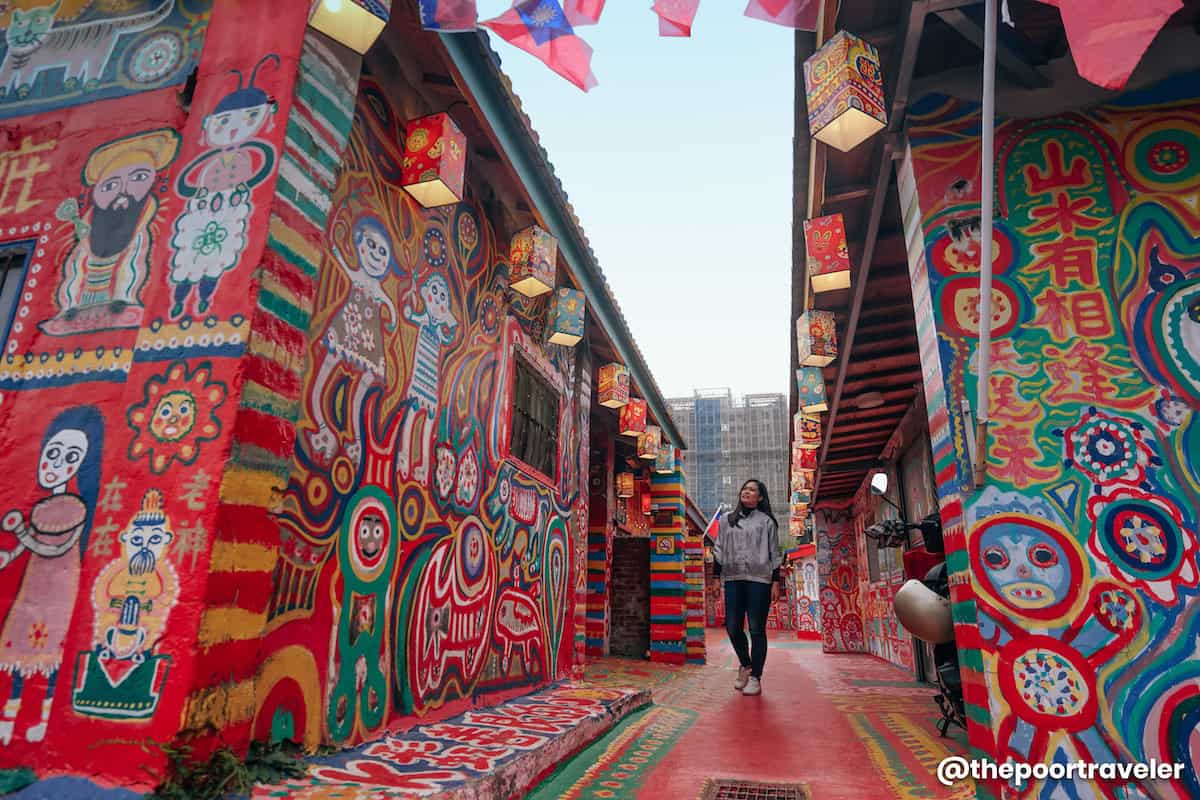 ---
How to get to Rainbow Village?
From downtown Taichung, the travel time to Rainbow Village is 45 minutes to an hour, depending on the traffic condition and the mode of transportation.
From TRA Taichung Station
From TRA Taichung Station, take Bus 27 or 89 to Ling Tung University. The fare is NT$ 12.
Alight at the Ling Tung University bus stop.
From the bus stop, you can reach the Rainbow Village in about 10 minutes on foot.
From TRA Xinwuri Station
From TRA Xinwuri Station, take Bus 56 to Rainbow Village bus stop. The fare is NT$ 12-15.
Alight at Rainbow Village bus stop.
Follow the pathway to the entrance and walk past the children's playground.
Note: Bus 56 buses have 30-minute interval, so if you missed the previous bus, you might have to wait around 30 minutes for the next bus.
---
What are the points of interest at Rainbow Village?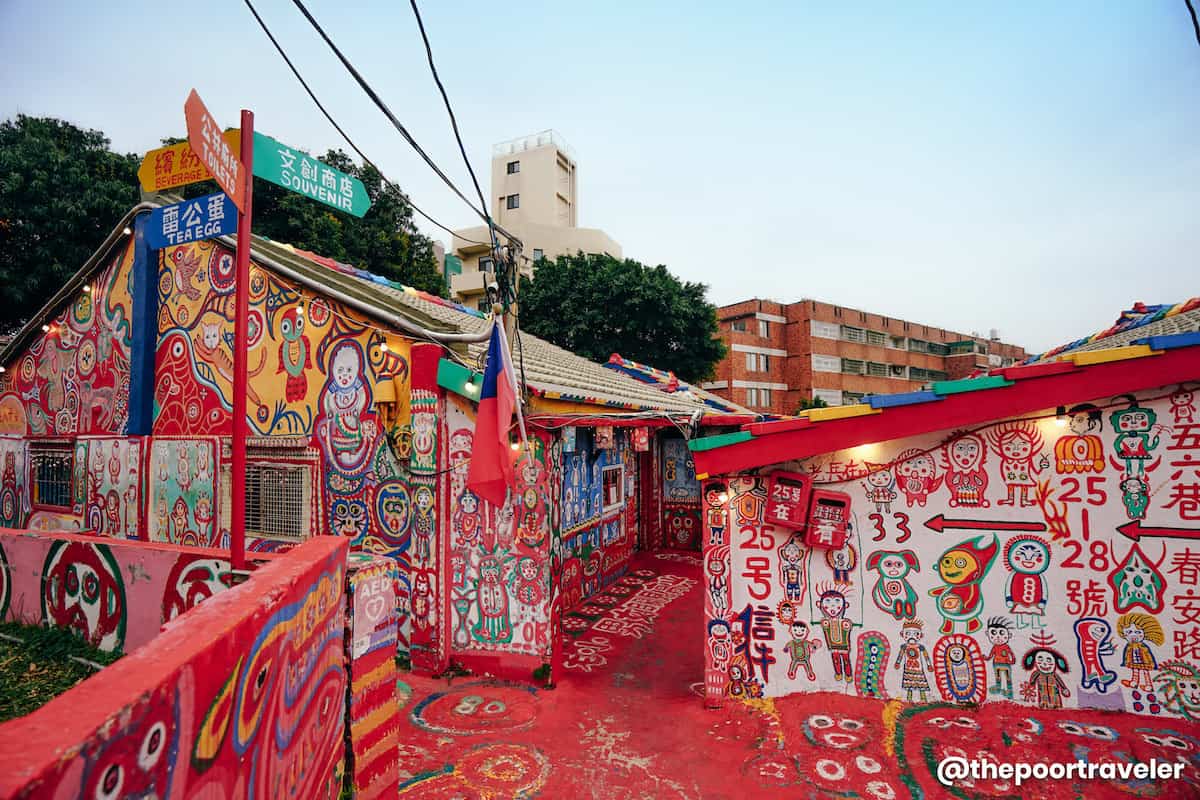 Artworks. The whole complex is snap-worthy. The walls and complex grounds are made vibrant by the artist's carefree brushstrokes and cheery artworks. Take photos with your companions with Rainbow Grandpa's masterpieces as your backdrop.
Souvenir Shops. Even the souvenir shops are fun and lively! The stores sell products and items that mirror Rainbow Grandpa's masterpieces. There are printed shirts, umbrella, passport wallets, magnets, hats, bags, mugs, postcards, and many more! The smaller shop is called Hongfu, while the bigger open-air shop is called Art Color Main Shop. The latter is where you will see Rainbow Grandpa in flesh. Chat with him, take photos with him, or both.
Story Room. If you want to learn more about the background and history of Rainbow Village and the artist, the Story Room will tell you how it all started.
Thunder Egg. This store sells tea eggs called "thunder eggs". The eggs are boiled in tea (oolong, black tea, etc.) with their shells still intact. Tea eggs are quite popular in Taiwan. The store also offers rainbow popsicles, plum popsicles, and ice cream. The store is located beside the Art Color Main Shop.
Fun Bar. This store mainly sells drinks/beverages. It has bubble tea, coffee, marbled soda, and more! The store is located just before the exit back to the children's playground area.
---
Is there a nearby restaurant or food place?
YES, but we weren't able to try them.
There are two nearby food places along Lingdong South Road where the Rainbow Village bus stop is also located. These are Hong Ya Hamburger and Mao Men.
---
Where can I contact the management for further inquiries?
Address: Lane 56, Chun'an Road, Nantun District, Taichung City, Taiwan
Landline: 04-2380-2351
Mobile Number: 0920-162888 / 0912-076787
Email: rainbow194992@gmail.com
Official Website: www.1949rainbow.com.tw
---
Other Rainbow Village Tips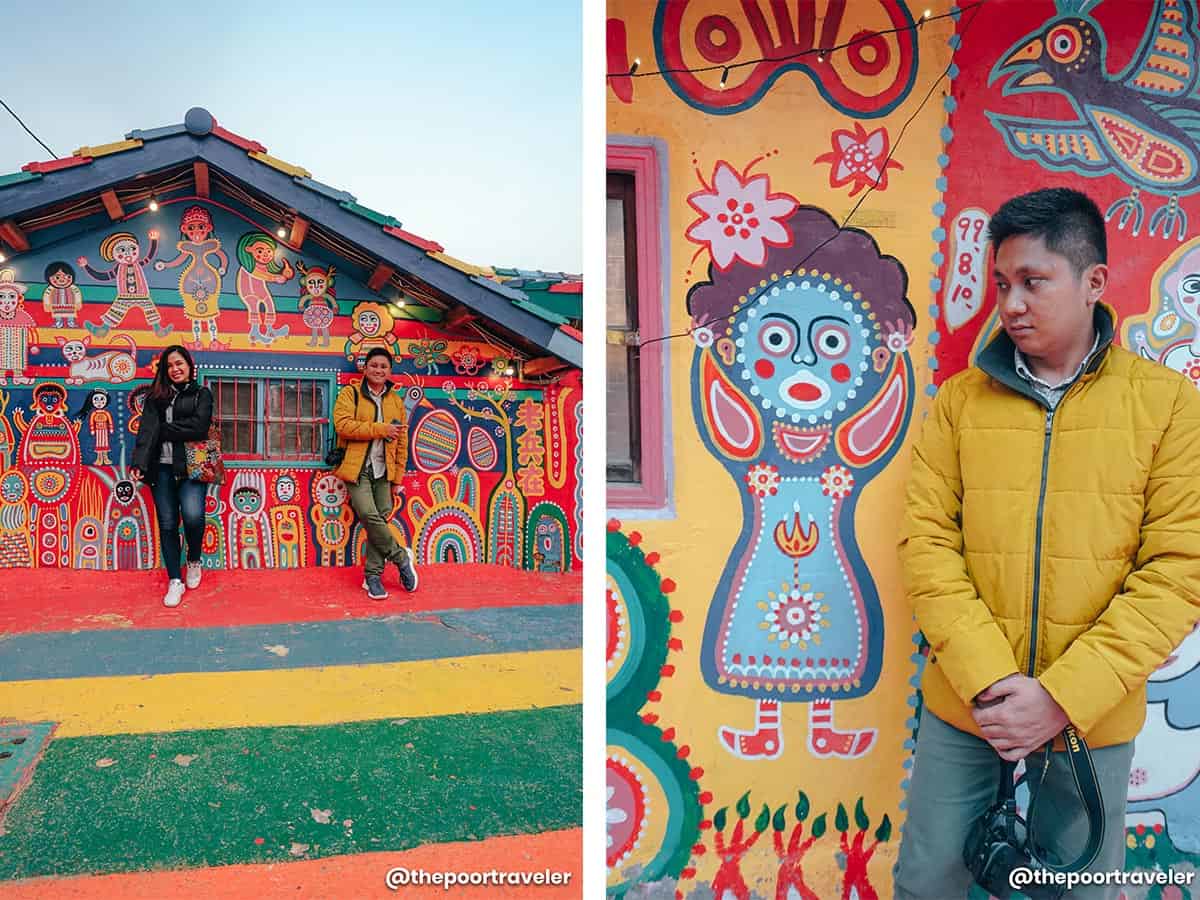 Avoid wearing tops with busy prints or graphics. Wear plain bright shirts, so you will pop against the backdrop and your ensemble won't fight the artwork patterns. Note that the dominant color is red. Make sure that you are wearing comfortable clothes and footwear.
Bring sun protection or apply sunscreen lotion or cream.
Be mindful of other people. As much as possible, don't take too much time taking photos. Let others enjoy the spot too.
Have your mobile phones charged full or bring a power bank.
Bring your own refillable water container to keep yourself hydrated.
The restroom is located behind the children's playground and near the parking area.
---
Where to Stay in Taichung
If you decide to make Taichung City your base, here are some of the nearby hotels and lodges available on Agoda.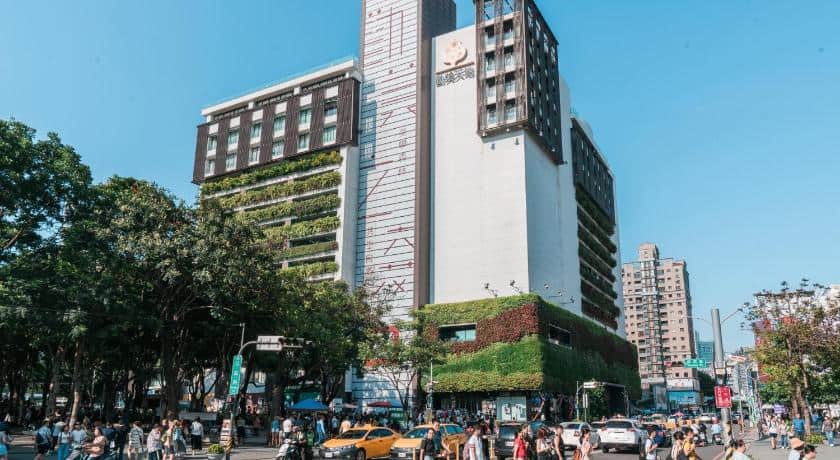 ---
---
2020 • 8 • 12