Is it possible to explore Monaco in a day?
Yes, if you're only sightseeing. Not all of it, but you can see much of what it has to offer to tourists in a day. As far as countries go, the Principality of Monaco is tiny. With a territory of only 2 square kilometers, it is one of the world's smallest states, second only to Vatican City.
We always advocate staying longer, but if for whatever reason you only have a day, fret not. It is possible to cover a lot of ground in a day, even on foot, as long as you know where to go and how to get there.
Monaco's topography is predominantly rugged and hilly, so it can still prove challenging if you're not fit. But the good news is, most tourist spots stand close to each other. With a few exceptions, you won't feel it if you make several stops along the way. And there are a lot of spots that are worthy of your time.
In this post, we'll share with you some of the best places to visit and things to do in Monaco in one day. We also added a sample day tour itinerary that you may use.
WHAT'S COVERED IN THIS GUIDE?
DIY vs GUIDED TOUR
But before anything else, you need to decide whether you want to explore Monaco on your own (do-it-yourself style) or join a guided group tour. Needless to say, pulling a DIY is cheaper because it's FREE. You'll only need to worry about the fare and entrance fees.
But we recommend joining a guided walking tour because nothing beats learning about places on the spot. The guide also shares a lot of insights, which leads to a better appreciation of the destination, and travel tips, like where to eat cheap or where to find some secret spots. That's what we did: we joined a group tour. (We paid for our trip!)
One downside of joining the walking tour is it's purely sightseeing. You won't be able to enter most of the buildings during the tour. If you want to explore a site further, you can return to it after the tour, which is pretty easy because as I mentioned, they're all within close proximity of each other.
If you wish to join a guided tour, you can book with Klook. This is ideal if you're coming from Nice because the meetup is at Gare de Nice-Ville. You'll be meeting the tour guide and other participants in Nice and you'll go to Monaco by train together.
✅ RESERVE A SLOT HERE!
---
PLACES TO VISIT IN MONACO
Whether you're pulling a DIY or joining a guided tour, you can visit all of these attractions in a day.
If you're taking the group tour and you're coming from Nice by train, you'll be alighting at the Monte Carlo train station with your guide. Then, your group tour will most probably cover the items 5-15 on this list (unless things have already changed since our tour). After the tour, take the bus to Grimaldi Forum on your own and visit items 1-4 as you move towards the Monte Carlo train station, where you'll catch the train back to Nice.
If you're traveling independently, know that these sites are arranged chronologically so you can easily use this as your route markers. If you're coming from Nice, you can take the train or Bus 100 to Larvotto (Place des Moulins) and visit these in order.
Either way, it's best to bring your own water bottle! I found it hard to find stores along the way. Haha.
All clear? Without further ado, here we go.
---
1. Larvotto Beach
Situated in the easternmost ward, Larvotto Beach is fronted by several luxurious hotels and restaurants. While it is a gorgeous beach, it tends to be crowded especially at peak hours. Monaco has only four kilometers of coastline and this is the best part of it, so beach-lovers tend to flock here.
This beach is strewn with tiny shingles (not fine sand). It has private and public areas. You can easily tell them apart because private beaches usually have a restaurant and rows of beach chairs. If you want to get comfortable, you can a chair for at least 30€ per day. Steep, I know! But everything is pricey here. Even bottled water costs a lot.
If you're on a budget, you can chill at a public beach. Bring your own towel or mat to sit on. But it may be difficult to find a spot in peak season, which is why you should try to arrive early. In the public areas, there are toilets (free of charge) and a playground for kids. While most restaurants are costly, you can also find relatively inexpensive fast food.
Hours Open: All day, every day.
Entrance Fee: FREE
---
2. Champions Promenade
If you're a football fan, you're gonna love this place. The Champions Promenade is a walkway around the Grimaldi Forum that features some of the biggest names in the footballing world.
Think of it as Monaco's answer to the Hollywood Walk of Fame, but instead of movie stars, it honors the recipients of the Golden Foot Award, which is an international recognition to an outstanding active player every year. Also, instead of handprints, the winner leaves footprints.
Hours Open: All day, every day.
Entrance Fee: FREE
---
3. Japanese Garden
A piece of Japan in Monaco! This seaside park is situated next to Grimaldi Forum, along the Avenue Princess Grace, and is surrounded by towering buildings.
Designed by Yasuo Beppu, this zen park boasts a tea house overlooking a pond, a zen garden, and a bridge among others. It's a relaxing oasis in the middle of the buzzing Larvotto ward.
---
4. Monaco Grand Prix
Any travel article about this corner of Europe won't be complete without a mention of the Monaco Grand Prix, the most prestigious Formula One race in the world. On two weekends of May every year, everything else in the principality seems to be at a halt as the focus shifts to the race.
With its hilly terrain, narrow roads, and tight turns, Monaco's circuit is also widely regarded as one of the most challenging, if not THE most challenging. Its features allows almost no room for error, which adds to why its trophies are highly coveted. As you explore Monaco, you'll be seeing and crossing some of the circuit's sections.
But the most recognizable part of the Monaco circuit is this one: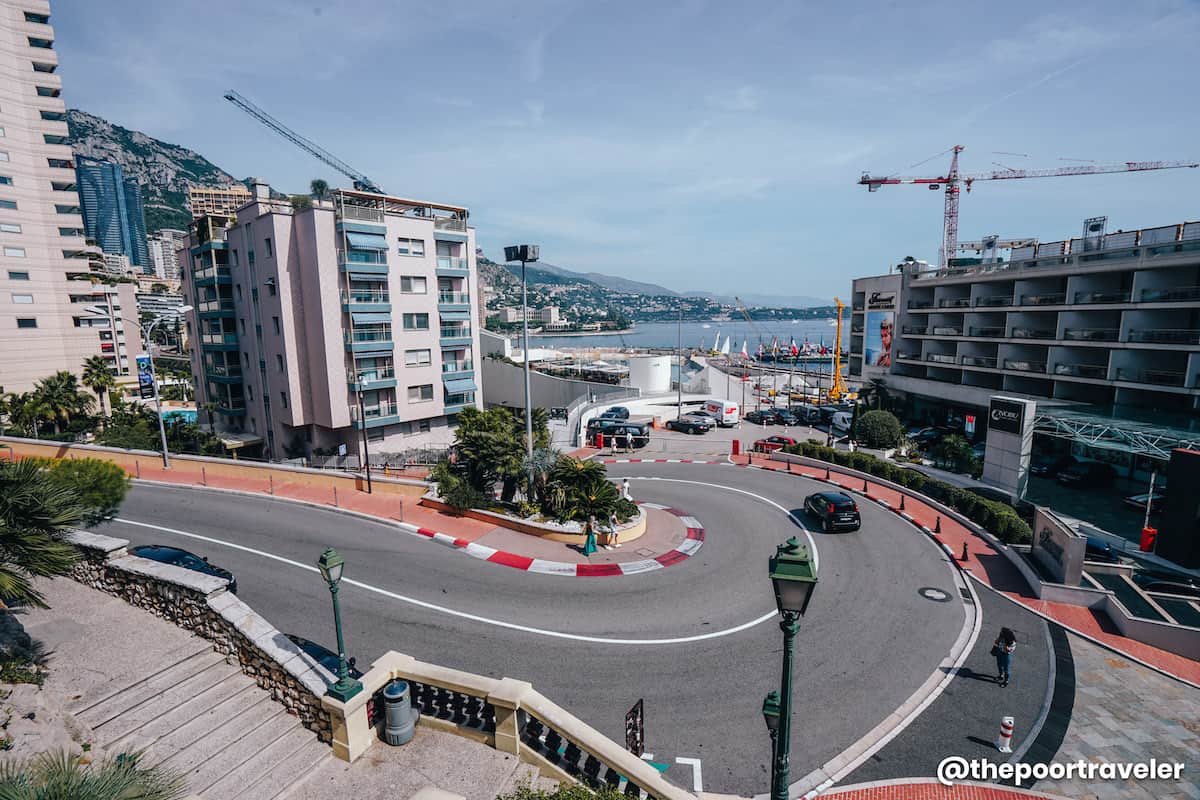 This is one of the most difficult points of the circuit. Because of the narrow road and the sharp turn, it is virtually impossible for two cars to negotiate this side by side at race speed, which is why it's also the slowest part of the track. It's currently called Grand Hotel Hairpin. I say "currently" because its name changes when the hotel in front of it changes names, which has happened numerous times. It used to be called Loews hairpin, Fairmont hairpin, and Station hairpin.
---
If you're joining a guided walking tour from Nice, your route in Monaco will most likely start here at the Monaco Monte Carlo Train Station!
---
5. Monaco Stamp
Drop by the Monaco Tourism Office at the Monte Carlo Train Station for a stamp! It's not mandatory. The principality doesn't have a hard border, which means there are no border checkpoints, which means they don't usually stamp passports. But it's a great souvenir and it's FREE.
However, consider having the stamp on a separate booklet or on an expired passport instead of your current one. Some embassies take issue with unofficial stamps. You'll risk having your passport rejected if you have souvenir tourism stamps. Better safe than sorry.
Hours Open: Monday-Saturday 9am – 7pm, Sunday 11am – 1pm.
Price: FREE
---
6. Monte Carlo Casino and Opera
The most well-known place of its kind in the world, it is also possibly the most famous of all the attractions in Monaco. It was opened in 1863 to save the House of Grimaldi from going bankrupt, after losing significant chunks of its territory.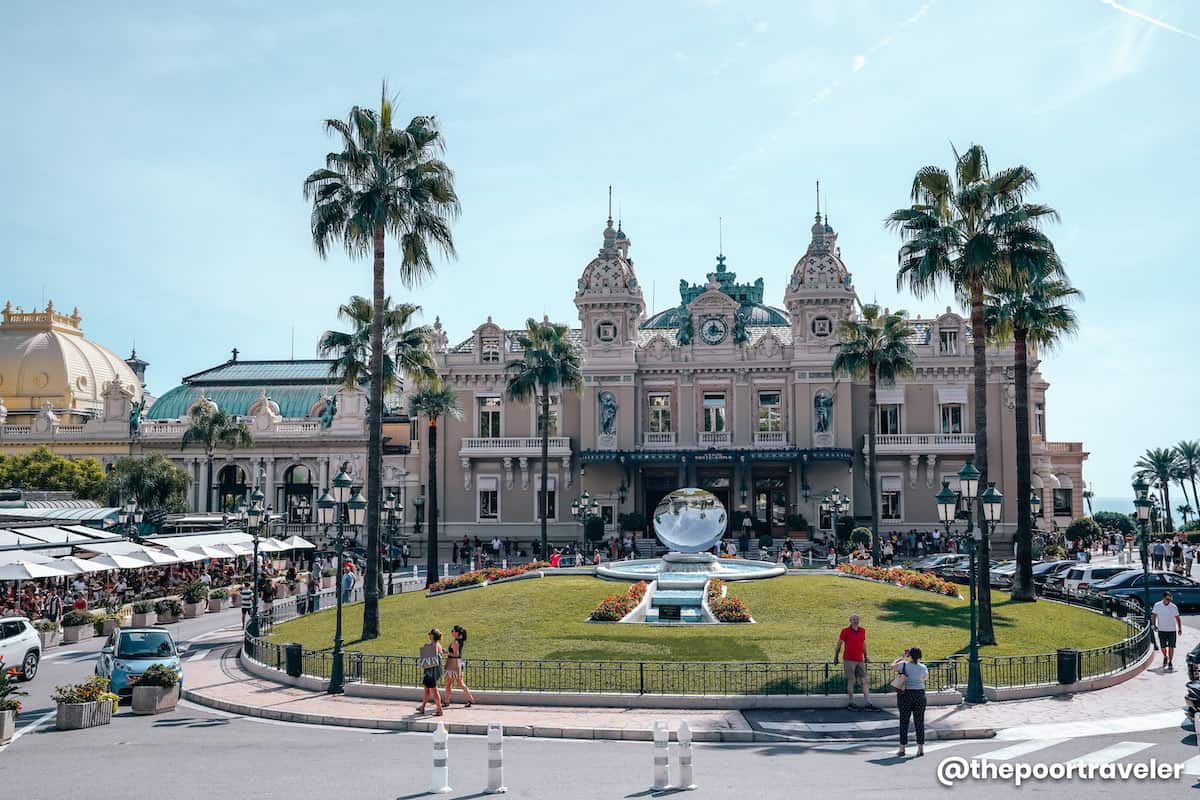 After a pretty rocky start, it became the primary source of income for state and the royal family. It also turned out to be extremely profitable that the state absolved its citizens of all taxes. Today, Monegasque citizens still are not obligated to file income taxes, which is why wealthy families move here.
Even if you don't play, visitors may enter the building and take photos in the Atrium or lobby area for FREE. The The building also houses the Opera de Monte Carlo and the headquarters of Les Ballets de Monte-Carlo.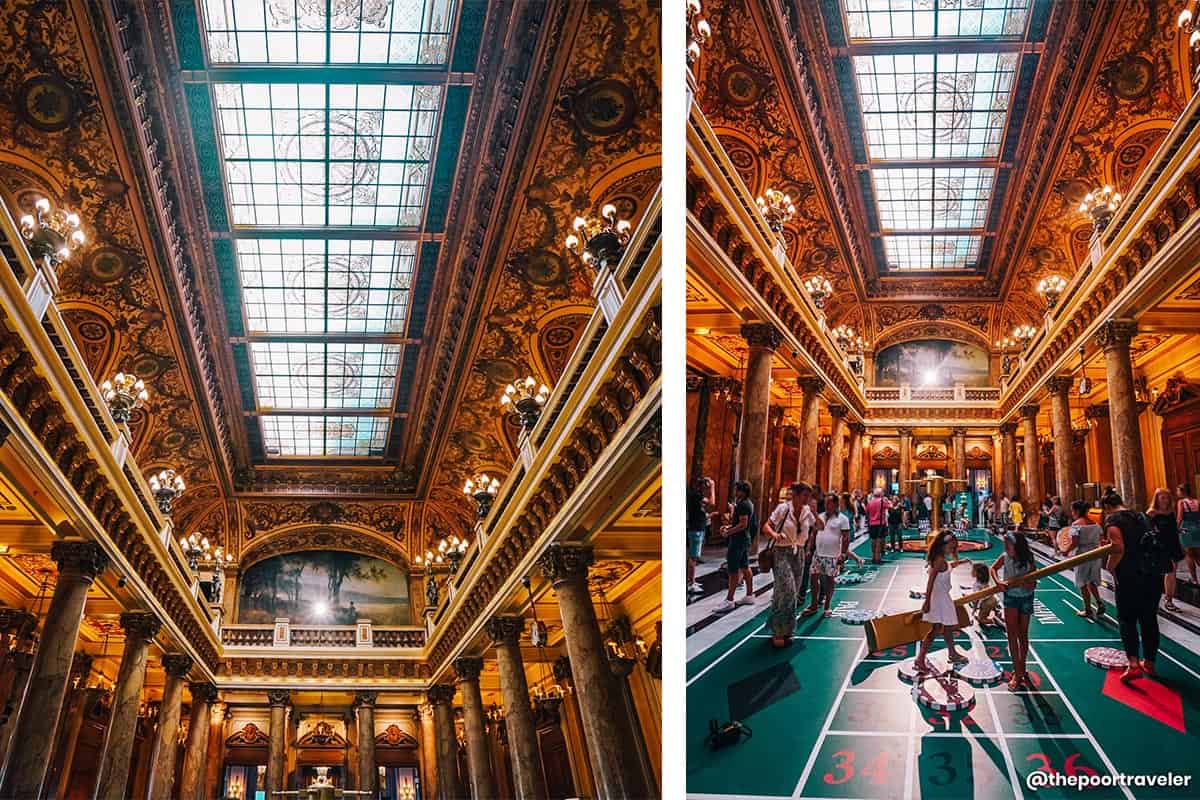 Hours open for visitors/tourists: Daily, 9am – 1pm (except during Formula 1 Grand Prix).
Last entry: 12:15 pm. As you can see, it's a pretty small window so make sure you mind your timings when making the itinerary.
Entrance fee to the Atrium and Salle Renaissance: FREE
Audioguide tour: Adult, 17€; Minor, 6-12€, depending on age and season.
Dress code: Casual attire is allowed at the Atrium and Salle Renaissance in the daytime only. Bermuda shorts, jeans, t-shirts and sports shoes are OK. But sportswear, tank tops, faded jeans, jeans with holes, beach shorts/dresses, jogging shoes, and flip-flops are NOT allowed. Beyond the Atrium and Renaissance, a stricter dress code is observed, especially at night.
---
7. Port Hercules
Also known as the Port of Monaco, Port Hercules is the only deep-water port in the principality. Located in the La Condamine district, it takes up much of the state's coastline. The harbor has been used for centuries as a major port, but its modern era began in 1926. It can shelter up to 700 boats and yachts.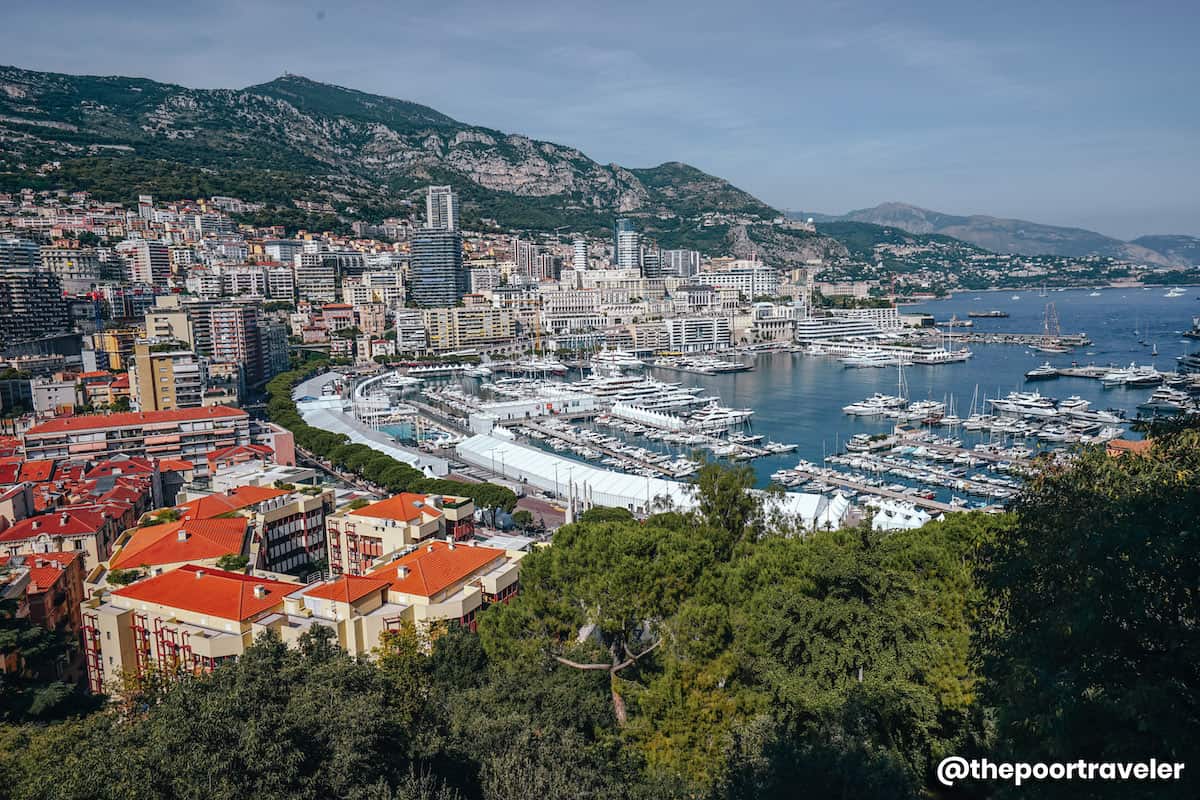 The port is surrounded by luxurious restaurants and bars, and offices of sporting organizations like the Yacht Club de Monaco and the Société Nautique de Monaco (Monaco Rowing Club). You can also find in the area the Esplanade, Carousel Monte Carlo, and the Stade Nautique Rainier III, an Olympic-size saltwater swimming pool.
It is also quite possibly the most photographed view in Monaco. While it's great to walk around the area, it's best viewed from the Prince's Palace grounds.
---
8. Sainte-Dévote Chapel
Although freedom of worship is guaranteed, Roman Catholicism is the official religion of state and is practiced by the biggest chunk of the population. Aside from several smaller chapels, Monaco has one cathedral and five parish churches including Sainte-Dévote Chapel, dedicated to the state's patron saint.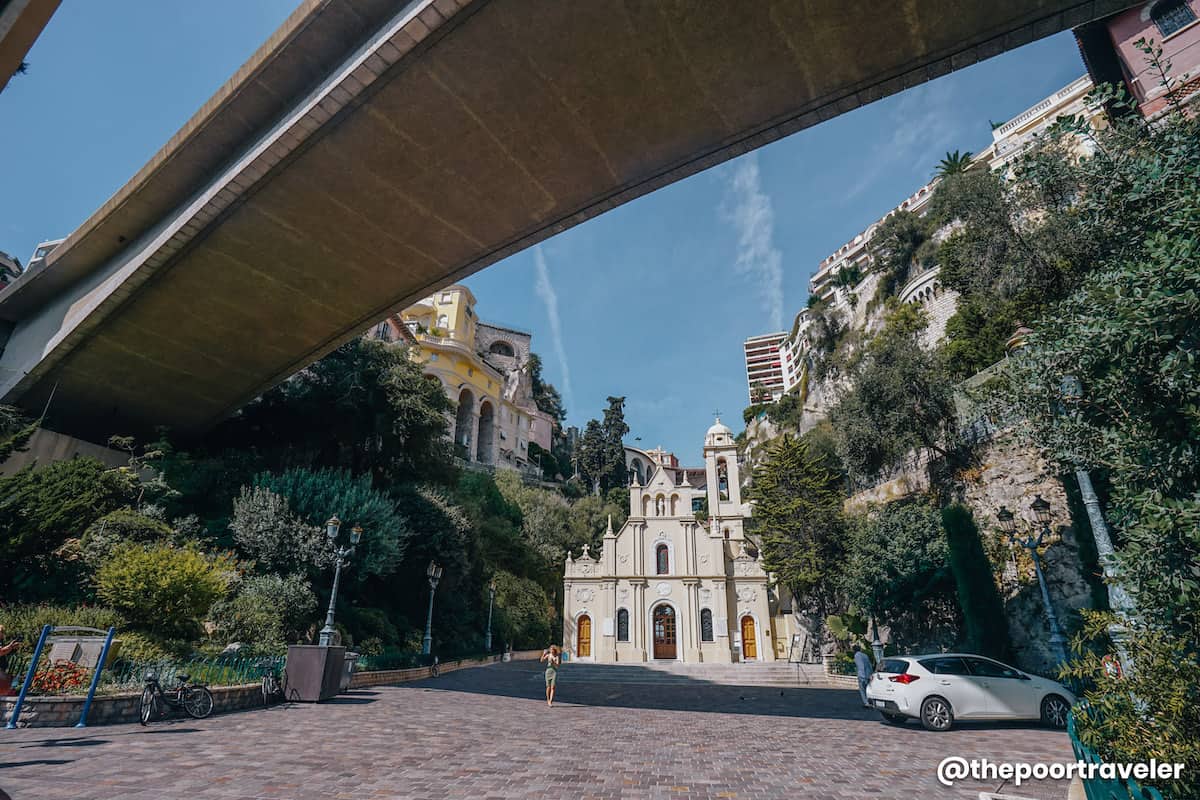 Tucked under Larvotto Boulevard, this small chapel isn't very striking at first glance. But what it lacks in size, it makes up for in its history, which can be traced as far back as 1070. It has undergone several restorations and rebuilding over centuries. Monegasque tradition also dictates that the Prince's bride must lay her bouquet here after the wedding.
In front of the chapel is a sharp bend, which is the first turn on the Monaco Grand Prix's circuit.
---
9. La Condamine Market
Le Marche de la Condamine (La Condamine Market) is one of the two main marketplaces in Monaco. (The other is Monte Carlo Market.)
Established in 1880, La Condamine Market currently has two main sections: the open-air area at Place d'Armes and a covered hall. The open-air section is where you'll find local traders selling flowers, fruits, vegetables and other fresh produce. Inside the halls, you'll find bread and fish among others.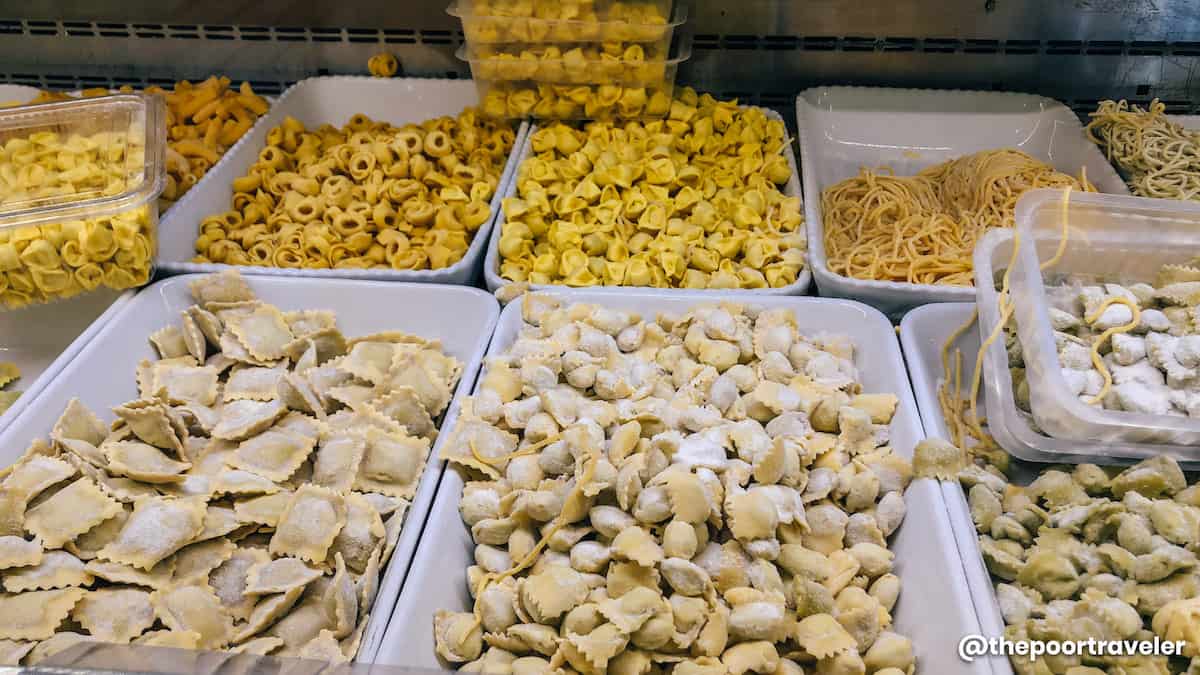 The best part for tourists — a relatively budget-friendly foodcourt, where you can grab quick lunch! Create your pasta dish at Maison des Pâtes (you choose the pasta and sauce) or sample a socca from Chez Roger. It's bursting with tasty options, so make the rounds first before queuing. When you have your meal on hand, find an empty seat at one of the shared tables.
Hours open: Mondays to Saturdays, 7am – 3pm; Sundays, 7am – 2pm.
Budget: 10 – 20€ per meal
---
By now, you've reached le Rocher — The Rock of Monaco, a 62-meter monolith where you'll find Monaco-Ville, the oldest part of the city. On this giant rock stand several historic attractions including the Prince's Palace, the Cathedral, and the Oceanographic Museum.
---
10. The Prince's Palace
The Prince's Palace (Palais du Prince) is the official residence of the Prince of Monaco. If the Rock of Monaco is a giant cake, this is the cherry on top.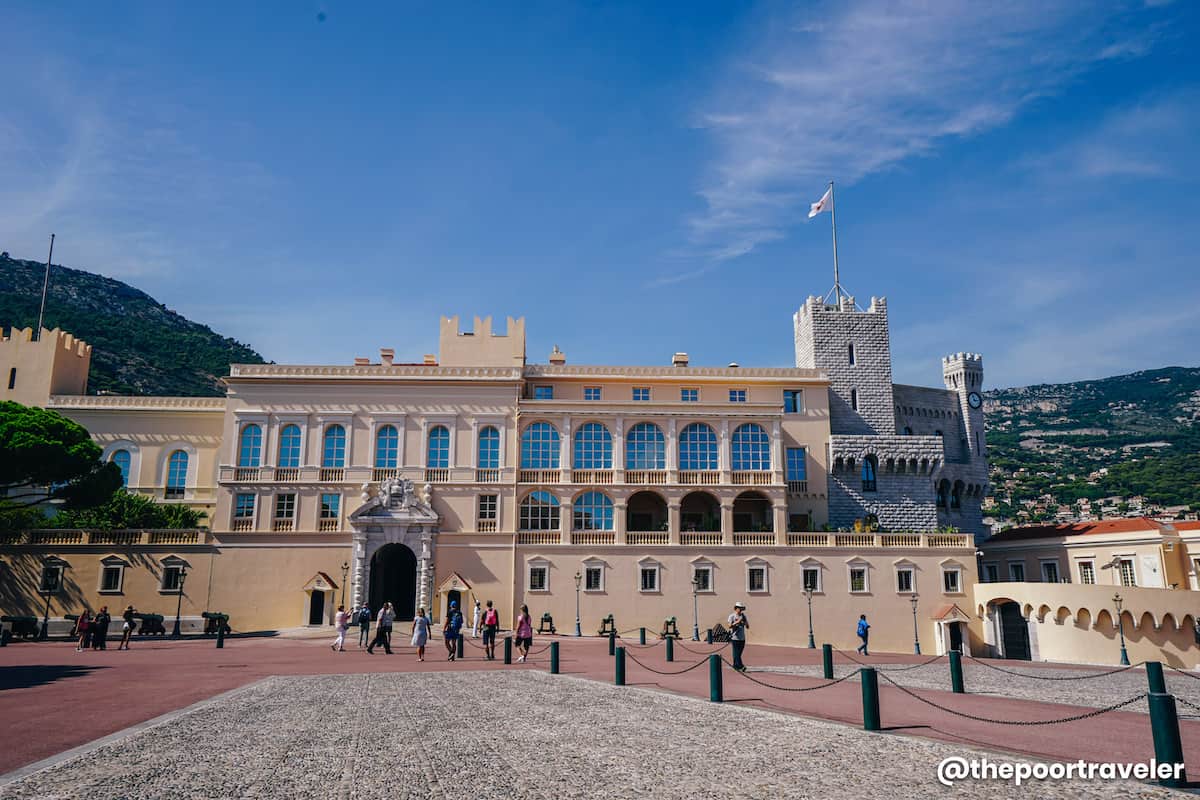 It was initially a Genoese fortress constructed in 1191. Throughout the course of its history, many foreign invaders have tried to invade it. The Grimaldis, a family from Genoa in modern-day Italy, successfully infiltrated and conquered it in the late 1290s. Since then, it became their seat of power for over seven centuries up to now. Today, the Prince of Monaco still calls the palace home.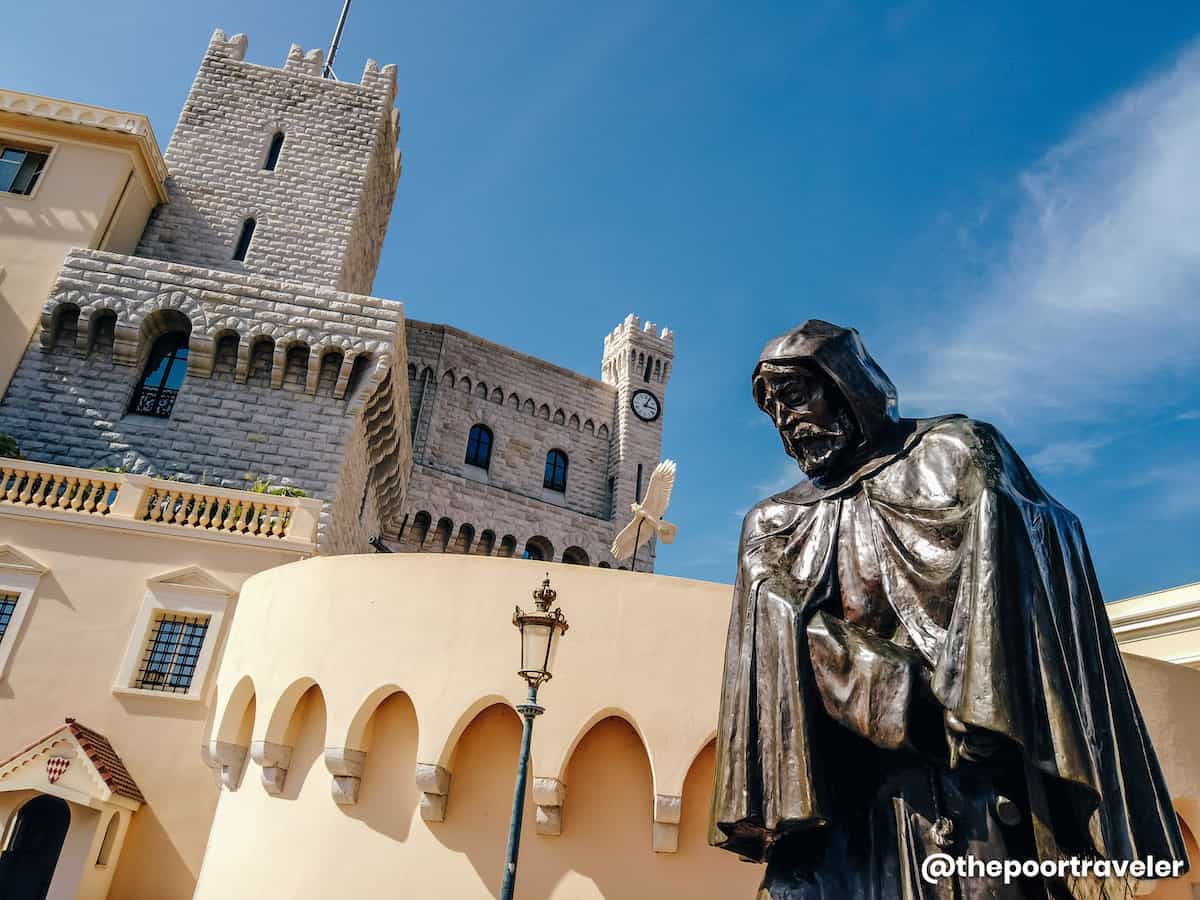 One of the most popular activities here is watching the changing of the guards, which happens every 11:55am daily. This traditional ritual has not changed in over a century! The palace grounds also offer the best view of Port Hercules!
Entrance fee: Adults 10€, Children / students, 5€. If you also plan to enter the Oceanographic Museum, you might want to purchase a combination ticket which costs 23€ (adult) or 12.50€ (minor/student).
Hours open: Daily, 10am-5:30pm/6pm
Closed: Grand Prix weekends
---
11. Monaco Cathedral
Monaco Cathedral is more formally known as the Cathedral of Our Lady Immaculate. Completed in 1903, it sometimes called Saint Nicholas Cathedral, which is the name of the country's first parish church that used to stand at the same site.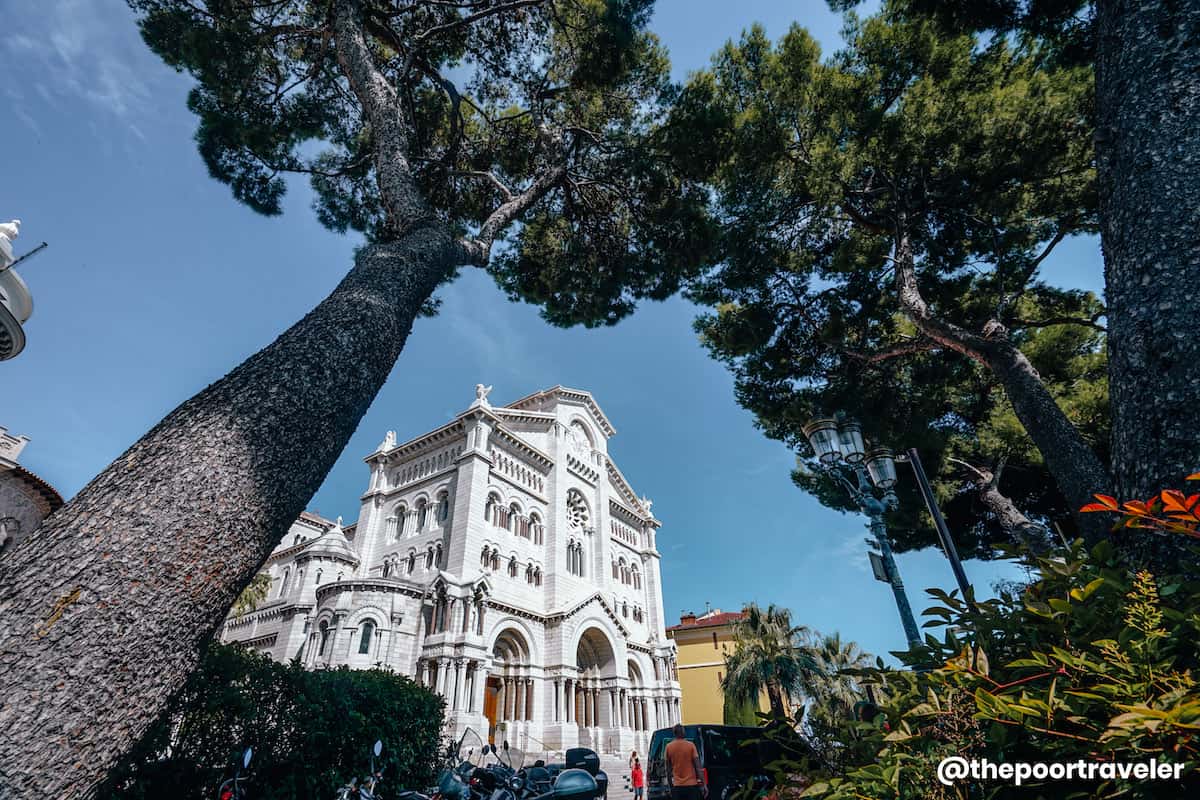 Inside you'll find the beautiful Carrara-marble Episcopal Throne and the Great Altar. It is also the final resting place for many members of the royal family including Princess Grace Kelly and Prince Rainier III.
Hours open: May-September, 8am – 7pm; October-April, 8:30am – 6pm. Tours are not allowed during mass service.
Entrance fee: FREE
---
12. Monaco Courthouse
Just next to the Cathedral is a smaller but equally captivating building — the Courthouse.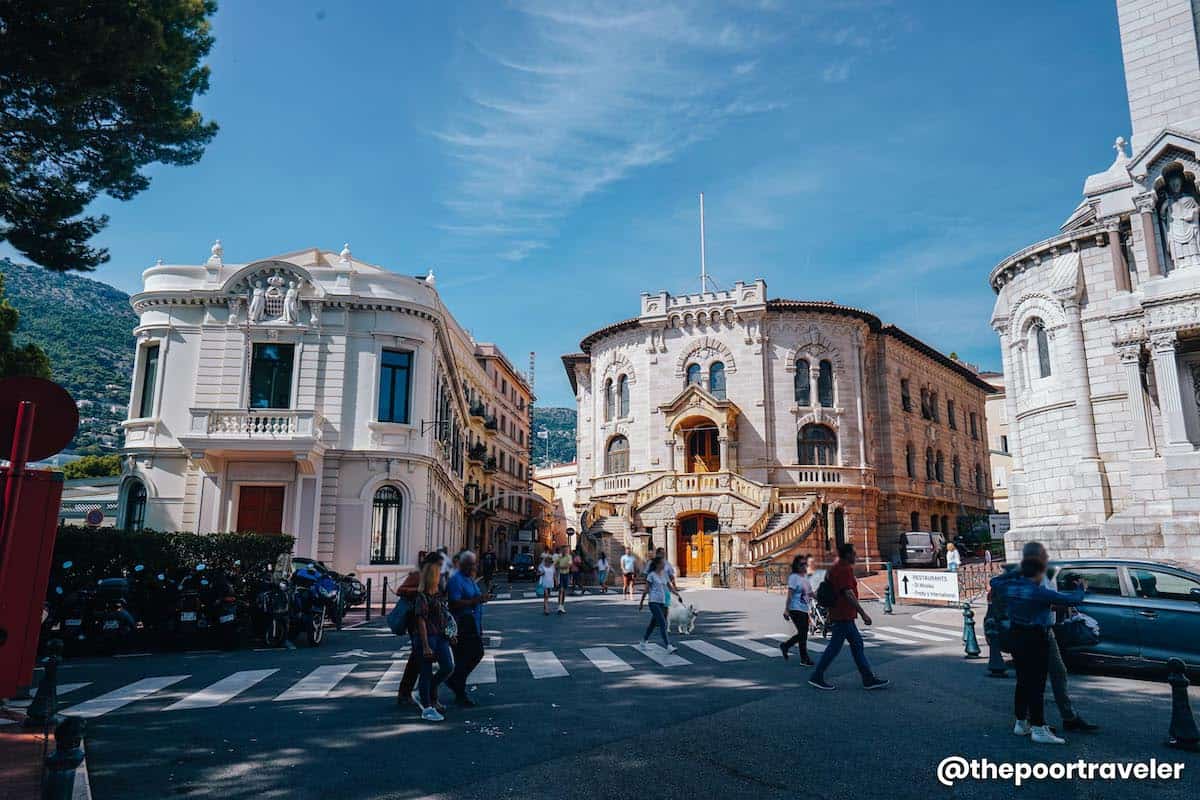 Called Palais de Justice, it was constructed in 1924 out of sea tuff to match the Genovese fortress surrounding the city on the Rock. Visits or tours are not allowed, so tourists can't enter. But you can take a photo of it from across the street.
---
13. St. Martin Garden
St. Martin Garden (Le Jardin Saint Martin) is a relaxing space in between the Cathedral and the Oceanographic Museum. Opened in 1816, this was Monaco's first public garden.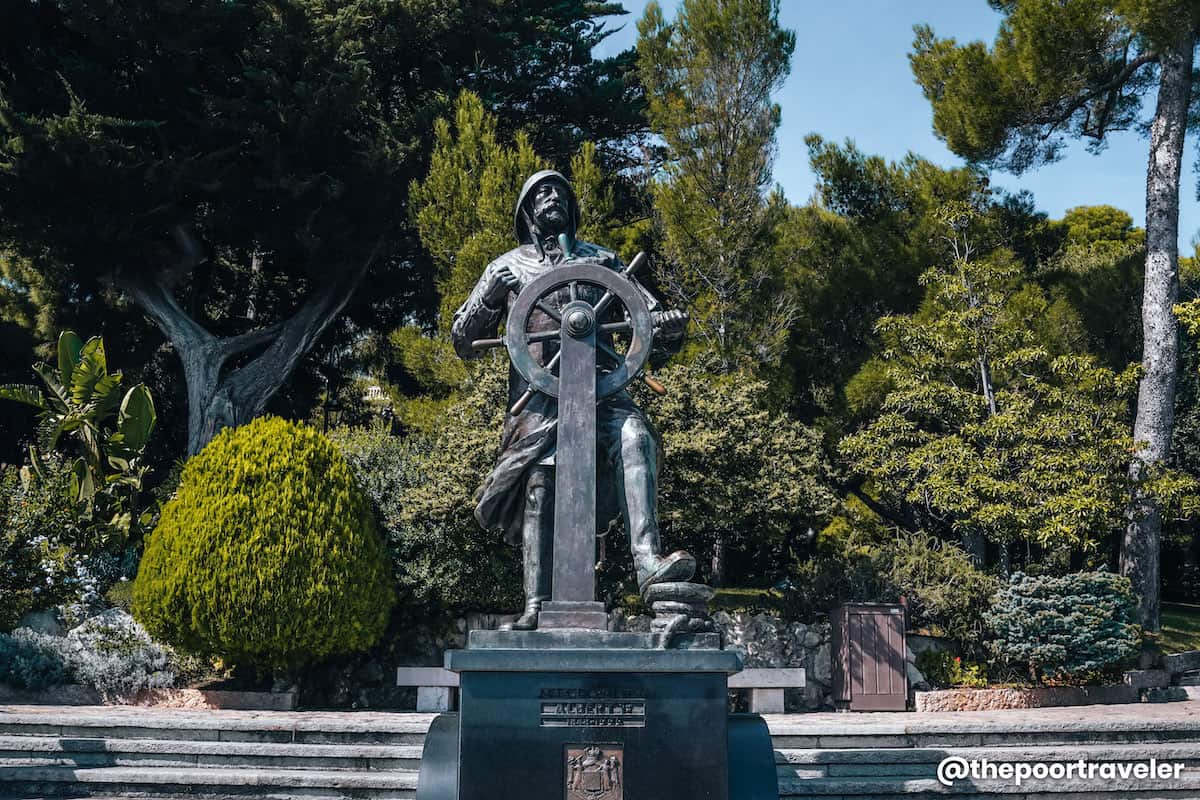 It used to be adorned only by Mediterranean trees but exotic flora were later on planted. Aside from its Aleppo pine trees, this garden on the Rock of Monaco has short walking trails and a statue of Prince Albert I.
Entrance fee: FREE
---
14. Fontvieille View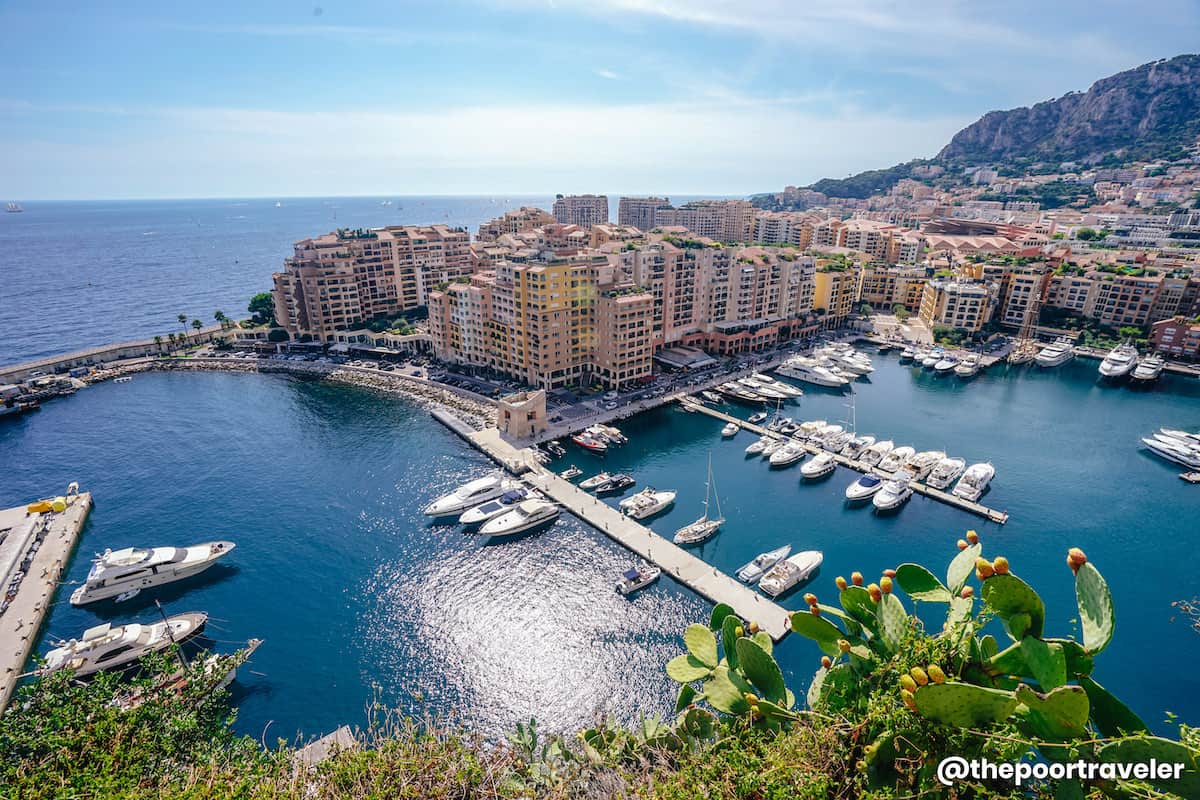 From the St. Martin Garden, you can have a great view of Fontvieille, the principality's youngest district. Due to its not-so-spacious territory, Monaco has land shortage problems. One of the solutions made is to reclaim land from the sea and build another ward on it. That's Fontvieille.
You can also visit Fontvieille if you have more time, but this day is already pretty packed.
---
15. Oceanographic Museum of Monaco
Called Musée Océanographique de Monaco in French, it is a marine science museum housed in a beautiful Baroque-Revival building.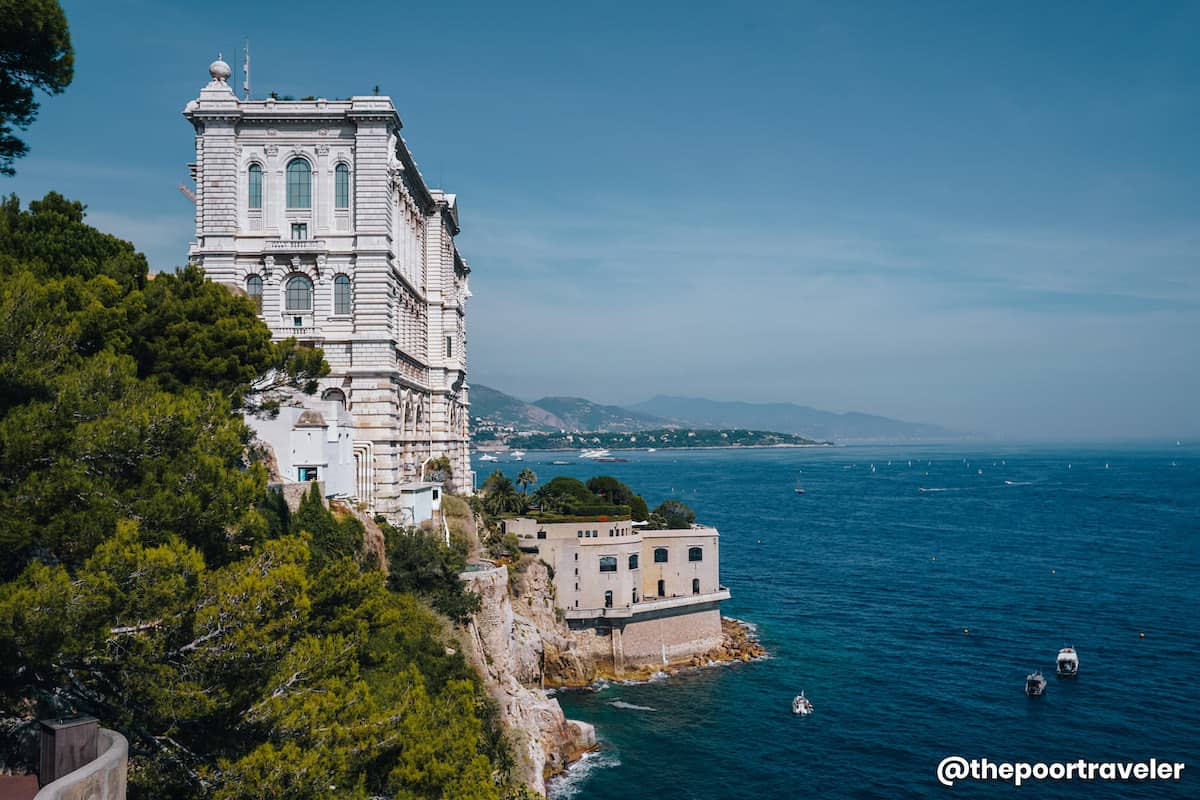 It showcases over 6000 specimens within 6500 square meters. The museum was founded in 1910 by Prince Albert I, who led numerous scientific expeditions and dedicated much of his life to exploration and oceanography. He was the great-great-grandfather of the current monarch, Prince Albert II.
Walking tours usually just stay outside, but you can go inside after the tour if you wish.
Entrance fee: Adult, 16€; Minors (below 17yo), 10€; People with disabilities, 7€. If you also plan to also explore the Prince's Palace (State Apartments), the combo ticket costs 23€ (adult) or 12.50€ (minor/student).
Hours open: Daily. October-March, 10am-6pm; April-June, 10am-7pm; July-August, 9:30am-8pm; September, 10am-7pm.
Closed: December 25 and the Formula 1 Grand Prix weekend
---
If you're on a walking tour, it will most probably end here. Note that walking tours are merely for sightseeing and do not cover the entrance fees to any of the sites mentioned.
After the tour, the guide will leave you to your own devices. It's completely up to you where to go from here. You can enter the Oceanographic Museum or return to any of the sites on the Rock that you want to explore further like the Prince's Palace.
Once you're satisfied, walk down the hill towards Place d'Armes, where you can catch Bus 100 back to Nice.
---
SAMPLE MONACO DAY TOUR ITINERARY
Here's a sample DIY Monaco day trip itinerary. This assumes you'll be coming from Nice by bus, traveling independently, and exploring both the Oceanographic Museum and the Prince's Palace.
To avoid the crowd, you'll be visiting the Larvotto ward first (items #12-15 on the list above) and then you'll be making your way to the Rock (items #1-11).
06:00 am – Travel to Port Lympia, Nice
06:25 am – Bus 100 to Monaco, 1.50€
07:03 am – Alight at Place des Moulins or Saint Roman
07:05 am – Walk to Larvotto Beach
07:20 am – Larvotto Beach
08:30 am – Champions Promenade
08:45 am – Japanese Garden
09:15 am – Grand Hotel Hairpin
09:35 am – Get a Monaco stamp
09:50 am – Monte CarloCas i no Atrium
10:30 am – Saint Devote Chapel
11:00 am – Lunch at La Condamine Market, 15€
11:45 am – Prince's Palace, combo ticket: 23€
02:00 pm – Monaco Cathedral & Courthouse
02:15 pm – St. Martin Garden
02:50 pm – Oceanographic Museum (combo ticket)
05:30 pm – Bus 100 to Nice, 1.50€
06:30 pm – Back to Nice
If you decide to join a guided tour instead, you don't need to worry about getting to Monte Carlo up to the Oceanographic Museum because you'll be with your guide.
If you choose to not enter the Prince's Palace and the Oceanographic Museum, that's fine too. You'll be able to save 23€. This trip will also be a lot shorter. Just make the necessary adjustments to the time.
---
Top Budget Hotels in Nice
If you're spending your nights in Nice, here are some relatively inexpensive places to consider, as ranked by Agoda customers:
---
---
Additional words by Joshua Berida
2020 • 8 • 20
---