This DIY TRAVEL GUIDE BLOG focuses on TAROKO GORGE in HUALIEN, TAIWAN, and contains the top tourist spots, things to do, and info on how to get there. If you're interested in exploring the larger TAIWAN EAST COAST or HUALIEN COUNTY, check out our guide here: Hualien Travel Guide.
The site owes its name to the Pacific. And to one tribesman.
A long time ago, when a native Truku tribesman came out of a gorge and saw the blue splendor of the world's biggest ocean, he admiringly shouted, "Taroko!" It means "magnificent and beautiful."
What he did not know then was that his word would be the name of this complicated marble maze. Taroko Gorge, as it is presently called, is a treacherous territory, crumpled with deep ravines and steep crags. But like the ocean that rumbles next to it, it too is magnificent and beautiful in its own right.
Officially named Taroko National Park (太魯閣國家公園), Taroko Gorge is a 19-km-long canyon along the northeastern coast of Taiwan. The area is fully loaded with marble, a product of the tectonic clash between the Eurasian and Philippine plates. The limestone metamorphosed into marble as the plates forced the site to rise half-a-centimeter a year over 100 million years. One of the eight national parks in Taiwan, it offers visitors magnificent views of its rugged landscapes.
You can tour Taroko Gorge by taking the bus (DIY-style) or by joining a group tour. Here are the details of each, along with their pros and cons.
WHAT'S COVERED IN THIS GUIDE?
Taroko Gorge Group Tour
What's great about joining a group tour is, you don't need to worry about anything else. Just show up and a service vehicle will take you to the key spots. You don't need to worry about memorizing bus schedules or missing the last bus.
One thing that I appreciate about tours is that Qingshui Cliff Scenic Area is often included in the itinerary. Qingshui Cliff is not easy to reach by public transportation on your own, so having a ride to get there skips the hard part. Some tours also make a stop at a few attractions along the way that are outside of Taroko Gorge.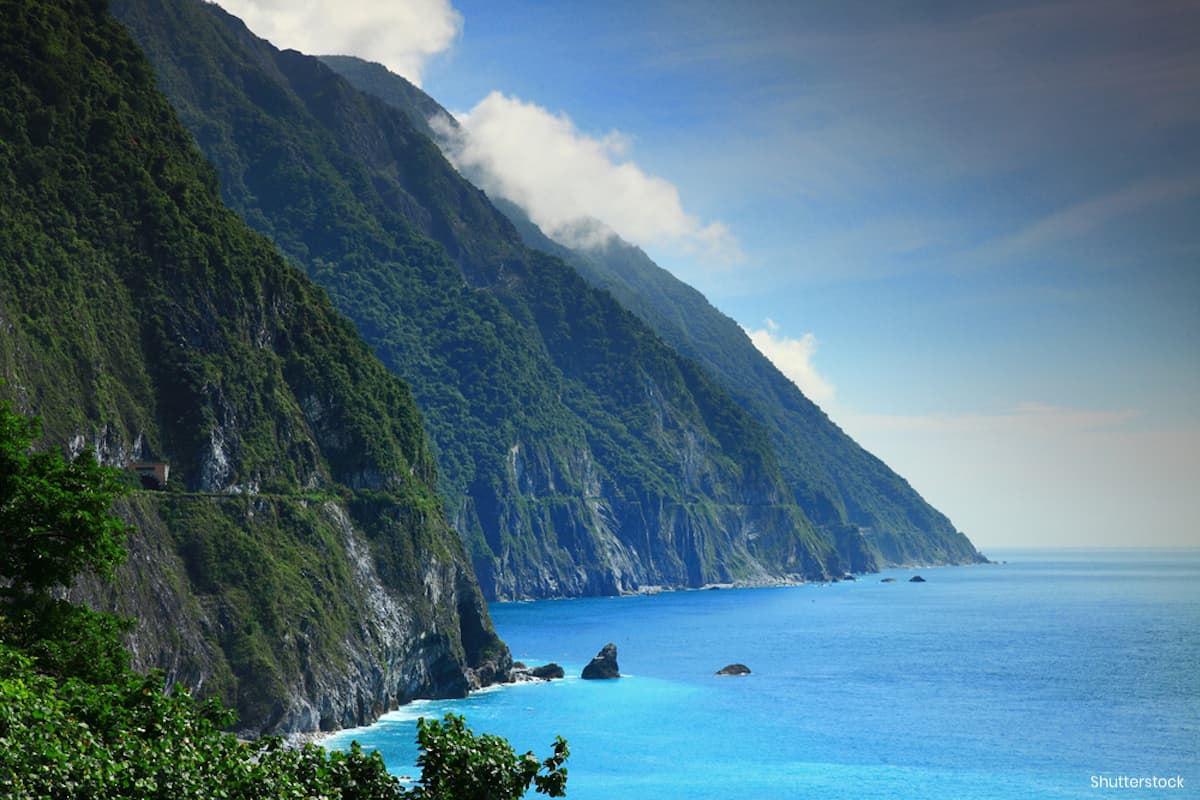 The downside, of course, is you don't have control of your time and because most tour itineraries are usually packed, you spend limited time per stop.
Still, this is a great choice for those traveling with kids or seniors because it eliminates standing in line waiting for the next bus.
Klook's Taroko Gorge tour itinerary includes the following sites:
Qingshui Cliff Scenic Area
Buluowan Plateau
Swallows' Grotto (Yanzikou Trail)
Tianxiang
Changchun Shrine (Eternal Spring Shrine)
Qixingtan Scenic Area
✅ CHECK RATES or RESERVE A SLOT HERE
---
Taroko Gorge By Bus
The cheapest way of sightseeing in Taroko Gorge is by taking the bus. The beauty of taking the bus is, you have total control of your time. Unlike with group tours, you may choose to stay longer at a certain stop if you feel like it. You may skip a site if it doesn't interest you. And in case you missed it, it's cheaper.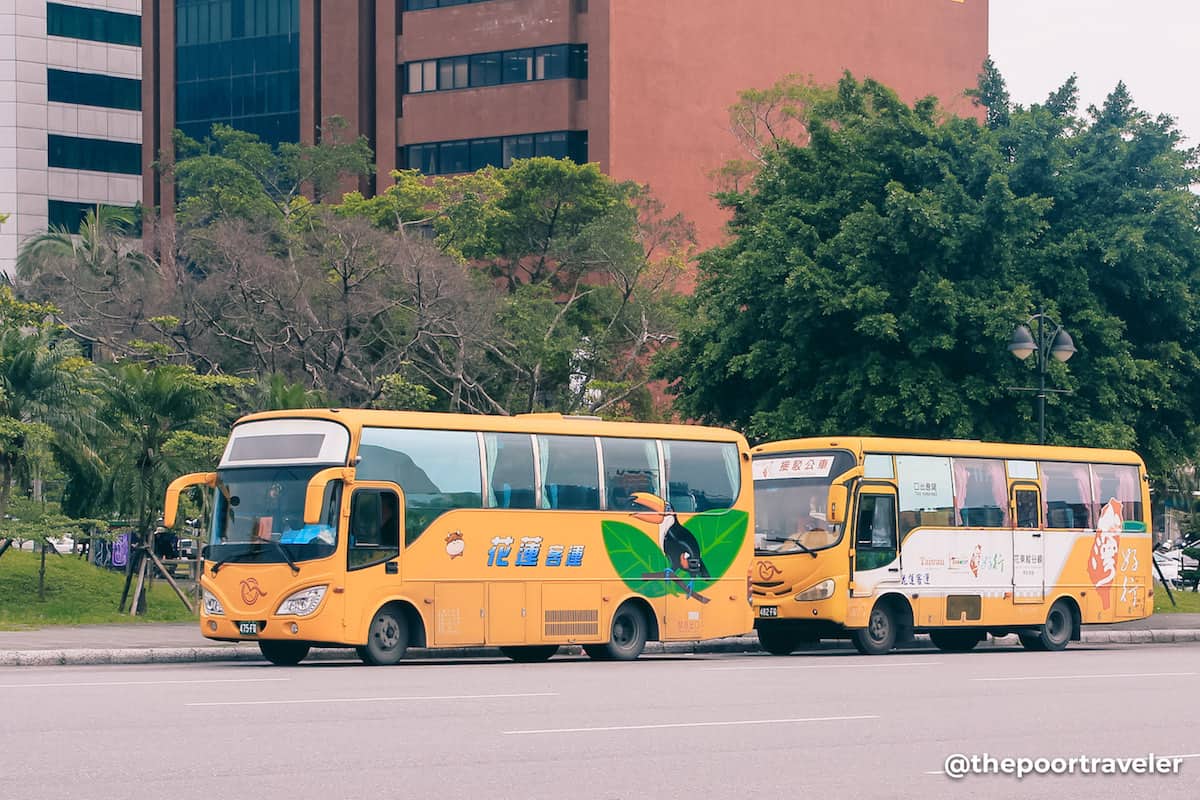 Two bus companies operate around Taroko National Park, each with their own lines. Hualien Bus Company controls Buses 1133A, 1133, 1126, and 1141, which all start at Hualien Station. Taroko Bus Company operates Bus 302, which departs from Xincheng Station. Both companies offer day passes that tourists may use to enjoy unlimited rides, but the pass issued by one bus line can't be used to board the other. For example, if you purchase a Bus 1133A day pass, you can't use it for Bus 302 because it's by another company. Buses from each line are also around 1 hour apart. Meaning, if you're holding a 1133A pass and you miss the 1133A bus by a minute, you'll have to wait for an hour for the next one.
Hence, the best way to take advantage of BOTH these bus companies isn't to purchase a day pass from either but to just get an EasyCard, which is Taiwan's IC card, similar to Hong Kong's Octopus card, Singapore's EZ card, or Japan's ICOCA, PASMO, or SUICA. Both the Hualien buses and Bus 302 accept the Easycard. This way, if you miss a bus, you don't have to wait for an hour. You just wait for the next bus, whichever comes first, regardless of which company operates it.
You can purchase an Easycard at convenience stores like 7-Eleven and Family Mart and MRT stations. Cost of the card is NT$100. You will have to load it with credits first before you use it.
---
Bus 1133A, 1133, 1126, 1141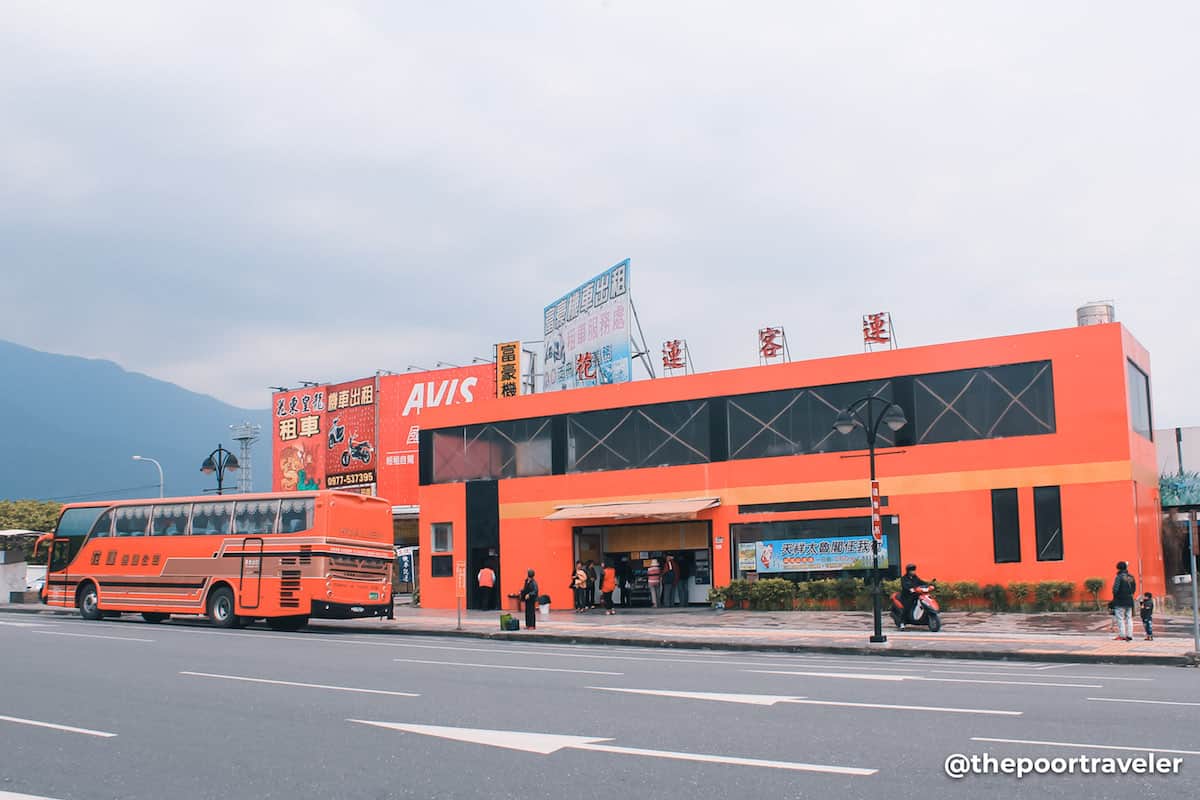 Hualien Bus Company operates the public passenger buses (Buses 1126, 1141, 1133) and Tour Taiwan Taroko shuttle buses (Bus 1133A) from Hualien. All these buses depart from Hualien Station. Here are the departure times of the public buses:
Bus 1126. Departs at 06:30am
Bus 1141. Departs at 08:40am
Bus 1133. Departs at 10:50am and 01:50pm
Aside from these, there's also Bus 1133A, which has multiple trips a day (one almost every hour) from 7am until early afternoon. This serves those who hold bus passes.
Notice the A. Bus 1133, which is a public passenger bus, is different from Bus 1133A, which is a shuttle bus.
The stops vary depending on the Bus number.
Most tourists choose to purchase a 1-day or 2-day pass, which will entitle them unlimited rides on all buses above including shuttle bus 1133A and public buses 1126, 1141, and 1133. Here are the rates of the bus passes:
1-day pass: NT$ 250
2-day pass: NT$ 400
Last trip from Hualien: 03:10pm (Bus 1133A)
Last trip from Tianxiang: 05:00pm (Bus 1133A)
The tickets can be purchased at the bright orange building adjacent Hualien train station. It's hard to miss.
---
Bus 302
Taroko Bus Company operates Bus 302, which departs from Xincheng Station for Tianxiang almost hourly from 07:10am until 05:10pm.
First trip from Xincheng: 07:10am
Last trip from Xincheng: 05:10pm
Last trip from Tianxiang: 06:00pm-06:50pm
1-Day Pass: NT$ 150
You can download the full schedule here: Bus 302 Timetable.
A Bus 302 day pass is available at NT$150. Again, it's only accepted at Bus 302 and won't work at the buses coming from Hualien.
Bus 302 is often generally less crowded than Bus 1133A. There are also more 302 buses than 1133A buses, which makes it a better option when getting around within the Taroko National Park. The problem is, it starts and terminates at Xincheng Station. If your hotel is in Hualien, you will have to take a separete trip to or from Xincheng.
---
Important Reminders
Get brochures upon ticket purchase so you have the latest timetable and more info about each site.
Make sure you catch the last bus back to the city. Some seasons see additional buses so please double check the official website for the updated timetable.
The route going out isn't exactly the same as going in. There are a couple of deviations. For example, buses stop at the iconic Changchun Shrine only on the way back.
Delays are common. Don't expect buses to arrive or depart on the dot.

Plan ahead. It's impossible to see everything Taroko Gorge has to offer in a day. Decide which stops you want to see and prioritize them.

The best way to get around Taroko Gorge area is to buy an Easycard instead of the day passes so you get to use buses coming from both Hualien and Xincheng.
---
Places to Visit in Taroko Gorge
Here are some of the best spots in Taroko Gorge. For more details about each stop, we have a dedicated post. Read: Taroko Gorge Tourist Spots.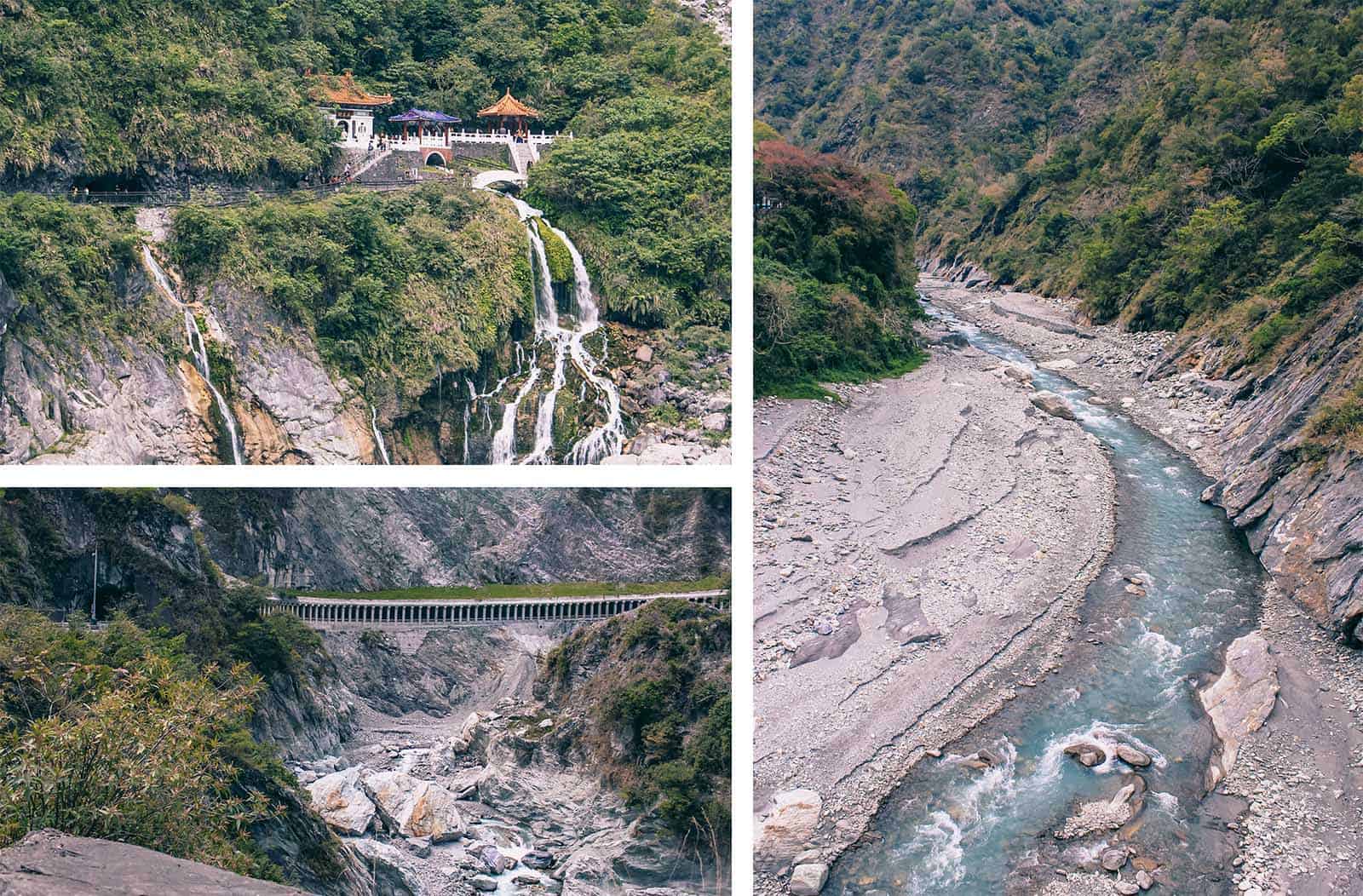 Changchun Shrine (Eternal Spring Shrine). A cliffside structure, which features spring water gushing down a cliff, forming a spectacular waterfall.
Shakadang Trail. Often called the Mysterious Valley Trail, this 4.5km path is etched on a cliffside beside a shallow, rocky stream. We followed the trail and feasted our eyes with the countless rock folds along the way.
Jiuqudong (Tunnel of Nine Turns). Widely regarded as the most marvelous spot in Taroko Gorge, it is where marble cliffs stand so close to each other with only a narrow 10-meter gap between them.
Yanzikou Trail (Swallow Grotto). A 1.4km walking trail so called for the countless Pacific Swallows and House Swifts that have nested at the site. Here, visitors can view spring-showered cliff sides and rock formations including the "Chieftain's profile rock."
Tianxiang. A usual "lunch stop," it is a river terrace recreational area set at the confluence of the tributaries to Liwu River, the Taci Jili and the Dasha. It is surrounded by wondrously challenging topography — mountaintops and river dales, tunnels and bridges.
Xiangde Temple. On the northwest plateau of the opposite Jiangkou Mountain at 457m stands the Xiangde Temple, the centerpiece of a Buddhist Linzizong complex.
2️⃣0️⃣1️⃣8️⃣ • 9️⃣ • 1️⃣4️⃣