Update: This process is no longer applicable. Filipinos may visit Taiwan VISA-FREE starting November 1, 2017, provided that they meet the requirements. To see the list of requirements, read: Taiwan Travel Guide.
————
Taiwan is one of those destinations that are easy to brush aside. It's small, barely a dot in the world map. It's not recognized by most countries as a sovereign nation. And it's out of the way, detached from mainland Asia or Southeast Asia where backpacking is on overdrive.
It's a shame, really, because when people ask me to choose destinations where I would rather live, Taiwan is definitely in the top 3. Taiwan is naturally breathtaking, delightfully friendly, and surprisingly cheap.
But it looks like times are changing. Taiwan is slowly gaining more popularity among Filipinos, thanks to more lenient and considerate entry policies. In 2016, the Philippines is among the top 10 countries that sent the most tourists. And the numbers are expected to rise after the implementation of visa-free and e-Visa options.
If you're planning on visiting Taiwan soon, here's how to get a tourist visa successfully.
Note: I am not affiliated with the government of Taiwan. We're simply sharing our visa application experiences. We try to answer questions to the best of our knowledge, but it's still best to contact TECO for any clarifications especially if yours is a special case.
But wait, determine if you really need a visa in the first place.
Recently, the Taipei Economic and Cultural Office (TECO) in the Philippines announced that some Filipinos will be allowed visa-free entry to Taiwan provided that they meet the conditions.
Your passport must still be valid at least 6 months from your entry date.
You must have an onward or return ticket (plane or ferry).
You must never have been employed as a blue-collar worker in Taiwan.
You must have at least ONE of the following documents from Australia, Canada, Japan, South Korea, New Zealand, Taiwan* (ROC), United Kingdom (UK), United States (US) of any of the Schengen countries. As of June 2017, Taiwan is also included.
– Valid entry visa. E-visas are accepted.
– Valid resident or permanent resident card
– Resident card or visa that has expired less than 10 years before your intended entry date in Taiwan.
If you meet all four requirements, then what you need isn't a visa but a Travel Authorization Certificate from Taiwan. Here's how to get one: Taiwan Visa-Free Entry Procedure
*Taiwan was added to the list last June 2017. So if you have an existing Taiwan visa or resident card that expired not earlier than 10 years ago, you may use that too. However, Taiwan visas bearing a remark of "FL" (foreign labor) or "X" (others) and resident cards with the purpose of "Foreign Labor" are not eligible.
If you're not qualified, read on!
Right now, you have two options. You can submit these documents online and get an e-visa or you can proceed to their physical office.
To help you figure out which is best for you, here's a quick comparison site from TECO itself. This is as of March 2017. Make sure you double check with TECO for the updated data.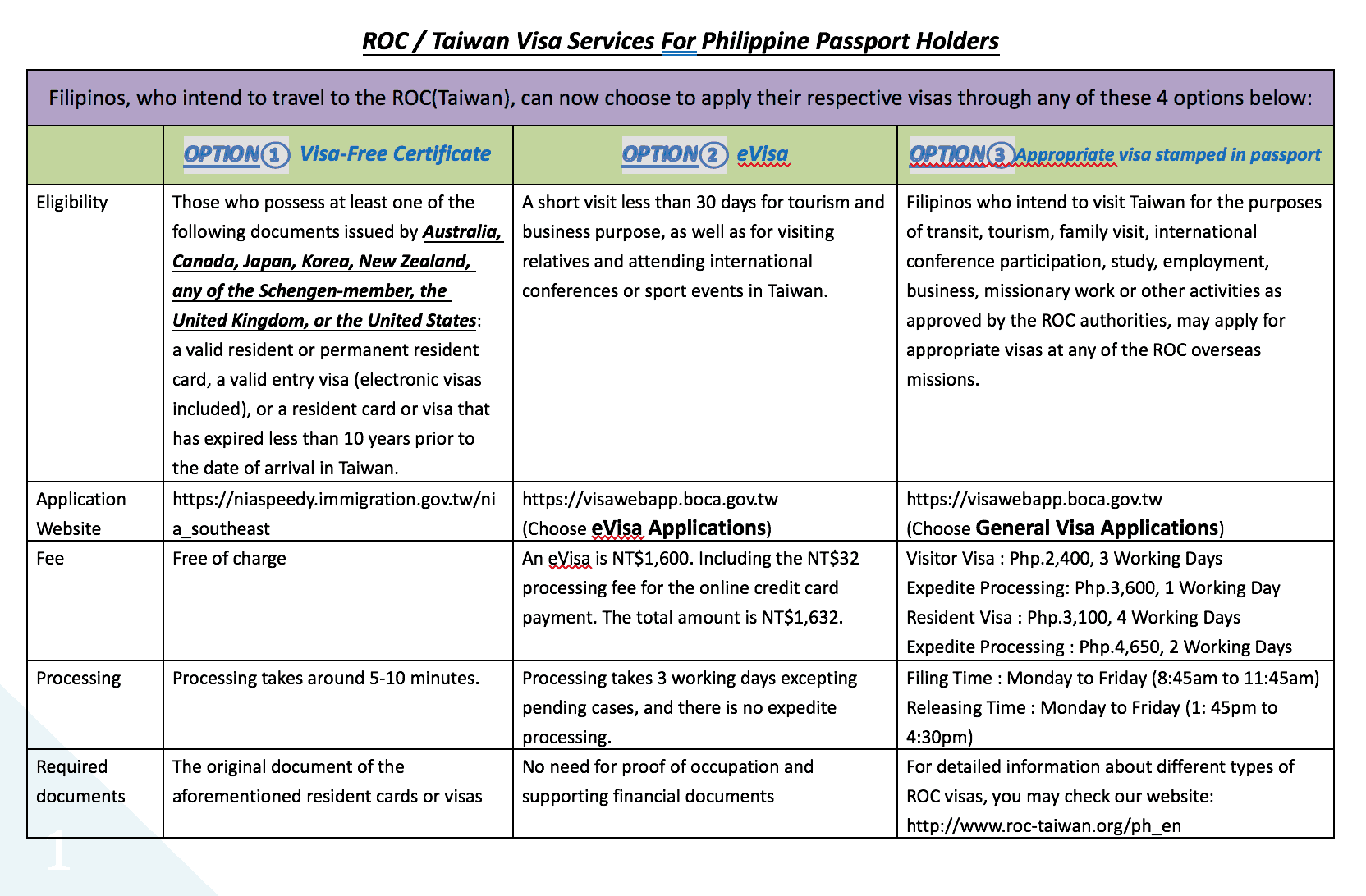 Option 1: Apply Online for an e-Visa.
The E-Visa is a single-entry visa and is valid for 30 days maximum and cannot be extended. You must also use it within 3 months after the issue date.
The great thing about this is that there is no need for proof of employment and additional financial documents (at least for now).
E-Visa application was launched in October 2016 and is intended for a year-long trial only. We'll see if this will become a permanent option, but for now, it's possible to apply online. Here's how: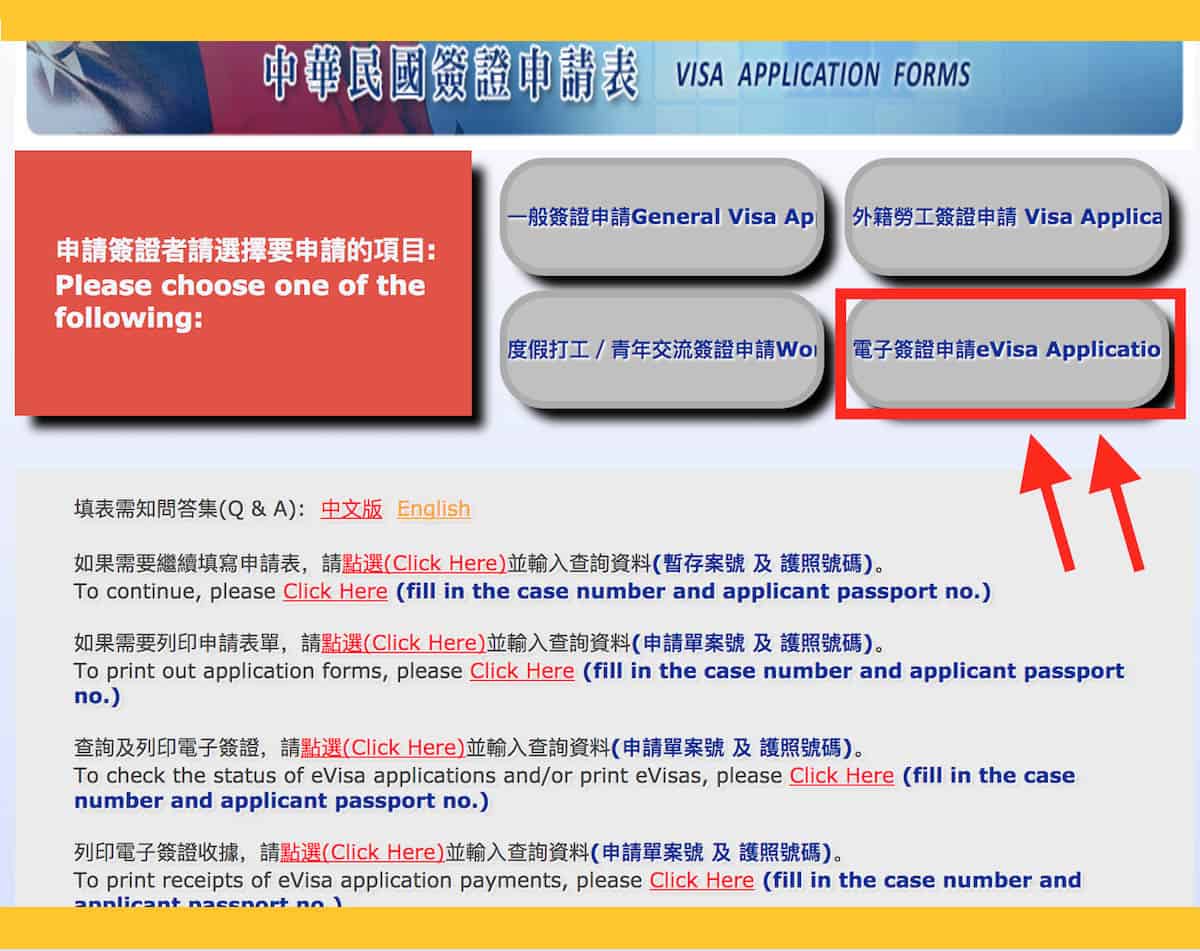 Fill out the e-visa application form. You'll find it on this page. Click on E-VISA APPLICATIONS. The form has 4 pages, and they're quite easy to accomplish.
Read the Acknowledgment and tap "I Agree." Make sure that all the info you entered is correct before proceeding. You won't be able to change anything after this.
Take note of the Applicant Number that the next page will display. Then click "Process E-Visa."
Enter personal details on the next page, then hit "Confirm".
Pay using a Visa, MasterCard or JCB credit card. Total cost is NT$1,632 (PHP2670, as of Feb 2017). That already includes the NT$1,600 application fee and the NT$32 online payment processing fee.
Once the payment is accepted, you will receive confirmation via email. And then, the waiting game begins. But it won't be that long. If everything is fine, you should expect your visa within the next 3 days.
If they have more questions, you might still be asked to submit documents.
Option 2: Apply for a Regular Visa.
Here's a complete list of requirements if you're traveling to Taiwan for tourism. Prepare 1 original copy and 1 photocopy of each!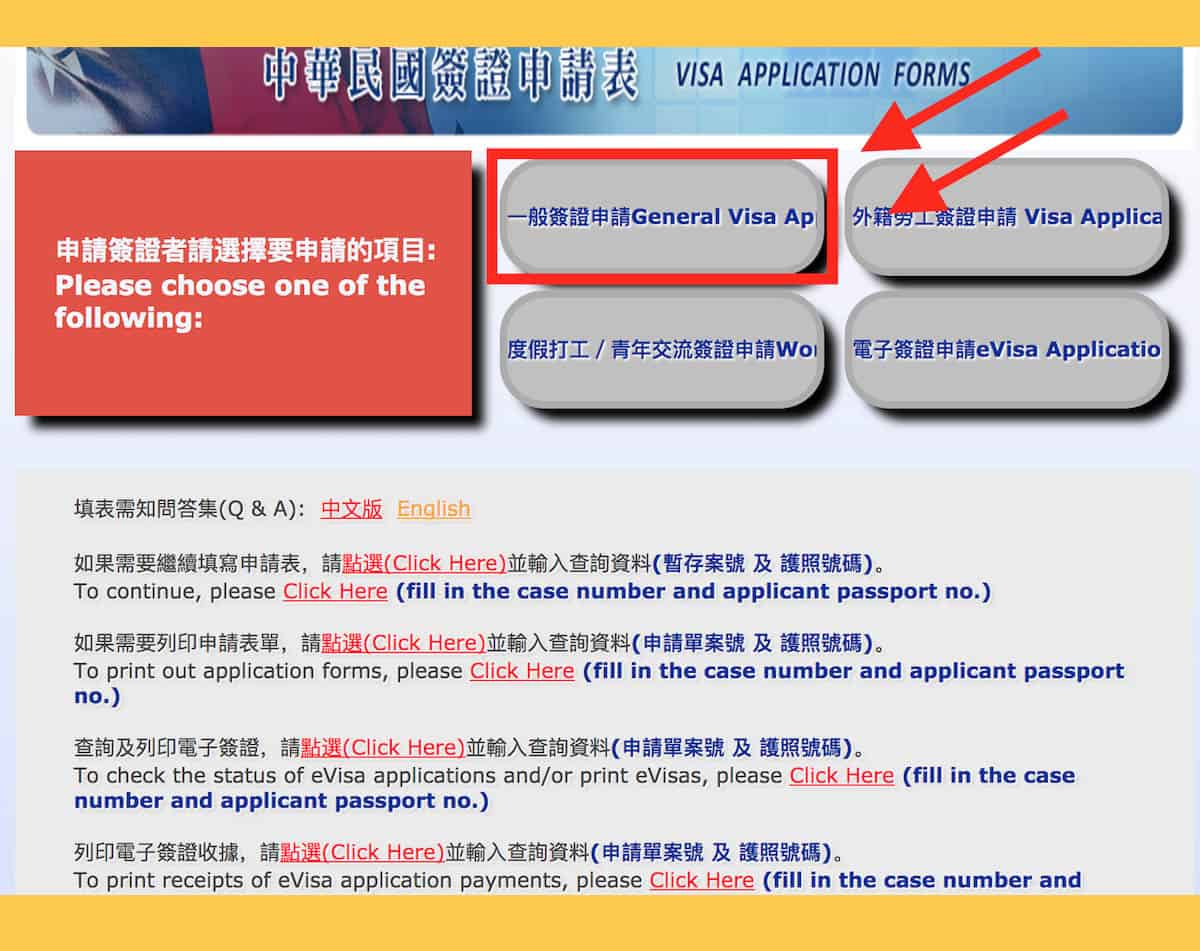 A duly-accomplished Visa Application Form. To get one, go to this page and choose General Visa Applications. Once done, print it out and affix your signature.
2 passport-size photos. Size: 1.5"x2". Background: white. Taken within the past 3 months.
A passport with validity of at least 6 months. If you have old passports, submit those too.
Birth certificate. Must be NSO-issued.
Marriage certificate issued by NSO. Only if you're married.
Certificate of Employment. (Waived ONLY IF you're over 60yo.)
Financial statements such as bank statements or bank book. (Waived ONLY IF you're over 60yo.)
If you're traveling for business, you must submit these additional papers:
Business Name Registration Certificate and SEC Registration (if you're the company-owner).
Invitation letter from the inviting company, organization or agency in Taiwan.
Request letter from your employer.
Certificate of employment.
Once you have all these, you may submit these at:
Taipei Economic & Cultural Office in the Philippines
41F, Tower 1, RCBC Plaza, 6819 Ayala Avenue, Makati
Tel: +632 887-6688
When the office deems necessary, they might ask for more documents or schedule you for an interview.
Visa Fees and Processing Times
Visitor Visa: P2,400, 3 working days
Expedite Processing: P3,600, 1 working day
Submission Time: Monday to Friday, 8:45 – 11:45am
Releasing Time: Monday to Friday 1:45 – 4:30pm
According to TECO:
The validity of the visa, the number of entries shall be determined by the applicant's purpose of visit.
The duration of stay for a visitor-visa holder shall be determined by the applicant's purpose of visit.
---
2️⃣0️⃣1️⃣7️⃣ • 6️⃣ • 5️⃣ – last update
2️⃣0️⃣1️⃣7️⃣ • 2️⃣ • 2️⃣8️⃣ – first up