It only took two steps for me to slip and hurt (and almost break) an ankle. Considering how much time it took for me to find this place, I was absolutely determined to push through with the climb. Never mind that I was limping in pain — my clumsy ass be damned — but this was my last evening in Taiwan. Nothing was going to stop me from making it a memorable one.
It was my second time in Taipei. Just three months before this, I had an itinerary that the next tourist would follow, including hopping into the fastest elevator ride of my life to the dizzying observatory perched atop Taipei 101. While I had an educational time at the world's second tallest building, I failed to find any wonderful view of the city. Sure, the view from the top was great, but I felt cold, distant, and intimidated. Strangely, looking down was more scary than entertaining. Getting up close and personal with Taipei 101 was a moment for keeps, but when it comes to breathtaking scenery, I was certain somewhere out there hides something better.
A quick google search for the best view in Taipei led me to the base of the Elephant Mountain. Also called Xiangshan (象山) and Nangang District Hiking Trail, Elephant Mountain is situated next to the Xinyi Shopping District. It wasn't difficult to find. Visitors coming from Taipei 101 could reach it after a 15-20-minute leisurely stroll. There are also plenty of signs along the way. But because we're desperately dumb and geographically challenged, it took me over an hour.
We had more than my share of getting lost. You know how people always say, "When in doubt, follow the crowd?" Well, we did just that. But apparently, the crowd was not bound for Elephant Mountain. We also didn't realize that the entrance to the trail was tucked in a park. (Of course, it was!) And when we finally found it, we didn't realize we were already looking at the start of the trail. We probably looked awfully confused when a woman approached us and asked where we were going. Thank heavens for the lovely Taipei locals.
They say that the best time to trek here is late afternoon, allowing the hiker to reach the top and appreciate the view during the day, at sundown, and at nightfall. The sun was still shining bright when we left Taipei 101 but it was already dark when we found the staired trail. Two steps into it, I slipped and almost broke an ankle. This view better be worth it, I muttered in between gasps of exhaustion and pain. Thankfully, there were a lot of resting points along the way. Benches can be found throughout the trail, and lookout points dot the path.
I was expecting to be climbing with a horde of tourists, but I was pleasantly surprised to be alone. A few times, a jogger passed me by, but I was practically on my own. The stairs were narrow, and despite the lamp posts lighting the way, they were a bit dim. But nothing dangerous. Around 20 minutes later, we found ourselves in between giant vandalized boulders that mark the best viewpoint. Two photographers were seated comfortably, taking their best shots. When they were done, I planned on getting onto a rock to take a photo, but my aching foot made it impossible.
Still, despite the throbbing pain and a series of unfortunate events that came before this, it was a moment that I still clearly remember for a good reason. It was the best view in the city. And it was fuckin' worth it.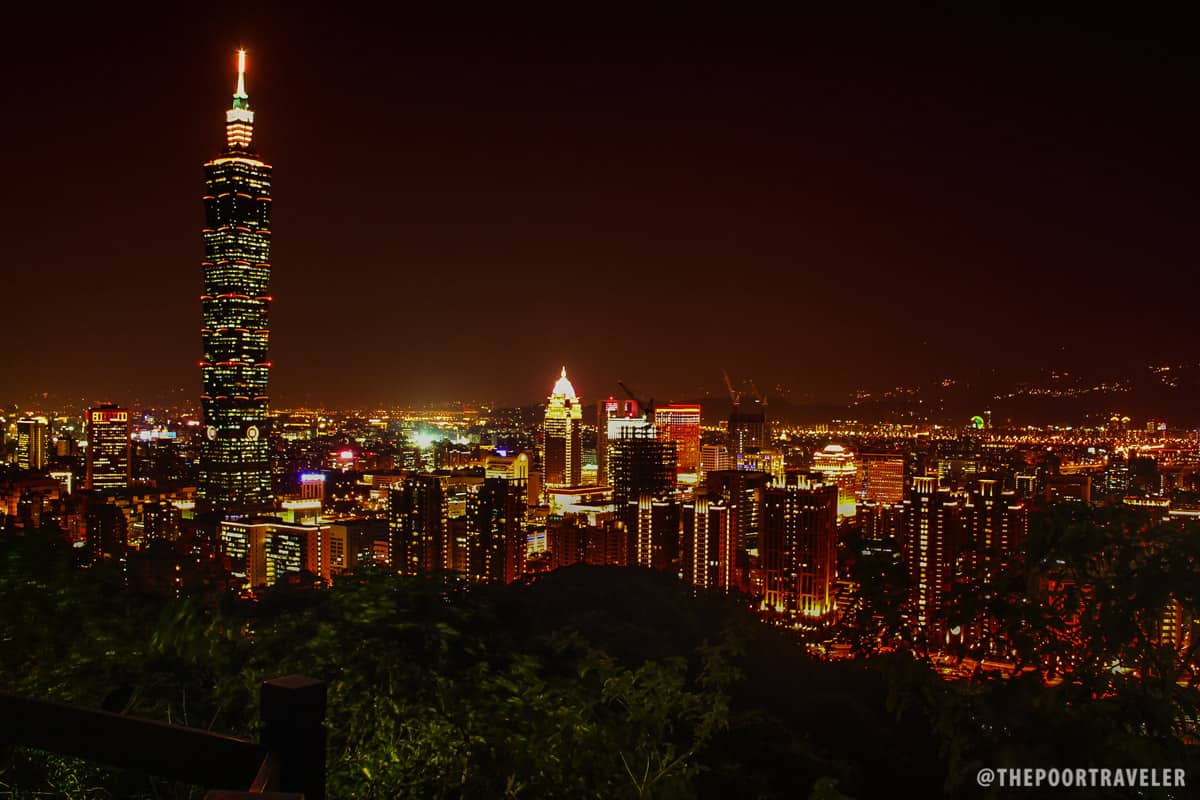 How to get to Elephant Mountain:

From MRT Xiangshan station (象山), take Exit 2 and walk along the park. When you hit the end of the road, turn left and continue until you find the start of the trail. Look for a staircase with an arc overhead.

From Taipei 101, walk along Xinyi Road (信義路) until you reach the MRT Xiangshan Station. From there, follow the directions above.

Where to Stay: Taipei Hotels