There was a delusional part of myself that used to think I knew much about Taiwan. I learned about its history in high school, its foreign policies in college, and its boy bands and asianovelas just before I graduated. But when I was already in Taiwan, I realized that it was not much. Actually, it dawned on me that I knew no zit about this neighbor to the north. Taipei, the capital of Taiwan, offers so many attractions for tourist. I recommend to anyone who is planning a visit to search for deals on Taipei hotels ahead of time. But that's what made my first time in Taiwan so enlightening. I learned a lot. And one of the first places that provided me with an introductory course — Taipei 101. Well, that's not really why it's named so, but that's what this towering structure gave me.
WHAT'S COVERED IN THIS GUIDE?
Taipei 101 – Architecture and Other Features
The second tallest building in the world, Taipei 101 is the most iconic landmark of Taiwan today. For six years (2004-2010), it was the world's tallest until Dubai's Burj Khalifa opened. The record may have already been broken, but Taipei 101 continues to take visitors to new heights.
Standing 509m tall, it was the first skyscraper to break the 500m mark. But it wasn't the only record it smashed. Upon its opening, it claimed the records for (1) the tallest building in the world, replacing Kuala Lumpur's Petronas Towers; (2) highest occupied floor (438m), beating Chicago's Willis Tower (3) the tallest sundial; and (4) fastest elevator, among others.  Other sources place its official height at 508m, not counting the 1.2m platform at its base. It has 101 storeys with its damper, the largest tuned mass damper in the world, on the 87th to 92nd floor. (And yes, that's another world record right there.)
The first thing that Taipei 101 reminded me of is a stack of take-out boxes of Chinese Food (Chao fan boxes?). It even appeared to me as though it had a chopstick sticking out from its roof. But that's just one of the many images that it paints in people's heads. One of the tower's many symbolisms is its series of eight sections, each composed of eight floors. And you might have already guessed that eight is considered a very lucky number in many Chinese cultures.
---
Up to the Observatory!
We arrived at the HsinYi entrance right after lunch. Our poor tour guide Johnny expected that everyone would just go inside immediately. Of course it did not happen. As soon as we hopped out of the bus, my friend Mica and I (and the others from the group) camwhored as if our lives depended on it. It wasn't long until Johnny raised his blue flag calling all of us to come together and follow him to the fifth floor, where the elevators to the observatory start.
Taipei 101 houses a huge mall at its base. Flanking the walkways of its bottom four floors are high-end shops that make good distractions, demonstrating the mighty Gruen transfer at work. We took the escalators to the fifth floor while letting our eyes feast on the interior design of the place. While its totally different, I couldn't help but be reminded of the first time I entered the Petronas Towers and Suria KLCC.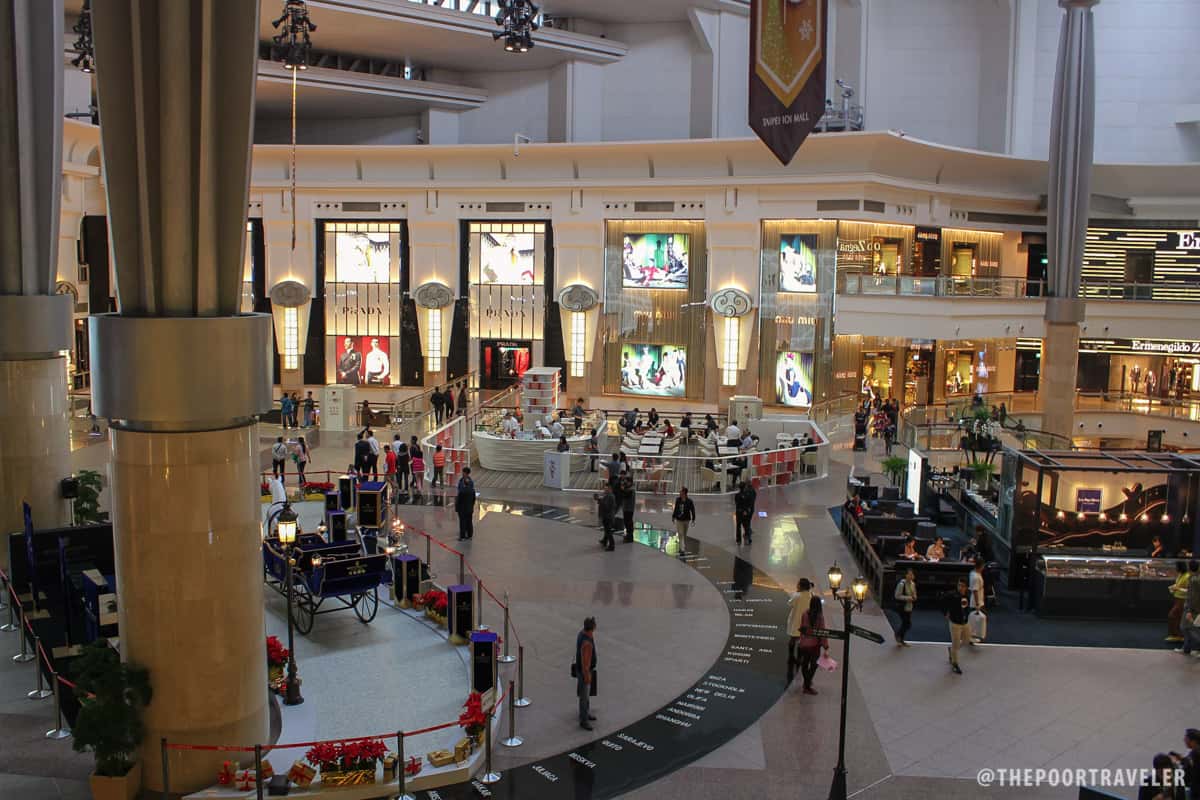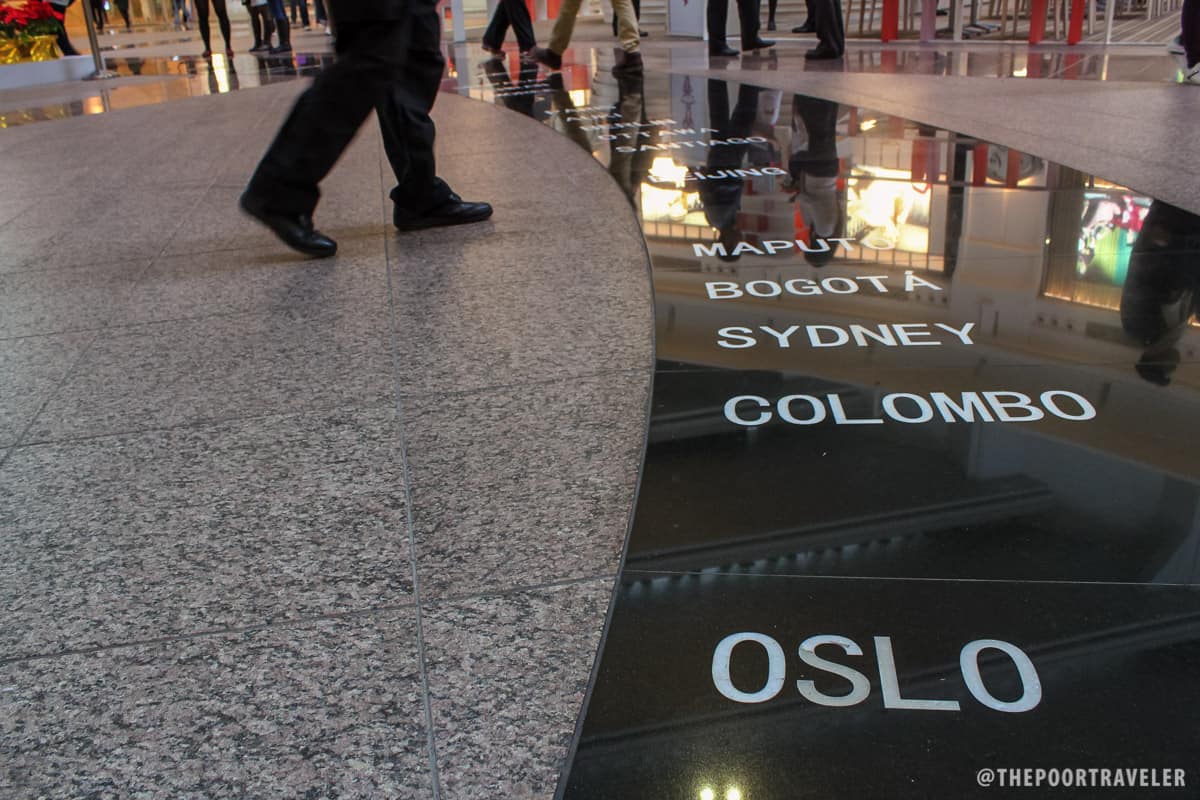 After getting our entry passes, we started queueing towards its record-breaking elevators. Snaking around an electronic shop, the line was so long and was broken in the middle by a photo booth where guests could have pics of them taken against a green screen, which would instantly be replaced by a readymade image of Taipei 101. You know these things; almost every major tourist destination (especially theme parks) has one. Funny, though, because the TV screens hanging overhead display the photos instantly so visitors could be easily tempted (or not, depending on the pose) to buy them at the observatory. We felt sorry for those in green shirts because only their seemingly floating heads were visible in the pics. The queueing took a lot of time but as one adage goes, time flies when you're having fun. Yes, even when waiting in line.
When we reached the elevators, I was surprised by how small they were. They are just your average elevators in appearance. But don't judge the book by its cover, they say, so let's not judge an elevator the same way. After all, it's the speed that counts. And these are the world's fastest ascending elevators. Designed by Toshiba Elevator and Building Systems Corporation, these lifts go as fast as 1010m per minute. There's even a timer displayed inside the elevator to prove they're not pulling your leg.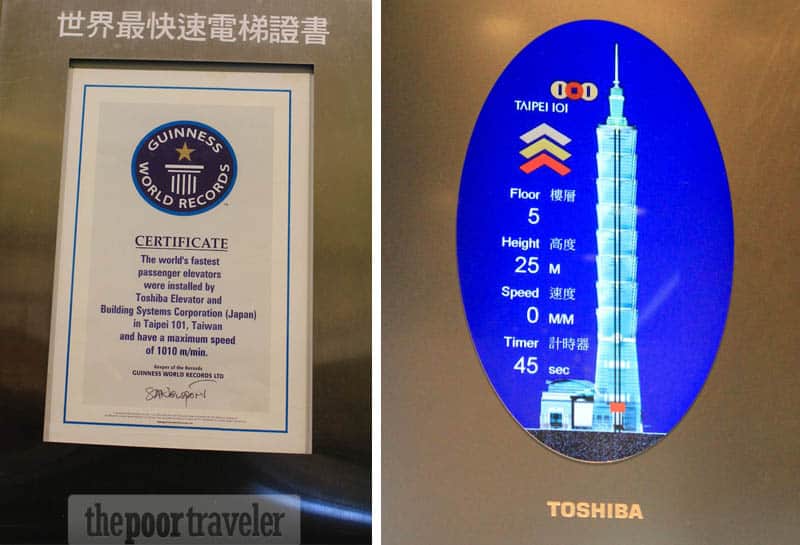 While the ride itself was nothing remarkable (except for the number of times I had to swallow so my eardrums won't get bullied by the air pressure), the ascent was really fast.
---
At the Observatory: A City Tour from the Top
Located in Xinyi District, Taipei 101 offers a fantastic view of Taipei (and neighboring cities) from its indoor and outdoor observatories. It's like a one-of-a-kind tour of the city from the top. From its many viewing sections, many points of interests can be spotted, giving visitors a sneak peek at these sites before they could even set foot on it.
We were given audio-guides upon entering the observatory. Don't ignore these. Use them for they are really helpful. They're easy to operate and they give useful information. This way, you don't just admire the view, you also get to know what you're viewing. Look for the stairs that will take you to the outdoor observatory on the next level.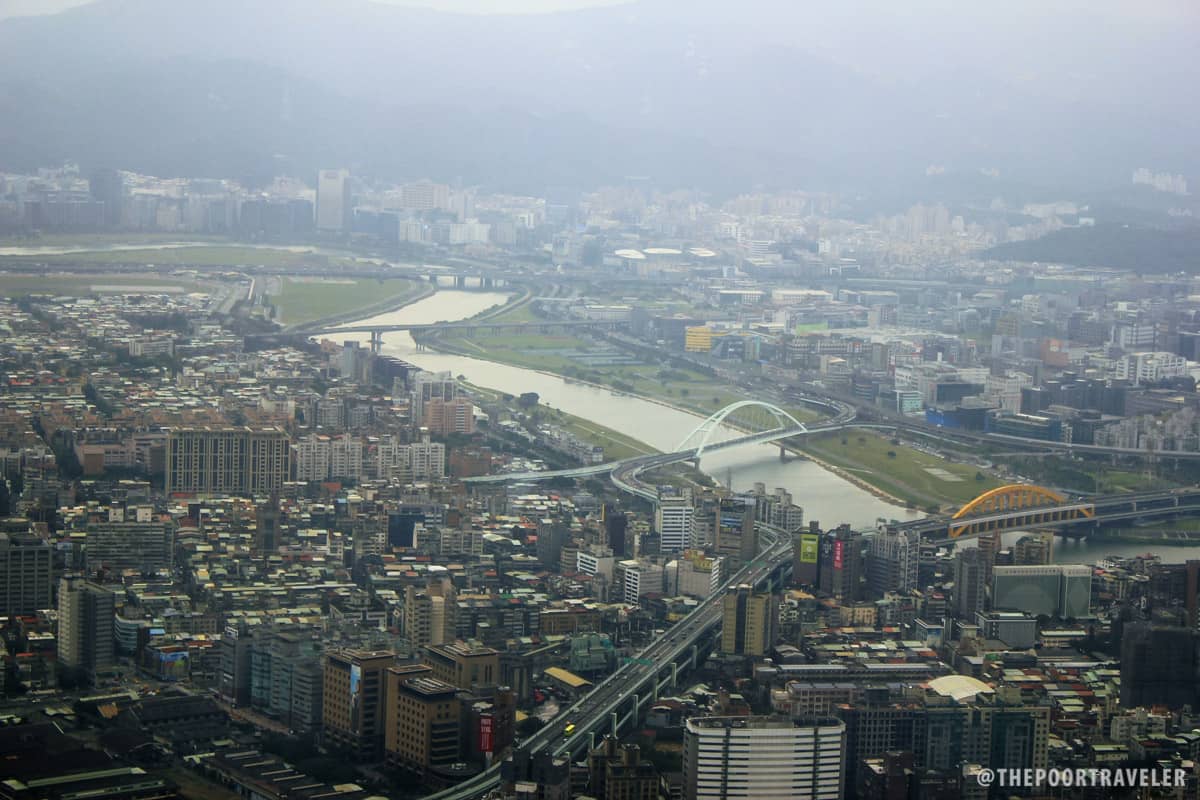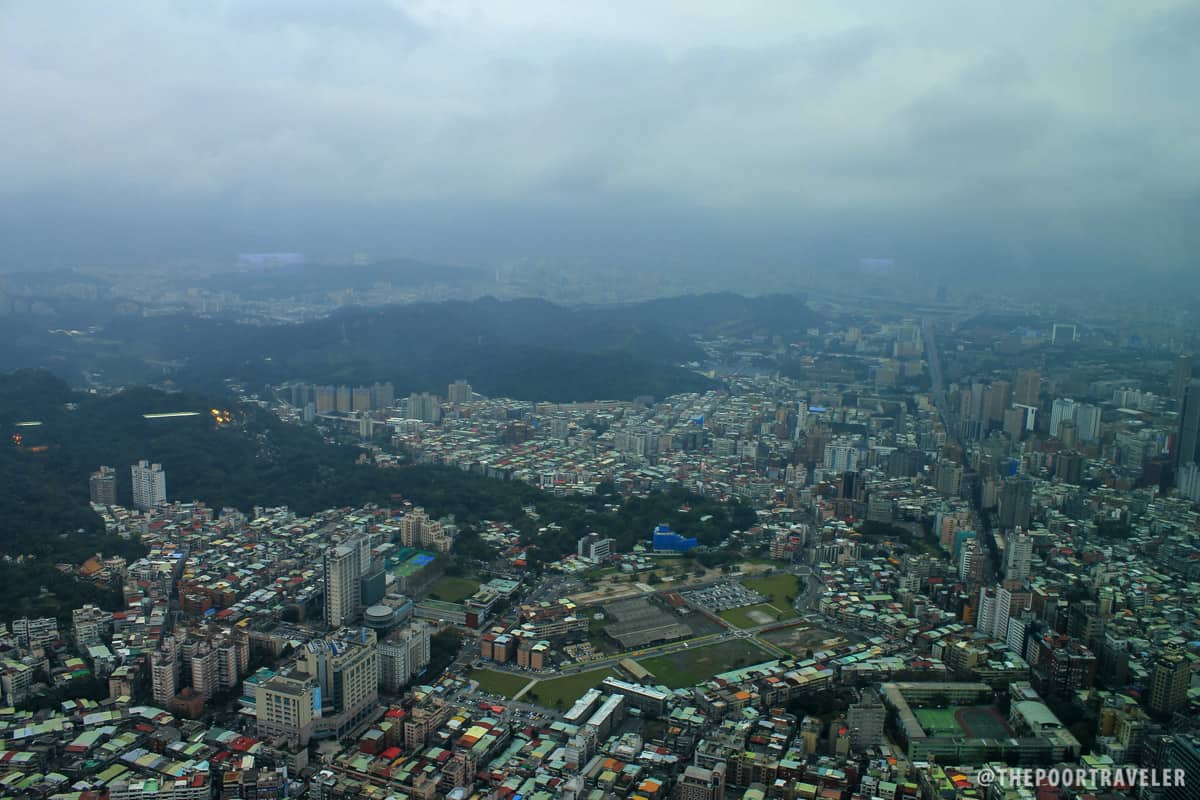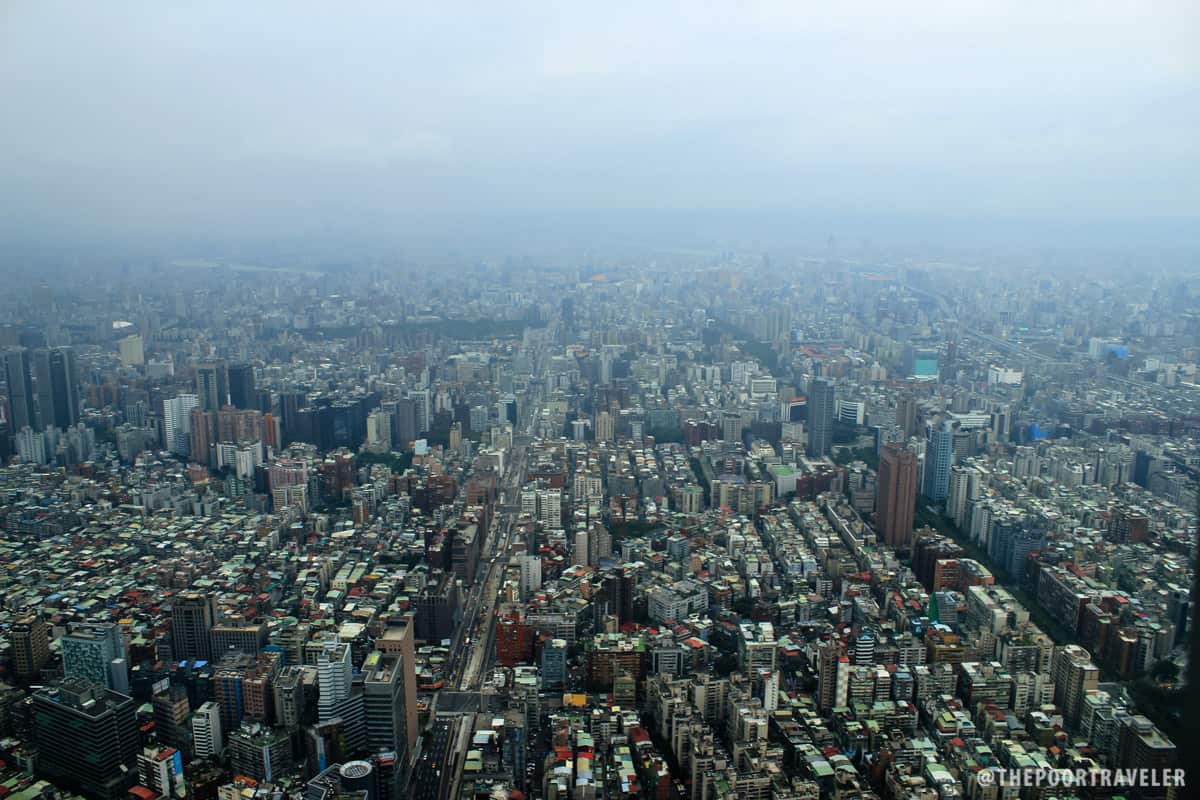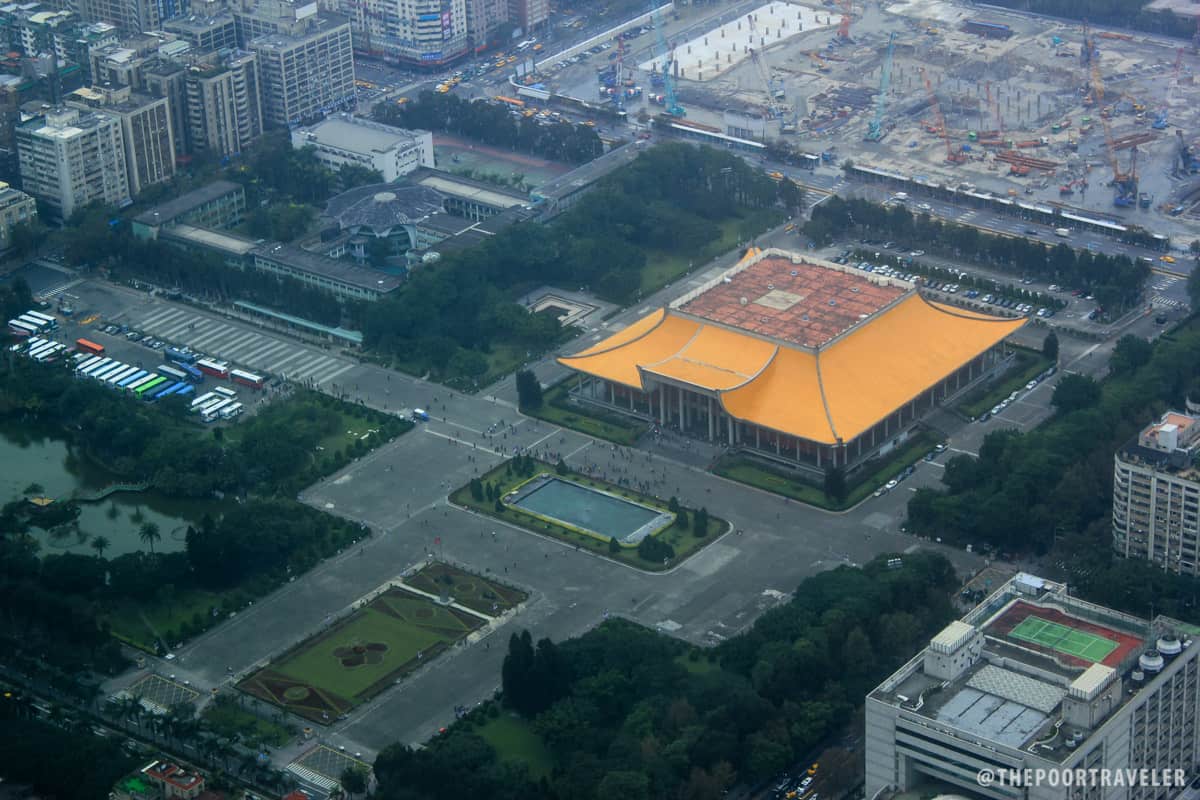 ---
The Damper and other Structural Features
In between the cafe and the audio-guide booth is a humble doorway to the world-famous damper. You see, Taipei 101 prides itself not just in its height and architecture but also in its structural design. Taipei lies along the Pacific Ring of Fire and a common route of typhoons. Thus, this skyscraper should be able to survive and withstand strong earthquakes and powerful high winds, which are very common in this part of the world. These concerns are addressed by a strong foundation and 36 columns. The damper helps by serving as a pendulum, swaying to counter the tower's movement. This 728-short ton sphere hangs from the 92nd floor and is open for public viewing.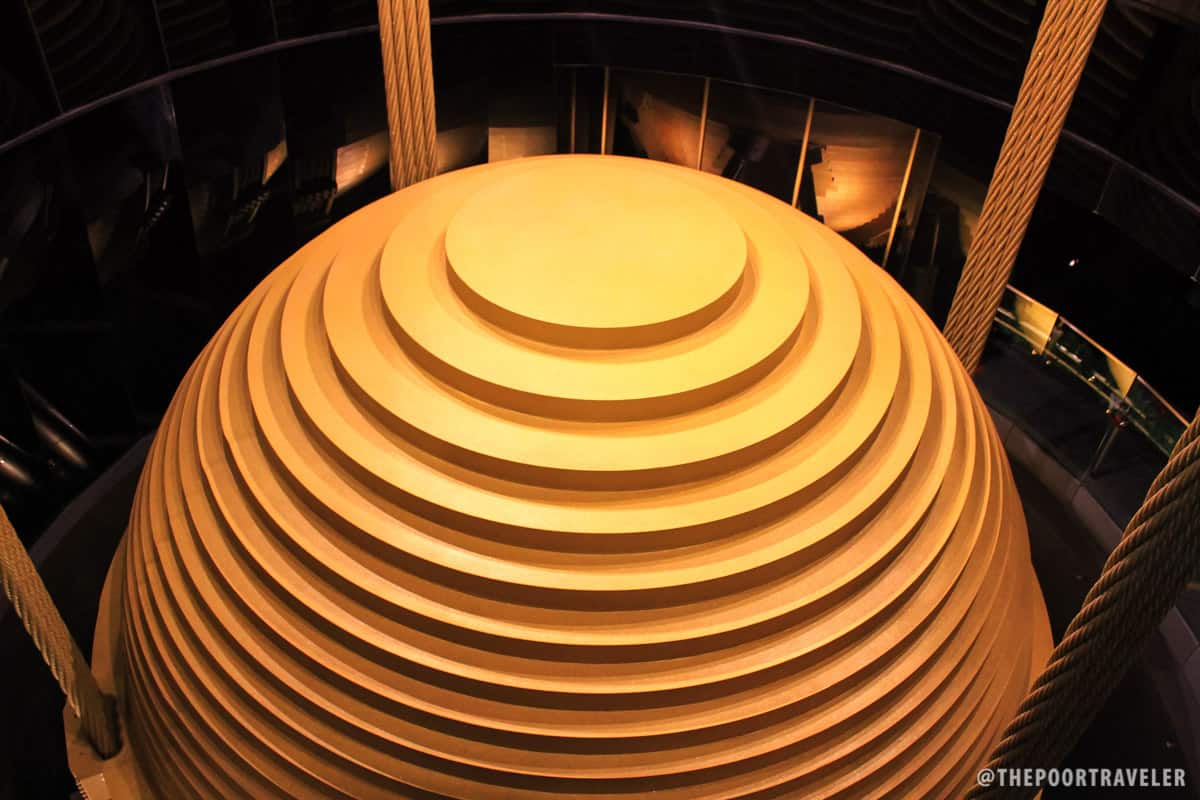 But that big steel ball isn't the only damper in my experience exploring Taipei 101. The limited time we had here also dampened my spirit as I was really rushing to move from one corner to another so I could go through all sections of the observatory. I didn't want to just breeze through it, so I was really taking much time to admire and appreciate the many vistas. I guess the lesson here is to just enjoy the moment and not be pressured by time. That should apply to most of the places we set foot on as visitors. Still, I had a fantastic, enlightening time here. True to its name, Taipei 101 gave me an introductory course about what to see in the streets and corners of the bustling Taiwanese capital.
Posted: 2013 • 1 • 2