If you're applying for a JAPAN VISA to visit a friend or relative, one of the most important requirements is the INVITATION LETTER (Letter of Reason for Invitation). Thankfully, you don't need to start from scratch. The Japanese Embassy has provided a standard form that you can use as template to create your own. All you need to do is fill it out and have it sealed or signed.
WHAT'S COVERED IN THIS GUIDE?
Invitation Letter Samples
Whether you have a guarantor or not, if you're visiting a friend or relative, you need a Letter of Invitation.
Below are links where you can get downloadable forms. These are Word files, so you can easily fill them out digitally.
---
How to Fill Out Japan Visa Invitation Letter
Ideally, the invitation letter has to be filled out by the inviting party because you will need their seal or signature.
But if you're the applicant, you can also accomplish the form yourself and just email it to your contact in Japan. Then, ask them to print it out and place their seal or signature. It has to be printed out because the seal/signature has to be original. Once sealed or signed, just ask your contact in Japan to mail it to you.
In this post, I'm assuming you're the applicant (not the inviter).
Here are some parts that you might have questions about.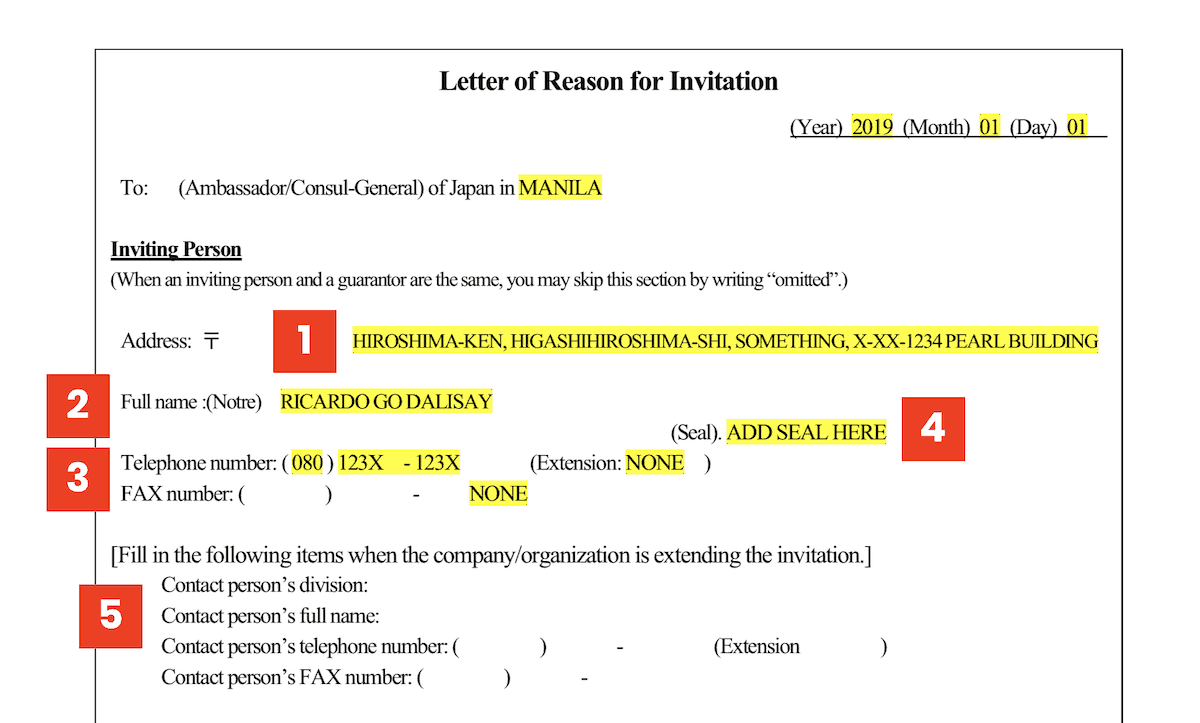 Inviter's address. Note that Japanese addresses usually start with the larger unit (prefecture) and go smaller (city, building, etc.)
Inviter's name. Write the full name.
Contact numbers. Include the area code. If you don't have an extension number or fax number, write NONE.
Seal. Japan citizens and residents have their own personal seal. Foreign nationals who do not have a seal can place their signature instead.
Inviting Company or Organization. If you're invited by a company or organization in Japan, add the details here. I didn't write any sample in this field because I have never experienced being invited by a company. But the form has a note at the bottom that reads, "When a company/organization is extending an invitation, fill out the name of the company/organization as well as your title and affix, and put the registered seal of the representative, or non-registered seal of the company or the sub-organ (a personal seal is unacceptable). If it is difficult to put the seal, a person in a position of authority at the company/organization may put his/her signature."

Applicant's Nationality and Occupation. Enter the applicant's nationality and current occupation.
Applicant's Date of Birth. Note that it's YEAR/MONTH/DAY.
Applicant's Age. It's often overlooked. Don't miss it. Just write your age.
Additional Applicants. If you're applying alone, write NONE. If you're applying as part of a group and the group is invited by the same person, write how many other persons are part of that group. For example, when I accomplished this for my mother, I wrote 1 because she was traveling with my niece. If you're part of a group, don't forget to accomplish the List of Visa Applicants form.
Purpose of Invitation. Just write why you're invited to Japan. Be specific. If you're attending a wedding, write it down. If there really is no reason other than tourism, write you will be touring with the inviter. When my cousin and mother were invited by my sister (on 2 separate occasions/applications), I wrote something like this: I'm inviting my cousin to come visit me in Hiroshima for 5 days so I could spend time with her and tour her around the city. I plan to take her to Hiroshima Memorial Park and Miyajima.
Background to Invitation. In this part, you need to provide more details about WHY you're being invited. For example, my sister has been living in Japan for 5 years now, so I mention that each time I apply for anyone in the family. I write something along these lines: I have been living in Japan for 5 years now and I have not seen my family in a long time. Sometimes I invite them over so I could spend time with them and show them beautiful places here in Japan.
Relationship with Visa Applicant. Just write down how you're related.
For Items #10 and #11, if the space provided is not enough, you may use a separate sheet to provide a more detailed explanation.
---
Other Japan Visa Requirements
The letter of invitation is just one of the requirements to apply for a Japan visa. For the list of other documents, check out the post below:
✅ JAPANESE VISA FOR VISITING FRIENDS OR RELATIVES
---
2️⃣0️⃣1️⃣8️⃣ • 1️⃣1️⃣ • 2️⃣0️⃣