Whether you're applying for a Japan Tourist Visa or a Visit Visa, the first thing you need to do is to get hold of a copy of the application form and fill it out appropriately. You can get a copy from the agency where you will be applying. But if you want to take care of it before you go to the agency, you can download a copy of the application form below with instructions.
Japan Visa Application Form

---
How to Fill Out Japan Visa Application Form
First, a few important reminders.
Complete the form either by hand or electronically. Either is accepted. If you go the hand-written route, make sure that you write in block letters and that they are readable.
In fields that don't apply to you, write NA. Don't leave any field blank.
Print the form in an A4-size paper. Other sizes will be rejected.
Paste a photo on the designated area. PASTE! DO NOT STAPLE! The photo must have been taken within the past 6 months.
Use a black pen or font. Do not use pencil or one of those erasable pens.
Avoid erasures! If it can't be helped, use double line (2 strikethroughs). If there are too many erasures, start over. Never ever use correction tape or liquid.
Here are some parts of the form that you might have questions about. For the purpose of explanation, I filled out the form in big blue letters just to make it obvious. But when you complete your form, use BLACK.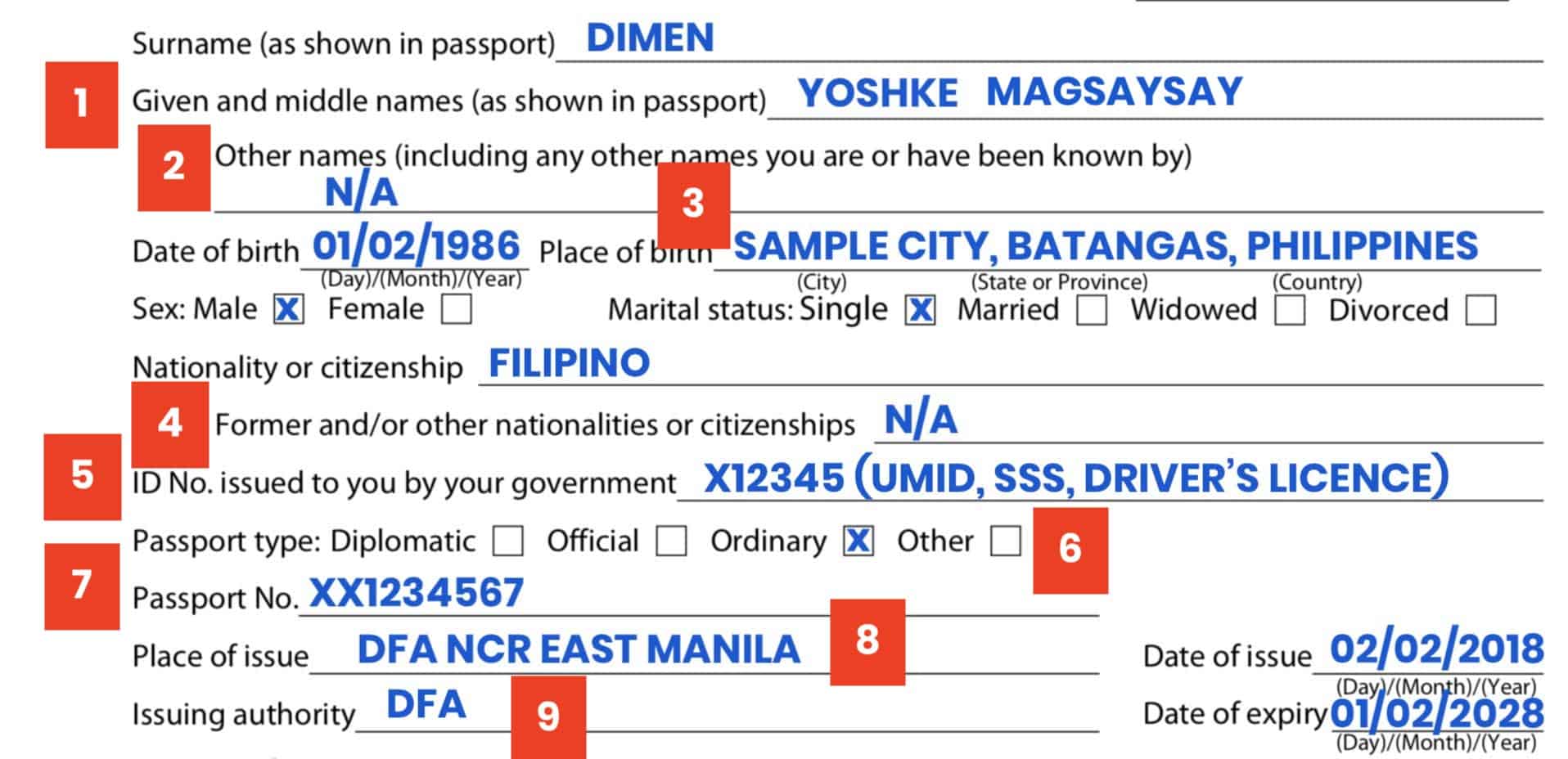 Given and middle names: Write both your given name AND your middle name (your mom's last name).
Other names: If you have a pen name or nickname or if you're known by any other name, write it down. If none, write N/A.
Place of birth: If you have no province and you're born in Metro Manila, write METRO MANILA. For example, if you were born in Makati, write: Makati, Metro Manila, Philippines.
Former and/or other nationalities or citizenships: Only if you have one. Write N/A if you have none.
ID No. issued to you by your government: Any government-issued ID will do. I have tried using UMID. My cousin used Driver's License. A few times, I wrote the passport number here too, I didn't have any problem.
Passport type: Ordinary.
Passport number: Double check. Make sure it's correct.
Place of issue: You can write the city name. In the case of Manila, you can write MANILA. You can also be specific. I usually write DFA NCR EAST, because that's what's on my passport.
Issuing authority: DFA.

Purpose of visit to Japan: If applying as a tourist, write TOURISM. If you're visiting a friend or family, write VISIT FRIEND/FAMILY.
Intended length of stay in Japan: Number of days including the day of arrival.
Port of entry into Japan: Name of the airport. It can be Kansai, Narita, Chitose, etc.
Name of ship or airline: Just the name of the airline or the ship. It doesn't matter if you're already booked or not. If you're concerned about funds, write a low-cost carrier like CEBU PACIFIC or JETSTAR.
Names and addresses of hotels or persons with whom applicant intends to stay: If applying as a tourist, write down the name, address and telephone number of your hotel. If you don't know the exact address or telephone number of your hotel, Google it! If applying to visit someone in Japan, write their name, address, and contact number.
Dates and duration of previous stays in Japan. Write N/A if it's your first time in Japan. If you've been to Japan before write the inclusive dates of your previous visits and the number of days. If you've been to Japan many times and it won't fit, use a separate sheet and indicate it on the form.

Your current residential address: If you have more than one address, list them all on a separate sheet.
Telephone number: If you don't have a landline number, write N/A.
Current profession or occupation and position: Be truthful! If your current occupation or position doesn't match the ITR you're submitting (for example, you moved to another company), you can write a letter explaining it.
Partner's profession/occupation: If you're single and of legal age, write N/A. If you're married, write the profession of your partner. If for a minor, write the profession or occupation of parents.

Guarantor/Inviter Info: If you're applying as a tourist and you're shouldering all expenses, write N/A in ALL of the fields. If you have a guarantor, write their details. If the guarantor is the same as the inviter, write SAME AS ABOVE in the INVITER fields.

If you answered "Yes" to any of the above questions, please provide relevant details: If you answered NO to all the questions, write N/A.
Signature: Sign it by hand. I'm not sure if digital signatures are accepted, but I doubt it. If the applicant is minor, a parent or legal guardian can sign, but the relationship must be indicated below the signature.
---
Other Japan Visa Requirements
To see the other requirements, visit this page: JAPAN VISA REQUIREMENTS
---
---
Frequently Asked Questions
1. My guarantor is based in the Philippines, not Japan. Should I write my guarantor's details in the fields under "Guarantor or reference in Japan"?
This is the most confusing part. Travel agencies have different takes on this.
The last time we asked Reli Tours, they said YES, even if the guarantor is based outside Japan, you should still write down their details under "Guarantor or reference in Japan". They might have changed their stance but that's what they said last time.
But some agencies like Attic Tours say that you should write down N/A instead.
To be sure, what I suggest is to leave them blank temporarily and ask the agency what to do when it's time to submit your application. If they tell you to enter your guarantor's details, then do so right there and then. If they say write N/A then do it then.
Or you can call the designated agency where you plan to lodge your application beforehand.
---
2. Should all documents be printed on A4-size paper including the ITR and bank certificate?
Documents that you have control of like Schedule of Stay, Application Form or even COE should be A4.
In my experience, I've submitted ITR printed on legal size and bank certificate on letter size, but they were all accepted regardless. But I'm not sure if that's still the case now or if that's always the case.
---
2️⃣0️⃣1️⃣8️⃣ • 3️⃣ • 1️⃣9️⃣