2021 • 5 • 29
The province of La Union has resumed tourism activities last May 22, 2021. The LGU has also identified tourist destinations that have re-opened and have been accepting non-resident tourists from Luzon. But if you are planning to visit, there are still certain requirements that you need to prepare beforehand, as part of their health and safety protocol.
In this post, we'll be sharing with you the things you need to take care of before, during and after your La Union trip, in accordance to the Executive Order 27 Series of 2021. Among these are negative RT-PCR test result and booking confirmation from a DOT accredited accommodation establishment. You would also need to register in Tara Na Visita prior to your visit. You will find all the details below.
WHAT'S COVERED IN THIS GUIDE?
Before Your Trip
1. Book a tour with a DOT accredited travel agency or tour operator.
Tourists traveling to La Union must have a pre-booked tour with La Union-based travel and tour operator with Certificate of Authority to Operate from the Department of Tourism (DOT).
You can find the list of accredited agencies here:
---
2. Secure a Negative RT-PCR Test Result.
All tourists, regardless of the Quarantine Classification of your origin are required to present a negative RT-PCR test result taken within 72 hours prior to arrival.
As an alternative, Saliva based RT-PCR test result issued by Philippine Red Cross is also accepted.
3. Apply for a Tourist Pass through Tara Na! VISITA.
Before you can apply for a Tourist Pass, you must first sign up for a Tara Na! VISITA account here: tarana.launion.gov.ph.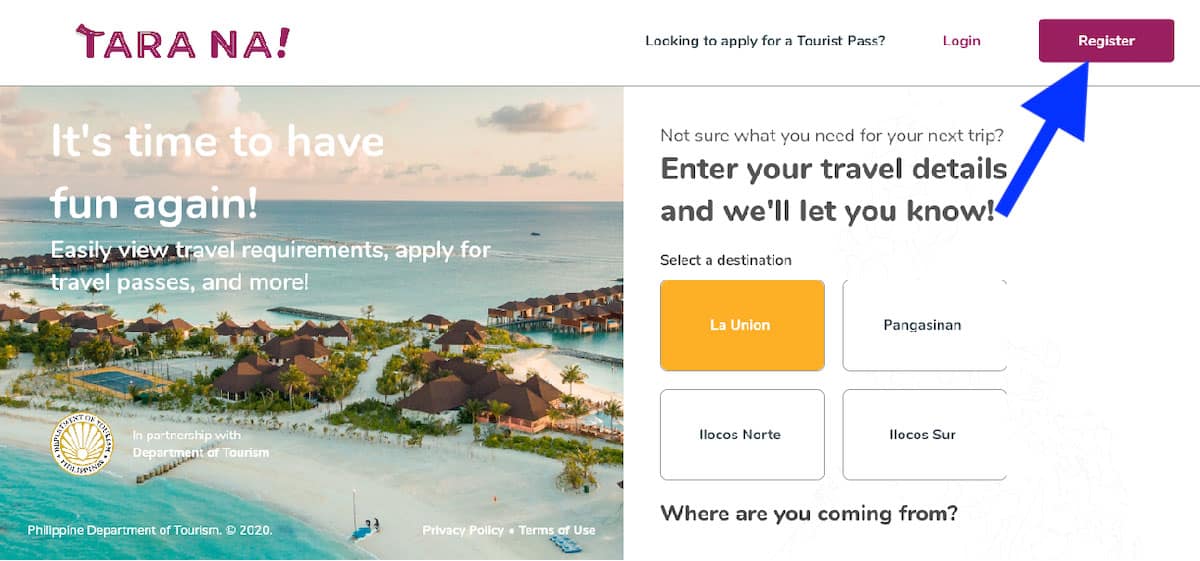 Once you have an account, you need to submit the details of your trip and schedule your visit. As mentioned, the LGU allows only up to 700 visitors per day, which means you need to secure a confirmed schedule first.
Note: You must register and schedule your travel at least 5 working days prior to your intended travel date. Approval of Tourist Passes are processed within 48 hours.
If you don't have an account yet, check out our step-by-step guide here: HOW TO GET A LA UNION TOURIST PASS!
4. Save or print your QR Coded Tourist Pass (QTP).
Once you have a Tara Na! account, download, save, or print your QR Tourist Pass (QTP). You will be needing this as you enter or explore La Union.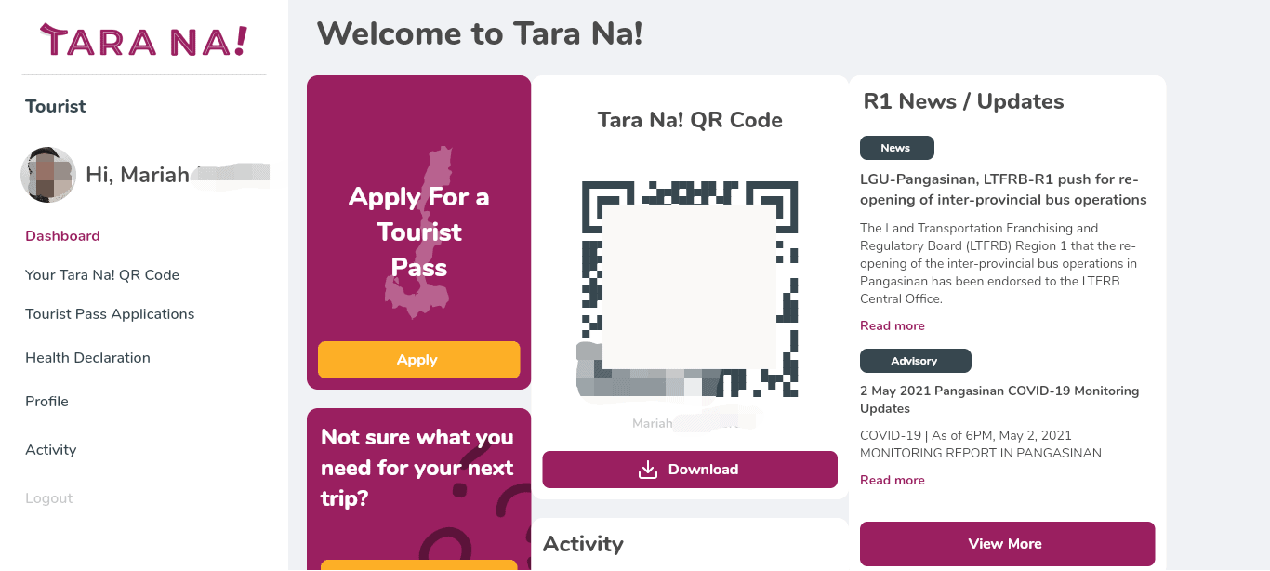 ---
During Travel
Upon arrival in La Union, present QR Coded Tourist Pass (QTP) at Tourism One-Stop-Shop (TOSS) for verification and secure a Tourist Access Pass (TAP).
Keep your QTP and TAP with you at all times and strictly follow the itinerary. Establishments will require you to present your QTP and TAP before entry.
Follow the minimum health protocols. Observe physical distancing and cough etiquette. Wear face mask and shield at all times.
---
After Your Visit
Check out at Tourism One-Stop-Shop by presenting your QTP and TAP.
In case you extend your stay, here's what you should do:
Coordinate with your travel agency.
Re-register travel application at Tara Na! VISITA.
Save or print QR Coded Tourist Pass for your updated travel details.
Secure a Health Certificate. If you are manifesting symptoms, you will be required to undergo testing.
If tested, you must undergo isolation in your accommodation until the release of the result.
---
Frequently Asked Questions (FAQs)
Are seniors and children allowed to travel?
Only tourists aged 15-65 shall be allowed.
Is there a limit on the number of tourists allowed?
The province of La Union allows only a maximum 700 registered tourists per day.
Where can we stay?
All tourists should book their stay through a DOT accredited La Union-based Travel and Tour Operator.
Where is the Tourism One-Stop-Shop located?
There are multiple TOSS locations, one in each entry point of the province.
Are DIY Tours allowed?
NO, DIY Tours are currently not allowed. All tours must be booked and arranged by an accredited Travel and Tour Operator.
---
For more information, check out these infographics posted by the Provincial Government of La Union.
REMINDER: These are extraordinary times and travel policies change quickly. Always check with the LGU or health and tourism authorities for the updated list of requirements or processes.
---
Published: 29 May 2021
More Tips on YouTube ⬇️⬇️⬇️