The Philippine government has launched its official contract tracing digital app, StaySafe.PH, which also serves as a health condition reporting and social distancing system. This not only aims to prevent further transmission of the COVID-19 virus but also to control the spread of any other emerging infectious diseases.
The Department of Health (DOH) manages the StaySafe.PH system and is the declared Personal Information Controller. The developers, the DOH, the Interagency Task Force on Management of Emerging Infectious Diseases (IATF-EID), and the National Task Force (NTF) guarantee that the system protects the data privacy rights of the individuals.
I've tried using the app in some malls and establishments in Alabang, Muntinlupa. It's actually faster and more convenient for me. I don't have to fill out manually or digitally the contact tracing forms or e-forms every time I enter an establishment.
---
WHAT'S COVERED IN THIS GUIDE?
What are the requirements to register on StaySafe.PH?
Mobile Number. Your mobile number will be used as a verification tool where you will receive One Time Password (OTP). This will also serve as your contact information, especially for your LGU to reach you if you are tagged as a COVID-19 positive.
Facebook Account. Or you may choose to use your Facebook account to register instead of your mobile number. This will give the system limited access to your Facebook name, profile picture, and user ID as details for your StaySafe account. The system have no access to any other files or information other than those mentioned.
---
Optional Personal Details
Alias. StaySafe users may choose to add an alias or nickname if you don't want your full name flashed or revealed.
Profile Photo. You have the option to skip this one. The system will be granted access to the device's camera or gallery file but is only limited to letting the user take or select a photo to upload. StaySafe won't be able to access nor use other files or videos on your device.
---
What info will be collected for my StaySafe QR Code ID?
When you enter or visit an establishment with StaySafe.PH contact tracing or digital logbook feature, these personal details will be collected when you scan the QR Code:
Name
Age
Gender
E-mail Address (Optional)
Address (Optional)
Company Name (Optional)
Uploaded ID (Optional)
Notice that only the first three are required. As for me, I only input those three — name, age, gender — and skipped the others. To enable the QR Code function, the users will be asked if they will allow the details they have provided to be accessed by the StaySafe.PH system.
---
How to Download StaySafe.PH App?
To use this Digital Bayanihan System, you may register at the official website or conveniently download the app. Here are the download links:
---
How to Register with StaySafe.PH App?
Once you have downloaded the app, follow these steps:
Open the app and read the information to know more about it. Then, tap LET'S START.
Tap REGISTER NOW or Continue with Facebook to register. If you tap REGISTER NOW, you will be asked to enter your mobile number.

Read the Terms and Conditions and tick the box on the left side if you agree. Then, tap REGISTER NOW.
A one-time pin will be sent to your mobile number through SMS. Enter the 6-digit pin.
Type in your chosen password and confirm, then click CONTINUE.
Enter your code name. To comply with data privacy, StaySafe.PH app suggests not to disclose your full name.
Take a selfie or upload a photo from your mobile device. You may also tap SKIP.

Create your 6-digit pin. This pin code will be used to confirm every transaction.
Fill out the Health Declaration Checklist / Form and tap SAVE.
The privacy policy will be shown to you after signing up. Read and tap ACCEPT.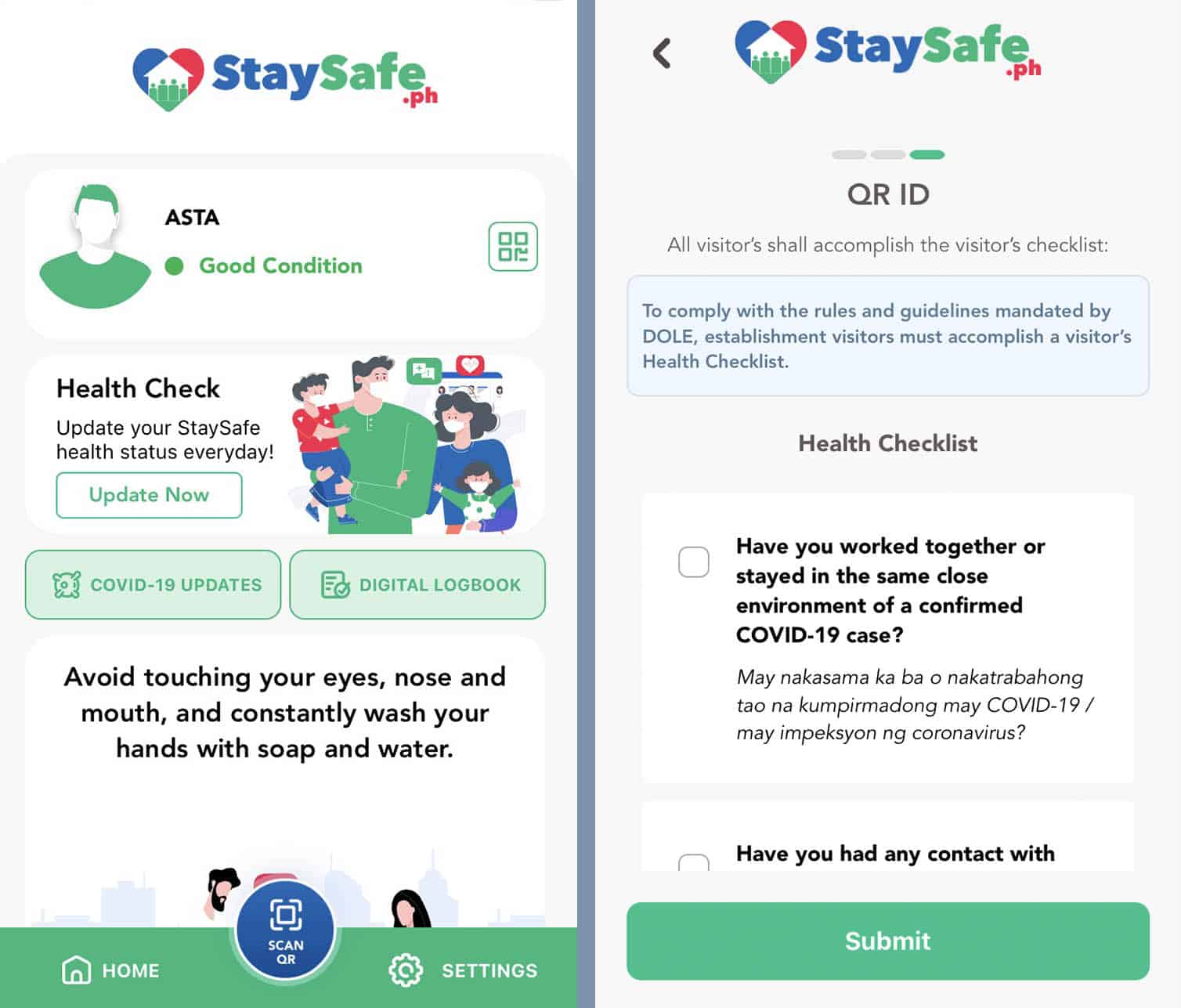 That's it! You have created your StaySafe.Ph account. This contact tracing app is used by scanning the QR code of establishments before entering.
---
With additional words from Mariah Cruz
2021 • 03 • 09