Last updated: 18 OCTOBER 2021
Finally, after so many months of being closed to the public because of the COVID-19 pandemic, Fort Santiago has been reopened.
Fort Santiago is one of the most common destinations for educational tours or field trips. I have scoured the nooks and crannies of Fort Santiago a few times already, once doing a photo walk for my Photography Class back in college.
Spearheaded by Miguel Lopez de Legazpi, it was constructed in the early 1590s as a fortress for the then flourishing city of Manila. It faced many destructions and reconstructions, but some structures remain strong throughout the centuries.
The fort is recognized as a National Cultural Treasure in 2014 and a National Shrine and National Monument in 1951. The dungeons and the museum are just two of the many attractions you'll see inside the historical fort.
Here are some helpful bits of info that you might want to know before you go during the new normal.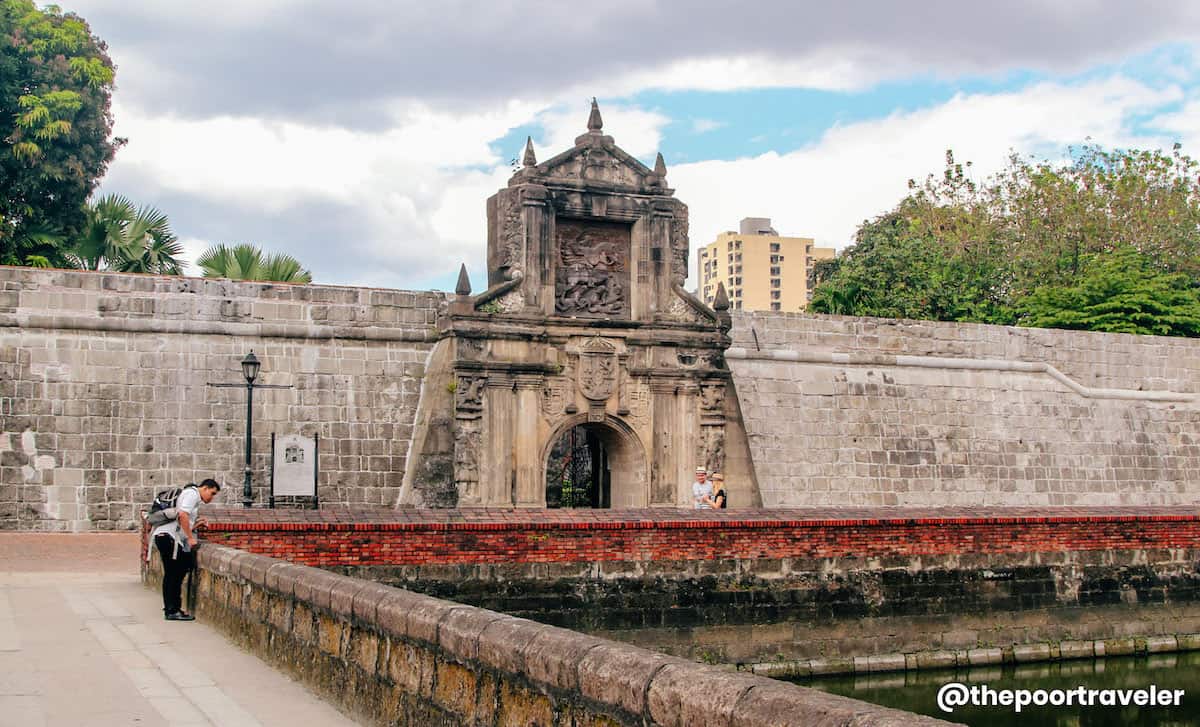 ---
WHAT'S COVERED IN THIS GUIDE?
New Normal Requirements and Guidelines
Below is the list of the general new normal guidelines rules when touring around Intramuros.
No Mask, No Entry. When leaving your house, make sure that you're wearing a face mask properly. Your face mask should be covering your nose and reaches the bottom of your chin. Some establishments also require the wearing of face shields.
Maintain physical distancing. Keep a 1-meter distance between you and others at all times.
Observe proper hand hygiene. If soap and water are available, wash your hands frequently and thoroughly. If not, use an alcohol-based sanitizer to sanitize.
Do not touch your eyes, nose, and mouth. Avoid touching your eyes, nose, and mouth especially if your hands are not sanitized.
Practice respiratory etiquette at all times. If you're sneezing or coughing, make sure to use a tissue or the inner portion of your elbow to cover your nose and mouth. Then, dispose of the tissue properly and wash your hands.
A limited number of people is allowed inside establishments. Each establishment has a maximum capacity at a time. Queue properly and follow provided floor markings and physical barriers to maintain physical distancing.
Mandatory temperature and symptoms screening. All guests must undergo a temperature check and fill out a health declaration form at the entrance. Those with fever or flu-like symptoms and a history of exposure shall be refused entry.
Follow mandatory sanitizing protocols at entrances. Hand sanitation and footwear disinfection stations are available at the entrance of establishments. Make sure to follow these protocols before entering.
Observe the maximum allowed passengers. Only 1 person is allowed in the front passenger seat and there's a maximum of 2 per row for front-facing seats.
Download StaySafe.PH app and sign up before entering the sites. Guests are required to register their visit on the StaySafe.PH app before entering the sites for contact tracing purposes. More info here: HOW TO USE STAYSAFE APP!
---
What are the operating hours?
Before the pandemic, Fort Santiago is open daily from Monday to Sunday, 8:00 AM – 11:00 PM. However, it has changed its operating hours, following the "new normal" protocols. Starting February 17, 2021, these will be the opening hours:
9:00 AM – 7:30 PM
Weekdays
Last entry: 6:00 PM
9:00 AM – 8:30 PM
Weekends
Last entry: 7:00 PM
Notes:
The last entry is at 6:00 PM (Weekdays) and 7:00 PM (Weekends).
The maximum capacity is 150 pax at a time.
---
How much is the ticket?
P75: General Admission
P50: Children/Students/PWDs
---
When is the best time to visit?
Weekends and holidays are expected to be much more crowded than weekdays. If these are the only feasible dates for you, just go there early.
Based on my previous visits, both weekends and weekdays, "crowded" looked like weekday foot traffic of other popular tourist attractions in Manila.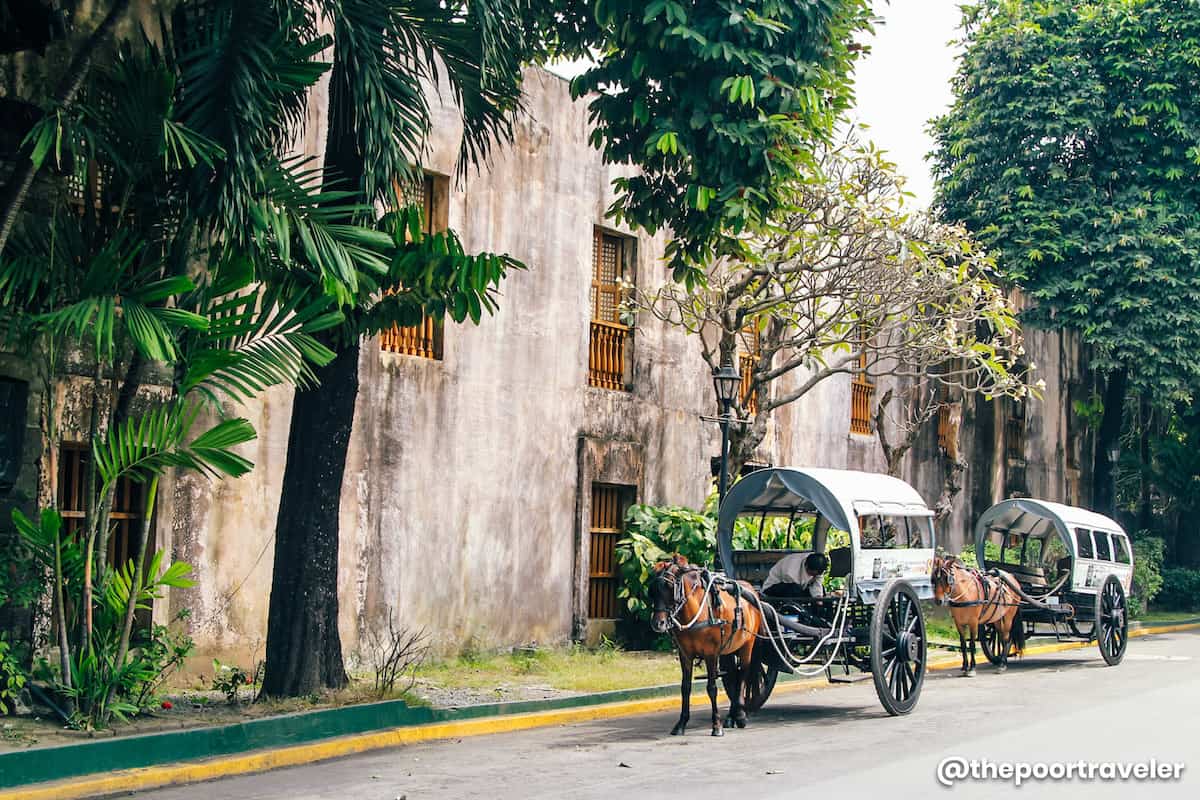 ---
How to get to the Fort Santiago?
Fort Santiago is located in Intramuros in the city of Manila.
If you take the LRT 1, you can get off at any of these three stations: Central Station, Carriedo Station, or Doroteo Jose Station. The main entrance to Fort Santiago is through Plaza Moriones at Sta. Clara Street corner General Luna Street.
If you get off at Central Station, you can reach Intramuros on foot. Your landmark is the Manila City Hall. Cross to the other side using the underpass. Ask around how to get to Plaza Moriones.
If you alight at Carriedo Station, take a Pier-bound jeepney and tell the driver to drop you off at Intramuros. The fare is P8-10. Travel time is about 10 minutes, depending on the traffic condition.
If you choose Doroteo Jose Station, ride a Baclaran/Mabini jeepney and tell the driver to drop you off at Intramuros. The fare is P8-10. The travel time is about 15 minutes, depending on the traffic condition.
---
What are the attractions inside Fort Santiago?
These sites are marked and have brief descriptions, explaining the historical value.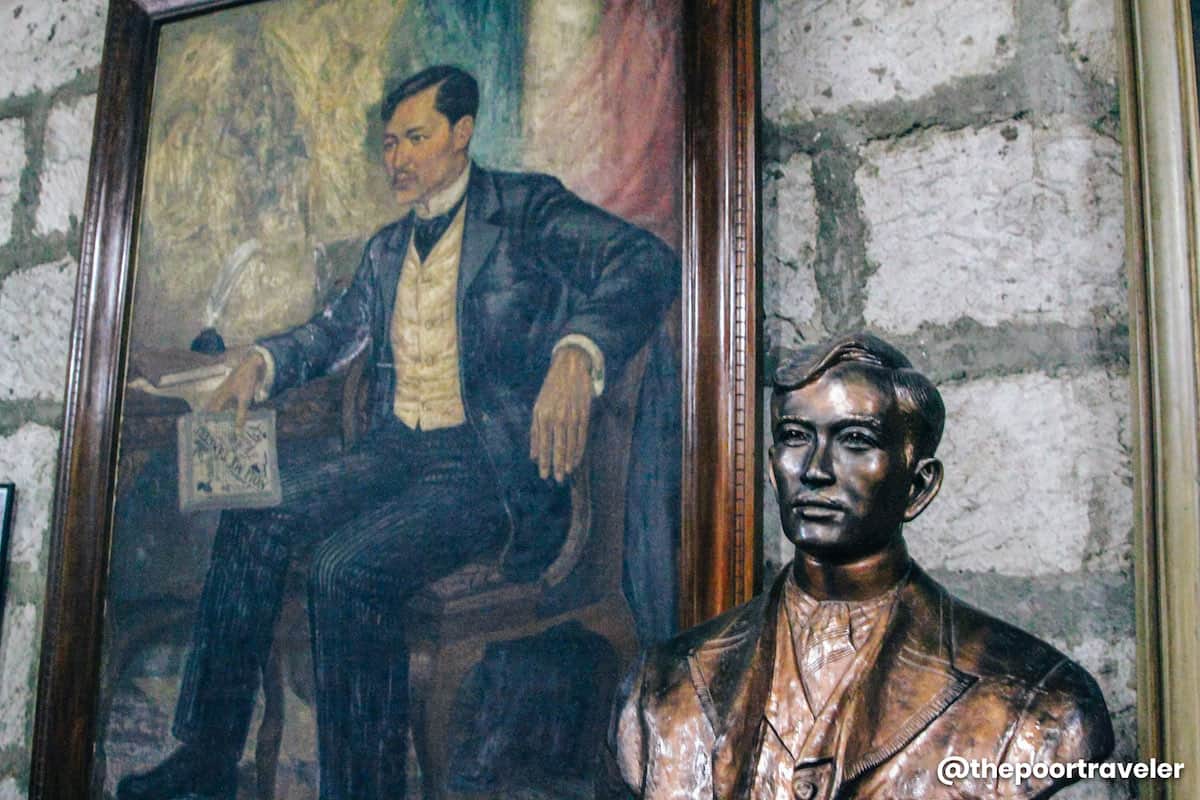 Plaza Moriones
Baluartillo de San Francisco Javier
Ruins of the American Barracks
Plaza De Armas
Jose Rizal Shrine/Museum
Rajah Sulayman Theatre
Postigo de la Nuestra Senora de Soledad
The White Cross
The Dungeons of Fort Santiago
Baluarte de Santa Barbara
Ruins of The Almacenes Reales
---
What are the top attractions?
The Dungeons of Fort Santiago
Shrine of Rizal
Rizal's footsteps to his actual execution ground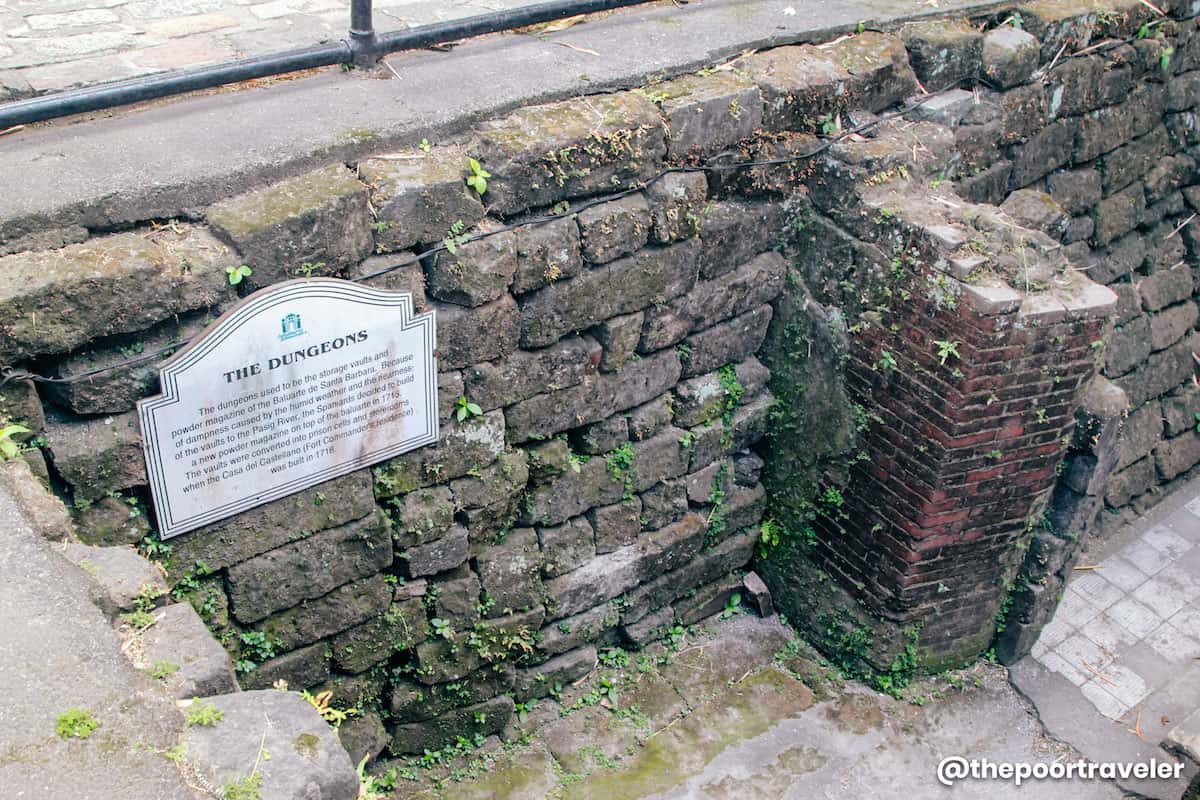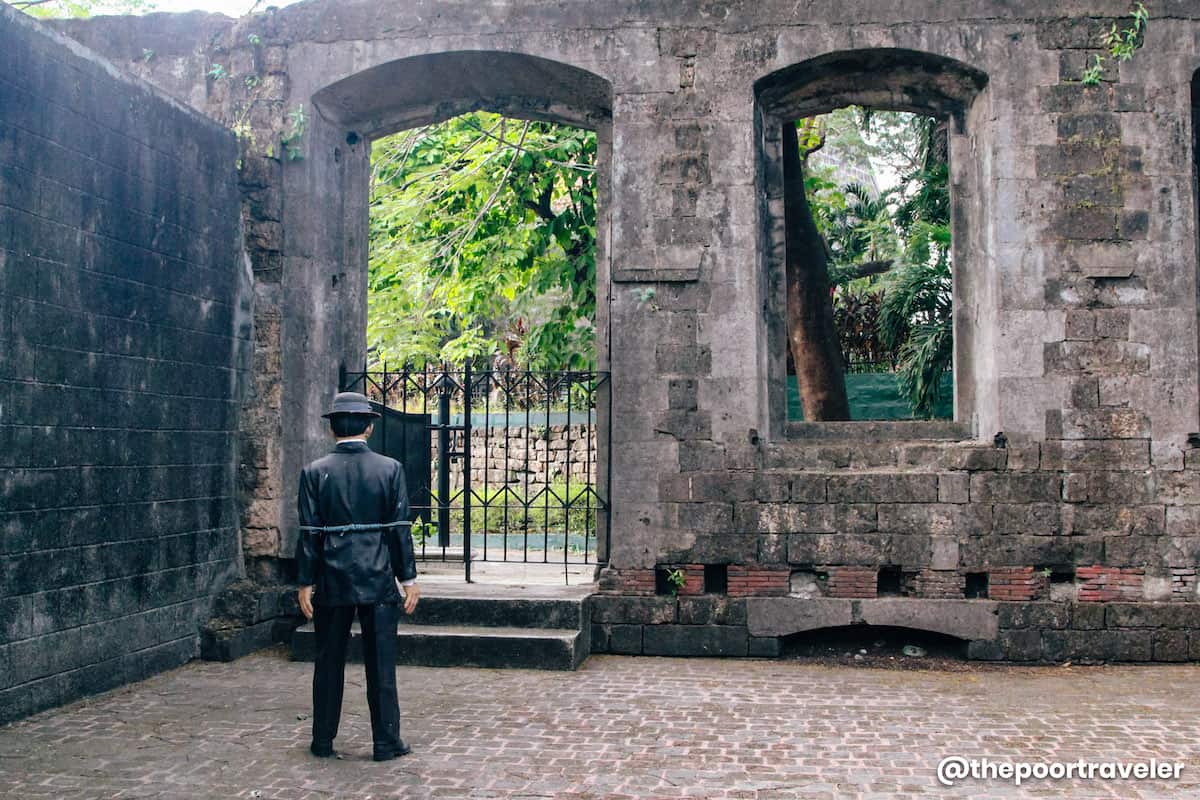 ---
How do I make the most of my visit?
Thoroughly understand the place by knowing more about every stop. The marked spots have descriptions. There's even a museum dedicated to Dr. Jose Rizal.
Your visit will be for nothing if you haven't grasped the historical significance of the place. If you don't mind enclosed spaces, don't forget to explore the dungeons, which are recently opened to the public.
---
What are the rules and regulations?
Generally, respect the place and other visitors' space. Don't cause anything that will disrupt the peace of others. Do not litter, vandalize, or damage the structures.
If you are decided to go inside the dungeons, here are the rules:
Be mindful of your surroundings and the structure height clearance to avoid accidents.
Observe silence. You are on hallowed ground.
Turn on your flashlights.
Do not leave trash and belongings.
Do not vandalize.
Only ages 13 and above are allowed to enter. Elders must be assisted.
Enter only with the supervision of our security personnel.
Maximum of ten guests only at a time.
Wait for the personnel security to enter first.
No teasing or causing panic.
No overstaying or loitering.
No entry for any person with heart and/or mobility issues.
---
What are the nearby attractions?
San Agustin Church
Manila Cathedral
Casa Manila
Rizal Park/Luneta Park
National Museum Complex
---
Other Tips or Reminders
Wear comfortable clothes.
Secure your belongings. The company will not be responsible for any lost items inside the museum.
Please read the warning signs. Strictly follow the rules and guidelines at all times.

Always check the official Facebook Page of Intramuros for the latest announcements and updates regarding admission, opening hours, and other events. For other concerns, you may contact the Intramuros administration.
---
Where can we contact the management for inquiries?
You may contact the Intramuros Administration office, which is under the Department of Tourism.
Office Address: 5th Floor Palacio del Gobernador, General Luna Street cor. Aduana Street, Intramuros, Manila
E-mail Address: intramuros.tourism@gmail.com / intramurosvisitorscenter@yahoo.com.ph

/ helpdesk@intramuros.gov.ph

Contact Numbers: (02) 527-3138 (Tourism Promotions Division for events, tour inquiries, and other marketing-related activities); (02) 527-3096 and (02) 527-9012 (Business Management Division for venue rentals and photoshoots)
Official Website: http://intramuros.gov.ph
Official Facebook Page: Intramuros Administration
---
Top Manila Hotels
Here are some of the top hotels in the city of Manila, as scored by Agoda customers:
---
More Tips on YouTube ⬇️⬇️⬇️