2021 • 03 • 10
San Agustin Chuch. The Oldest Stone Church in the Philippines.
Inside Intramuros, the historic walled city in Manila, there are important sites that serve as reminders of our nation's history. The San Agustin Church is one of them.
The church, although unassuming when you look at it from the outside, serves as a library of historical events and architectural wonders. First built in the 1570s by the Augustinian priests using wooden materials, it was repeatedly destroyed until they finally decided to use stones for the rebuilding of a new one that started in the 1580s and finished in the early 1600s.
The San Agustin Church's structural design was inspired by the churches in Mexico, only simpler. Aside from the small courtyard and Chinese-influenced lion statues, the main entrance's doors with very elaborate carvings dominate the facade. Inside is a whole different story. Following a Baroque-style design, the church's interiors are an explosion of details and textures. The ceiling features the intricate works of prominent Italian artists and century-old chandeliers.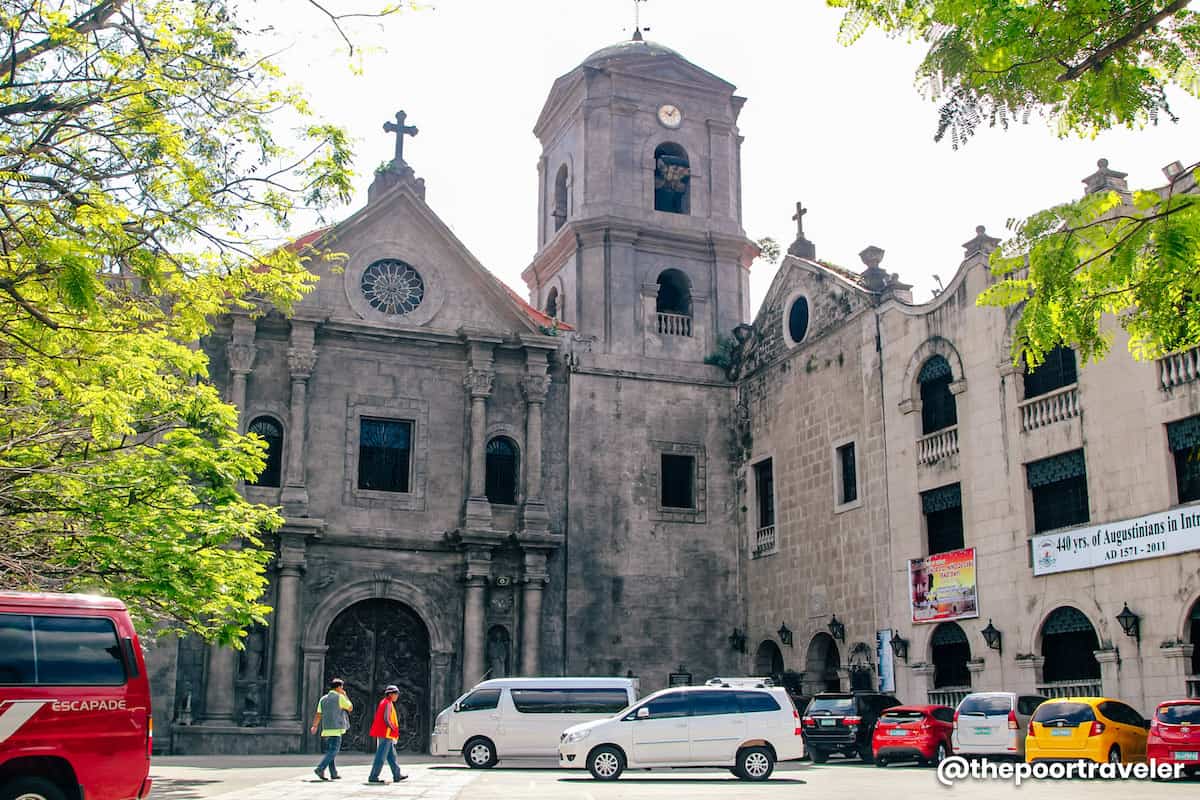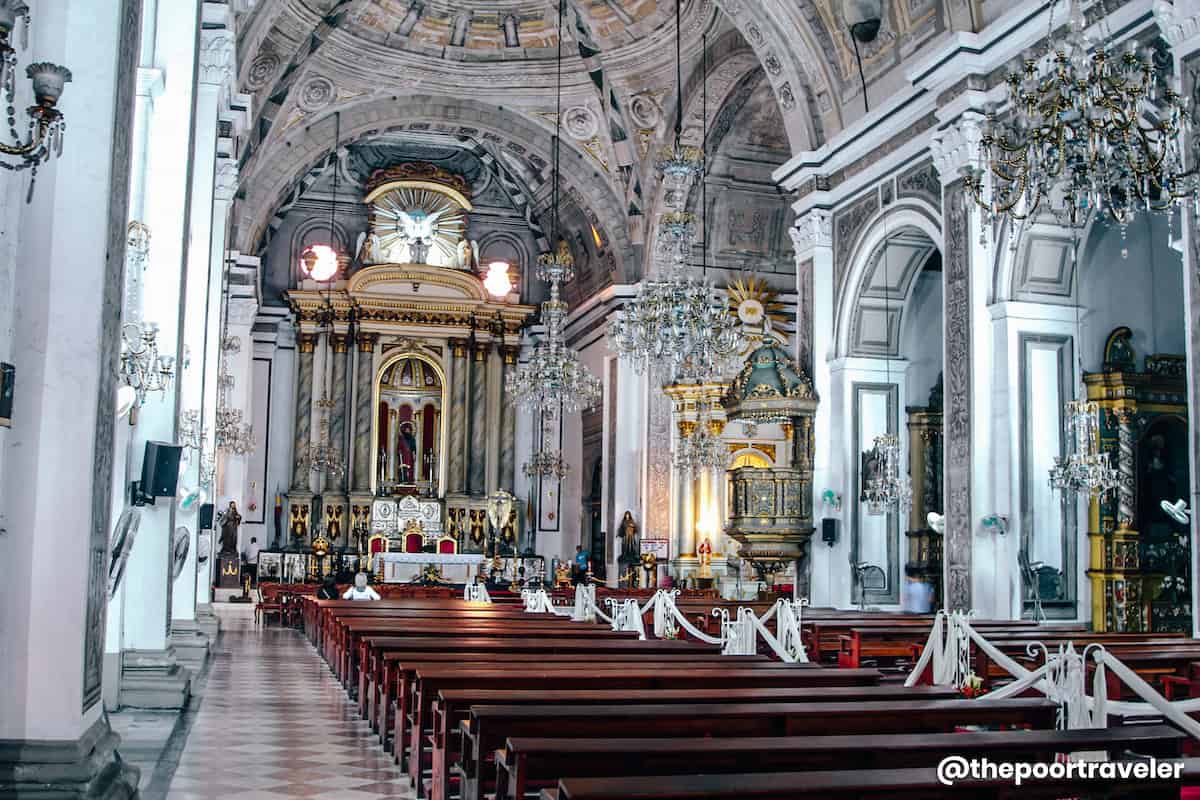 It was hailed as a National Historical Landmark in 1976 and listed as a World Heritage Site along with three other Baroque churches in the Philippines in 1993.
Although a face-to-face mass celebration is still not allowed during these extraordinary times, San Agustin has reopened its museum and cultural center doors to tourists starting February 24, 2021. If you are visiting soon, here are the things to expect during the new normal.
---
WHAT'S COVERED IN THIS GUIDE?
New Normal Requirements and Guidelines
Below is the list of the general new normal guidelines/rules when touring around Intramuros.
No Mask, No Entry. When leaving your house, make sure that you're wearing a face mask properly. Your face mask should be covering your nose and reaching the bottom of your chin. Some establishments also require the wearing of face shields.
Maintain physical distancing. Keep a 1-meter distance between you and others at all times.
Observe proper hand hygiene. If soap and water are available, wash your hands frequently and thoroughly. If not, use an alcohol-based sanitizer to sanitize.
Do not touch your eyes, nose, and mouth. Avoid touching your eyes, nose, and mouth especially if your hands are not sanitized.
Practice respiratory etiquette at all times. If you're sneezing or coughing, make sure to use a tissue or the inner portion of your elbow to cover your nose and mouth. Then, dispose of the tissue properly and wash your hands.
A limited number of people is allowed inside establishments. Each establishment has a maximum capacity at a time. Queue properly and follow provided floor markings and physical barriers to maintain physical distancing.
Mandatory temperature and symptoms screening. All guests must undergo a temperature check and fill out a health declaration form at the entrance. Those with fever or flu-like symptoms and a history of exposure shall be refused entry.
Follow mandatory sanitizing protocols at entrances. Hand sanitation and footwear disinfection stations are available at the entrance of establishments. Make sure to follow these protocols before entering.
Observe the maximum allowed passengers. Only 1 person is allowed in the front passenger seat and there's a maximum of 2 per row for front-facing seats.
Download StaySafe.PH app and sign up before entering the sites. Guests are required to register their visit on the StaySafe.PH app before entering the sites for contact tracing purposes.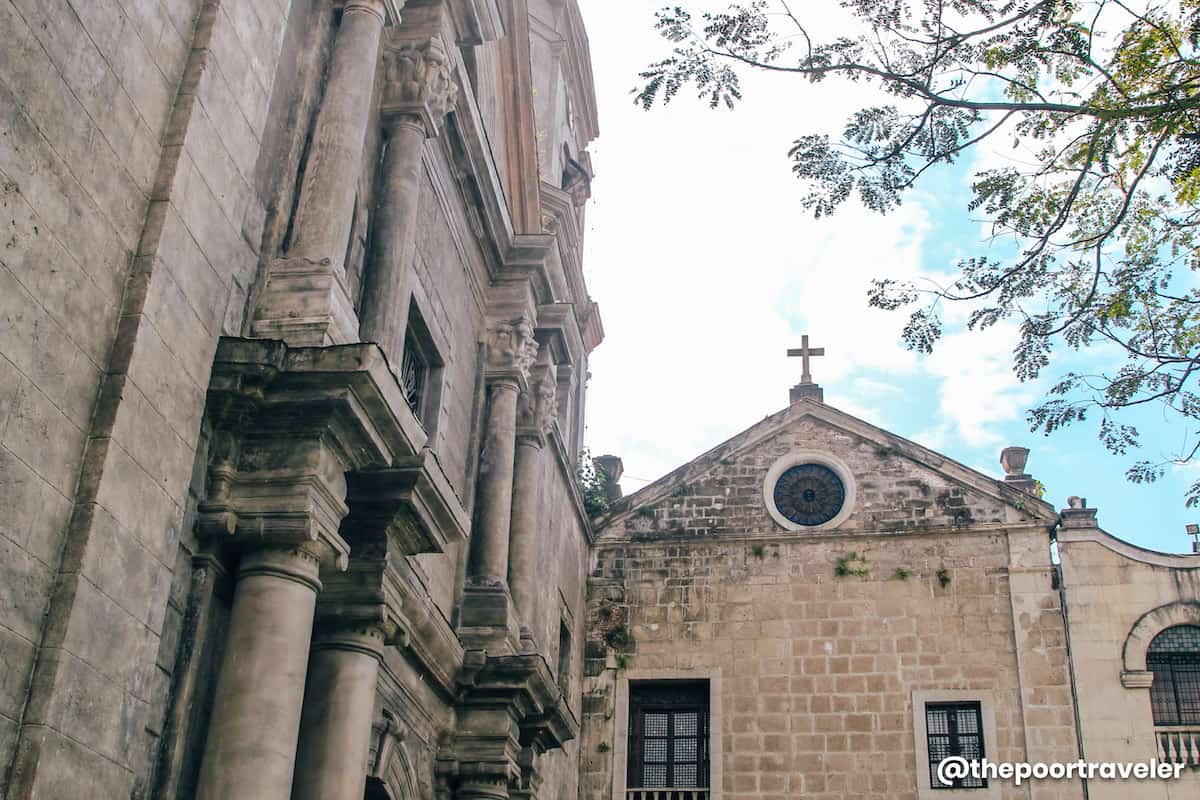 ---
San Agustin Museum Opening Hours
8:00 AM – 12:00 PM & 1:00 PM – 6:00 PM
Wednesday to Sunday
CLOSED
Mondays & Tuesdays
Notes:
The last entry is at 5 PM.
The maximum capacity is 100 pax at a time.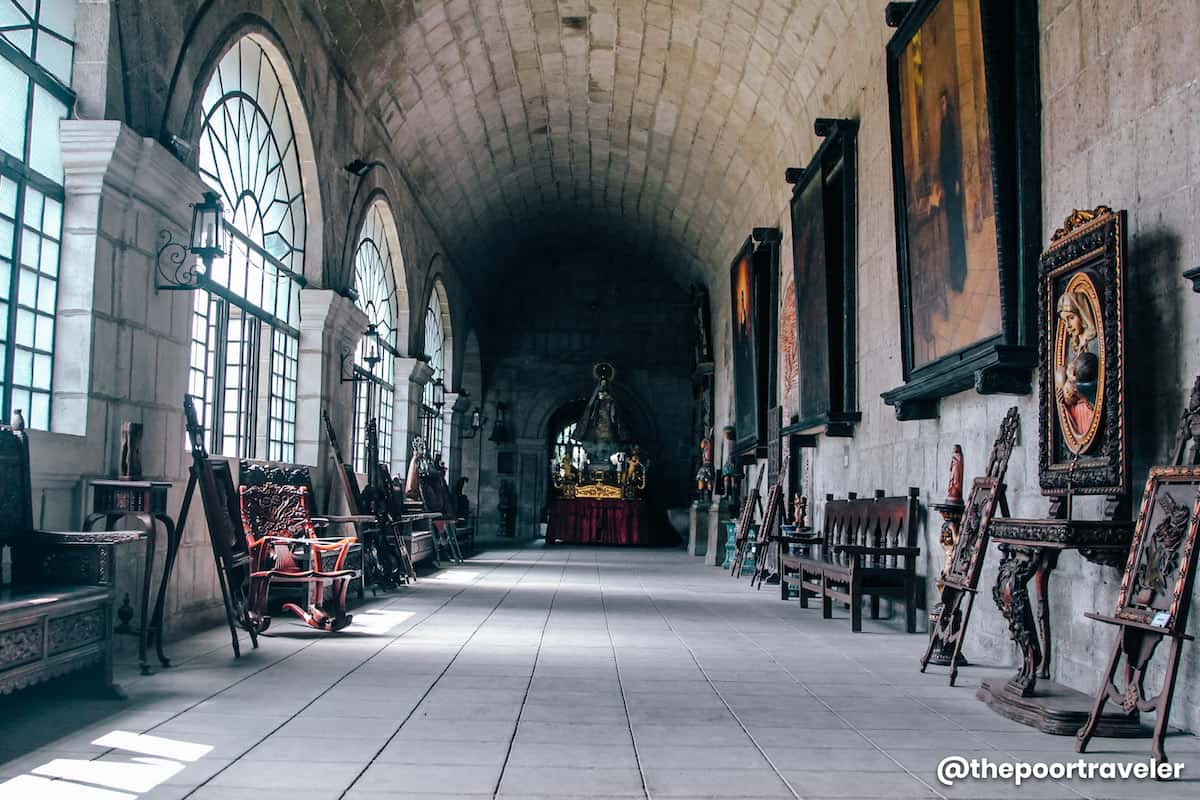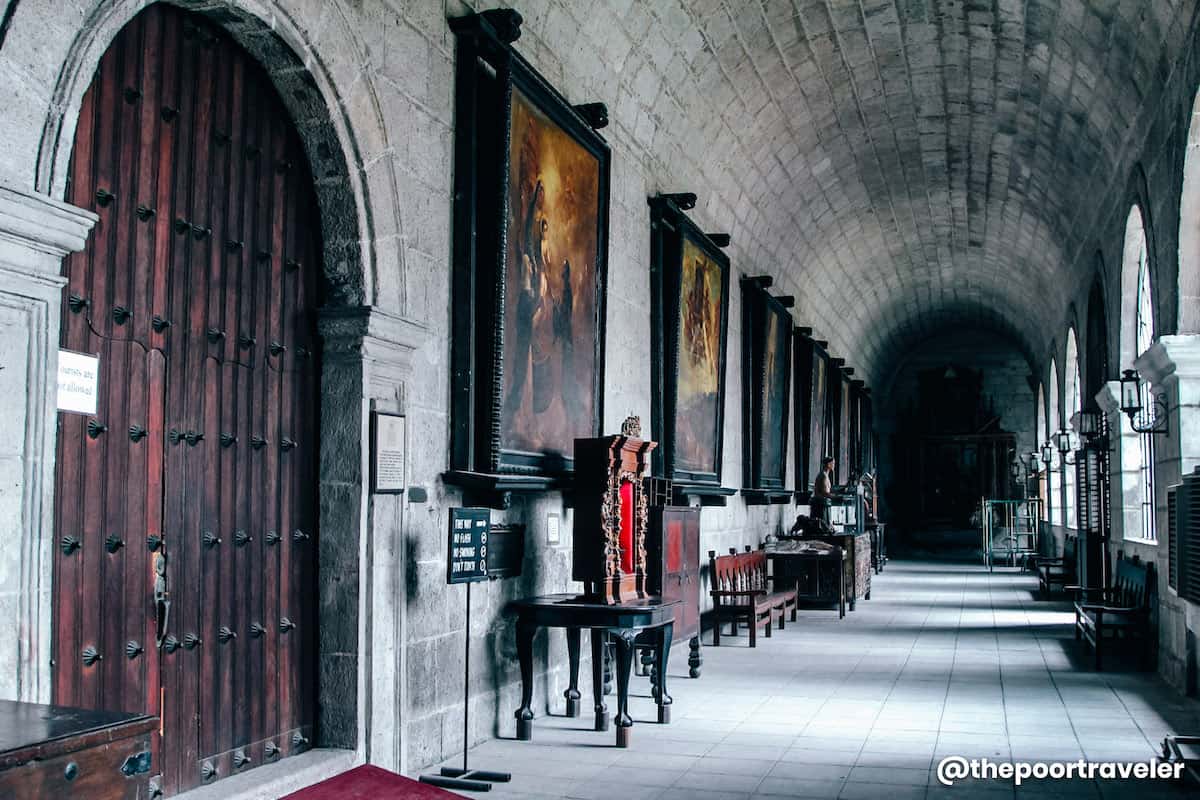 ---
San Agustin Museum Entrance Fee
P200: Adults
P160: Students, PWDs, Seniors, & Frontliners
---
How to Get to San Agustin Church
If you take the LRT 1, alight at either of these two stations: Carriedo Station or Doroteo Jose Station.
From Carriedo Station, take a Pier-bound jeepney and tell the driver to drop you off at Manila Cathedral. The fare is P8-10. Travel time is about 10 minutes, depending on the traffic condition.
From Doroteo Jose Station, ride a Baclaran/Mabini jeepney and tell the driver to drop you off at Intramuros. The fare is P8-10. The travel time is about 15 minutes, depending on the traffic condition.
---
San Agustin Church Interesting Features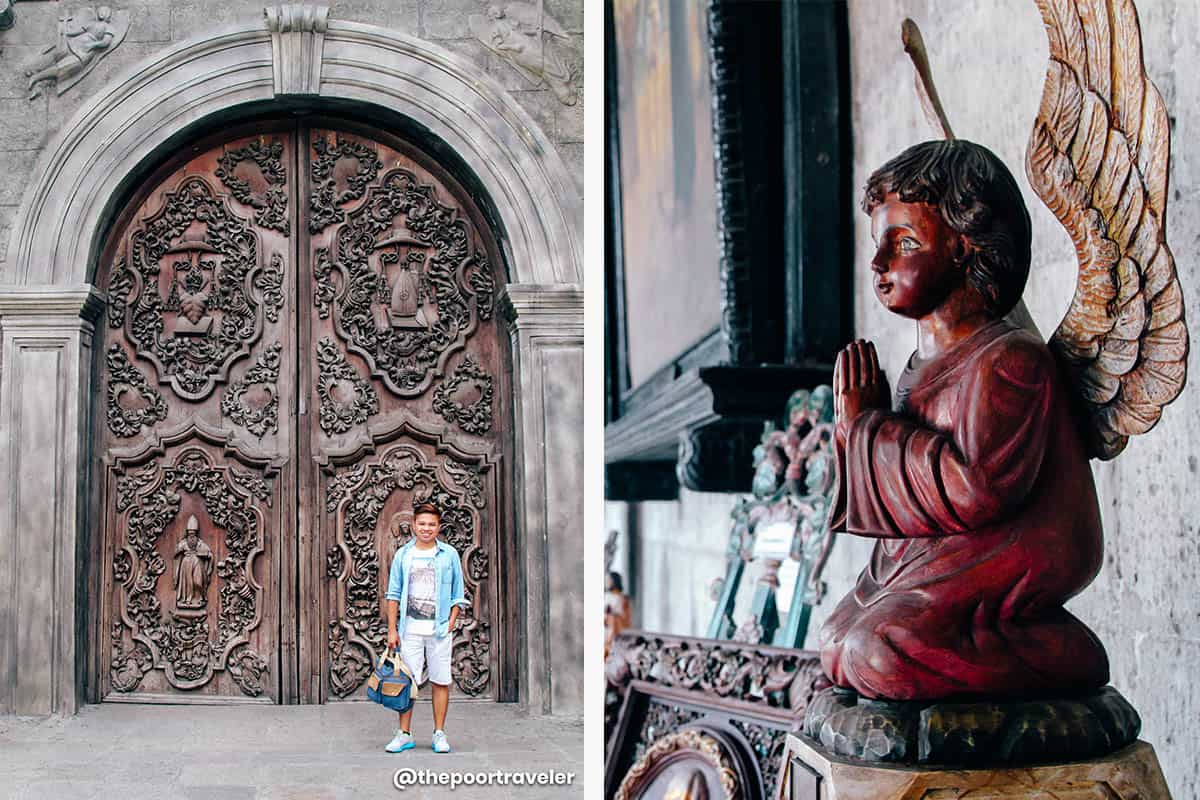 Main Entrance Doors. These intricately carved wooden doors scream Baroque influence.
Ceiling. Look up and see the masterpiece of two renowned Italian artists — Giovanni Dibella and Cesare Alberoni. Don't forget to appreciate the 19th-century chandeliers too!
Main Altar. The elaborate carvings and reliefs on the retablo and the pulpit stay true to its Baroque theme.
Museum. The former monastery beside the church is converted into a museum that displays ancient church relics and religious artworks.
The Tomb. The church is also the final resting place of some of the archbishops, previous governors-general, and well-known Spanish conquerors like Miguel López de Legazpi, Juan de Salcedo, and Martín de Goiti.
Other Notable Features. Grand pipe organ, the choir loft's 17th-century Molave seats, the antechoir's 16th-century crucifix, and the 14 side chapels.
---
San Agustin Church Mass Schedule
The face-to-face mass celebration is still not possible as of writing, but before the pandemic, here are the mass schedules.
8:00 AM / 10:00 AM / 6:00 PM (Sunday)
6:45 AM / 5:30 PM (Monday – Friday)
7:00 AM / 5:30 PM (Saturday)
---
San Agustin Church Wedding Rates and Policies
Basic/Regular Requirements
The bride and the groom must submit a new copy of the Baptismal Certificate.
The bride and the groom must submit a new copy of the Confirmation Certificate.
Get a Marriage License from the Civil Registry of the city or town of either of the couple.
The couple must secure a Certificate of Freedom to Marry.
The couple must attend the Canonical Interview.
The couple must attend the Pre-Cana Seminar: Saturday at 1:00 PM.
The couple must secure the Ecclesiastical Banns.
The couple must provide a list of names and addresses of sponsors.
Wedding Rates
There are no set rates. It will vary based on inclusions, requests, and other factors. But to give you an idea, it ranges from P15,000 to P35,000. If you have questions, you may contact them at (02) 8 527-2746.
---
Attractions Near San Agustin Church
Fort Santiago
Plaza Moriones
Manila Cathedral
Bahay Tsinoy
Casa Manila
Intramuros and Rizal Bagumbayan Light and Sound Museum

Museo de Intramuros
Baluarte de San Diego
Baluarte de San Andres
National Museum Complex
Rizal Park/Luneta Park
---
Frequently Asked Questions
Is there an entrance fee? For church visit, admission is FREE! Note that when mass is ongoing, touring is not encouraged or not permitted at all. I read that when a wedding ceremony is in progress, the management will limit access or you cannot enter at all. The church's museum has entrance fees. (See rates above.)
Is there a parking space? Yes, in front of the church.
Where can I contact the office/management?

Address: General Luna Street, Intramuros, Manila, Philippines
Contact Number: (02) 8 527-2746
Facebook Page: San Agustin Church, Intramuros, Manila
---
Top Manila Hotels
Here are some of the top hotels in the city of Manila, as scored by Agoda customers:
---
More Tips on YouTube ⬇️⬇️⬇️