A more updated version of this article can be found here:
➡️ UBE EXPRESS NAIA SCHEDULE
---
Here are the P2P bus schedule and fares for the following routes: NAIA TO ROBINSONS GALLERIA (ORTIGAS) and NAIA to ROBINSONS GALLERIA (ORTIGAS).
For those who want to go in and out of Ninoy Aquino International Airport or NAIA, they have only a few, expensive options — by taxi or Grab. However, UBE Express wants to change this by providing commuters with a comfortable ride at an affordable price.
If you live in or near Ortigas, you now have the option to take this bus.
UBE Express Pickup and Drop Off Points
In Ortigas, you'll find the pick-up and drop-off point at Robinsons Galleria, on the driveway EDSA side, behind EDSA Shrine. The fare is P70 for a one way ride.
Here are the airport stops of UBE Express.
NAIA Terminal 1: Arrival area
NAIA Terminal 2: Arrival area, Bay 17
NAIA Terminal 3: Arrival area, Bay 10 Arrival area
NAIA Terminal 4
The bus will not follow the order stated above. The likely first stop is NAIA Terminal 3 because it gets the most traffic, and departing and arriving flights. The first bus departs from Robinsons at 6am and the last bus will leave at 9pm. The bus leaving NAIA to Robinsons also follows the same schedule.
The arrival and departure times are not always exact. You have to factor in the traffic and the number of passengers.
---
NAIA-ROBINSONS GALLERIA, ROBINSONS GALLERIA-NAIA SCHEDULE
Last updated: July 4, 2019.
Fare: P70
Travel time is 45 minutes to 2 hours, depending on traffic conditions. Journey can be pretty fast, around 40 minutes, in the early morning. But as soon as the sun rises and the rush hour kicks in, the traffic can drag the travel time to up to 2 hours.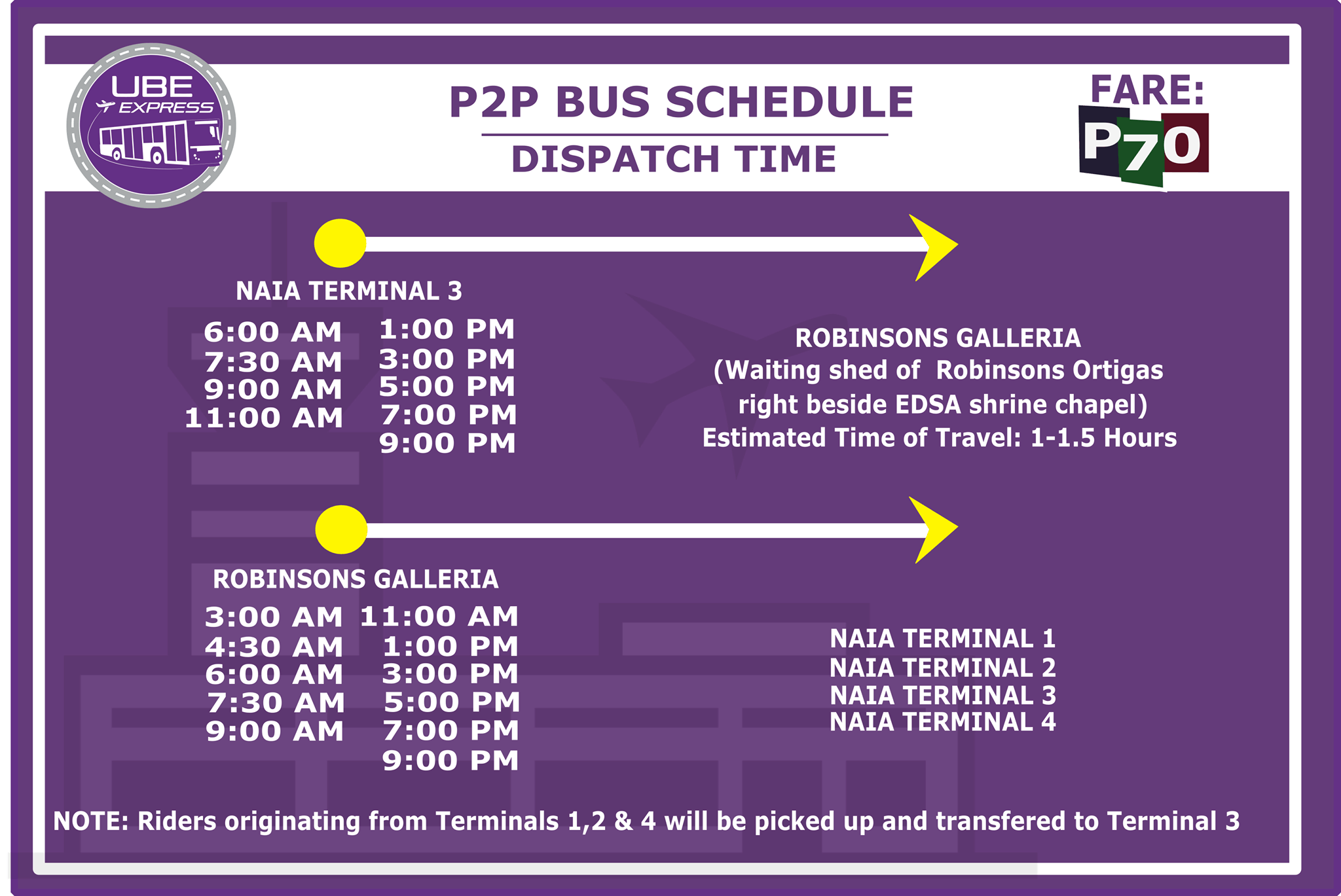 We indicated the date this timetable was last updated. Although we try to do our best, we cannot guarantee that the info above is up-to-date all the time. We only rely on the timetables released by UBE Express and posted at public spaces. We still strongly encourage you to call UBE Express directly for the current schedules.
---
Important Reminders
Always allot more time to reach the airport because the unexpected can happen. If something does happen (like a sudden downpour or an accident), the already terrible traffic of Metro Manila will get worse. The trip to the airport may take longer than it should when this happens. The ideal time to leave your house is 4 to 5 hours. It is better to be early than late and miss your flight. The recommended arrival time at NAIA is 2 hours before for a domestic flight and 3 hours for an international flight.
You cannot alight at any time during the ride until the bus reaches a designated station.
There is a chance that the bus will not leave or depart at the exact time. Several factors (traffic is a major one) affect the schedule, so always be patient.
The company may change the timetable of departures without posting it online or updating their online accounts. Make a phone call or go to the station a day before your departure to inquire. Download the company's app or call them for regular updates.
We will update this guide as we get details about new routes, changes in schedule and other pertinent information. If you have updated information, you can leave a comment below so we can improve the post.
---
About UBE Express
UBE Express is a top quality point-to-point bus that travels from different parts of Metro Manila to the airport. Airfreight 2100 Inc operates the company. The service is in its infancy stage, but its growth is accelerating. This is so because it addressed a gap and need in the public transportation system in the country. During the early years of its operations, the bus plied the routes between NAIA, Manila, Pasay and Makati. It has recently included routes to and from Ortigas, Alabang, Cubao and Nuvali in Laguna.
Manila's traffic is a problem that isn't going anywhere anytime soon. It is difficult to get from point A to point B without losing precious time. Those who need to reach the airport will often encounter this problem. This is one of the reasons ride-sharing apps are popular options for commuters who want to reach their destination comfortably, even if they have to pay more for the service. UBE Express wants to change this by providing commuters with a comfortable ride at an affordable price.
The company has first-rate air-conditioned buses that have features that make your ride comfortable and safe these include CCTV, GPS, luggage compartments, ramps for wheelchairs, spacious seats and legroom, and onboard Wi-Fi. You don't have to worry about making unnecessary stops that make a trip to the airport longer than it should be. UBE Express takes you directly from the pick-up point to NAIA.
---
Where to Stay Near NAIA
If you want to stay at a hotel near the airport, here are some options.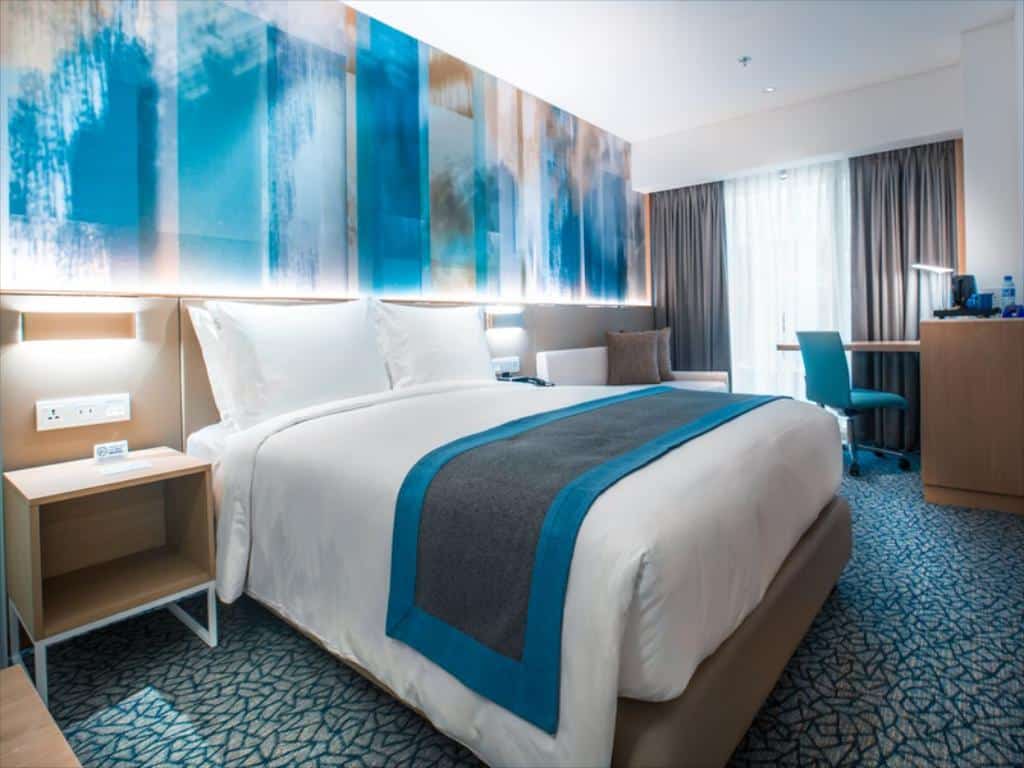 ---