For many Filipinos, Christmas is the most important holiday. It is a time when generosity and love for one another are magnified. People look forward to celebrating Christmas with friends, families, partners, and even colleagues. The Philippines might even hold the record for the longest Christmas celebration, which starts in September and extends to January the following year.
Many choose to spend the Yuletide season with their loved ones out of the country. But most of us, for many reasons, prefer to stay at home or go somewhere not too far. If you're looking for attractions to visit on a day trip, here are some of the Christmas destinations near Manila.
San Fernando, Pampanga
Pampanga is known for its intricate colorful lanterns. In fact, the city of San Fernando is hailed as the Christmas Capital of the Philippines because of the lantern products and the annual event, displaying the creativity and craftsmanship of the Kapampangan people (Pampangos or Pampangueños). This "big" event, which happens on a Saturday prior to the Christmas day celebration, is the Giant Lantern Festival Parade (locally called Ligligan Parul), where the different barangays of San Fernando compete for the best in giant lantern title.
The main event for this year is scheduled on the December 15, and nightly exhibition will run from December 16 to January 2, 2019.
Before or after the celebration, you can try the gastronomic specialties of Pampanga, which is widely considered the Culinary Capital of the Philippines.
How to get to San Fernando: From Cubao, ride a Genesis, Five Star or Victory Liner bus to San Fernando City. Fare: P120.
---
Taal Heritage Town, Batangas
Old streets always foster a nostalgic atmosphere. Imagine a whole town laden with historic structures, brimming with stories of the past. Such is the town of Taal, often referred to as a heritage town. The poblacion (town center) itself is listed as a National Historical Landmark. The map of Taal is not only dotted with beautiful ancestral houses but also graced by Minor Basilica of Saint Martin of Tours, or simply Taal Basilica, which is said to be the largest Catholic church in the Philippines and in Asia.
Situated between the basilica and the Municipal Hall of Taal is the Taal Park, adorned with colorful lights and displays from late November to January. The Christmas Light Display runs from 6PM until 11PM. After taking photos, you can take a short walk to a nearby street where you can feast on the various local delicacies and other street food offerings. The illumination isn't grand or sophisticated but the surroundings have this old town Christmas feels.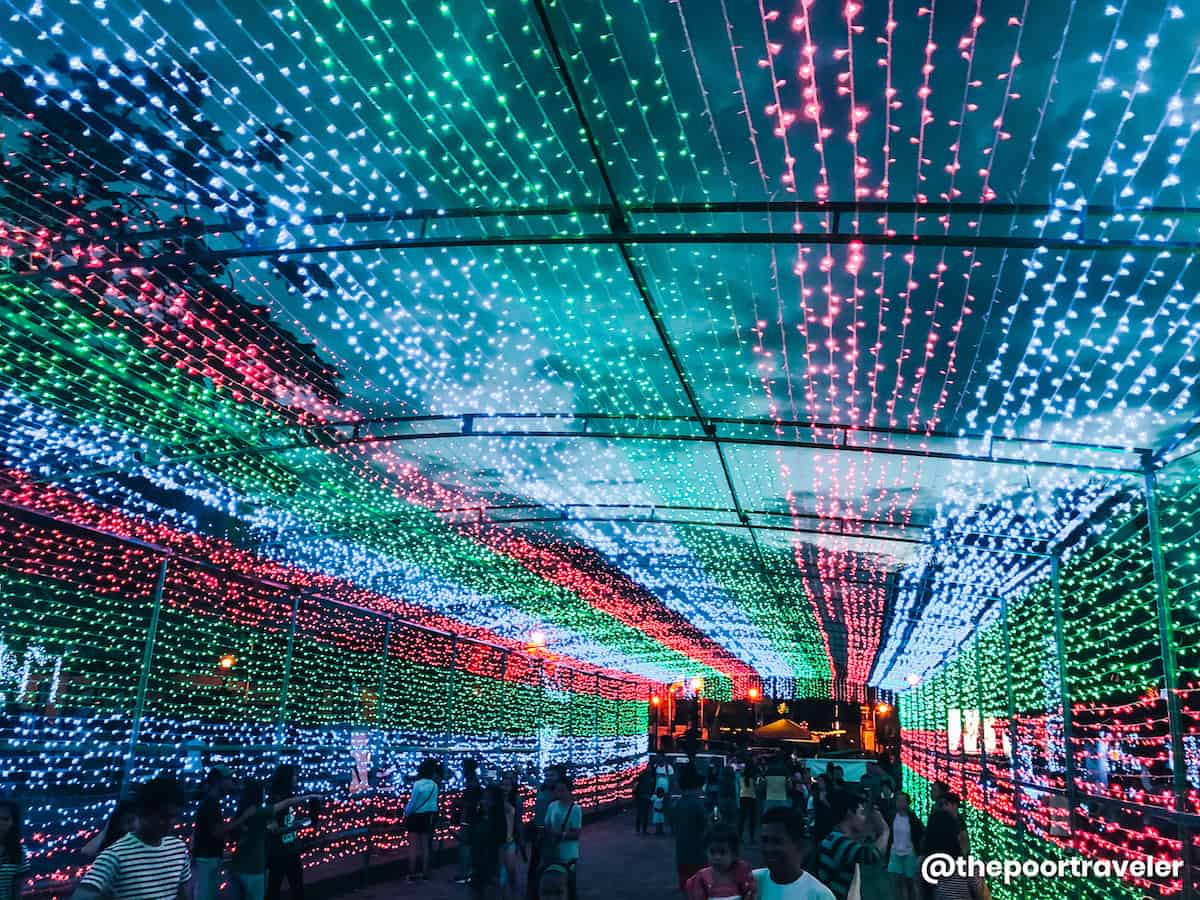 How to get to Taal: Taal is just three hours from Manila. From LRT Buendia or Cubao, board the bus bound for Lemery. Get off at Flying V by the Diversion Road junction. Fare: P210. From here, you may take a jeepney or tricycle to the basilica.
---
Santa Rosa, Laguna
Some say that Christmas is for kids. Theme parks are especially exciting in Christmastime. The great part is, they can be entertaining to kids and adults alike. Enchanted Kingdom in Santa Rosa is about an hour away from Manila. As expected of the first and only world-class theme park in the Philippines, it is a perennial favorite during the holiday seasons. Enjoy the rides, the fun shows, and the exciting skilled games where you can get a chance to win prizes. More info about it here: Enchanted Kingdom Travel Guide.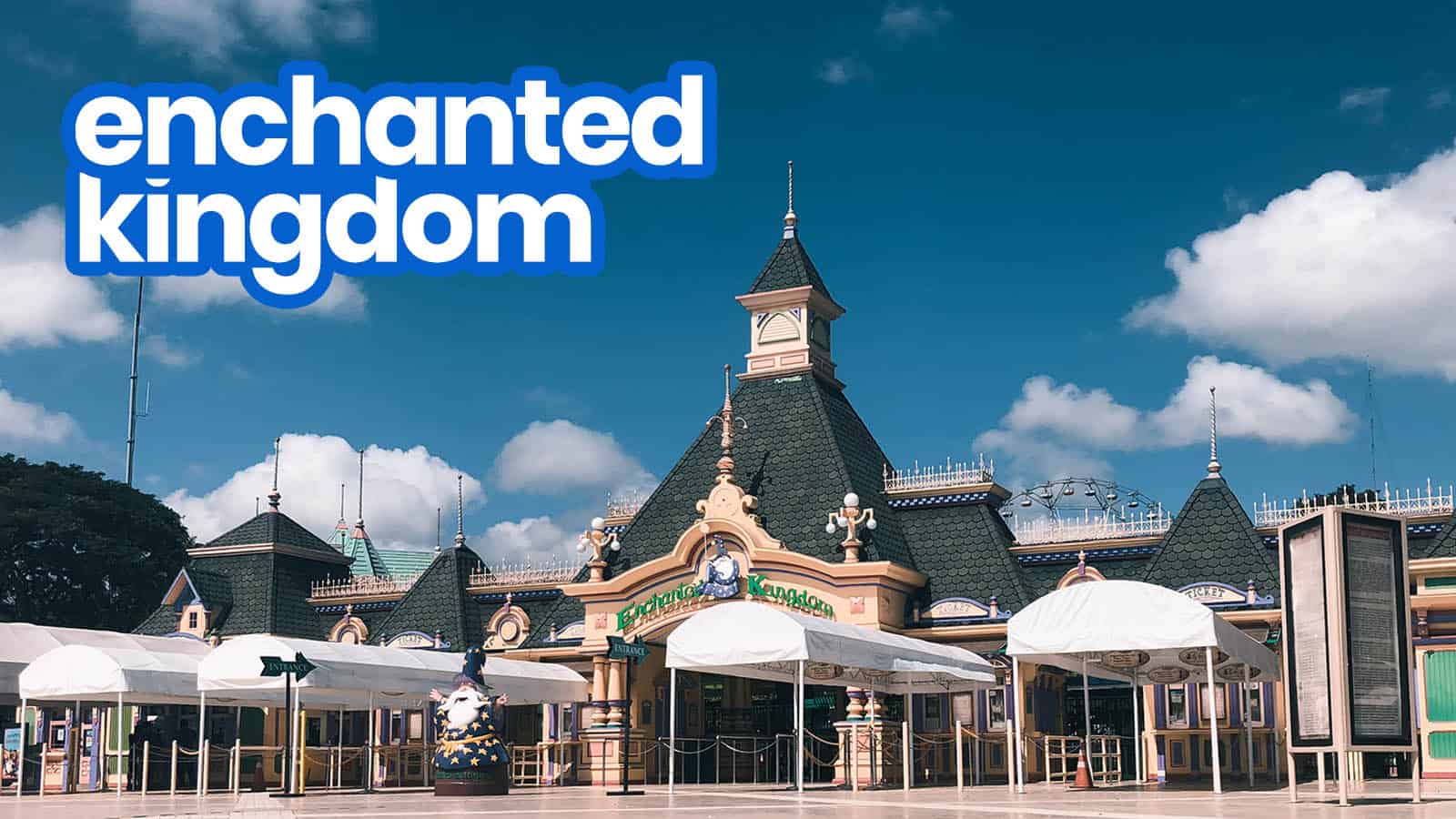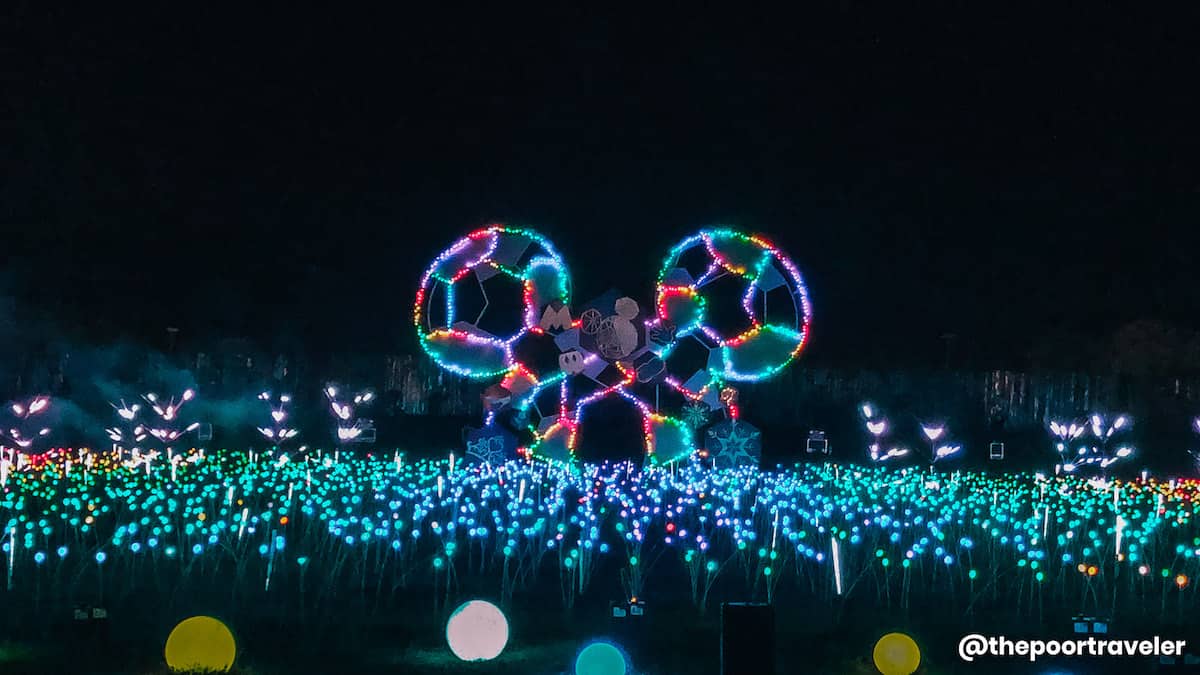 Not too far from Enchanted Kingdom is one visually stunning attraction that everyone will love watching (or capturing) — the Nuvali Magical Field of Lights. The light show is composed of thousands of lights in different shapes and sizes, changing colors and dancing to the tune of local Christmas songs and Disney soundtracks. Leading to the Magical Field are other displays such as the LED Christmas trees and the 50-meter long light tunnel. This is in partnership with Disney. Entrance is free and you can stay as long as you want. The light show starts at 6PM and ends at 10PM; it runs every 30 minutes. It's just across Solenad 2 and behind S&R.
---
Tagaytay City
We don't get white Christmas here in the Philippines, but as far as temperature is concerned, the closest accessible destination is Tagaytay City.
Tagaytay is a popular summer destination near Manila. But a lot of developments happened in just a short amount of time, shaping it not just a summer stop but also a haven for weekend warriors. Aside from the malls, the condominiums, restaurants, and hotels, Tagaytay has recreational parks like Sky Ranch. The amusement park is located along Tagaytay-Nasugbu Highway, featuring fun rides, restaurants and shops. The most prominent structure is the Sky Eye Ferris Wheel. Towering at about 60 meters, it provides a scenic view of the Taal Volcano.
On a few dates in December and January, Sky Ranch holds a spectacular fireworks display, which is something that couples will find romantic and families delightful!
If you continue driving along the Tagaytay-Nasugbu Highway, there's another attraction just minutes past the Nasugbu welcome arch — Caleruega Chapel and Retreat Center. The chapel, which is most famous as a wedding venue, is officially named The Chapel of Transfiguration. The chapel's size is not too huge, which is actually perfect for intimate wedding ceremony. Aside from the main chapel, the property also houses a koi pond, a hanging bridge, a cenaculum, camping site and amphitheater, tent chapel, garden café, and the retreat houses.
---
Makati City
Resonant of its sister real estate, Nuvali, the Ayala Triangle Garden's Festival of Lights is refreshing sight amid the especially bustling vibe of the Makati Business District. This year, the lights and sound show officially launched on the 9th of November, following a Disney-inspired theme with a mix of traditional Filipino Christmas carols. But unlike Nuvali, which is located in a rather rural setting, the Ayala Triangle Garden is surrounded by towering corporate buildings, providing a dazzling and warm respite for the commuting public. You can savor the Festival of Lights in Makati until January 8.
Makati also boasts a cluster of malls for your shopping convenience, if you still need to shop for Christmas gifts. You can hop from one mall to another with less trouble as these malls are just a few minutes walk from each other. Should you ever get hungry, the Ayala Triangle alone is home to restaurants where you have an option to dine outside and relish the verdant surrounding. The malls provide more choices, from high-end restaurants to the simple foodcourt grubs and refreshments.
How to get there: The closest MRT Station is Ayala Station.
---
2️⃣0️⃣1️⃣8️⃣ • 1️⃣2️⃣ • 1️⃣7️⃣