A more updated version of this article can be found here:
➡️ ENCHANTED KINGDOM NEW NORMAL GUIDE
---
2018 • 12 • 1
Welcome to our ENCHANTED KINGDOM TRAVEL GUIDE. This article contains information about this Laguna theme park including directions, entrance ticket prices, operating hours, best rides, and other tips! Enjoy!
I remember the ripples of excitement I felt when I was a child upon hearing the news about a huge theme park's grand opening. It was big news because it was the first ever world-class theme park in the Philippines at that time. It was huge compared to those amusement parks and small-town carnivals I used to enjoy as a kid with my cousins. What's more thrilling was that it's just a few minutes away from where I live. Go southerners!
After 23 years, Enchanted Kingdom is still living up to its slogan, "The Magic Lives Forever!" No matter how many times I've been here, each time was a different experience. Or maybe it's just me. Hehe. It caters to all age groups and offers a magical venue for various occasions and events such as birthdays, anniversaries, weddings, team building, corporate family day, field trips, and many more!
Additional facts about Enchanted Kingdom (EK):
October 19, 1995. EK launching. It officially started its operations.
Location. San Lorenzo South, City of Santa Rosa, Laguna, Philippines
Themed Areas. This 25-hectare theme park is divided into eight zones — Victoria Park, Portabello, Spaceport, Jungle Outpost, Brooklyn Place, Midway Boardwalk, Boulderville, and the Cultural Zone.
Eldar the Wizard. EK's official mascot.
Whether it's your first time or your nth time now, here are some of the things you might want to know (or check again) before you go.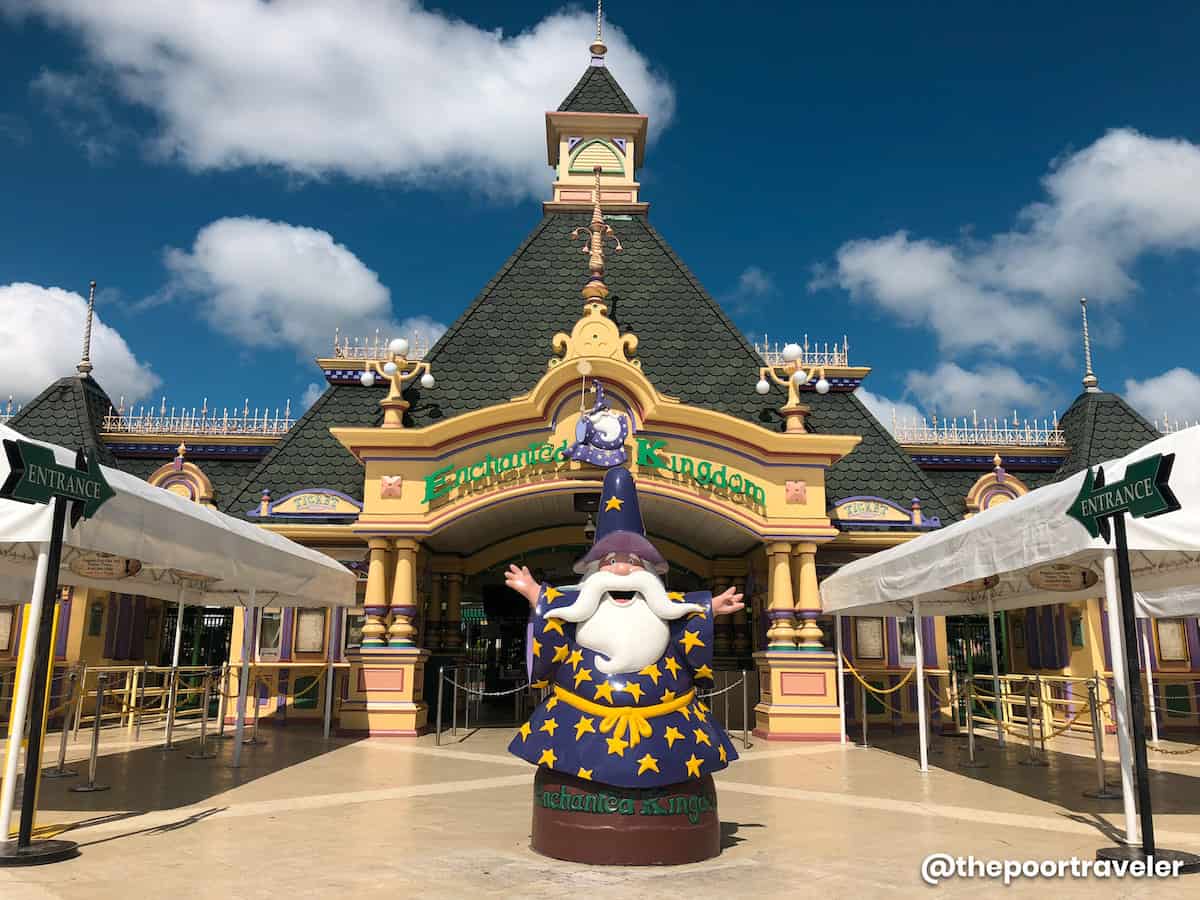 WHAT'S COVERED IN THIS GUIDE?
What are the operating hours of Enchanted Kingdom?
The operating hours vary depending on the date and season. But these are the usual hours that Enchanted Kingdom is open.
Weekdays: 12:00 NN – 07:00 PM
Weekends: 11:00 AM – 09:00 PM
This schedule can change. For example, on some dates in off-peak season, the park may be open from 2pm to 9pm. But on some days in peak season, the park opens as early as 10am and close as late as 12 midnight.
During the lean season, the park is usually closed on Mondays and Tuesdays. There are also dates when the park is closed for park maintenance, for a private event, or for weather-related reasons.
Hence, it is important to check the official website for the schedule and calendar of events before going.
---
How much is the Enchanted Kingdom admission ticket?
There are two kinds of ticket rates and four types of admission tickets. The two kinds of ticket rates are the weekday rates and weekend/holiday rates, while the four types of admission tickets are the regular day pass, junior day pass, senior citizen/PWD, and junior PWD.
Weekday Rates
Regular Day Pass: P800
Junior Day Pass: P500
Senior Citizen/PWD: P500
Junior PWD: P350
Weekend/Holiday Rates
Regular Day Pass: P900
Junior Day Pass: P600
Senior Citizen/PWD: P600
Junior PWD: P400
You can get a DISCOUNT if you book with Klook!
✅ RESERVE DISCOUNTED TICKETS HERE!
Notes:

Height requirement is at least four feet for adults and at least three feet but not more than four feet for kids.
Admission fee for kids below three feet is waived EXCEPT for Agila EKsperience ride.
Senior Citizen rate is inclusive of 20% mandated discount and EK Special discount.
All ticket rates are inclusive of entrance fee and unlimited rides EXCEPT for the gated attractions.
Ticket rates are also inclusive of one (1) Agila EKsperience ride. Should you wish to ride it again, you need to pay the additional cost.
---
Where to buy Enchanted Kingdom tickets?
You can purchase your tickets at the ticket booths situated at the front gate of the park. The booths will open an hour before the park's opening.
But if you want to score a slight discount, you can book through Klook!
✅ RESERVE DISCOUNTED TICKETS HERE!
---
What is EKsperience the Magic Card?
It is EK's loyalty program which grants the cardholder great deals, discounts, and other perks! Here are some of the privileges and exclusive treats:
One year unlimited park admission (including rides except for gated attractions)
Free Agila EKsperience ride per visit
Cardholder's companions (not more than four persons) are entitled to 20% discount on Regular Day Pass and Regular Agila Pass
One free mini cake when the cardholder visit the park during his/her birth month
Cardholders are entitled to partner merchants' exclusive discounts and freebies
To see the list of partner merchants and other privileges and to know how to be a member, check it here: EKsperience the Magic Card. You may also visit EK's Magical Guest Relations Office located at the entrance.
---
What is Agila EKsperience Ride?
The first and only flight motion simulation theater in the Philippines. EK claimed it to be the largest in the world, boasting a nine-story glass-encased building and covering 6,000 square meters of Filipino-inspired attraction. Aside from the main feature, which is the film where you will see the beauty of the Philippines through the point of view of the Agila (Philippine Eagle), the theater also has interactive stops prior to the 4D film viewing and a souvenir shop named Pugad, which sells all Philippine-made items.
Agila EKsperience is the first attraction under EK's Cultural Zone. Below are the ticket rates:
Regular: P500
Junior: P350
Senior Citizen/PWD: P350
Junior PWD: P250
Notes:

Rates are the same for weekdays and weekends.
Ride all you can.
Senior Citizen rate is inclusive of 20% mandated discount and EK Special discount.
Height requirement is at least four feet for adults and at least three feet but not more than four feet for kids.
---
When is the best time to visit?
It is best to choose to go on a Wednesday, Thursday, or Friday.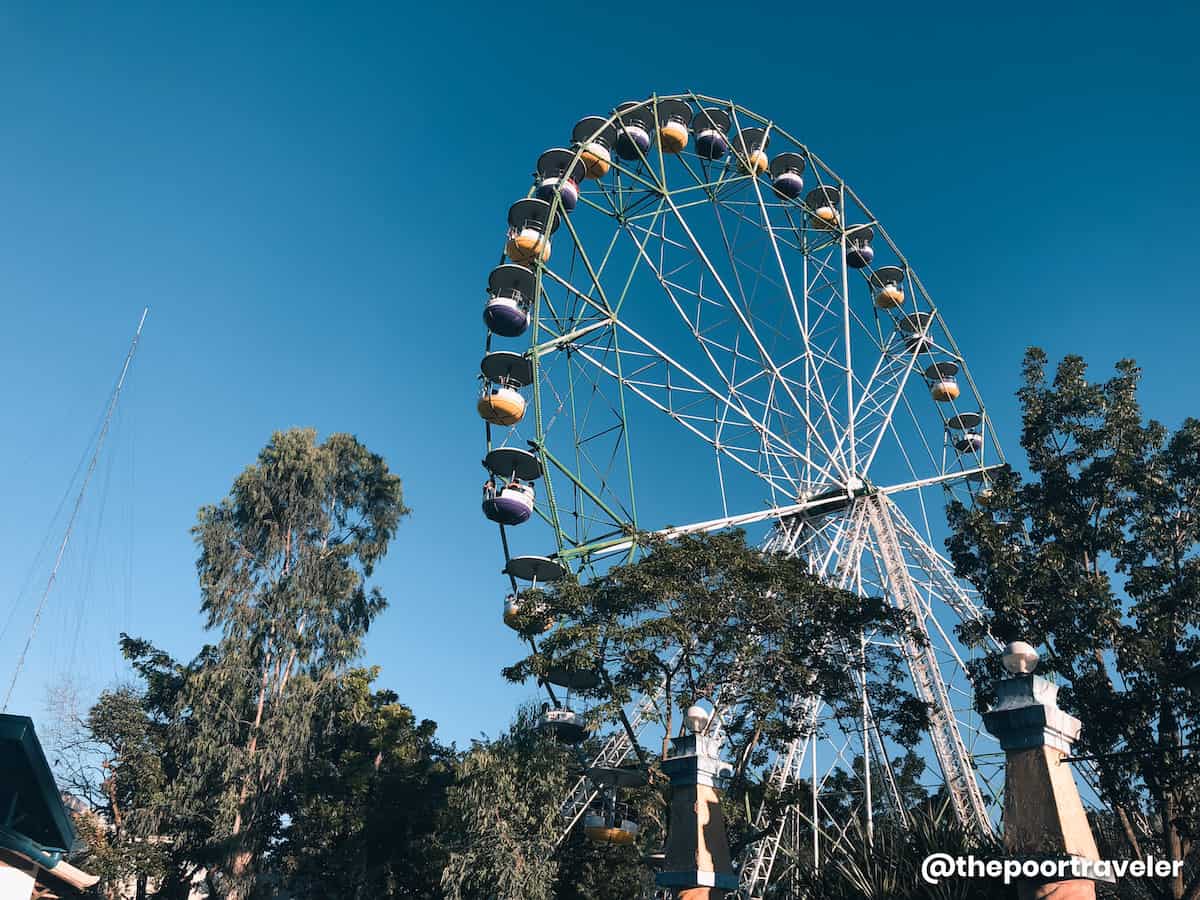 The park's peak season is during the "-ber" months. It is normally crowded on weekends, but the busiest is during the holidays, especially around Christmas and New Year.
---
How to get to Enchanted Kingdom from Manila?
By Public Transportation
From Cubao or Pasay, board a bus to Balibago.
Get off at Waltermart Santa Rosa.
From Waltermart, you can hire a tricycle straight to Enchanted Kingdom.
By Private Car
Take Santa Rosa exit on South Luzon Expressway.
From the toll, turn left and continue driving until you reach an intersection.
At the intersection, turn right and continue driving until you see Enchanted Kingdom on the right side.
By EK Shuttle Service
EK offers shuttle service which is located on the 2nd Level of Ayala Park Square. The Park Square is just in front of Dusit Thani Manila. Here are the rates:
EK Shuttle Only: P360 (Roundtrip) / P180 (One-way)
Admission Ticket + Roundtrip Shuttle Service: P1,100 (Weekdays) / P1,200 (Weekends/Holidays)
---
What are the best attractions?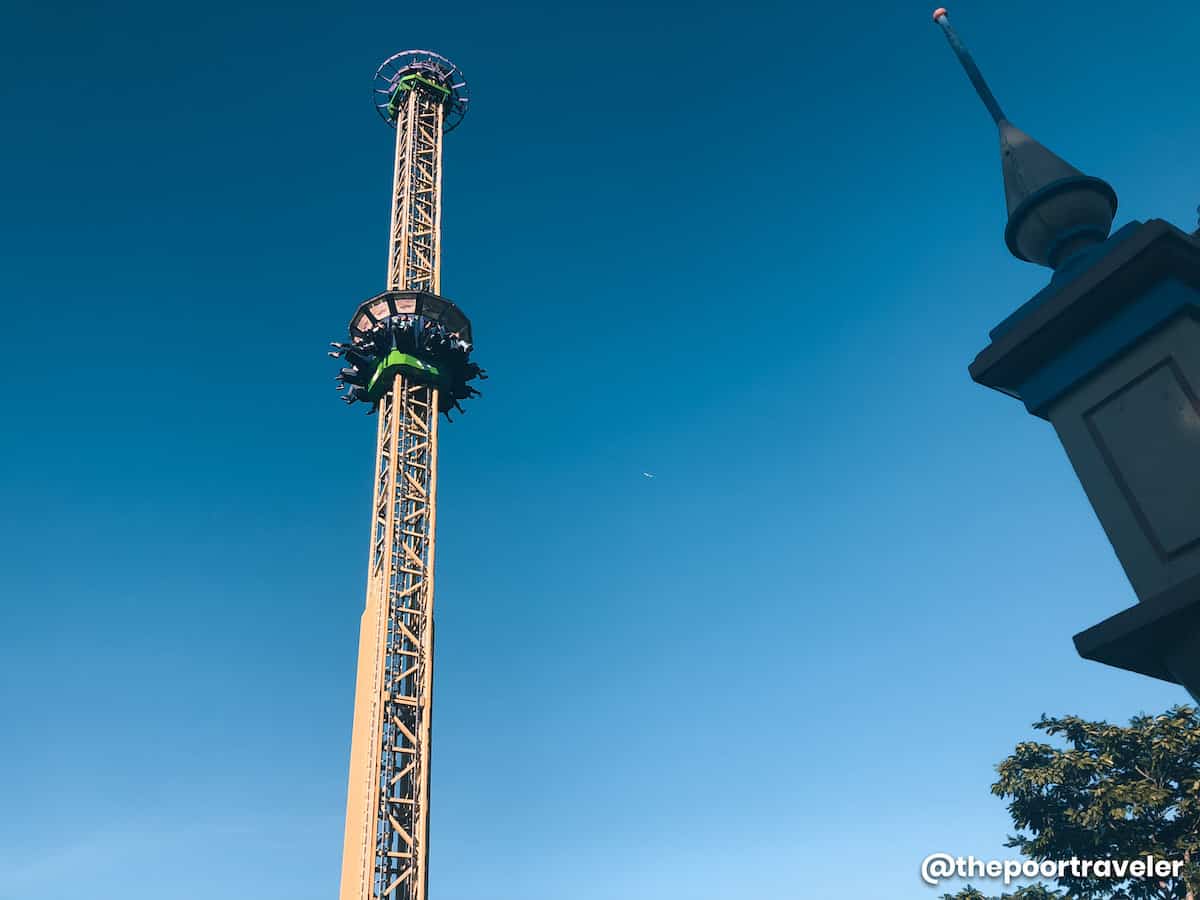 Enchanted Kingdom's rides are classified into six categories: kids, teens, family, water, extreme thrill, and the gated attractions.
Below are the most popular rides (in no particular order). Expect long queues, especially during peak season.
EKstreme Tower Ride
Space Shuttle
Jungle Log Jam
Rio Grande Rapids
Anchor's Away
Disk-O-Magic
Air Race
Wheel of Fate
Flying Fiesta
Rialto
Agila Eksperience
---
What are the gated attractions?
Gated attractions are activities or rides that have separate admission fees, meaning they are not included in the regular day pass unlimited ride perks. If you wish to experience them, you have to pay extra. These are:
Laser Mission
Fun Kart
Kindermagic
7D Interactive Motion Theater
XPP Paintball
Ghostbusters Adventure Live
---
How long do I have to wait in line?
It really depends on the attraction and the time of your visit (peak season or lean season). For the popular attractions, it may take you 30 minutes to over an hour, even reaching two hours during peak season.
---
How can I maximize my time in the park?
Well, long queues are expected at popular theme parks like Enchanted Kingdom, and peak season will really test your patience as a great number of visitors flock to the park. Not only will you spend time waiting in line for the rides but also for food and using the toilet.
It is best to choose to go during weekdays or lean season. But if you can't help visiting during the holidays and peak season, you might want to consider these:
Plan your visit well. List the rides that you don't want to miss and rank them. Prioritize the popular ones.
Go to the park early, so you will have more time. Moreover, you can go through your list and start ticking off your priority rides while it's still early and there's not too much crowd yet.
Take a brunch and have a late dinner. Stuff yourself before entering the park, so you won't have to waste your time waiting for your food. Do not forget to hydrate yourself.
Note: These are just suggestions. You may choose to follow or not follow these.
---
Where to eat inside Enchanted Kingdom?
The park has a number of food concessionaires in the park — restaurants and food stalls/carts. The prices are understandably marked higher than normal, but if you get really hungry and thirsty, here are the food places inside the park:
Amazon Grill
Diggers Treat
Jungle Wraps
Parkside: Flame Grill Burgers
Disk-O-Dine
SFR: Stir Fried Rice
Magnolia Ice Cream Flavor Shop
Note: This list does not include the food carts and stalls all around the park.
---
Am I allowed to bring my own food inside the park?
Food and drinks from outside are NOT permitted inside the park except for special cases such as baby food and formula food, special dietary requirements or diet for medical purposes. You can eat outside, but be sure to get a stamp before you exit, so you can still get inside the park.
---
Are there ATMs at Enchanted Kingdom?
YES! There are ATMs on the left side of the entrance gate, near the restrooms. Here are the machines available: BPI, RCBC, UCPB, and Security Bank.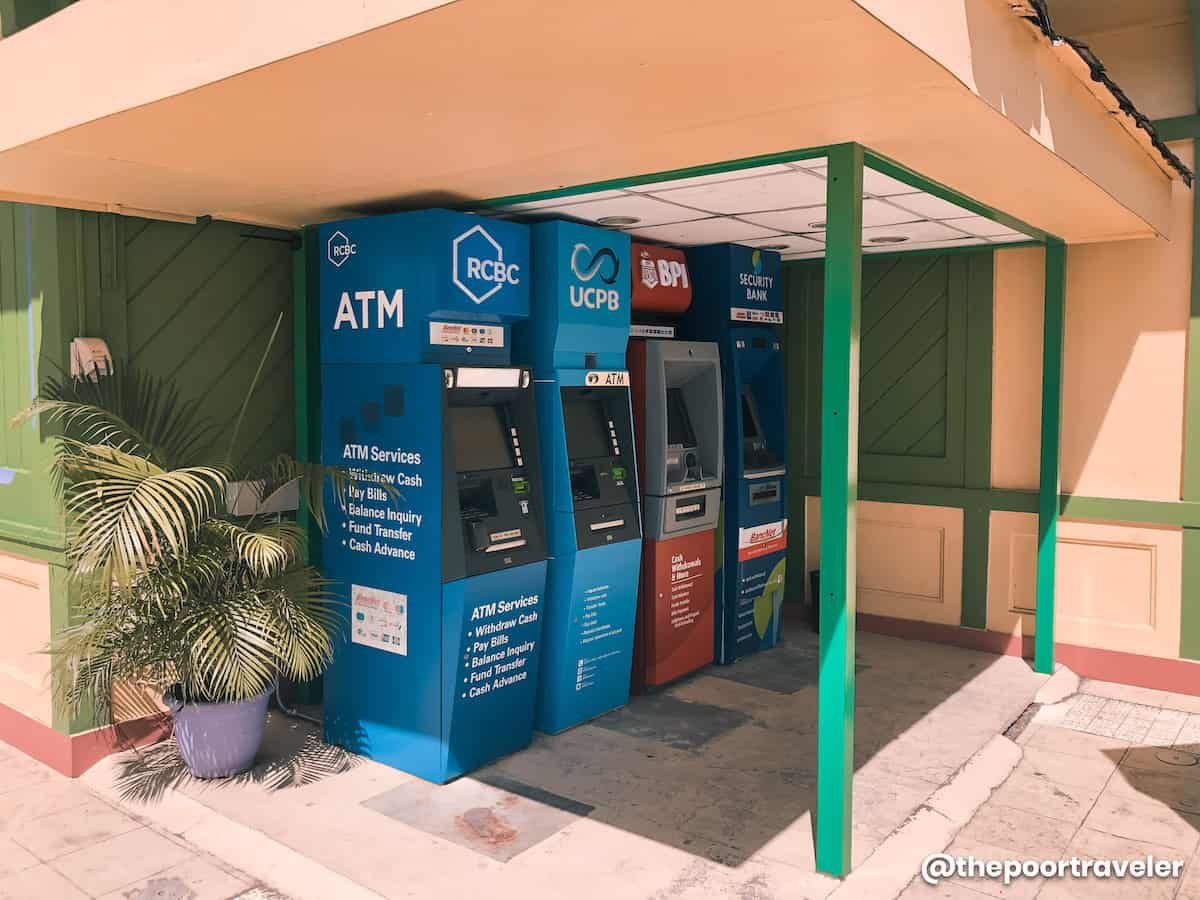 ---
Are there lockers inside Enchanted Kingdom?
YES, there are lockers inside Enchanted Kingdom.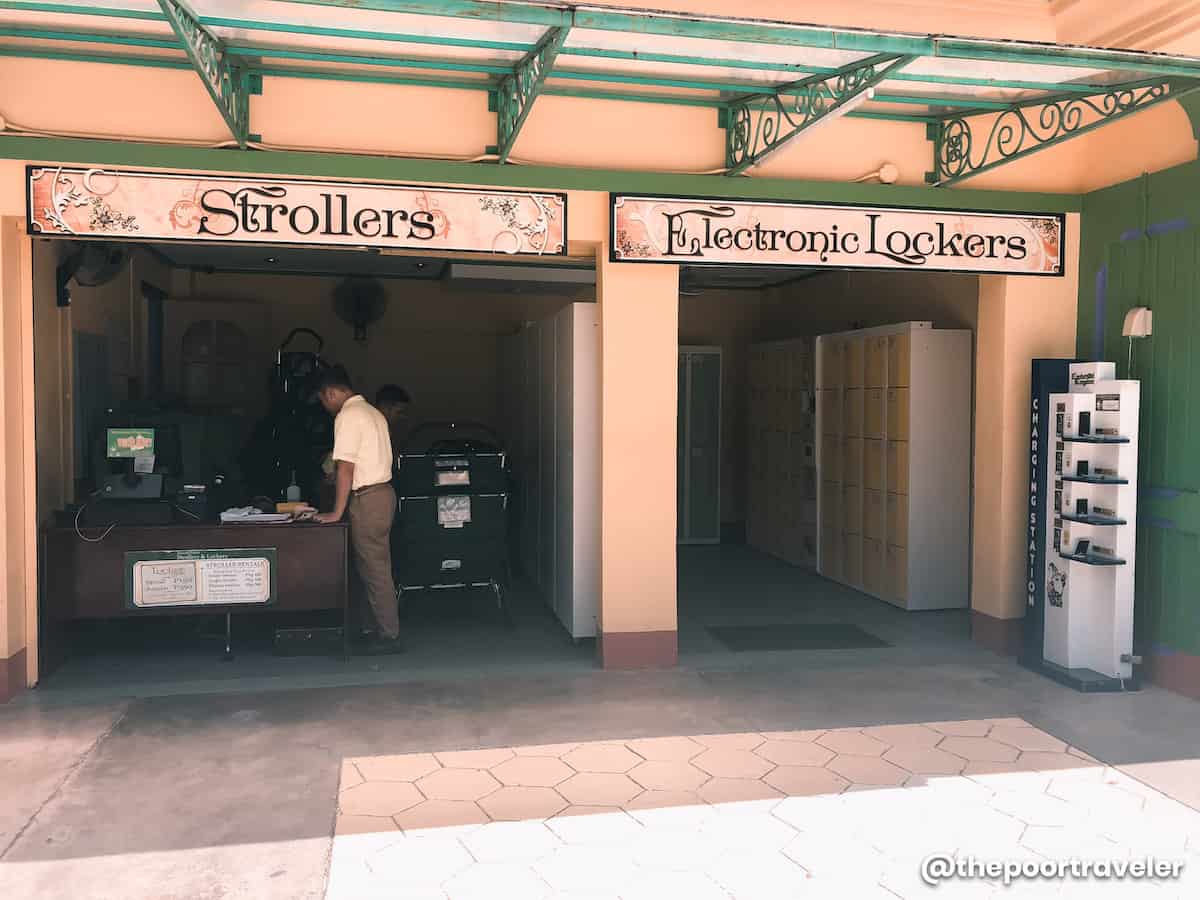 If your bag is slowing you down and restraining you, lockers are available at the Victoria Park zone. You can easily spot the area on the right side upon entering the park. The rate varies depending on the size:
Regular Locker: P150
Jumbo Locker: P350
---
Are pets allowed inside Enchanted Kingdom?
NO. Only seeing eye dogs or guide dogs are allowed.
---
Where can I inquire about event packages?
For corporate packages, school trips, and celebration packages, you may browse the package inclusions and learn more details here: EK Magical Packages.
---
Other Enchanted Kingdom Tips
Wear comfortable footwear. You will be doing a lot of standing, walking, and waiting in line.
Bring extra clothes. Rides like Rio Grande Rapids and Jungle Log Jam will drench you. It's also easy to sweat when exploring under the sun. It's always best to bring a change of clothes.
Bring sun protection.
Bring your own toiletries and medicine.
Have an extra battery for your camera or bring your power bank. You don't want to miss the opportunity to snap those happy moments.
Free admission for those visiting six days before or six days after their birthday.
---