How do you wake up a sleepy town? With a giant splash of cold water.
The municipality of Luisiana in Laguna has been dormant, barely earning a blip in the tourism radar. But as more and more Manila-based adventurers scour the surrounding provinces for amazing attractions that are easy to reach, it was only a matter of time for Luisiana to wake from slumber. And the mighty Hulugan Falls takes credit for that.
WHAT'S COVERED IN THIS GUIDE?
Understanding Hulugan Falls
While Laguna is most well-known for cradling the largest lake in the Philippines, it is also home to several waterfalls that punctuate the rivers that the lake spills into. Hulugan Falls is one of them.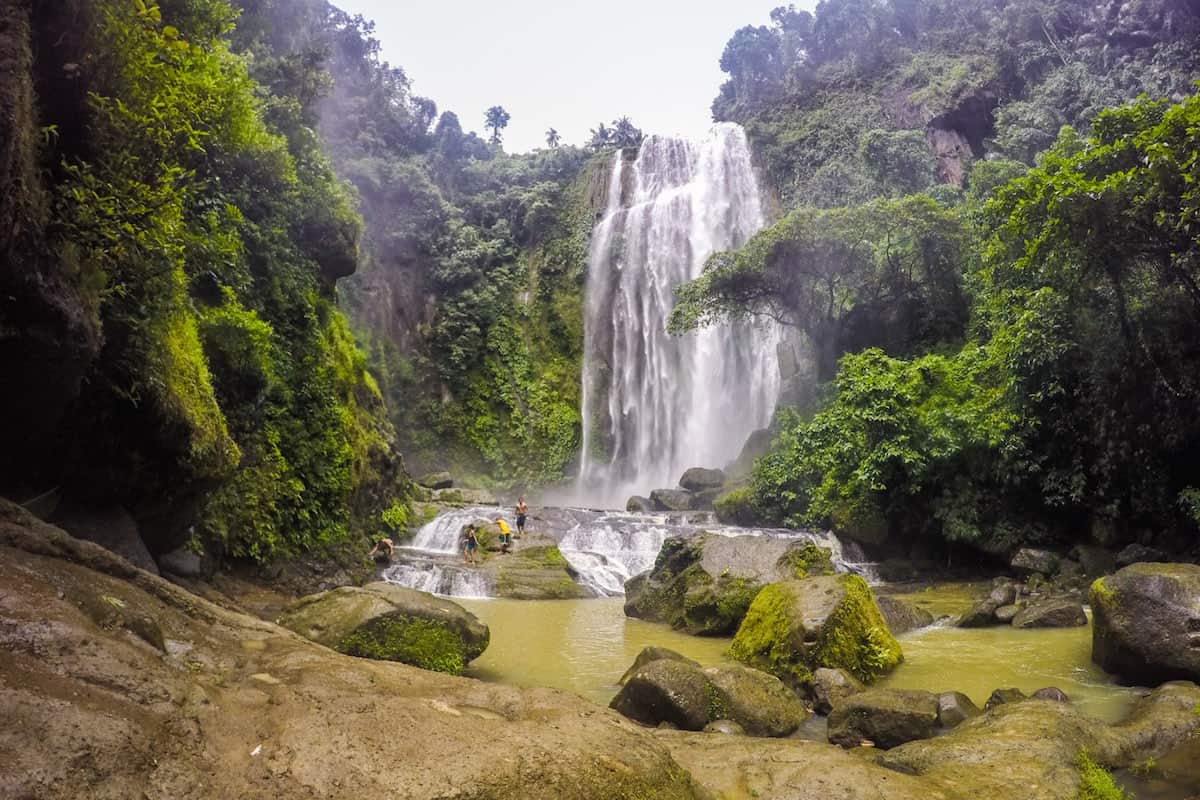 It was relatively obscure, known mostly to the locals, until word-of-mouth pushed it to prominence, attracting a growing number of tourists. "There was one day in summer when we had around 1200 visitors," our tricycle driver said, although we failed to confirm it with tourism officials. If true, that's remarkable for a destination that is relatively a newcomer in the tourism scene, something that is evident in the infrastructure in the area (or the lack thereof). We spotted only two stores in the vicinity and one set of public restrooms. (We hope it wouldn't be too commercialized, to be honest.) Yet, in a short time since it was "discovered", they were able to pave the road to a jump-off point much closer to the waterfall.
It's hard to imagine how one waterfall could change the lives of the townsfolk. A road has been paved, a system has been set in place, and jobs have been created and boosted. But when we reached the end of the trail and had our first look at Hulugan, we understood. It was spectacular.
How Many Waterfalls Would You Like to See?
Hulugan Falls isn't the only treasure in the forests of San Salvador. There are two others: the smaller, two-tiered Talay Falls and the aptly named Hidden Falls. Before heading there, decide how many waterfalls you want to visit because it will dictate which trail to take and how much preparation you need.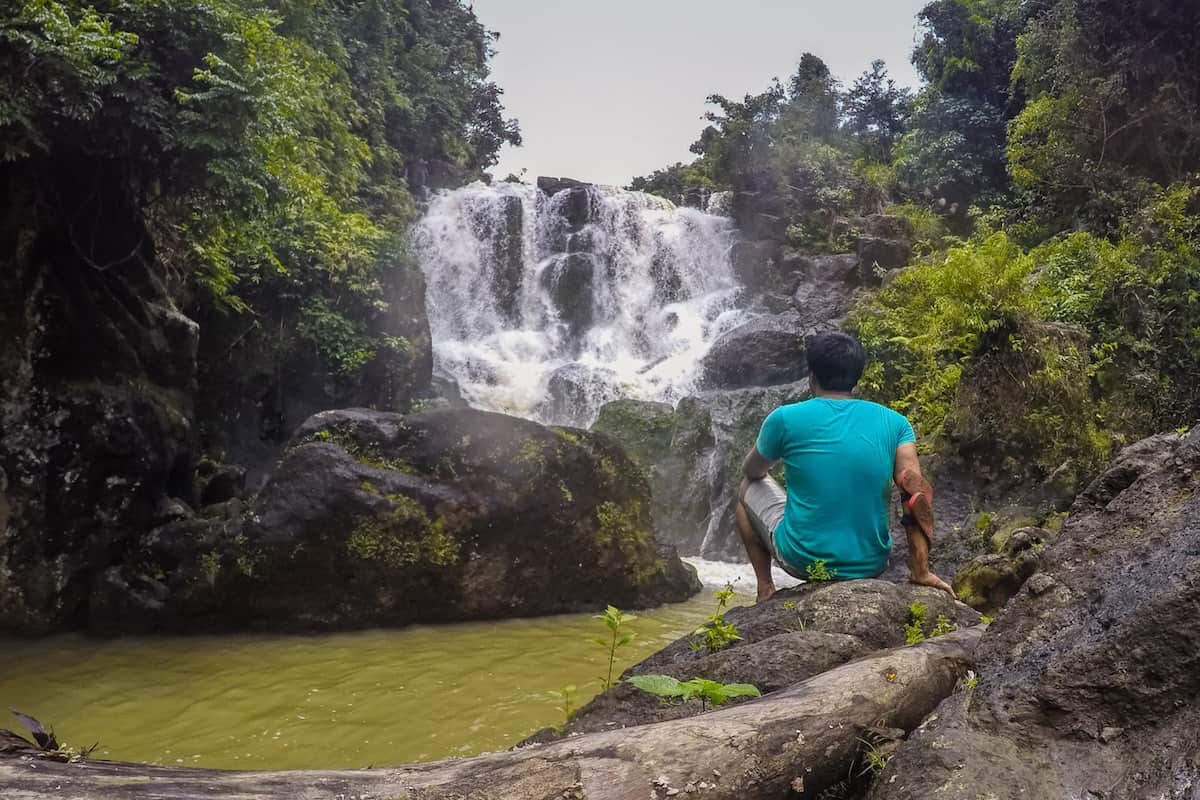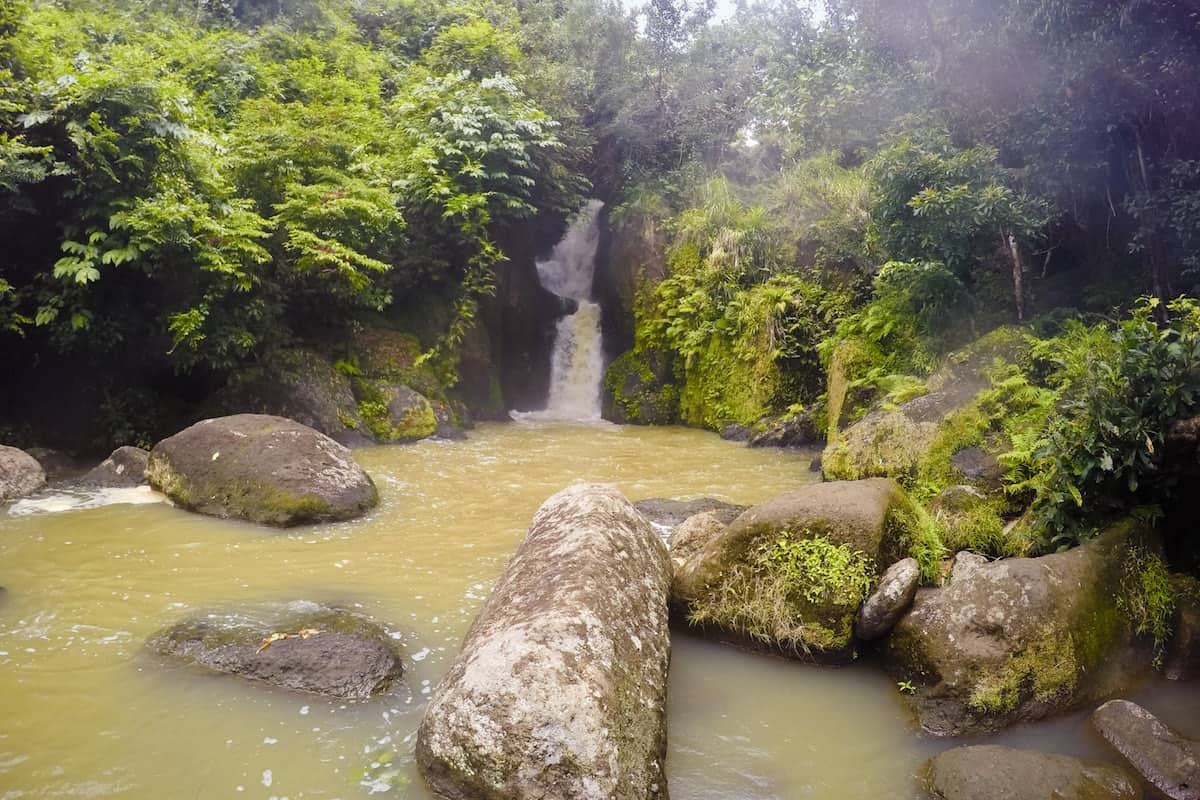 I want to see Hulugan Falls only. The descent to Hulugan Falls is easy and should take around 30 minutes. It's the climb back up that can be quite exhausting but still very manageable.
I want to see all 3 waterfalls. Each waterfall would take 30 minutes, which makes the entire one-way journey 1.5 hours long. You hike down to the river and cross it to see Talay Falls. It gets a bit less relaxed from here because the path to the next stop, Hidden Falls, is more challenging and steep. From the Hidden Falls, you will climb down to Hulugan Falls. It can get pretty dangerous when the trail is muddy (after the rain!) and you're not sporting the proper footwear.
Best Time to Visit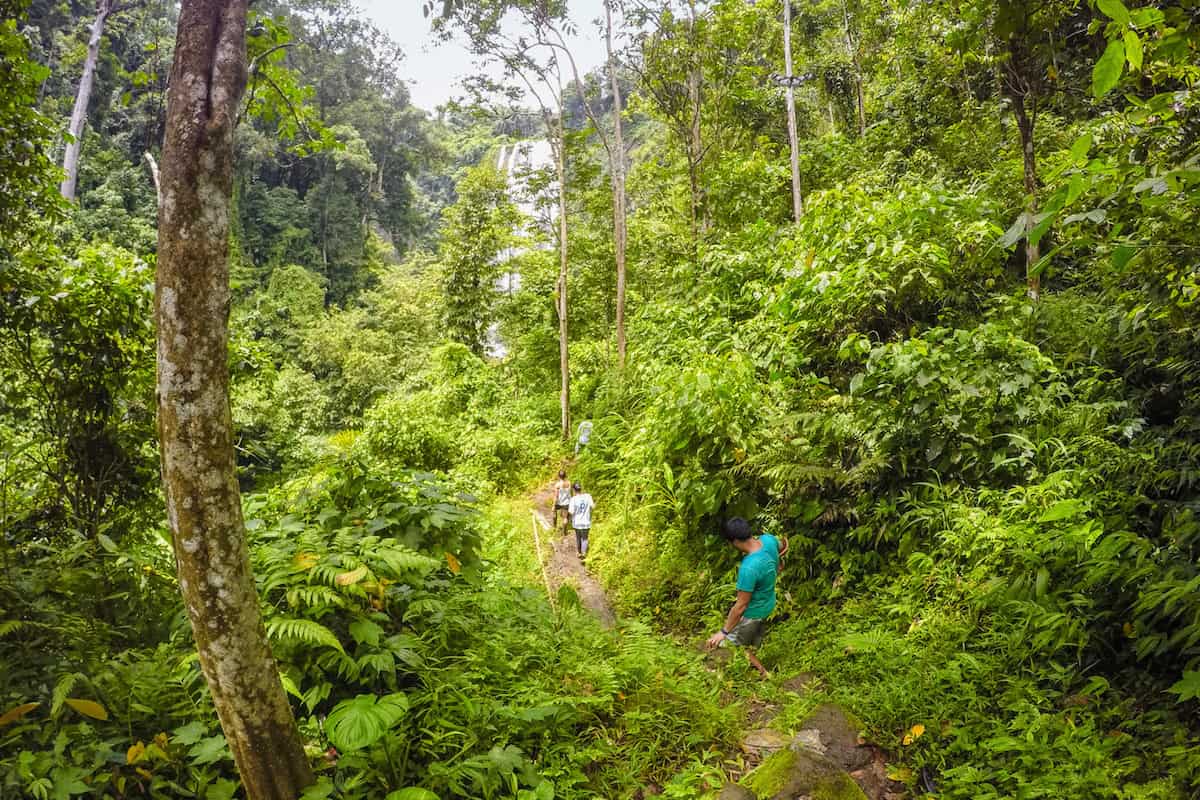 The cool-and-dry months of December-February are the best time to visit because you can always count on the weather to not ruin your trip. The summer months of March-May are good too, if you don't mind sharing the journey with a big crowd. However, call in advance because our guide told us that when it hasn't rained for a long time, there's a risk there's very little water running, which may disappoint visitors expecting big splashes.
Waterfalls are at their most stunning after the rain so don't dismiss June-November just yet. The key is to visit in the rainy season but not immediately after the rain. The water becomes brown and murky, and the trail muddy and slippery. Give the trail time to dry. Don't be like us. We did the 3-waterfall trek the day after a downpour in August, and I slipped twice, the second time sliding down a few meters. But that's because I was wearing flip flops because I'm stupid sometimes (or most of the time, lol). Do not attempt to walk barefoot because it's even more slippery. (Trust me, I tried. I tried.)
Whatever month you choose, you must remember two things:
Visit on a weekday to avoid the crowd. Know that its primary market is the yuppies, who work from Monday-Friday.
Wear hiking shoes if you're going to visit all three waterfalls. It will make your time there safe, comfortable, and much more enjoyable.
All good? Good.
How to Get to Hulugan Falls from Manila
Located in Barangay San Salvador in Luisiana, Hulugan Falls is just three hours away, making it one of the most easily accessible cascades from the metro.
Public transportation is available, but we highly recommend bringing a car because:
It will make things much easier for you to explore the area. You can even make side trips to other places nearby without hassle.
You have a place to keep your things. Remember, the place isn't developed yet. You won't find lockers or baggage counters anywhere. (Which is also why you shouldn't bring too much or anything that would weigh you down if you're commuting.)
Most importantly, if you're a group of 3 or more, you will end up spending less because you only need to settle the toll fee and gas.
We went to Hulugan using a car that Chevrolet SAIL let us borrow for the weekend, and we only spent P940 on toll and gas, split into 4. That's only P235 per person.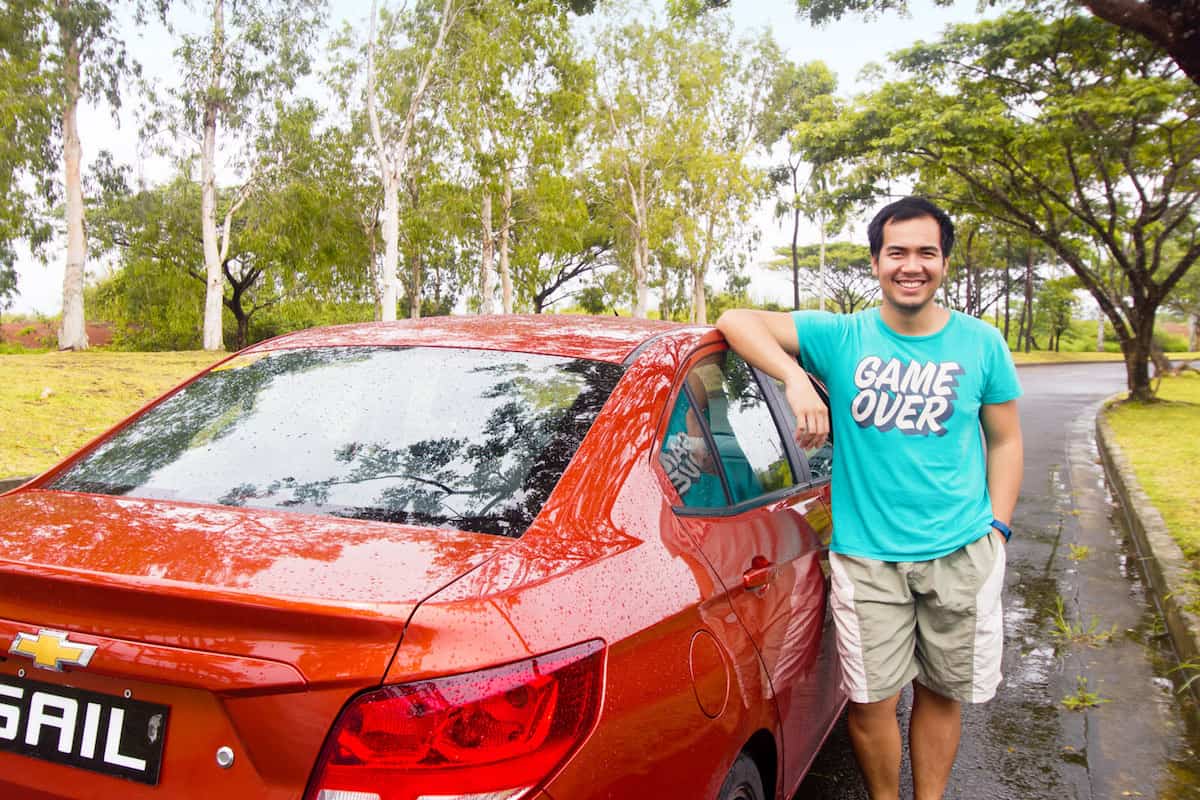 By Private Car
Take the South Luzon Expressway (SLEX) and exit in Calamba.
Stay on the national road (highway), passing through several towns including Los Banos, Sta. Cruz, Bay, and Pagsanjan.
Before you reach Cavinti Town Proper, turn right to Cavinti-Luisiana Road.
On Cavinti-Luisiana Road, watch out for a San Salvador/Hulugan Falls signage at a corner TO YOUR RIGHT. It's very easy to miss, but just be on the lookout for adjacent roads because there are not many. You'll find the Information Desk at the corner. You will be given a tour guide.
Once you're assigned a tour guide, drive on that (adjacent) road or follow your guide until you reach the Captain's House where you will register. You can park on the side of the road in front of that house.
By Public Transportation
Make your way to Cubao or Taft, and ride a bus going to Sta. Cruz, Laguna. Fare: P140.
Ride a jeepney going to Lucena or Lucban and alight in San Salvador. It is highly possible that you will miss the right stop so make sure you tell the driver to drop you off in San Salvador. Fare: P30. If you miss it, alight in Luisiana Town Proper and just take a tricycle to San Salvador.
At the corner, you will find an Information Desk at a waiting shed. You will be assigned a tour guide here. He will then take you "sa Bahay ng Kapitan" (Captain's House), where you will register and pay the Tourism Fee, which is now P20.
Whether you take public or private transportation, the Captain's House will be your jump-off point. From here you will be taking a tricycle (P10 per person) to the start of the trail. The ride should take a minute or two.
Where to Stay Near Hulugan Falls
Most people visit Hulugan on a day tour and the truth is, accommodation options are very limited. One popular choice for the adventurous is overnight camping. Fee is P50. You will be assigned a guide who will be looking after you, but you need to bring your own tent.
If you need a room to stay, the nearest towns with plenty of accommodations to offer are Lucban (Quezon) and Pagsanjan.
Other options include resorts near Caliraya Lake, which are a bit pricey and are only a good choice if you have your own ride. Regardless, here are their rates:
Sample Day Tour Itinerary
Here'a a sample day trip itinerary, which will allow you to visit all three waterfalls in San Salvador. Feel free to make the necessary changes if you want to visit just the Hulugan Falls.
06:00am – ETD Cubao, Quezon City
09:30am – ETA Luisiana, Laguna
10:30am – Start trek
11:00am – Talay Falls
11:45am – Hidden Falls
12:30pm – Hulugan Falls (Lunch if you bring food)
02:30pm – Depart Falls
03:30pm – Freshen up, leave
08:00pm – ETA Manila
If you want to also visit Cavinti Falls (Pagsanjan Falls), check the itinerary below. I intentionally removed the other 2 falls in Luisiana because of two reasons: time and energy. You can actually squeeze them all in a day (we did on our second visit) but we wish we didn't. We should've stayed longer at Hulugan instead. Another reason is energy. The trek to Cavinti Falls from Pueblo El Salvador Park is tough, tougher than Hulugan. The trail from Pueblo to the falls involves rappelling and VERTICAL climbs! If you're an inexperienced hiker (like us), it will be sooooooooo exhausting to do all four waterfalls.
06:00am – ETD Cubao, Quezon City
09:00am – ETA Luisiana, Laguna
09:30am – Start trek
10:15am – Hulugan Falls (Lunch if you bring food)
12:00pm – Depart Falls
12:45pm – Leave for Cavinti Falls
01:15pm – Pueblo El Salvador, start trek to Cavinti Falls
02:30pm – Cavinti Falls Rafting/Swimming
03:30pm – Start trek back to Pueblo El Salvador
04:30pm – Shower
05:00pm – ETD Cavinti
08:30pm – ETA Manila
The last bus to Manila leaves Sta. Cruz at 9pm. Go make more side trips or have dinner if you want, but make sure you're at the terminal before 9pm.
More Tips for The Poor Traveler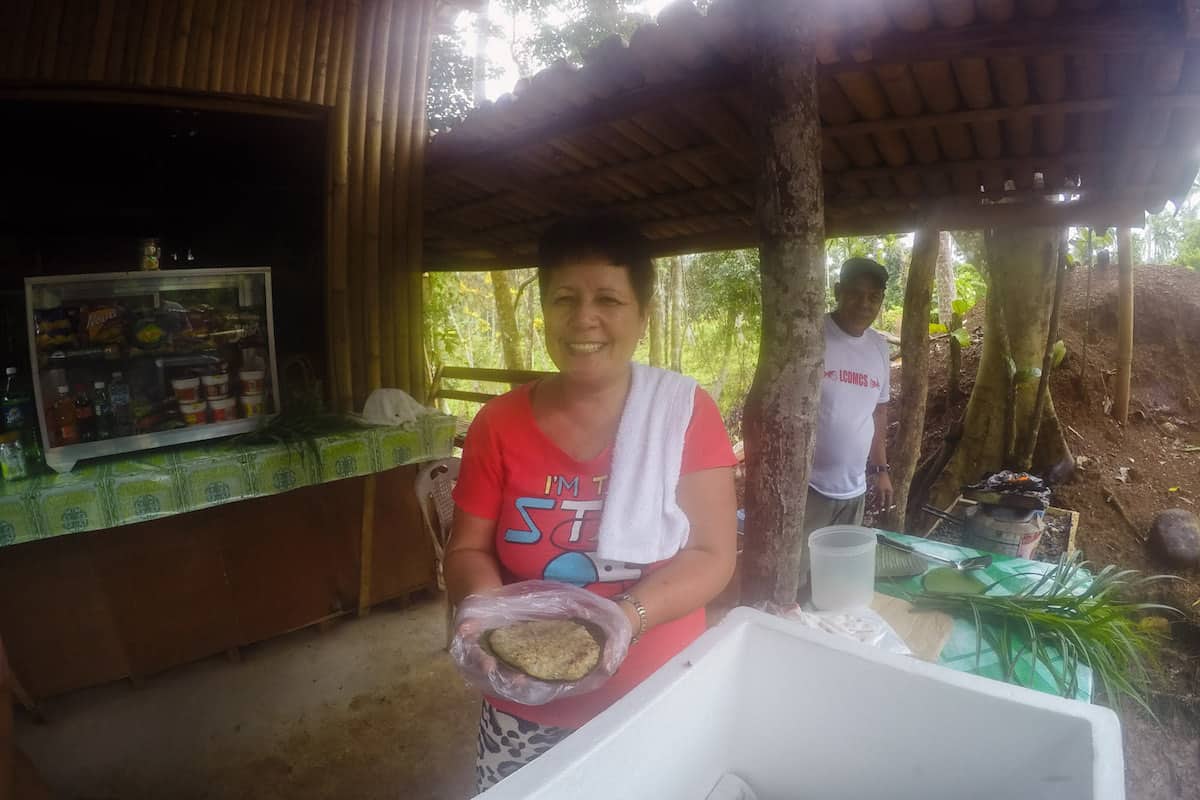 Here are more tips to consider.
You can take a dip at the natural pool below the column. If you can swim, you can even get close to the cascade. But be careful climbing rocks. Some of them are off-limits. Always check with your guide which areas are prohibited.
Bring a waterproof camera. It's one super splashy waterfall and it's not afraid to show off.
Have your meal before you make a turn to Cavinti-Luisiana Road. There aren't many food options around the site. They serve meals at Captain's House at carinderia price, but that's about it.
There's a bibingka (rice cake) stall at the start of the trail. The bibingka (P35) is super delicious. And if you buy three pieces (3 for P100), you also get a cute basket made from weaved coconut leaves. This bibingka got us through the whole trek on our first visit (Sunday). On our second visit (Friday), that same store was closed.
There are a lot of fruit stalls on the roadside before reaching San Salvador. Great for baon if you're really hungry and you can't find a place to eat. Just make sure you bring a trash bag with you when
There are shower rooms or restrooms at Captain's House. Rates: P15, P10, P5 for ligo (shower), dumi (poo), ihi (pee) respectively.
MOSQUITOES! Bring insect repellent lotion.
Budget Breakdown
Here are the cost of items you will be spending on.
Bus fare to Sta Cruz (one-way): P140
Jeepney fare to Luisiana: P30
Toll Fee: P214
Shower Room Use: P15
Tourism Fee: P20
Tour Guide Fee: P300, P600, up to you actually
The tour guide fee is a bit tricky, to be honest. There is no standard rate for it. If you ask the guide or anyone working there, they will tell you the same thing: "It's up to you, whatever you think is appropriate." It's tricky and a bit annoying if you don't have anything to compare it to, but it's probably because they haven't standardized or formalized the processes yet. According to other sources, P300 is good if you'll be visiting just one waterfall, and P600 if you're visiting all three, regardless of how big your group is.
More Tips on YouTube ⬇️⬇️⬇️