There was a tired silence lingering inside the van as we pressed our heads on the window. Silently we admired the view. as we drove from Sagada to Banaue. The road to Banaue from Sagada is long and winding, but none of us complained about the travel time — even though our butts were starting to catch fire. The hills, the hillsides, and the terraced hillsides; the mountains, the mountaintops, and the terraced mountaintops; the cliffs, the valleys, and the rivers that run across.
When our van stopped for the first time since we left Sagada, we thought we were already in Banaue but our driver was quick to crush our false assumptions. "We're in Bontoc," he announced. "There's something you might want to take a good look at."
We hopped out of the van one by one and saw what our driver was referring to — Bay-yo Rice Terraces. Although not as big as the Banaue Rice Terraces, Bay-yo is still a stunner. To be honest, it actually looked more appealing than any of the terraces I had seen so far. Perhaps it was because of the fact that there were no houses that stand in the middle of the terraces. The houses were all on one side of the cliff and the terraces, on the other.
Because it is called Bay-yo Rice Terraces, we easily assumed that the crops planted here are rice but one of the locals there said that they sometimes plant vegetables. And not too far from the viewpoint is a lane veggie stores.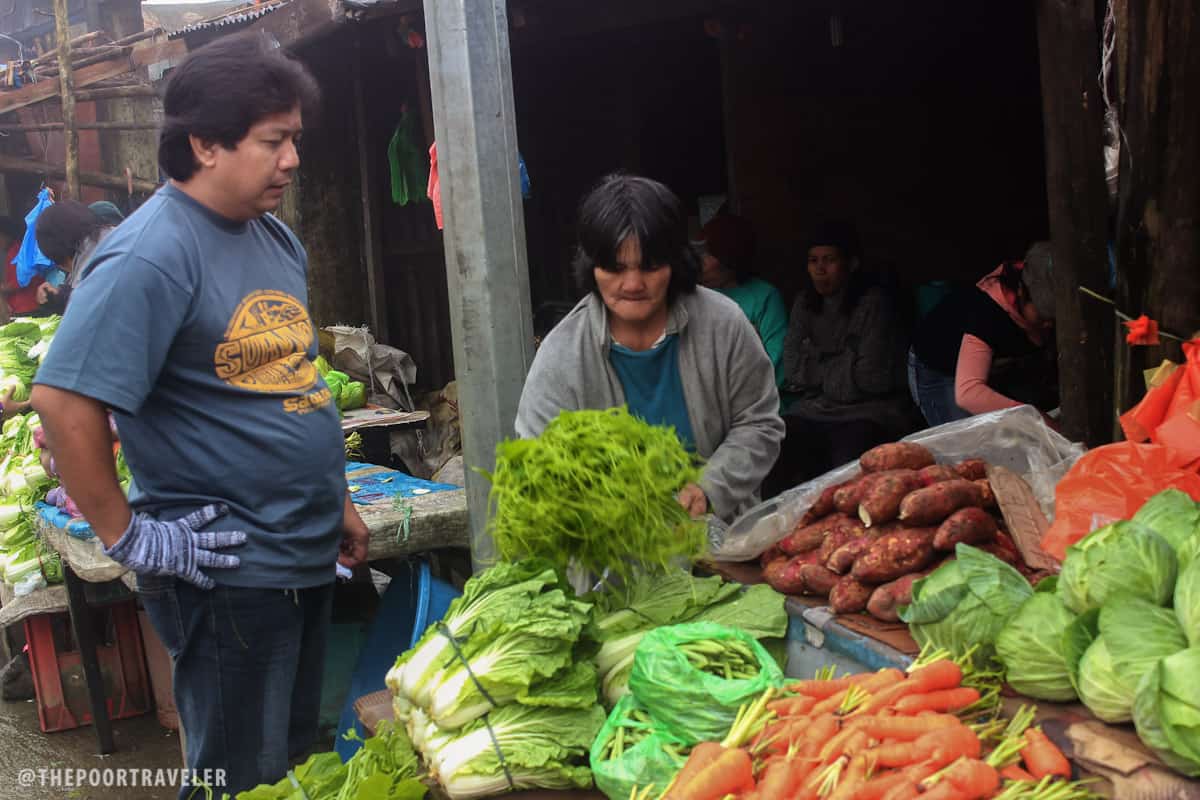 Silence once again dominated when we hopped back into the van. Nothing could be heard but the soft rumbling of the van's engine and the whisper of the wind as it ruffled our hair and touched our faces, and the mild snoring of a friend who had slept the entire trip out. But together, they created a hypnotic symphony, a lullaby.
And then silence was broken.
Everybody sitting on the left side of the van let out shouts of excitement and urged the driver to stop the vehicle at once. There was a lush rainforest carpeting one side of the mountain. A thin sheet of mist danced over it. And when they parted, they revealed a waterfall, a magnificent waterfall cascading in all its splashy glory.
Until now, we don't know what this waterfall is called, but it sure is a marvelous sight! It is somewhere between Bontoc and Banaue. We have asked around and posted this on my social media channels hoping someone would give me the name of this waterfall but I have yet to find out. Regardless of its name, this moment would remain one of the most unforgettable I have had on the road.
Written on: 2012 • 6 • 13