Over the past few years, Sagada has emerged as one of the most popular tourist destinations in the Cordillera region. As the temperatures in Manila and surrounding lowlands go up, the number of visitors escaping to Sagada rise with it especially in summer. Tourism has become a major driver of the town's economy. And these tourists need a place to stay.
But first, to manage your expectations, know that there no luxury hotels in Sagada. At least none that I know of. If you're looking for a well-appointed suite with a gazillion of amenities, you're not gonna find one here. Almost all available accommodations in Sagada are inns, guesthouses, and homestays. For most, it's a good thing. Sagada's main draw aside from its key natural attractions is its rustic charm that can so easily be ruined by giant establishments.
Many residents choose to open their homes to tourists and transform them into homestays or transient houses. It's quite common for guests to share toilet and bathrooms with other guests or with the residents. If the room has a private toilet and bath, it's usually very small.
WHAT'S COVERED IN THIS GUIDE?
Where to Stay in Sagada
The municipal government compiled a list of authorized accommodations. It's divided into three zones: eastwards/northwards, central/westwards, and southwards. Confused? Let me explain.
If you look at Sagada's town center on the map, you'll find a Y junction where three roads meet. This junction is the most important place in Sagada for tourists because it is here where you'll find the tourism office, the municipal hall, the police station, and even the ATM. This is also the main bus stop. If you're coming from Baguio or Manila, you'll be dropped off at this spot.
From this junction, we can divide Sagada into three zones.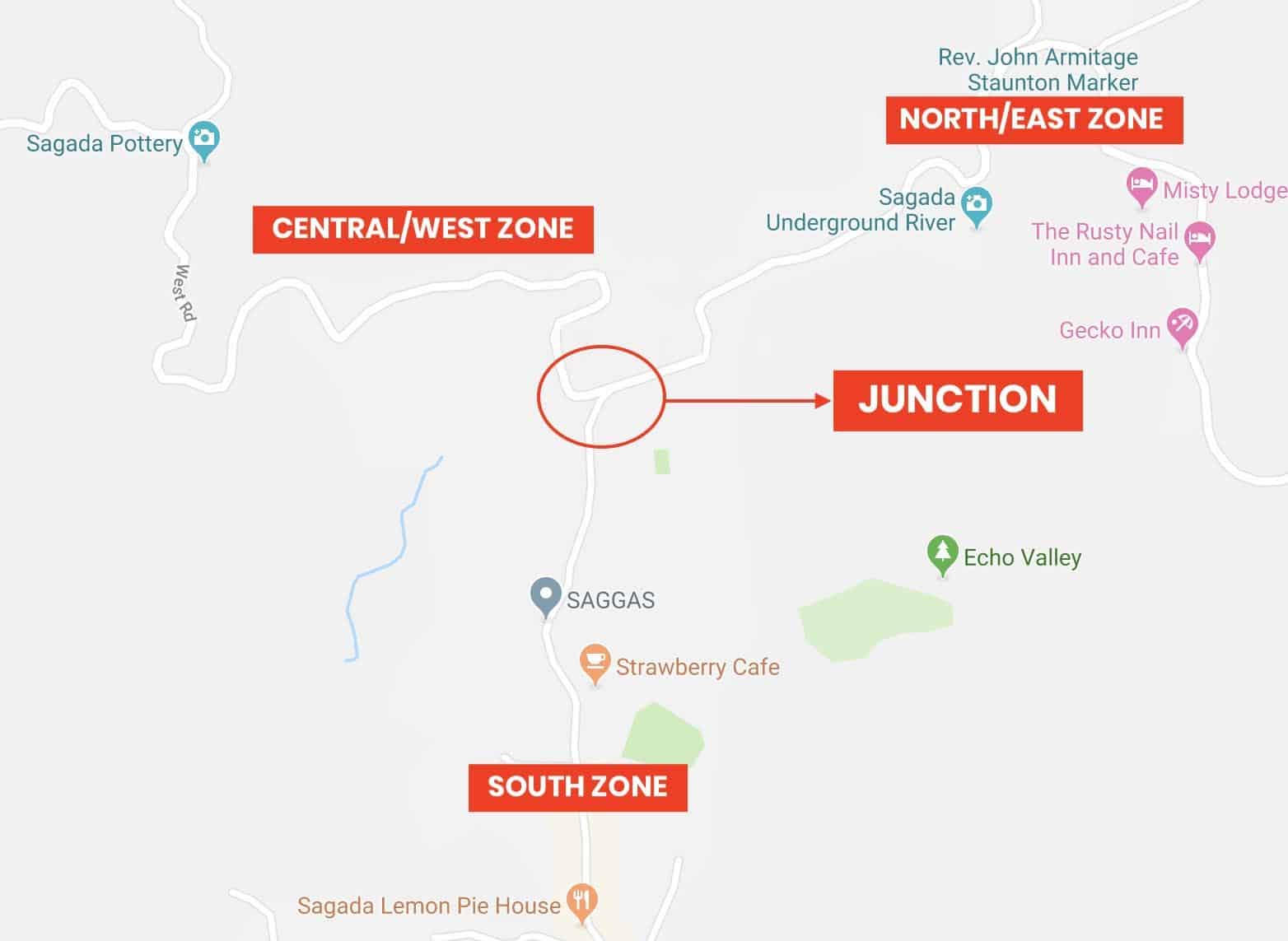 Central/Westwards. This zone covers the junction itself and the area west of it. The main road here is called West Road or Sagada-Besau Road, which will lead you to Lake Danum and Sagada Pottery.
Eastwards/Northwards. This covers the area northwest of the junction. The main road here is Staunton Road which leads to the access roads to Bomod-ok Falls, Marlboro Hill, and Kiltepan Viewpoint.
Southwards. South of the junction. The main road here is South Road which will take you to Barangay Dagdag and Demang, where most well-known inns and restaurants in Sagada are located. It's also the only way to Lumiang Cave and Sumaguing Cave.
Of the three, I prefer staying south of the junction because my favorite restaurants are there.
Clear? Good. Have you decided which area to stay in? Once you've made your choice, it's time to pick a room! Here's the list of authorized inns, guest houses, and homestays and their contact numbers.
---
Central/West
Alapo's Kitchenette & Inn. Call/text: +63 916 953 4093
Alapo's View Inn. Call/text: +63 927 432 5557
Aniduwan Lodge. Call/text: +63 920 916 7305
Clairence Inn Store. Call/text: +63 919 658 5820
Cozy Pink House. Call/text: +63 928 266 5411
Daon Coral Homestay. Call/text: +63 956 280 4474
Datil Homestay. Call/text: +63 920 498 1400
Davey's Inn & Resto. Call/text: +63 909 446 5749
Ganduyan Inn & Café. Call/text: +63 977 851 1684
Ganduyan Extension. Call/text: +63 918 965 9192
Gladys' Transient House. Call/text: +63 919 477 8647
Greenhouse Inn. Call/text: +63 999 903 7675
Isabelo's Inn & Café. Call/text: +63 926 257 4861. ✅ Check Rates & Availability!
Julie's House. Call/text: +63 999 557 1814
Labanet Lodge. Call/text: +63 920 948 3133
MAPOBA's Transient. Call/text: +63 939 140 7227
Masferre Country Inn & Restaurant. Call/text: +63 977 851 9230. ✅ Check Rates & Availability!
Olahbinan. Call/text: +63 928 406 7647
Panyero's. Call/text: +63 905 546 8959
PMMD's Transient. Call/text: +63 927 370 7782
Pumkin's Place. Call/text: +63 910 709 5275
Sagada Greenhills. Call/text: +63 928 719 6489
Sagada Guesthouse & Resto. Call/text: +63 927 656 2692
Sagada Homestay Resto. Call/text: +63 919 702 8380
Sagada Igorot Inn. Call/text: +63 908 757 8351
Sagada Townhouse. Call/text: +63 921 653 1771
Sagada Valley View. Call/text: +63 939 475 9857
See Too Ville. Call/text: +63 956 9607 934
Saint Joseph Rest House. Call/text: +63 955 317 3345
7J's Homestay & Store. Call/text: +63 955 541 7148
Tinagtago Lodge & Resto. Call/text: +63 939 959 1967
Villa D' Familia. Call/text: +63 918 959 4520
---
South
Agape Log Cabin. Call/text: +63 917 990 6039
AJjaa's Place. Call/text: +63 936 301 7221
Alibama Inn and Pinikpikan Haus. Call/text: +63 920 813 5797
Ayeona's Homestay. Call/text: +63 977 206 0185
Ayadong's Homestay. Call/text: +63 919 595 0507
Bacagan Homestay. Call/text: +63 919 269 4240
Bagalima. Call/text: +63 917 579 2284
Below Road Transient. Call/text: +63 935 665 1279
BnB on the Hill. Call/text: +63 921 552 0317
Bilza Lodge. Call/text: +63 998 536 4978
Calpi Homestay. Call/text: +63 908 695 8578
Canaway Resthouse. Call/text: +63 999 826 7497
Dalcunn Resthouse. Call/text: +63 977 719 2230
Downtown Resthouse. Call/text: +63 999 826 7497
Gabay Homestay. Call/text: +63 910 845 3557
George Guesthouse. Call/text: +63 977 851 7655
Grandma's Yellow House. Call/text: +63 919 411 6289. ✅ Check Rates & Availability!
Gravel Bar Homestay. Call/text: +63 995 831 3371
Hidden Hill Inn. Call/text: +63 915 128 9446
Inandako's Bed and Breakfast. Call/text: +63 927 784 6866
Inn Maugay. Call/text: +63 921 521 5108
Kadpay Lodge. Call/text: +63 977 852 5723
Kanip-aw Pines View Lodge. Call/text: +63 926 609 2960. ✅ Check Rates & Availability!
Kenlibed Inn. Call/text: +63 995 013 1543. ✅ Check Rates & Availability!
Malingeb Traveller Lodge. Call/text: +63 920 110 2241
Mary Hiilz Homestay. Call/text: +63 916 650 6676
Mas-in's Homestay. Call/text: +63 927 974 2236
Mother Mary Inn. Call/text: +63 926 006 3767
Pinewood Lodge. Call/text: +63 917 110 3303
Residential Lodge. Call/text: +63 919 672 8744
Roadside Homestay. Call/text: +63 909 710 9465
Rockwall Inn. Call/text: +63 920 420 2594
Sagada Blue Mountain Cabin. Call/text: +63 929 824 4066
Sagada Cave Pension Hauz. Call/text: +63 998 865 1846
Sagada Heritage Village. Call/text: +63 921 219 8385. ✅ Check Rates & Availability!
Sagada Indigenous Inn. Call/text: +63 921 645 5679
Sagada Strawberry Café. Call/text: +63 927 584 6053
Sagada Trekkers Resthouse. Call/text: +63 999 994 3282
Sagada Village Inn. Call/text: +63 929 799 5080
Salt & Pepper Inn. Call/text: +63 908 177 4972
Shamrock Tavern Inn. Call/text: +63 908 611 4683. ✅ Check Rates & Availability!
Travelers Inn. Call/text: +63 916 502 8313
Treasure Rock Inn. Call/text: +63 907 302 3217
Umatan's Lodge. Call/text: +63 910 796 9055
Woodhouse Transient. Call/text: +63 912 619 8961
Ynna's House. Call/text: +63 907 489 8990
---
East/North
Adventure's House. Call/text: +63 906 293 4434
A-7 House. Call/text: +63 936 703 8545
Bawayan Homestay. Call/text: +63 926 902 2945
Baybay Homestay. Call/text: +63 908 297 1893
Big Dipper. Call/text: +63 916 755 3414
Billy's House. Call/text: +63 916 542 9826
Bosaing's Homestay. Call/text: +63 915 492 2193
Caitlin's Cabin. Call/text: +63 926 693 5115
Casa Robina. Call/text: +63 949 678 2668
Coffee Heritage House and Hostel. Call/text: +63 977 395 9189. ✅ Check Rates & Availability!
D'JAMBLAZE House. Call/text: +63 905 173 0153
Hideaway House. Call/text: +63 927 973 6086
Kilip's. Call/text: +63 905 642 2789
Ligaya's House & Cottage. Call/text: +63 977 198 1703
Log-in Homestay. Call/text: +63 915 867 1213
Mabikas Homestay. Call/text: +63 926 781 4430
Mabilig Homestay. Call/text: +63 977 198 1695
Madegway Transient. Call/text: +63 905 887 6822
Mapiya-aw. Call/text: +63 916 509 5565
Mila's Homestay. Call/text: +63 917 255 0679
Misty Lodge. Call/text: +63 905 183 8963
Mushroomville. Call/text: +63 975 914 1972
Nellie's Chalet. Call/text: +63 977 018 0132
Nova's Kalapaw. Call/text: +63 905 100 5206
Parish Center & Resto. Call/text: +63 909 757 2227
Pilgrims Haven. Call/text: +63 927 792 5250
Ridge Homestay. Call/text: +63 906 754 9800
Rock Inn & Café. Call/text: +63 999 991 9877
Rocky Valley Inn. Call/text: +63 915 181 8698. ✅ Check Rates & Availability!
Rusty Nail Inn. Call/text: +63 917 685 5804
Sagada Mamakde Transient. Call/text: +63 919 311 2951
Sagada Younganaut Lodge. Call/text: +63 915 128 9236
Sea of Clouds View Inn. Call/text: +63 917 214 8380
Triple J's Inn & Resto. Call/text: +63 939 906 0989
Yabami Lodge. Call/text: +63 928 688 7467
---
2️⃣0️⃣1️⃣9️⃣ • 4️⃣ • 2️⃣4️⃣