Cemeteries are not exactly the type of destinations that tourists write on their bucket list, and it's not hard to see why. It is that one place we most associate with death. After all, this is where the departed are laid to rest.
Most of us only find ourselves here when we pay respects to a loved one who has left us for good. Or when it's All Souls' Day, the time that we honor their memory. Otherwise, many do not see a reason compelling enough to push us out of our way to visit a graveyard. And truth be told, aside from the creeps they give, most cemeteries look alike.
But there are exceptions. Here are eight unusual burial grounds that are worth braving.
WHAT'S COVERED IN THIS GUIDE?
1. Calvary Hill (Mission Compound Cemetery), Sagada, Mountain Province
Like most towns in the Philippines, Sagada has a central cemetery where people gather on November 1 to remember loved ones who passed away. Like in most towns, they do so by keeping a flame burning by the tombstone. But unlike anywhere else in the country, the flame is brighter, much brighter.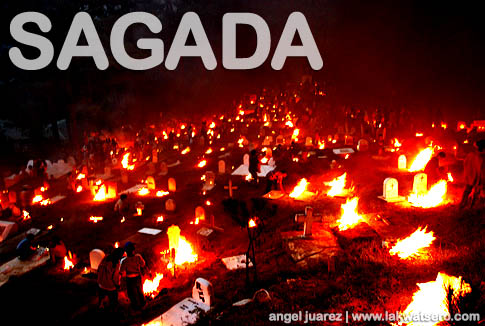 "Instead of lighting traditional candles, they use woods of old pine trees locally called saeng to create bonfires on the grave," Angel Juarez of Lakwatsero describes the event. Saeng is a type of wood from old pine trees. "They call it panag-apoy, a tradition long been practiced in Sagada. Panag-apoy a Kankana-ey term that means 'to light a fire', is the town's way of remembering the departed. The tradition starts with an afternoon mass and the blessing of saeng. Afterwards, the locals proceed to the nearby cemetery to pray and light their 'saeng', while the priest walks around to bless the graves."
More about it here: Panag-apoy in Sagada
---
2. Hanging Coffins, Sagada, Mountain Province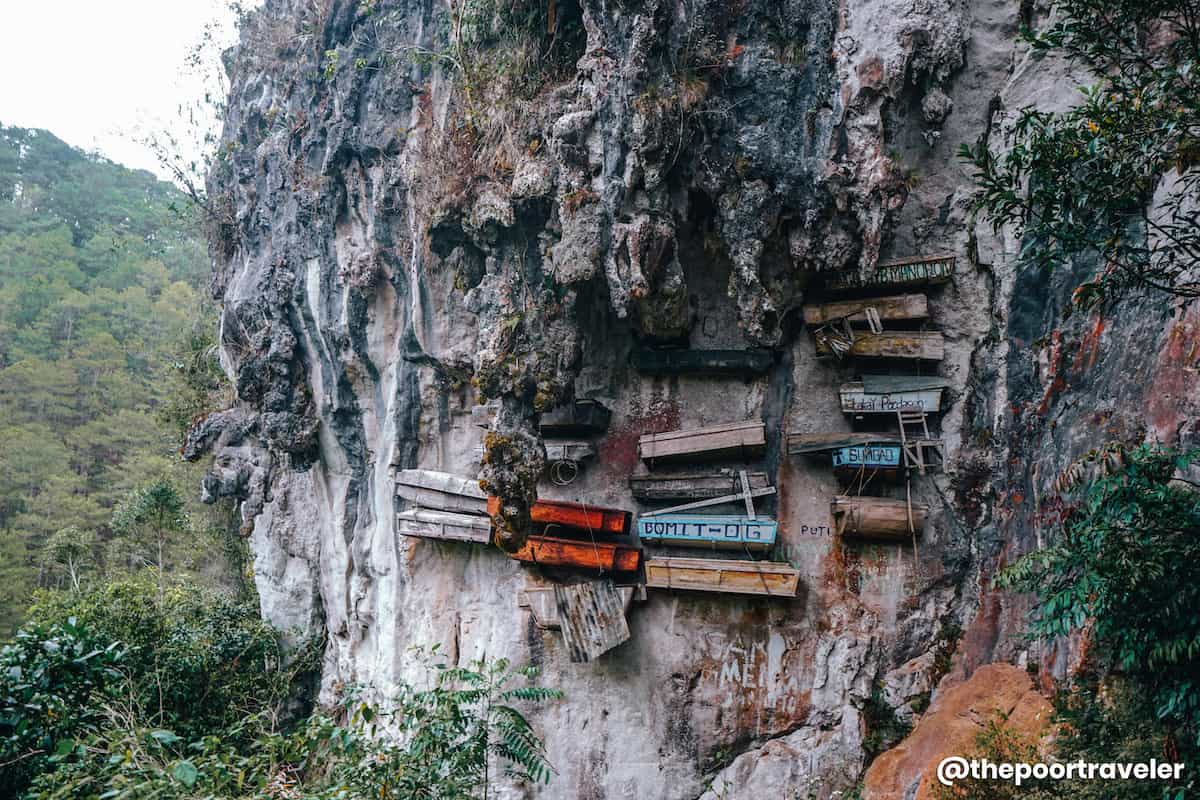 Not too far (but quite a challenging trek) from Calvary Hill is a cliffside popular for its echoing features and hanging coffins. Yes, hanging coffins. It's a practice that has been around for over 2000 years, even up to this day.  The coffins are made of wood, carved by its future occupants. After passing, a pre-burial feast is held and the body is put inside. It is then brought to the cliffside where it will stay, in the company of the ancestors.
Why do the locals entomb their dead on the side of the cliff? The locals believe that the higher the coffins are, the closer they are to heaven. And if you have the guts and the energy, you can go down the valley and have a closer look.
Since you're already in Sagada, you might also want to take a peek into Lumiang Burial Cave.
More about Sagada here: Sagada Travel Guide
---
3. Bud Bongao Tombs, Tawi-tawi
Another graveyard set high in the mountains is the Tombs of Bud Bonggao. The tallest peak in Tawi-Tawi, it is at 314 meters above sea level. It is a sacred site for our brothers in the southernmost province. Kaiser Mangampo of Wayph.com, who hiked through its forest, says about the site: "As we went along the trail, we saw cellophanes tied on the trees. They believed that if they tied that cellophane on the trees the spirit wont not hurt them and if not there's something bad luck will happen to them."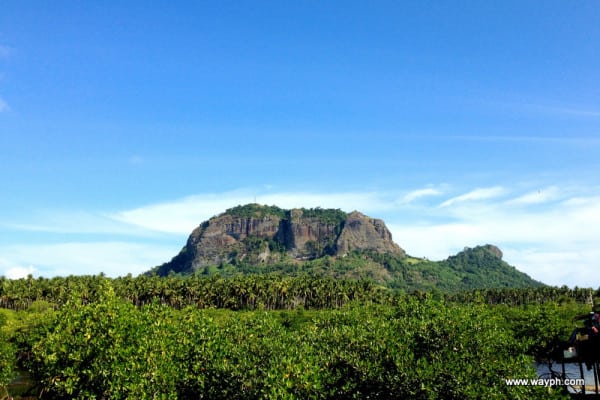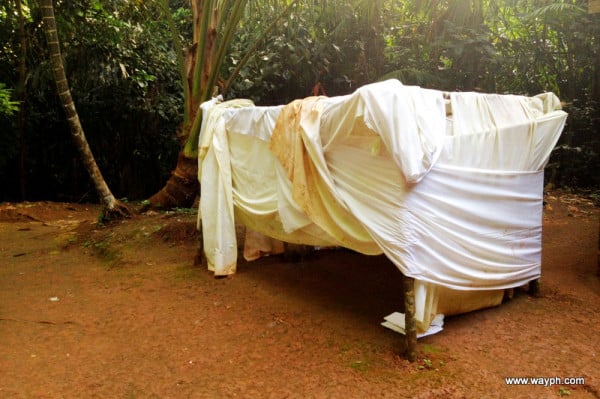 "There are plenty of tombs at the mountain, we saw at least a dozen. Only the tribe's leaders are allowed to bury their kins here," he adds.
More about this site here: Bud Bongao in Tawi-tawi
---
4. Sunken Cemetery, Camiguin
From high up in the peaks to under the sea.
When Camiguin's old volcano erupted in 1948 and 1953, it made the town's public cemetery — coffins, bodies and all — sink underwater. Since then, nature once again took its course. Corals have carpeted the tombstones 20 feet below sea level, making the site unrecognizable. Now known as the Sunken Cemetery, it a one-of-a-kind diving destination marked by a giant cross above the surface.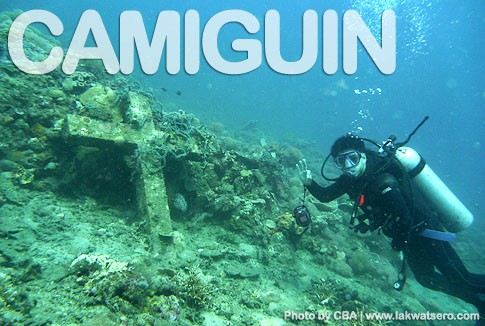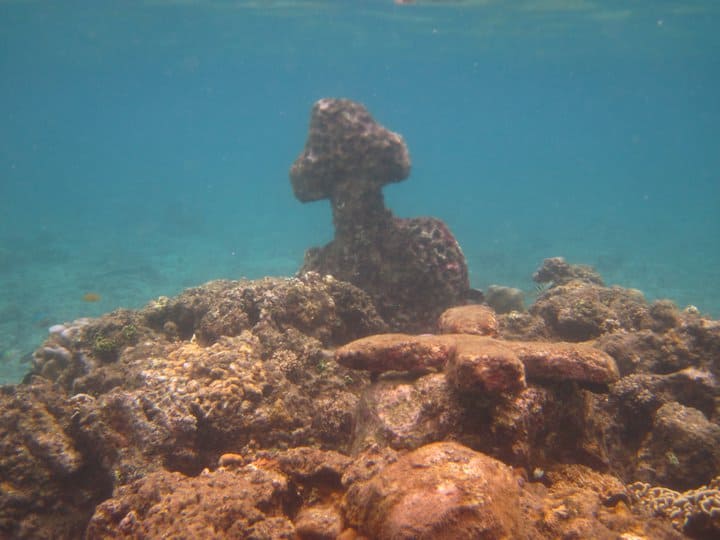 Lakwatsero took a dive into the soaked graveyard. "We saw the original cross markers, two to be specific," he notes. "That is aside from huge table and brain corals, sponges and the resident tropical species that dwell in the rich and colorful ecosystem that blossomed there."
More about the Sunken Cemetery here: The Sunken Cemetery
More about Lakwatsero's diving experience here: Diving in Camiguin 
---
---
5. Nagcarlan Underground Cemetery, Laguna
The first thing you will notice is the chapel, built in 1845 by a Franciscan priest. But below it is a crypt. Christian Sangoyo of Lakad Pilipinas shares, "The catacomb was used as a secret meeting place by the Philippine Revolutionaries during the Spanish era and later on during the Filipino-American War."
The site was declared as a National Historical Landmark in 1973.
More about the site here: Nagcarlan Underground Cemetery
---
6. Libingan ng mga Bayani, Taguig
Located in Taguig City, the Libingan ng mga Bayani is dedicated to military personnel, heroes, and martyrs, including the defenders of Bataan and Corregidor. Among those buried here are presidents Diosdado Macapagal and Carlos P. Garcia.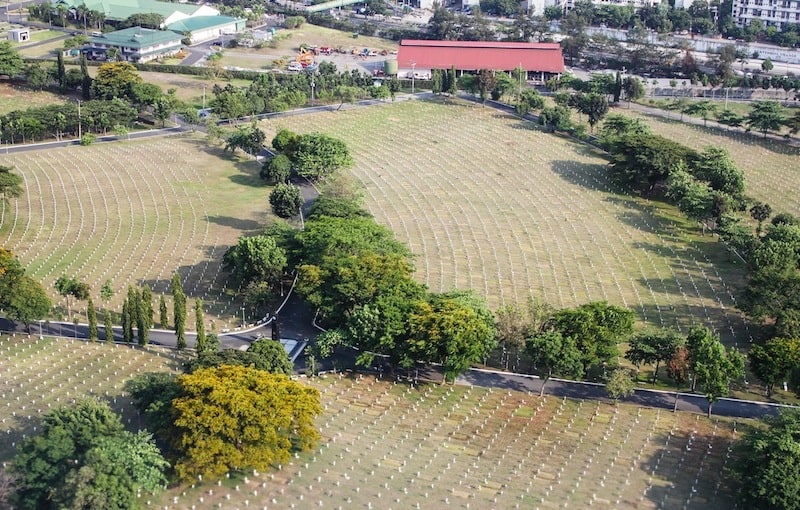 Estan Cabigas of Langyaw describes his experience here, "A walk around the cemetery grounds is a lesson in the country's political and recent military history represented by the men and women who are interred there. For the high ranking persons, the tombs are stylized, either round, rectangular, or with ornaments. Majority are just plots in the ground with a cross on it."
More about this site here: Libingan ng mga Bayani
---
7. Manila American Cemetery and Memorial, Taguig
Covering 152 acres, the Manila American Cemetery and Memorial is the largest of all American overseas military cemeteries. It has 17,202 graves of soldiers who fell in the Pacific and the Philippines, the biggest number of graves of US military dead of World War II.
"The headstones are aligned in 11 plots forming a generally circular pattern, set among masses of a wide variety of tropical trees and shrubbery," according to the US Embassy. "On rectangular Trani limestone piers are inscribed the Tablets of the Missing containing 36,285 names. Rosettes mark the names of those since recovered and identified."
---
8. Camp John Hay's Lost Cemetery of Negativism, Baguio City
Unlike the first six, there are no dead bodies buried here. Only dead negative thoughts, emotions, and attitude!
"Negativism is man's greatest self imposed infliction, his most limiting factor, his heaviest burden," declares the marker by the entrance to the cemetery.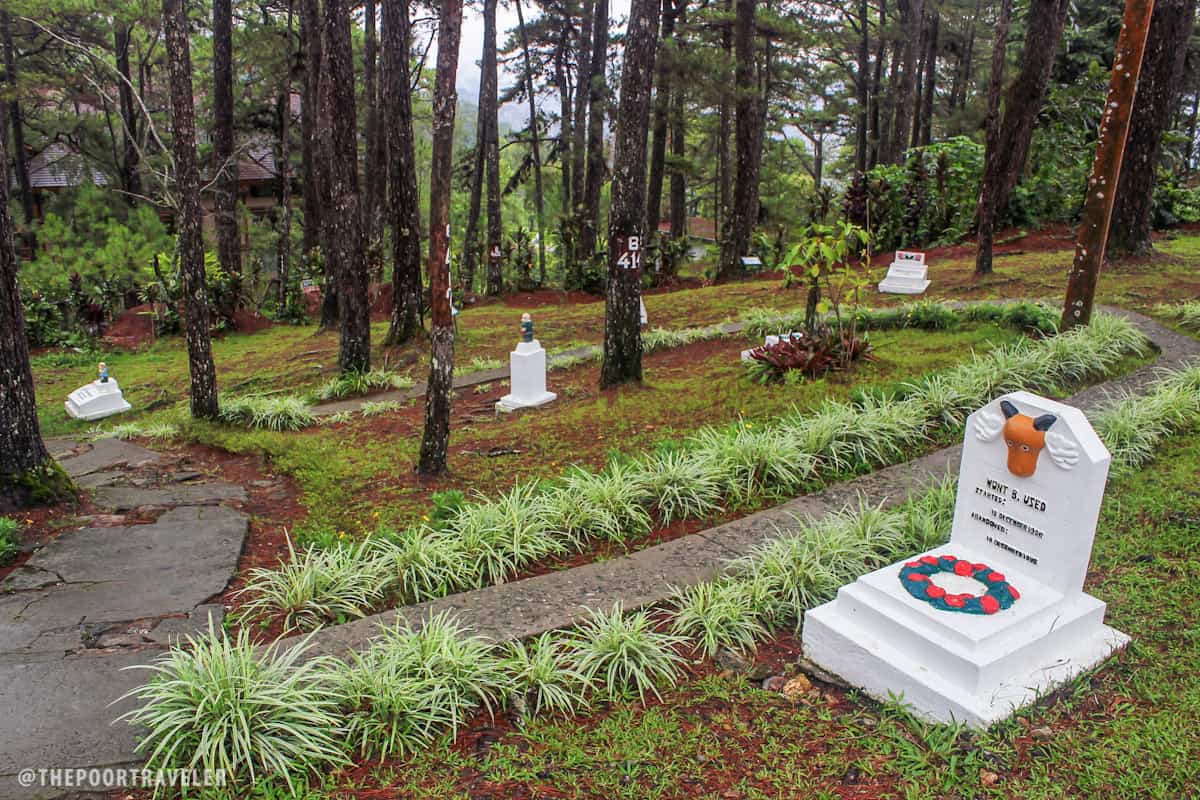 "It is a part of the John Hay Historical Core," Micaela Rodriguez of Senyorita.net shares. "This symbolic cemetery was founded by Major John Hightower. It aims to encourage all its visitors to bury the banes of productivity in clever epitaphs."
A stone walkway snakes across a pine needle-blanketed ground, which lets visitors to have a closer look at each tombstone one by one. Most of them are inspirational yet oddly hilarious.
More info and pictures here: Camp John Hay Lost Cemetery
More about Senyorita's experience here: Cemetery of Negativism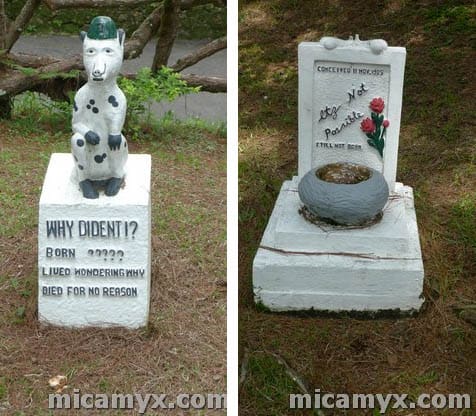 ---
The cemetery is not exactly the destination most of us want to visit while on a trip. This is where bodies are laid to rest. This is where our physical presence all ends. There is little comfort in the mere idea of death, of the unknown, or of the Great Beyond, if you believe in it.
But death is not the reason we set foot on one every All Souls' Day. Death is not what we want to remember when we step into its peaceful territory. On the contrary, it is life that draws us here. Life is what we look back to. Life is the reason we light candles — or bonfires — and guard their flames from dying. Life and the great memories our loved ones left behind. And they are always worth reliving.
---