A more updated version of this article can be found here:
➡️ UBE EXPRESS NAIA SCHEDULE
---
Last updated: July 5, 2019.
Here's the P2P bus schedule and fares for the following routes: NAIA TO NUVALI, NUVALI TO NAIA, and ROBINSONS TAGAPO TO NAIA and NAIA to ROBINSONS TAGAPO.
I live in Laguna, south of Manila. As much as I love being a so-called Southerner, it comes with a lot of challenges too. My work requires me to travel to different places, so I usually find myself being whisked off from one place to another. More often than not, my travels involve plane rides and episodes of rushing to and from the airport. Living in the south, you'd think it would be a lot easier for me since the airport is located in, well, the south, but that is not always the case.
For example, when getting home from the airport, there are fewer transportation options available. Taxis and Grab are expensive. Taking public transportation involves multiple transfers, which can be a hassle especially when I have heavy bags in tow. For those living in Manila, Makati, and Quezon City, there was always UBE Express, a point-to-point bus service. But for the longest time, there were no P2P routes that connected the airport directly to Alabang or Laguna. Thankfully, things finally changed! UBE Express has expanded to include Alabang and Santa Rosa, Laguna!
UBE Express is the first 'P2P' bus company to roll out in Metro Manila. It operates point-to-point buses that are equipped with free Wi-Fi, GPS, and CCTV. Besides lessening the amount of travel time by skipping several stops, the fleet boasts enough space for the luggage and accessibility for the physically-challenged passengers.
WHAT'S COVERED IN THIS GUIDE?
UBE Express Pickup and Drop Off Points
NAIA Terminal 1: Arrival area
NAIA Terminal 2: Arrival area, Bay 17
NAIA Terminal 3: Arrival area, Bay 10 Arrival area
NAIA Terminal 4: In front of the terminal
Note that the bus will stop NOT in the above order. As the biggest and busiest, Terminal 3 is often the first and last stop. They then pass by the other terminals very quickly. Terminal 4 is a drop off stop only. If you're coming from Terminal 4, you must first make your way to Terminal 3.
IMPORTANT! Each timetable section below indicates the last time it was updated. Although we try to do our best, we cannot guarantee that the info below is up-to-date all the time. We only rely on the timetables released by UBE Express and posted at public spaces. We still strongly encourage you to call UBE Express directly for the current schedules.
---
NAIA to NUVALI / NUVALI to NAIA
Fare: P190
Nuvali Pickup and drop off point: Ayala Malls Solenad at Nuvali, Santa Rosa, Laguna.
Last updated: July 4, 2019.
Travel time: In our experience, 2 hours. The first hour was from NAIA to SLEX Sta Rosa Exit, which was surprisingly fast. But it took us another full hour to get from Sta. Rosa to NUVALI because of the terrible traffic jam. We traveled at around 5:30pm on a weekday. But I would still suggest you add more time allowance.
---
NAIA to ROBINSONS STA. ROSA (TAGAPO) / ROBINSONS TAGAPO TO NAIA
Fare: P190
Last updated: July 4, 2019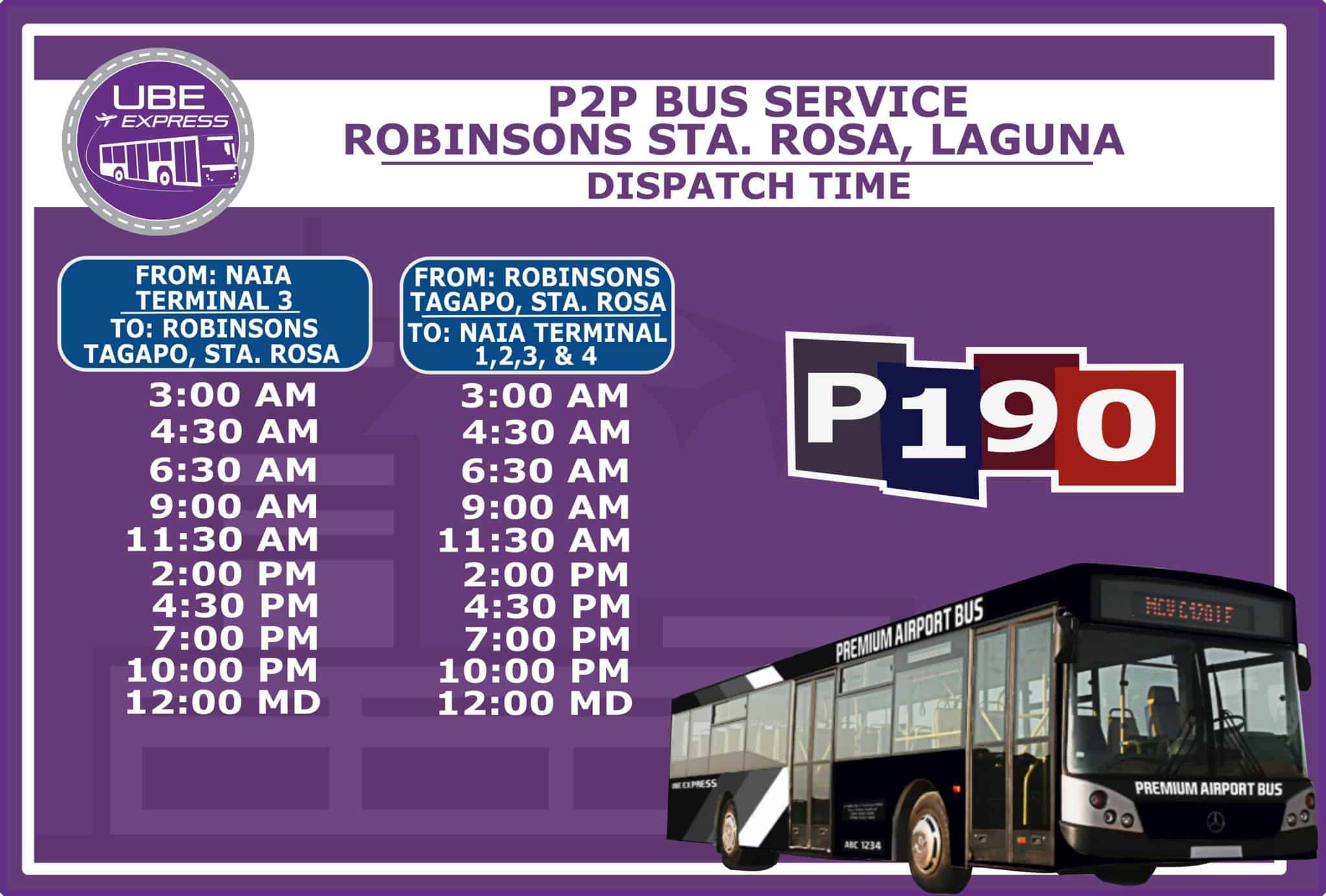 ---
Important Reminders
Allow some lead time, especially if you have a flight to catch. This is Metro Manila. Every schedule is tentative and you'll never know what's going to happen on the road. Be at the airport at least 2 hours before a domestic flight or 3 hours for international.
Do not try to alight other than the designated stops. These buses WILL NOT stop to pick up or drop off passengers elsewhere.
Don't expect the buses to arrive or leave on time. There are many factors affecting it. Traffic conditions make it hard to stick to the timetable. TripAdvisor also has records of complaints about long waits and deviation from the schedule. They also seem to not follow the schedule strictly.
Schedule may change without prior notice. They seem to make changes to the schedule every now and then but don't update their online channels. If you want to be sure, call their office directly.
Always contact UBE Express before your trip. Or download their Android app to get their latest timetable. The app is down as of this writing though.
This post is a work in progress. We'll be updating this as we get more information. If you have something to add to this post, let us know in the comments section below.
---
Where to Stay Near NAIA
If you want to stay at a hotel near the airport, here are some options.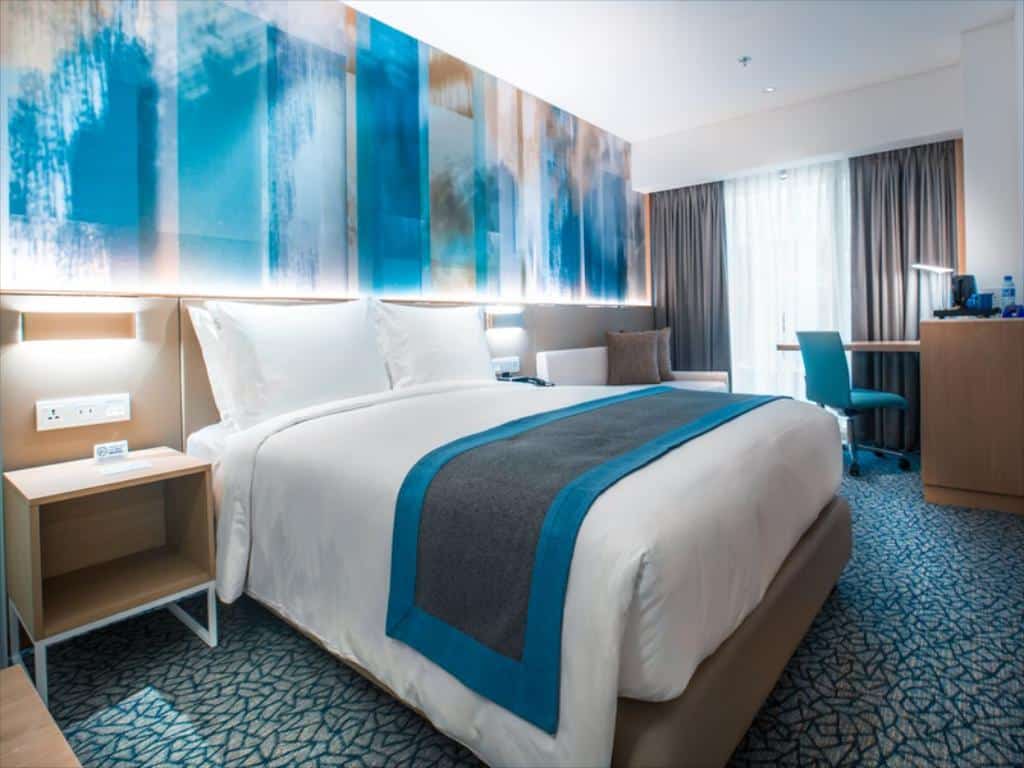 ---