A more updated version of this article can be found here: Sagada Travel Guide
2011 • 10 • 15
"Let's go to Sagada."
More than five years ago, just before our college graduation, my friend Tonet invited me to go to Sagada. "I don't think that's possible given that we're too busy working on our theses. Perhaps after graduation?" I suggested.
After graduating, while we were walking in Makati looking for a job, she brought it up again. "I think we should find a job first. And then let's plan a Sagada getaway," I dodged. She agreed.
When we finally landed a job, the desire to travel to Sagada was still there. But neither tried to bring it up because we knew there was no way we could squeeze a 3-day trip into our totally toxic schedules. It wasn't until our company-sponsored outing in 2009 when I finally set foot on Sagada.
When Tonet found out that I had been there already, she made me promise that I should take her with me the next time. Fortunately, Sagada is one of those places anyone would love returning to. A year later, I decided to go back to Sagada. The perfect time glimmered in between Christmas and New Year. I gave Tonet a call.
"You asked me to call you the moment I decided to go to Sagada. The moment has come. You still up for it?"
Tonet's response was a loud and happy "Of course."
After 5 years of wanting, it finally happened.
When our friends found out about this trip to Sagada, they decided to join. After all, because the trip was scheduled on December 27-29, they already had filed a leave of absence from office. Before we knew it, we became a group of 10, composed of college friends and some colleagues.
Planning a Trip to Sagada
Since my friends and I wanted to visit Sagada during the Christmas break, between Christmas and New Year, we knew we would be in for a difficult planning stage. December is considered a peak season in Sagada so finding accommodations can be a lot less easy within this period. Why did we choose to go in December? Because we wanted to feel the cold and we wanted to join the annual Bonfire Fest, which happens usually on December 27 or 28. Here are the things we had to settle prior to our trip:
1. Transportation. You can reach Sagada on public transportation via any of the following routes.
Via Baguio City
Via Banaue
Via Bontoc
Since we were a group 0f 10, we decided it would be more convenient and comfortable to just rent a van and split the cost. This way, we could make the most of our time as we would travel in the evening and reach Sagada in the morning rather than spend a full day on the road if we take the bus. (There are no evening trips to Sagada from Baguio.) The cost of van rental for 3 days and 2 nights inclusive of everything (from driver's fee to gas to toll fees) was PhP 17,000, which meant each of us would shell out P1,700 for transportation. Not bad.
2. Accommodation. We started planning this trip a little too late, which we realized when all the hotels we called were all fully-booked. Luckily for us, blogger friend Benj of VisitSagada.com, who was already in Sagada that time, helped us find a guesthouse which could accommodate us. We ended up occupying a room at Ligaya's Guest House and Cottages. Read my review here.
3. Itinerary. Creating a Sagada itinerary wasn't that difficult for us because I, having been there before, was able to estimate how much time it took to complete each tour we wanted to take. Here's our initial itinerary:
Day 0: DEPARTURE
07:00 pm – Meet up (Manila)
Day 1: ARRIVAL, LUMIANG BURIAL CAVE, SUMAGUING CAVE
07:00 am – Arrival in Sagada
07:20 am – Breakfast at Salt and Pepper
08:30 am – Check in at Ligaya's Guest House
09:30 am – Lumiang Burial Cave
10:15 am – Sumaguing Cave
01:30 pm – Lunch
03:00 pm – Echo Valley, Sagada Weaving, Mission Compound
06:00 pm – Dinner
07:00 pm – Rest
Day 2: BOMOD-OK FALLS, ROCK INN, BONFIRE
06:00 am – Wake up call
07:00 am – Bomod-Ok Falls
12:00 pm – Rock Inn and Cafe, Orange picking
03:00 pm – Change clothes, rest
05:00 pm – Prepare for Bonfire
12:00 am – Return to Hostel
Day 3: DEPARTURE, KILTEPAN SUNRISE
04:30 am – Wake up call
05: 10 am – Watch sunrise at Kiltepan Viewpoint
06:30 am – ETD Sagada,
08:00 pm – ETA Manila
Of course, we were not able to follow it strictly but what actually happened was pretty close!
---
Top Inns and Guesthouses in Sagada
Based on Agoda customer reviews.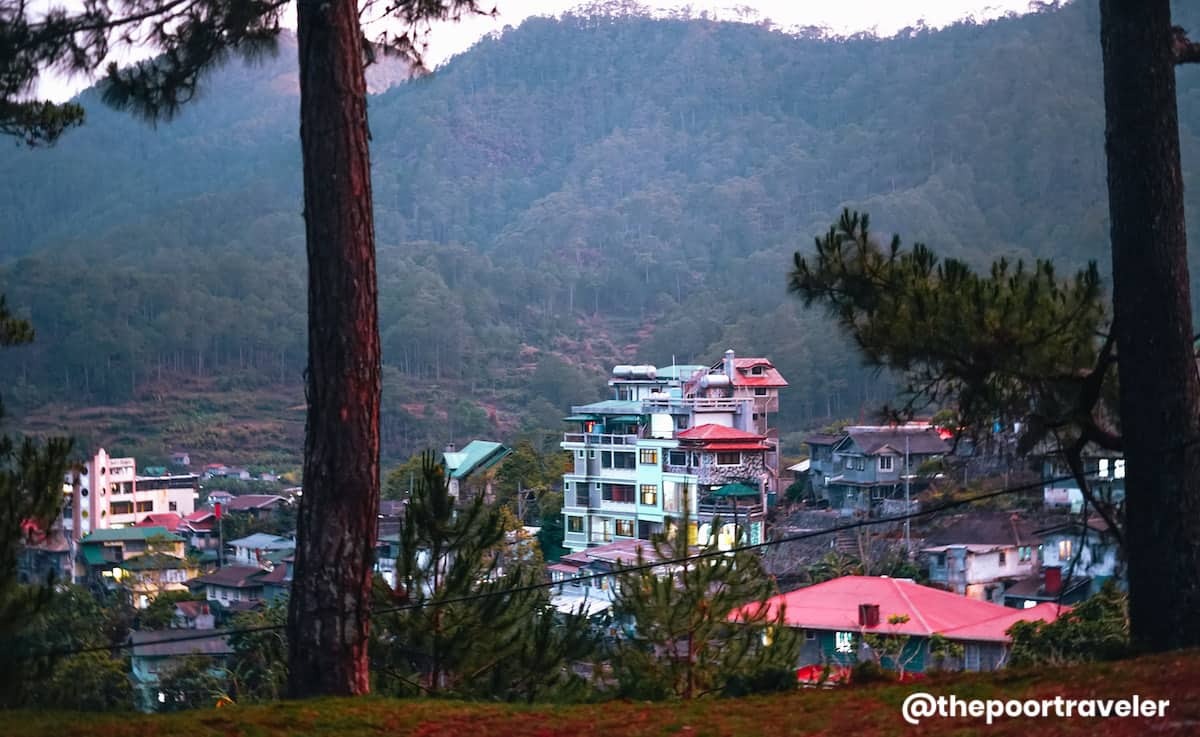 Isabelo's Inn and Cafe. Check Rates & Availability! ✅
Kanip Aw Pines View Lodge. Check Rates & Availability! ✅
Kenlibed Inn. Check Rates & Availability! ✅
Sagada Heritage Village. Check Rates & Availability! ✅
Treasure Rock Inn. Check Rates & Availability! ✅
---
Day 0 – Meet-up and Departure
A couple of days before the trip, four of our friends flaked out, leaving only six people. While it sucked that they backed out just like that, the six of us decided to still push through with the trip despite knowing that the cost of transportation would increase dramatically.
The group met at Trinoma in Quezon City, where the van was waiting for us. At 7pm, we hit the road. Our first stopover was at a gasoline station at NLEX, where we grabbed quick dinner and some toiletries. Our driver made a few stops after that but I was asleep the whole time. When I woke up, the sun was already shining and we were already in Sagada.
Day 1 – Arrival in Sagada, Sumaguing Cave Spelunking Tour
Had we arrived while it was still dark, we could've prioritized catching the famous Kiltepan Sunrise on our first morning in Sagada. Unfortunately, we were a few minutes too late. We decided to just stick to our original itinerary. We had breakfast at Salt and Pepper Diner (which we loved), booked tour guides at the SaGGAs Office (Sagada Genuine Guides Association) and then checked in at Ligaya's Guesthouse and Cottages.
After an hour of rest, we went back to the town proper and started the Sumaguing Cave Tour, with a quick sight-seeing stop at Lumiang Burial Cave. (We actually had a brief discussion about whether doing the Cave Connection Tour instead.) After three and a half grueling hours of spelunking inside the cave, we had lunch at Masferre Country Inn and Restaurant and went back to the hotel to freshen up. Unfortunately, our beds were magnetizing us that we decided to not get out of it until dinner.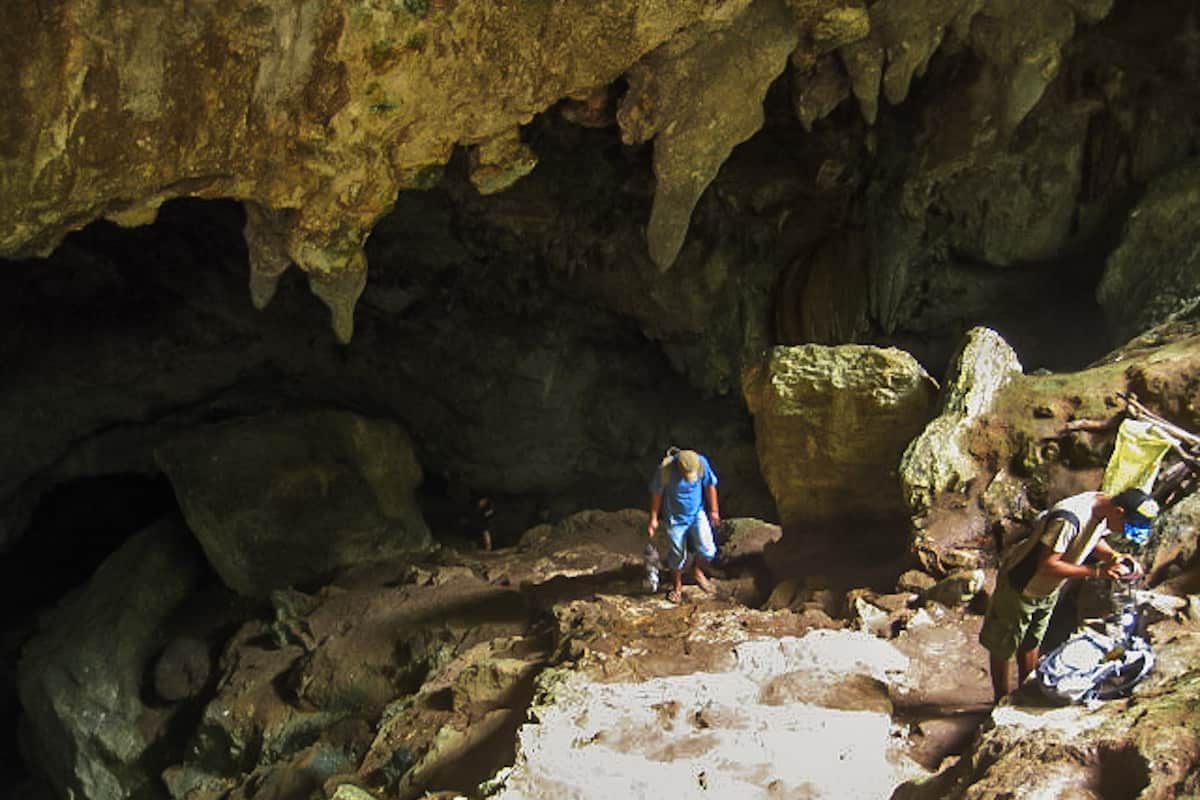 Here are the detailed accounts of what happened on our first day! Check out these posts:
Day 2 – Bomod-ok Falls, Orange Picking, and Echo Valley
We started our second day at the Lemon Pie House, where I had the first lemon pie that I actually liked and loved. After that, we immediately drove to the access point to Bomod-ok Falls. We climbed up and down the terraced hills for what seemed like forever until we reached the mighty Bomod-ok and get drenched in all its cold, cold glory. Haha. It was a great experience albeit exhausting.
We then headed to Rock Inn and Cafe for lunch and for a quick visit to their orange orchard for some picking session. I always enjoyed orange-picking perhaps because it's not every day that I get to see orange trees. When we were done, we were glad to see our lunch served, which we finished in no time since we were all pretty starved.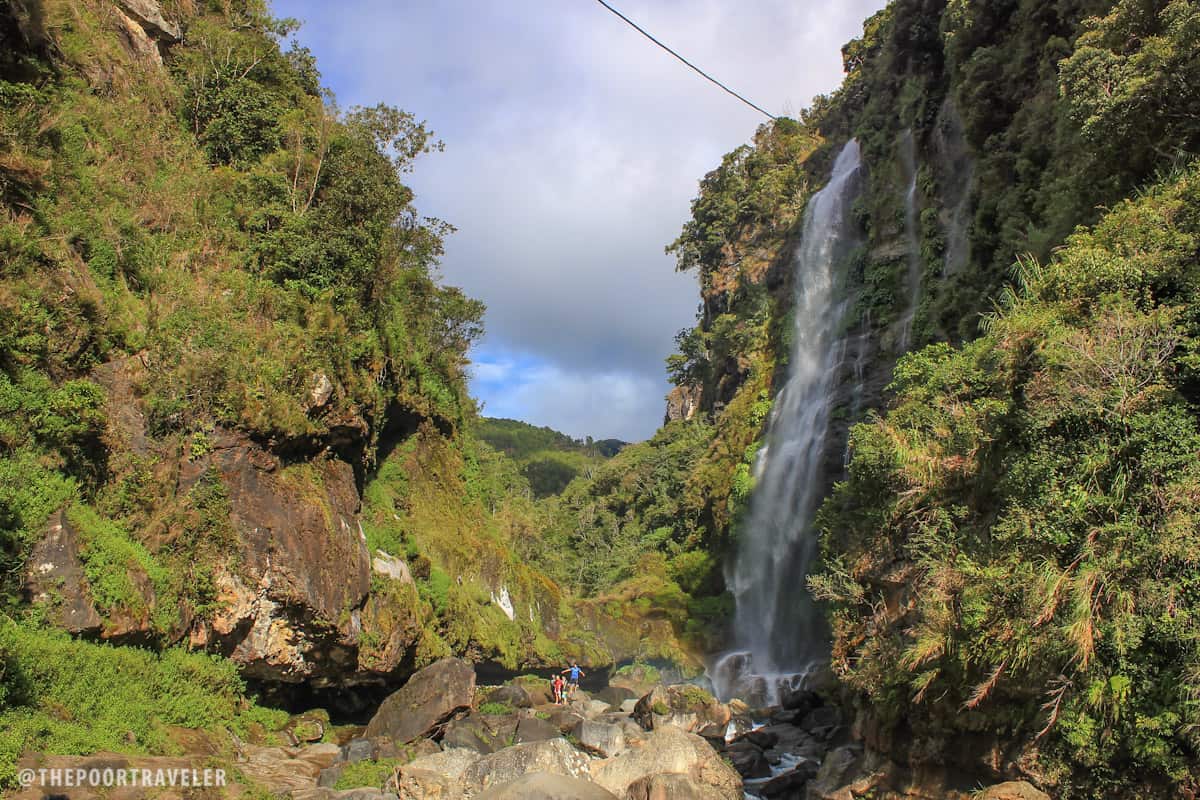 We then went our way back to the town proper. On the way there we made a stop at Sagada Weaving and at a small pottery shop near Mapiya-aw Pensione. We were then dropped off at the Church of St. Mary the Virgin, from which we would start walking to the Echo Valley. We passed through the more modern Mission Compound Cemetery, where we spent several minutes looking at tombstones and reflecting. We then traversed a cliff to the Echo Valley (which was a short, pretty easy walk) but we didn't stay that long. Later in the evening, we joined most of the tourists in Sagada at the Bonfire Fest!
Here are the more detailed chronicles of our Day 2 experiences:
Day 3 – Kiltepan Sunrise and Sidetrip to Banaue Rice Terraces
The sun had yet to rise when we started our third day. As early as 5am, we were already in the van on our way to Kiltepan Viewpoint to catch the famous Sagada sunrise. It was still dark when we arrived and we had to walk through a thick blanket of fog covering red soft muddy ground. We climbed up the hill and waited at the viewpoint for the heavenly spectacle! The sunrise was beyond breathtaking!
After that, we went back to the town proper for breakfast and then to our guesthouse to fetch our belongings. Our driver offered that we take the Bontoc-Banaue route on our way back so we could see the rice terraces in Banaue and Bay-yo. We agreed, even though we knew it would take more time. It was a good decision. We were able to admire these two sites (although from afar) and it was worth the travel time.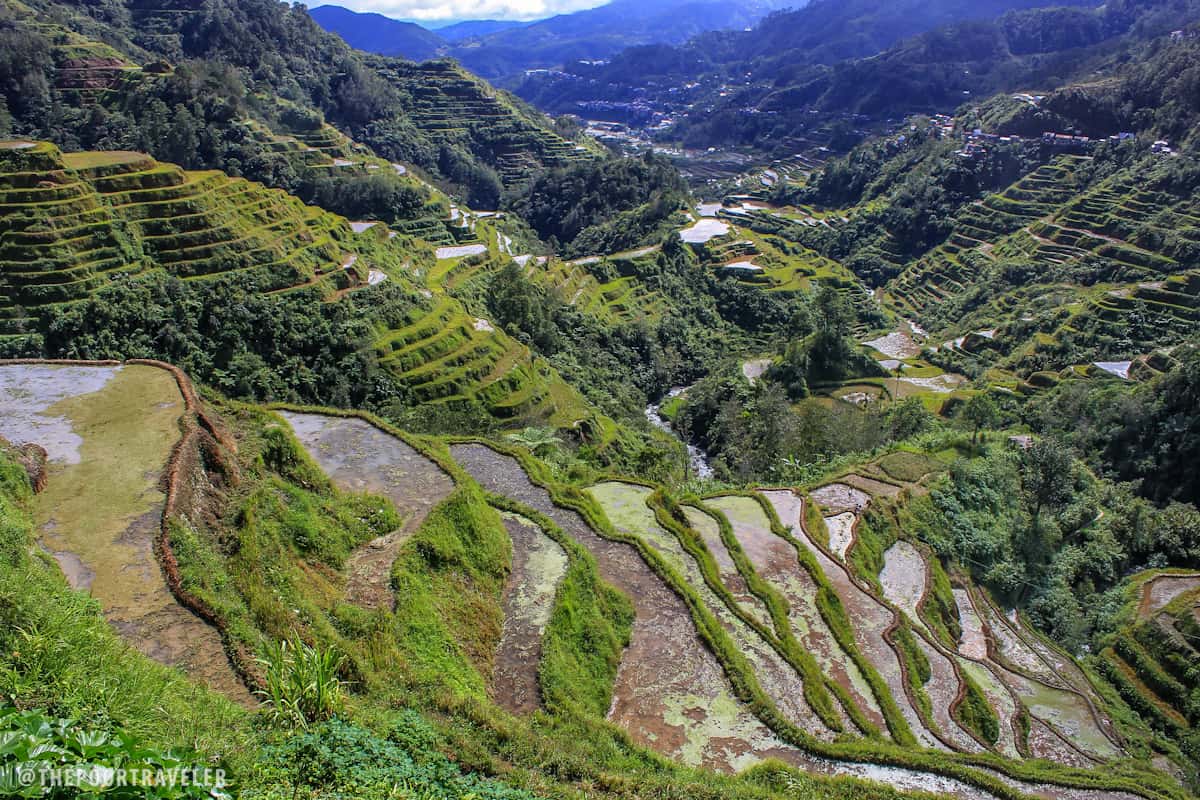 After several more stopovers (including late lunch in Nueva Vizcaya), we finally arrived in Manila at around midnight!
Check out these posts as I narrated here in detail what happened to us per stop.
Expenses
Even before the trip started, we knew the biggest chunk of our budget would go to transportation expenses. Again, we were supposed to be a group of 10 renting a private van for P17,000 (3days, 2nights inclusive of driver's fee, gas, and toll fees) but then some of us started dropping like flies until we were trimmed down to a group of 6. What was supposed to be P1,700 per head became P2,834 per person.
Anyway, here's the breakdown of our expenses in Sagada.
P2,834 – Van Rental per person
P1,400 – Total Food
P500 – Ligaya's Guest House, 2 nights
P133 – Sumaguing Cave Tour (P800/6 pax)
P33 – Echo Valley Tour (P200/6 pax)
P100 – Bomod-ok Falls Tour (P600/6 pax)
P250 – Bonfire Fest ticket (inclusive of transportation, buffet dinner, and drinks)
P50 – Rock Farm Orange Picking Entrance Fee
P150 – Oranges (P50/kilo)
P20 – Shower Fee (Sumaguing Cave)

P200 – Incidentals (bottled water, junk food, etc)

P5,670 – TOTAL
Hmmm. Pretty expensive, huh? Please note that this was due to our friends' backing out at the last minute, which forced us to cover their transportation fee as well. Had they gone with us as they committed, there would have been more people dividing the cost. Had we known that we would only be a group of 6, we would have taken public transportation instead, too! Hay, I hate flakers!
Anyway, flakers or no flakers, Sagada will always be one of the most unforgettable destinations for me. I'm just in love with the highlands, the weather, the food, and the places to visit in Sagada!