After months of hiatus due to the COVID-19 pandemic, Enchanted Kingdom, one of the most popular attractions near Manila, has resumed operations. Guess who got the most excited: us! There's a hole in our hearts that only theme parks can fill. We were so thrilled that we already sashayed our way to Sta. Rosa, Laguna, to finally have a taste of nostalgic magic!
But because the health threat has not yet passed, new safety guidelines remain in place, in compliance with the policies provided by the Inter-Agency Task Force on Emerging Infectious Diseases.
If you're planning a visit to EK in the coming months, here are some things you should know in order to keep your experience safe and magical.
WHAT'S COVERED IN THIS GUIDE?
What are the operating hours?
March 14 – June 27, 2022
OPEN: Friday, Saturday & Sunday, 11:00 AM to 7:00 PM
CLOSED: Monday – Thursday
Note: Operating hours might change without prior notice, so please check for updates and the latest announcements before going.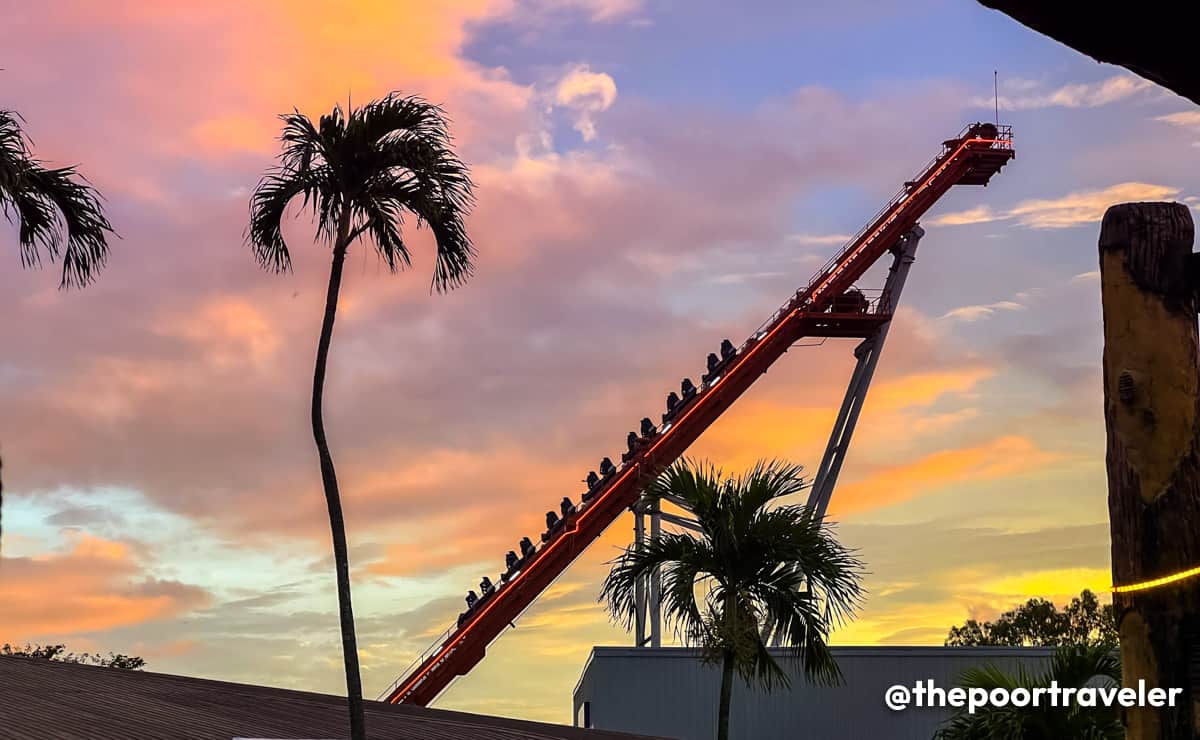 ---
How much is a ticket?
Here are the entrance fees:
Regular Day Pass: P999
Senior Citizen/PWD: P688
Junior Day Pass (Kids 3ft-4ft): P688
Junior PWD: P488
Children Below 3ft: FREE
The cheapest regular tickets we found are offered by Klook, at only P888 per guest. Klook also has its own booth by the entrance, which allows Klook-ticket-holders to skip the long, long line.
✅ GET DISCOUNTED TICKETS HERE!
Enchanted Kingdom also runs a couple of promos for select sectors. For example, we scored tickets for only P800 from a promo exclusive for vaccinated guests.
---
Where to purchase tickets?
Walk-in (Makati Sales Office and EK Front Gates) is still allowed. However, only a limited number of walk-in guests will be accepted per day so you are strongly encouraged to book a ticket in advance.
You can get a DISCOUNTED ticket on Klook!
✅ GET DISCOUNTED TICKETS HERE!
You may also book on their official website.
Make sure to check the validity and rebooking policies first before booking your ticket online because the opening schedule might change without prior notice and you might be asked to rebook your ticket to another date.
Note: Guests WITHOUT prior reservation or walk-ins shall be allowed entry on a first-come, first-served basis, and if the park capacity still allows.
Enchanted Kingdom still accepts cash transactions, but during these extraordinary times, cashless transactions such as credit cards, debit cards, and GCash are preferred.
---
Who are allowed to visit the park?
Guests of ALL AGES, vaccinated and unvaccinated, are allowed to enter Enchanted Kingdom.
However, take note of the following:
Temperature checks are conducted upon entry. If your body temperature is 37.6C or above, you will be asked to rest at the designated holding area. After 5-10 minutes, your temperature will be checked again, if it did not go below the required body temperature, the management reserves the right to refuse entry to you and your companions. If your ticket was booked online prior to your visit, you can check the park's rebooking guidelines.
Guests should not have symptoms related to Covid-19. If you have sore throat, headache, body/muscle pain, diarrhea, dry cough, loss of smell/taste, and/or shortness of breath, the management reserves the right to refuse entry. Guests with symptoms will be advised to immediately seek appropriate medical attention. You can check the rebooking policies if you bought your ticket online.
---
Do I have to be vaccinated to enter the park?
No. Individuals, vaccinated or unvaccinated, are allowed to enter the park.
However, for indoor dining establishments, the vaccination ID must be presented before entering.
That said, the management encourages guests to be fully vaccinated at the time of visit. Vaccinated guests may score promo discounts, too!
---
What are the requirements when visiting Enchanted Kingdom?
Face masks are required to enter the park. You must wear it at all times, except when dining. This is in compliance with the current IATF guidelines.
Proof of vaccination or vaccination card is required when entering indoor dining establishments.
Enchanted Kingdom also advises its guests to bring their own personal safety kits with alcohol-based sanitizers, tissues, face towels, and wet wipes.
---
How to get there
By Shuttle Service
You may avail of the Magical Shuttle. Rides are often bundled with entrance tickets but occasionally, you can book bus transfers only.
To book, click the link below and choose EKSPRESS SHUTTLE PACKAGE or EK BUS RIDE ONLY (ROUNDTRIP TRANSFERS) in the options:
✅ RESERVE SHUTTLE TICKET OR PACKAGE HERE!
By Public Transportation
Make your way to Buendia, near LRT Gil Puyat Station, where you can find terminals.
Ride a bus to Balibago. Fare: P60.
At Waltermart, ride a tricycle to Enchanted Kingdom.
By Private Car
Take Santa Rosa exit on South Luzon Expressway.
From the toll, turn left and continue driving until you reach the intersection near Waltermart.
At the intersection, turn right and continue driving until you see Enchanted Kingdom on the right side.
Upon parking, you'll be handed a stub by a staff member. Before leaving the park, settle the parking fee, which costs P50.
---
Is it crowded? How long are the queues?
On our last visit, it seemed like things are getting back to normal. But note that we visited on a Saturday, which is expectedly popular.
If you booked online, whether via Klook or their website, the line was short. We only waited for a few minutes and we were in. But for those who didn't pre-book tickets, the queue was much longer. It's really recommended to buy tickets online.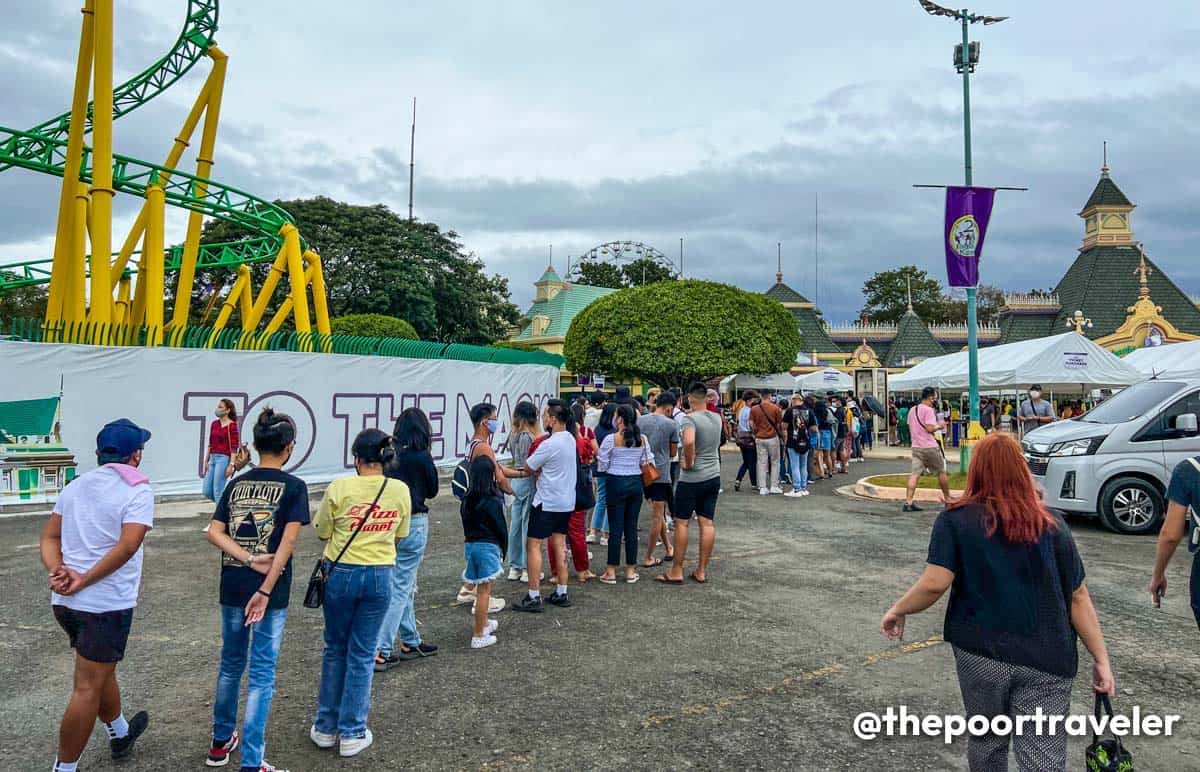 We arrived past lunch, but we were only able to try five rides. Here are our waiting times, based on experience:
Twin Spin: 8 minutes
Flying Fiesta: 10 minutes
Jungle Log Jam: 40 minutes
EKstreme: 1 hour 10 minutes
Space Shuttle: 1 hour 30 minutes
Note that the short waiting time for Twin Spin may be attributed to it being a new attraction in an out-of-the-way corner of the park. We were surprised that the queue was super short, too! But it was by far our fave ride now. But lines may become longer in the coming days as more people discover it.
If the maximum capacity is reached, the park will halt from accommodating additional walk-in guests until the capacity allows further entry. This is why pre-booking, online reservation, or advanced ticket purchase is highly encouraged.
Floor markers are present as guides to ensure proper physical distancing while in the queue areas.
There may also be some waiting time between ride and attraction cycles for the high touch/traffic surfaces to be disinfected and sanitized.
---
---
Frequently Asked Questions
What rides are open?
The majority of the rides and attractions are available. When we visited, the following crowd favorites are open:
Space shuttle
EKstreme Tower Ride
Jungle log jam
Twin Spin
Anchors Away
Grand Carousel
Disk-o-Magic
Wheel of Fate (Ferris wheel)
Dodgem (bump cards)
Flying Fiesta
Bouncing Boulder
Agila the EKsperience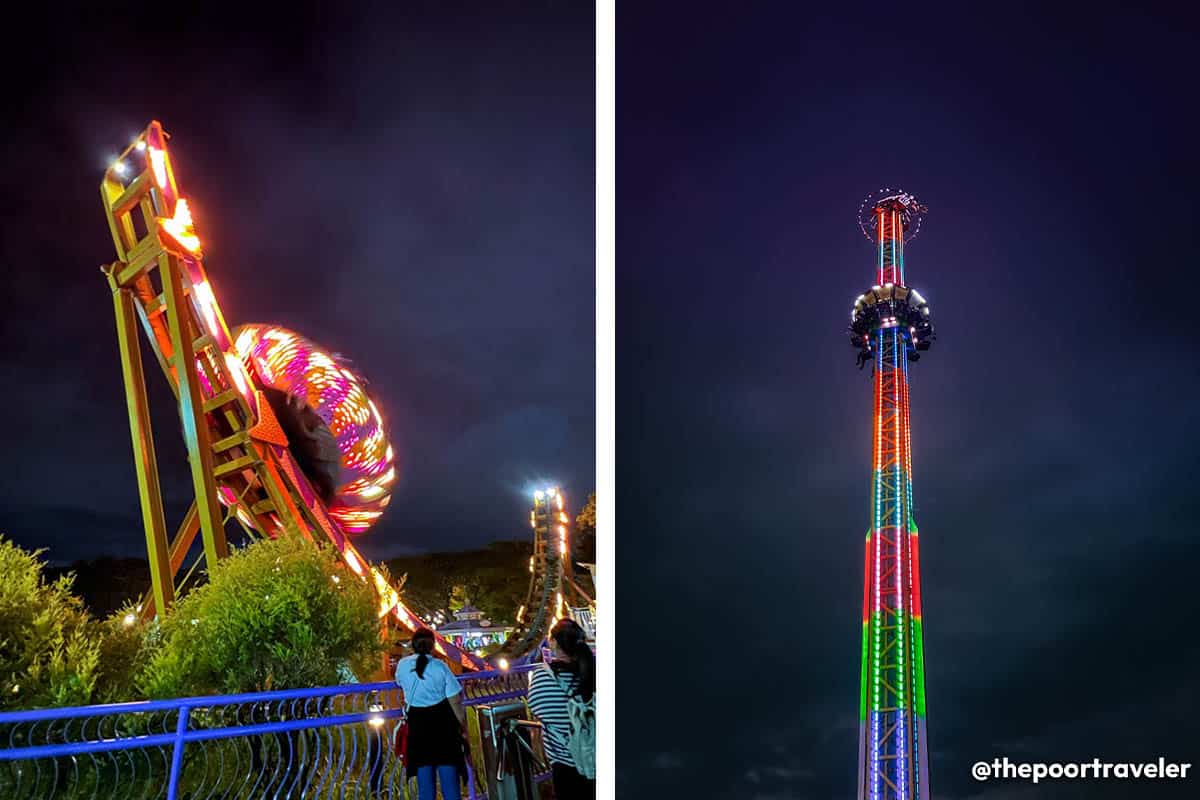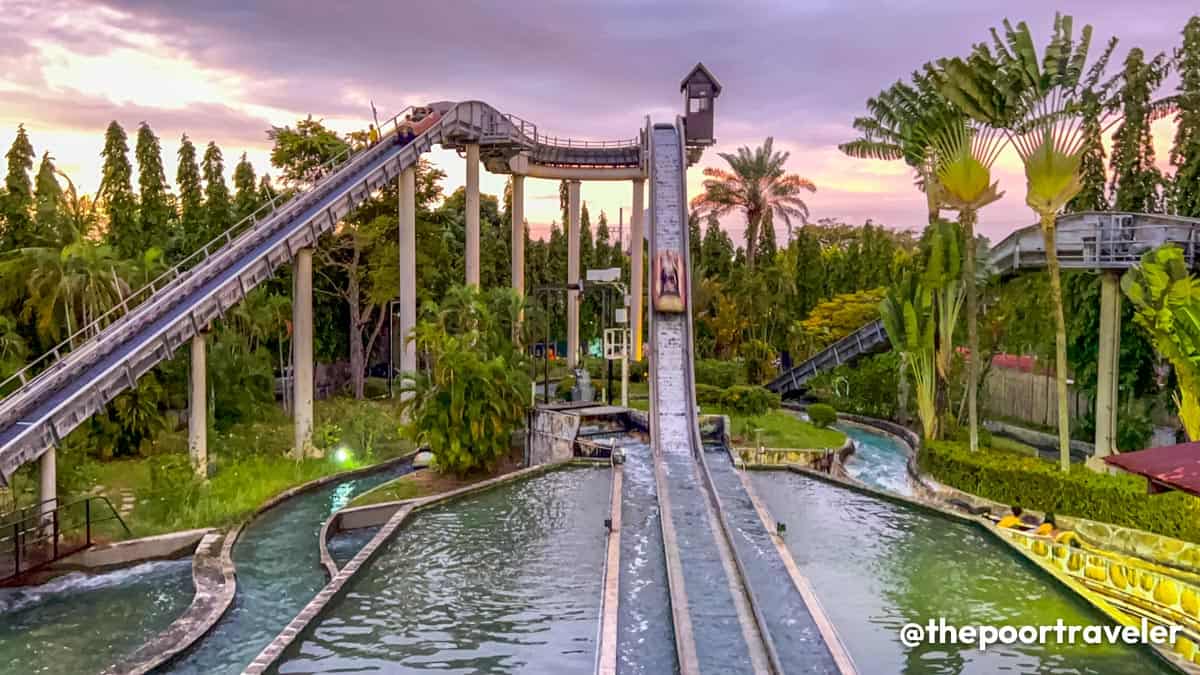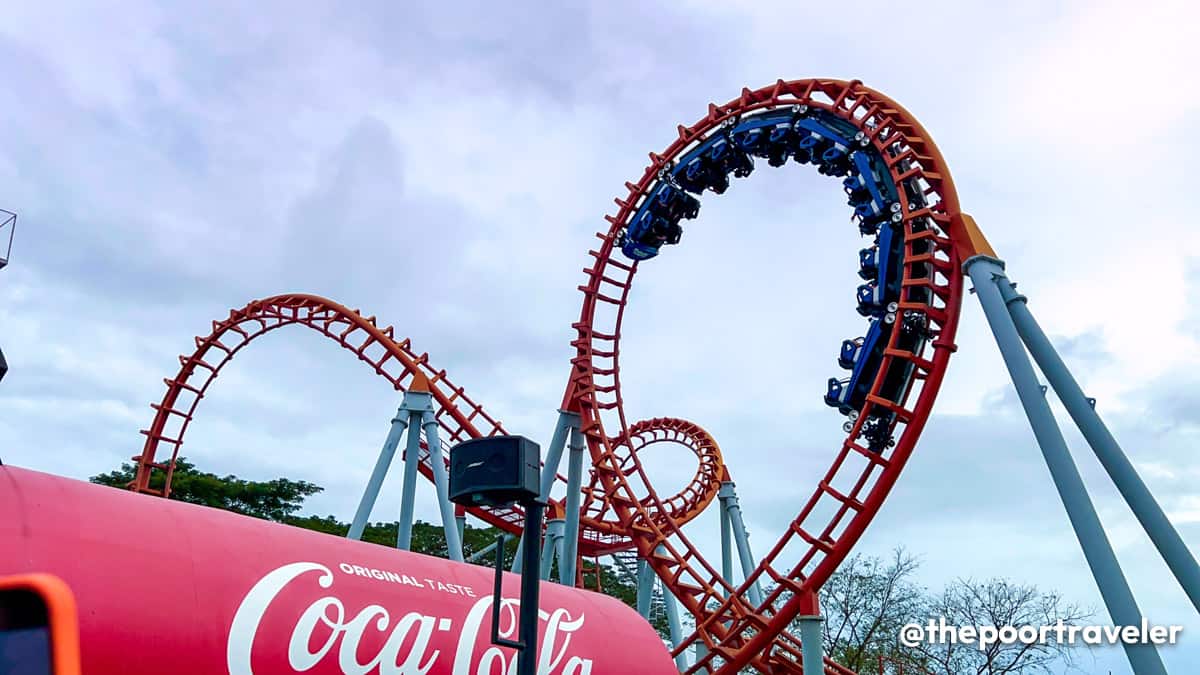 ---
What are the gated attractions?
Gated attractions are activities or rides that have separate admission fees, meaning they are not included in the regular day pass unlimited ride perks. If you wish to experience them, you have to pay extra. These are:
Laser Mission
Fun Kart
Kindermagic
7D Interactive Motion Theater
XPP Paintball
Ghostbusters Adventure Live
---
How can I maximize my time in the park?
Well, long queues are expected at popular theme parks like Enchanted Kingdom, and peak season will really test your patience as a great number of visitors flock to the park. Not only will you spend time waiting in line for the rides but also for food and using the toilet.
It is best to choose to go during lean season or, if open, weekdays. But if you can't help visiting during the holidays and peak season, you might want to consider these:
Plan your visit well. List the rides that you don't want to miss and rank them. Prioritize the popular ones.
Go to the park early, so you will have more time. Moreover, you can go through your list and start ticking off your priority rides while it's still early and there's not too much crowd yet.
Have your meals elsewhere. Have them before or after your visit so you won't waste time falling in line for proper meals. Just have snacks inside the park. If you can't help it, then have lunch or dinner outside the peak dining hours.
Note: These are just suggestions. You may choose to follow or not follow these.
---
Where to eat inside Enchanted Kingdom?
The park has a number of food concessionaires in the park — restaurants and food stalls/carts. The prices are expectedly marked higher than normal. Here are the food places inside the park: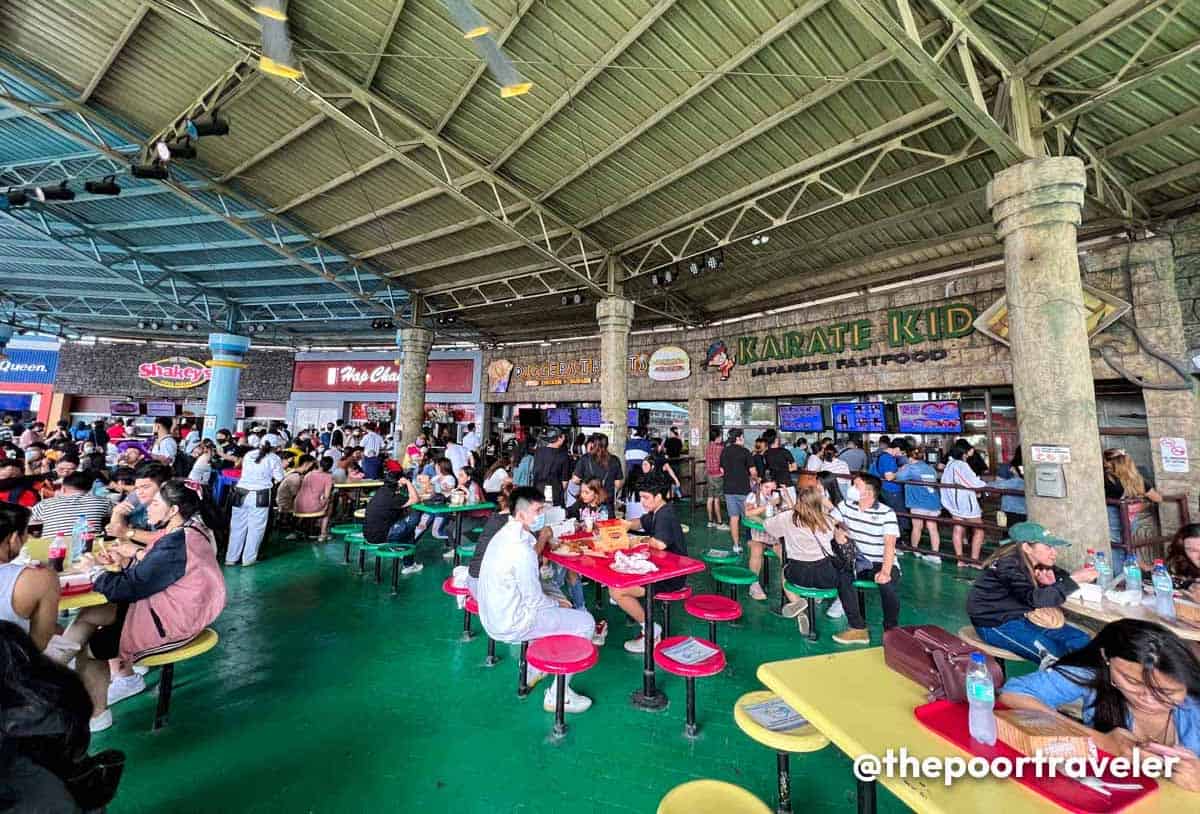 Amazon Grill
Shakey's Pizza Parlor
Karate Kid Japanese Fastfood
Diggers Treats (Fried chicken, burger, burrito)
Hap Chan
At the food court, prepare to spend a long time waiting in line to order, to claim your order, and to find a vacant table, especially at lunch time. We burned over an hour just for lunch.
Food carts and stalls all around the park include Dairy Queen, Famous Belgian Waffles, Purefoods Tender Juicy Hotdogs, Potato Corner, and a number of fruit shake, buko juice, popcorn, and takoyaki stands.
---
Am I allowed to bring my own food inside the park?
Food and drinks from outside are NOT permitted inside the park except for special cases such as baby food and formula food, special dietary requirements or diet for medical purposes.
You can eat outside, but be sure to get a stamp before you exit, so you can still get inside the park.
---
Are there ATMs at Enchanted Kingdom?
YES! There are ATMs on the left side of the entrance gate, near the restrooms. Here are the machines available: BPI, RCBC, UCPB, and Security Bank.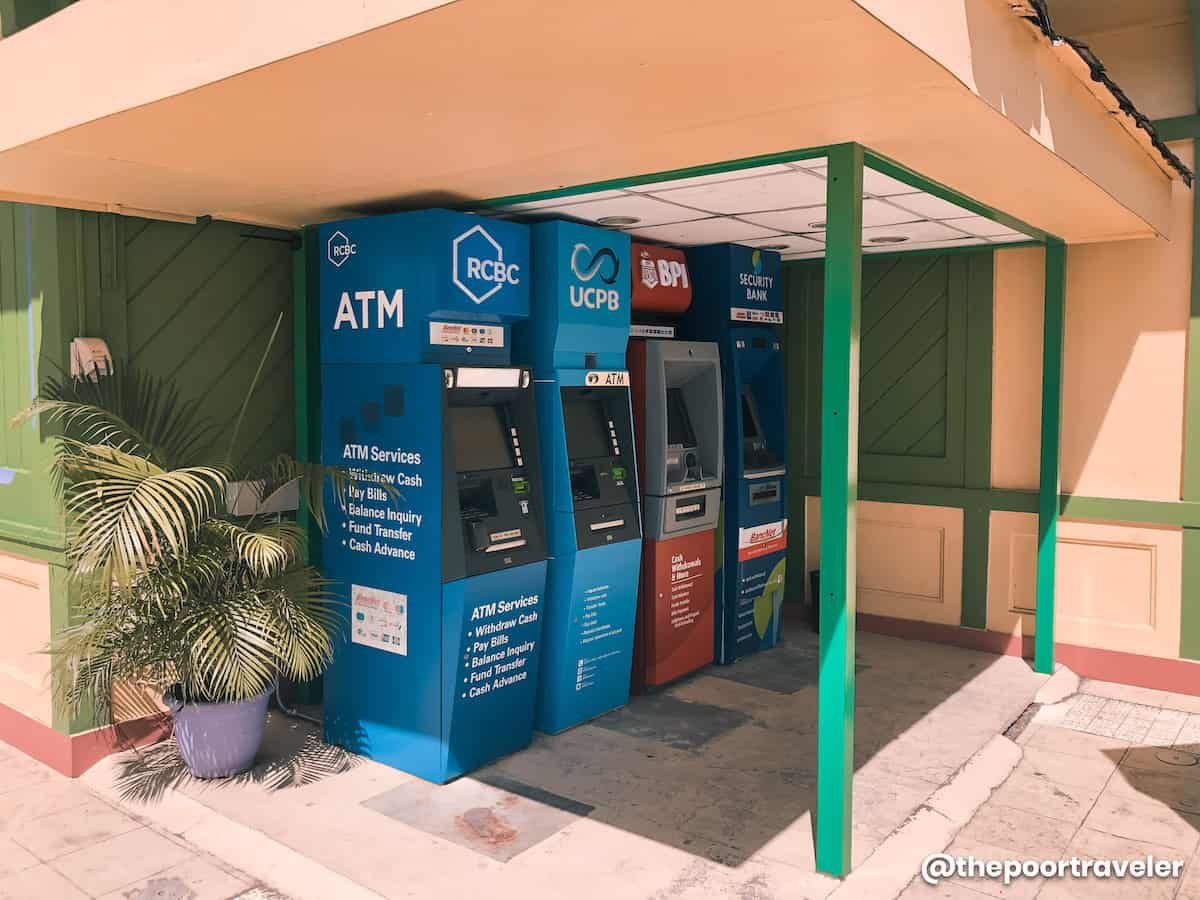 ---
Are there lockers inside Enchanted Kingdom?
YES, there are lockers inside Enchanted Kingdom.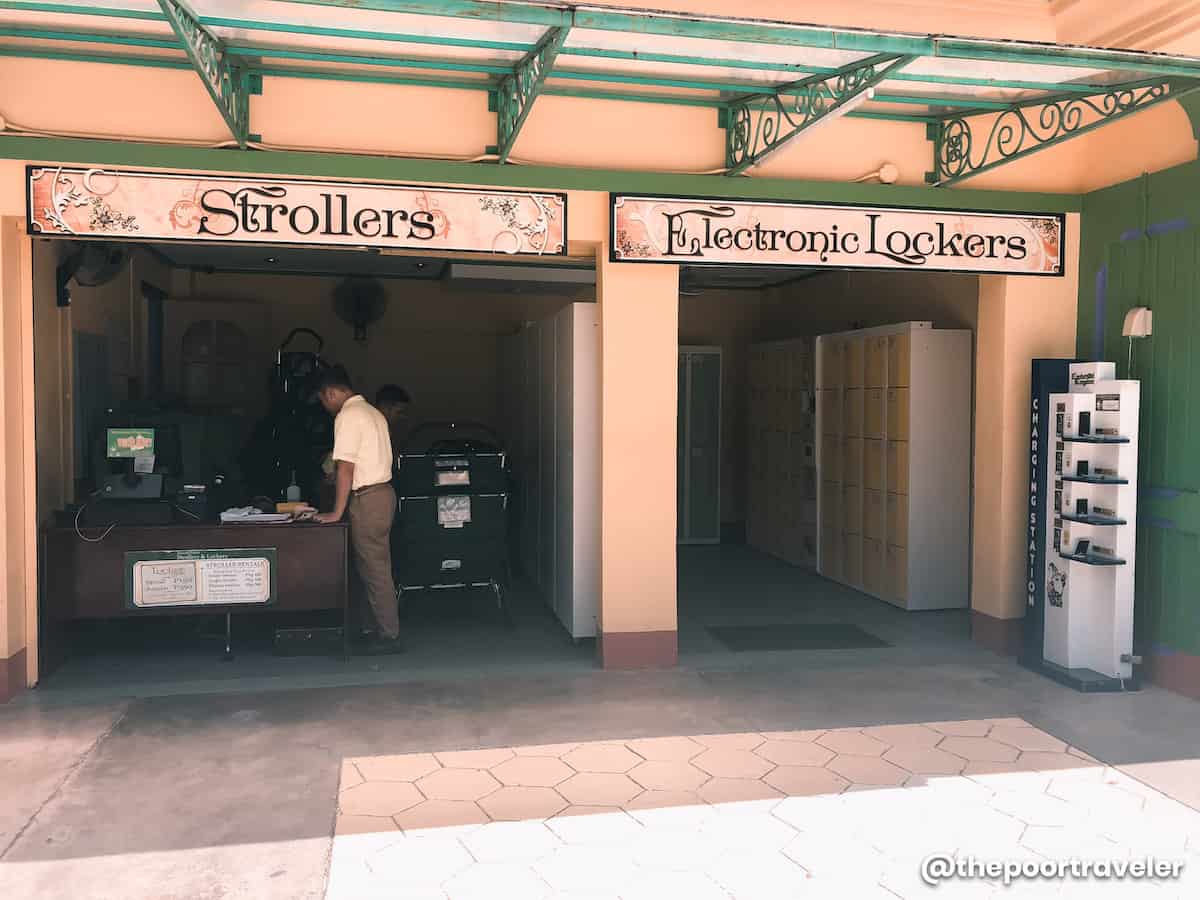 If your bag is slowing you down and restraining you, lockers are available at the Victoria Park zone. You can easily spot the area on the right side upon entering the park. The rate varies depending on the size:
Regular Locker: P150
Jumbo Locker: P350
---
Are pets allowed inside Enchanted Kingdom?
NO. Only seeing eye dogs or guide dogs are allowed.
---
Are EK gift shops open?
Yes, some of the stores are open. Guests can safely shop for EK gifts and souvenirs because stores have protective barriers. All merchandise is also disinfected regularly using steam cleaners.
---
Are cashless payments available for Skill Games?
Yes, cashless transactions at Skill Games are available through GCash. There are roving cashiers that will provide GCash QR codes for scanning. Game stubs will be issued to the guests after payment and will be surrendered before use at the Game Booths.
---
Will there be fireworks display?
No. There will be no fireworks display in the park until further notice.
---
Other Enchanted Kingdom Tips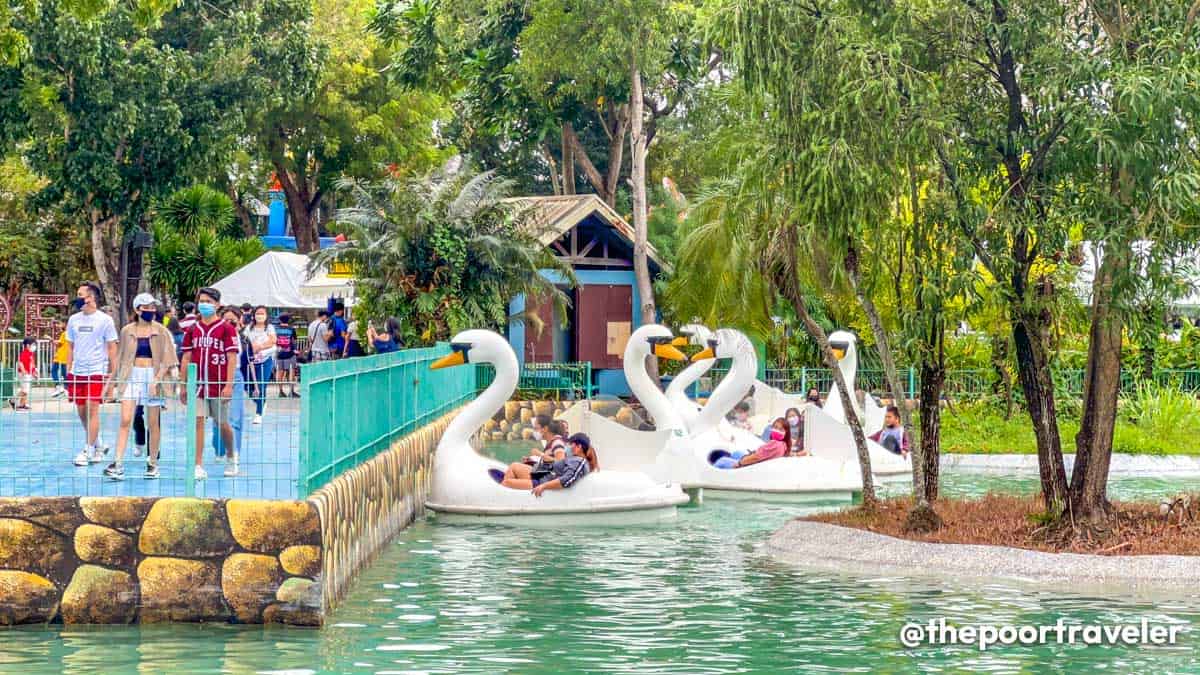 Wear comfortable footwear. You will be doing a lot of standing, walking, and waiting in line.
Bring extra clothes. Rides like Rio Grande Rapids and Jungle Log Jam will drench you. It's also easy to sweat when exploring under the sun. It's always best to bring a change of clothes.
Bring sun protection.
Bring your own toiletries and medicine.
Have an extra battery for your camera or bring your power bank. You don't want to miss the opportunity to snap those happy moments.
---
How to contact Enchanted Kingdom
E-mail Addresses: mgrd@enchantedkingdom.ph (general queries) or keyaccounts@enchantedkingdom.ph (Corporate bookings), reservations@enchantedkingdom.ph
Phone Number: (+632) 8584-3535 local 31 or 35 (Makati Sales Office), local 431 or 105 (Laguna Sales Office); (+632) 8584-3535 local 1900/1901 (Magical Guest Relations)
Mobile Number: +63 998 849 4357 | +63 908 8840627
Official Website: www.enchantedkingdom.ph
Social Media Accounts: Facebook, Twitter, and Instagram
---
Last updated: 2022 • 03 • 10