My dirty chucks looked awfully out of place on the carpeted floor of the suite. I removed them, threw my bag in a corner, and fell into the neatly fixed bed in the center of the room. I turned on the TV and tuned in to History Channel for a few minutes of geeking out before I headed back to the party in another suite.
In the next room were fellow travel bloggers, having a feast and sharing a night filled with videoke (karaoke) and endless conversations. Linden Suites Ortigas graciously hosted another pajama party for bloggers that night. I was one of them. It's not often that I see people in the same line of work (if work is what you call what we do), so I took the opportunity to reconnect with them. While I walked in the hallway and basked in comfort as I sank in one of the couches, I could not think of a better venue for such a fun event.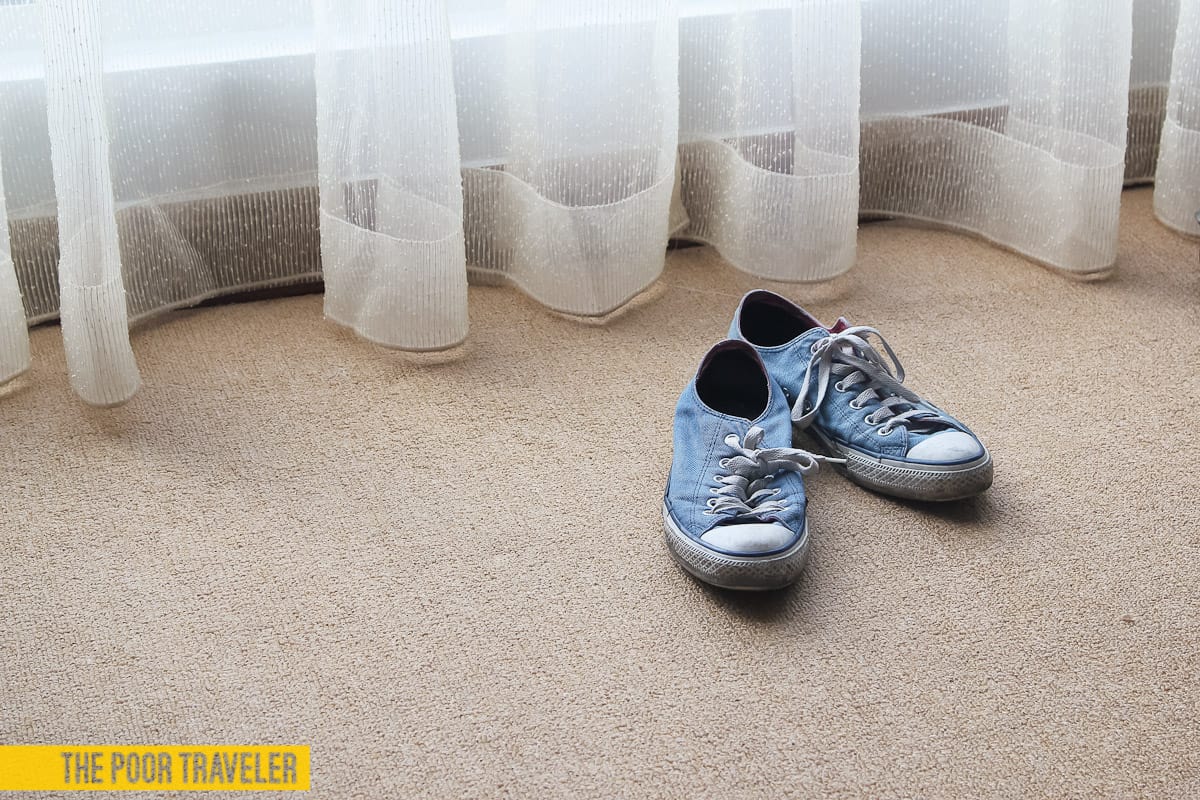 WHAT'S COVERED IN THIS GUIDE?
Suites
The one-bedroom suite assigned to me was probably one of their newly renovated units. It was soooo spacious, especially that I did not share it with anyone. But even if I shared it with an entire barkada, it would still leave us with more than enough breathing room. Right after the door were the dining area and the well-equipped kitchen. Perfect for couples and small families who wish to not let go a piece of home during their stay.
At the end of the unit was my bedroom. White curtains filtered the light that would have flooded the room. Opposite the bed was a home entertainment system with a TV set, loaded with a lot of cable channels, and a desk for the workaholic business traveler. Next to it was the closet, which bore a robe, a pair of slippers, and an ironing board. Even the squeaky clean bathroom had almost everything one could need for a comfortable stay.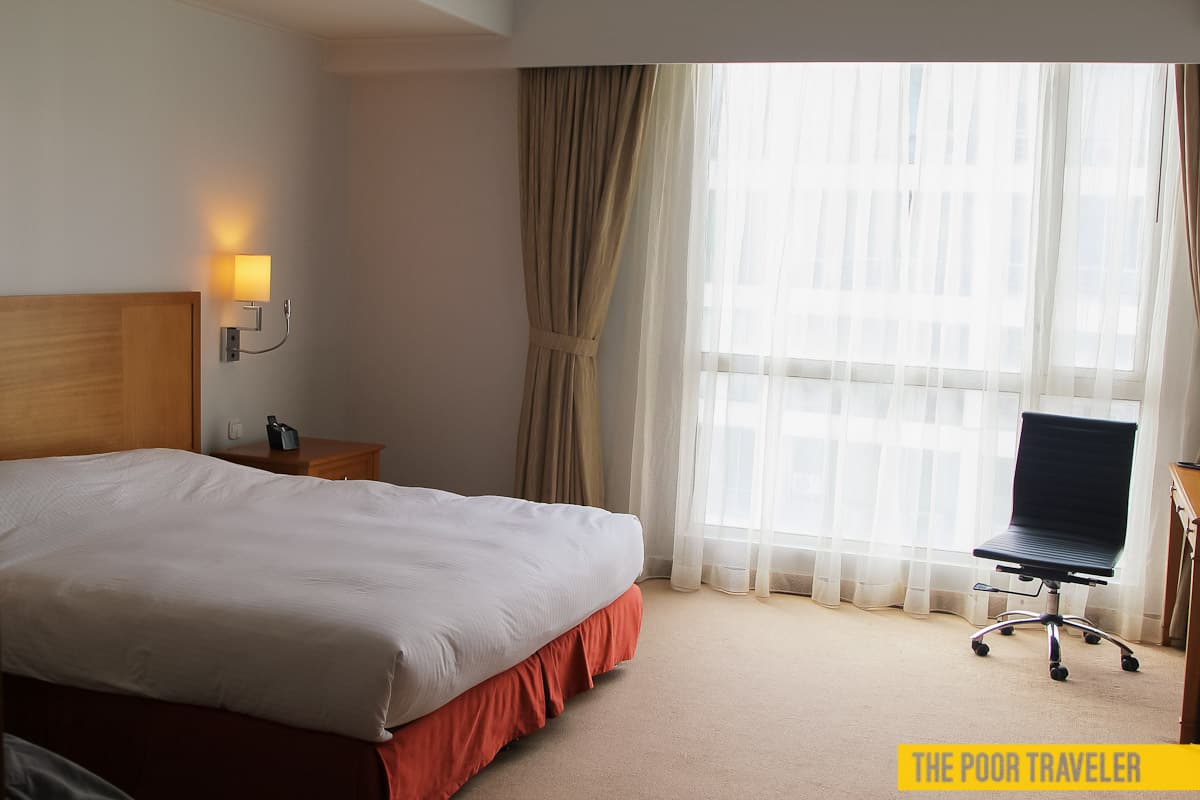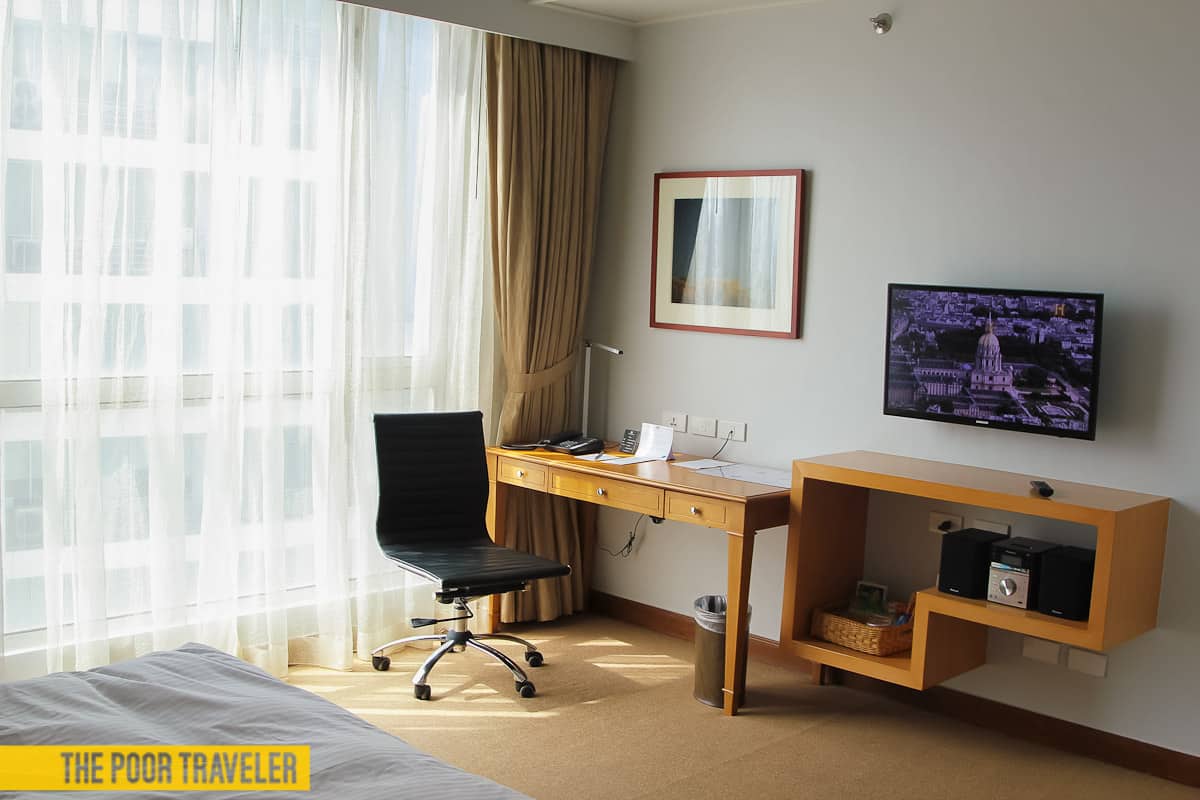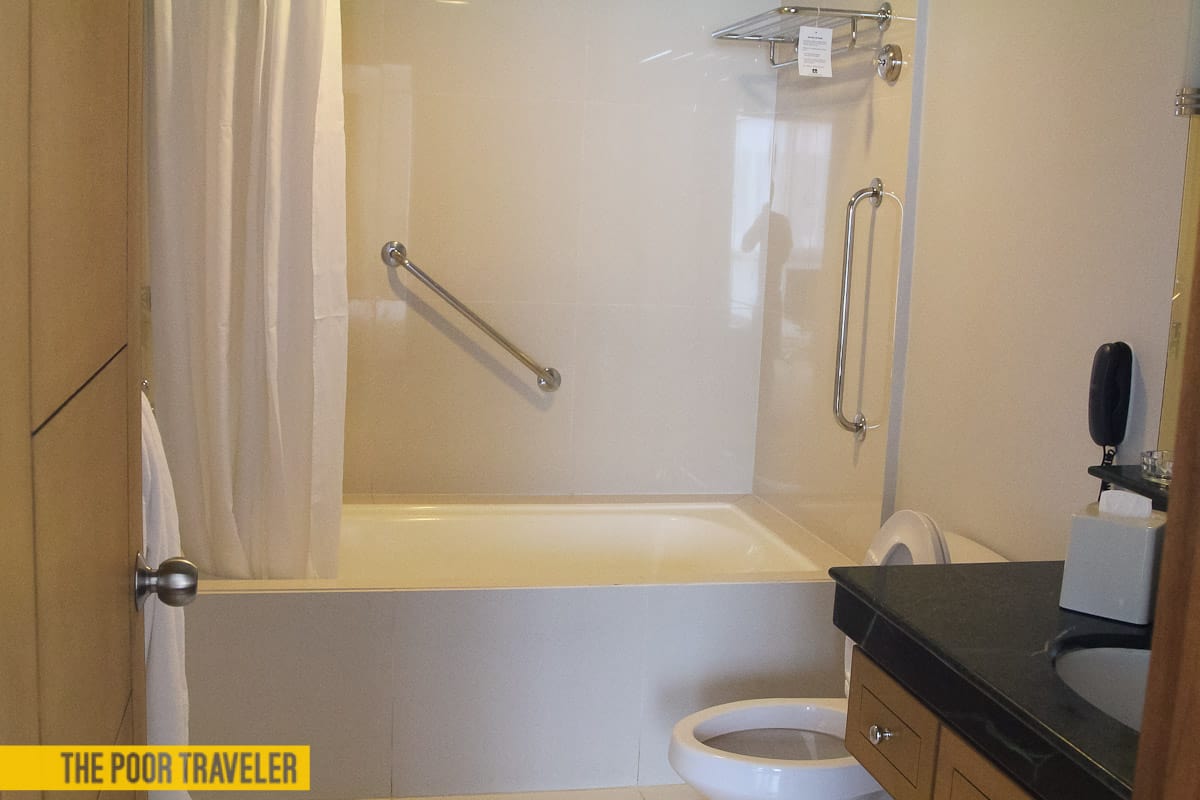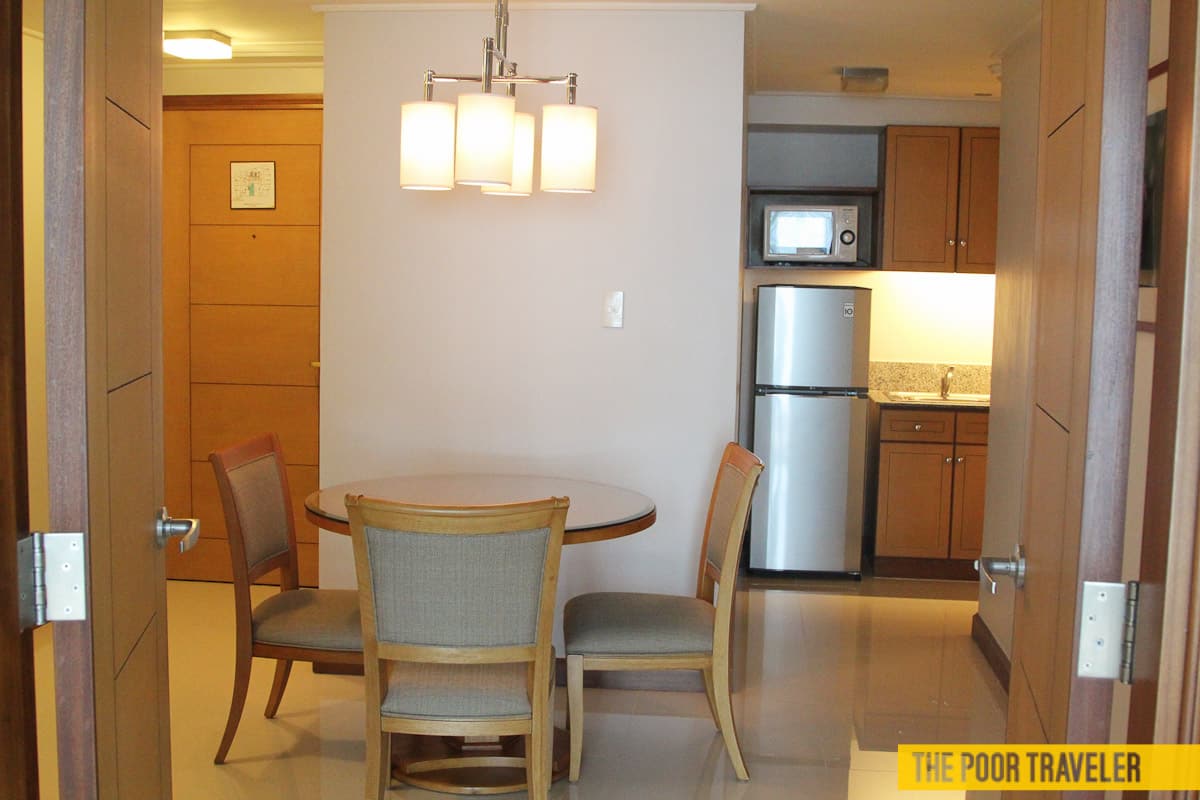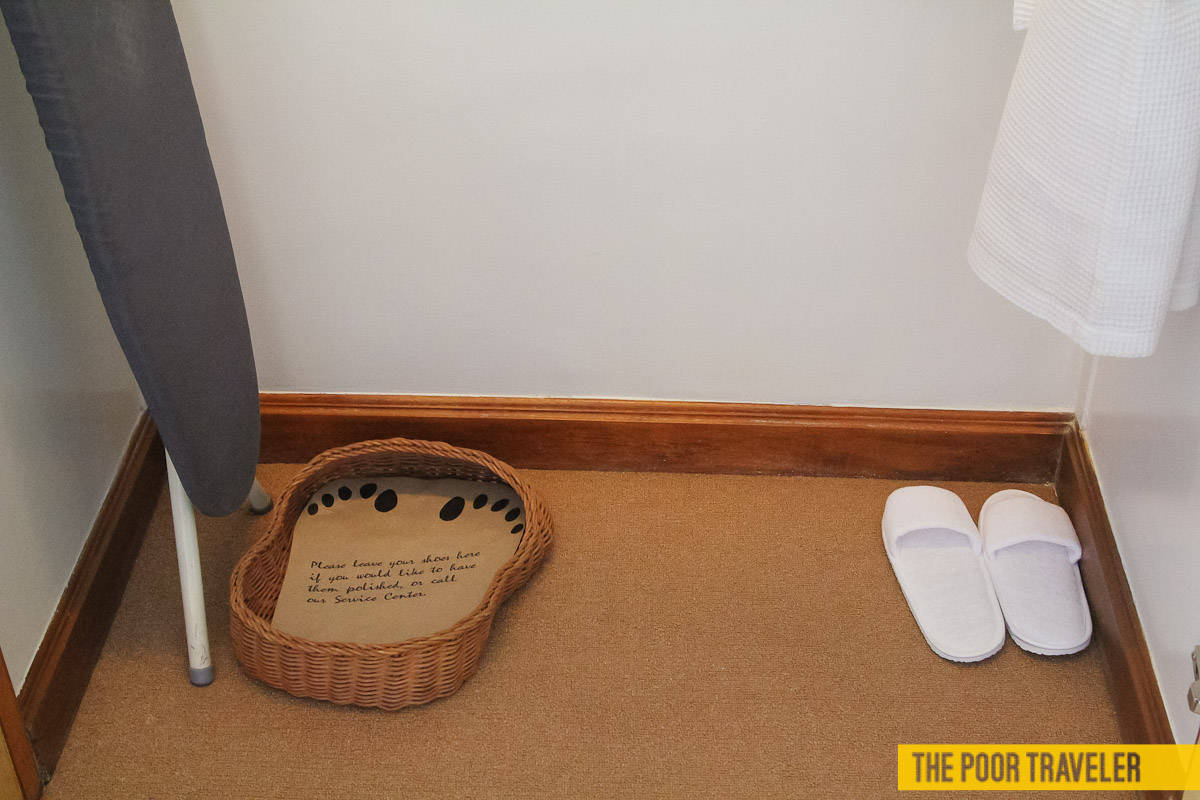 One thing that I really liked was that there were so many power outlets to charge my camera, phone, and the power bank all at the same time. After spending so many nights in many hostels and budget hostels, this was such a refreshing change!
Amenities
My unit was just one of the 168 well-appointed and functional suites and rooms that Linden houses. Guests could also enjoy an indoor swimming pool, an outdoor dipping pool,  a spa, and a gym. There's also a restaurant, where we had free breakfast and sampled mostly Filipino and western dishes.
And oh, free wi-fi. Hurray!
Location
Located at the heart of Ortigas center, one of Manila's commercial districts, Linden Suites is within proximity to a number of malls (SM Megamall, Shangri-la Plaza, The Podium) for your shopping needs. Convenience stores and restaurants dot the street where it stands. EDSA, Metro Manila's lifeline, is just a short walk away. It's not as close to the airport as Makati, but it promises smaller crowds and a more relaxed atmosphere.
I'm not one to go on a staycation or prefer hotels to cheaper accommodations for many reasons. I have lived in Manila for the past decade, and I probably wouldn't spend money on a hotel under normal circumstances since I have my own place. If I had been a visitor whether for business or pleasure, it would be a different story. Given how stressful it can get to explore Manila, it probably wouldn't hurt to treat yourself (or your loved ones) to a bit more comfort and luxury every now and then.
The Linden Suites – Ortigas
Address: 37 San Miguel Avenue, Ortigas Center, Ortigas-Pasig, Manila, Philippines
Contact No.: +63 2 638 7878