2011 • 7 • 17
It was still dark when our Cebu Pacific Air flight landed at the Daniel Z. Romualdez Airport (Tacloban Airport). Quickly we walked through the baggage claim area all the way out of the airport to the parking lot where taxi drivers stood in a straight line while waiting for passengers. Yes, I swear it was a straight line, LOL. Because we did not check in any baggage, we were the first group to emerge from the airport. We had barely stepped out of the building when taxi drivers started walking towards us. I had never felt like a magnet before.
But nothing they said could convince us to take a cab. Even before the trip started we had already made up our minds — we would take a jeepney. We were sure. We had a plan. We had focus. Nothing could go wrong.
Ten minutes later, our jeepney stopped in the middle of the road and the driver asked everyone to get off and wait. It wasn't until 30 minutes later when the driver finally accepted that he could not fix the vehicle and returned our fares, forcing us to hail another jeepney. Had we known our jeepney would break down in the middle of the road, we would have taken a cab. LOL. Thank you, jeepney, for proving just how poor a traveler I really am.
WHAT'S COVERED IN THIS GUIDE?
How to Get to Marabut Extreme Experience
Sure, we had a little setback when the jeepney we took broke down but that did not mean we would start our trip on a sour note. In fact, it was a beautiful morning and the sun was gentle. An hour later, we were at Marabut Extreme Experience. And below is how we got there:
At the airport parking lot, ride a jeepney and ask the driver to drop you off at the New Tacloban Bus Terminal. You can also take a cab but it is much, much more expensive.
Take a shuttle (van) or bus to Marabut. Note that it is very likely that the shuttle will not leave until all seats are occupied. And I'm telling you, it takes a long while. Eventually, we gave up the van and took the bus instead. It was a good choice as we appreciated the people and the culture more.
Tell the driver/conductor to drop you off at Marabut Extreme. At first we said "Marabut Marine Park Beach Resort" but no one in the bus knew where it was. But they knew "Marabut Extreme."
ENJOY THE VIEW. You'll have a sneak peek of how beautiful Samar is on the road. You'll get a great view of the beach and some rocky cliffs especially if you're on the right side of the bus/shuttle.
Watch out for a wooden arc over an unpaved road. (See pic below.) That's your marker.
From the national highway, walk to Marabut Extreme Experience. It wasn't really a long walk but it wasn't short either. Like a 5-10 minute walk. Just go straight and you'll see the resort on your left.
Quite honestly, we had a number of I'm-so-scared-I-want-my-Mommy moments along the way. For starters, when the bus dropped us off at an unpaved road that they said would lead us to Marabut Extreme, we realized we were alone, awfully alone. Other than the trees swaying in the strong Samar wind a la "The Happening," we could not see any house or person. This was the place.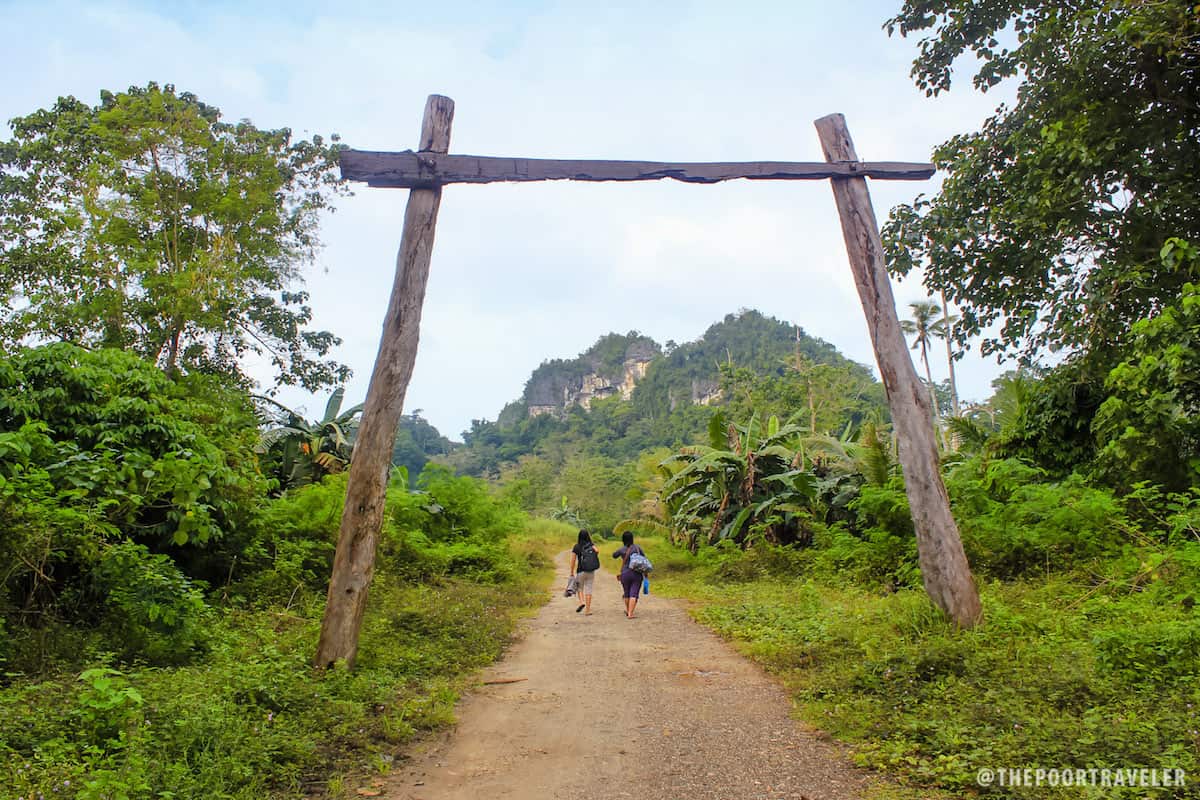 When we were walking down the rocky road to the resort, there was a loud, strange noise coming from the bush. It turned out — to our amusement — a young water buffalo was being harassed (sexually, I think) by a bigger buffalo.
After minutes of walking, we finally saw the magnificent San Pedro Bay. The resort is situated in a cove, isolated from other beaches. It was beautiful. The towering cliffs and the provincial atmosphere reminiscent of Sagada, made the fears last for only a few seconds as they were easily replaced by awe.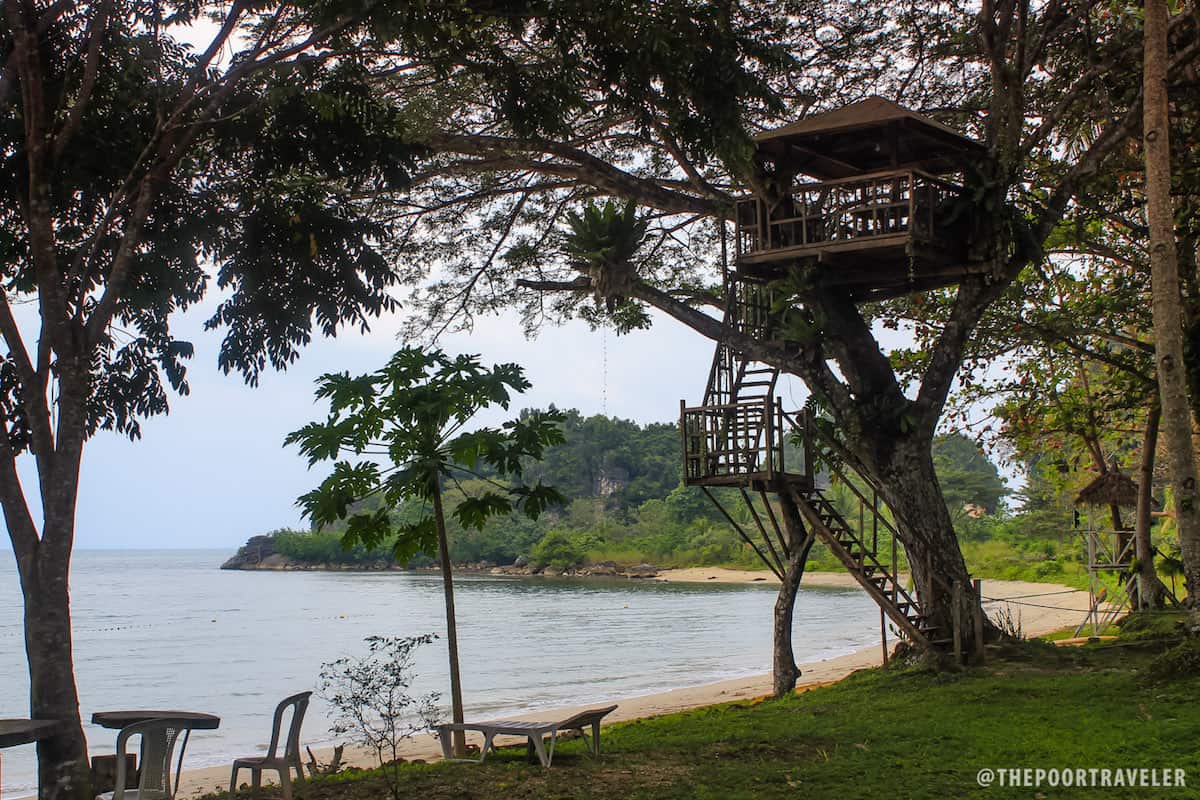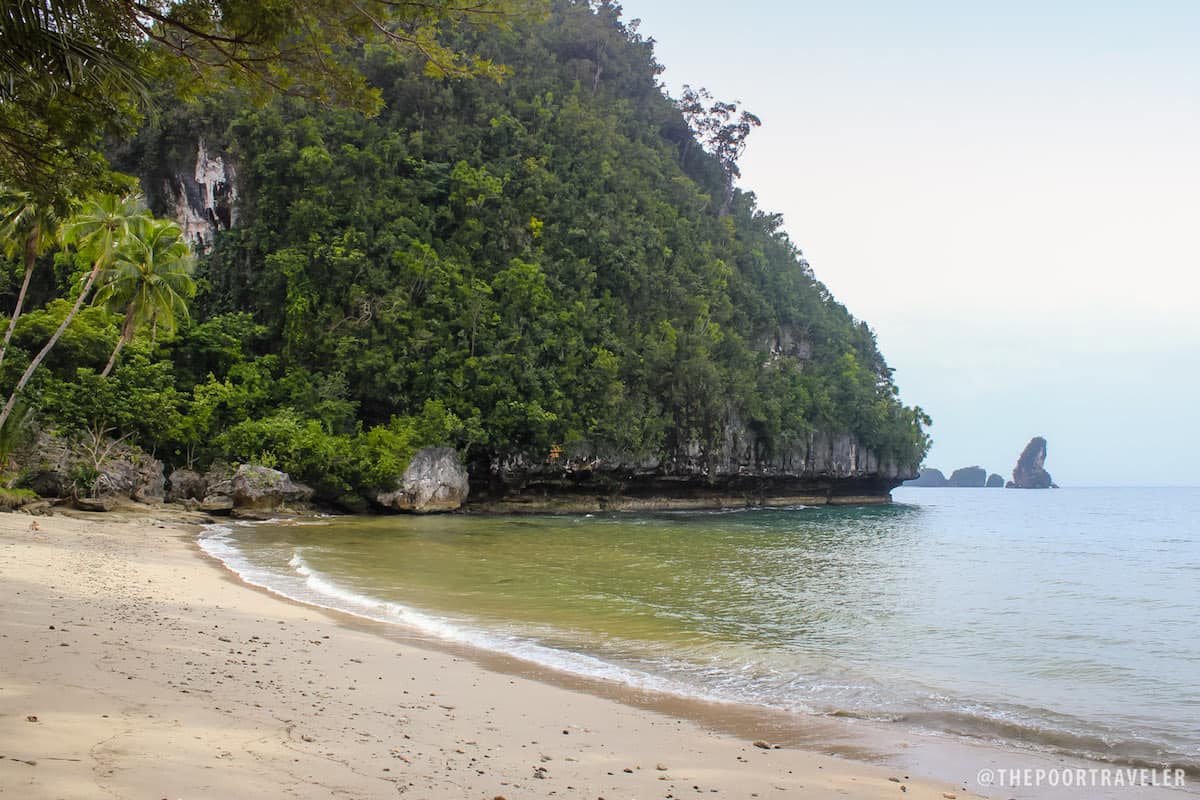 About Marabut Extreme Adventure
"Wow" was the first word we uttered upon seeing the beach front. The sky was gloomy that day but the golden sand, the gentle waves, and the rocky islets were enough to mesmerize us. But it wasn't long until "Wow" was followed by "Wait. There's no one here."
We couldn't see a single person in the area. The place looked deserted. It was eerie bordering on creepy to be honest. Other than the waves and the wind, we could hear no sound. Silence was broken when, out of the blue, three dogs barked like crazy as they came rushing towards us. My two female companions got scared but they looked harmless (the dogs, not my female companions). One of the dogs started rubbing its head on my legs as it moved — slowly — around me. It was like the dogs gave us a warm welcome. Seconds later a man sweeping the ground emerged, greeted us and told us to find the caretaker of the resort, a middle-aged woman, at the restaurant.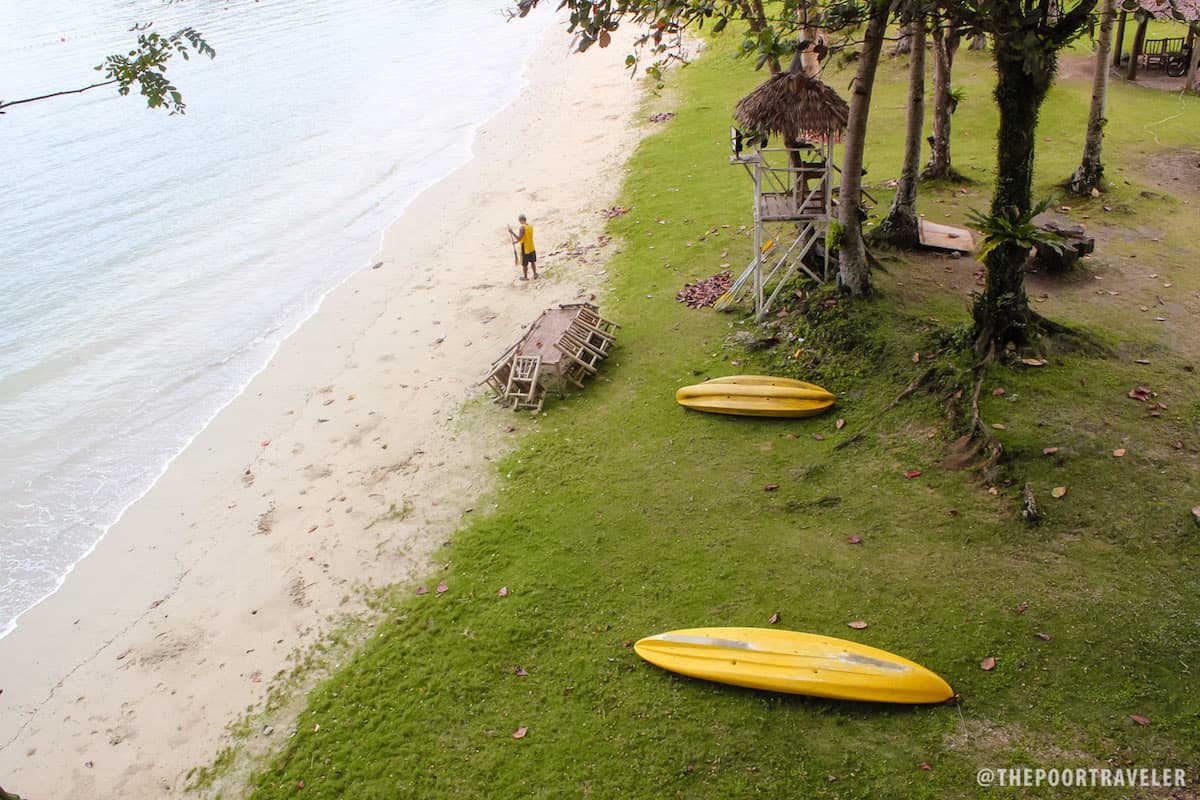 After a quick conversation with the caretaker, it was official — We were the only guests at the resort. That's a good thing, uhm, I thought.
Marabut Extreme Experience is managed by Leyte Park Resort Hotel. It was formerly known as Marabut Marine Park Beach Resort but repositioned itself and focused more on adventure.
Rooms and Rates
We were led to our cottage. It was airconditioned and it had a very homey feel. But we did not expect the room to be that spacious. The room given to us had two single beds and 1 double-deck, which can accommodate 4 people. Heck, we were only three people sharing the room. There was a television set in one corner. Even the restroom was spacious.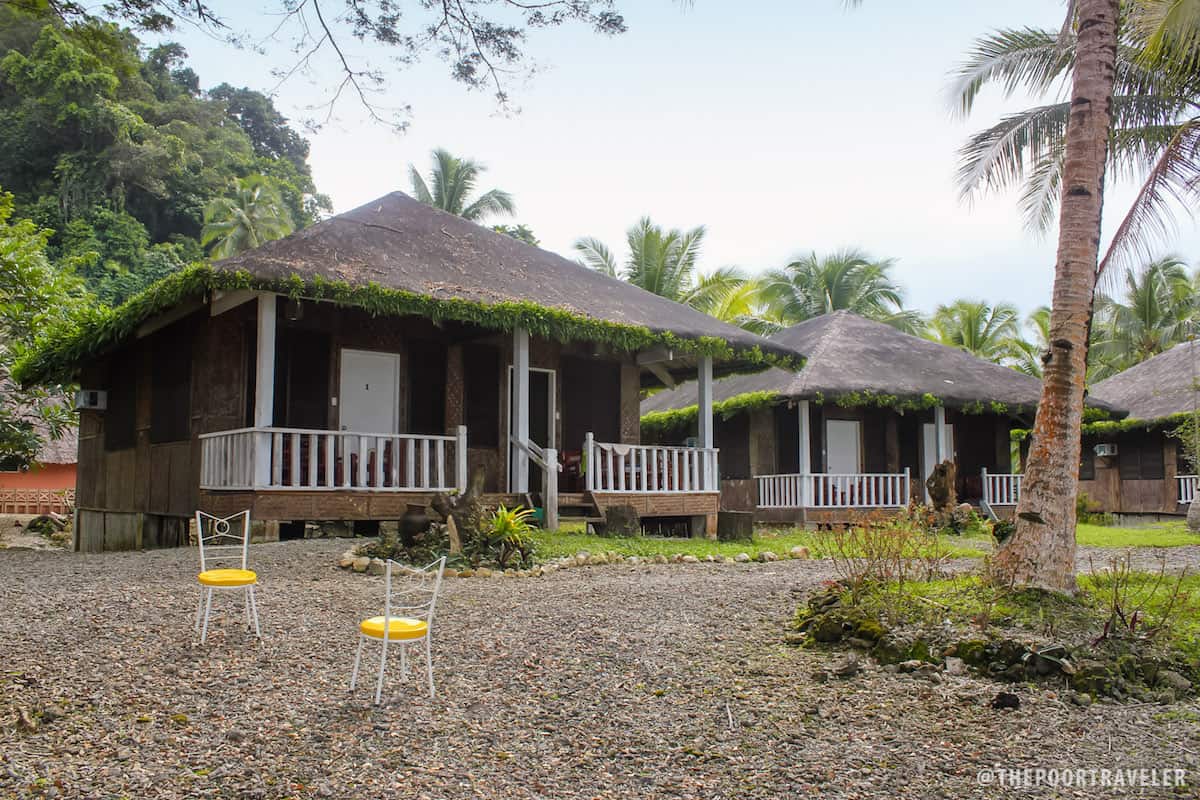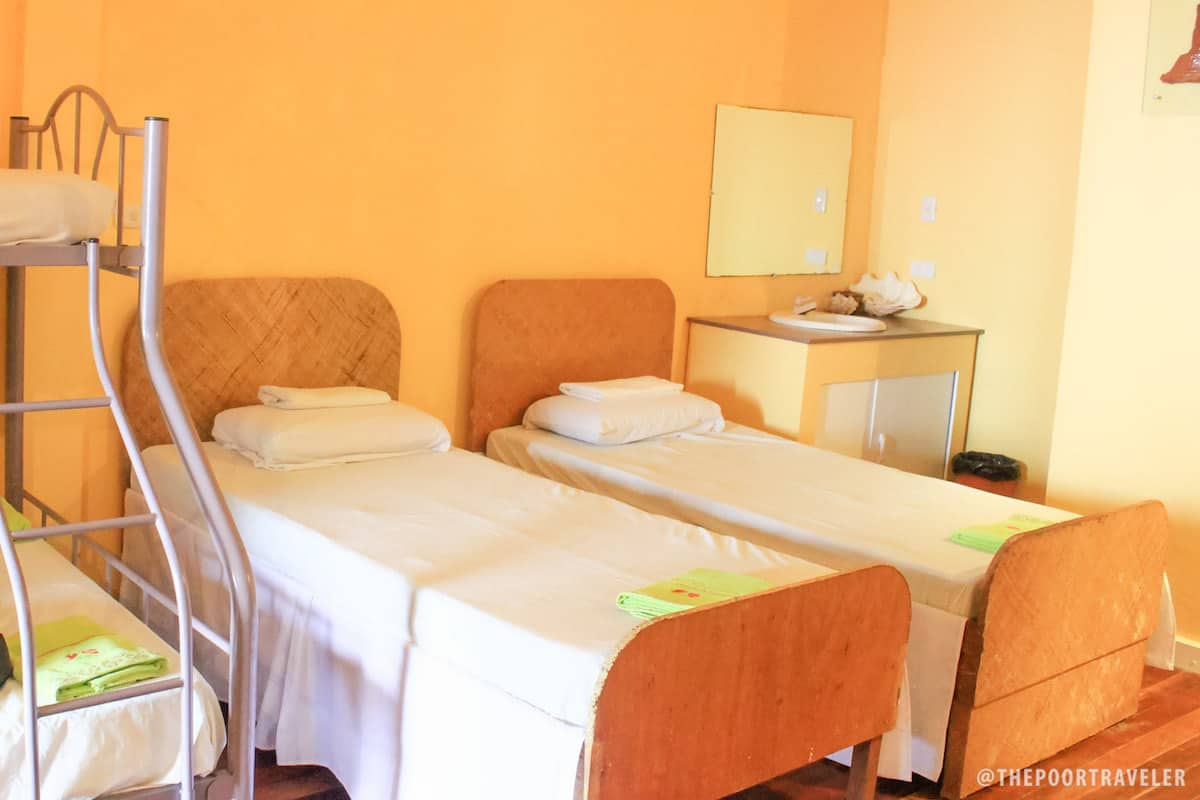 Marabut Extreme Adventure has 10 cottages like that. They also have a camping area for those who wish to have a more outdoorsy feel.
We only paid P2635 per night for our room. Divide that by 3 and that's P880 per person. Remember that the room can actually accommodate four or more so if you're a bigger group than us, you can pull the cost lower.
Overnight Room: P2635/night (good for up to 4 pax)
Day-tour cottage: P350/day
Activities at Marabut Extreme Adventure
After dropping our bags in the room, we decided to have lunch. To give you an idea on how much you should prepare, here's a shot of their menu.
The food was good. Nothing special about it but the serving was pretty generous.
After lunch, we lay on the sand and bask in the sun. We swam afterwards. We also wanted to snorkel but when we asked the caretaker why there was a net border in the water, she said that it was jellyfish season. We dropped the snorkeling idea, buried it and said a prayer. I'm sorry snorkeling gears, you won't be used today.
None of us had tried kayaking before so we wanted to do it. At first everyone was afraid. It wasn't until two kids, children of the caretaker, successfully made a round when we said we were up for it. Nagawa nga nung dalawang bata, papatalo ba kami?
We kayaked around the many islands in the area. (We had life vests on, of course.) Again, none of us had tried it before so we were all eager to go places. There was a rocky island with a pocket of white beach but unfortunately, it was too crowded so we decided to head back to the resort. It was an awesome feeling but as soon as we rested, the awesome feeling turned to pain as our shoulders and upper arms started to give us the torture of the century. LOL. Too much paddling left the paddlers crying.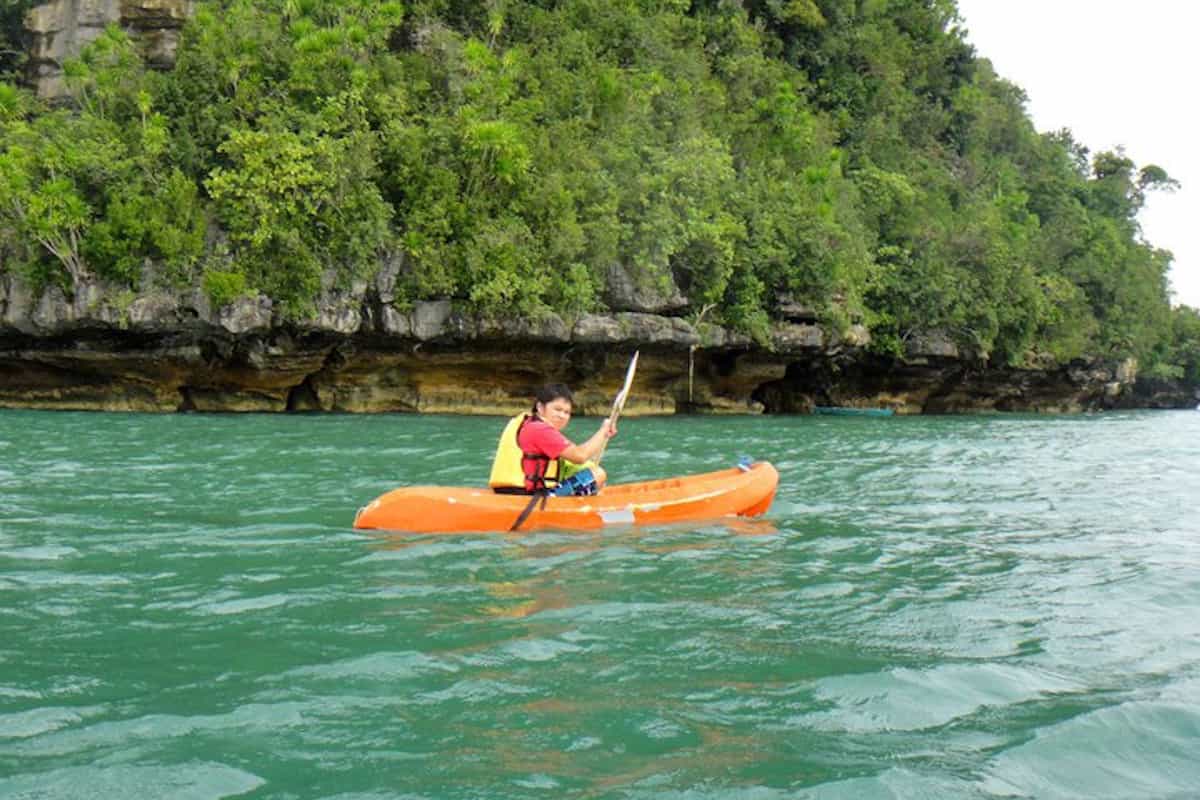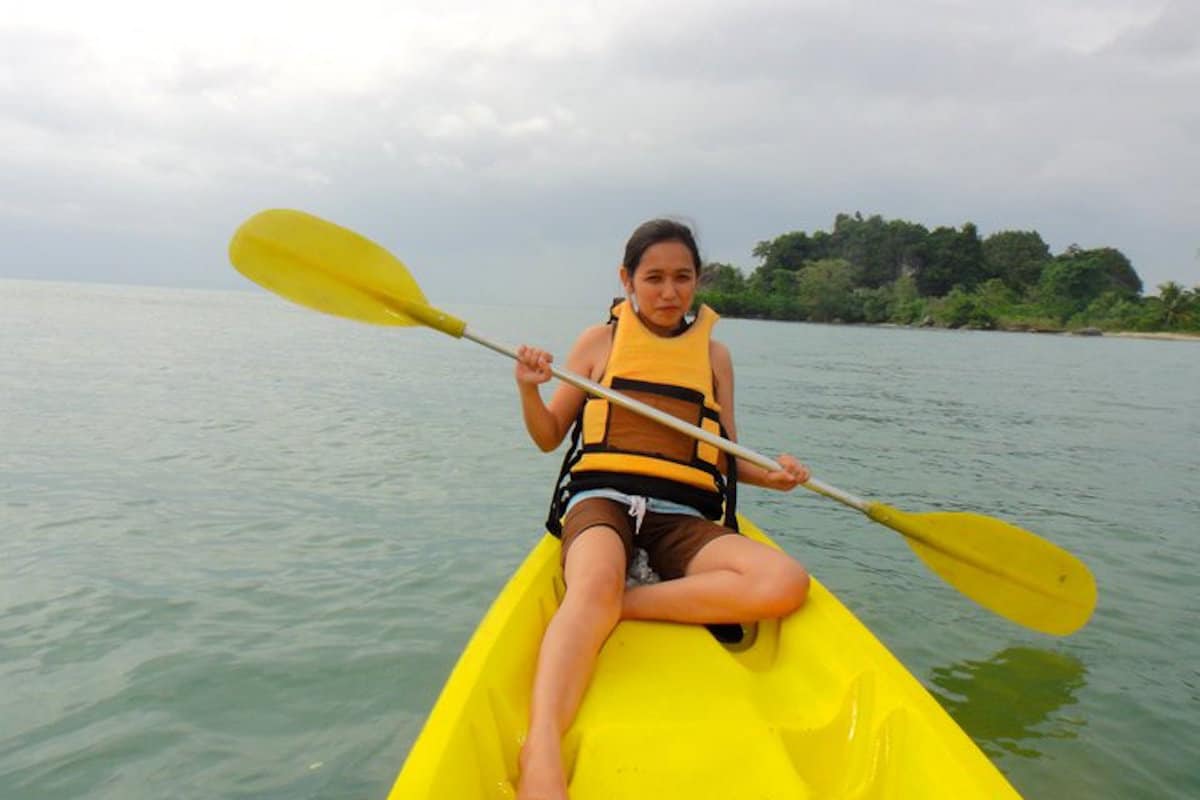 By the way, use of kayaks was free of charge for guests staying at the resort.
After a full day of rolling on the sand (wahaha), swimming, lazing on the beach and more kayaking, we decided to have dinner and retire early. After all, we would need to wake up early the next morning for our trip to the Sohoton Natural Bridge Natural Park in Basey, Samar.
The next day, when we were leaving, the dogs whom we baptized Tagpi, Bantay and Boyet even led us out to the highway as if saying goodbye.